Like her sound as a DJ and producer, Lee Ann Roberts is lively, energetic and engaging. Releases on Suara, Märked, Deestricted, Gomboc and her own label, NowNow, encapsulate her nuanced take on techno. Artists like D.A.V.E. The Drummer and Jay Clarke have remixed her productions, while Lee Ann has remixed music by Juliet Fox, Danielle Ciuro and DEBBIE IT, amongst other talents. DJ sets across the globe, from London's E1 to Mumbai's DGTL festival, have allowed Lee Ann to build an increasing international fanbase. Fusing fast and furious kickdrums with playful, acid-flavoured melodies and dark, distorted synthlines, the South African artist is in her stride and has laid the groundwork to get there.
Garnering a radio show on Cape Town's Mutha FM in 2010, Lee Ann started out playing minimal and melodic techno while working as a model. Four years later, Wilhelmina Models packed her off to Los Angeles with a three-year contract, where she threw herself into making music and DJing, much to the chagrin of her employer.
But that's classic Lee Ann Roberts. She doesn't do things in halves. It's all or nothing, and looking at the growth of her label NowNow, her loaded tour schedule, and a catalogue that begins with her acclaimed debut "Miyamoto" on Suara, the Amsterdam-based artist is enjoying this wild ride in her trajectory and she's well-prepared for it. Having lived in India, Indonesia, Greece, China and Mexico City and taken an eye-watering amount of flights during her modelling days, the life of an in-demand DJ suits her.
While Lee Ann has an unparalleled work ethic, open-minded attitude and endless enthusiasm for her craft, she has had to make a few changes to maintain good physical and mental health. Following a rocky period last year, Lee Ann now leads a more balanced life, but that doesn't mean she has reduced her workflow. She contributed the bouncy track "Only Us" to KEYI's Sonic Reflections V/A, joining Ellen Allien, Ancient Methods, Keepsakes and many more on the compilation. All proceeds go to charities The White Helmets and Germany's Welthungerhilfe organization.
Alongside touring and producing her upcoming EP, Lee Ann has several plans for NowNow, which she launched in 2021. It's a label for platforming artists she believes in, like Ana Lilia, OGUZ, and Milo Spykers, supporting them from the get-go—a true testament to Lee Ann's drive, determination and warm nature.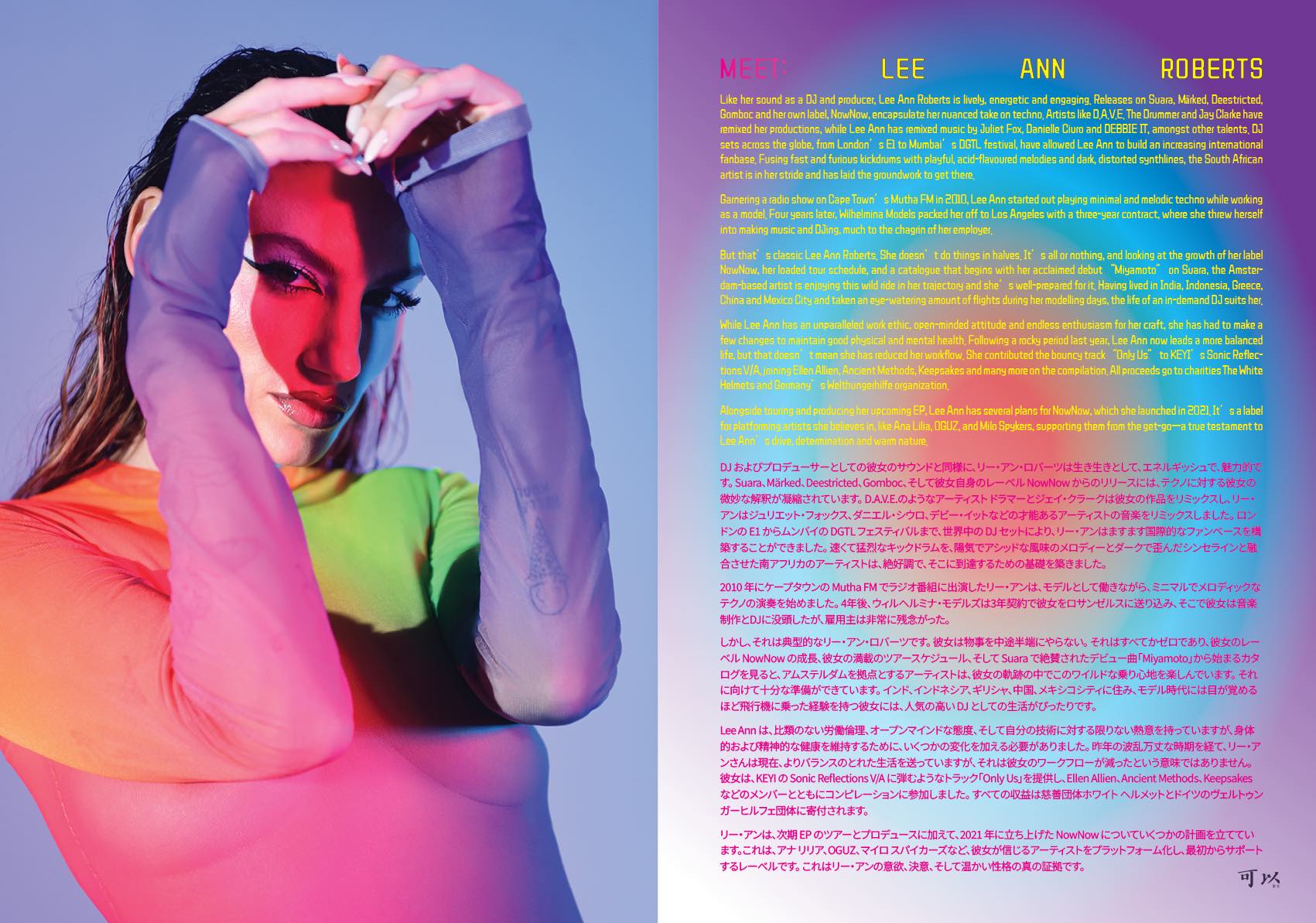 Let's go back to your roots before we chat about where you're at now, professionally and personally. I believe you grew up in Durban before moving to Cape Town. Tell us about that time in your life and what kind of kid you were.
I was just that naughty kid in school, always in trouble and detention, but in a fun way and I guess just more open-minded. But my mom didn't mind much as I excelled in school and sports. I swam for my province, played hockey and practised Kung Fu. I was an outgoing, free-spirited and inquisitive kind of kid. Later, I was introduced to electronic music when I was 15 going to clubs, and then at 17, I was dating one of the biggest promoter-DJs at that time in South Africa. So I was introduced to the industry more in-depth, and I got to see and experience some of the most incredible and iconic events. 
Why did you move to Cape Town? Was it a significant change for you, or did you settle in smoothly?
I started going to Cape Town in 2007 for the summer season when I was working as a model. It's such a great city with amazing food, wine and places to hide out in the wilderness. The beauty is just incomparable. I was introduced to psytrance in Cape Town as there was a big psy scene there and still is today. So I settled into Cape Town very easily, and I studied basic music studies at a school called Soul Candi in 2011. I also had my own radio show on Mutha FM within that period. I learnt about the industry and met some of the top people in the business, and this really shaped my knowledge. I feel that the music knowledge of some artists in today's techno scene stems from last year's hit bangers, and it doesn't come from something true. So I feel fortunate to have been at the root of things back then.
In 2014, Wilhelmina Models offered you a contract to work in Los Angeles for three years. How did the move impact your musical trajectory at that point?
While I stopped my show on Mutha FM, my overall music journey also stopped for about two months because I was going to castings daily. But when I told my good friend Jake Childs—an American producer from Houston—that I wanted some decks for my place in L.A., he invited me to visit him for two weeks to use his setup. But I didn't even touch the decks when I got there. Instead, we produced music with his friend, who was a singer in a band, who helped me write some music and helped me throughout the process of recording the vocals. She is incredible, and at that point didn't even realise what I could do with my voice. I made the melodies for the tracks on a keyboard, but I was still an amateur, so it was quite a funny sight seeing how I was placing my fingers. I still have these videos, which make me laugh, but also show how far I have come. We ended up in the studio for 18 hours a day; I was obsessed. That was when I figured out I wanted to pursue making music. 
What was the sound of those early productions?
Back then, it was more minimal and deep. When I started the new sound of "Lee Ann Roberts" around five years ago with my old management, we decided to take the tracks down because they were not the same sound I was going for at the time. That was a stupid move because most artists evolve and don't always make the same styles of music. But I wasn't sure if those tracks would affect my new brand. Today, when I go on Beatport, I see artists that have releases up there from ten years ago which are not the same as their current sound. So it's a shame we can't listen back to those early tracks because it's history, and it shows how it all started. 
It's great that you figured out your passion at that point. How did you make the professional pivot from modelling to music?
HE.SHE.THEY. and their total inclusivity vibe just clicked with me. This label stands for equality in the scene without any judgment regarding age, gender, race, sex, religion, or background. It simply felt right! These core values are more important than ever and I'm honored to be part of this label. 
Together we are not only releasing music …. we are celebrating diversity. 

Lee Ann Roberts about HE.SHE.THEY. record label
With this EP, I wanted to express that we need to keep reinventing and evolving to always become the best version of ourselves, perpetuity is obsolete, we always are changing – it's a cycle of learning and letting go!
Do you think there are similarities between modelling and DJing? While they are different crafts, I think they have similar elements—you're putting yourself out there, people are watching you, and you're in the spotlight. Did modelling help prepare you for aspects of DJing?
Definitely. I think modelling and DJing are similar because they're both performative and art but in different ways. With DJing, you get into character, and some people's characters are more driven by performing instead of DJing. When I get on stage, I get into character. I have weird moves, I jump around, I do weird shit. So I get into this fun character, but it comes natural, I'm just being me really. Both professions are quite personal and close-up—you're in front of people, you're vulnerable, and you can't hide. I was super nervous when I started DJing in clubs, but I think modelling helped me manage my stage fright back then.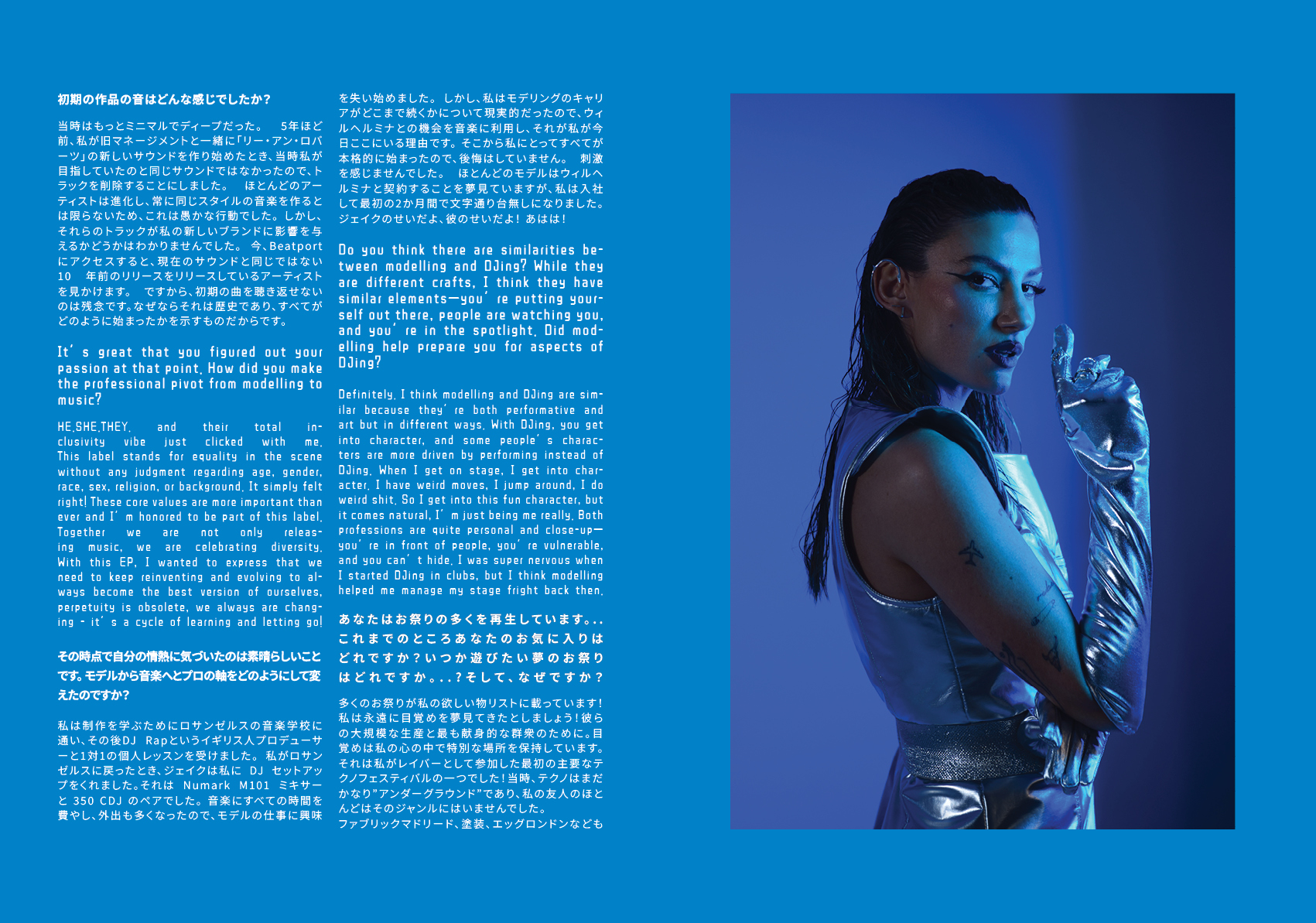 Moving on to producing music, you recently remixed Danielle Ciuro's track "Enter The Trip", and I hear you have an EP in the works. What's your creative process with music production these days?
I'm always striving to put music out there. I was doing a lot of remixes recently, and I'm on a remix package coming up for Mattia Trani. I've spent from the end of last year until now on remixes, and I've really enjoyed it, especially remixing Juliet Fox's track "The Present". Whenever I start my own EP though, I sometimes feel like, "I'm making shit here." But that's why you put things on a shelf and start again. It's not always easy, but the show must go on.
What is your production setup like today, and your hardware/software of choice?
Like most people, I work mainly in the box with a couple of pieces of hardware. I use a Mac laptop running Ableton, plugins and an Arturia keyboard. I use an Arturia BeatStep sequencer and a Roland TB-303, which is the modern recreation of the famous acid machine.
You've toured extensively in the last two years, playing across Europe and the Americas. Do you make music on the road or prefer working with your own setup at home or in a studio?
I'm very blessed to be playing and travelling so much, so it's impossible to always make tunes in the studio. It's always nice to come home, but I'm always tired, so silence is the best form of music for a day or two after a busy tour and plane journeys. A lot of my flights are long-winded, so I work with headphones and a mini keyboard in hotel rooms. When I'm home, I work in a dedicated room with proper speakers and bits of hardware, so it's a blend of both, depending on my schedule.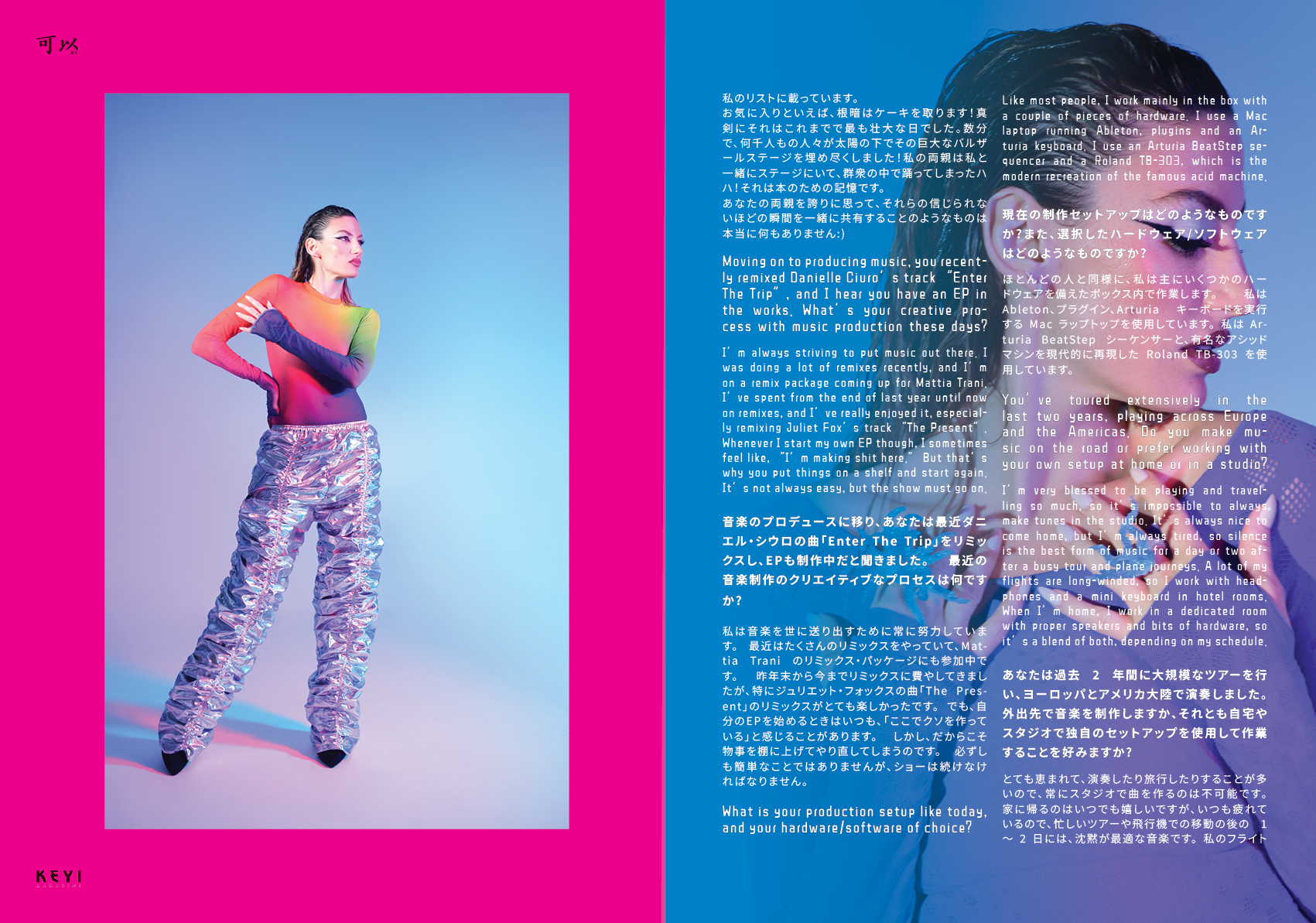 Have you ever grappled with writer's block? If so, how did you overcome it?
I think everyone gets writer's block from time to time. If I'm home in the studio, I take a walk in the park for a bit to clear my head. I live right on Vondle, so it's perfect. Or, if I'm on a deadline or the weather is bad, I just turn on the TB-303 to see what happens because I love acid. I keep plugging away and twisting the knobs until something emerges.
What is it about acid that you love?
You don't get better than that sound, man! If you get a good 303 line, it does something. It resonates with the happy part of your brain, like an endorphin. It's fun and brings out something interesting. There was a joke online the other day about these new rave stabs, and I thought, "Do not send me more promos of rave stabs because it's becoming too much!" But I also don't find it intellectual—I don't know if that's a bad word to use, but I feel like it's good to go back to classics, and what's more classic than a 303?
It's a classic one, and there's plenty of it on your label NowNow. What is the ethos of your imprint?
NowNow is a community of cultures. It's about bringing people together, diversity.
I feel that some labels bring artists on board for the sake of it, and it's not about art. There is no quality behind it. A lot of these new labels take your track, put it online and then it disappears. They don't spend time and effort on promo or artwork, and there is no communication. Some labels don't even have a contract.
So when I receive positive feedback from artists who have released on NowNow, it's so good to hear. While NowNow takes up nearly all of my time, and it's not financially lucrative, it's all built on my genuine passion and love of the industry. 
But this can be a problem as well. Many people have come to me for advice in the past, even calling me the "Techno Therapist"! My friends say it's because I'm too easily available, but I like helping people. When my friends questioned why I was spending so much time helping others who realistically don't give a shit about me, I realized how fake the industry can be. So this year, I've refrained from doing that as I was drained from all of it. I was quite ill last year with a whole bunch of things, and I don't know how I got through half of it. But I've stopped drinking since November, coming up to six months. 
Congratulations! How are you looking after your health now beyond quitting alcohol?
Thank you. I haven't been that good with the gym, but I'm getting back to it. I used to be a very fit, super gym-crazy person, but now I'm always tired. I usually wake up later these days, and by later, I mean 8 am, but I'm getting back slowly. I'm eating more now. So everything is looking much better. 
And you're taking your label NowNow to ADE this year, right?
My forthcoming show in Amsterdam during ADE has been unveiled, and it promises to be an electrifying extravaganza on October 19th at Noordwaards venue. Alongside a cadre of exceptional artists, including Felicie, Jacidorex, Jan Vercauteren, and Nur Jaber, I shall take the decks and orchestrate an unforgettable night. Meanwhile, I am dedicating my efforts to rejuvenating the brand through a striking merchandising overhaul and captivating redesign. My creative pursuits extend beyond the label, encompassing ventures into the exciting realm of NFTs and a myriad of diverse projects. Additionally, I harbor a strong desire to venture into organizing NowNow events. Without a doubt, our primary focus for this year centers on expanding the label, an immensely exhilarating prospect.
What's next on the horizon for you?
I have an Australia tour, Awakenings and soon, my first all-night-long set. 
How will you prepare for your debut all-nighter?
I'll really have to prepare, but I'll possibly do it in different segments. I usually play up to 55 tracks in a standard set or 30 tracks in an hour. For an all-nighter, I'll probably start very slow, and I won't be mixing fast as I'm usually quite a fast mixer. I have playlists already saved too, so I'm sure during the course of the evening, I may jump around depending on the feeling of the crowd. I usually suss it out, and immediately my body knows what to do. I can't explain it. Sometimes, I'll know the first two tracks I'm going to play, and then I'll see the vibe. When I'm DJing, my brain works ahead and goes to different folders to find other tracks, so I'm working nonstop—you will never see me just hanging around the booth. This way of DJing is something new that has happened, maybe since I've been sober. It's been unexpected, and it's such a thrill. 
Do you use Rekordbox intensely before your sets, whether playing an all-nighter or a two-hour set?
I have a playlist for each show, but it's more about seeing the vibe and then knowing what to do. I download a lot of music all the time. I downloaded 397 tracks in April, for example. I usually make a folder of all the new tracks I want to play, but sometimes, depending on what I see and how I feel, I jump from track to track a lot. I love it this way. I know some artists who come to shows with the tracks they have selected for that show and nothing else, but that would limit me on the spot. However, everyone has their own way of performing. Also, you are always evolving as a DJ, and I want to learn new tricks and ways of performing. In music, you can never stop learning.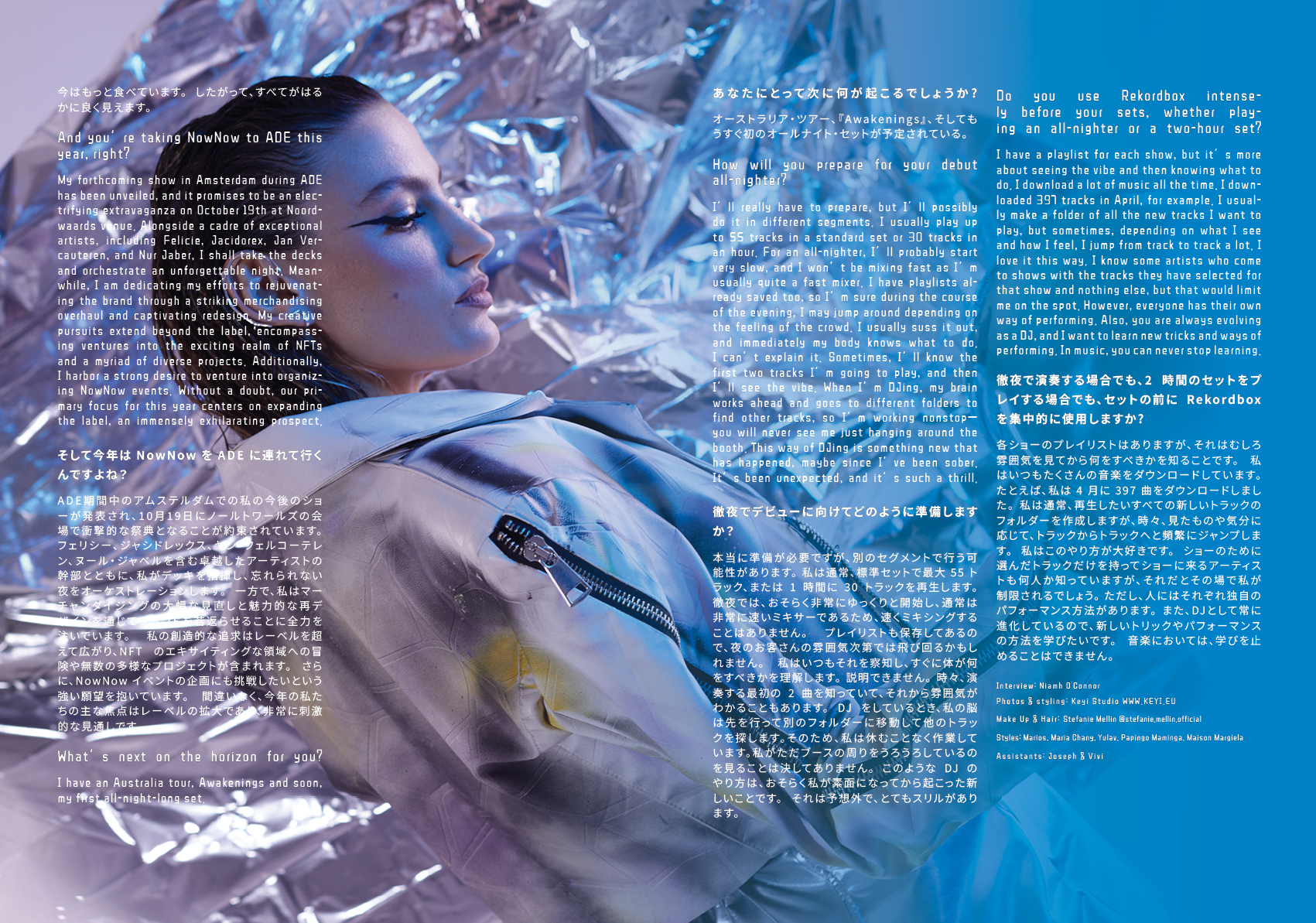 Talent: Lee Ann Roberts @leeann_roberts
Interview: Niamh O'Connor ( niamhoconnor.world )
Photos & styling: Keyi Studio WWW.KEYI.EU
Make Up & Hair: Stefanie Mellin @stefanie.mellin.official
Brands/Designers: Marios, Maria Chany, Yulav, Papingo Maminga, Maison Margiela
Big thank you to @studio183_berlin
Assistants: Joseph & Vivi
---
more music related stories ->click here