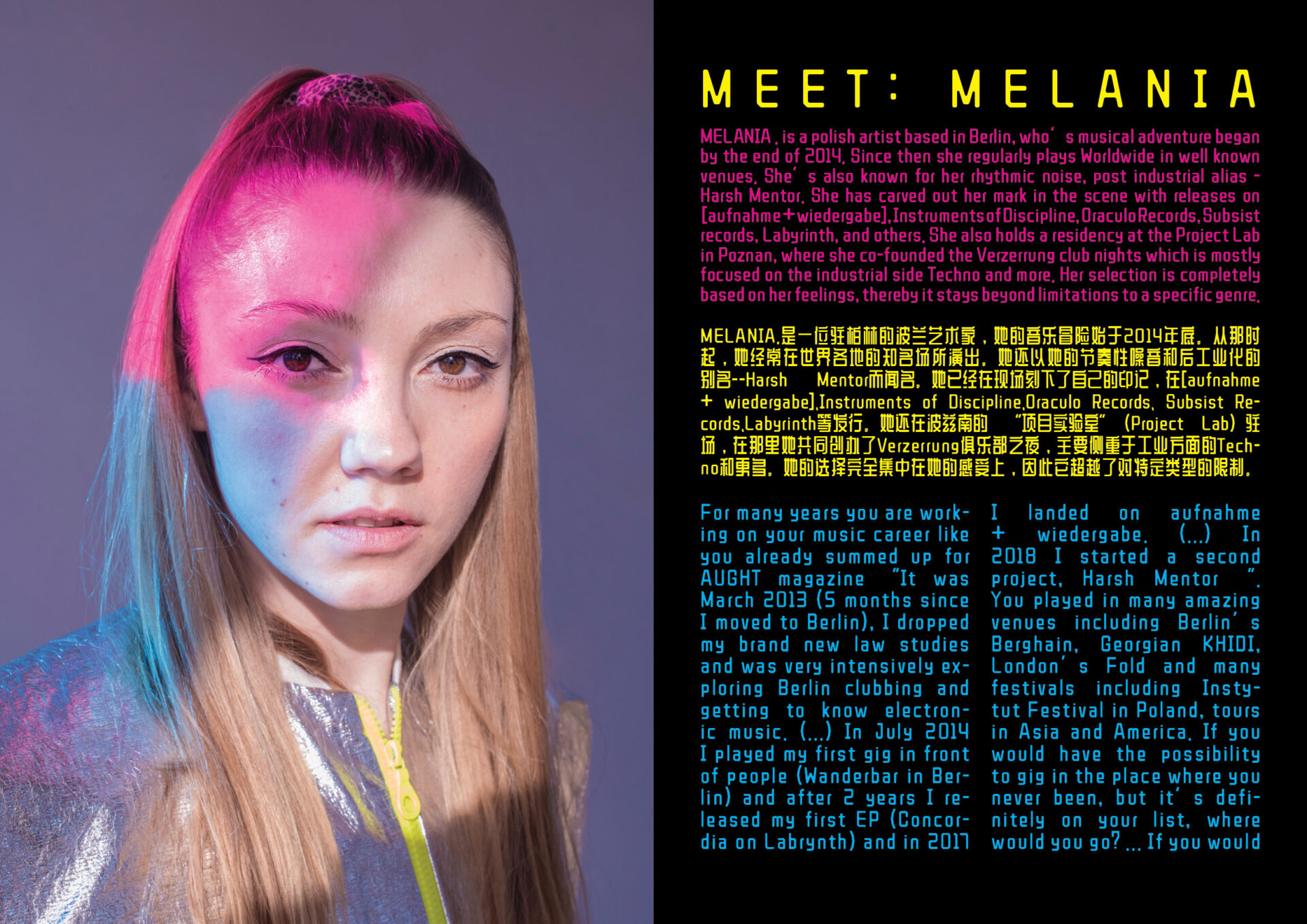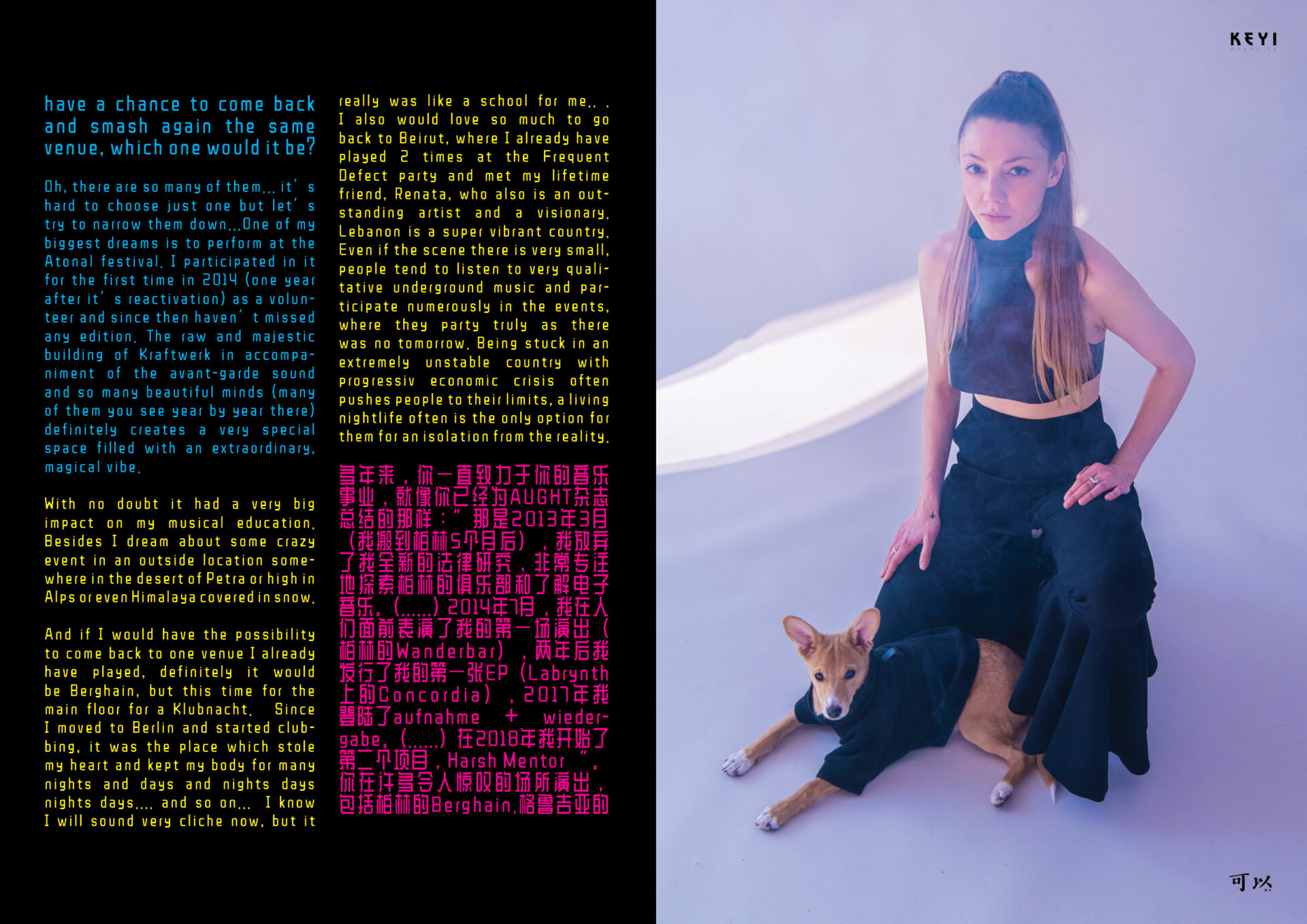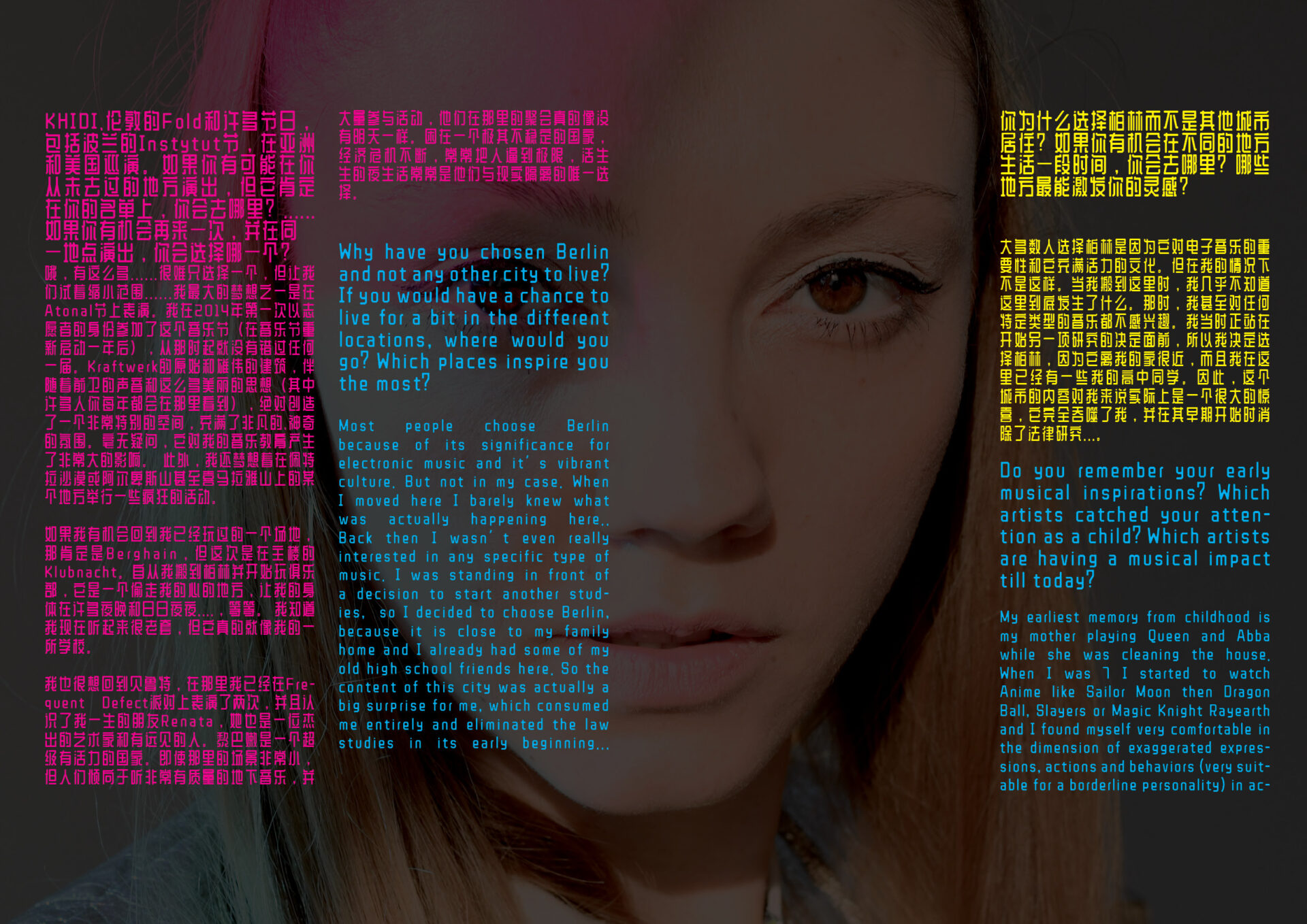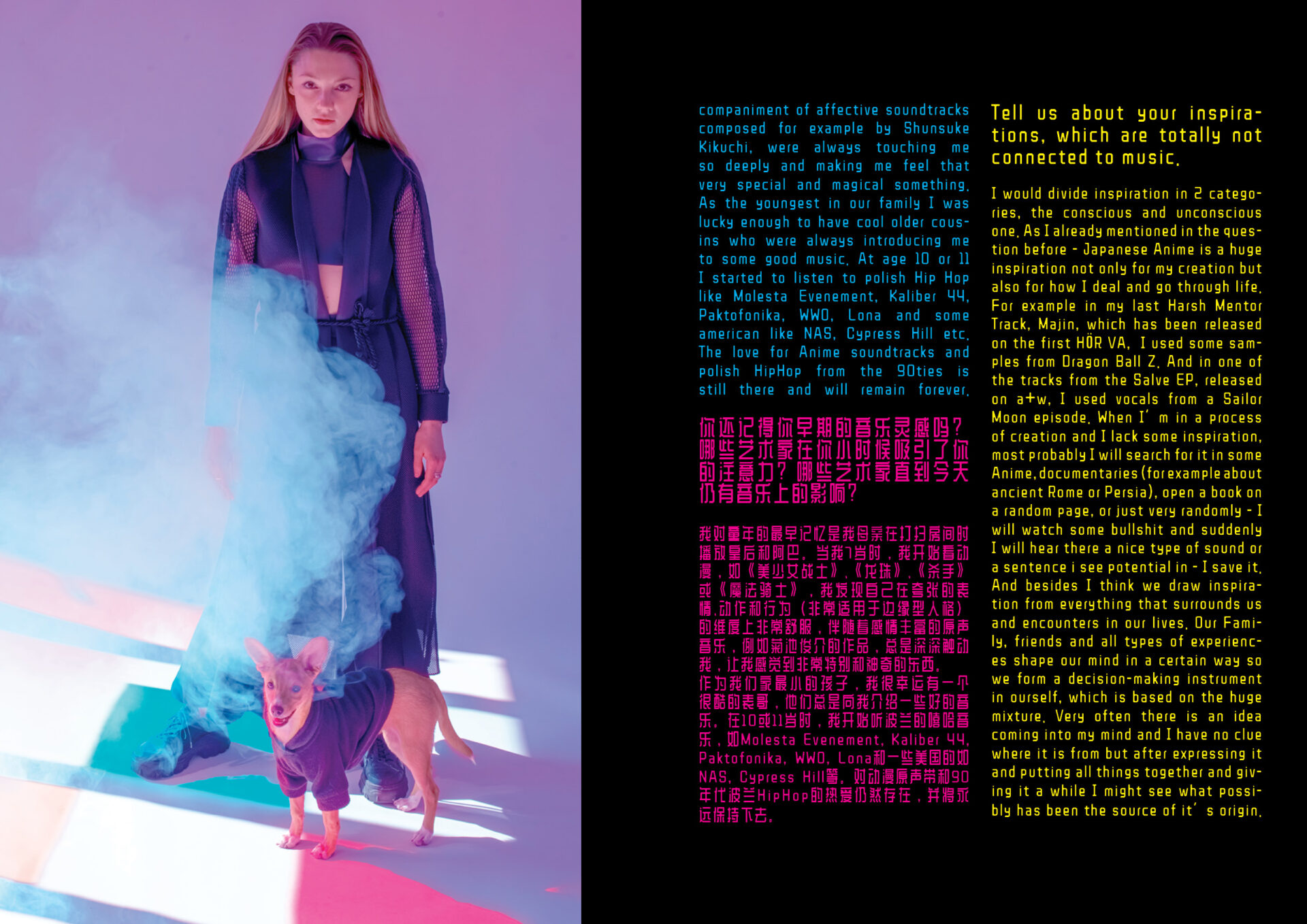 MELANIA . is a polish artist based in Berlin, who's musical adventure began by the end of 2014. Since then she regularly plays Worldwide in well known venues. She's also known for her rhythmic noise, post industrial alias – Harsh Mentor. She has carved out her mark in the scene with releases on[aufnahme + wiedergabe], Instruments of Discipline, Oraculo Records, Subsist records, Labyrinth, and others. She also holds a residency at the Project Lab in Poznan, where she co-founded the Verzerrung club nights which is mostly focused on the industrial side Techno and more. Her selection is completely based on her feelings, thereby it stays beyond limitations to a specific genre.
MELANIA.是一位驻柏林的波兰艺术家,她的音乐冒险始于2014年底。从那时起,她经常在世界各地的知名场所演出。她还以她的节奏性噪音和后工业化的别名–Harsh Mentor而闻名。她已经在现场刻下了自己的印记,在[aufnahme + wiedergabe]、Instruments of Discipline、Oraculo Records、 Subsist Records、Labyrinth等发行。她还在波兹南的 "项目实验室"(Project Lab)驻场,在那里她共同创办了Verzerrung俱乐部之夜,主要侧重于工业方面的Techno和更多。她的选择完全集中在她的感受上,因此它超越了对特定类型的限制。
For many years you are working on your music career like you already summed up for AUGHT magazine "It was March 2013 (5 months since I moved to Berlin), I dropped my brand new law studies and was very intensively exploring Berlin clubbing and getting to know electronic music. (…) In July 2014 I played my first gig in front of people (Wanderbar in Berlin) and after 2 years I released my first EP (Concordia on Labrynth) and in 2017 I landed on aufnahme + wiedergabe. (…) In 2018 I started a second project, Harsh Mentor ".
You played in many amazing venues including Berlin's Berghain, Georgian KHIDI, London's Fold and many festivals including Instytut Festival in Poland, tours in Asia and America. If you would have the possibility to gig in the place where you never been, but it's definitely on your list, where would you go? … If you would have a chance to come back and smash again the same venue, which one would it be? 
Oh, there are so many of them… it's hard to choose just one but let's try to narrow them down…One of my biggest dreams is to perform at the Atonal festival. I participated in it for the first time in 2014 (one year after it's reactivation) as a volunteer and since then haven't missed any edition. The raw and majestic building of Kraftwerk in accompaniment of the avant-garde sound and so many beautiful minds (many of them you see year by year there) definitely creates a very special space filled with an extraordinary, magical vibe.With no doubt it had a very big impact on my musical education. Besides I dream about some crazy event in an outside location somewhere in the desert of Petra or high in Alps or even Himalaya covered in snow. And if I would have the possibility to come back to one venue I already have played, definitely it would be Berghain, but this time for the main floor for a Klubnacht.   Since I moved to Berlin and started clubbing, it was the place which stole my heart and kept my body for many nights and days and nights days nights days…. and so on…  I know I will sound very cliche now, but it really was like a school for me.. . I also would love so much to go back to Beirut, where I already have played 2 times at the Frequent Defect party and met my lifetime friend, Renata, who also is an outstanding artist and a visionary.Lebanon is a super vibrant country. Even if the scene there is very small, people tend to listen to very qualitative underground music and participate numerously in the events, where they party truly as there was no tomorrow. Being stuck in an extremely unstable country with progressiv economic crisis often pushes people to their limits, a living nightlife often is the only option for them for an isolation from the reality.
多年来,你一直致力于你的音乐事业,就像你已经为AUGHT杂志总结的那样:"那是2013年3月(我搬到柏林5个月后),我放弃了我全新的法律研究,非常专注地探索柏林的俱乐部和了解电子音乐。(……) 2014年7月,我在人们面前表演了我的第一场演出(柏林的Wanderbar),两年后我发行了我的第一张EP(Labrynth上的Concordia),2017年我登陆了aufnahme + wiedergabe。(……) 在2018年我开始了第二个项目,Harsh Mentor " 。你在许多令人惊叹的场所演出,包括柏林的Berghain、格鲁吉亚的KHIDI、伦敦的Fold和许多节日,包括波兰的Instytut节,在亚洲和美国巡演。如果你有可能在你从未去过的地方演出,但它肯定在你的名单上,你会去哪里?……如果你有机会再来一次,并在同
一地点演出,你会选择哪一个?
哦,有这么多……很难只选择一个,但让我们试着缩小范围……我最大的梦想之一是在Atonal节上表演。我在2014年第一次以志愿者的身份参加了这个音乐节(在音乐节重新启动一年后),从那时起就没有错过任何一届。Kraftwerk的原始和雄伟的建筑,伴随着前卫的声音和这么多美丽的思想(其中许多人你每年都会在那里看到),绝对创造了一个非常特别的空间,充满了非凡的、神奇的氛围。毫无疑问,它对我的音乐教育产生了非常大的影响。 此外,我还梦想着在佩特拉沙漠或阿尔卑斯山甚至喜马拉雅山上的某个地方举行一些疯狂的活动。如果我有机会回到我已经玩过的一个场地,那肯定是Berghain,但这次是在主楼的Klubnacht。自从我搬到柏林并开始玩俱乐部,它是一个偷走我的心的地方,让我的身体在许多夜晚和日日夜夜….,等等。 我知道我现在听起来很老套,但它真的就像我的一所学校。我也很想回到贝鲁特,在那里我已经在Frequent Defect派对上表演了两次,并且认识了我一生的朋友Renata,她也是一位杰出的艺术家和有远见的人。黎巴嫩是一个超级有活力的国家。即使那里的场景非常小,但人们倾向于听非常有质量的地下音乐,并大量参与活动,他们在那里的聚会真的像没有明天一样。困在一个极其不稳定的国家,经济危机不断,常常把人逼到极限,活生生的夜生活常常是他们与现实隔离的唯一选择。
Why have you chosen Berlin and not any other city to live? 
If you would have a chance to live for a bit in the different locations, where would you go? Which places inspire you the most?Most people choose Berlin because of its significance for electronic music and it's vibrant culture. But not in my case. When I moved here I barely knew what was actually happening here.. Back then I wasn't even really interested in any specific type of music. I was standing in front of a decision to start another studies,  so I decided to choose Berlin, because it is close to my family home and I already had some of my old high school friends here. So the content of this city was actually a big surprise for me, which consumed me entirely and eliminated the law studies in its early beginning…
你为什么选择柏林而不是其他城市居住?如果你有机会在不同的地方生活一段时间,你会去哪里?哪些地方最能激发你的灵感?
大多数人选择柏林是因为它对电子音乐的重要性和它充满活力的文化。但在我的情况下不是这样。当我搬到这里时,我几乎不知道这里到底发生了什么。那时,我甚至对任何特定类型的音乐都不感兴趣。我当时正站在开始另一项研究的决定面前,所以我决定选择柏林,因为它离我的家很近,而且我在这里已经有一些我的高中同学。因此,这个城市的内容对我来说实际上是一个很大的惊喜,它完全吞噬了我,并在其早期开始时消除了法律研究…。
Do you remember your early musical inspirations? Which artists catched your attention as a child? Which artists are having a musical impact till today?
My earliest memory from childhood is my mother playing Queen and Abba while she was cleaning the house. When I was 7 I started to watch Anime like Sailor Moon then Dragon Ball, Slayers or Magic Knight Rayearth and I found myself very comfortable in the dimension of exaggerated expressions, actions and behaviors (very suitable for a borderline personality) in accompaniment of affective soundtracks composed for example by Shunsuke Kikuchi, were always touching me so deeply and making me feel that very special and magical something.As the youngest in our family I was lucky enough to have cool older cousins who were always introducing me to some good music. At age 10 or 11 I started to listen to polish Hip Hop like Molesta Evenement, Kaliber 44, Paktofonika, WWO, Lona and some american like NAS, Cypress Hill etc. The love for Anime soundtracks and polish HipHop from the 90ties is still there and will remain forever. 
你还记得你早期的音乐灵感吗?哪些艺术家在你小时候吸引了你的注意力?哪些艺术家直到今天仍有音乐上的影响?
我对童年的最早记忆是我母亲在打扫房间时播放皇后和阿巴。当我7岁时,我开始看动漫,如《美少女战士》、《龙珠》、《杀手》或《魔法骑士》,我发现自己在夸张的表情、动作和行为(非常适用于边缘型人格)的维度上非常舒服,伴随着感情丰富的原声音乐,例如菊池俊介的作品,总是深深触动我,让我感觉到非常特别和神奇的东西。
作为我们家最小的孩子,我很幸运有一个很酷的表哥,他们总是向我介绍一些好的音乐。在10或11岁时,我开始听波兰的嘻哈音乐,如Molesta Evenement, Kaliber 44, Paktofonika, WWO, Lona和一些美国的如NAS, Cypress Hill等。对动漫原声带和90年代波兰HipHop的热爱仍然存在,并将永远保持下去。
Tell us about your inspirations, which are totally not connected to music. 
I would divide inspiration in 2 categories, the conscious and unconscious one. As I already mentioned in the question before – Japanese Anime is a huge inspiration not only for my creation but also for how I deal and go through life. For example in my last Harsh Mentor Track, Majin, which has been released on the first HÖR VA,  I used some samples from Dragon Ball Z. And in one of the tracks from the Salve EP, released on a+w, I used vocals from a Sailor Moon episode. When I'm in a process of creation and I lack some inspiration, most probably I will search for it in some Anime, documentaries (for example about ancient Rome or Persia), open a book on a random page, or just very randomly – I will watch some bullshit and suddenly I will hear there a nice type of sound or a sentence i see potential in – I save it. And besides I think we draw inspiration from everything that surrounds us and encounters in our lives. Our Family, friends and all types of experiences shape our mind in a certain way so we form a decision-making instrument in ourself, which is based on the huge mixture. Very often there is an idea coming into my mind and I have no clue where it is from but after expressing it and putting all things together and giving it a while I might see what possibly has been the source of it's origin.
告诉我们你的灵感,这些灵感与音乐完全没有关系。
我把灵感分为两类,有意识的和无意识的。正如我在之前的问题中提到的–日本动漫是一个巨大的灵感,不仅是对我的创作,也是对我如何处理和经历生活的灵感。例如,在我的最后一首Harsh Mentor Track中,Majin,已经在第一个HÖR VA中发布,我使用了一些来自Dragon Ball Z的样本。当我在创作过程中缺乏一些灵感时,我很可能会在一些动漫、纪录片(例如关于古罗马或波斯)中寻找它,在随机的一页上打开一本书,或者只是非常随机地–我会看一些废话,突然我听到一个很好的声音类型或一个我认为有潜力的句子–我保存它。此外,我认为我们从我们周围的一切和我们生活中遇到的一切中汲取灵感。我们的家庭、朋友和所有类型的经验以某种方式塑造我们的头脑,因此我们在自己身上形成了一个决策工具,这是基于巨大的混合。很多时候,有一个想法进入我的脑海,我不知道它来自哪里,但在表达它,把所有的东西放在一起,给它一段时间后,我可能会看到什么可能是它的来源。
How did you join the Aufnahme + Wiedergabe label and why this was your choice? If you could leave a footprint on other labels, which you still didn't approach, which would it be? 
I met Philipp Strobel, the owner of a+w, in Switzerland in Basel, where we played together at a party in Hirscheneck, where I used to be a resident in 2015-2018. We had a great time together and understood each other well musical wise. At some point I proposed to him the EP and he accepted it.I have some dreams/plans but I would prefer not to jinx it 😉
你是如何加入Aufnahme+Wiedergabe标签的,为什么会有这样的选择?如果你能在其他标签上留下足迹,而你仍然没有接近,那会是哪个?
我在瑞士的巴塞尔认识了a+w的老板Philipp Strobel,我们在Hirscheneck的一个派对上一起演出,2015-2018年我曾在那里居住。我们在一起度过了一段美好的时光,在音乐上也很了解对方。在某种程度上,我向他提议制作EP,他接受了。
我有一些梦想/计划,但我不想让它成为厄运;)
If you could do anything different like you did .. what would you do better with your experience you have today?
I guess this has always been one of the biggest traps of my mind… Overthinking , analysing, reanalyzing, questioning everything and blaming myself for the "bad"  decisions or actions I've taken or I haven't …In effect I was mostly sinking in the past and cultivating the regret and all the rest of sorrow feelings from the dark- emotions- palette. Now I try not to think this way because  it's poisonous. But what I can say is that for sure I would listen more to my own guts, my inner voice and be more brave by taking several decisions than making the others decide for me. And also less thinking, especially overthinking, more action… but also the other way around, more thinking before taking action… !XD 
(Oh my,  I sound like a disaster machine XD haha)
如果你能像你那样做任何不同的事情……你会用你今天的经验做得更好?
我想这一直是我头脑中最大的陷阱之一……过度思考、分析、再分析、质疑一切,并为我所做的或未做的 "坏 "决定或行动责备自己。实际上,我主要是沉浸在过去,培养遗憾和所有其他来自黑暗中的悲伤情绪–调色板。现在我试着不这样想,因为它是有毒的。但我可以说的是,我肯定会更多地听从我自己的胆量,我内心的声音,更勇敢地做出一些决定,而不是让别人替我决定。 也会减少思考,尤其是过度思考,更多的行动……但也会反过来,在采取行动之前更多的思考……XD(哦,我听起来像一台灾难机器XD,哈哈)。
总之,现在已经过去了,我吸取了教训,尽量不要再为这些事情后悔,而是把注意力放在它的积极结果上,在这里,现在,更多的是向前看。
Tell us about creating your rhythmic/harsh noise and contemporary industrial project – Harsh Mentor. How did that start ? How does it differ from you performing as Melania. ? 
The sound of Harsh Mentor started to form in late 2017, after creating several tracks I was sure it had to be a separate project. I always wanted to have an alter ego, to whom I could have a certain distance, but also the idea of creating a character from a scratch,  giving it some trait and values has always been super exciting to me (like playing Sims or Tamgochi, and then killing it by the end! 😀 Haha).The first performance thereby appearance of Harsh Mentor took place in March 2018 in Suicide Circus at the Rituals party curated by a+w, the EP was already signed to be released soon on a+w. In the beginning it was a secret project, I was not showing my identity and I was performing hybrid and live in a kind of mask. Funny fact is that many people were thinking Harsh Mentor is a secret alias of some big industrial guy, haha, so I definitely had a lot of fun by reading some comments or listening to some "gossips" before I revealed my identity. The difference between this project and Melania is also the genre limitation and esthetic. When I decided to be a DJ and Producer in 2014 I was still very young and naive and not so sure about the direction I was about to take, so I decided to stay by my own name, nota bene let myself the freedom for all turn of events. And the path of Harsh Mentor has been designated. 
告诉我们关于创建你的有节奏的/刺耳的噪音和当代工业项目–《刺耳的导师》。它是如何开始的?它与你作为Melania的表演有什么不同。? 
Harsh Mentor的声音在2017年底开始形成,在创作了几首曲目后,我确定它必须成为一个独立的项目。我一直想有一个另一个自我,我可以和他有一定的距离,但是从头开始创造一个角色,赋予它一些特质和价值的想法对我来说总是超级兴奋(就像玩模拟人生或Tamgochi,然后在最后杀死它! 😀 Haha)。Harsh Mentor的第一次表演是在2018年3月在Suicide Circus由a+w策划的Rituals派对上进行的,这张EP已经签约,很快将在a+w上发行。一开始,这是一个秘密项目,我没有显示我的身份,我是戴着一种面具进行混合和现场表演。有趣的是,很多人认为Harsh Mentor是某个工业大佬的秘密别名,哈哈,所以在我暴露身份之前,我通过阅读一些评论或听一些 "流言蜚语 "肯定有很多乐趣。这个项目和Melania的区别还在于流派的限制和审美。当我在2014年决定做一个DJ和制作人的时候,我还很年轻,很天真,对我要走的方向不是很确定,所以我决定用我自己的名字,让自己有自由去面对所有的事情。而哈什导师的道路已经被指定。 
Do you have some things coming, which would you like to tell us about? How do you see yourself performing live?Any advice for musician's how to deal with the stress before the performance?
For now there are 4 Remixes of mine to come out soon. 3 of Melania and 1 of Harsh Mentor. For now I can mention only the one for Fairground Of Tears (London based polish artist) to be out on Instruments Of Discipline and for Bestial Mouth album remixes VA.  Also there will be a single on a very big VA I am super happy to be included in. Besides, I am finally working on my own EP. Unfortunately in September last year I spilled some beer on my laptop and lost completely all data … I haven't been doing backup since 2015, so basically I lost everything I've been working on since I started to learn production… It was a huge turning point for me, I was devastated for a long time, was even considering to stop everything and simply to let that stuff go… It took me a while but I pulled myself together and am back on work with new fresh energies 🙂 It depends on a lot of things, the physical and mental state, relation with the promoter/ artist, the soundsystem etc…The before- performance-stress is lower if you feel that you are prepared enough. Besides, I'm just trying to be in a good mood and joke as much as possible, it literally kills the stress in me. Natural serotonin is the biggest enemy of kortisol 🙂
你有一些事情要做,你想告诉我们吗?你如何看待自己的现场表演?对音乐家如何处理演出前的压力有什么建议吗?
目前,我有4首混音作品即将问世。其中3张是Melania,1张是Harsh Mentor。现在我只能提到为Fairground Of Tears(伦敦的波兰艺术家)制作的混音,将在Instruments Of Discipline和Bestial Mouth专辑混音VA中发行。 此外,我还将在一个非常大的VA上发行一支单曲,我非常高兴能被纳入其中。此外,我终于在做我自己的EP了。不幸的是,去年9月,我把啤酒洒在了我的笔记本电脑上,完全失去了所有的数据……我从2015年开始就没有做备份,所以基本上我失去了我开始学习制作以来的所有工作……这对我来说是一个巨大的转折点,我被摧毁了很久,甚至考虑停止一切,只是让那些东西消失……我花了一段时间,但我把自己拉起来,以新的精力重新开始工作:) 这取决于很多事情,身体和精神状态,与推广人/艺术家的关系,音响系统等等。如果你觉得你有足够的准备,演出前的压力就会降低。此外,我只是尽量保持好心情,尽可能多地开玩笑,这简直是在杀死我的压力。天然血清素是可体素的最大敌人 🙂
Tell us more about you touring in Asia. What was your most remarkable memory about your experiences there? 
Oh, I loved Asia! Especially South Korea, Seoul. I connected with the people and their culture immediately. They bewitched me entirely with their kindness, generosity and sense of humor. I spent 5 wonderful days in Seoul surrounded by amazing people discovering their fascinating culture and delicious food (which is one of my high top favorites). I have never seen anyone in my life who would be so happy to be on a party and wouldn't mind expressing themself so intensively! That was so amazing and funny!  I'd give a lot to get back there!The party went so great that the promoter asked me to play another one 2 nights after on a regular Monday night! 😀 
告诉我们更多关于你在亚洲旅游的情况。关于你在那里的经历,你最难忘的记忆是什么?
哦,我喜欢亚洲!尤其是韩国,首尔。特别是韩国,首尔。我立刻就和他们的人民和文化联系在一起。他们的善良、慷慨和幽默感完全迷住了我。我在首尔度过了5天美好的时光,周围都是了不起的人,发现他们迷人的文化和美味的食物(这是我最喜欢的食物之一)。在我的生活中,我从未见过有人会如此高兴地参加聚会,并且不介意如此密集地表达自己! 这真是太神奇了,也太有趣了!  我愿意付出很多来回到那里!派对进行得非常顺利,以至于主办方要求我在之后的两个晚上在一个普通的周一晚上再玩一次! 😀
What would you change in touring if you would like to improve it to be a more sustainable experience? Could you imagine spreading it more with time or you prefer shorter escapades ?
It depends on the place, if it's going to a different continent I would love to stay even a few months there and have the opportunity to travel slowly from place to place and see everything carefully. I'd love to have enough time to experience the naitve lifestyle and to be able to create  music and learn some new things. When I went to Asia I spent only 3 weeks there in America only 2… And I must say it was pretty stressful and challenging to relax and be present… Especially because I was there for the first time and all by myself. It's pretty a lot to take on. So I think spending 4 months with a close person in a different continent, traveling to gigs with trains and reducing airplanes as much as possible could be a game changer. On the other hand, there are also places where I don't really feel a big need to stay longer and explore and I'm totally satisfied with going just for one night. 
如果你想改善旅游,使其成为一种更可持续的体验,你会在旅游中做出什么改变?你是否可以想象,随着时间的推移,你会更多地分散它,或者你更喜欢短途旅行?
这取决于地方,如果是去不同的大陆,我很想在那里呆上哪怕几个月,有机会从一个地方慢慢走到另一个地方,仔细观察一切。我很想有足够的时间来体验新奇的生活方式,并且能够创作音乐和学习一些新的东西。当我去亚洲的时候,我只花了3个星期,在美国只花了2个星期…。我必须说,那是相当大的压力和挑战,要放松,要呈现…。特别是因为我是第一次去那里,而且是一个人。这是一个相当大的挑战。因此,我认为花4个月的时间和一个亲密的人在不同的大陆,用火车和尽可能少的飞机去演出,可能会改变游戏规则。
另一方面,也有一些地方,我并不觉得有很大的必要停留更长的时间和探索,我完全满足于只去一个晚上。
During your asian tour you had a gig in one of our favourite clubbing destinations – OIL club in Shenzhen, China. How did you enjoy it ? How would you compare it to the other places in China? How was the hospitality? 
OIL was awesome! It was the starting gig of the tour, so it brought me in a very good mood and filled with a lot of excitement for the rest of the trip. The club owners were super nice and took a lot of care of me, including very good jet lag tips! hehe They brought me to amazing vegan restaurants, which is pretty problematic to find in China, so I was truly impressed and grateful. And you guys were there! 😀 So this was another wonderful aspect of this stop! We had so much fun and did our first shooting. You took me to the oldest part of Shenzhen therefore I was very happy to see at least a little bit of the city before flying further. The club itself left quite a big impression on me as well, a very nice space with a good  sound system. And the party was pretty wild, responsive and an open minded crowd, which allowed me to play whatever I want. The pick time moment of my gigs on this tour was dropping in the middle of my sets the Sailor Moon opening theme! I was sure this couldn't go wrong there! ;D.
在你们亚洲巡演期间,你们在我们最喜欢的俱乐部之一–中国深圳的OIL俱乐部进行了演出。你是如何享受它的?你怎么把它和中国其他地方相比?那里的接待情况如何?
OIL太棒了!这是巡回演出的开始。这是巡回演出的开始,所以它给我带来了非常好的心情,对接下来的旅程充满了兴奋。俱乐部的老板非常好,对我照顾有加,包括非常好的时差提示!嘿嘿。
他们把我带到了令人惊叹的素食餐厅,这在中国是很难找到的,所以我真的很感动和感激。而你们也在那里! 所以这也是这一站的另一个精彩之处!我们玩得很开心,并进行了第一次拍摄。我们玩得很开心,并进行了我们的第一次拍摄。你们把我带到了深圳最古老的地方,因此我很高兴在飞往更远的地方之前至少看到了这个城市的一小部分。俱乐部本身也给我留下了很深的印象,一个非常好的空间和良好的音响系统。派对非常狂野,反应迅速,人群思想开放,让我可以随意发挥。在这次巡回演出中,我最满意的时刻是在我的演出中加入了《美少女战士》的开场主题。我确信这不会出错!;D 。
"If everyone on the planet would dig more inside themselves, put the ego aside and finally listen to the true voice of consciousness and try to heal themselves – the world would definitely be a different place. "  you told in the interview for Aught Magazine. As we know you have been doing a lot for your personal growth and transformation, what would you recommend for aspiring musicians to develop their artistic persona and improve the flow of their creativity? 
I think getting in touch with your true self is mandatory for a powerful and genuine expression. Everyone is different thereby also works differently, but I'd recommend trying out several possibilities and styles of workflow while feeling stuck or going for a walk in the meantime. Refreshing head and ears work wonders! But in my opinion the most important thing is to take care of our own mental and physical comfort to be relaxed enough to release the right vibration and to maintain its outcome. Besides aspekt of creation, most important to me is to become a better person and try to curb the ego sensibly.
"如果这个星球上的每个人都能更多地挖掘自己的内心,把自我放在一边,最终倾听意识的真正声音,并尝试治愈自己–世界肯定会是一个不同的地方。"你在接受Aught杂志采访时说。我们知道你一直在为你的个人成长和转变做很多事情,你对有抱负的音乐家有什么建议,以发展他们的艺术个性和提高他们的创造力的流动?
我认为与真实的自我接触是强大和真实的表达的必经之路。每个人都是不同的从而也有不同的工作方式,但我建议在感到困顿的时候尝试几种可能性和工作流程的风格,或者在这期间去散步。清醒的头脑和耳朵有神奇的作用! 但在我看来,最重要的是照顾好我们自己的精神和身体的舒适度,让我们足够放松,以释放正确的振动并保持其结果。除了创作,对我来说最重要的是成为一个更好的人,并尝试合理地抑制自我。
Do you have any favourite asian/ Asia based musicians  ? Why do they like their work ? 
As first I'd love to give a shout out to my talented Korean friend, Comarobot! The founder and organizer of Volnost in Seoul, where I did play during my tour. Recently he released his EP on Webuildmachines and it's really a killer!Very refreshing and pretty modern sound alternates with the industrial base in a dystopian vibe. The noisy and raw part of my soul gives a nod to Japan for its 2 absolut legends – Merzbow and Tomohiko Sagae. I met Tomohiko and his wife a few years ago on a party in the Arena Club in Berlin. I remember how amazed I was by the contrast between his warm, kind and modest personality and the extremely brutal live performance he gave. Another Artist from Japan who is still pretty unknown but deserves more recognition is Indus Bonze, who's style and inspiration doesn't know any borders. A lot of crazy rhythms, interesting arrangements, mostly oscillating around industrial, drum'n bass, breakbeat, organic drums and so on..And finally the 2 brilliant chinese artists – Pan Dajing and Tzusing. I discovered Pan Dajing when she released on the Thai label Bedouin Records in 2016 and I've seen her live at the Atonal festival in 2017. I admire her absolute artistic approach, aesthetic and because she's a complete artist who combines music, film and different types of art performances. Tzusing is a master of mixing weirdest styles and keeping the funk in it. His album (also) on Bedoiun Records is a masterpiece.
你有什么喜欢的亚洲人/亚洲的音乐人吗?为什么喜欢他们的作品?
首先,我想向我才华横溢的韩国朋友Comarobot表示感谢!他是首尔VOLNOST的创始人和组织者,我在那里进行了巡演。他是首尔VOLNOST的创始人和组织者,我在那里进行了巡演。最近,他在Webuildmachines上发行了他的EP,这真的是一个杀手锏!非常清新和漂亮的现代声音交替出现。非常清新和漂亮的现代声音与工业基础交替出现,充满了神秘主义的氛围。 我灵魂中嘈杂和原始的部分向日本的两位绝对传奇人物–Merzbow和Tomohiko Sagae点头致意。几年前,我在柏林Arena俱乐部的一个派对上见到了Tomohiko和他的妻子。我记得我对他热情、善良、谦虚的个性和他极其残酷的现场表演之间的对比感到非常惊讶。另一位来自日本的艺术家是Indus Bonze,他的风格和灵感不分国界,仍然相当不为人知,但值得更多认可。很多疯狂的节奏,有趣的安排,主要围绕着工业、鼓贝斯、霹雳、有机鼓等摇摆不定。最后是两位出色的中国艺术家–潘大靖和Tzusing。我发现潘大靖是在2016年她在泰国厂牌Bedouin Records发行的时候,我在2017年的Atonal音乐节上看过她的现场。我欣赏她绝对的艺术手法、审美,因为她是一个完整的艺术家,她把音乐、电影和不同类型的艺术表演结合起来。Tzusing是一个混合最奇怪的风格并保持放克的大师。他在Bedoiun唱片公司的专辑(也)是一个杰作。
If you would take 3 objects to an abandoned island with you what it would be?
Oh, I'm the worst one in packing, so almost certainly I'd take some random useless bullshit and would die 2 days after lol :v But surely I'd need to take my contact lens to be able to see, writing paper and a bottle to send a help message! ;P 
如果你要带3样东西去一个废弃的小岛,你会带什么?
哦,我是最不善于收拾行李的人,所以几乎可以肯定的是,我会随便带一些无用的东西,两天后就会死掉,lol :v但我肯定需要带我的隐形眼镜,以便能看到东西,还有写字纸和瓶子,以便发送求助信息!;P
You are actively involved in veganism and help for animals. Do you have an impact on other people to switch to this more healthy and fair practice? Do you believe we can still change the world for the better place ?
Hmm, not that I am aware of it, I hope I do! But when I post about something, some people are replying and mostly agreeing, or telling me that they didn't know about some facts and they are concerned, but of course there is still a big group of deniers and comfort zone lovers, who very often even feel offended…And again we go back to the ego problem – I'm gonna quote myself from the Aught Magazin as you did in the question nr 14. : "If everyone on the planet would dig more inside themselves, put the ego aside and finally listen to the true voice of consciousness and try to heal themselves – the world would definitely be a different place"People need to finally understand that there is no pyramid in our ecosystem and that humans do not stand on its top. There is only a circle where all beings are equal and connected. Empathy, compassion and minimalism is all what nature needs from us. I'm not sure if we will have enough time to change the world for a better place, but definitely we should do as much as we can and believe in it.  I'm not sure if we will have enough time to change the world for a better place, but definitely we should do as much as we can and believe in it.
你积极参与素食主义和对动物的帮助。你是否对其他人产生了影响,让他们转而采用这种更健康和公平的做法?你是否相信我们仍然可以改变世界,使之变得更好?
嗯,我没有意识到,我希望我有! 但是,当我发布一些信息时,有些人在回复,而且大多同意,或者告诉我他们不知道一些事实,他们很担心,但当然还有一大群否认者和舒适区爱好者,他们甚至经常感到被冒犯……我们再次回到自我的问题上–我要像你在第14号问题中那样引用自己在Aught Magazin的发言。如果这个星球上的每个人都能更多地挖掘自己的内心,把自我放在一边,最终倾听意识的真正声音,并尝试治愈自己–世界肯定会是一个不同的地方。人们需要最终明白,在我们的生态系统中没有金字塔,人类并不站在其顶端。这里只有一个圆圈,所有的生命都是平等的、相互联系的。同理心、同情心和极简主义都是大自然需要我们做的。我不确定我们是否有足够的时间来改变世界,使之变得更美好,但肯定的是,我们应该尽我们所能,并相信它。
Any upcoming surprises you would like to share with your audience? 
For now I have 3 upcoming festivals for this Summer, let's hope it's just a small start for leaving the pandemic behind us! 🙂
你有什么即将到来的惊喜想和你的观众分享吗?
现在,我有3个即将在今年夏天举办的节日,让我们希望这只是一个离开大流行病的小开始! 🙂
Interview 作者: Izabella Chrobok & Grzegorz Bacinski
Fashion: Studio183 Berlin [ incl. brands : 
Assembled Half, Sinous Sisters, Papinga Maminga, neon rabbit, Kiss The Future]
Akira styled by U/Y Studio
Translation 翻译: Emi
Photos照片: Keyi Studio