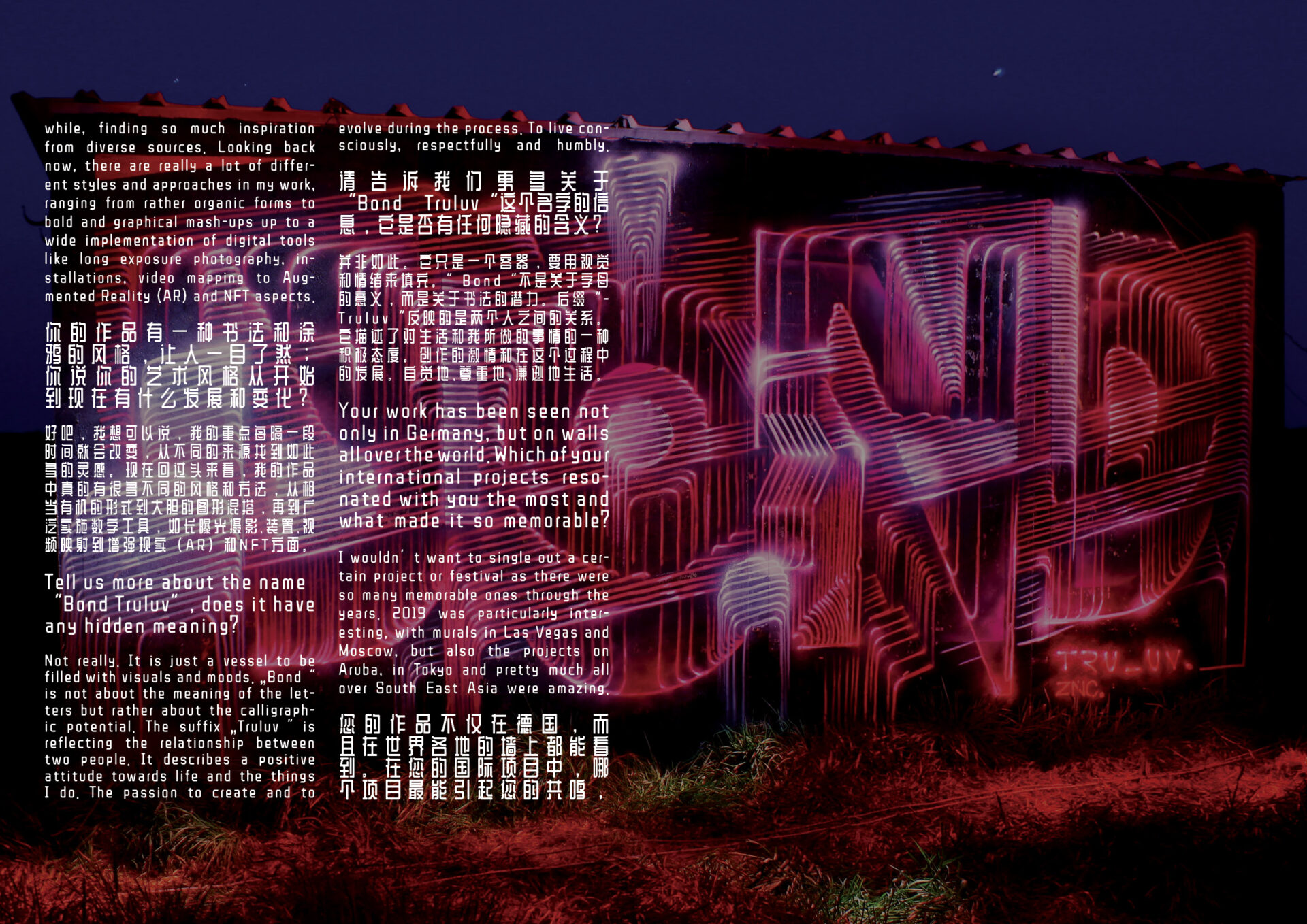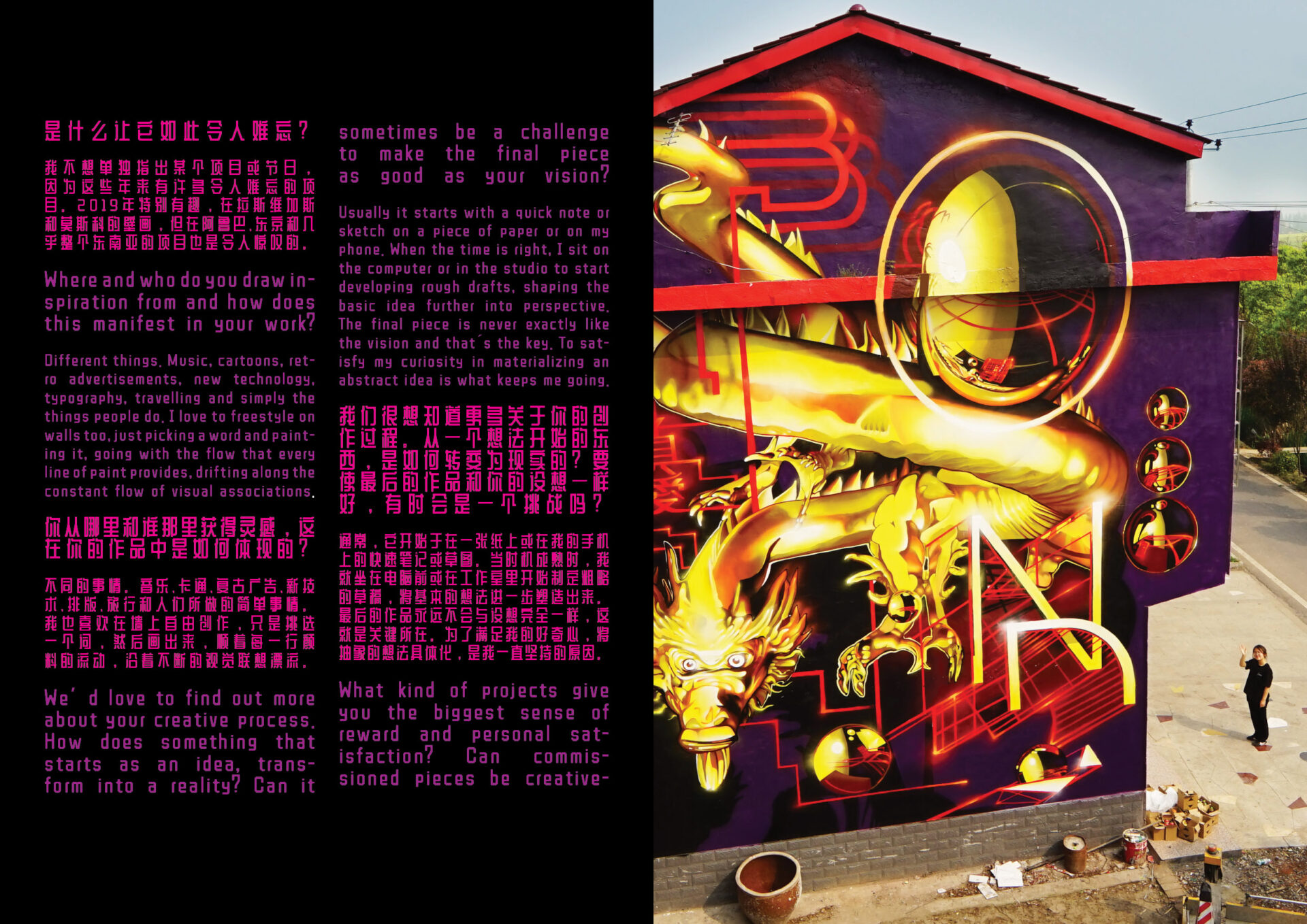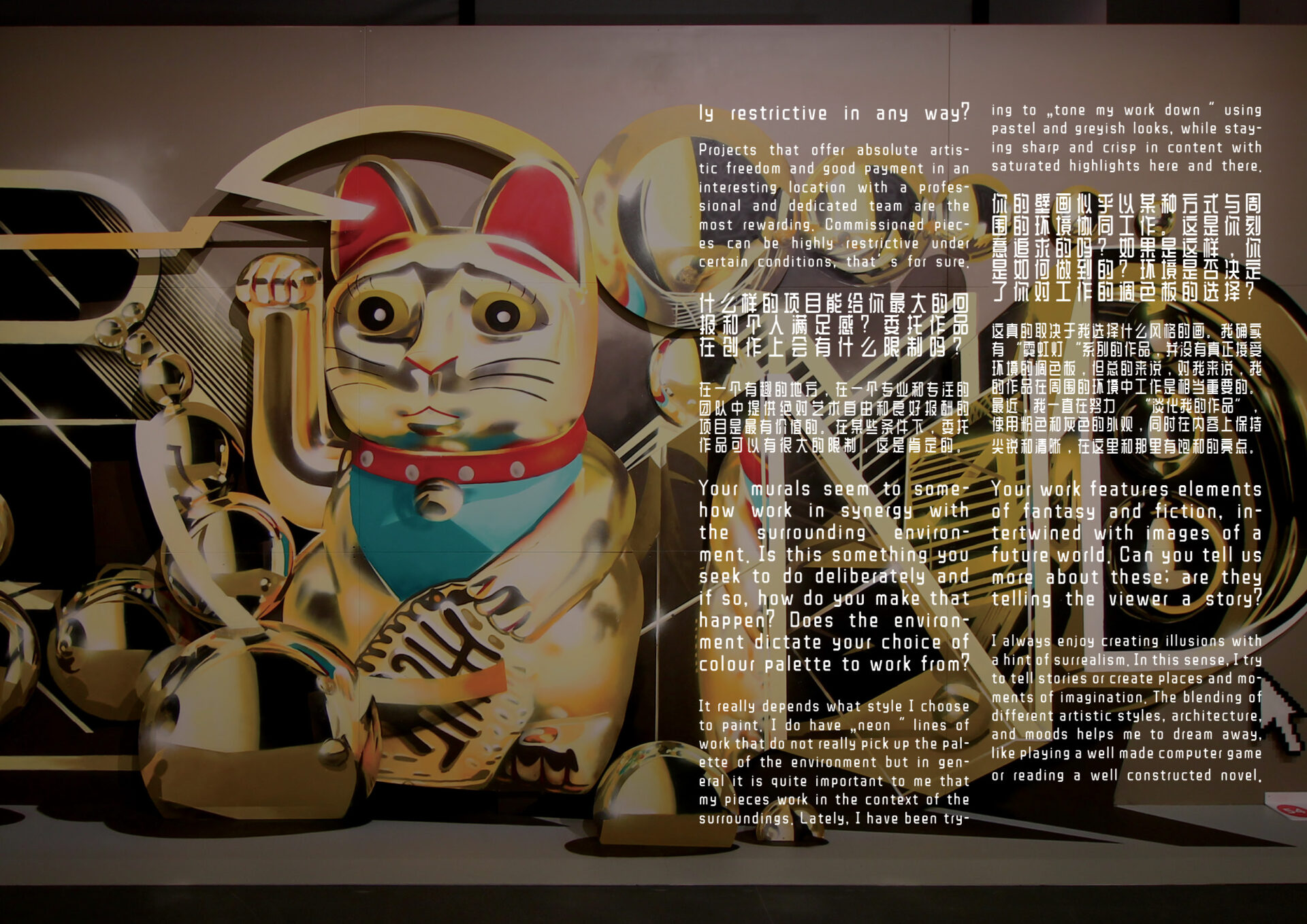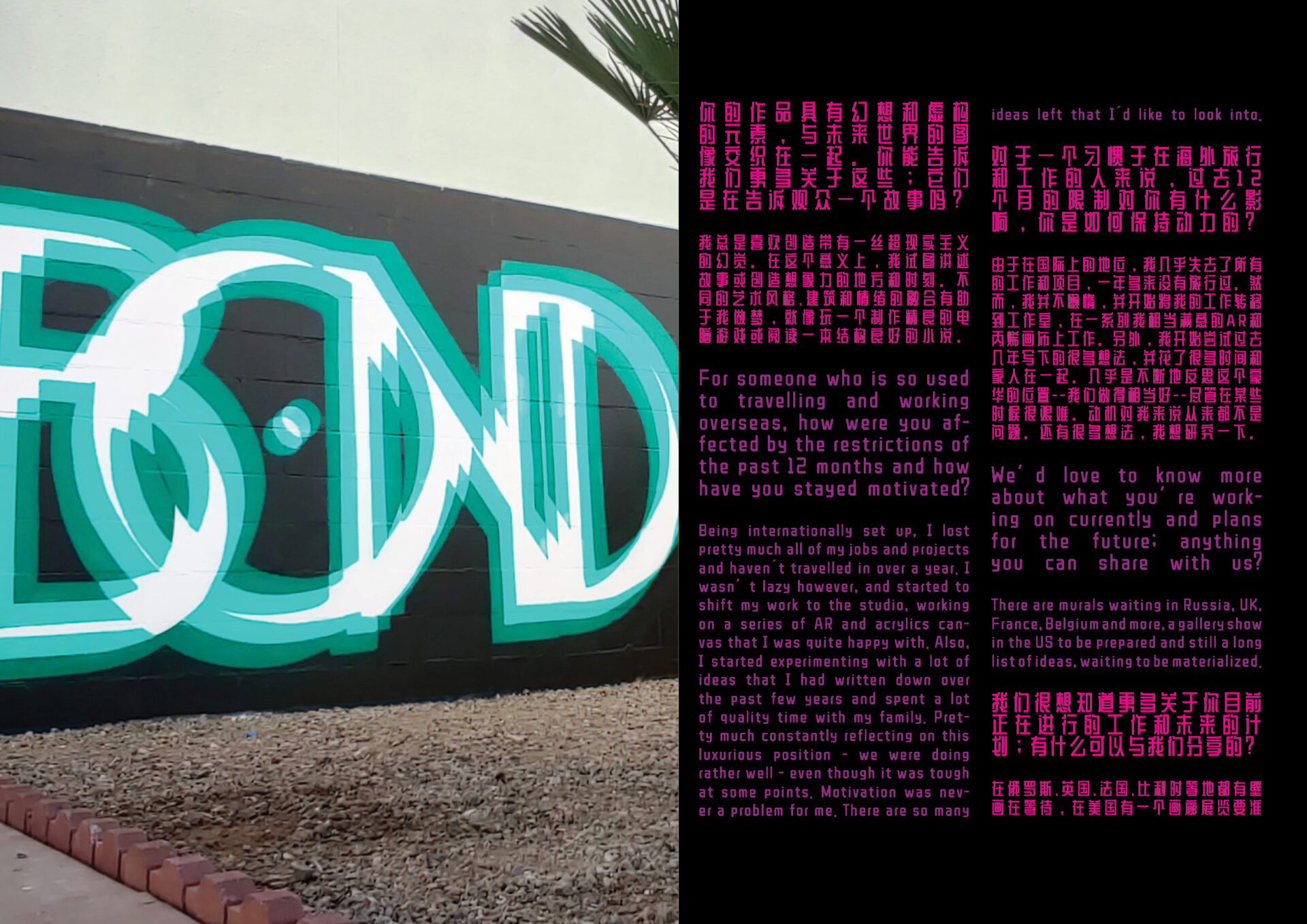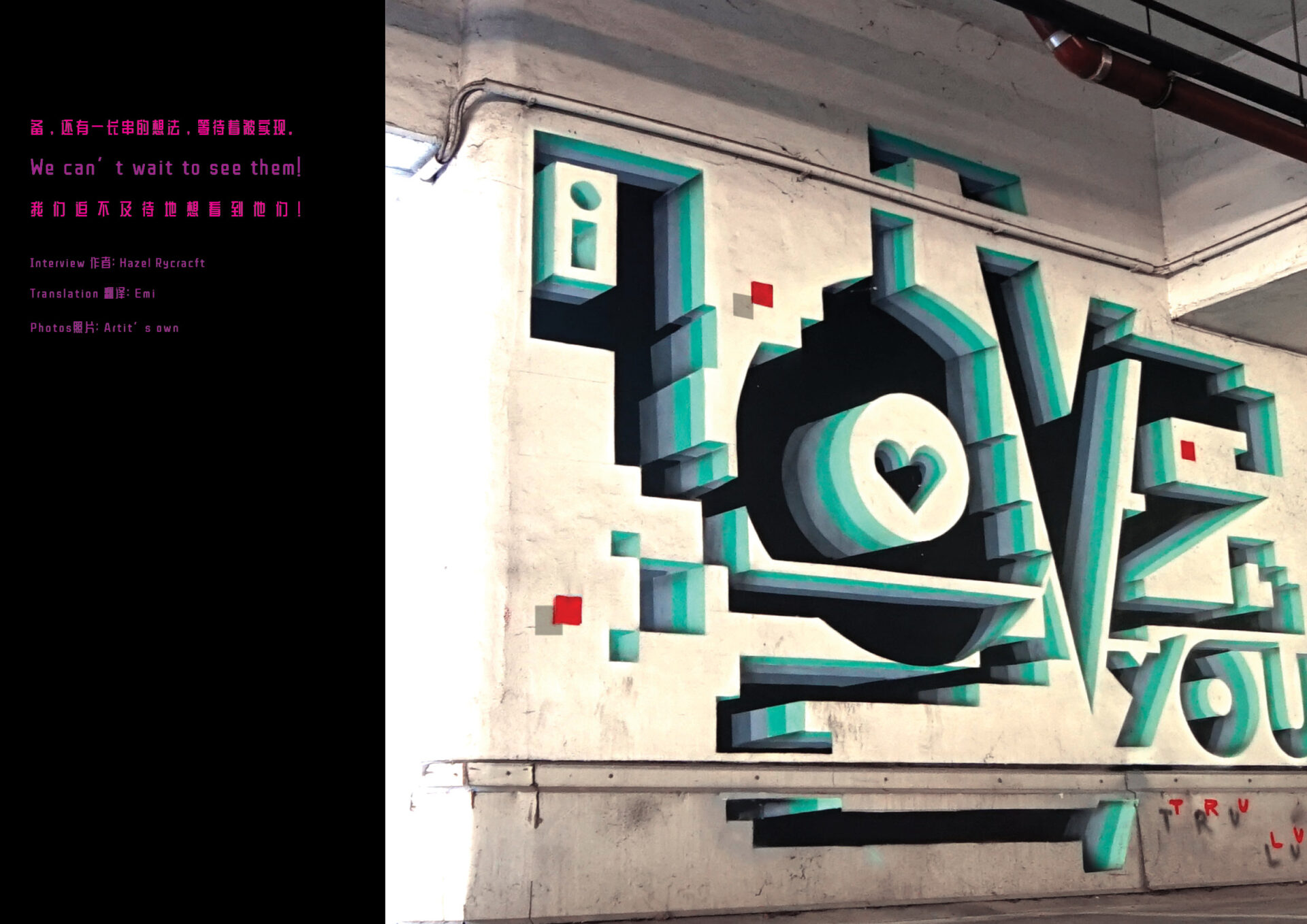 Each artist has their own story to tell on how they chose the path that led them to where they are today, although perhaps sometimes the path chooses them. This may have been the case for urban and multimedia artist Bond Truluv, who studied Anthropology yet whose career later took on a very different direction. What inspired this change? How did he know it was a risk worth taking? We recently caught up with the artist to learn more about his journey…. .
每位艺术家都有自己的故事,讲述他们如何选择道路,从而达到今天的成就,尽管有时道路选择了他们。城市和多媒体艺术家邦德-特鲁鲁夫可能就是这种情况,他学习人类学,但他的职业生涯后来走上了一个非常不同的方向。是什么激发了这种变化?他怎么知道这是一个值得冒的风险?我们最近采访了这位艺术家,了解更多关于他的旅程….。
You originally studied anthropology; how did you go from there to becoming an artist and does this influence your work in any way?
I was always painting during my studies but never thought that I would be able to make a living out of it. A lot of time went into university and it felt wrong to just abandon it. Usually, I finish what I've started and my MA diploma is my backup plan. The studies enabled me to travel a lot through southeast Asia too. I had to choose a region to focus on and chose India, ending up going back and forth there for a couple of years, travelling up and down the country and all over South-east Asia.
你最初学习的是人类学;你是如何从那里成为一名艺术家的,这是否以任何方式影响了你的工作?
我在学习期间一直在画画,但从未想过我能以此为生。在大学里花了很多时间,就这样放弃它感觉是不对的。通常情况下,我完成我已经开始的工作,我的硕士文凭是我的备份计划。这些研究使我也能在东南亚地区进行大量的旅行。我不得不选择一个地区作为重点,并选择了印度,最后在那里来回走了几年,在全国各地和整个东南亚地区旅行。
Your work features a style of calligraphics and graffiti that is instantly recognisable; how would you say your artistic style has evolved and changed since you started out?
Well, I guess it´s safe to say that my focus changes every once in a while, finding so much inspiration from diverse sources. Looking back now, there are really a lot of different styles and approaches in my work, ranging from rather organic forms to bold and graphical mash-ups up to a wide implementation of digital tools like long exposure photography, installations, video mapping to Augmented Reality (AR) and NFT aspects.
你的作品有一种书法和涂鸦的风格,让人一目了然;你说你的艺术风格从开始到现在有什么发展和变化?
好吧,我想可以说,我的重点每隔一段时间就会改变,从不同的来源找到如此多的灵感。现在回过头来看,我的作品中真的有很多不同的风格和方法,从相当有机的形式到大胆的图形混搭,再到广泛实施数字工具,如长曝光摄影、装置、视频映射到增强现实(AR)和NFT方面。
Tell us more about the name "Bond Truluv", does it have any hidden meaning?
Not really. It is just a vessel to be filled with visuals and moods. "Bond" is not about the meaning of the letters but rather about the calligraphic potential. The suffix "Truluv" is reflecting the relationship between two people. It describes a positive attitude towards life and the things I do. The passion to create and to evolve during the process. To live consciously, respectfully and humbly.
请告诉我们更多关于
"Bond Truluv"这个名字的信息,它是否有任何隐藏的含义?
并非如此。它只是一个容器,要用视觉和情绪来填充。"Bond"不是关于字母的意义,而是关于书法的潜力。后缀"Truluv"反映的是两个人之间的关系。它描述了对生活和我所做的事情的一种积极态度。创作的激情和在这个过程中的发展。自觉地、尊重地、谦逊地生活。
Your work has been seen not only in Germany, but on walls all over the world. Which of your international projects resonated with you the most and what made it so memorable?
I wouldn't want to single out a certain project or festival as there were so many memorable ones through the years. 2019 was particularly interesting, with murals in Las Vegas and Moscow, but also the projects on Aruba, in Tokyo and pretty much all over South East Asia were amazing.
您的作品不仅在德国,而且在世界各地的墙上都能看到。在您的国际项目中,哪个项目最能引起您的共鸣,是什么让它如此令人难忘?
我不想单独指出某个项目或节日,因为这些年来有许多令人难忘的项目。2019年特别有趣,在拉斯维加斯和莫斯科的壁画,但在阿鲁巴、东京和几乎整个东南亚的项目也是令人惊叹的。
Where and who do you draw inspiration from and how does this manifest in your work?
Different things. Music, cartoons, retro advertisements, new technology, typography, travelling and simply the things people do. I love to freestyle on walls too, just picking a word and painting it, going with the flow that every line of paint provides, drifting along the constant flow of visual associations.
你从哪里和谁那里获得灵感,这在你的作品中是如何体现的?
不同的事情。音乐、卡通、复古广告、新技术、排版、旅行和人们所做的简单事情。我也喜欢在墙上自由创作,只是挑选一个词,然后画出来,顺着每一行颜料的流动,沿着不断的视觉联想漂流。
We'd love to find out more about your creative process. How does something that starts as an idea, transform into a reality? Can it sometimes be a challenge to make the final piece as good as your vision?
Usually it starts with a quick note or sketch on a piece of paper or on my phone. When the time is right, I sit on the computer or in the studio to start developing rough drafts, shaping the basic idea further into perspective. The final piece is never exactly like the vision and that´s the key. To satisfy my curiosity in materializing an abstract idea is what keeps me going.
我们很想知道更多关于你的创作过程。从一个想法开始的东西,是如何转变为现实的?要使最后的作品和你的设想一样好,有时会是一个挑战吗?
通常,它开始于在一张纸上或在我的手机上的快速笔记或草图。当时机成熟时,我就坐在电脑前或在工作室里开始制定粗略的草稿,将基本的想法进一步塑造出来。最后的作品永远不会与设想完全一样,这就是关键所在。为了满足我的好奇心,将抽象的想法具体化,是我一直坚持的原因。
What kind of projects give you the biggest sense of reward and personal satisfaction? Can commissioned pieces be creatively restrictive in any way?
Projects that offer absolute artistic freedom and good payment in an interesting location with a professional and dedicated team are the most rewarding. Commissioned pieces can be highly restrictive under certain conditions, that's for sure.
什么样的项目能给你最大的回报和个人满足感?委托作品在创作上会有什么限制吗?
在一个有趣的地方,在一个专业和专注的团队中提供绝对艺术自由和良好报酬的项目是最有价值的。在某些条件下,委托作品可以有很大的限制,这是肯定的。
Your murals seem to somehow work in synergy with the surrounding environment. Is this something you seek to do deliberately and if so, how do you make that happen? Does the environment dictate your choice of colour palette to work from?
It really depends what style I choose to paint. I do have "neon" lines of work that do not really pick up the palette of the environment but in general it is quite important to me that my pieces work in the context of the surroundings. Lately, I have been trying to "tone my work down" using pastel and greyish looks, while staying sharp and crisp in content with saturated highlights here and there.
你的壁画似乎以某种方式与周围的环境协同工作。这是你刻意追求的吗?如果是这样,你是如何做到的?环境是否决定了你对工作的调色板的选择?
这真的取决于我选择什么风格的画。我确实有 "霓虹灯 "系列的作品,并没有真正接受环境的调色板,但总的来说,对我来说,我的作品在周围的环境中工作是相当重要的。最近,我一直在努力 "淡化我的作品",使用粉色和灰色的外观,同时在内容上保持尖锐和清晰,在这里和那里有饱和的亮点。
Your work features elements of fantasy and fiction, intertwined with images of a future world. Can you tell us more about these; are they telling the viewer a story?
I always enjoy creating illusions with a hint of surrealism. In this sense, I try to tell stories or create places and moments of imagination. The blending of different artistic styles, architecture, and moods helps me to dream away, like playing a well made computer game or reading a well constructed novel.
你的作品具有幻想和虚构的元素,与未来世界的图像交织在一起。你能告诉我们更多关于这些;它们是在告诉观众一个故事吗?
我总是喜欢创造带有一丝超现实主义的幻觉。在这个意义上,我试图讲述故事或创造想象力的地方和时刻。不同的艺术风格、建筑和情绪的融合有助于我做梦,就像玩一个制作精良的电脑游戏或阅读一本结构良好的小说。
For someone who is so used to travelling and working overseas, how were you affected by the restrictions of the past 12 months and how have you stayed motivated?
Being internationally set up, I lost pretty much all of my jobs and projects and haven´t travelled in over a year. I wasn't lazy however, and started to shift my work to the studio, working on a series of AR and acrylics canvas that I was quite happy with. Also, I started experimenting with a lot of ideas that I had written down over the past few years and spent a lot of quality time with my family. Pretty much constantly reflecting on this luxurious position – we were doing rather well – even though it was tough at some points. Motivation was never a problem for me. There are so many ideas left that I´d like to look into.
对于一个习惯于在海外旅行和工作的人来说,过去12个月的限制对你有什么影响,你是如何保持动力的?
由于在国际上的地位,我几乎失去了所有的工作和项目,一年多来没有旅行过。然而,我并不懒惰,并开始将我的工作转移到工作室,在一系列我相当满意的AR和丙烯画布上工作。另外,我开始尝试过去几年写下的很多想法,并花了很多时间和家人在一起。几乎是不断地反思这个豪华的位置–我们做得相当好–尽管在某些时候很艰难。动机对我来说从来都不是问题。还有很多想法,我想研究一下。
We'd love to know more about what you're working on currently and plans for the future; anything you can share with us?
There are murals waiting in Russia, UK, France, Belgium and more, a gallery show in the US to be prepared and still a long list of ideas, waiting to be materialized.
我们很想知道更多关于你目前正在进行的工作和未来的计划;有什么可以与我们分享的?
在俄罗斯、英国、法国、比利时等地都有壁画在等待,在美国有一个画廊展览要准备,还有一长串的想法,等待着被实现。
We can't wait to see them!
我们迫不及待地想看到他们!
Interview 作者: Hazel Rycracft
Translation 翻译: Emi
Photos照片: Artit's own