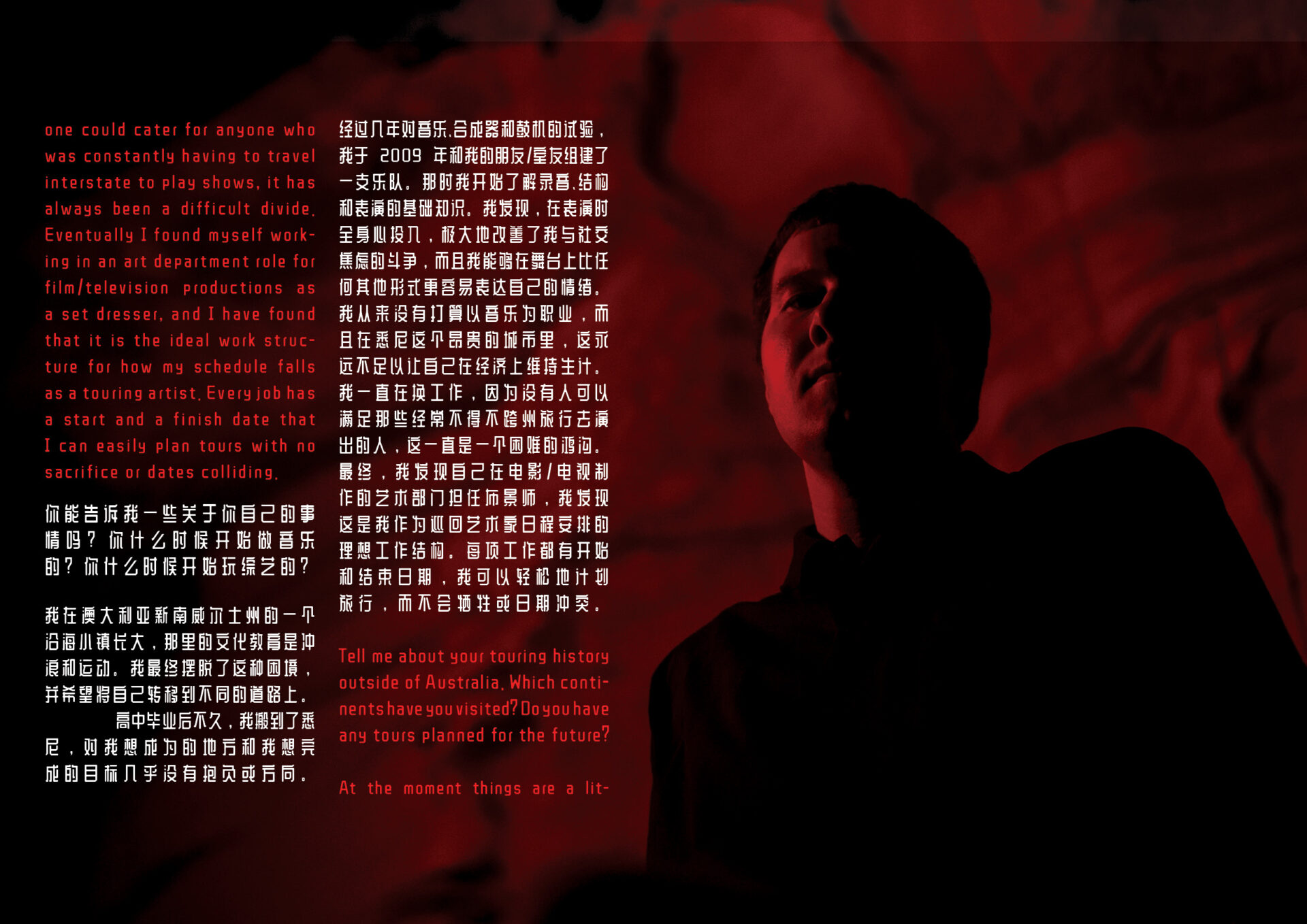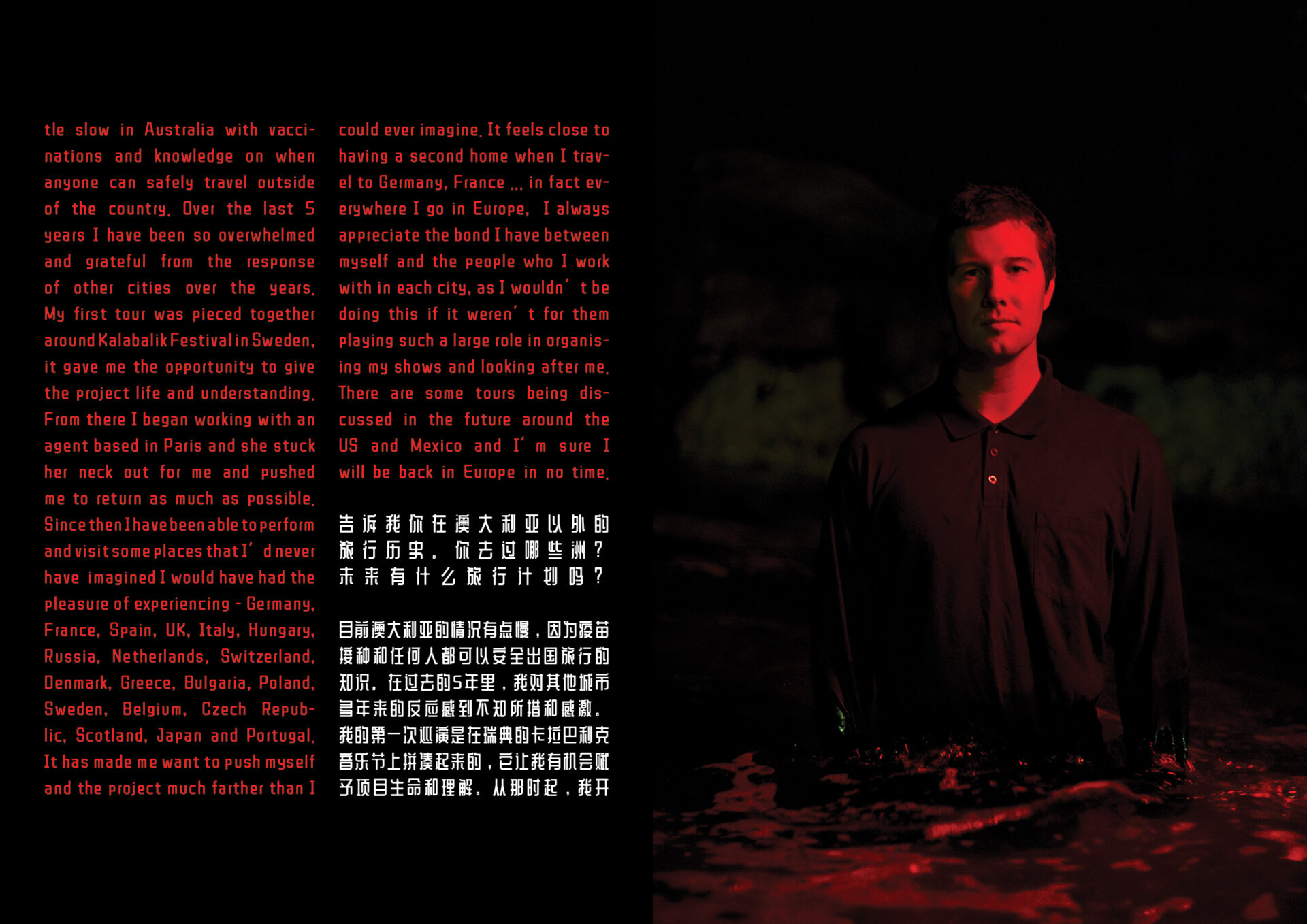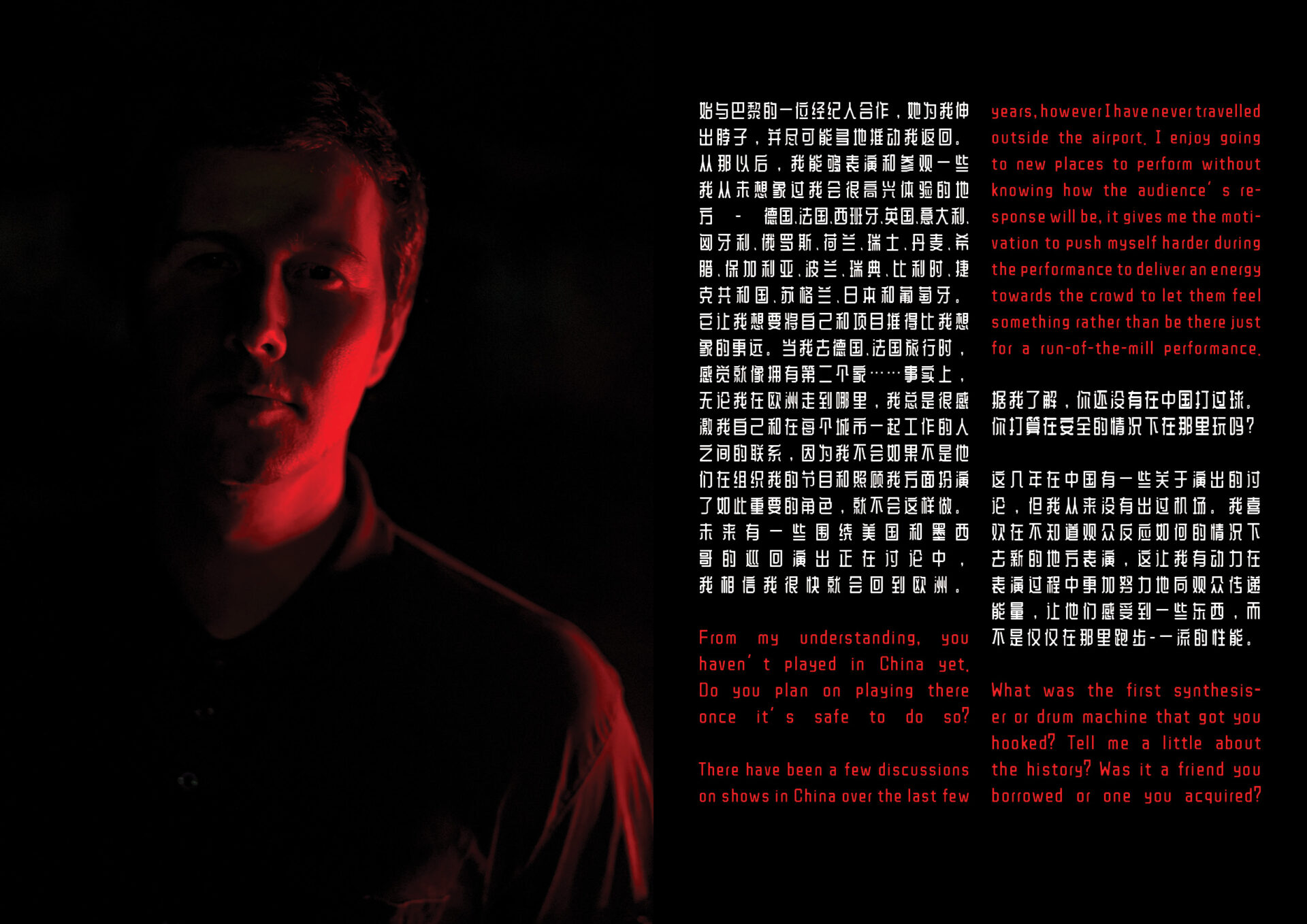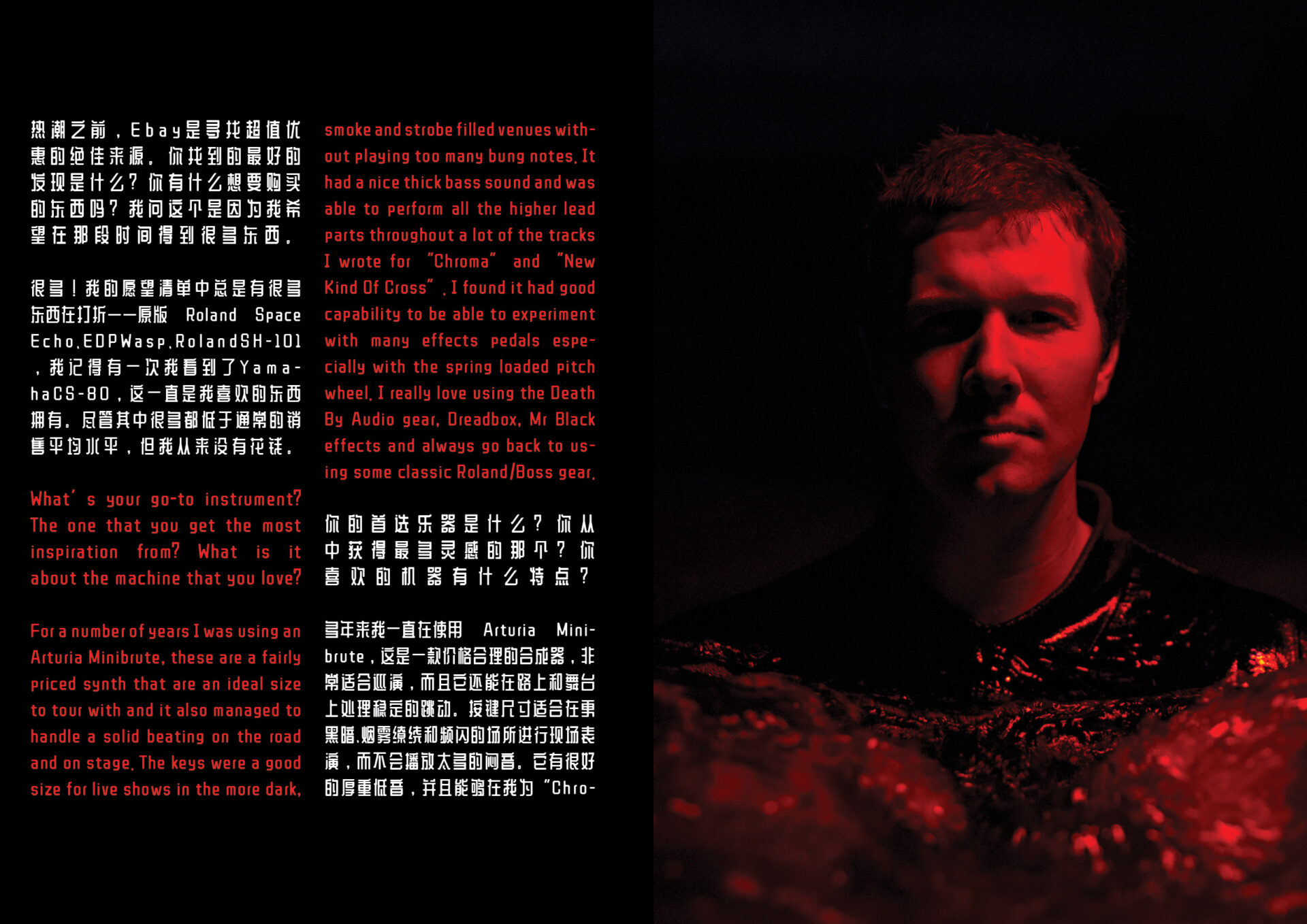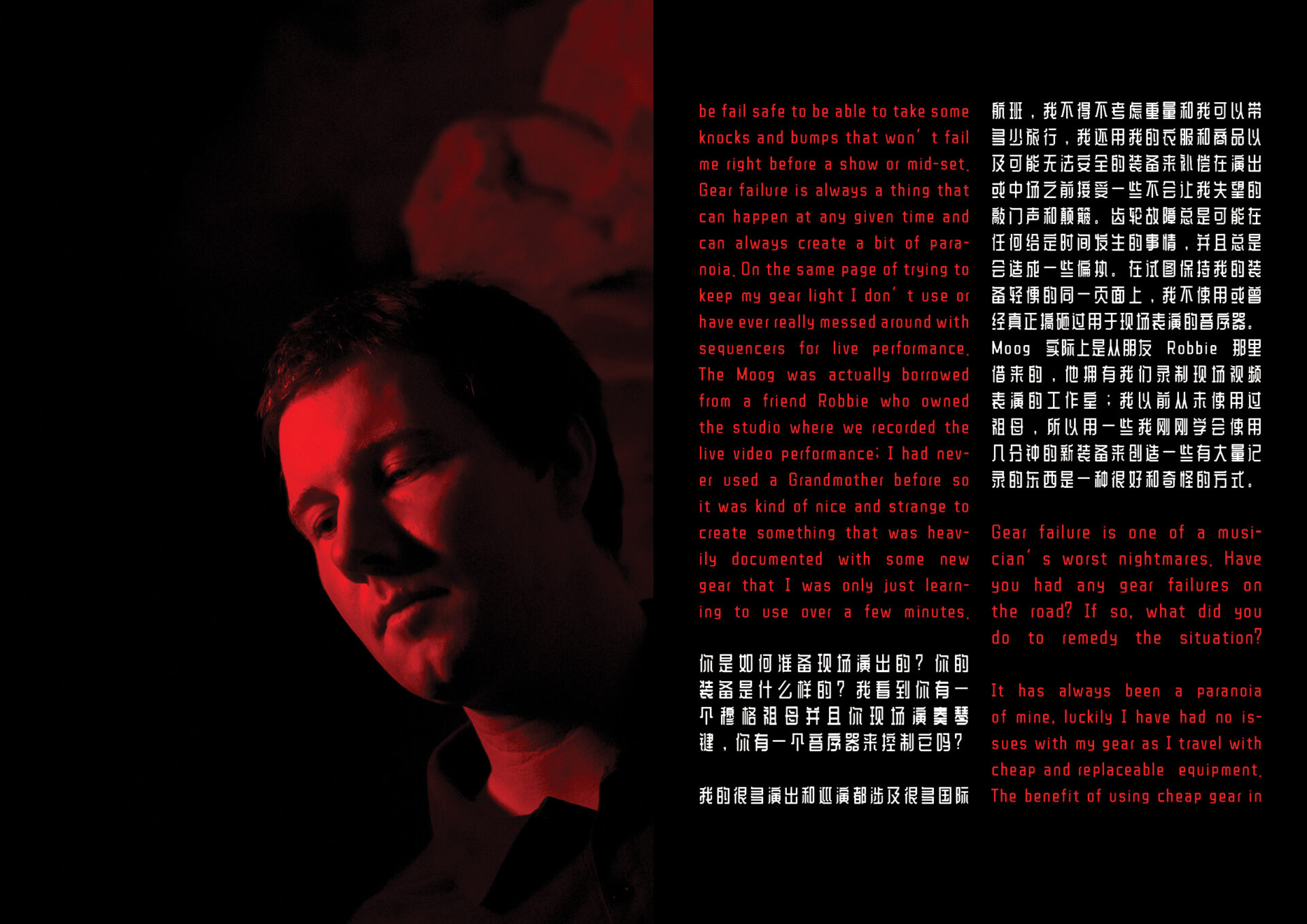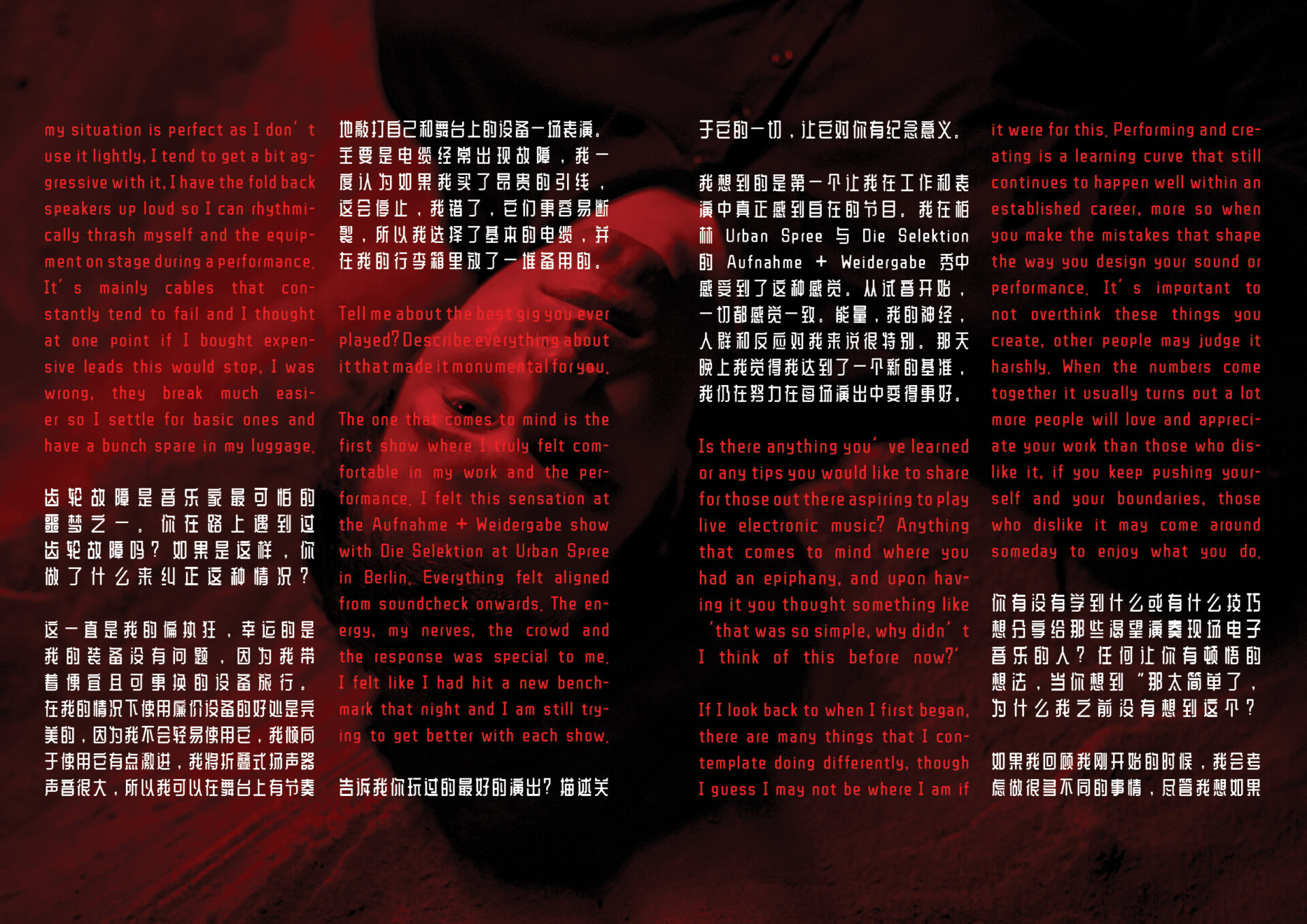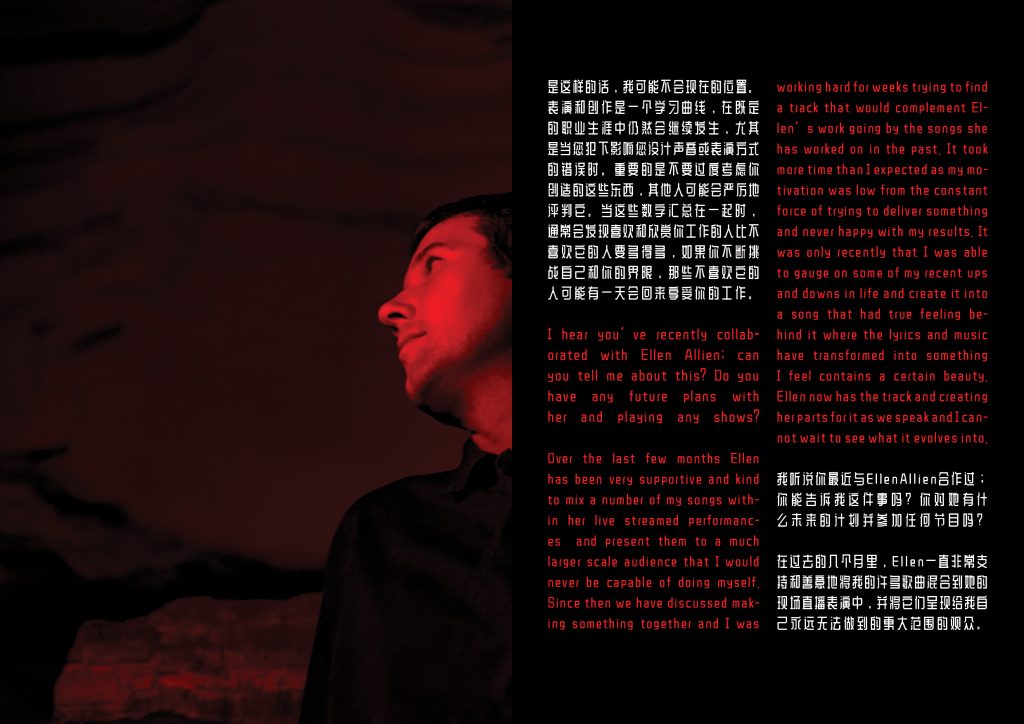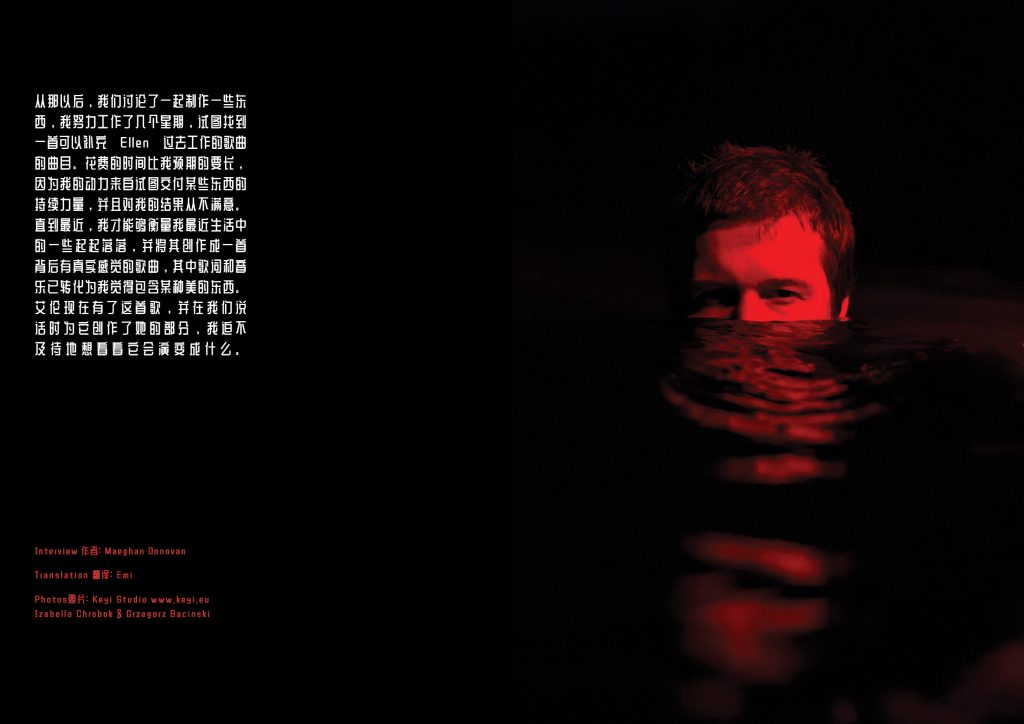 We sat down with Marc Dwyer. He has been using the Buzz Kull title as a creative output since 2012 and continues to hold its position as one of the more darker electronic acts in Australia.
Buzz Kull delivers a mass of nauseating synth lines and pounding drum machines that is a testament to his personal sonic exploration over time. Dwyer's music transcends the traditional archetype of darkwave by pushing aggressive pop sensibilities and focusing on different emotional states and boundaries.
我们和马克·德怀尔坐了下来。自 2012 年以来,他一直将 Buzz Kull 的头衔用作创意输出,并继续保持其作为澳大利亚更黑暗的电子艺人之一的地位。
Buzz Kull 提供了大量令人作呕的合成器线路和敲击鼓机,这证明了他个人随着时间的推移对声音的探索。 Dwyer 的音乐通过推动激进的流行情绪并专注于不同的情绪状态和界限,超越了传统的暗波原型。
Can you tell me a little bit about yourself? When did you start making music? When did you start playing shows? 
I grew up in a coastal town in NSW Australia where surfing and sports was the cultural upbringing. I grew out of that eventually, and wanted to divert myself towards a different path. I moved to Sydney not long after highschool with very little ambition or direction towards where I wanted to be and what I wanted to accomplish. After a few years of experimenting with music, synthesizers, and drum machines, I started a band with my friend/housemate in 2009. That was when I began understanding the basics of recording, structure, and performing. I found that throwing myself into the deep end when performing made a huge improvement to my struggle with social anxiety and I was able to express my emotions a lot easier on stage than I could in any other format. I never intended to make a career out of music and it was never enough to keep myself financially afloat in the costly city that Sydney is known as. I was constantly changing jobs as no one could cater for anyone who was constantly having to travel interstate to play shows, it has always been a difficult divide. Eventually I found myself working in an art department role for film/television productions as a set dresser, and I have found that it is the ideal work structure for how my schedule falls as a touring artist. Every job has a start and a finish date that I can easily plan tours with no sacrifice or dates colliding.
你能告诉我一些关于你自己的事情吗?你什么时候开始做音乐的?你什么时候开始玩综艺的?
我在澳大利亚新南威尔士州的一个沿海小镇长大,那里的文化教育是冲浪和运动。我最终摆脱了这种困境,并希望将自己转移到不同的道路上。
高中毕业后不久,我搬到了悉尼,对我想成为的地方和我想完成的目标几乎没有抱负或方向。
经过几年对音乐、合成器和鼓机的试验,我于 2009 年和我的朋友/室友组建了一支乐队。那时我开始了解录音、结构和表演的基础知识。我发现,在表演时全身心投入,极大地改善了我与社交焦虑的斗争,而且我能够在舞台上比任何其他形式更容易表达自己的情绪。
我从来没有打算以音乐为职业,而且在悉尼这个昂贵的城市里,这永远不足以让自己在经济上维持生计。我一直在换工作,因为没有人可以满足那些经常不得不跨州旅行去演出的人,这一直是一个困难的鸿沟。
最终,我发现自己在电影/电视制作的艺术部门担任布景师,我发现这是我作为巡回艺术家日程安排的理想工作结构。每项工作都有开始和结束日期,我可以轻松地计划旅行,而不会牺牲或日期冲突。
Tell me about your touring history outside of Australia. Which continents have you visited? Do you have any tours planned for the future?
At the moment things are a little slow in Australia with vaccinations and knowledge on when anyone can safely travel outside of the country. Over the last 5 years I have been so overwhelmed and grateful from the response of other cities over the years.
My first tour was pieced together around Kalabalik Festival in Sweden, it gave me the opportunity to give the project life and understanding. From there I began working with an agent based in Paris and she stuck her neck out for me and pushed me to return as much as possible.
Since then I have been able to perform and visit some places that I'd never have imagined I would have had the pleasure of experiencing – Germany, France, Spain, UK, Italy, Hungary, Russia, Netherlands, Switzerland, Denmark, Greece, Bulgaria, Poland, Sweden, Belgium, Czech Republic, Scotland, Japan and Portugal.
It has made me want to push myself and the project much farther than I could ever imagine. It feels close to having a second home when I travel to Germany, France … in fact everywhere I go in Europe, I always appreciate the bond I have between myself and the people who I work with in each city, as I wouldn't be doing this if it weren't for them playing such a large role in organising my shows and looking after me.
There are some tours being discussed in the future around the US and Mexico and I'm sure I will be back in Europe in no time.
告诉我你在澳大利亚以外的旅行历史。你去过哪些洲?未来有什么旅行计划吗?
目前澳大利亚的情况有点慢,因为疫苗接种和任何人都可以安全出国旅行的知识。在过去的5年里,我对其他城市多年来的反应感到不知所措和感激。
我的第一次巡演是在瑞典的卡拉巴利克音乐节上拼凑起来的,它让我有机会赋予项目生命和理解。从那时起,我开始与巴黎的一位经纪人合作,她为我伸出脖子,并尽可能多地推动我返回。
从那以后,我能够表演和参观一些我从未想象过我会很高兴体验的地方 – 德国、法国、西班牙、英国、意大利、匈牙利、俄罗斯、荷兰、瑞士、丹麦、希腊、保加利亚、波兰、瑞典、比利时、捷克共和国、苏格兰、日本和葡萄牙。
它让我想要将自己和项目推得比我想象的更远。当我去德国、法国旅行时,感觉就像拥有第二个家……事实上,无论我在欧洲走到哪里,我总是很感激我自己和在每个城市一起工作的人之间的联系,因为我不会如果不是他们在组织我的节目和照顾我方面扮演了如此重要的角色,就不会这样做。
未来有一些围绕美国和墨西哥的巡回演出正在讨论中,我相信我很快就会回到欧洲。
From my understanding, you haven't played in China yet. Do you plan on playing there once it's safe to do so?
There have been a few discussions on shows in China over the last few years, however I have never travelled outside the airport. I enjoy going to new places to perform without knowing how the audience's response will be, it gives me the motivation to push myself harder during the performance to deliver an energy towards the crowd to let them feel something rather than be there just for a run-of-the-mill performance.
据我了解,你还没有在中国打过球。你打算在安全的情况下在那里玩吗?
这几年在中国有一些关于演出的讨论,但我从来没有出过机场。我喜欢在不知道观众反应如何的情况下去新的地方表演,这让我有动力在表演过程中更加努力地向观众传递能量,让他们感受到一些东西,而不是仅仅在那里跑步-一流的性能。
What was the first synthesiser or drum machine that got you hooked? Tell me a little about the history? Was it a friend you borrowed or one you acquired?
The first synthesiser I bought was a Roland Alpha Juno 2. I had just completed high school and applied for my first credit card. I then became a frequent user of eBay auctions looking for gear. It was that time in the early 2000's when you could still find a lot of nice gear for a fairly low price. After buying the Juno, I began learning through headphones and eventually bought a few pedals and messed around with FL studio; I struggled to be able to figure out the software but it was my first introduction to midi and recording software.
第一个让你着迷的合成器或鼓机是什么?告诉我一些历史?是借来的朋友还是得到的朋友?
我买的第一台合成器是 Roland Alpha Juno 2。我刚刚读完高中并申请了我的第一张信用卡。然后,我成为 eBay 拍卖的常客,寻找装备。那是 2000 年代初的那个时候,您仍然可以以相当低的价格找到很多不错的装备。买了 Juno 后,我开始通过耳机学习,最终买了几个踏板,并在 FL studio 上乱搞;我努力想弄明白这个软件,但这是我第一次介绍 MIDI 和录音软件。
Ebay was an awesome source for finding great deals prior to the vintage synthesizer boom around the mid 2000's. What was the best find you found? Is there anything you wish to this date that you had bought? I ask this because there's many things I wish I had gotten during that time.
So many! There were always a lot of items I saw on sale from my wish list – Original Roland Space Echo, EDP Wasp, Roland SH-101 and I recall seeing a Yamaha CS-80 at one point, that has always been something I would have loved to have owned. I just never had the money to throw down even though a lot of these went below the usual sales average.
在2000年代中期的老式合成器热潮之前,Ebay是寻找超值优惠的绝佳来源。你找到的最好的发现是什么?你有什么想要购买的东西吗?我问这个是因为我希望在那段时间得到很多东西。
很多!我的愿望清单中总是有很多东西在打折——原版 Roland Space Echo、EDPWasp、RolandSH-101,我记得有一次我看到了YamahaCS-80,这一直是我喜欢的东西拥有。尽管其中很多都低于通常的销售平均水平,但我从来没有花钱。
What's your go-to instrument? The one that you get the most inspiration from? What is it about the machine that you love?
For a number of years I was using an Arturia Minibrute, these are a fairly priced synth that are an ideal size to tour with and it also managed to handle a solid beating on the road and on stage. The keys were a good size for live shows in the more dark, smoke and strobe filled venues without playing too many bung notes. It had a nice thick bass sound and was able to perform all the higher lead parts throughout a lot of the tracks I wrote for "Chroma" and "New Kind Of Cross". I found it had good capability to be able to experiment with many effects pedals especially with the spring loaded pitch wheel. I really love using the Death By Audio gear, Dreadbox, Mr Black effects and always go back to using some classic Roland/Boss gear.
你的首选乐器是什么?你从中获得最多灵感的那个?你喜欢的机器有什么特点?
多年来我一直在使用 Arturia Minibrute,这是一款价格合理的合成器,非常适合巡演,而且它还能在路上和舞台上处理稳定的跳动。按键尺寸适合在更黑暗、烟雾缭绕和频闪的场所进行现场表演,而不会播放太多的闷音。它有很好的厚重低音,并且能够在我为"Chroma"和"New Kind Of Cross"编写的许多曲目中演奏所有较高的主音部分。我发现它有很好的能力来试验许多效果踏板,尤其是弹簧加载的音轮。我真的很喜欢使用 Death By Audio 装备、Dreadbox、Mr Black 效果,并且总是回到使用一些经典的 Roland/Boss 装备。
Tell me about how you prepare to play live. Do you first test new tracks and ideas out on a crowd before recording them? Or do you record the tracks and then prepare the tracks for live?
When I make new music I listen over the material for a few weeks until I feel it's ready to experiment with on stage, after performing a few times over and perfecting it I can usually have a good sense for areas that may need more drums or fills or any adjustments. Then I will recreate the adjustments and have it ready to go into the mixing process to hopefully sign it off as a complete work.
告诉我你如何准备现场演奏。在录制之前,您是否首先在人群中测试新的曲目和想法?或者你录制曲目然后准备现场直播?
当我制作新音乐时,我会听几周的材料,直到我觉得它已经准备好在舞台上进行试验,在表演了几次并完善之后,我通常可以对可能需要更多鼓或填充的区域有很好的感觉或任何调整。然后我将重新进行调整并准备好进入混音过程,以期将其作为一个完整的作品签署。
How do you go about preparing a live set? What's your rig like? I see you have a Moog Grandmother and that you play the keys live, do you have a sequencer controlling it to?
A lot of my shows and touring involve a lot of international flights, I had to think about weight and how much I could travel with, I also compensate with my clothes and merch and the kind of gear that could be fail safe to be able to take some knocks and bumps that won't fail me right before a show or mid-set. Gear failure is always a thing that can happen at any given time and can always create a bit of paranoia. On the same page of trying to keep my gear light I don't use or have ever really messed around with sequencers for live performance.
The Moog was actually borrowed from a friend Robbie who owned the studio where we recorded the live video performance; I had never used a Grandmother before so it was kind of nice and strange to create something that was heavily documented with some new gear that I was only just learning to use over a few minutes.
你是如何准备现场演出的?你的装备是什么样的?我看到你有一个穆格祖母并且你现场演奏琴键,你有一个音序器来控制它吗?
我的很多演出和巡演都涉及很多国际航班,我不得不考虑重量和我可以带多少旅行,我还用我的衣服和商品以及可能无法安全的装备来补偿在演出或中场之前接受一些不会让我失望的敲门声和颠簸。齿轮故障总是可能在任何给定时间发生的事情,并且总是会造成一些偏执。在试图保持我的装备轻便的同一页面上,我不使用或曾经真正搞砸过用于现场表演的音序器。
Moog 实际上是从朋友 Robbie 那里借来的,他拥有我们录制现场视频表演的工作室;我以前从未使用过祖母,所以用一些我刚刚学会使用几分钟的新装备来创造一些有大量记录的东西是一种很好和奇怪的方式。
Gear failure is one of a musician's worst nightmares. Have you had any gear failures on the road? If so, what did you do to remedy the situation?
It has always been a paranoia of mine, luckily I have had no issues with my gear as I travel with cheap and replaceable equipment.
The benefit of using cheap gear in my situation is perfect as I don't use it lightly, I tend to get a bit aggressive with it, I have the fold back speakers up loud so I can rhythmically thrash myself and the equipment on stage during a performance.
It's mainly cables that constantly tend to fail and I thought at one point if I bought expensive leads this would stop, I was wrong, they break much easier so I settle for basic ones and have a bunch spare in my luggage.
齿轮故障是音乐家最可怕的噩梦之一。你在路上遇到过齿轮故障吗?如果是这样,你做了什么来纠正这种情况?
这一直是我的偏执狂,幸运的是我的装备没有问题,因为我带着便宜且可更换的设备旅行。
在我的情况下使用廉价设备的好处是完美的,因为我不会轻易使用它,我倾向于使用它有点激进,我将折叠式扬声器声音很大,所以我可以在舞台上有节奏地敲打自己和舞台上的设备一场表演。
主要是电缆经常出现故障,我一度认为如果我买了昂贵的引线,这会停止,我错了,它们更容易断裂,所以我选择了基本的电缆,并在我的行李箱里放了一堆备用的。
Tell me about the best gig you ever played? Describe everything about it that made it monumental for you.
The one that comes to mind is the first show where I truly felt comfortable in my work and the performance. I felt this sensation at the Aufnahme + Weidergabe show with Die Selektion at Urban Spree in Berlin. Everything felt aligned from soundcheck onwards. The energy, my nerves, the crowd and the response was special to me. I felt like I had hit a new benchmark that night and I am still trying to get better with each show.
告诉我你玩过的最好的演出?描述关于它的一切,让它对你有纪念意义。
我想到的是第一个让我在工作和表演中真正感到自在的节目。我在柏林 Urban Spree 与 Die Selektion 的 Aufnahme + Weidergabe 秀中感受到了这种感觉。从试音开始,一切都感觉一致。能量,我的神经,人群和反应对我来说很特别。那天晚上我觉得我达到了一个新的基准,我仍在努力在每场演出中变得更好。
Is there anything you've learned or any tips you would like to share for those out there aspiring to play live electronic music? Anything that comes to mind where you had an epiphany, and upon having it you thought something like 'that was so simple, why didn't I think of this before now?'
If I look back to when I first began, there are many things that I contemplate doing differently, though I guess I may not be where I am if it were for this. Performing and creating is a learning curve that still continues to happen well within an established career, more so when you make the mistakes that shape the way you design your sound or performance. It's important to not overthink these things you create, other people may judge it harshly. When the numbers come together it usually turns out a lot more people will love and appreciate your work than those who dislike it, if you keep pushing yourself and your boundaries, those who dislike it may come around someday to enjoy what you do.
你有没有学到什么或有什么技巧想分享给那些渴望演奏现场电子音乐的人?任何让你有顿悟的想法,当你想到"那太简单了,为什么我之前没有想到这个?
如果我回顾我刚开始的时候,我会考虑做很多不同的事情,尽管我想如果是这样的话,我可能不会现在的位置。表演和创作是一个学习曲线,在既定的职业生涯中仍然会继续发生,尤其是当您犯下影响您设计声音或表演方式的错误时。重要的是不要过度考虑你创造的这些东西,其他人可能会严厉地评判它。当这些数字汇总在一起时,通常会发现喜欢和欣赏你工作的人比不喜欢它的人要多得多,如果你不断挑战自己和你的界限,那些不喜欢它的人可能有一天会回来享受你的工作。
I hear you've recently collaborated with Ellen Allien; can you tell me about this? Do you have any future plans with her and playing any shows?
Over the last few months Ellen has been very supportive and kind to mix a number of my songs within her live streamed performances and present them to a much larger scale audience that I would never be capable of doing myself.
Since then we have discussed making something together and I was working hard for weeks trying to find a track that would complement Ellen's work going by the songs she has worked on in the past. It took more time than I expected as my motivation was low from the constant force of trying to deliver something and never happy with my results. It was only recently that I was able to gauge on some of my recent ups and downs in life and create it into a song that had true feeling behind it where the lyrics and music have transformed into something I feel contains a certain beauty.
Ellen now has the track and creating her parts for it as we speak and I cannot wait to see what it evolves into.
我听说你最近与EllenAllien合作过;你能告诉我这件事吗?你对她有什么未来的计划并参加任何节目吗?
在过去的几个月里,Ellen一直非常支持和善意地将我的许多歌曲混合到她的现场直播表演中,并将它们呈现给我自己永远无法做到的更大范围的观众。
从那以后,我们讨论了一起制作一些东西,我努力工作了几个星期,试图找到一首可以补充 Ellen 过去工作的歌曲的曲目。花费的时间比我预期的要长,因为我的动力来自试图交付某些东西的持续力量,并且对我的结果从不满意。直到最近,我才能够衡量我最近生活中的一些起起落落,并将其创作成一首背后有真实感觉的歌曲,其中歌词和音乐已转化为我觉得包含某种美的东西。
艾伦现在有了这首歌,并在我们说话时为它创作了她的部分,我迫不及待地想看看它会演变成什么。
Interview 作者: Maeghan Donovan
Translation 翻译: Emi
Photos照片: Keyi Studio www.keyi.eu
Izabella Chrobok & Grzegorz Bacinski