Program Overview
The feature film program includes seven titles, four feature films and three documentaries, all by relatively independent and emerging filmmakers. Four films will be German premiere, including one European premiere, as we are committed to bringing refreshing and unique voices from the contemporary Chinese cinema scene to Germany. 
Besides, four films are related to women/female filmmakers, focusing on the plight, growth and manifestation of women in the Chinese context, and the extension of the feminist agenda. This is both self-examination and a bilateral discussion with European audiences. It is also worth mentioning that the entire ICCW team is made up of mostly women, and the curation team is also all female.
For the opening film, we are very happy to have acquired the Berlin premiere of the film A New Old Play, a three-hour film set in the background of 20th-century China's tumultuous history, which has received significant recognition and is widely regarded as one of the best Chinese films in recent years, to launch the film festival. 
The closing feature film is a re-screening of the Berlinale Teddy Bear Best Documentary Small Talk, an emotional and sincere work by Taiwanese filmmaker and social worker Hui-Chen Huang, which, together with three other films by female directors, Mama, Taste of Rice Flowers and the short film Chinese Fusion, explore mother-daughter relations in-depth.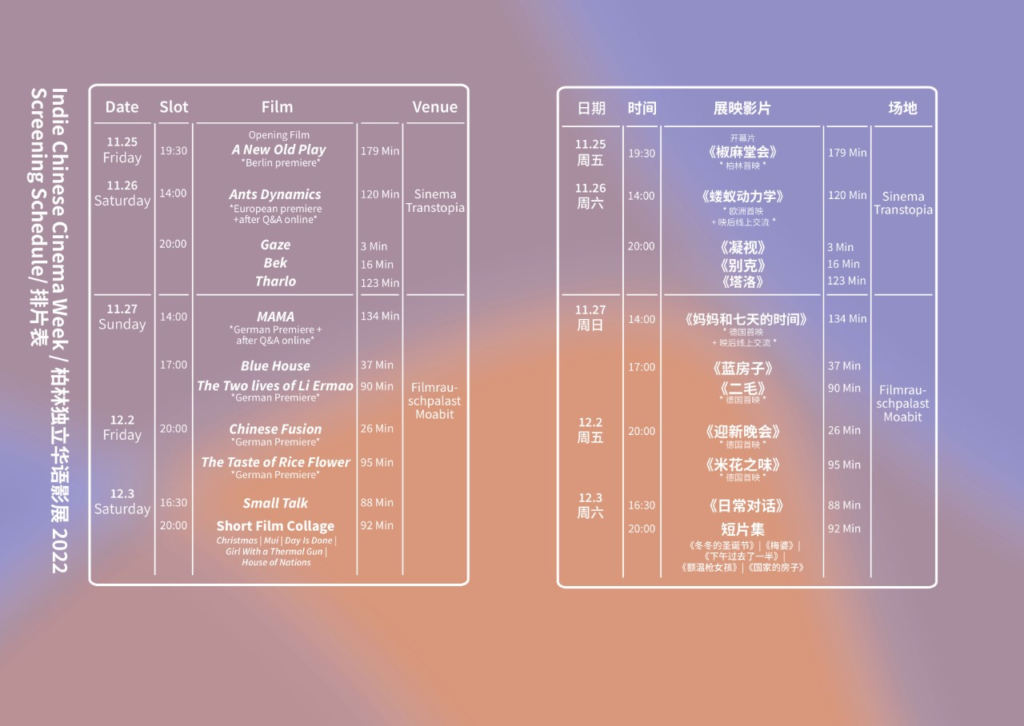 The European-premiere documentary Ants Dynamics, made by artist-filmmaker Wang chuyu and Xu ruotao, is a rare, valuable and daring documentation of the worker rights protest in contemporary China, as well as a journey during which the artists explored using art to intervene in public space and social issues.
Another German-premiere documentary The Two Lives of Li Ermao, filmed over 17 years, is the intimate and heart-wrenching story of Li Ermao, a transgender migrant worker. The director's in-depth examination of the intersection of Ermao's dual identities as a migrant worker and a transgender person invites us to reflect on the rural-urban disparity and the conditions of the "marginalized" in contemporary China.
In parallel, we will also screen Tharlo by Pema Tseden, a leading figure in the Tibetan New Cinema, together with another short film by a Xinjiang filmmaker, which serves as our presentation on ethnic minority filmmakers and subjects.
For the short film program, the two themes are "People in the Pandemic" and "People in Family". We have picked nine films which are mostly from young and upcoming directors, as a showcase of new, emerging voices in Chinese cinema.
The nine short films range in genre from documentary, fiction, theater, stop-motion animation, and musical. Among them, three female directors used camera lenses to record women's growth and reconstruct their narratives, and directors from Xinjiang and Macao sketched out the unique family forms and social scenes from different cultural perspectives. Berlin-based artist Xiangyu He documented a Chinese individual experience during the COVID-19 pandemic in the city of Berlin. In addition, we have also invited the Berlinale 2020 Silver Bear Award Short Film and 2021 Locarno Short Film Competition Nominee.
Ticekt Reservation
Screenings at Sinema Transtopia
www.eventbrite.com/cc/indie-chinese-cinema-week-2022-1394749
Screenings at Filmrauschpalast