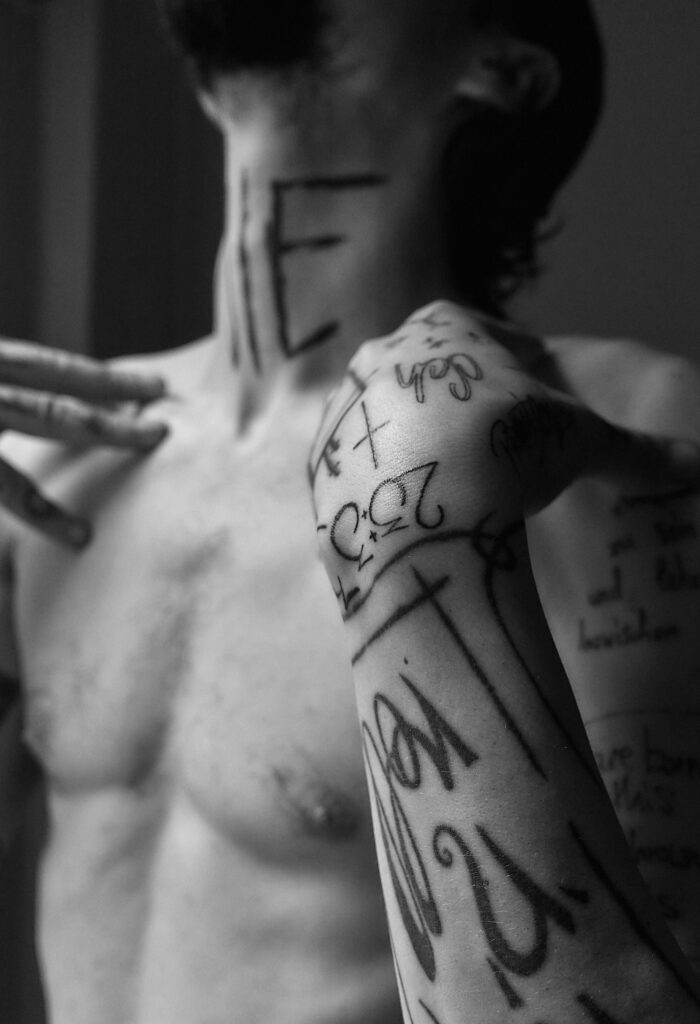 ́Torso Reloaded ́ & ́Nocturnes ́ Photographs by Nadine Dinter and Les BeauX
Opening: Thursday, 23 February 2023, 5–9 pm Both artists will be present.
Duration: 24 February – 1 November 2023
Location: east Hotel, Simon-von-Utrecht-Strasse 31, 20359 Hamburg

Following the successful solo show "Torso Reloaded" at HAZEGALLERY in Berlin, photographer Nadine Dinter will present an excerpt of her series at the design hotel east in Hamburg starting on 24 February 2023. They will be shown together with erotic fashion photography by renowned artist Les BeauX a.k.a. Rainer Meifert, for a titillating photographic pairing and auratic juxtaposition of images of male and female bodies.
While Dinter's male torsos celebrate the artful self-presentation of the current generation, BeauX finds parallels in Berlin's cybergeneration, where self-staging, performances with fetish labels, and authentic models find expression in a surrealistic play of color. Two of his exclusive images of Vivienne Westwood's SEDITIONARIES are also on display, featuring the unique collages "God Save The Queen" and the Sex Pistols by Jamie Reid.
The interplay between the historic brick architecture and the illustrious Art Deco windows of east Hotel creates a compelling photographic ensemble inviting discussion, enjoyment, or simple observation.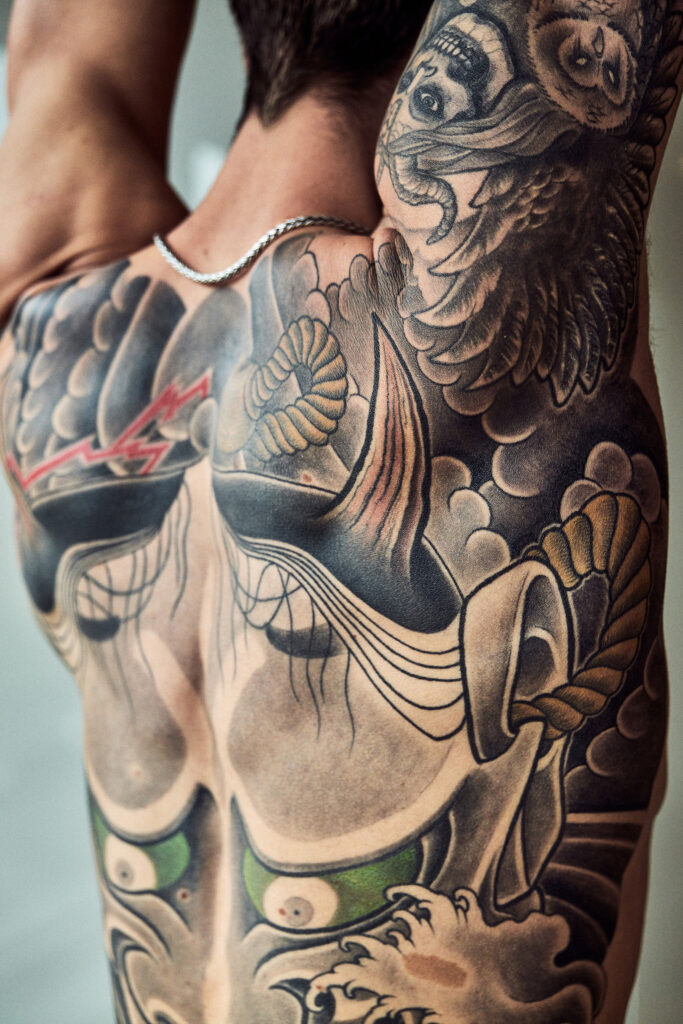 Nadine Dinter has been working with photography since 1991. After focusing on the genres of sculpture and portrait photography, she expanded her repertoire to include nude photography. First exhibition in 1998 at Schering AG, followed by presentations in Berlin, Beijing, and New York.
The concept for the series "Torso Reloaded" emerged in 2012 on the occasion of a collaboration with the New York photographer Christopher Makos, a longtime companion of Andy Warhol. Together with former erotic art model and current tattoo artist Benjamin Godfre, also a huge Warhol fan, Dinter decided to photographically recreate Warhol's legendary "Torso" series from 1977. Ten years after producing the first images for this series, the photographer revisited the concept to create a second series, this time with six men, including professional photography model Benjamin Kühnemund and photographers Traegi and Alexander Schuktuew.
Nadine Dinter widens the frame to give more space and impact to features such as tattoos, scars, and bodily contours. Her subjects seem close enough to touch without depicting a sexual act. Produced in an intimate hotel atmosphere using natural light only, these contemplative body shots were taken between January and April 2022. Each tells its own story, turning the bare image into a photographic portrait.
More at www.dinterphotography.de @dinterphotography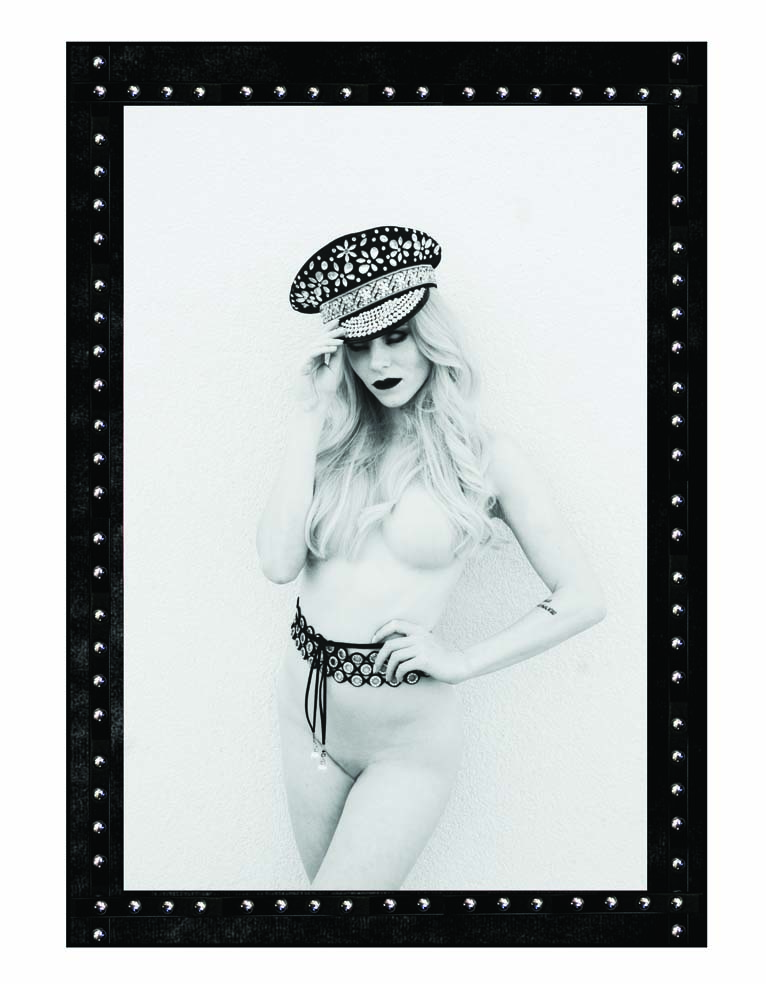 About the photographer Les BeauX: Rainer Meifert has many faces. Whether as actor, art director, or photographer – Meifert always has his finger on the pulse of the creative industry, switching to a role behind the camera after years in front of it. He photographed Karl Lagerfeld in 1997.
He staged Westwood's first slogan shirts, which the (recently deceased) designer tailored as part of her 1970s debut. He has collaborated with Kristian Schuller, Mario Testino, and international brands such as Coca-Cola, Mercedes-Benz Fashion Week, Drykorn, Comme des Garçons, and Jaeger-LeCoultre.
For his creative work, he received the London International Award in Gold, among others. With his series "Nocturnes," Meifert returns to photography with new works from the last 3 years, along with some of his photographic classics.
BeauX was part of the Leonardo da Vinci tribute "Mona Lisa Show" alongside Warhol, Jeff Koons, Keith Haring, Thomas Ruff, Banksy, etc. Recent exhibitions include at Mond Fine Art Gallery Berlin, Gallery Week Berlin, Pandion AG, and the Rotes Rathaus in Berlin.
More at @lzbeaux
About east Hotel: The 4-star superior design hotel. In 2004, Chicago renowned architect Jordan Mozer transformed the former iron foundry into a design masterpiece. The east uniquely combines a restaurant, lounges, bars, and hotel.
More at www.east-hamburg.de