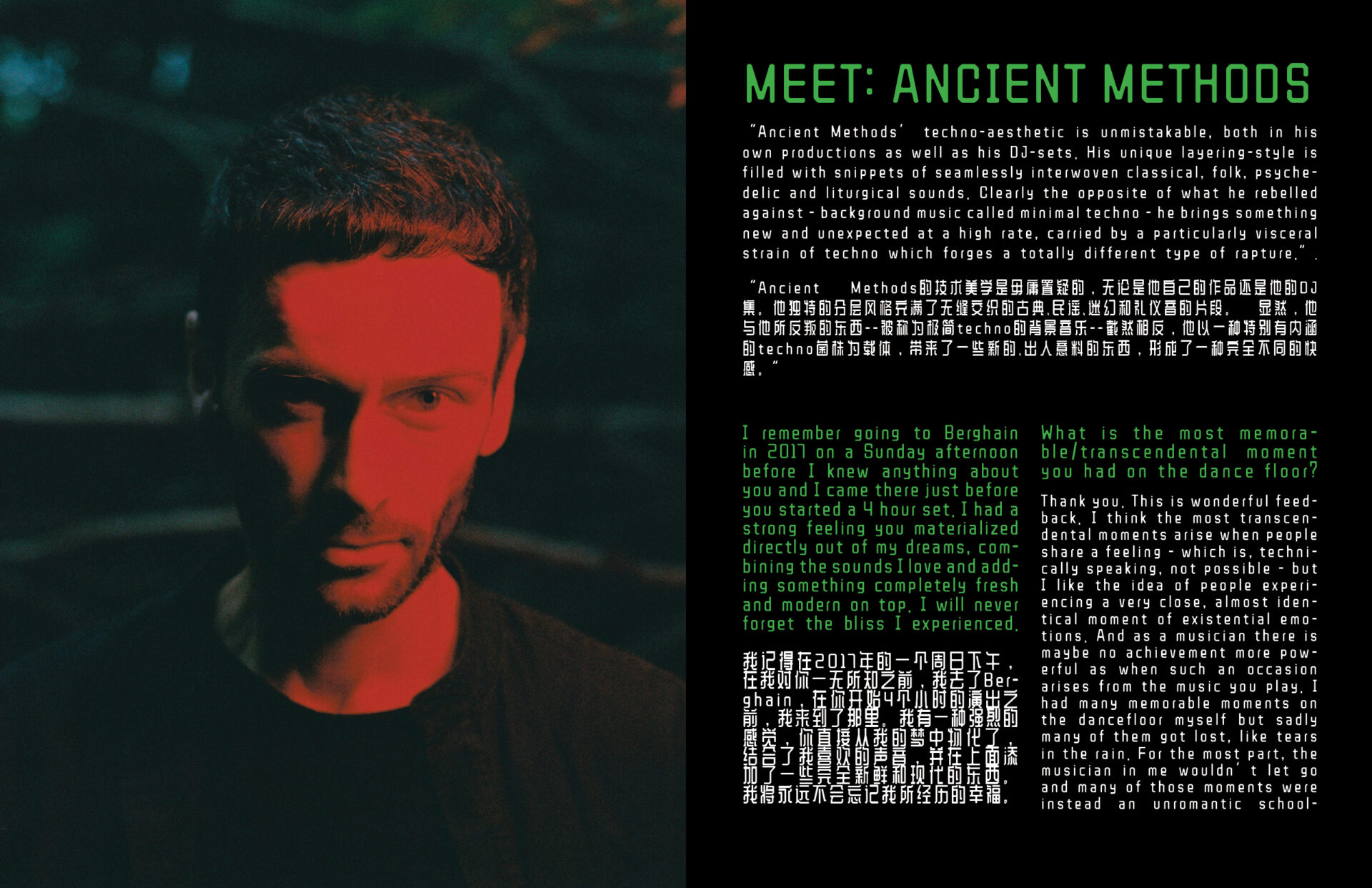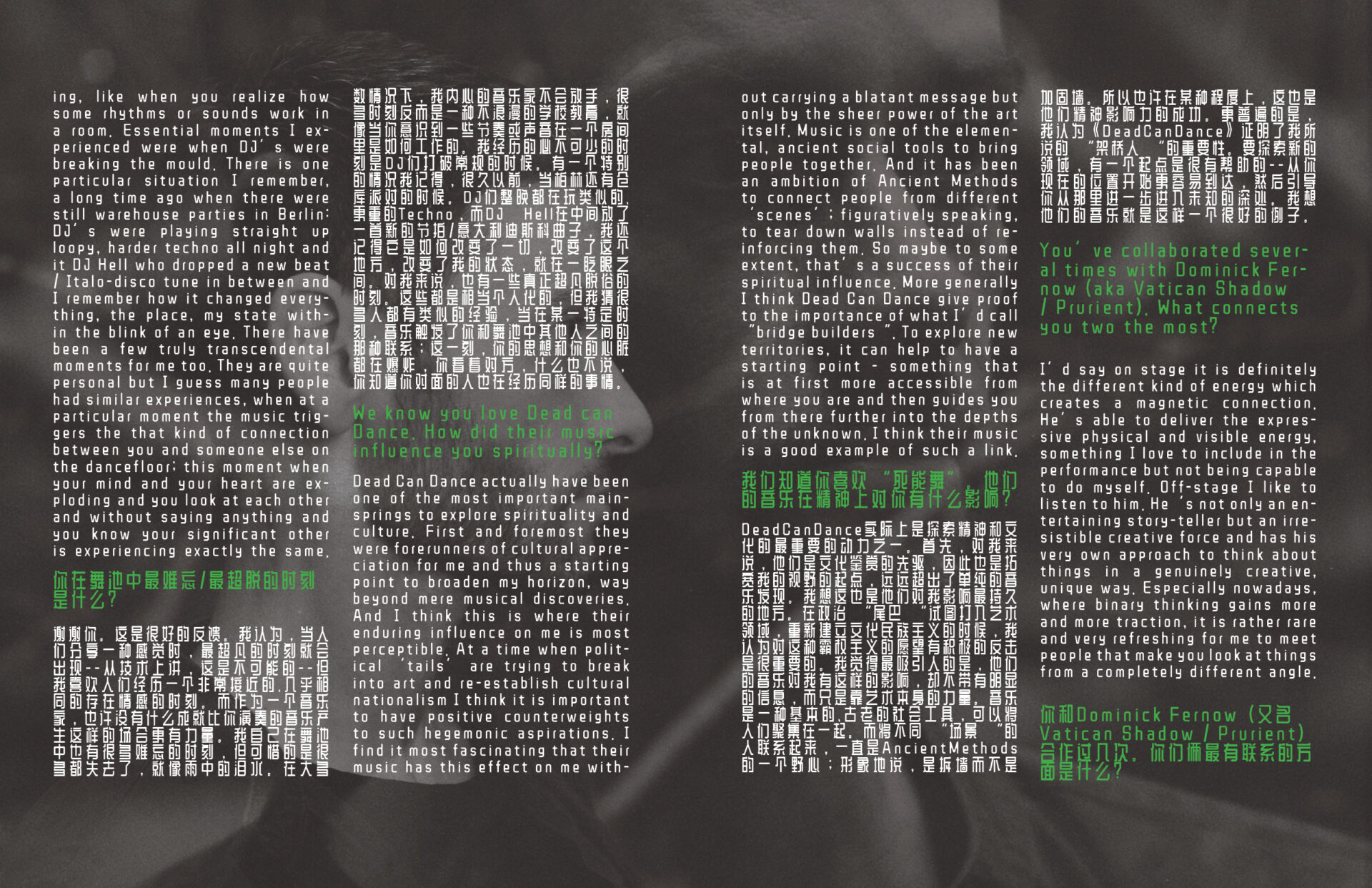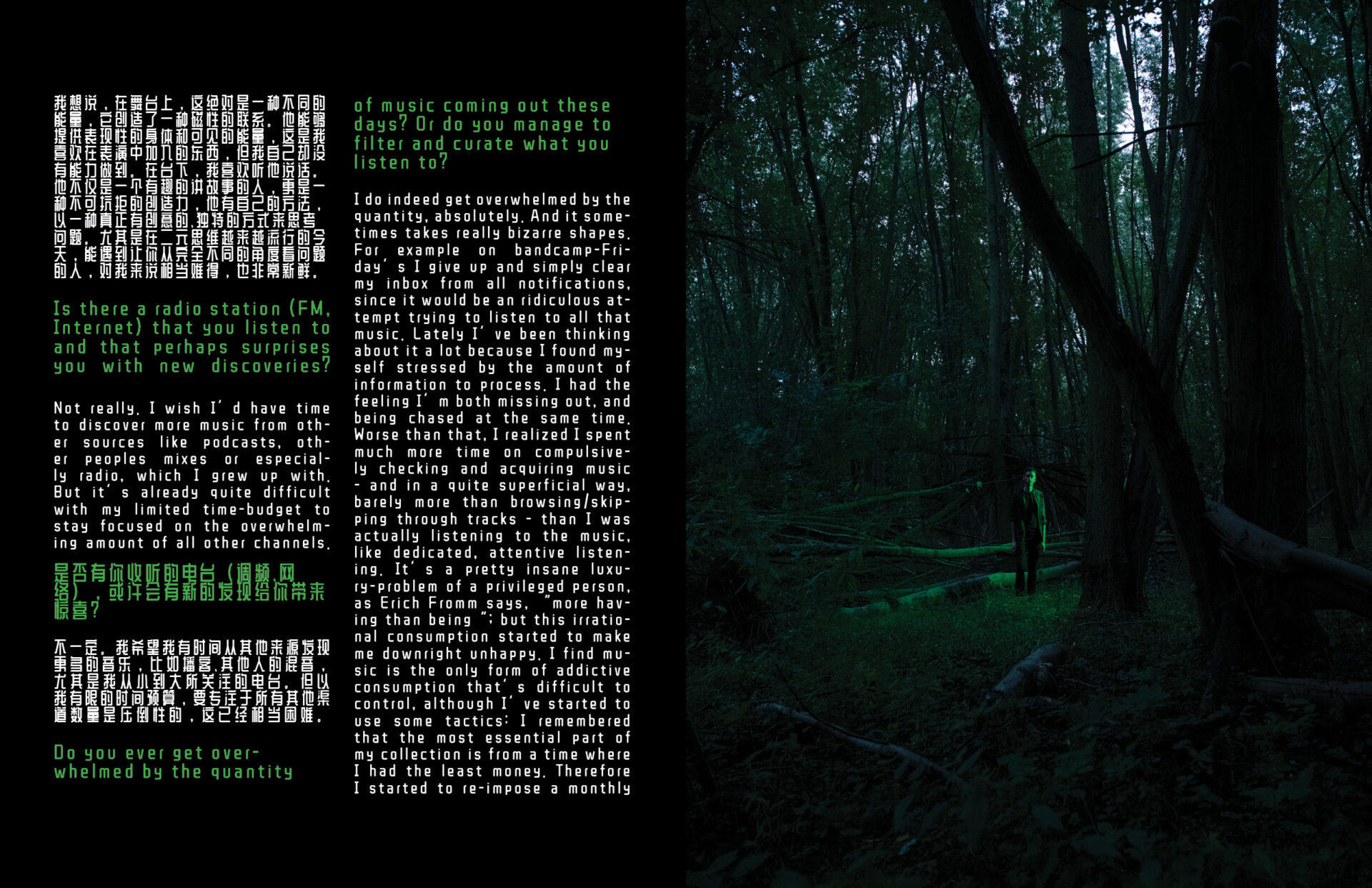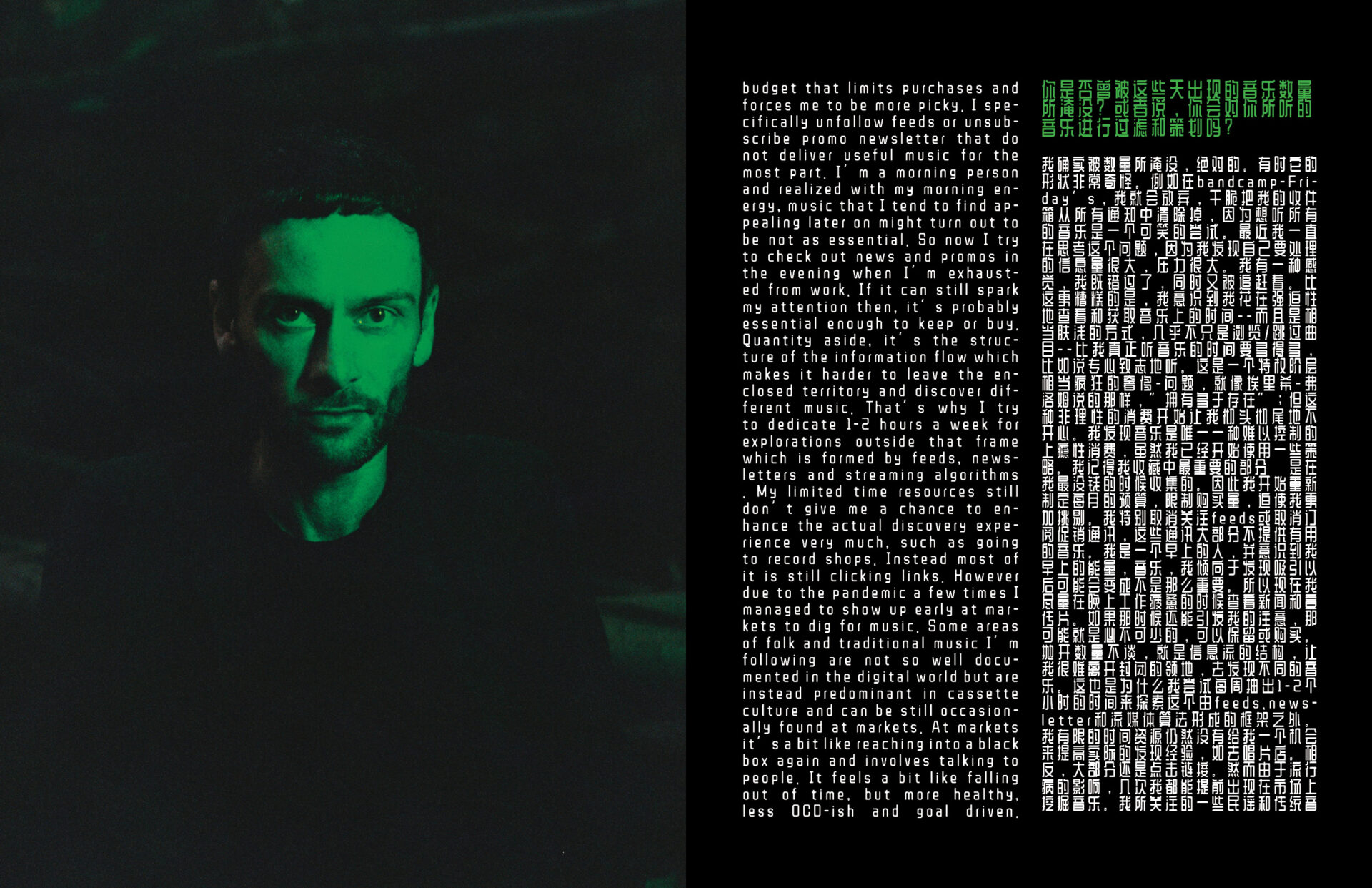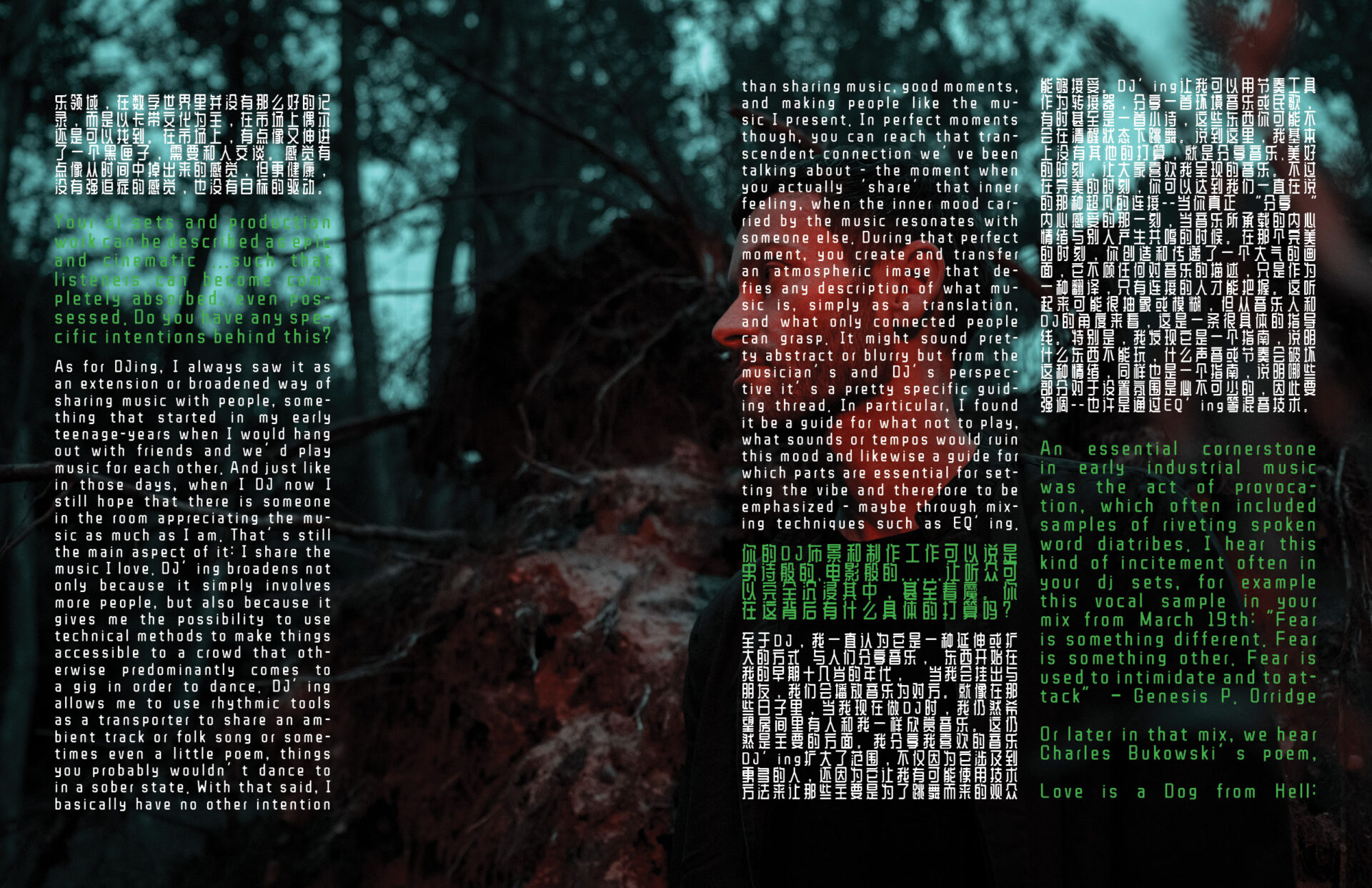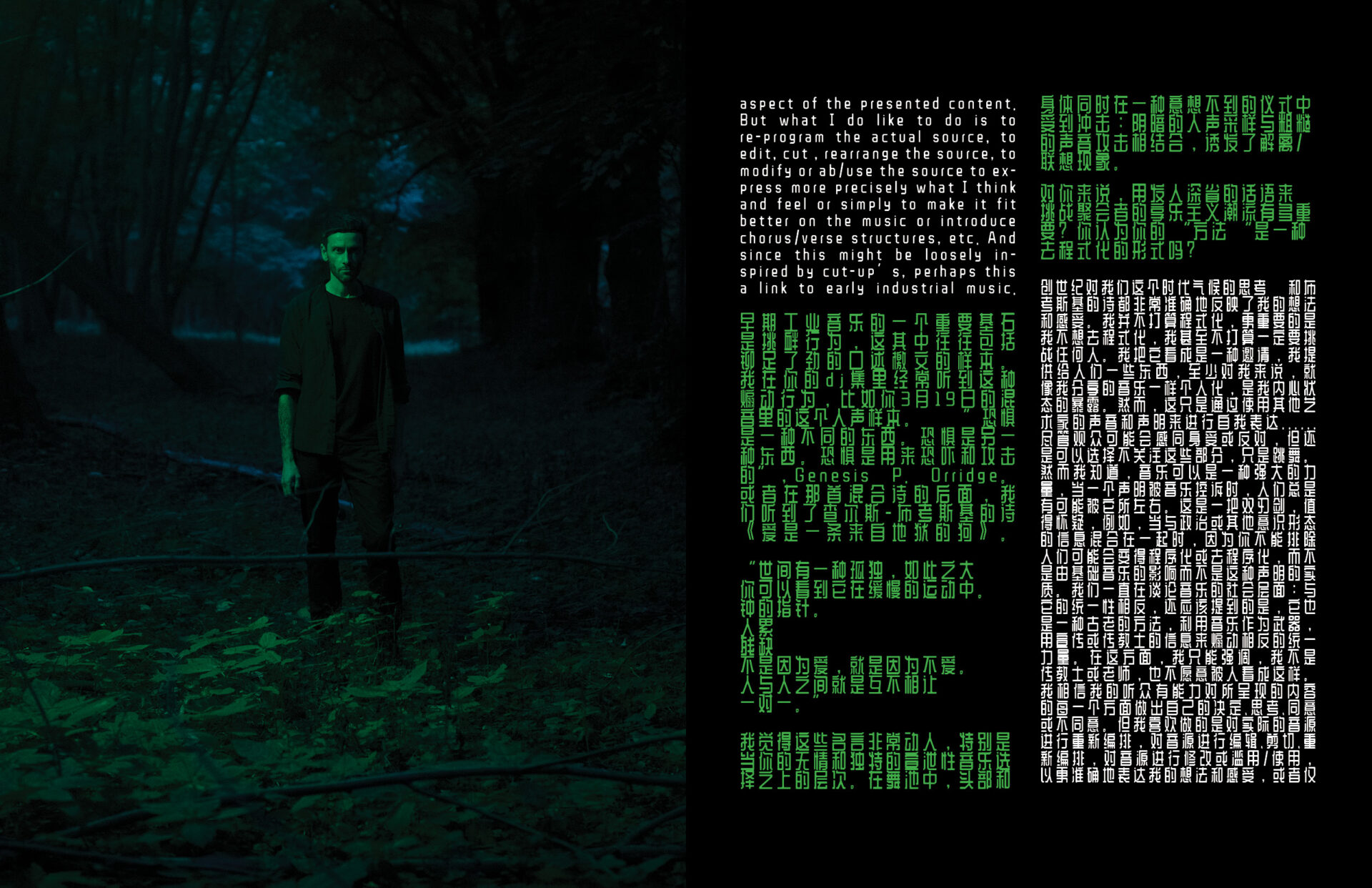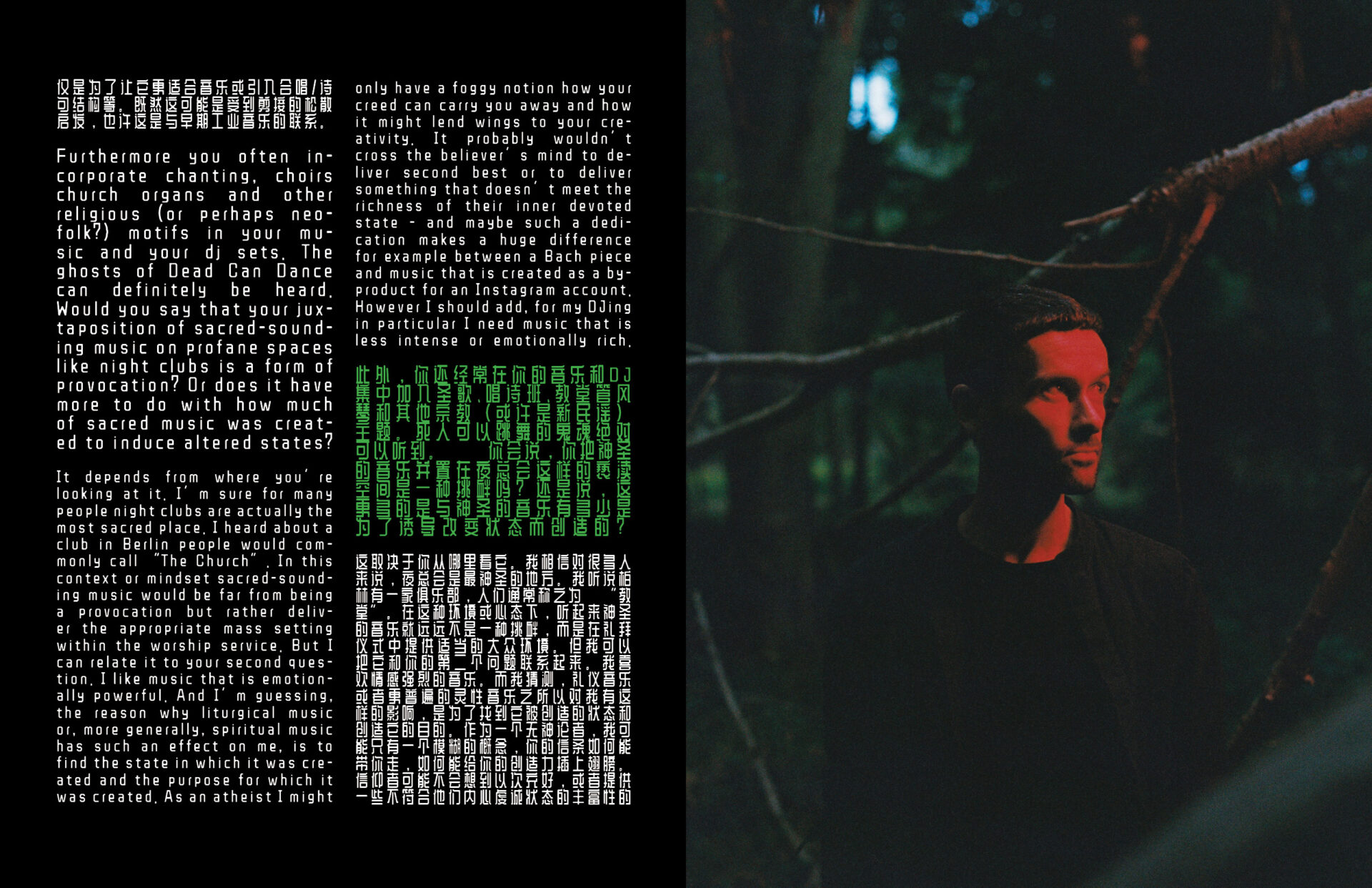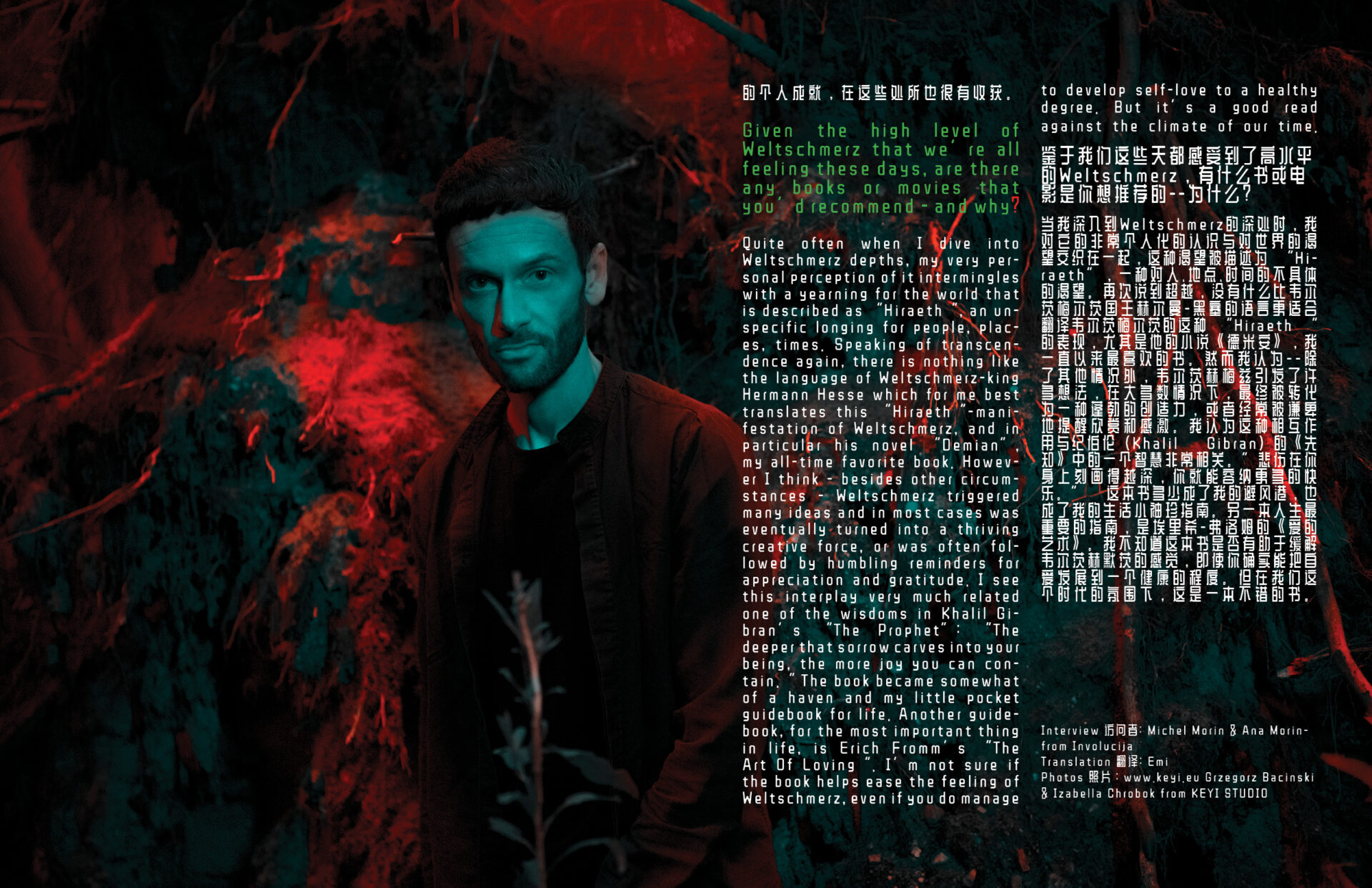 "Ancient Methods' techno-aesthetic is unmistakable, both in his own productions as well as his DJ-sets. His unique layering-style is filled with snippets of seamlessly interwoven classical, folk, psychedelic and liturgical sounds. Clearly the opposite of what he rebelled against – background music called minimal techno – he brings something new and unexpected at a high rate, carried by a particularly visceral strain of techno which forges a totally different type of rapture.".
"Ancient Methods的技术美学是毋庸置疑的,无论是他自己的作品还是他的DJ集。他独特的分层风格充满了无缝交织的古典、民谣、迷幻和礼仪音的片段。 显然,他与他所反叛的东西–被称为极简techno的背景音乐–截然相反,他以一种特别有内涵的techno菌株为载体,带来了一些新的、出人意料的东西,形成了一种完全不同的快感。"
我记得在2017年的一个周日下午,在我对你一无所知之前,我去了Berghain,在你开始4个小时的演出之前,我来到了那里。我有一种强烈的感觉,你直接从我的梦中物化了,结合了我喜欢的声音,并在上面添加了一些完全新鲜和现代的东西。我将永远不会忘记我所经历的幸福。
What is the most memorable/transcendental moment you had on the dance floor?
Thank you. This is wonderful feedback. I think the most transcendental moments arise when people share a feeling – which is, technically speaking, not possible – but I like the idea of people experiencing a very close, almost identical moment of existential emotions. And as a musician there is maybe no achievement more powerful as when such an occasion arises from the music you play. I had many memorable moments on the dancefloor myself but sadly many of them got lost, like tears in the rain. For the most part, the musician in me wouldn't let go and many of those moments were instead an unromantic schooling, like when you realize how some rhythms or sounds work in a room. Essential moments I experienced were when DJ's were breaking the mould. There is one particular situation I remember, a long time ago when there were still warehouse parties in Berlin: DJ's were playing straight up loopy, harder techno all night and it DJ Hell who dropped a new beat / Italo-disco tune in between and I remember how it changed everything, the place, my state within the blink of an eye. There have been a few truly transcendental moments for me too. They are quite personal but I guess many people had similar experiences, when at a particular moment the music triggers the that kind of connection between you and someone else on the dancefloor; this moment when your mind and your heart are exploding and you look at each other and without saying anything and you know your significant other is experiencing exactly the same
你在舞池中最难忘/最超脱的时刻是什么?
谢谢你。这是很好的反馈。我认为,当人们分享一种感觉时,最超凡的时刻就会出现–从技术上讲,这是不可能的–但我喜欢人们经历一个非常接近的、几乎相同的存在情感的时刻。而作为一个音乐家,也许没有什么成就比你演奏的音乐产生这样的场合更有力量。我自己在舞池中也有很多难忘的时刻,但可惜的是很多都失去了,就像雨中的泪水。在大多数情况下,我内心的音乐家不会放手,很多时刻反而是一种不浪漫的学校教育,就像当你意识到一些节奏或声音在一个房间里是如何工作的。我经历的必不可少的时刻是DJ们打破常规的时候。有一个特别的情况我记得,很久以前,当柏林还有仓库派对的时候。DJ们整晚都在玩类似的、更重的Techno,而DJ Hell在中间放了一首新的节拍/意大利迪斯科曲子,我还记得它是如何改变了一切,改变了这个地方,改变了我的状态,就在一眨眼之间。对我来说,也有一些真正超凡脱俗的时刻。这些都是相当个人化的,但我猜很多人都有类似的经验,当在某一特定时刻,音乐触发了你和舞池中其他人之间的那种联系;这一刻,你的思想和你的心脏都在爆炸,你看着对方,什么也不说,你知道你对面的人也在经历同样的事情。
We know you love Dead can Dance. How did their music influence you spiritually?
Dead Can Dance actually have been one of the most important mainsprings to explore spirituality and culture. First and foremost they were forerunners of cultural appreciation for me and thus a starting point to broaden my horizon, way beyond mere musical discoveries. And I think this is where their enduring influence on me is most perceptible. At a time when political 'tails' are trying to break into art and re-establish cultural nationalism I think it is important to have positive counterweights to such hegemonic aspirations. I find it most fascinating that their music has this effect on me without carrying a blatant message but only by the sheer power of the art itself. Music is one of the elemental, ancient social tools to bring people together. And it has been an ambition of Ancient Methods to connect people from different 'scenes'; figuratively speaking, to tear down walls instead of reinforcing them. So maybe to some extent, that's a success of their spiritual influence. More generally I think Dead Can Dance give proof to the importance of what I'd call "bridge builders". To explore new territories, it can help to have a starting point – something that is at first more accessible from where you are and then guides you from there further into the depths of the unknown. I think their music is a good example of such a link.
我们知道你喜欢 "死能舞"。他们的音乐在精神上对你有什么影响?
DeadCanDance实际上是探索精神和文化的最重要的动力之一。首先,对我来说,他们是文化鉴赏的先驱,因此也是拓宽我的视野的起点,远远超出了单纯的音乐发现。我想这也是他们对我影响最持久的地方。在政治 "尾巴 "试图打入艺术领域,重新建立文化民族主义的时候,我认为对这种霸权主义的愿望有积极的反击是很重要的。我觉得最吸引人的是,他们的音乐对我有这样的影响,却不带有明显的信息,而只是靠艺术本身的力量。音乐是一种基本的、古老的社会工具,可以将人们聚集在一起。而将不同 "场景 "的人联系起来,一直是AncientMethods的一个野心;形象地说,是拆墙而不是加固墙。所以也许在某种程度上,这也是他们精神影响力的成功。更普遍的是,我认为《DeadCanDance》证明了我所说的 "架桥人 "的重要性。要探索新的领域,有一个起点是很有帮助的–从你现在的位置开始更容易到达,然后引导你从那里进一步进入未知的深处。我想他们的音乐就是这样一个很好的例子。
You've collaborated several times with Dominick Fernow (aka Vatican Shadow / Prurient). What connects you two the most?
I'd say on stage it is definitely the different kind of energy which creates a magnetic connection. He's able to deliver the expressive physical and visible energy, something I love to include in the performance but not being capable to do myself. Off-stage I like to listen to him. He's not only an entertaining story-teller but an irresistible creative force and has his very own approach to think about things in a genuinely creative, unique way. Especially nowadays, where binary thinking gains more and more traction, it is rather rare and very refreshing for me to meet people that make you look at things from a completely different angle.
你和Dominick Fernow(又名Vatican Shadow / Prurient)合作过几次。你们俩最有联系的方面是什么?
我想说,在舞台上,这绝对是一种不同的能量,它创造了一种磁性的联系。他能够提供表现性的身体和可见的能量,这是我喜欢在表演中加入的东西,但我自己却没有能力做到。在台下,我喜欢听他说话。他不仅是一个有趣的讲故事的人,更是一种不可抗拒的创造力,他有自己的方法,以一种真正有创意的、独特的方式来思考问题。尤其是在二元思维越来越流行的今天,能遇到让你从完全不同的角度看问题的人,对我来说相当难得,也非常新鲜。
Is there a radio station (FM, Internet) that you listen to and that perhaps surprises you with new discoveries?
Not really. I wish I'd have time to discover more music from other sources like podcasts, other peoples mixes or especially radio, which I grew up with. But it's already quite difficult with my limited time-budget to stay focused on the overwhelming amount of all other channels.
是否有你收听的电台(调频、网络),或许会有新的发现给你带来惊喜?
不一定。我希望我有时间从其他来源发现更多的音乐,比如播客、其他人的混音,尤其是我从小到大所关注的电台。但以我有限的时间预算,要专注于所有其他渠道数量是压倒性的,这已经相当困难。
Do you ever get overwhelmed by the quantity of music coming out these days? Or do you manage to filter and curate what you listen to?
I do indeed get overwhelmed by the quantity, absolutely. And it sometimes takes really bizarre shapes. For example on bandcamp-Friday's I give up and simply clear my inbox from all notifications, since it would be an ridiculous attempt trying to listen to all that music. Lately I've been thinking about it a lot because I found myself stressed by the amount of information to process. I had the feeling I'm both missing out, and being chased at the same time. Worse than that, I realized I spent much more time on compulsively checking and acquiring music – and in a quite superficial way, barely more than browsing/skipping through tracks – than I was actually listening to the music, like dedicated, attentive listening. It's a pretty insane luxury-problem of a privileged person, as Erich Fromm says, "more having than being"; but this irrational consumption started to make me downright unhappy. I find music is the only form of addictive consumption that's difficult to control, although I've started to use some tactics: I remembered that the most essential part of my collection is from a time where I had the least money. Therefore I started to re-impose a monthly budget that limits purchases and forces me to be more picky. I specifically unfollow feeds or unsubscribe promo newsletter that do not deliver useful music for the most part. I'm a morning person and realized with my morning energy, music that I tend to find appealing later on might turn out to be not as essential. So now I try to check out news and promos in the evening when I'm exhausted from work. If it can still spark my attention then, it's probably essential enough to keep or buy. Quantity aside, it's the structure of the information flow which makes it harder to leave the enclosed territory and discover different music. That's why I try to dedicate 1-2 hours a week for explorations outside that frame which is formed by feeds, newsletters and streaming algorithms . My limited time resources still don't give me a chance to enhance the actual discovery experience very much, such as going to record shops. Instead most of it is still clicking links. However due to the pandemic a few times I managed to show up early at markets to dig for music. Some areas of folk and traditional music I'm following are not so well documented in the digital world but are instead predominant in cassette culture and can be still occasionally found at markets. At markets it's a bit like reaching into a black box again and involves talking to people. It feels a bit like falling out of time, but more healthy, less OCD-ish and goal driven.
你是否曾被这些天出现的音乐数量所淹没?或者说,你会对你所听的音乐进行过滤和策划吗?
我确实被数量所淹没,绝对的。有时它的形状非常奇怪。例如在bandcamp-Friday's,我就会放弃,干脆把我的收件箱从所有通知中清除掉,因为想听所有的音乐是一个可笑的尝试。最近我一直在思考这个问题,因为我发现自己要处理的信息量很大,压力很大。我有一种感觉,我既错过了,同时又被追赶着。比这更糟糕的是,我意识到我花在强迫性地查看和获取音乐上的时间–而且是相当肤浅的方式,几乎不只是浏览/跳过曲目–比我真正听音乐的时间要多得多,比如说专心致志地听。这是一个特权阶层相当疯狂的奢侈-问题,就像埃里希-弗洛姆说的那样,"拥有多于存在";但这种非理性的消费开始让我彻头彻尾地不开心。我发现音乐是唯一一种难以控制的上瘾性消费,虽然我已经开始使用一些策略。我记得我收藏中最重要的部分 是在我最没钱的时候收集的。因此我开始重新制定每月的预算,限制购买量,迫使我更加挑剔。我特别取消关注feeds或取消订阅促销通讯,这些通讯大部分不提供有用的音乐。我是一个早上的人,并意识到我早上的能量,音乐,我倾向于发现吸引以后可能会变成不是那么重要。所以现在我尽量在晚上工作疲惫的时候查看新闻和宣传片。如果那时候还能引发我的注意,那可能就是必不可少的,可以保留或购买。抛开数量不谈,就是信息流的结构,让我很难离开封闭的领地,去发现不同的音乐。这也是为什么我尝试每周抽出1-2个小时的时间来探索这个由feeds、newsletter和流媒体算法形成的框架之外。我有限的时间资源仍然没有给我一个机会来提高实际的发现经验,如去唱片店。相反,大部分还是点击链接。然而由于流行病的影响,几次我都能提前出现在市场上挖掘音乐。我所关注的一些民谣和传统音乐领域,在数字世界里并没有那么好的记录,而是以卡带文化为主,在市场上偶尔还是可以找到。在市场上,有点像又伸进了一个黑匣子,需要和人交谈。感觉有点像从时间中掉出来的感觉,但更健康,没有强迫症的感觉,也没有目标的驱动。
Your dj sets and production work can be described as epic and cinematic …such that listeners can become completely absorbed, even possessed. Do you have any specific intentions behind this?
As for DJing, I always saw it as an extension or broadened way of sharing music with people, something that started in my early teenage-years when I would hang out with friends and we'd play music for each other. And just like in those days, when I DJ now I still hope that there is someone in the room appreciating the music as much as I am. That's still the main aspect of it: I share the music I love. DJ'ing broadens not only because it simply involves more people, but also because it gives me the possibility to use technical methods to make things accessible to a crowd that otherwise predominantly comes to a gig in order to dance. DJ'ing allows me to use rhythmic tools as a transporter to share an ambient track or folk song or sometimes even a little poem, things you probably wouldn't dance to in a sober state. With that said, I basically have no other intention than sharing music, good moments, and making people like the music I present. In perfect moments though, you can reach that transcendent connection we've been talking about – the moment when you actually 'share' that inner feeling, when the inner mood carried by the music resonates with someone else. During that perfect moment, you create and transfer an atmospheric image that defies any description of what music is, simply as a translation, and what only connected people can grasp. It might sound pretty abstract or blurry but from the musician's and DJ's perspective it's a pretty specific guiding thread. In particular, I found it be a guide for what not to play, what sounds or tempos would ruin this mood and likewise a guide for which parts are essential for setting the vibe and therefore to be emphasized – maybe through mixing techniques such as EQ'ing.
你的DJ布景和制作工作可以说是史诗般的、电影般的……让听众可以完全沉浸其中,甚至着魔。你在这背后有什么具体的打算吗?
至于DJ,我一直认为它是一种延伸或扩大的方式 与人们分享音乐, 东西开始在我的早期十几岁的年代, 当我会挂出与朋友,我们会播放音乐为对方。就像在那些日子里,当我现在做DJ时,我仍然希望房间里有人和我一样欣赏音乐。这仍然是主要的方面。我分享我喜欢的音乐 DJ'ing扩大了范围,不仅因为它涉及到更多的人,还因为它让我有可能使用技术方法来让那些主要是为了跳舞而来的观众能够接受。DJ'ing让我可以用节奏工具作为转接器,分享一首环境音乐或民歌,有时甚至是一首小诗,这些东西你可能不会在清醒状态下跳舞。说到这里,我基本上没有其他的打算,就是分享音乐、美好的时刻,让大家喜欢我呈现的音乐。不过在完美的时刻,你可以达到我们一直在说的那种超凡的连接–当你真正 "分享 "内心感受的那一刻,当音乐所承载的内心情绪与别人产生共鸣的时候。在那个完美的时刻,你创造和传递了一个大气的画面,它不顾任何对音乐的描述,只是作为一种翻译,只有连接的人才能把握。这听起来可能很抽象或模糊,但从音乐人和DJ的角度来看,这是一条很具体的指导线。特别是,我发现它是一个指南,说明什么东西不能玩,什么声音或节奏会破坏这种情绪,同样也是一个指南,说明哪些部分对于设置氛围是必不可少的,因此要强调–也许是通过EQ'ing等混音技术。
An essential cornerstone in early industrial music was the act of provocation, which often included samples of riveting spoken word diatribes. I hear this kind of incitement often in your dj sets, for example this vocal sample in your mix from March 19th:"Fear is something different. Fear is something other. Fear is used to intimidate and to attack" – Genesis P. Orridge
Or later in that mix, we hear Charles Bukowski's poem,
Love is a Dog from Hell:
"there is a loneliness in this world so great
that you can see it in the slow movement of the hands of a clock.
people so tired
mutilated
either by love or no love.
people just are not good to each other
one on one."
I find these quotes incredibly moving, particularly when layered on top of your relentless and uniquely cathartic musical selections. On the dance floor, both head and body are simultaneously shocked in an unexpected rite: shadowy vocal samples combine with an abrasive sonic assault to induce dissociative/associative phenomena.
How important is it for you to challenge party-goers by jarring their hedonistic flow with thought-provoking statements? Do you consider your 'methods' a form of deprogramming?
Both Genesis' thoughts on the climate of our times and Bukowski's poem have been a pretty accurately reflection of what I think and feel. I'm not intending to program and more importantly I don't want to de-program people, I don't even intend to necessarily challenge anyone. I see it rather as an invitation; I'm offering something to people that is for me at least, as personal as the music I share and as an exposure of my inner state. And yet, it is simply self-expression by using other artists' voices and statements …and as much as the audience might empathize with or object to it, it's still an option to not pay any attention to those parts and just dance. However I'm aware that music can be a powerful force and there is always the risk that people might be swayed by a statement when it's charged by music. This is a double-edged sword and gets questionable, for example, when mixed with political or other ideological messages since you can't rule out that people might become programmed or de-programmed rather by the impact of the underlying music than the substance of such statements. We've been talking about the social dimension of music: contrary to its unifying virtue it should also be mentioned that it has been also an ancient method to use music as a weapon, to charge it with propaganda or missionary messages and provoke the opposite of a unifying force. In this regard I can only stress that I'm not a missionary or a teacher and would not like to be seen as such. I confide in my audience's ability to make up their own mind, reflect, agree or disagree on each aspect of the presented content. But what I do like to do is to re-program the actual source, to edit, cut , rearrange the source, to modify or abuse the source to express more precisely what I think and feel or simply to make it fit better on the music or introduce chorus/verse structures, etc. And since this might be loosely inspired by cut-up's, perhaps this a link to early industrial music.
早期工业音乐的一个重要基石是挑衅行为,这其中往往包括铆足了劲的口述檄文的样本。我在你的dj集里经常听到这种煽动行为,比如你3月19日的混音里的这个人声样本。 "恐惧是一种不同的东西。恐惧是另一种东西。恐惧是用来恐吓和攻击的",Genesis P. Orridge。
或者在那首混合诗的后面,我们听到了查尔斯-布考斯基的诗《爱是一条来自地狱的狗》。
"世间有一种孤独,如此之大
你可以看到它在缓慢的运动中。
钟的指针。
人累
残缺
不是因为爱,就是因为不爱。
人与人之间就是互不相让
一对一。"
我觉得这些名言非常动人,特别是当你的无情和独特的宣泄性音乐选择之上的层次。在舞池中,头部和身体同时在一种意想不到的仪式中受到冲击:阴暗的人声采样与粗糙的声音攻击相结合,诱发了解离/联想现象。
对你来说,用发人深省的话语来挑战聚会者的享乐主义潮流有多重要?你认为你的 "方法 "是一种去程式化的形式吗?
创世纪对我们这个时代气候的思考 和布考斯基的诗都非常准确地反映了我的想法和感受。我并不打算程式化,更重要的是我不想去程式化,我甚至不打算一定要挑战任何人。我把它看成是一种邀请,我提供给人们一些东西,至少对我来说,就像我分享的音乐一样个人化,是我内心状态的暴露。然而,这只是通过使用其他艺术家的声音和声明来进行自我表达……尽管观众可能会感同身受或反对,但还是可以选择不关注这些部分,只是跳舞。然而我知道,音乐可以是一种强大的力量,当一个声明被音乐控诉时,人们总是有可能被它所左右。这是一把双刃剑,值得怀疑,例如,当与政治或其他意识形态的信息混合在一起时,因为你不能排除人们可能会变得程序化或去程序化,而不是由基础音乐的影响而不是这种声明的实质。我们一直在谈论音乐的社会层面:与它的统一性相反,还应该提到的是,它也是一种古老的方法,利用音乐作为武器,用宣传或传教士的信息来煽动相反的统一力量。在这方面,我只能强调,我不是传教士或老师,也不愿意被人看成这样。我相信我的听众有能力对所呈现的内容的每一个方面做出自己的决定、思考、同意或不同意。但我喜欢做的是对实际的音源进行重新编排,对音源进行编辑、剪切、重新编排,对音源进行修改或滥用/使用,以更准确地表达我的想法和感受,或者仅仅是为了让它更适合音乐或引入合唱/诗句结构等。既然这可能是受到剪接的松散启发,也许这是与早期工业音乐的联系。
Furthermore you often incorporate chanting, choirs church organs and other religious (or perhaps neofolk?) motifs in your music and your dj sets. The ghosts of Dead Can Dance can definitely be heard.
Would you say that your juxtaposition of sacred-sounding music on profane spaces like night clubs is a form of provocation? Or does it have more to do with how much of sacred music was created to induce altered states?
It depends from where you're looking at it. I'm sure for many people night clubs are actually the most sacred place. I heard about a club in Berlin people would commonly call "The Church". In this context or mindset sacred-sounding music would be far from being a provocation but rather deliver the appropriate mass setting within the worship service. But I can relate it to your second question. I like music that is emotionally powerful. And I'm guessing, the reason why liturgical music or, more generally, spiritual music has such an effect on me, is to find the state in which it was created and the purpose for which it was created. As an atheist I might only have a foggy notion how your creed can carry you away and how it might lend wings to your creativity. It probably wouldn't cross the believer's mind to deliver second best or to deliver something that doesn't meet the richness of their inner devoted state – and maybe such a dedication makes a huge difference for example between a Bach piece and music that is created as a byproduct for an Instagram account. However I should add, for my DJing in particular I need music that is less intense or emotionally rich.
此外,你还经常在你的音乐和DJ集中加入圣歌、唱诗班、教堂管风琴和其他宗教(或许是新民谣)主题。死人可以跳舞的鬼魂绝对可以听到。 你会说,你把神圣的音乐并置在夜总会这样的亵渎空间是一种挑衅吗?还是说,这更多的是与神圣的音乐有多少是为了诱导改变状态而创造的?
这取决于你从哪里看它。我相信对很多人来说,夜总会是最神圣的地方。我听说柏林有一家俱乐部,人们通常称之为 "教堂"。在这种环境或心态下,听起来神圣的音乐就远远不是一种挑衅,而是在礼拜仪式中提供适当的大众环境。但我可以把它和你的第二个问题联系起来。我喜欢情感强烈的音乐。而我猜测,礼仪音乐或者更普遍的灵性音乐之所以对我有这样的影响,是为了找到它被创造的状态和创造它的目的。作为一个无神论者,我可能只有一个模糊的概念,你的信条如何能带你走,如何能给你的创造力插上翅膀。信仰者可能不会想到以次充好,或者提供一些不符合他们内心虔诚状态的丰富性的东西–也许这样的虔诚会产生巨大的差异,比如巴赫的作品和作为Instagram账号副产品的音乐之间的差异。然而我需要补充的是,对于我的DJ工作来说,我特别需要不那么激烈或情感丰富的音乐。
In the early 1990's, techno created some unprecedented caustic sounds on top of startling musical misappropriations that, if you don't mind me saying, in many ways aren't that dissimilar from what you play. Picture Apotheosis – O Fortuna 😉
Would it be controversial to say that you still carry an irreverent spirit of early rave techno?
I don't think it would be controversial. But I'm not sure if I could agree. Lately (https://oldskool.fr/interviews/ancient-methods/) I mentioned that early techno had the most significant impact on my musical upbringing and – subconsciously – I still might manufacture these influences in my music. However I think my music is still quite gentle and very accessible and I'm usually turned off by music that is stark only for the sake of being stark alone. I reject self-policing influences, in particular if they come from non-musical places. In this regard my approach to create or play music might be irreverent but the outcome is benevolent.
Historically there has been very little crossover between the goth and techno scenes, but it seems the music you create and perform is helping transform that.
You've stated before that Ancient Methods is "techno" – but do you think your dj set could now fit at Wave-Gotik-Treffen? Or am I blind and was this somehow always the case?
For the format of the festival I'm not sure if a DJ set would be much of a benefit. But the live show in 2016 at WGT was definitely an important personal achievement for me and rewarding in these premises.
历史上,哥特音乐和电子音乐之间很少有交集,但似乎你创作和表演的音乐正在帮助改变这种状况。你之前说过Ancient Methods是 电子乐"–但你认为你的DJ组合现在能适应Wave-Gotik-Treffen吗?还是我瞎了眼,以前一直都是这样?
对于音乐节的形式,我不知道DJ表演是否会有什么好处。但2016年在WGT的现场表演对我来说绝对是一个重要的个人成就,在这些处所也很有收获。
Given the high level of Weltschmerz that we're all feeling these days, are there any books or movies that you'd recommend – and why?
Quite often when I dive into Weltschmerz depths, my very personal perception of it intermingles with a yearning for the world that is described as "Hiraeth", an unspecific longing for people, places, times. Speaking of transcendence again, there is nothing like the language of Weltschmerz-king Hermann Hesse which for me best translates this "Hiraeth"-manifestation of Weltschmerz, and in particular his novel "Demian", my all-time favorite book. However I think – besides other circumstances – Weltschmerz triggered many ideas and in most cases was eventually turned into a thriving creative force, or was often followed by humbling reminders for appreciation and gratitude. I see this interplay very much related one of the wisdoms in Khalil Gibran's "The Prophet": "The deeper that sorrow carves into your being, the more joy you can contain." The book became somewhat of a haven and my little pocket guidebook for life. Another guidebook, for the most important thing in life, is Erich Fromm's "The Art Of Loving". I'm not sure if the book helps ease the feeling of Weltschmerz, even if you do manage to develop self-love to a healthy degree. But it's a good read against the climate of our time.
鉴于我们这些天都感受到了高水平的Weltschmerz,有什么书或电影是你想推荐的–为什么?
当我深入到Weltschmerz的深处时,我对它的非常个人化的认识与对世界的渴望交织在一起,这种渴望被描述为 "Hiraeth",一种对人、地点、时间的不具体的渴望。再次说到超越,没有什么比韦尔茨梅尔茨国王赫尔曼-黑塞的语言更适合翻译韦尔茨梅尔茨的这种 "Hiraeth "的表现,尤其是他的小说《德米安》,我一直以来最喜欢的书。然而我认为–除了其他情况外,韦尔茨赫梅兹引发了许多想法,在大多数情况下,最终被转化为一种蓬勃的创造力,或者经常被谦卑地提醒欣赏和感激。我认为这种相互作用与纪伯伦(Khalil Gibran)的《先知》中的一个智慧非常相关。"悲伤在你身上刻画得越深,你就能容纳更多的快乐。" 这本书多少成了我的避风港,也成了我的生活小袖珍指南。另一本人生最重要的指南,是埃里希-弗洛姆的《爱的艺术》。我不知道这本书是否有助于缓解韦尔茨赫默茨的感觉,即使你确实能把自爱发展到一个健康的程度。但在我们这个时代的氛围下,这是一本不错的书
Credits:
Photos by www.keyi.eu @keyistudio / @berlin_bunny_ & @eyes_dice
Interview by Involucija
Link to print copy US:
https://www.magcloud.com/browse/issue/1925837
Link to print copy Europe / Russia
https://www.peecho.com/checkout/158887660228946068/985453/keyimagazine-22nd-ancientmethods-