Je Suis Responsable | Fashion Film for À forma
"I forget that I'm responsible. But I am."

Je Suis Responsable offers to the viewer a poetic, poignant experience while posing questions over humanity and existence. It's the latest fashion film by award winning director Enrico Poli for the emerging brand, À forma. It was produced by Manufactory Productions and shot in several locations around Bologna, a town in northern Italy.

Je Suis Responsable (French for "I am responsible") stands first and foremost for the designers' statement to produce responsibly. However, the film takes its title from a monologue it quotes and homages. In Godard's Vivre sa Vie, Anna Karina's character tells a friend how she feels that "we are responsible for everything we do". What does it actually mean to say that we are responsible?
The locations where the film is set constantly remind us of the power of nature; that given enough time, nature finds its way through what humans have neglected. It's key to the central message of the film: artifice is immaterial, things fade, they lose their form and function. Humans are impermanent, only nature continues. It's the biggest strength we know. Nature is time's most wonderful and consistent expression.

"What moved us into action was the urgency to translate the global derealisation brought about by the pandemic into a form of art. Coronavirus has shown us how fragile we are and how easily things can fall apart: I can't help but feel this is a wake up call. As we continue to live through this crisis with an awareness of our own fragility and as scientists warn us of the irrevocable damage Global Warming will have on society, preserving life on this planet has become the defining challenge of our time. It may already be too late to reverse this course, but I firmly believe the least we can do is try." Enrico Poli
The film is Enrico Poli's latest collaboration with designer Antonio, after working successfully on two films for his previous brand.

"Antonio and I have always thought very highly of each other, and have developed an attitude toward working together based on trust and creative freedom. Back in November 2020 Antonio and Daniele had just started producing the first collection of their new brand, À forma. I was prepping a music video at the time and I asked them to invest some money so that I could hold on to the camera and the lenses for one additional day. They accepted and we went on to shoot Je Suis Responsable. I remember Antonio and Daniele laughing at me when I told them that I was writing a script; I hadn't seen a single piece of clothing, and there hadn't been much discussion over what the film was supposed to communicate, yet. All I knew was that À formahad made sustainability its core value." Enrico Poli
À forma bases its designs on contrasts. Combining opposites represents the lifestyle of the designers. They believe in the adaptability of form. They structure their work up to the smallest detail, with the aim of seeing the unexpected emerge. They put absolute attention in the selection of the fabrics of their garments, then play with accessories to create breaking points. The film mirrors this approach with its narrative, cinematography, and soundtrack. Finding the breaking point of an image becomes a way to further expand its reality.

To achieve the atmospheric suspense of this film Enrico worked extensively with composer Paolo Gaudio. The soundtrack gives the rhythm to the piece, creating moments of tension, and alternating them with silence to finally resolve into poetic, uplifting notes for the epilogue.
The director had the chance to work with Daniel De Vue @A52 for the color grade. Daniel decided to support the project after Enrico showed him an early cut.

FILM CREDITS

Brand: À forma
Creative Directors: Antonio Labroca + Daniele Parete
Models: Désirée Gérandin, D N L
Female Voice: Désirée Gérandin
Male Voice: Victor Gourreau
Writer / Director: Enrico Poli
Cinematography: Lamberto Mongiorgi
1st AC: Guglielmo Trautvetter
Production Assistants: Letizia Giorgio, Giorgia Garagnani
Editor: Enrico Poli
Styling: Antonio Labroca + Daniele Parete for À forma
Color Grader: Daniel De Vue @ A52
Sound Design + Music: Paolo Gaudio
Sound Mix + Master: Samir Bastajib
Location Manager: Andrea Rubini
Still Photographer: Andrea Rubini @rubolide
Production Company: Manufactory Productions
Special Thanks to Matilde Benedusi
——————————————————————————————————————————————–


BEHIND THE SCENES PHOTOGRAPHIES CREDITS
Photographer: Andrea Rubini | instagram: rubolide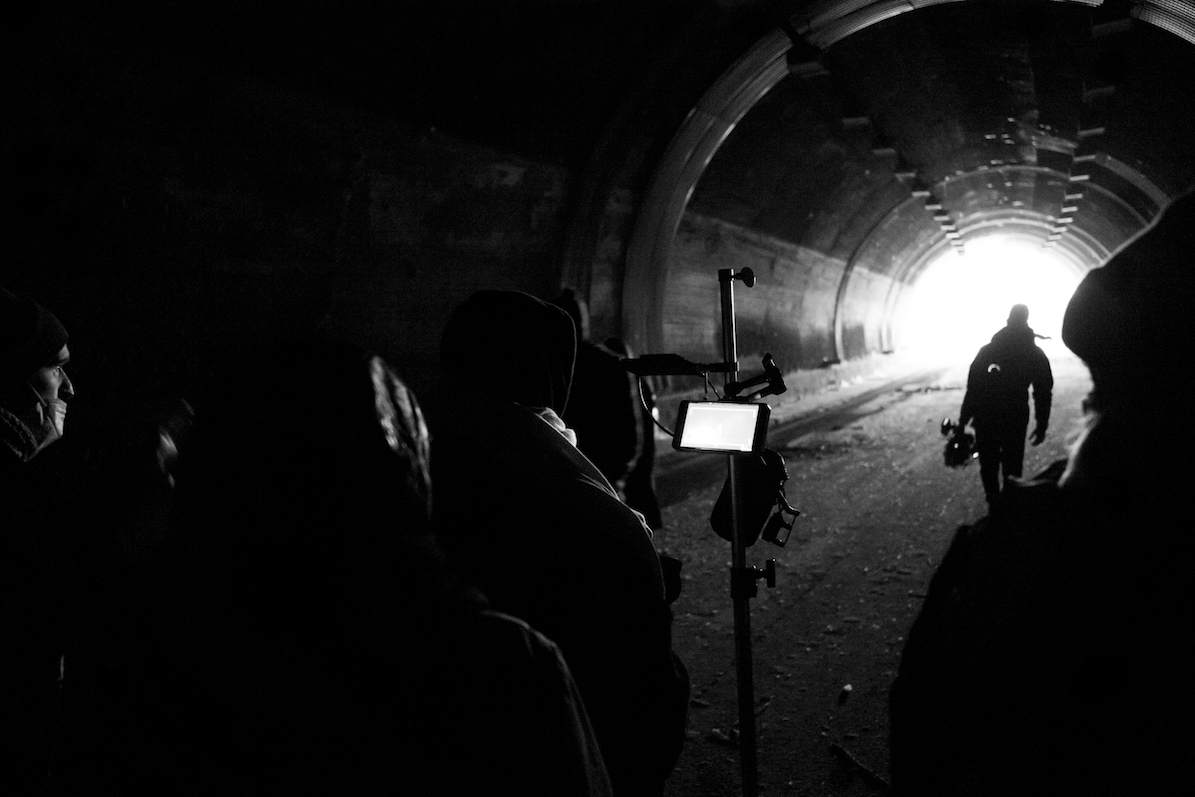 Look for more photos in our latest print issue
(24th Issue)