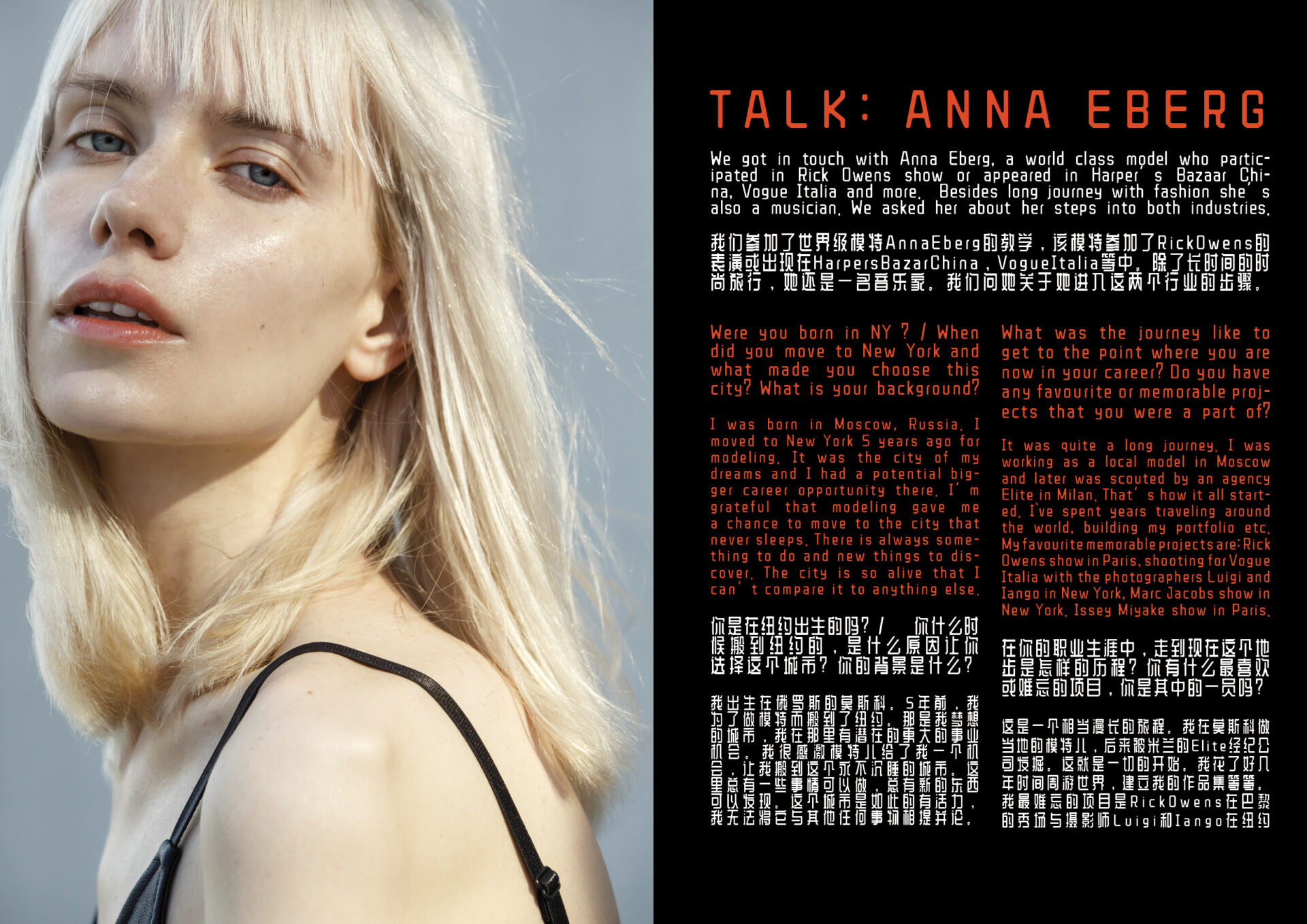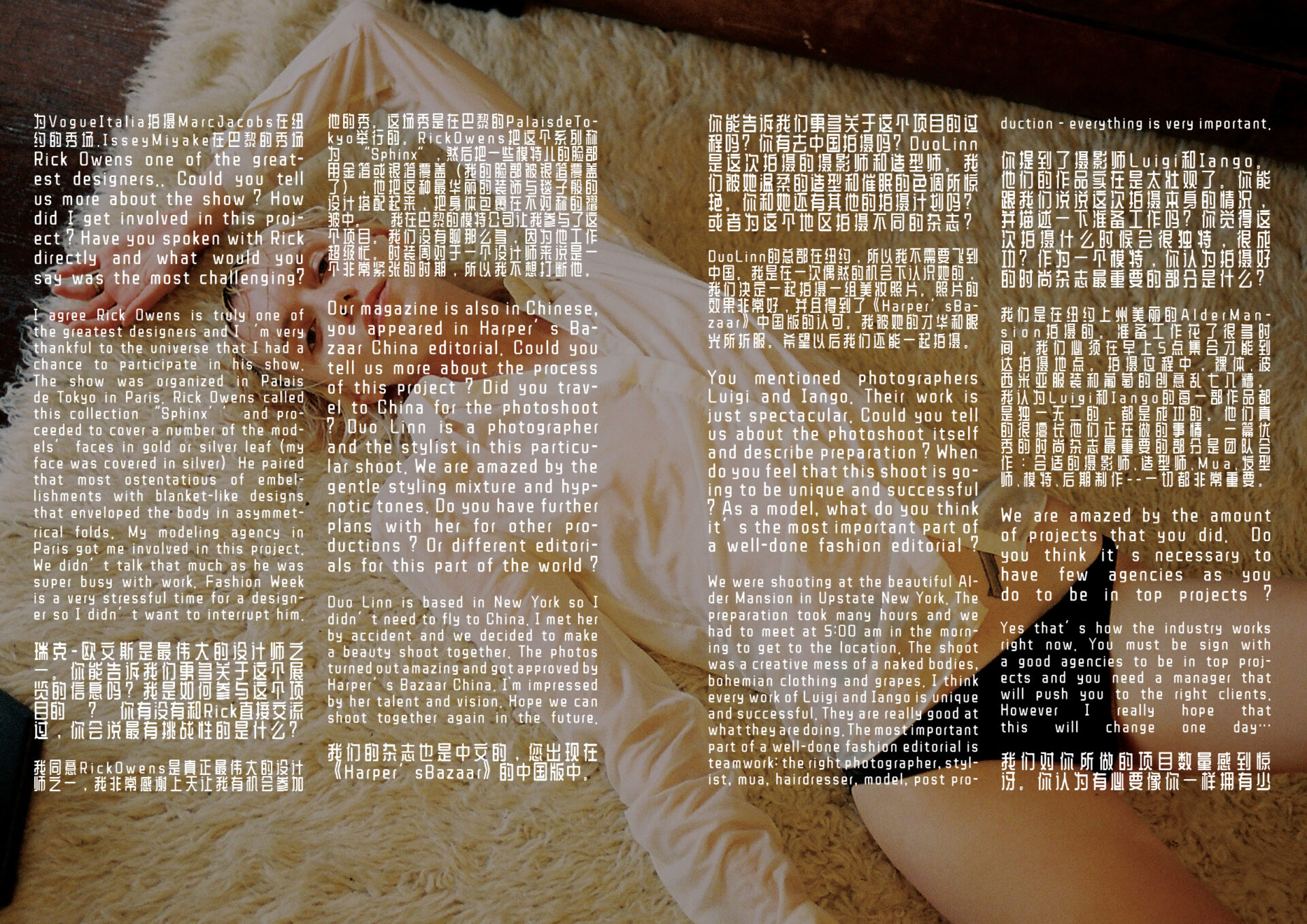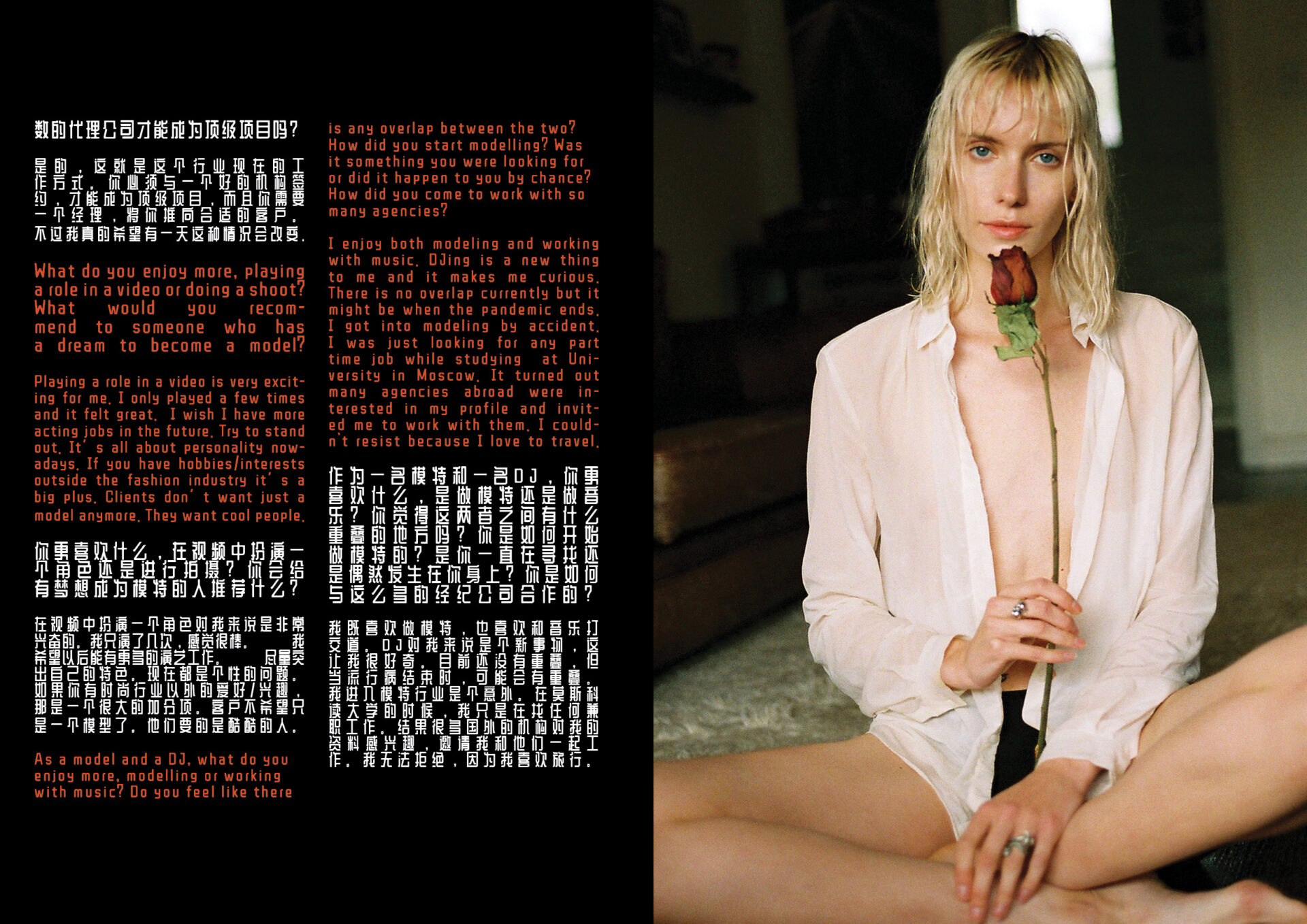 We got in touch with Anna Eberg, a world class model who participated in Rick Owens show or appeared in Harper's Bazaar China, Vogue Italia and more.  Besides long journey with fashion she's also a musician. We asked her about her steps into both industries.
我们参加了世界级模特AnnaEberg的教学,该模特参加了RickOwens的表演或出现在HarpersBazarChina,VogueItalia等中。除了长时间的时尚旅行,她还是一名音乐家。我们问她关于她进入这两个行业的步骤。
Were you born in NY ? / When did you move to New York and what made you choose this city? What is your background? 
I was born in Moscow, Russia. I moved to New York 5 years ago for modeling. It was the city of my dreams and I had a potential bigger career opportunity there. I'm grateful that modeling gave me a chance to move to the city that never sleeps. There is always something to do and new things to discover. The city is so alive that I can't compare it to anything else.
你是在纽约出生的吗?/ 你什么时候搬到纽约的,是什么原因让你选择这个城市?你的背景是什么?
我出生在俄罗斯的莫斯科。5年前,我为了做模特而搬到了纽约。那是我梦想的城市,我在那里有潜在的更大的事业机会。我很感激模特儿给了我一个机会,让我搬到这个永不沉睡的城市。这里总有一些事情可以做,总有新的东西可以发现。这个城市是如此的有活力,我无法将它与其他任何事物相提并论。
What was the journey like to get to the point where you are now in your career? Do you have any favourite or memorable projects that you were a part of?
It was quite a long journey. I was working as a local model in Moscow and later was scouted by an agency Elite in Milan. That's how it all started. I`ve spent years traveling around the world, building my portfolio etc.
My favourite memorable projects are: Rick Owens show in Paris, shooting for Vogue Italia with the photographers Luigi and Iango in New York, Marc Jacobs show in New York. Issey Miyake show in Paris.
在你的职业生涯中,走到现在这个地步是怎样的历程?你有什么最喜欢或难忘的项目,你是其中的一员吗?
这是一个相当漫长的旅程。我在莫斯科做当地的模特儿,后来被米兰的Elite经纪公司发掘。这就是一切的开始。我花了好几年时间周游世界,建立我的作品集等等。
我最难忘的项目是RickOwens在巴黎的秀场与摄影师Luigi和Iango在纽约为VogueItalia拍摄MarcJacobs在纽约的秀场.IsseyMiyake在巴黎的秀场
Rick Owens one of the greatest designers.. Could you tell us more about the show ? How did I get involved in this project ? Have you spoken with Rick directly and what would you say was the most challenging?
I agree Rick Owens is truly one of the greatest designers and I 'm very thankful to the universe that I had a chance to participate in his show. The show was organized in Palais de Tokyo in Paris. Rick Owens called this collection "Sphinx'' and proceeded to cover a number of the models' faces in gold or silver leaf (my face was covered in silver) He paired that most ostentatious of embellishments with blanket-like designs that enveloped the body in asymmetrical folds. My modeling agency in Paris got me involved in this project. We didn't talk that much as he was super busy with work. Fashion Week is a very stressful time for a designer so I didn't want to interrupt him.
瑞克-欧文斯是最伟大的设计师之一。你能告诉我们更多关于这个展览的信息吗?我是如何参与这个项目的 ? 你有没有和Rick直接交流过,你会说最有挑战性的是什么?
我同意RickOwens是真正最伟大的设计师之一,我非常感谢上天让我有机会参加他的秀。这场秀是在巴黎的PalaisdeTokyo举行的。RickOwens把这个系列称为 "Sphinx",然后把一些模特儿的脸部用金箔或银箔覆盖(我的脸部被银箔覆盖了),他把这种最华丽的装饰与毯子般的设计搭配起来,把身体包裹在不对称的褶皱中。 我在巴黎的模特公司让我参与了这个项目。我们没有聊那么多,因为他工作超级忙。时装周对于一个设计师来说是一个非常紧张的时期,所以我不想打断他。
Our magazine is also in Chinese, you appeared in Harper's Bazaar China editorial. Could you tell us more about the process of this project ? Did you travel to China for the photoshoot ? Duo Linn is a photographer and the stylist in this particular shoot. We are amazed by the gentle styling mixture and hypnotic tones. Do you have further plans with her for other productions ? Or different editorials for this part of the world ?
Duo Linn is based in New York so I didn't need to fly to China. I met her by accident and we decided to make a beauty shoot together. The photos turned out amazing and got approved by Harper's Bazaar China. I`m impressed by her talent and vision. Hope we can shoot together again in the future.
我们的杂志也是中文的,您出现在《Harper'sBazaar》的中国版中。你能告诉我们更多关于这个项目的过程吗?你有去中国拍摄吗?DuoLinn是这次拍摄的摄影师和造型师。我们被她温柔的造型和催眠的色调所惊艳。你和她还有其他的拍摄计划吗?或者为这个地区拍摄不同的杂志?
DuoLinn的总部在纽约,所以我不需要飞到中国。我是在一次偶然的机会下认识她的,我们决定一起拍摄一组美妆照片。照片的效果非常好,并且得到了《Harper'sBazaar》中国版的认可。我被她的才华和眼光所折服。希望以后我们还能一起拍摄。
You mentioned photographers Luigi and Iango. Their work is just spectacular. Could you tell us about the photoshoot itself and describe preparation ? When do you feel that this shoot is going to be unique and successful ? As a model, what do you think it's the most important part of a well-done fashion editorial ?
We were shooting at the beautiful Alder Mansion in Upstate New York. The preparation took many hours and we had to meet at 5:00 am in the morning to get to the location. The shoot was a creative mess of a naked bodies, bohemian clothing and grapes. I think every work of Luigi and Iango is unique and successful. They are really good at what they are doing. The most important part of a well-done fashion editorial is teamwork: the right photographer, stylist, mua, hairdresser, model, post production – everything is very important.
你提到了摄影师Luigi和Iango。他们的作品实在是太壮观了。你能跟我们说说这次拍摄本身的情况,并描述一下准备工作吗?你觉得这次拍摄什么时候会很独特,很成功?作为一个模特,你认为拍摄好的时尚杂志最重要的部分是什么?
我们是在纽约上州美丽的AlderMansion拍摄的。准备工作花了很多时间,我们必须在早上5点集合才能到达拍摄地点。拍摄过程中,裸体、波西米亚服装和葡萄的创意乱七八糟。
我认为Luigi和Iango的每一部作品都是独一无二的,都是成功的。他们真的很擅长他们正在做的事情。一篇优秀的时尚杂志最重要的部分是团队合作:合适的摄影师、造型师、Mua、发型师、模特、后期制作–一切都非常重要。
We are amazed by the amount of projects that you did.  Do you think it's necessary to have few agencies as you do to be in top projects ?
Yes that's how the industry works right now. You must be sign with a good agencies to be in top projects and you need a manager that will push you to the right clients.
However I really hope that this will change one day…
我们对你所做的项目数量感到惊讶。你认为有必要像你一样拥有少数的代理公司才能成为顶级项目吗?
是的,这就是这个行业现在的工作方式。你必须与一个好的机构签约,才能成为顶级项目,而且你需要一个经理,将你推向合适的客户。
不过我真的希望有一天这种情况会改变.
What do you enjoy more, playing a role in a video or doing a shoot?
What would you recommend to someone who has a dream to become a model?
Playing a role in a video is very exciting for me. I only played a few times and it felt great. I wish I have more acting jobs in the future. Try to stand out. It's all about personality nowadays. If you have hobbies/interests outside the fashion industry it's a big plus. Clients don't want just a model anymore. They want cool people.
你更喜欢什么,在视频中扮演一个角色还是进行拍摄?你会给有梦想成为模特的人推荐什么?
在视频中扮演一个角色对我来说是非常兴奋的。我只演了几次,感觉很棒。 我希望以后能有更多的演艺工作。 尽量突出自己的特色。现在都是个性的问题。如果你有时尚行业以外的爱好/兴趣,那是一个很大的加分项。客户不希望只是一个模型了。他们要的是酷酷的人。
As a model and a DJ, what do you enjoy more, modelling or working with music? Do you feel like there is any overlap between the two? How did you start modelling? Was it something you were looking for or did it happen to you by chance? How did you come to work with so many agencies?
I enjoy both modeling and working with music. DJing is a new thing to me and it makes me curious. There is no overlap currently but it might be when the pandemic ends.
I got into modeling by accident. I was just looking for any part time job while studying at University in Moscow. It turned out many agencies abroad were interested in my profile and invited me to work with them. I couldn`t resist because I love to travel.
作为一名模特和一名DJ,你更喜欢什么,是做模特还是做音乐?你觉得这两者之间有什么重叠的地方吗?你是如何开始做模特的?是你一直在寻找还是偶然发生在你身上?你是如何与这么多的经纪公司合作的?
我既喜欢做模特,也喜欢和音乐打交道。DJ对我来说是个新事物,这让我很好奇。目前还没有重叠,但当流行病结束时,可能会有重叠。
我进入模特行业是个意外。在莫斯科读大学的时候,我只是在找任何兼职工作。结果很多国外的机构对我的资料感兴趣,邀请我和他们一起工作。我无法拒绝,因为我喜欢旅行。
How did you come to DJing, and why now? Where did you learn to DJ? Did you teach yourself or learn from someone? What is DJing for you?
I came to DJing when the pandemic started. I never thought about becoming a DJ honestly. I just enjoyed raving 🙂 So clubs in NYC got closed and I was in lockdown with a ton of free time. Music helped me to stay sane in these difficult times. I miss nightlife in NYC a lot.
I learned how to DJ from a friend and I teach myself as well. DJing for me is to create a certain mood and emotions while mixing. There is always a story to tell.
你是如何走上DJ之路的,为什么是现在?你在哪里学的DJ?你是自学还是跟人学的?对你来说,DJ是什么?
我是在疫情开始的时候来做DJ的。老实说,我从来没有想过要成为一名DJ。我只是喜欢狂欢:) 所以纽约市的俱乐部被关闭了,我被封锁了,有大量的空闲时间。音乐帮助我在这些困难时期保持清醒。我非常想念纽约的夜生活。
我从一个朋友那里学会了如何做DJ,我也教自己。对我来说,做DJ就是在混音时创造出某种情绪和情感。总有一个故事要讲。
What do you like the most about what you do? Do you see DJing playing a bigger role in your life in the future? Does DJing change your attitude towards modelling?
I like to be creative in what I do and just go with the flow. This applies for both DJing and modeling. Yes I can see DJing playing a bigger role in my life in the future. It doesn't change my attitude towards modeling.
你最喜欢你所做的工作的什么?你认为未来DJ在你的生活中会发挥更大的作用吗?做DJ会改变你对模特的态度吗?
我喜欢在我所做的事情上发挥创意,顺其自然。这适用于DJ和模特。是的,我可以看到未来DJ在我的生活中发挥更大的作用。但这并没有改变我对模特的态度。
What is your favourite activity on a cold winter day in New York?
To go for a walk in Central Park when it's snowing. It is beautiful out there.
在纽约寒冷的冬天,你最喜欢的活动是什么?
在下雪的时候去中央公园走走 外面很美
What is your wish for the future, both near and far?
To find the inner peace.
你对未来有什么愿望,包括近期和远景?
要找到内心的平静.
Interview 作者:: Grzegorz Bacinski & Izabella Chrobok
Assistant:Alona
Translation 翻译: Emi
Photos照片: Alessandro Casagrande & Ale Poveda