DREAM BABY DREAM, Berlin's avant garde cocktail bar presents a 23 track various artist compilation record from the artists who regularly curate party nights or support the bar. This first installment 'VA VOLUME ONE' is a fundraiser to help the bar make it through this COVID 19 pandemic.
We are excited to premiere one of the tracks made by two superb artists Phase Fatale & Unhuman – Fünf euro bitte!
Artists: VARIOUS ARTISTS •
• Title: VOLUME ONE PART ONE •
• Label: DREAM BABY DREAM •
• Release Date: May 26th 2021 •
https://dreambabydreambar.bandcamp.com
Written and produced by Manos Simotas and Hayden Payne
PHASE FATALE (BITE)
www.facebook.com/phasefatalemusic
www.instagram.com/phasefatale/
@phasefatale
UNHUMAN (LIBER NULL)
www.facebook.com/manos.simotas
www.instagram.com/unhumangr/
@unhumangr
"Before the pandemic, you could play a techno set anywhere in Berlin. But what if you wanted to play a shoegaze/postpunk set? Or an old school, non-mixed industrial set? Not only is Dream Baby Dream a great space filled with all us expats and misfits, it is a needed venue for diversity of musical (and visual) expression, and it's very important that it survives this current situation. I was glad to help, and would Again."
ALAN OLDHAM (FRONT 313)
"The past year has been a challenging one for everyone. Whether it be struggling to find artistic direction in all of this chaos to trying to keep businesses and livelihoods afloat that haven taking many years of blood, sweat and tears to build. In a time where we have spent incredible amounts of time in isolation from our friends, community and sources of inspiration, I was more than happy to contribute music to this first Dream Baby Dream compilation. I have had the honour on a number of occasions to DJ and visit DBD in Berlin and I have always been incredibly grateful for Andrew and all the team at this wonderful, cozy venue for taking a chance on me and having some belief in what I'm doing. There is a light now coming at the end of the tunnel so soon comes time for mending, rebuilding and to renew and re-value our relationships with friends, people and the global underground community that keeps our passions and dreams alive."
SOFT RIOT
"DBD became like a home away from home to me. The combination of living room flair, art community, quality live music by selected enthusiasts, a unique bar offer and the loveliest staff is irreplaceable. Before the club, after the club, between the club, instead of the club it's the place where I wanna chill, enjoy a delicate drink and hang with like-minded people, friends and guests from around the globe. The support given to the bar in these hard times and the hope and impatience of so many for its doors to open again soon is just a reflection of the passion and love you've always been welcomed with.
As for a personal highlight I def need to mention the last year when it was actually the first time I ever celebrated my own birthday in a public space and organized a little event in the bar. The night was simply overwhelming and I am thankful to date for everyone attending and spreading these amazing family vibes. And this is what it does… DBD is growing a family and brings individuals together.
I am sure that what is happening now is just the beginning of a story. Maybe the place will change, maybe things will change, but we will never stop dreaming."
EVE SCHWARTZ (LIIneas)
"It is important to support a place like DBD because there is no other place like DBD. The people, the spirit(s), the vibe… It's just my favorite joint in Berlin, and some of my favourite people, plain and simple."
RAUM (ANTIBODY LABEL)
"I ended up at Dream Baby Dream quite by chance, often the best way to find things. It's a place with a genuine passion for music and a certain aesthetic that doesn't contradict having an open mind for something different. This is not to be taken for granted these days, where people look for the quick road to "success" without giving much thought about what makes music important in the first place. Thanks for being a home for the outcasts."
ASON TEVA
"Every scene needs to have a home spot, a central spot for like minded artists with resonating tastes and visions. A place where they can kick back, have a drink, see a friendly face, and make a toast with their favorite libation. Last but not least, it needs to be an atmosphere that not only feels like home, but sounds like home. Dream Baby Dream meets all of that and more. Andrew Jigalin has truly created a place that's magical. The space, the art, the vintage-like dj booth… it's all really quite perfect. It's not a club, it's a bar, a local watering hole that attracts those of us who prefer darker atmospheres, dark lighting, and libations that are literally made with passion. In a city not known for its customer service, DBD meets the standards set by what I consider to be BKNY's home spot, Bossa Nova Civic Club.
When I first arrived in Berlin last February and visited DBD, I felt an instant connection to the bar. I felt like I was home. I got to meet other artists there for the first time who made tracks that I loved. There's nothing like meeting another artist that you admire and you get to ask them nerdy technical questions. This is priceless for those of us, who usually have a hard time connecting with the general population.
I believe in Dream Baby Dream and because of this, I not only submitted two tracks for the comp, I also help fill in the duties of serving others. I've reached a point in my life where I will only give my time to something that I truly believe in. It felt super appropriate to remix Sarin's track 'World Condition' because it was one of the first tracks that I discovered that there was techno being made that was directly inspired by the music that inspired me to originally buy my first synths and build a studio.
As a special heartfelt bonus, I submitted a track from my archives that was made in the darkest days of my life. In it you'll hear me sing a few lines that I originally wrote when I was 19. A time that was a turning point for me where I eventually came to the conclusion that music was really the only thing that mattered in the post 9/11 world. After 9/11 we didn't think the world could get any worse or that times would never be that hard … and then enter 2020. Hindsight really is a perfect vision, if only we could have seen this coming so we could have been more prepared." MÆDON
Phase Fatale is the Berlin-based techno project of Hayden Payne. Since 2014 the New York native has earned a reputation as a techno innovator, both for the broad spectrum of dystopian, gritty, industrial- laden electronics included in DJ sets as well as his deep understanding of synthesis and sound design in his own productions.
Having released his debut album on Hospital Productions (Redeemer, 2017) and 12″s on labels such as Jealous God, Ostgut Ton and its sub label unterton, Phase Fatale has since settled into residencies at both Berghain in Berlin as well as Khidi in Georgia's capital Tbilisi. In 2018 Payne launched his own label BITE.
Phase Fatale's sharpened rhythmic contours in the context of his DJ sets draw on a vast repertoire of new and classic references: dark ambient drones contrast with the raw, punchy dynamics of industrial and post-punk, cold wave aesthetics combine with 4/4 functionality – all stitched together meticulously with strong atmospheric sensibilities, careful and precise mixing.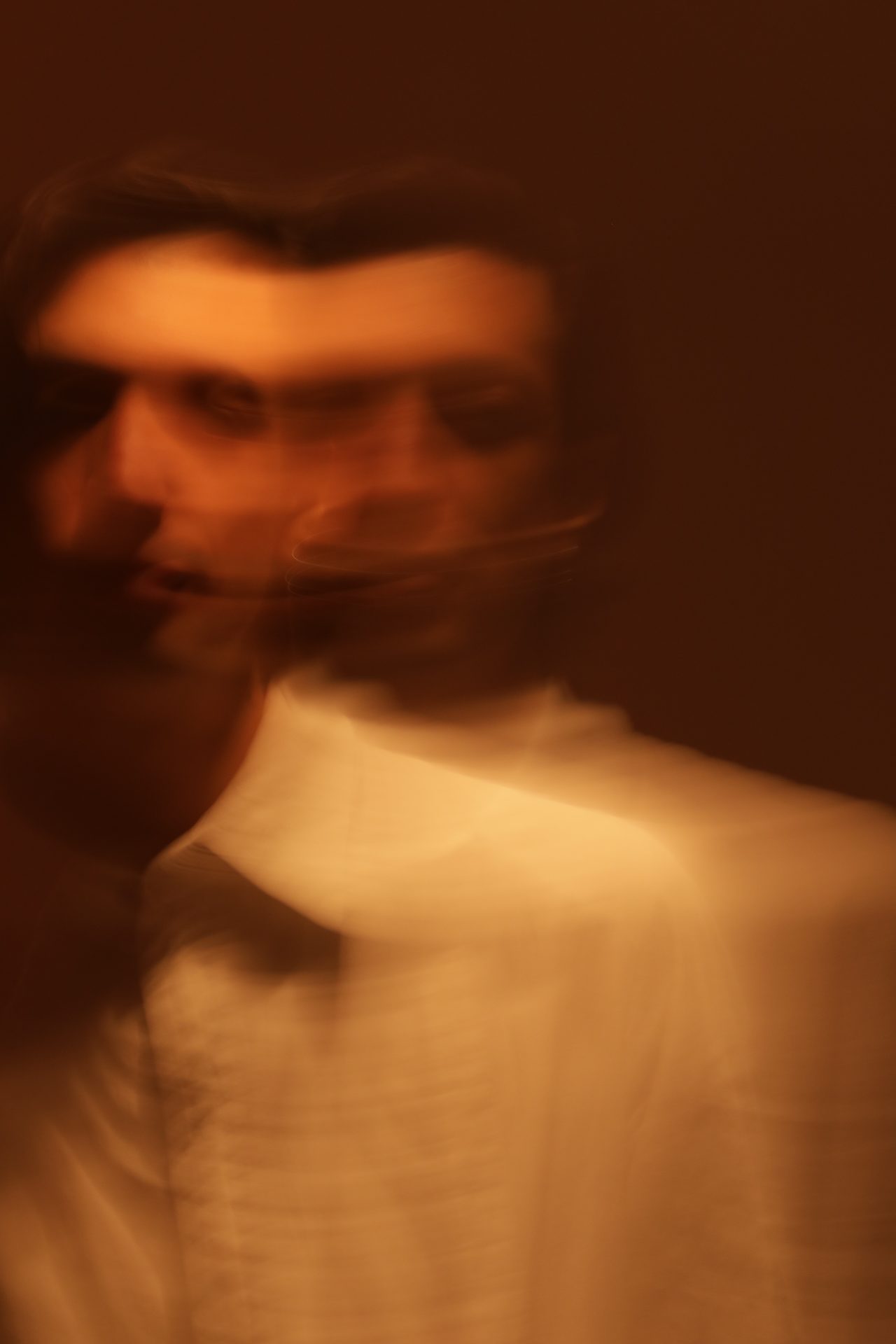 Treating music as an artistic and intellectual concept and crossing boundaries in sound are the hallmarks of this Berlin-based label and event series from 2013. After seven years of very successful running, Liber Null is releasing an anniversary compilation Seven Years Of Delirium, in the spirit of an inseparable bond between visual arts and music. We are talking with Manos Simotas – the founder and curator of a project, Berlin-based Greek producer known to the wider audience under the name Unhuman..
Unhuman is the Berlin-based electronic and experimental project of Manos Simotas. Started in 2012 in Athens with his first release "Emperor Black"on tape, Unhuman evolved through different genres ultimately finding his own unique voice in experimental and dark electronics. Keeping his root in post-punk, Unhuman released on labels such as Instruments Of Discipline, Veleno Viola, BITE, Amok Tapes and Strange Therapy. A regular mainstay of major clubs in Berlin, Unhuman has performed all around Europe, Asia and South America and holds the artist in residency at Constant Value in Seoul, South Korea. Unhuman is also the founder of Liber Null Berlin, which has played a critical role of unifying the freedom of arts in a conceptual event in the scene and also operates as a record label. Expanding beyond Berlin, Liber Null held events with performance arts and music all around the world including Athens, Paris, Tokyo, Seoul and beyond.
TRACKLIST:
1. Funf Euro Bitte – PHASE FATALE + UNHUMAN
Written and produced by Manos Simotas and Hayden Payne
Facebook | Instagram | SoundCloud
Facebook | Instagram | SoundCloud
2. Shadows – FAIRGROUND OF TEARS
Written and produced by Piotr Śledziński
FAIRGROUND OF TEARS
Facebook | Instagram | SoundCloud
3. Ornias – HALV DRØM
Written and produced by Saxon Jorgensen
HALV DRØM
Facebook | Instagram | SoundCloud
4. Blowout – ACID COUPLE
Written, produced and performed by Nuutti Kataja and Andrew Jigalin
ACID COUPLE
5. Force – ZACHERY ALLAN STARKEY Ft. BERNARD SUMNER (SHORT EDIT)
Written and produced by Zachery Allan Starkey, featuring Bernard Sumner
Facebook | Instagram | SoundCloud
6. Refactor (Instrumental) – PRIMARY
Written and produced by Peter Koondial and Richard Söderberg
Facebook | Instagram | SoundCloud
7. CyborgEnabler – PETER KIRN
Written and produced by Peter Kirn
PETER KIRN
Facebook | Instagram | SoundCloud
8. Total Control – PATRICK DSP
Written and produced by Patrick Gharapetian
Facebook | Instagram | SoundCloud
9. World Condition – SARIN (MÆDON REMIX)
Produced By Emad Dabiri, remixed by Meghan Donovan
Facebook | Instagram | SoundCloud
Facebook | Instagram | SoundCloud
10. Abhorred – CLARISSA
Written and produced by Clay Adamczyk
CLARISSA (BRAID)
Facebook | Instagram | SoundCloud
11. Isolate – FRONT 313
Written & Produced by Alan D. Oldham, additional production by Patrick Gharapetian
(P) & (C) 2021 Track Machine/Generator Music BMI
All rights reserved
Facebook | Instagram | SoundCloud
12. Recon Mission – ADAM X (SARIN REMIX)
Produced By Adam Mitchell, remixed by Emad Dabiri
Licensed from Sonic Groove
Facebook | Instagram | SoundCloud
Facebook | Instagram | SoundCloud
13. The Gateway – MILES BROWN
Written & produced by Miles Brown
Facebook | Instagram | SoundCloud
14. A Spade Is Played Again – SOFT RIOT
All electronics, programming and vocals by JJD. Written, recorded and mixed by JJD at Studio Carillon
Facebook | Instagram | SoundCloud
15. Imagine If Your Hand Were A Drug – OPERANT
Written and produced by Luna Vassarotti and August Skipper
OPERANT (INSTRUMENTS OF DISCIPLINE)
Facebook | Instagram | SoundCloud
16. Everything Burns – SPIT MASK
Written and produced by Rachel Jackson and Bryan Jackson
SPIT MASK
Facebook | Instagram | SoundCloud
17. Exit To The Beat – CANDY
Written, produced and performed by Andrew Jigalin and Carolin Jigalin
CANDY
18. Blood Is Beauty – MÆDON
Written & produced by Meghan Donovan
Facebook | Instagram | SoundCloud
19. Dancing With Myself – LIIneas (aka Eve Schwarz)
Written & produced by Eve Schwartz
LIIneas
Facebook | Instagram | SoundCloud
20. L'Isle Tornoiant – RAUM
Written & produced by Yannick Franck
RAUM (ANTIBODY LABEL)
Facebook | Instagram | SoundCloud
21. Fake Placebo – 3.14 Featuring IN ATLAS
Written and Produced by Alex π, vocals by Stine Hansen
3.14 (PI ELECTRONICS)
Facebook | Instagram | SoundCloud
IN ATLAS
22. Malmilian – ASON TEVA
Produced by Assaf Bloom
ASON TEVA
Facebook | Instagram | SoundCloud
23. I Hope Your Dreams Come True – THE HORRORIST
ADDITIONAL CREDITS:
Artwork: August Skipper
Mastering: Gianmaria Dell'Aera
DADUB STUDIO
Producers:
Andrew Jigalin and Anna Zielińska
DREAM BABY DREAM Facebook | Instagram
PARTNERING LABELS:
SONIC GROOVE
INSTRUMENTS OF DISCIPLINE
BITE
LIBER NULL
X-IMG
AUFNAHME + WIEDERGABE
BRAID
ANTIBOD
Y LABEL
PI ELECTRONICS
MEDIA PATRONS:
THE BRVTALIST
POST-PUNK.com
CDM.link
KEYI Magazine
RENEE RUIN