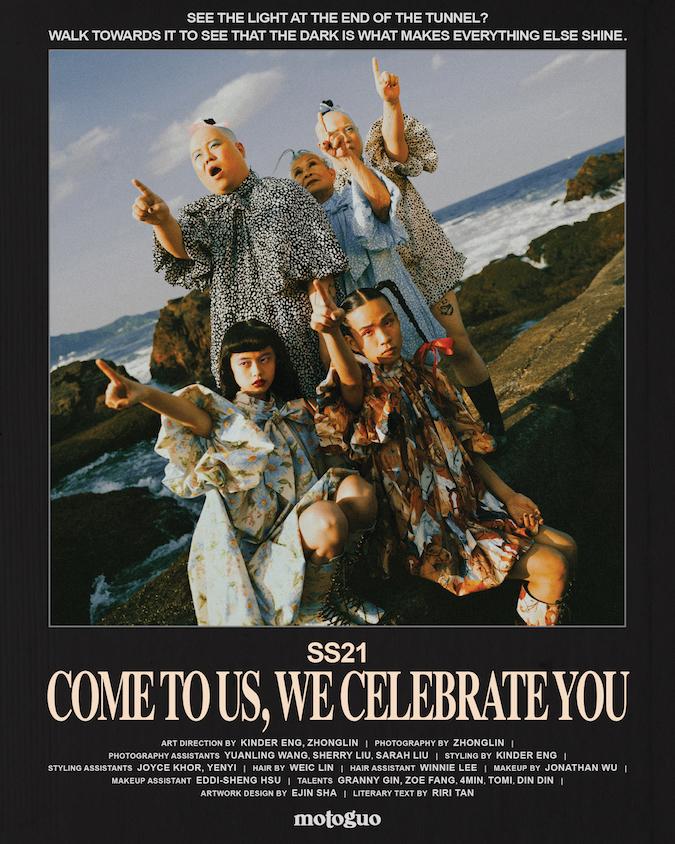 "See the light at the end of the tunnel? Walk towards it to see that the dark is what makes everything else shine."
During these hard times where everything seems to have halted, the label shifts focus onto the subtlety revolving around them. From their close friends' achievements and recognitions to the label's very own mini milestone, each little news that came to their knowledge was sweet, heart-warming and assuring. Together, these positivity create layers of emotions which bore the very essence of this collection. motoguo's Spring/Summer 2021 collection is a portrayal of love, happiness and blessedness towards their most cherished ones.
"So come to us, let's celebrate. Big or small, we'll celebrate it. It'll be a celebration of a lifetime."
motoguo Spring/Summer 2021 Campaign Story:
The stars have aligned for us to work with the talented, divined and long-time collaborator, Zhong Lin once again. By working closely with us, she has graced us with a fresh vision of motoguo through her unique palate and eye for peculiarity.
Our SS21 is a portrayal of love and the celebration of life, this campaign reflects exactly just that. We've invited characters of unique personality to join us in our very own little universe for a grand celebration. Every face comes with a story to tell and we believe they are worth commemorating.
Hop in with us, hand in hand and glasses clinking for the momentous event of a lifetime.
ORDER LIMITED PRINT COPIES HERE: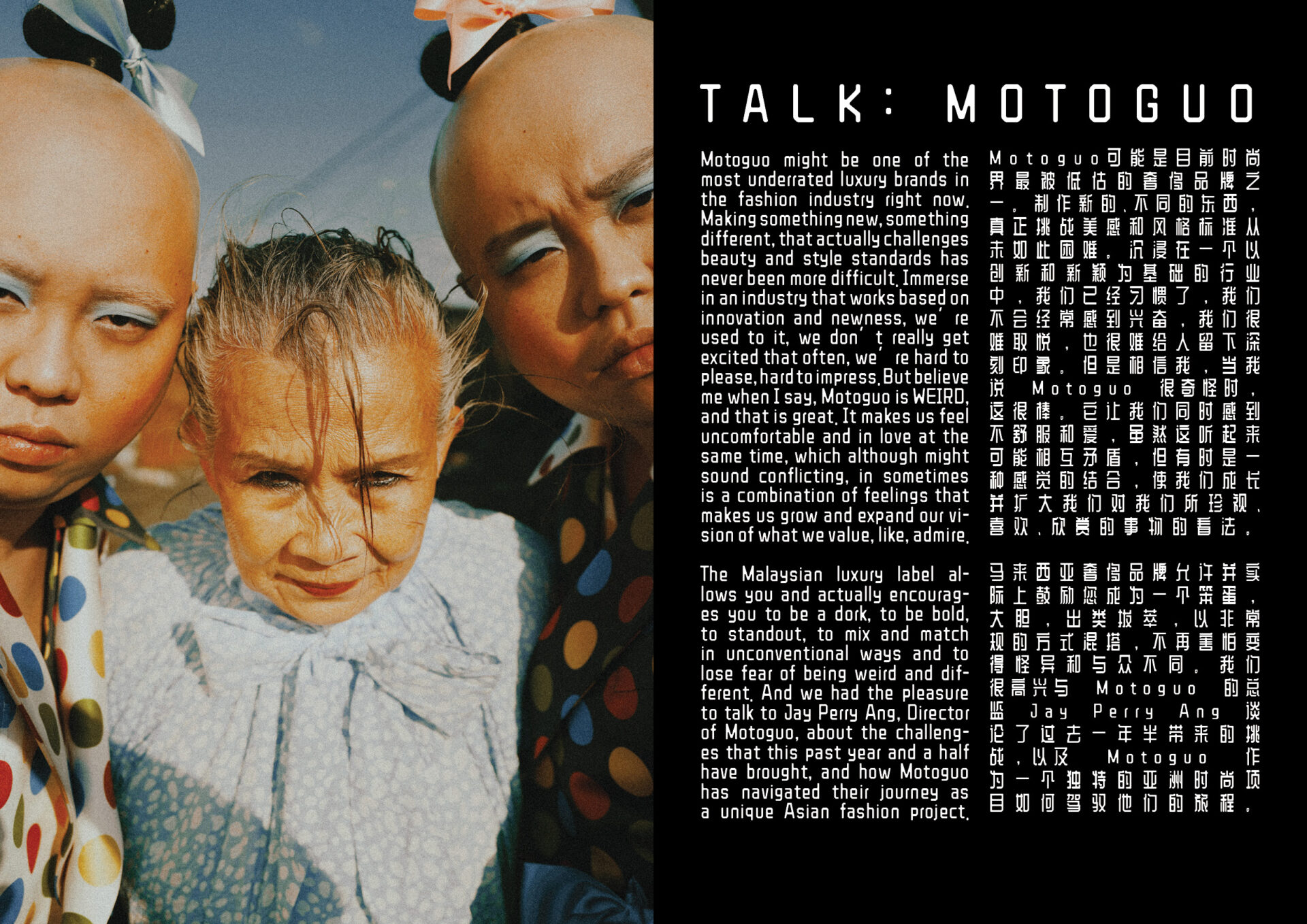 Motoguo might be one of the most underrated luxury brands in the fashion industry right now.
Making something new, something different, that actually challenges beauty and style standards has never been more difficult. Immerse in an industry that works based on innovation and newness, we're used to it, we don't really get excited that often, we're hard to please, hard to impress. But believe me when I say, Motoguo is WEIRD, and that is great. It makes us feel uncomfortable and in love at the same time, which although might sound conflicting, in sometimes is a combination of feelings that makes us grow and expand our vision of what we value, like, admire.
The Malaysian luxury label allows you and actually encourages you to be a dork, to be bold, to standout, to mix and match in unconventional ways and to lose fear of being weird and different. And we had the pleasure to talk to Jay Perry Ang, Director of Motoguo, about the challenges that this past year and a half have brought, and how Motoguo has navigated their journey as a unique Asian fashion project.
Motoguo可能是目前时尚界最被低估的奢侈品牌之一。制作新的、不同的东西,真正挑战美感和风格标准从未如此困难。沉浸在一个以创新和新颖为基础的行业中,我们已经习惯了,我们不会经常感到兴奋,我们很难取悦,也很难给人留下深刻印象。但是相信我,当我说 Motoguo 很奇怪时,这很棒。它让我们同时感到不舒服和爱,虽然这听起来可能相互矛盾,但有时是一种感觉的结合,使我们成长并扩大我们对我们所珍视、喜欢、欣赏的事物的看法。
马来西亚奢侈品牌允许并实际上鼓励您成为一个笨蛋,大胆,出类拔萃,以非常规的方式混搭,不再害怕变得怪异和与众不同。我们很高兴与 Motoguo 的总监 Jay Perry Ang 谈论了过去一年半带来的挑战,以及 Motoguo 作为一个独特的亚洲时尚项目如何驾驭他们的旅程。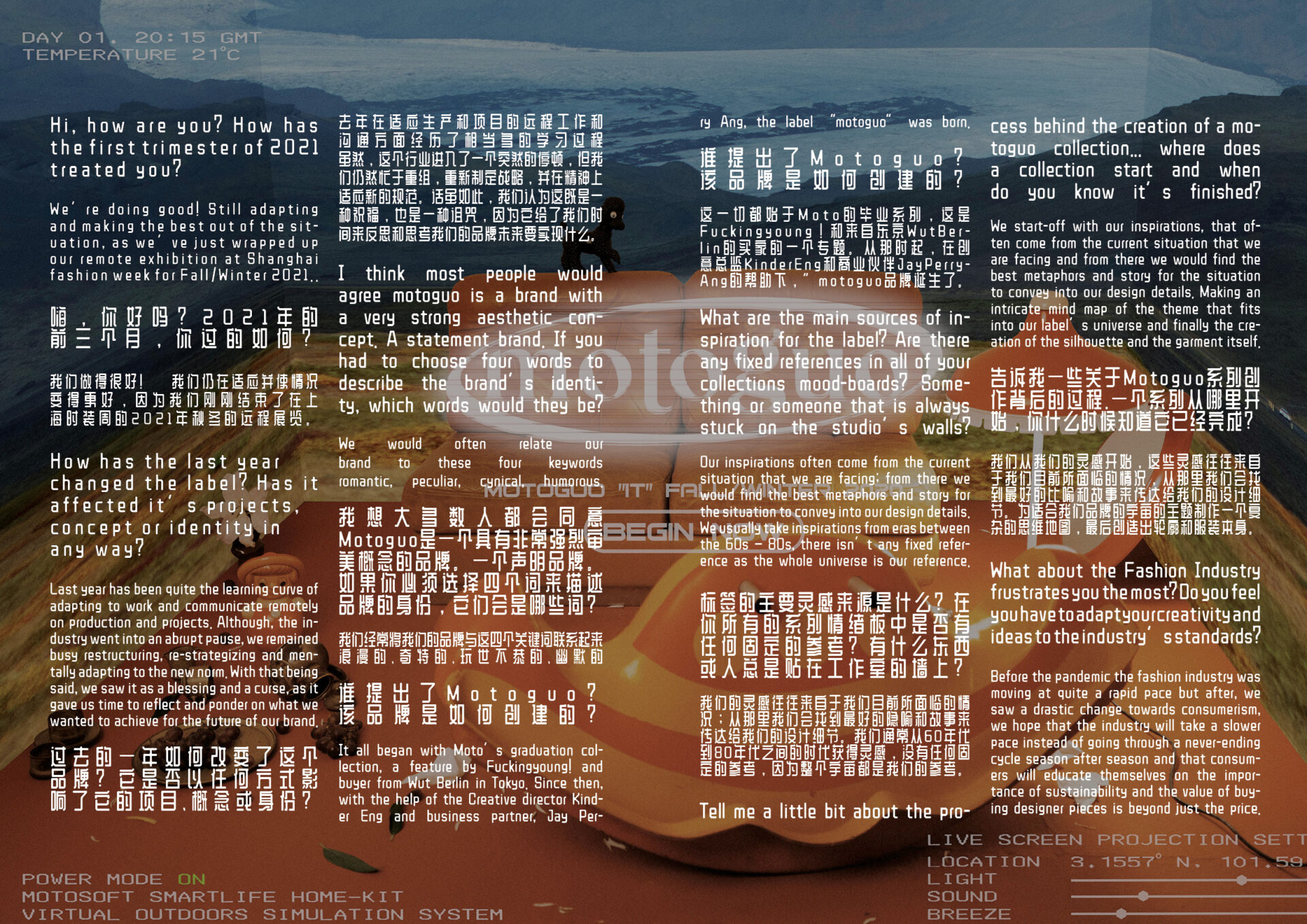 Hi, how are you? How has the first trimester of 2021 treated you?
We're doing good! Still adapting and making the best out of the situation, as we've just wrapped up our remote exhibition at Shanghai fashion week for Fall/Winter 2021..
嗨,你好吗?2021年的前三个月,你过的如何?
我们做得很好! 我们仍在适应并使情况变得更好,因为我们刚刚结束了在上海时装周的2021年秋冬的远程展览。
How has the last year changed the label? Has it affected it's projects, concept or identity in any way?
Last year has been quite the learning curve of adapting to work and communicate remotely on production and projects. Although, the industry went into an abrupt pause, we remained busy restructuring, re-strategizing and mentally adapting to the new norm. With that being said, we saw it as a blessing and a curse, as it gave us time to reflect and ponder on what we wanted to achieve for the future of our brand.
过去的一年如何改变了这个品牌?它是否以任何方式影响了它的项目、概念或身份?
去年在适应生产和项目的远程工作和沟通方面经历了相当多的学习过程
虽然,这个行业进入了一个突然的停顿,但我们仍然忙于重组,重新制定战略,并在精神上适应新的规范。话虽如此,我们认为这既是一种祝福,也是一种诅咒,因为它给了我们时间来反思和思考我们的品牌未来要实现什么。
I think most people would agree motoguo is a brand with a very strong aesthetic concept. A statement brand. If you had to choose four words to describe the brand's identity, which words would they be?
We would often relate our brand to these four keywords
romantic, peculiar, cynical, humorous.
我想大多数人都会同意
Motoguo是一个具有非常强烈审美概念的品牌。一个声明品牌。如果你必须选择四个词来描述品牌的身份,它们会是哪些词?
我们经常将我们的品牌与这四个关键词联系起来
浪漫的、奇特的、玩世不恭的、幽默的
谁提出了Motoguo?该品牌是如何创建的?
It all began with Moto's graduation collection, a feature by Fuckingyoung! and buyer from Wut Berlin in Tokyo. Since then, with the help of the Creative director Kinder Eng and business partner, Jay Perry Ang, the label "motoguo" was born.
谁提出了Motoguo?该品牌是如何创建的?
这一切都始于Moto的毕业系列,这是Fuckingyoung!和来自东京WutBerlin的买家的一个专题。从那时起,在创意总监KinderEng和商业伙伴JayPerryAng的帮助下,"motoguo品牌诞生了。
What are the main sources of inspiration for the label? Are there any fixed references in all of your collections mood-boards? Something or someone that is always stuck on the studio's walls?
Our inspirations often come from the current situation that we are facing; from there we would find the best metaphors and story for the situation to convey into our design details. We usually take inspirations from eras between the 60s – 80s, there isn't any fixed reference as the whole universe is our reference.
标签的主要灵感来源是什么?在你所有的系列情绪板中是否有任何固定的参考?有什么东西或人总是贴在工作室的墙上?
我们的灵感往往来自于我们目前所面临的情况;从那里我们会找到最好的隐喻和故事来传达给我们的设计细节。我们通常从60年代到80年代之间的时代获得灵感,没有任何固定的参考,因为整个宇宙都是我们的参考。
Tell me a little bit about the process behind the creation of a motoguo collection… where does a collection start and when do you know it's finished?
We start-off with our inspirations, that often come from the current situation that we are facing and from there we would find the best metaphors and story for the situation to convey into our design details. Making an intricate mind map of the theme that fits into our label's universe and finally the creation of the silhouette and the garment itself.
告诉我一些关于Motoguo系列创作背后的过程.一个系列从哪里开始,你什么时候知道它已经完成?
我们从我们的灵感开始,这些灵感往往来自于我们目前所面临的情况,从那里我们会找到最好的比喻和故事来传达给我们的设计细节。为适合我们品牌的宇宙的主题制作一个复杂的思维地图,最后创造出轮廓和服装本身。
What about the Fashion Industry frustrates you the most? Do you feel you have to adapt your creativity and ideas to the industry's standards?
Before the pandemic the fashion industry was moving at quite a rapid pace but after, we saw a drastic change towards consumerism, we hope that the industry will take a slower pace instead of going through a never-ending cycle season after season and that consumers will educate themselves on the importance of sustainability and the value of buying designer pieces is beyond just the price.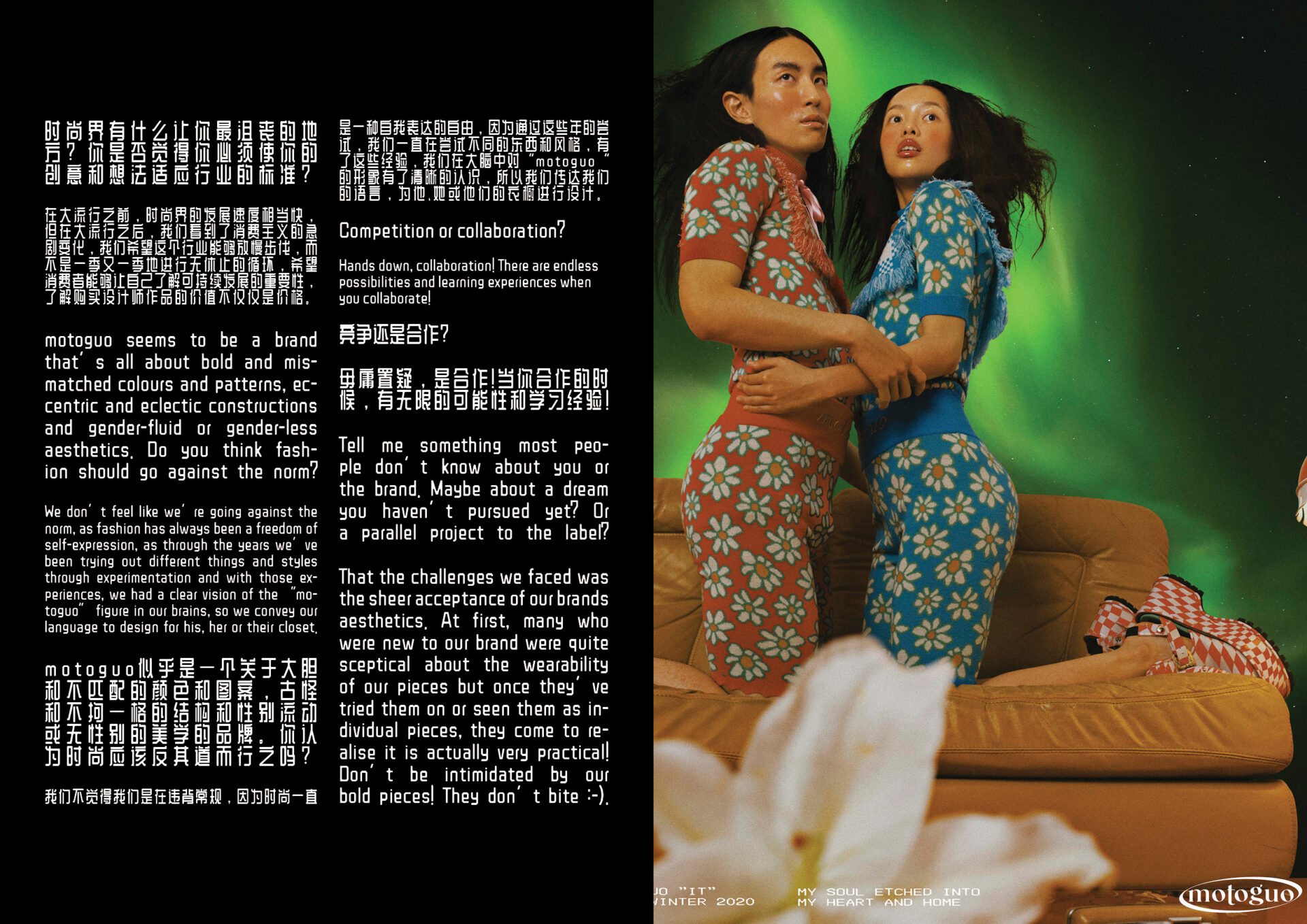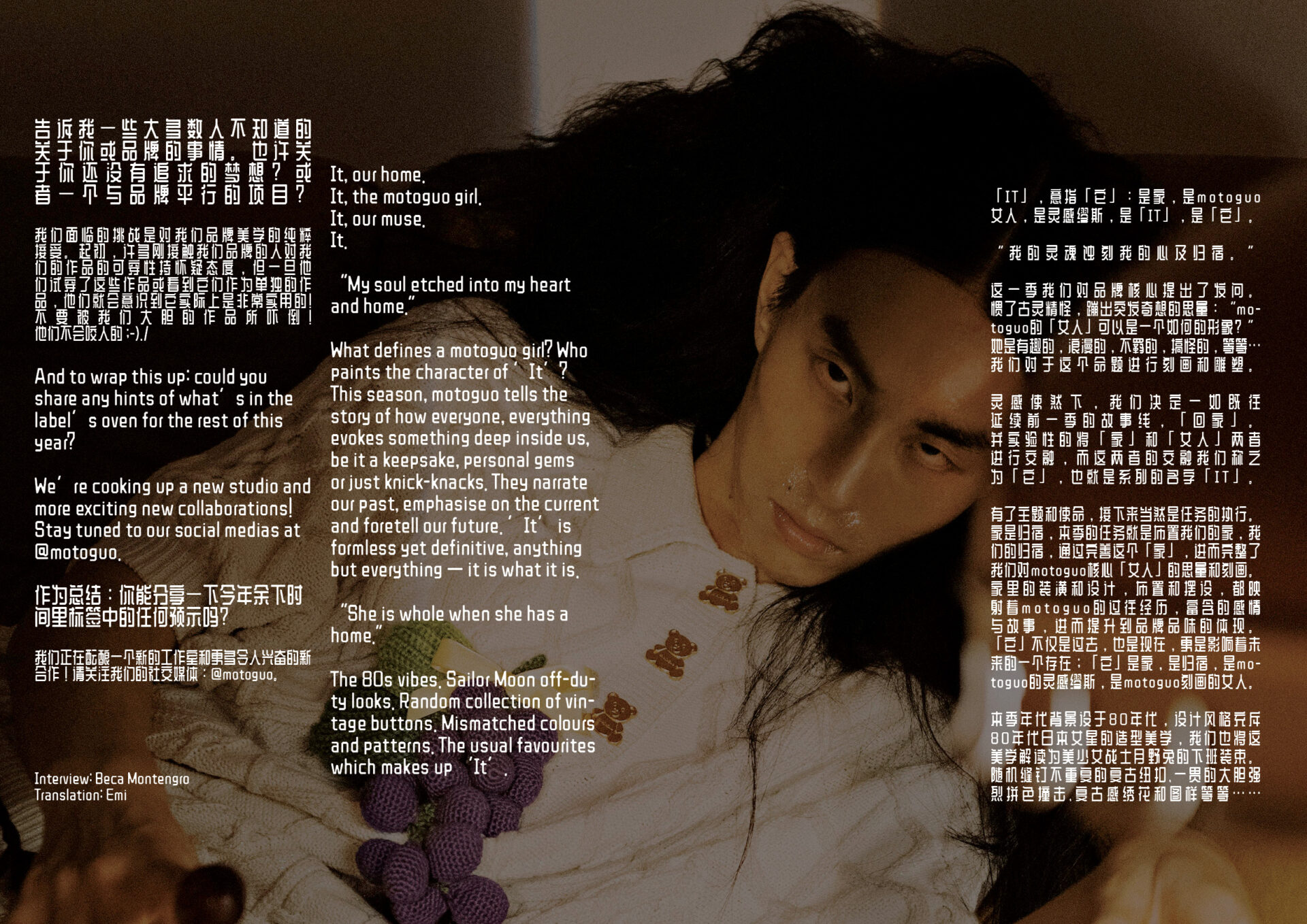 时尚界有什么让你最沮丧的地方?你是否觉得你必须使你的创意和想法适应行业的标准?
在大流行之前,时尚界的发展速度相当快,但在大流行之后,我们看到了消费主义的急剧变化,我们希望这个行业能够放慢步伐,而不是一季又一季地进行无休止的循环,希望消费者能够让自己了解可持续发展的重要性,了解购买设计师作品的价值不仅仅是价格。
motoguo seems to be a brand that's all about bold and mismatched colours and patterns, eccentric and eclectic constructions and gender-fluid or gender-less aesthetics. Do you think fashion should go against the norm?
We don't feel like we're going against the norm, as fashion has always been a freedom of self-expression, as through the years we've been trying out different things and styles through experimentation and with those experiences, we had a clear vision of the "motoguo" figure in our brains, so we convey our language to design for his, her or their closet.
motoguo似乎是一个关于大胆和不匹配的颜色和图案,古怪和不拘一格的结构和性别流动或无性别的美学的品牌。你认为时尚应该反其道而行之吗?
我们不觉得我们是在违背常规,因为时尚一直是一种自我表达的自由,因为通过这些年的尝试,我们一直在尝试不同的东西和风格,有了这些经验,我们在大脑中对"motoguo"的形象有了清晰的认识,所以我们传达我们的语言,为他、她或他们的衣橱进行设计。
Competition or collaboration?
Hands down, collaboration! There are endless possibilities and learning experiences when you collaborate!
竞争还是合作?
毋庸置疑,是合作!当你合作的时候,有无限的可能性和学习经验!
Tell me something most people don't know about you or the brand. Maybe about a dream you haven't pursued yet? Or a parallel project to the label?
That the challenges we faced was the sheer acceptance of our brands aesthetics. At first, many who were new to our brand were quite sceptical about the wearability of our pieces but once they've tried them on or seen them as individual pieces, they come to realise it is actually very practical!
Don't be intimidated by our bold pieces! They don't bite :-).
告诉我一些大多数人不知道的关于你或品牌的事情。也许关于你还没有追求的梦想?或者一个与品牌平行的项目?
我们面临的挑战是对我们品牌美学的纯粹接受。起初,许多刚接触我们品牌的人对我们的作品的可穿性持怀疑态度,但一旦他们试穿了这些作品或看到它们作为单独的作品,他们就会意识到它实际上是非常实用的!
不要被我们大胆的作品所吓倒!
他们不会咬人的 ;-)./
And to wrap this up: could you share any hints of what's in the label's oven for the rest of this year?
We're cooking up a new studio and more exciting new collaborations! Stay tuned to our social medias at @motoguo.
作为总结:你能分享一下今年余下时间里标签中的任何预示吗?
我们正在酝酿一个新的工作室和更多令人兴奋的新合作!请关注我们的社交媒体:@motoguo。
Interview: Beca Montengro
Translation: Emi
It, our home.
It, the motoguo girl.
It, our muse.
It.
"My soul etched into my heart and home."
What defines a motoguo girl? Who paints the character of 'It'? This season, motoguo tells the story of how everyone, everything evokes something deep inside us, be it a keepsake, personal gems or just knick-knacks. They narrate our past, emphasise on the current and foretell our future. 'It' is formless yet definitive, anything but everything — it is what it is.
"She is whole when she has a home."
The 80s vibes. Sailor Moon off-duty looks. Random collection of vintage buttons. Mismatched colours and patterns. The usual favourites which makes up 'It'.
「IT」,意指「它」:是家,是motoguo女人,是灵感缪斯,是「IT」,是「它」。
"我的灵魂蚀刻我的心及归宿。"
这一季我们对品牌核心提出了发问。
惯了古灵精怪,蹦出突发奇想的思量:"motoguo的「女人」可以是一个如何的形象?"
她是有趣的,浪漫的,不羁的,搞怪的,等等…我们对于这个命题进行刻画和雕塑。灵感使然下,我们决定一如既往延续前一季的故事线,「回家」。
并实验性的将「家」和「女人」两者进行交融,而这两者的交融我们称之为「它」,也就是系列的名字「IT」。
有了主题和使命,接下来当然是任务的执行。家是归宿,本季的任务就是布置我们的家,我们的归宿,通过完善这个「家」,进而完整了我们对motoguo核心「女人」的思量和刻画。家里的装潢和设计,布置和摆设,都映射着motoguo的过往经历,富含的感情与故事,进而提升到品牌品味的体现。
「它」不仅是过去,也是现在,更是影响着未来的一个存在;「它」是家,是归宿,是motoguo的灵感缪斯,是motoguo刻画的女人。
本季年代背景设于80年代,设计风格充斥80年代日本女星的造型美学,我们也将这美学解读为美少女战士月野兔的下班装束。随机缝钉不重复的复古纽扣、一贯的大胆强烈拼色撞击、复古感绣花和图样等等……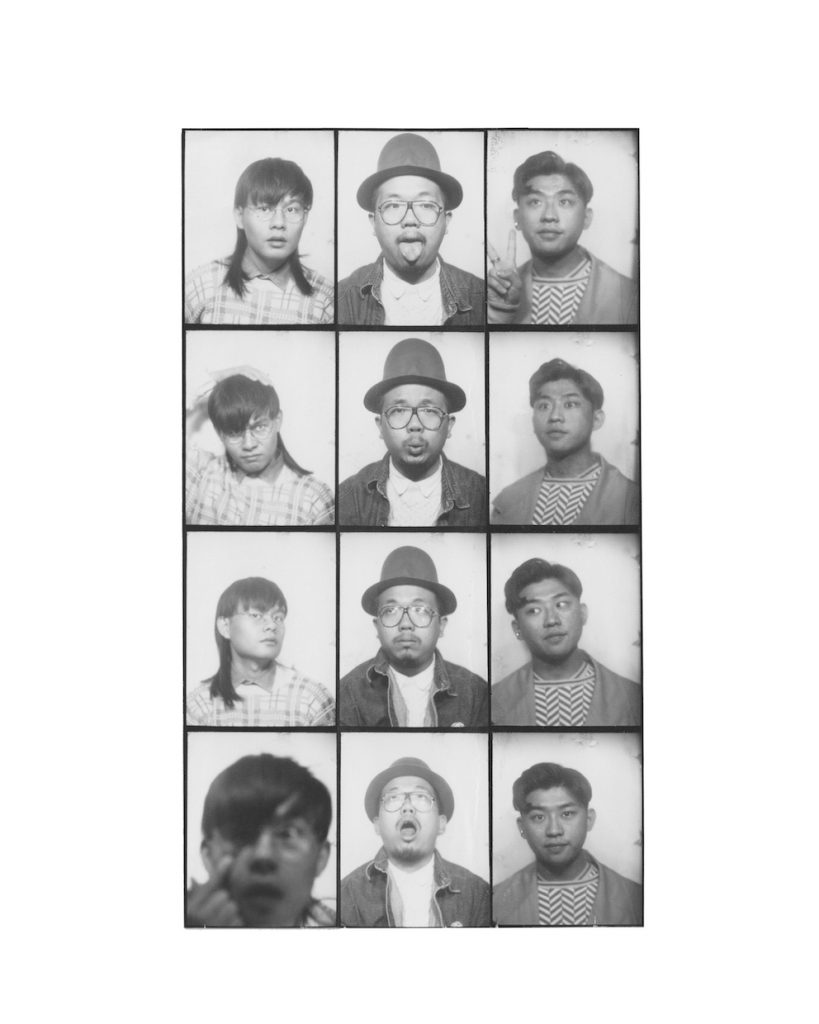 motoguo Spring/Summer 2021 Campaign Credits:
Art Direction:
Kinder Eng @a_kinder_a_day
Zhonglin @zhonglin_
Photography:
Zhonglin @zhonglin_
Photography Assistants:
Yuanling Wang @bigwang13
Sherry Liu @sherry860706
Sarah Liu @sarah65050
Styling:
Kinder Eng @a_kinder_a_day
Styling Assistants:
Joyce Khor @byjoycerkhor
Yenyi @nyi__y
Hair:
Weic Lin @weic_lin
Hair Assistant:
Winnie Lee @_winnie____
Makeup:
Jonathan Wu @jonathanwumua
Makeup Assistant:
Eddi-Sheng Hsu @shenghsu_mua
Talents:
Granny gin @grannygin_
Zoe Fang @zo1fun
4min @4min_min
tomi @totommytoto
史學定 @d.i.n87
Artwork Design:
Ejin Sha @ejinsha
Literary Text:
Riri Tan @riri_grr