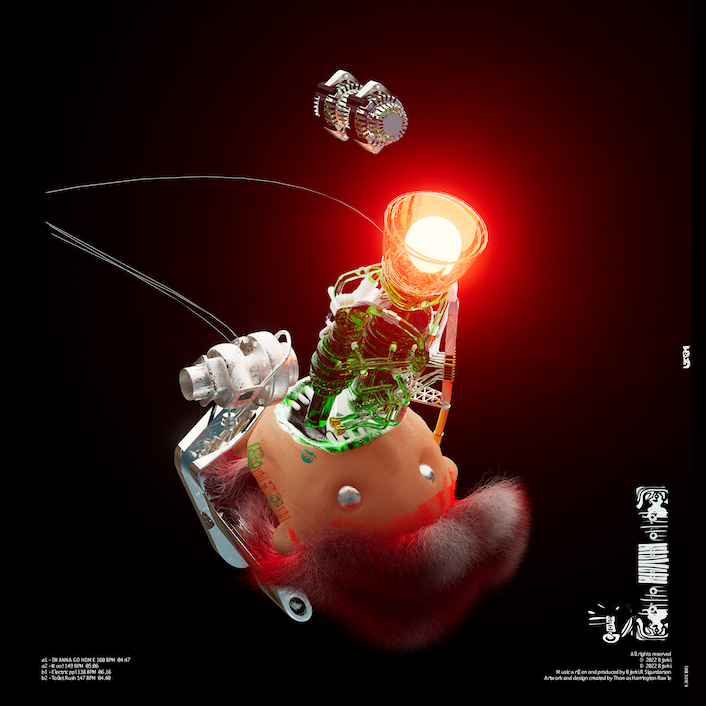 A new hub solely for the Icelandic talent's unreleased material, BJARKI will also serve as a platform to launch a wealth of forthcoming audiovisual projects in the coming months, with the label logo designed by Paul Nicholson, NUMBER 3, and all artwork designed by Thomas Harrington Rawle – the creative behind the Care More project. Operating and creating its own storyline with every release, intertwining projects between Harrington Rawle and Bjarki across various mediums, the imprint will also drop a series of offshoot white label releases while being reactive and unveiling random drops across its upcoming schedule. Delivering his first solo release since 'Oli Gumm' on Trip in 2018, late-February marks the first release on the new label as he unveils his four-track 'I Wanna Go Home' EP.
"I want to share more of my unreleased works, especially the tracks that I have created specifically for parties in each city I play. People impact my work a lot, and I would like to share this music directly before or after the show. I don't see any other way than to set up my own channel or label where I can share all these ideas. This year will be a lot about sharing stuff and being in direct contact with the audience." – Bjarki
Opening the label with authority, 'I Wanna Go Home' welcomes a quartet of cuts showcasing the genre-spanning polymath at his best, delivering a medley of serious yet playful productions that arc back to previous material while also looking ahead to the future. A creative force with an unrelenting swathe of experimental ideas, influences and directions, this new eponymous imprint looks set to home some of Bjarki's finest and most unpredictable material to date.
BJARKI 是冰岛天才未发布材料的新中心,还将作为一个平台,在未来几个月内推出大量即将推出的视听项目,标签标志由 Paul Nicholson 设计,NUMBER 3,所有艺术品均由 Thomas Harrington 设计Rawle – Care More 项目背后的创意人。在每个版本中运营并创建自己的故事情节,将 Harrington Rawle 和 Bjarki 之间的项目在各种媒体上交织在一起,该版本还将放弃一系列分支的白标版本,同时在即将到来的时间表中做出反应并随机发布。自 2018 年 Trip 上的"Oli Gumm"以来,他首次发行了个人专辑,2 月下旬标志着新唱片公司的首次发行,因为他推出了他的四首歌曲"I Wanna Go Home"EP。
"我想分享更多我未发行的作品,尤其是我专门为我演奏的每个城市的派对创作的曲目。人们对我的工作影响很大,我想在演出之前或之后直接分享这些音乐。除了建立自己的频道或标签之外,我没有看到任何其他方式可以分享所有这些想法。今年将有很多关于分享内容和与观众直接接触的内容。" – 比亚基
以权威打开标签,"我想回家"欢迎四重奏,展示了他最好的跨流派博学,提供了一系列严肃而有趣的作品,这些作品既可以追溯到以前的材料,也可以展望未来。这股新的同名印记是一股创新力量,具有无穷无尽的实验性想法、影响和方向,看起来将成为 Bjarki 迄今为止最好、最不可预测的一些材料的家园。
PRE-ORDER/BUY: https://lnk.to/BJARKI001