From April 6 to 23, NFT Art Berlin unveils an immersive 10-day program fusing digital art with electronic music. The exhibition pioneers a brand new format for real-life interaction with NFTs, hosted at the legendary Kraftwerk Berlin venue. Such a bridge between the digital universe of NFTs and a physical exhibition has never been done at this scale. Over one month NFT Art Berlin will become the largest physical NFT experiment in the world.
Following live experiences in Venice Beach, Dubai and NYC, the international digital arts organization Bright Moments onboards Berlin's creative scene into the vibrant, ever changing world of crypto and NFTs. Bright Moments places an emphasis on taking digital experiences into the physical world, as they prepare their most monumental collective presentation and celebration yet.
NFT Art Berlin combines a gallery experience focusing on a comprehensive history of NFTs and the site-specific presentation of a curated selection of NFT art featuring works by over 40 leading contemporary digital artists. Pioneering the live integration of the NFT minting experience, NFT Art Berlin sets to witness the largest real-time minting process to date, with an unprecedented 2000 brand new NFTs created over the course of 10 days.
On each of the 10 evenings, Bright Moments will drop an iteration of their Berlin Collection. The Berlin Collection comprises 10 internationally recognised artists who will each offer 100 unreleased NFTs to be minted in situ by guests of the event, before being displayed in a gallery experience that blends elements of performance and exhibition.
Artworks will include Boreta's exploration of beauty through machine-dreaming, Holger Lippmann's code-generated arc-circulation rosettes, a generative art series inspired from years of audiovisual practice by Alida Sun, Gabriel Massan's animated archive of sculpted creatures, a generative adaptation of Paul Klee's aesthetics by mpkoz, custom-coded points of change and new opportunities by Jeff Davis, Loren Bednar's take on interfacing lines, constantly folding patterns and outward reflections, a light field meditation on peaceful coexistence by Jason Ting, a gallery of impossible creatures crafted from code and bent circuit hardware by Ellie Pritts, and Casey Reas's vivid contemporary reinterpretation of a Mondrian piece.
Additionally, Berlin-based 3D artist Juan Segura will be debuting his Liquid Bits collection with 10 NFTs that explode pixel-based shapes with organic energy.
The CryptoBerliners, 1000 exclusive mintable PFPs, will also be released throughout, accompanied by generative electronic music. Each entitles its holder to a membership in the Bright Moments DAO. Check out the Berlin Collection here.
NFT Art Berlin will also represent the debut of Bright Moments' Icon Series: extraordinary moments of cultural history, preserved on-chain as 1/1 NFTs. For its first edition, Bright Moments has collaborated with Philip Glass & Robert Wilson to represent their signature work Einstein on the Beach. Immortalizing a fundamental moment of American Avant-Garde history, is a trailblazing step in the world of digitalization and NFTs.
Since its premiere at the Metropolitan Opera New York in 1976, the opera has received international acclaim and has been widely credited as one of the greatest artistic achievements of the 20th century. John Rockwell, art critic for the New York Times wrote "Some works of art become mythical, either because they are so important or because few people actually know them. Einstein on the Beach qualifies on both counts."
Directly connected to the thriving local music scene, the gallery engages with a wide range of diverse musical talents to soundtrack a unique experience – from local scenemakers like Cheng NWSH, Vivian Koch or Yushh to pioneers of the city's musical reputation like Alan Oldham, Mark Reeder and Moritz von Oswald, as well as genre-bending new projects Aasthma (Peder Mannerfeld + Pär Grindvik) or Neon Chambers (Kangding Ray + Sigha).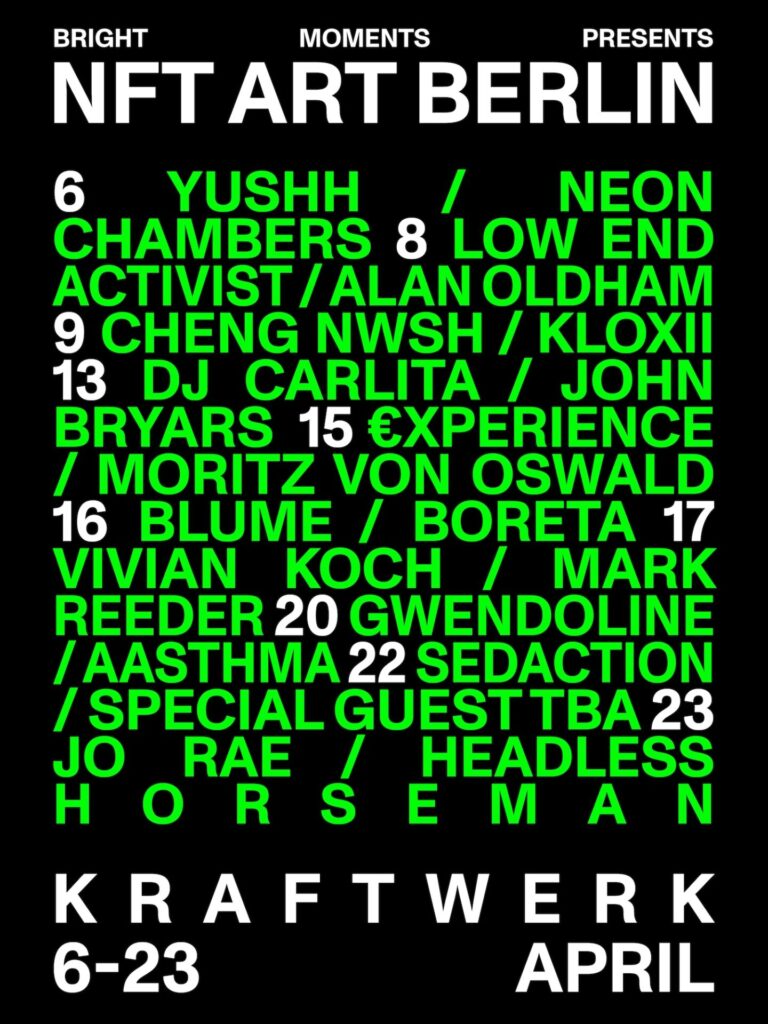 The NFT Art Berlin launch highlights Bright Moments's ongoing creation of an international community, connected via digital technology to powerful, creative and spiritual life experiences.
About Bright Moments:
Bright Moments is a Decentralized Autonomous Organization (DAO) that delivers unforgettable IRL minting experiences and cultural moments through NFT galleries around the world. Bright Moments supports its own PFP project (Crypto Citizens) and the emerging creator class of on-chain generative artists. As a DAO, Bright Moments is governed by holders of Crypto Citizen NFTs. Bright Moments has been established in the Metaverse, Venice, NY, and Berlin, with London slated for July 2022.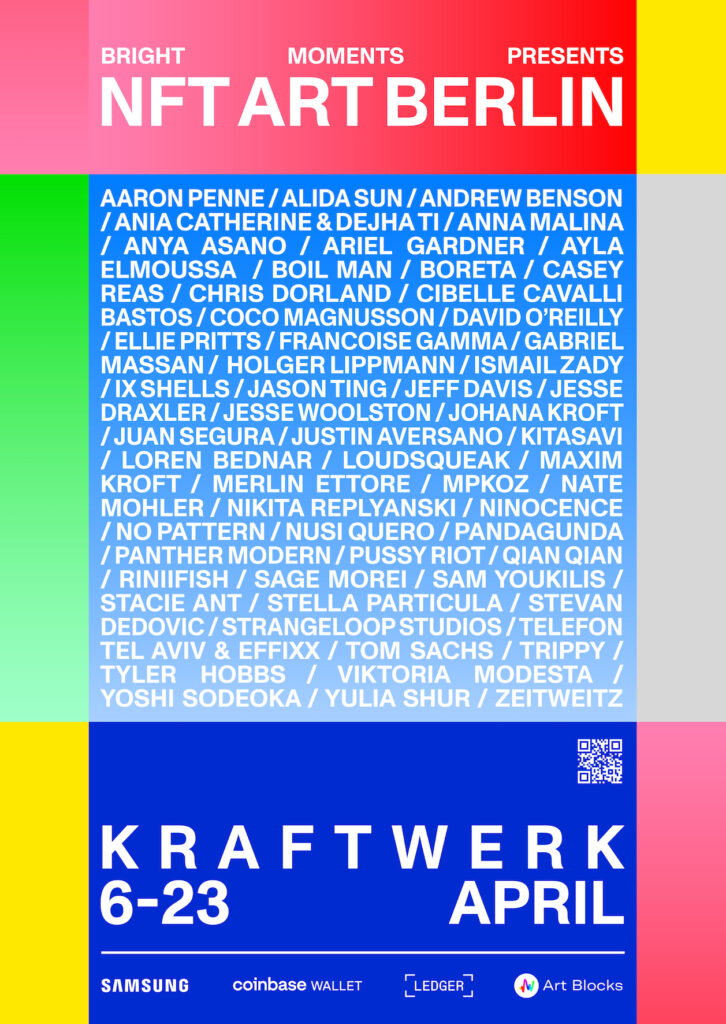 Join the DAO by purchasing a Crypto Citizen on the second market or minting with the organization IRL by purchasing a Golden Token for Berlin or for a future city.
Daily Exhibition: 18.00PM – 21:00PM
Berlin Collection Featured rtist takeover: 21.00PM – 22:00PM
Icon Series: 22:00PM – 22.30PM
CryptoBerliners Symphony 22.30PM – 23.00PM
After Party 23.00PM – 1.00AM
4 月 6 日至 23 日,NFT Art Berlin 推出为期 10 天的沉浸式项目,将数字艺术与电子音乐融合在一起。该展览开创了一种全新的与 NFT 进行现实生活互动的形式,在传奇的柏林 Kraftwerk 场地举办。在 NFT 的数字世界和实体展览之间架起这样一座桥梁,从未有过如此规模。一个多月的时间,NFT Art Berlin 将成为全球最大的实体 NFT 实验。
在威尼斯海滩、迪拜和纽约市的现场体验之后,国际数字艺术组织 Bright Moments 将柏林的创意场景带入了充满活力、不断变化的加密货币和 NFT 世界。 Bright Moments 强调将数字体验带入现实世界,因为他们准备了迄今为止最具纪念意义的集体展示和庆祝活动。
NFT Art Berlin 结合了专注于 NFT 全面历史的画廊体验和特定地点展示的精选 NFT 艺术作品,其中包括 40 多位领先的当代数字艺术家的作品。 NFT Art Berlin 开创了 NFT 铸造体验的实时集成,见证了迄今为止最大的实时铸造过程,在 10 天内创造了前所未有的 2000 个全新 NFT。
在这 10 个晚上的每一个晚上,Bright Moments 都会推出其柏林系列的迭代。柏林藏品由 10 位国际知名艺术家组成,每位艺术家将提供 100 枚未发行的 NFT,由活动嘉宾现场铸造,然后在融合了表演和展览元素的画廊体验中展示。
艺术品将包括 Boreta 通过机器做梦对美的探索、Holger Lippmann 的代码生成的弧形循环玫瑰花结、受 Alida Sun 多年视听实践启发的生成艺术系列、Gabriel Massan 的雕刻生物动画档案、Paul Klee 的生成改编mpkoz 的美学,Jeff Davis 的自定义编码的变化点和新的机会,Loren Bednar 对接口线的看法,不断折叠的图案和向外的反射,Jason Ting 对和平共处的光场冥想,一个用代码制作的不可能的生物画廊Ellie Pritts 的弯曲电路硬件,以及 Casey Reas 对蒙德里安作品的生动的当代重新诠释。
此外,柏林的 3D 艺术家 Juan Segura 将推出他的 Liquid Bits 系列,其中包含 10 个 NFT,这些 NFT 用有机能量爆炸基于像素的形状。
CryptoBerliners 是 1000 种独家可铸造 PFP,也将在整个过程中发布,伴随着生成的电子音乐。每个人都有权使其持有人成为 Bright Moments DAO 的成员。在这里查看柏林收藏。
NFT Art Berlin 也将代表 Bright Moments 的图标系列的首次亮相:文化历史的非凡时刻,以 1/1 NFT 的形式保存在链上。在其第一版中,Bright Moments 与 Philip Glass 和 Robert Wilson 合作展示了他们的标志性作品 Einstein on the Beach。使美国前卫历史的一个基本时刻永垂不朽,是数字化和 NFT 世界的开创性一步。
自 1976 年在纽约大都会歌剧院首演以来,这部歌剧获得了国际赞誉,并被广泛认为是 20 世纪最伟大的艺术成就之一。纽约时报的艺术评论家约翰洛克威尔写道:"有些艺术作品变得神秘,要么是因为它们非常重要,要么是因为很少有人真正了解它们。海滩上的爱因斯坦在这两个方面都符合条件。"