The Berlin Music Video Awards (BMVA) has been a staple in the Berlin international music festival scene since its first edition in 2013, putting filmmakers and the art behind music videos in the spotlight. The initiative that began in the margins of a small venue in Neukölln Berlin is now a global phenomenon, creating a foundation for originality, diversity, and inclusion.
柏林音乐录像奖(BMVA)自2013年第一届以来,一直是柏林国际音乐节现场的主力军,将电影制作人和音乐录像背后的艺术放在聚光灯下。这个始于柏林新克尔恩一个小场地边缘的倡议现在已经成为一种全球现象,为原创性、多样性和包容性创造了一个基础。
The list of 140 selected nominees includes talent from more than 20 different countries!
140名入选者的名单包括来自20多个不同国家的人才!
The producer of the Berlin Music Video Awards, Aviel Silook, revealed in an interview, "We prefer to have people from various backgrounds in our team and the jury – we strive to actively stand for fair inclusion."
柏林音乐录像带奖的制作人阿维尔-西鲁克在接受采访时透露:"我们更愿意让来自不同背景的人加入我们的团队和评审团–我们努力积极支持公平包容"。
The BMVA Nominees' list includes big names such as: the Weeknd, FKA Twigs, Grimes, Rammstein, Moderat, ANGÈLE, Sevdaliza, Maneskin, HVOB and more. Among the nominated music videos of BMVA 2022 stand also emerging artists like Arya Lee, Jaźnicka, Rin, Gina Dirawi, Mathilde Fernandez, RaiNao, Salvia and Ukrainian singer Uliana Royce.
BMVA提名名单包括大牌明星,如:The Weeknd, FKA Twigs, Grimes, Rammstein, Moderat, ANGÈLE, Sevdaliza, Maneskin, HVOB等。在BMVA 2022年的提名音乐视频中,也有一些新兴艺术家,如Arya Lee、Jaźnicka、Rin、Gina Dirawi、Mathilde Fernandez、RaiNao、Salvia和乌克兰歌手Uliana Royce。
Honoring the diverse nature of the festival, such as: Arca, Lil Nas X , Years and Years, Arlo Parks, Toya Delazy and more.
纪念这个节日的多样化性质,如:。Arca, Lil Nas X , Years and Years, Arlo Parks, Toya Delazy等。
You can take a look at the full list of nominees and their music videos here: www.berlinmva.com/main/nominees-2022/
你可以在这里看一下被提名者的完整名单和他们的音乐录像。
The anticipation for the winners is bigger than ever, since this year the main prize has been raised to 5000 euros, thanks to the growing interest of the artists international community for the festival.
对获奖者的期待比以往任何时候都要大,因为今年的主要奖项已经提高到5000欧元,这要归功于国际社会的艺术家们对艺术节越来越感兴趣。
Exclusively selected jury members, active in the international art scene, will decide the winners in 14 categories and 140 nominated music videos. Their work will be even more challenging compared to the previous year, not only owing to the quality of the selected music videos but also, because one more category has been added to the list, this of the "Best Performer".
在国际艺术界活跃的独家挑选的评审团成员,将决定14个类别和140个提名的音乐视频的获奖者。与去年相比,他们的工作将更具挑战性,这不仅是由于所选音乐视频的质量,而且还因为名单上增加了一个类别,即 "最佳表演者"。
The festival is known for presenting both electrifying and provocative acts on stage and this year is not going to be an exception. Parma Ham, who became popular on the international nightclub scene for their music, extreme look and attitude will be DJing during the event, while also judging for the "Most Bizarre" category. South African singer Toya Delazy will be there as well to perform their signature music genre called "AfroRave", infusing techno, drum & bass and beats with Zulu lyricism.
该音乐节以在舞台上呈现电光火石和挑衅性的行为而闻名,今年也不会是一个例外。因其音乐、极端的外观和态度而在国际夜总会舞台上走红的Parma Ham将在活动期间担任DJ,同时还将担任 "最怪异 "类别的评委。南非歌手Toya Delazy也将在现场表演他们的招牌音乐类型 "AfroRave",将技术、鼓与贝斯和节拍与祖鲁语抒情相结合。
Apart from the mentioned artists, the program will include performances from Puerto Rican singer RaiNao, O/RIOH, guitarist the Shredder and artists Baris Safari, Sedrik Perry, while band ÄTNA, Germany's most exciting newcomers with over 8-million streams of their music, will be performing in the event's after show, on the 8th of June.
除上述艺术家外,节目还包括波多黎各歌手RaiNao、O/RIOH、吉他手the Shredder和艺术家Baris Safari、Sedrik Perry的表演,而德国最令人兴奋的新秀乐队ÄTNA,其音乐流传量超过800万,将在6月8日的活动后的表演。
See the program of the festival here: www.berlinmva.com/schedule_categories/program-info-2022/
点击这里查看电影节的节目单。
It's undeniable that the Berlin Music Video Awards appreciate aesthetics and fashion, as they are integral parts of the music video industry.
不可否认的是,柏林音乐录像奖欣赏美学和时尚,因为它们是音乐录像行业不可或缺的一部分。

Watch some of the nominated videos that stand out for their art direction and style from Ukrainian singer Uliana Royce to Mathilde Fernandez and Robotaki:
观看一些因其艺术指导和风格而脱颖而出的提名视频,从乌克兰歌手Uliana Royce到Mathilde Fernandez和Robotaki。
But, fashion is not only a part of the nominated videos in the Berlin Music Video Awards. Every year, the festival invites talented designers to showcase their alternative designs in its own Fashion Concept, which takes place on the last and most spectacular day.
但是,时尚不仅仅是柏林音乐录像奖提名视频的一部分。每年,音乐节都会邀请有才华的设计师在自己的时尚概念中展示他们的另类设计,这在最后也是最壮观的一天进行。
The chosen designers for the 10th edition are more special than ever, bringing their artisanal, avant-garde creations and unique visions to the BMVA catwalk.
Here are some information about the designers that will add to the glam of the festival's anniversary:
第10届电影节所选择的设计师比以往任何时候都要特别,他们将为BMVA的T台带来他们的手工、前卫的创作和独特的愿景。以下是关于这些设计师的一些信息,他们将为艺术节的周年纪念增添光彩。
Leonidas Kanavetsados
Artisanal Fashion and Costume designer Leonidas Kanavetsados creates unique pieces of art such as fashion garments, headpieces and conceptual constructions that have a story to tell! Freedom of expression, "the Unknown", Genderlessness, Innovation, Craftsmanship, Glam, Feelings, Anticonformity and being different is what he believes in and designs for. Having created for conceptual photoshoots, video art, dance short films and editorials, Leo aims to deliver a visual spectacle each time. In his own words, "Fashion is Art, and Art is Freedom, Truth, Beauty, Love… the Sublime.
Dare to pose? " ~L
手工时尚和服装设计师Leonidas Kanavetsados创造了独特的艺术作品,如时尚服装、头饰和有故事的概念性结构 自由表达、"未知"、无性别、创新、工艺、魅力、感觉、反传统和与众不同是他的信念和设计宗旨。在为概念性照片拍摄、视频艺术、舞蹈短片和社论创作时,Leo的目标是每次都能提供一个视觉奇观。用他自己的话说,"时尚是艺术,而艺术是自由、真理、美、爱……崇高的。
敢于摆姿势吗?" ~L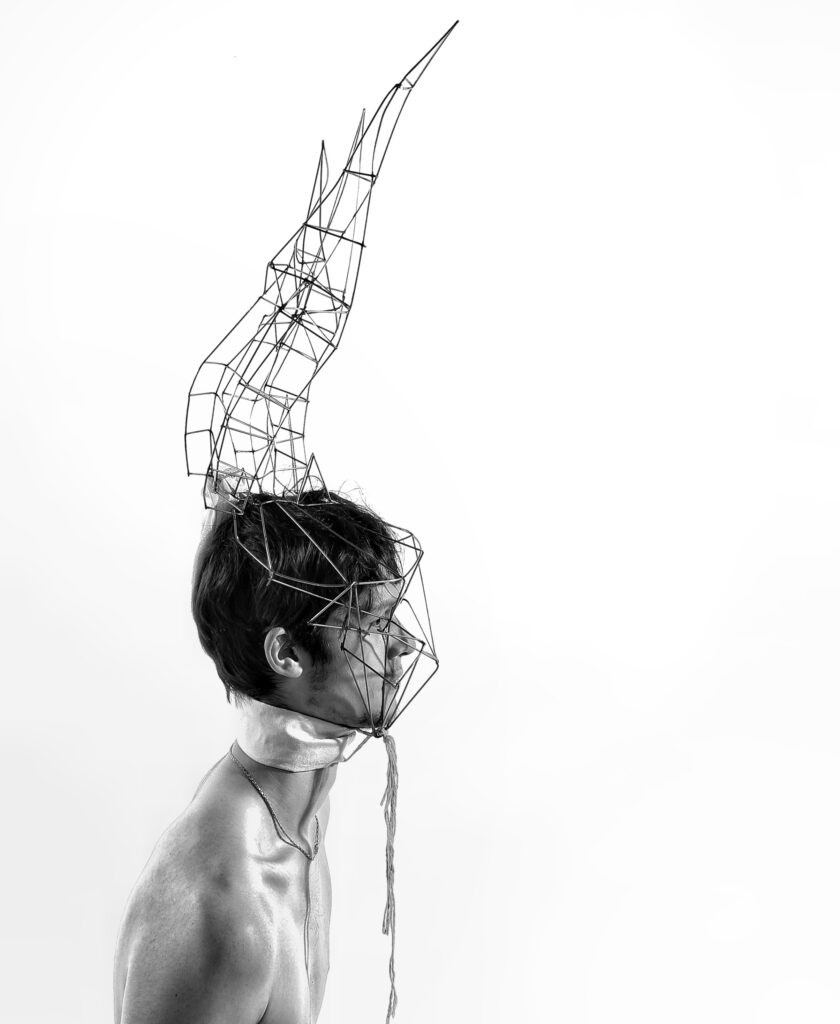 Charlie Mintson is a Berlin-based set, costume designer/sculptor and art director. Their creative direction challenges the boundaries of gender, scenography, jewelry and fashion design.
The designer's main inspiration is nature and its most extraordinary forms and diverse beauty. Charlie was also featured in numerous exhibitions and press around Europe, such as Vogue Italy Online, KALTBLUT Magazine, Dark Beauty Magazine. They were also a finalist in the fashion design competition "Björk digital" as well as part of multiple fashion photography competitions. Other great achievements for Charlie were the gold-, silver-, and bronze awards in the Fashion Photography Competition in Tokyo, Japan.
查理-明森是一位驻柏林的布景、服装设计师/雕塑家和艺术总监。其创意方向挑战了性别、场景设计、珠宝和时尚设计的界限。设计师的主要灵感是大自然和它最不寻常的形式和多样化的美。查理还在欧洲各地的许多展览和媒体上亮相,如Vogue意大利在线,KALTBLUT杂志,黑暗美容杂志。他们也是时装设计比赛 "比约克数字 "的决赛选手,以及多个时尚摄影比赛的一部分。查理的其他伟大成就是在日本东京的时尚摄影比赛中获得金奖、银奖和铜奖。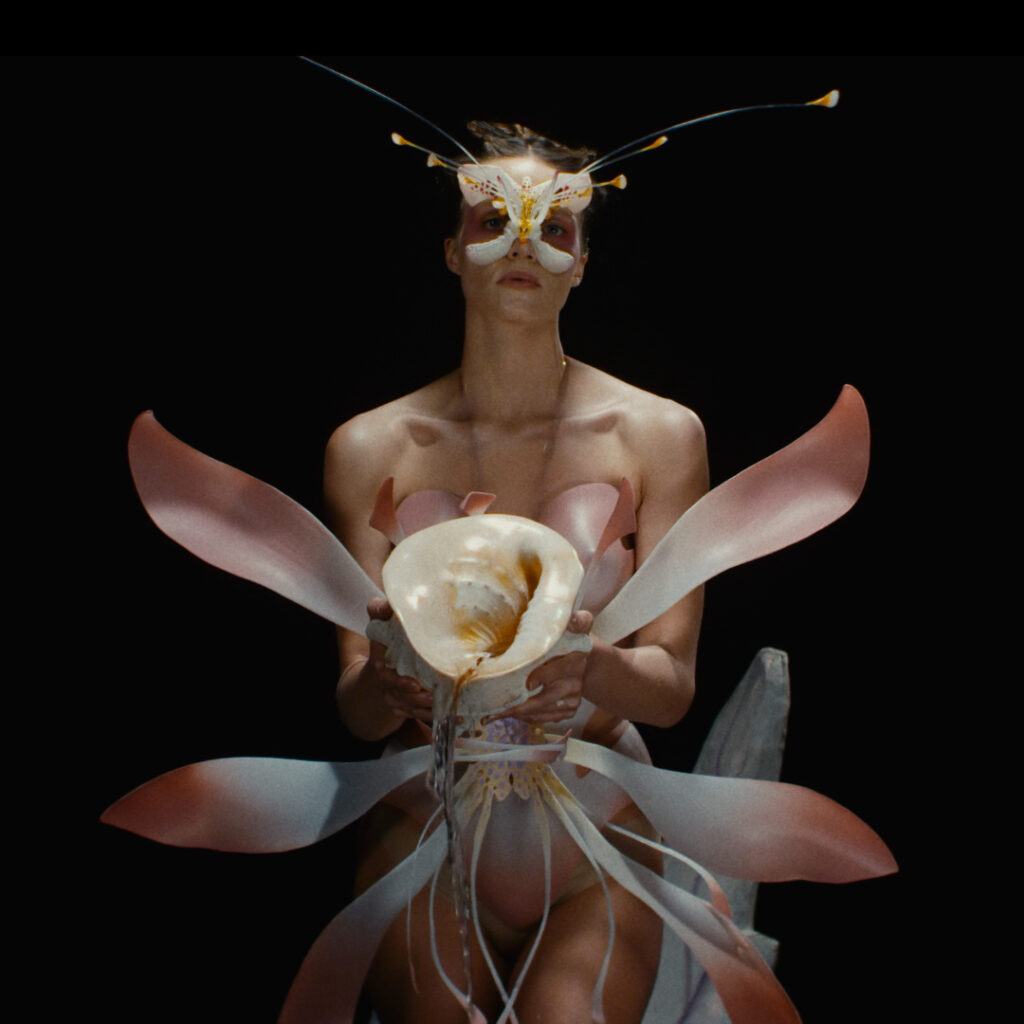 Marco Ward
Marco Ward is a Paris-based fashion designer who founded Minimal Waste, a brand that aims to reintegrate waste back into the economy. It is important that the fashion industry starts lowering its carbon footprint, this is why the dresses made by Minimal Waste are all entirely made from waste such as bike tubes and soda cans.
The materials of the looks are sourced locally, washed, cut and woven by hand in order to create a fully carbon neutral collection. The inspiration behind the collection that will be presented at the BMVA Fashion Concept 2022 is the different carbon molecule structures in its pure state, like graphite or diamond.
Marco Ward是一位来自巴黎的时装设计师,他创立了Minimal Waste品牌,旨在将废物重新融入经济。时尚界开始降低其碳足迹是很重要的,这就是为什么Minimal Waste制作的裙子都是完全由自行车管和汽水罐等废物制成的。
这些衣服的材料都是在当地采购的,通过手工清洗、切割和编织,以创造一个完全碳中和的系列。将在2022年BMVA时尚概念展上展示的这个系列背后的灵感是不同的碳分子结构在其纯粹的状态下,如石墨或钻石。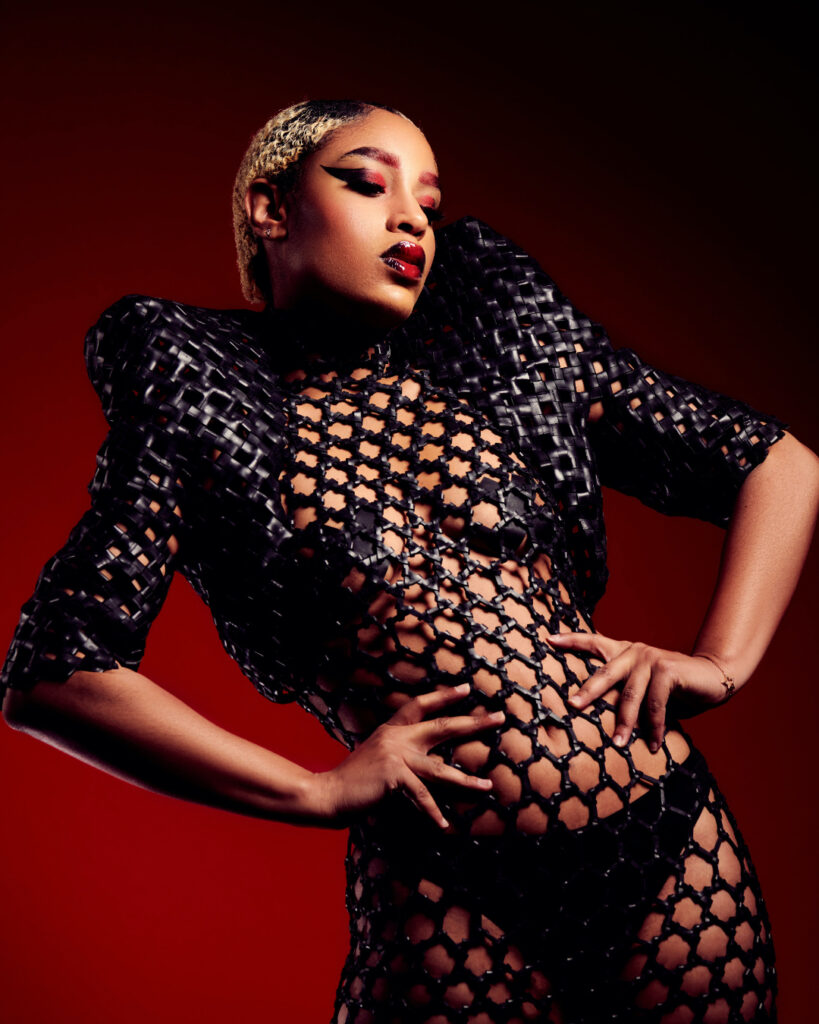 Jacq the Rimmel
Jacq the Rimmel is a Spanish handcrafted corsetry brand with a clear influence from the musical world to bring the historical creations to the current underground world.
With the motto "Corsetry against modern world" and through her creations, the designer wants to empower women and promote sexual diversity. She wants to work against body shaming, as well as the strict standards regarding size and sexuality seen in much mass media. In the BMVA Fashion Concept 2022 Jacq the Rimmel aims to present historical geometric structures like crinolines, bustles, panniers, and ruffled collars with a twisted look and introduce traditional punk and BDSM elements like zippers, chains and spikes. It's historical 80s DIY translated into historical fashion.

Jacq the Rimmel是一个西班牙手工制作的胸衣品牌,明显受到音乐世界的影响,将历史上的创作带到当前的地下世界。以 "反对现代世界的胸衣 "为座右铭,通过她的作品,设计师希望赋予妇女权力并促进性的多样性。她想反对身体羞辱,以及在许多大众媒体中看到的关于尺寸和性的严格标准。在BMVA时尚概念2022中,Jacq the Rimmel旨在呈现历史上的几何结构,如摇篮、半身裙、内裤和褶皱领,并引入传统的朋克和BDSM元素,如拉链、链子和尖峰。这是历史上80年代的DIY,转化为历史上的时尚。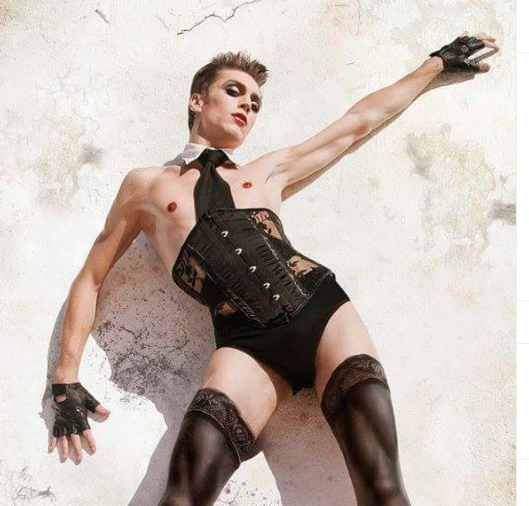 L.O.M fashion
Brighton/Berlin based label L.O.M was founded by Louise O'Mahony in 2015. Main inspirations for their designs are nature, forests and jungles, psychedelic music, the alternative festival world and Berlin club scenes.
Louise combines a wealth of experience to create eccentric and instantly recognisable designs, just as at home on the festival fields as the fashion show front row. Her designs have been worn by artists and musicians including Sophie Ellis Bextor, The Flaming Lips, Natasha Beddingfeild, Sylvan Esso and Laura Lee (Khruangbin).
Collections have been launched during New York Fashion Week, at Berlin Alternative Fashion Week, and most recently in a catwalk on the W Hotel on Hollywood Boulevard.
位于布莱顿/柏林的品牌L.O.M是由Louise O'Mahony在2015年创立。他们设计的主要灵感来自于大自然、森林和丛林、迷幻音乐、另类节日世界和柏林俱乐部场景。
路易丝结合丰富的经验,创造出古怪的和立即可识别的设计,就像在节日的场地上和时装秀的前排一样。她的设计已经被艺术家和音乐家们穿着,包括Sophie Ellis Bextor, The Flaming Lips, Natasha Beddingfeild, Sylvan Esso和Laura Lee (Khruangbin)。她的作品已经在纽约时装周、柏林另类时装周和最近在好莱坞大道的W酒店的T台上发布。
Join the event from 8th to 11th of June at the club Gretchen in Berlin. Get your tickets here:
6月8日至11日在柏林的格雷琴俱乐部参加活动。请在此购票。
www.berlinmva.com/schedule_categories/program-info-2022/
We have 10 tickets to giveaway for this event!
我们有10张该活动的门票可供赠送。
All you have to do is to share this post and send us your name.
你所要做的就是分享这个帖子并把你的名字发给我们。