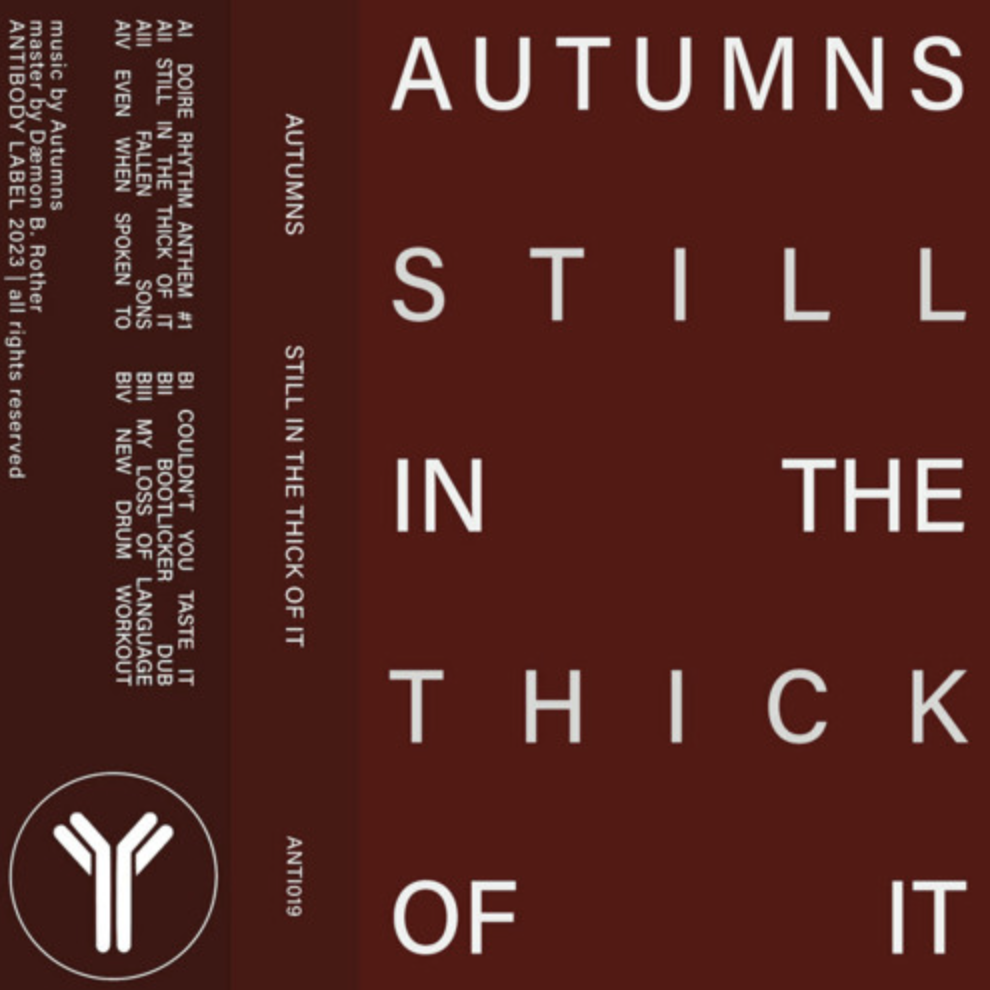 Raw to the bone EBM bangers by Irish powerhouse Autumns.
'Still In The Thick of It' is a collection of songs made over the summer of 2022. Showcasing a mixture of jacked rhythms, dubbed out saxophones and slabs of ice-cold, precise bass lines; along with Autumns' signature mangled vocals.
releases January 27, 2023
Now available for preorder on Antibody:
https://antibodylabel.bandcamp.com/album/still-in-the-thick-of-it
爱尔兰实力派乐队Autumns的原始到骨子里的EBM危险。
Still In The Thick of It》是2022年夏天的歌曲集。这张专辑展示了一种混合型的节奏、配音的萨克斯和冰冷而精确的贝斯线;还有Autumns标志性的混杂人声。
2023年1月27日发行
现在可以在Antibody上预购。
LISTEN PREMIERE:
The release combines and spits out an abundant of sounds influenced by Dub, Proto-EBM, weirdo Funk and classic Post-Punk.
这张唱片结合并吐出了大量受Dub、Porto-EBM、古怪的Funk和经典Post-Punk影响的声音。这张唱片融合了Dub、Proto-EBM、怪异的Funk和经典的Post-Punk的丰富声音。
Autumns is an outlet for electronic post-punk, fused with elements of dub and sound experimentation. The project showcases a love of whip-cracked rhythms, heavily effected vocals and no-wave guitars, processed through dub techniques within the mixing desk. An obsession with freak sounds leads to a high-intensity live show, using minimal equipment for maximum results.
After a brace of rough demos, the project emerged fully formed on Karl O'Connor's (aka Regis) label Downwards back in 2014, joining a vanguard of artists that includes Tropic of Cancer, Samuel Kerridge and British Murder Boys. Building on his continuous prolific journey with releases on Detriti, Death & Leisure and Opal Tapes, Autumns has taken the project to forms of dysfunctional metal dance, dubbed-out rhythms and DIY punk angst. Autumns has also ventured outside the typical music world by taking up projects such as performing alongside Samuel Kerridge at the 2016 edition of Paris Fashion Week for Downwards, creating a sound installation at Void Gallery (2019) and improvising a desolate live score for David Lynch's Twin Peaks: Fire Walk With Me (2016). The need for musical exploration runs deep in the release of his shoegaze project with Kris Baha (2020) and the debut industrial dub collaboration with Oliver Ho (aka Broken English Club), Vacant Heads (2022).
Autumns是一个电子后朋克的出口,融合了dub和声音实验的元素。这个项目展示了他们对鞭打的节奏、重度效果的人声和无波段吉他的热爱,通过混音台内的杜巴技术进行处理。对怪异声音的痴迷导致了高强度的现场表演,使用最小的设备获得最大的效果。
在经历了一系列粗糙的小样之后,这个项目在2014年完全形成于Karl O'Connor(又名Regis)的厂牌Downwards,加入了包括Tropic of Cancer、Samuel Kerridge和British Murder Boys在内的艺术家先锋队。在他持续多产的旅程上,在Detriti、Death & Leisure和Opal Tapes上发行的作品,Autumns已经将这个项目带到了功能紊乱的金属舞蹈、配音的节奏和DIY朋克的愤怒的形式上。Autumns也在典型的音乐世界之外冒险,参加了一些项目,如在2016年的巴黎时装周上与Samuel Kerridge一起为Downwards表演,在Void Gallery(2019年)创造了一个声音装置,并为David Lynch的Twin Peaks即兴创作了荒凉的现场配乐。Fire Walk With Me(2016)。在他与Kris Baha合作的shoegaze项目(2020年)和与Oliver Ho(又名Broken English Club)合作的首张工业配音专辑《Vacant Heads》(2022年)的发行中,对音乐探索的需求深入人心。

Alongside a heavy touring and release schedule, Autumns also curates a monthly radio show, Dyslexia Sound System, on Bristol's Noods Radio, where he plays a mix of his favourite artists and solo material and invites friends to produce guest mixes and live sets.
除了繁重的巡演和发行计划,Autumns还在布里斯托尔的Noods电台策划了一个每月一次的广播节目–Dyslexia Sound System,在那里他播放他最喜欢的艺术家和个人材料的组合,并邀请朋友制作嘉宾混音和现场设置。
SOCIAL TO FOLLOW
AUTUMNS Soundcloud Instagram
ANTIBODY LABEL Soundcloud Instagram Bandcamp