Marhu stands as one of Belgium's most promising international music producers and DJs and her unparalleled energy behind the decks has elevated her to the upper echelons of the techno scene, making her a sought-after presence on dancefloors and festival stages worldwide. Her sonic prowess fuses the realms of dark, high-energy techno, generating intense and captivating atmospheres. Within her dynamic style, Marhu masterfully blends obscure and forceful sounds, infusing them with an innate sense of rhythm and compositional finesse that bursts forth with unrelenting, electrifying expression, both in her studio productions and live performances.
Renowned for her knack for crafting dark techno with acidic undertones, Marhu marked her debut in January 2021 through ASYS' Fe Chrome, a sublabel of Fe Records established with a clear mission to enrich and inspire the techno realm. Marhu's production prowess has also graced the catalog of Belgian imprint Arkham Audio, with a single release in 2021 and an EP in 2022. These releases are characterized by thunderous kick drums, aggressive sonic elements, and intoxicating acid synths. Additionally, they feature remixes by esteemed figures in the techno scene, such as D.A.V.E The Drummer.
Her dark techno beats are traveling rapidly around the globe with her tracks being no stranger to Berghain's sound system along with picking up support across the media from Mixmag, Beatport, Data Transmission & and many more… now we are having her at KEYI.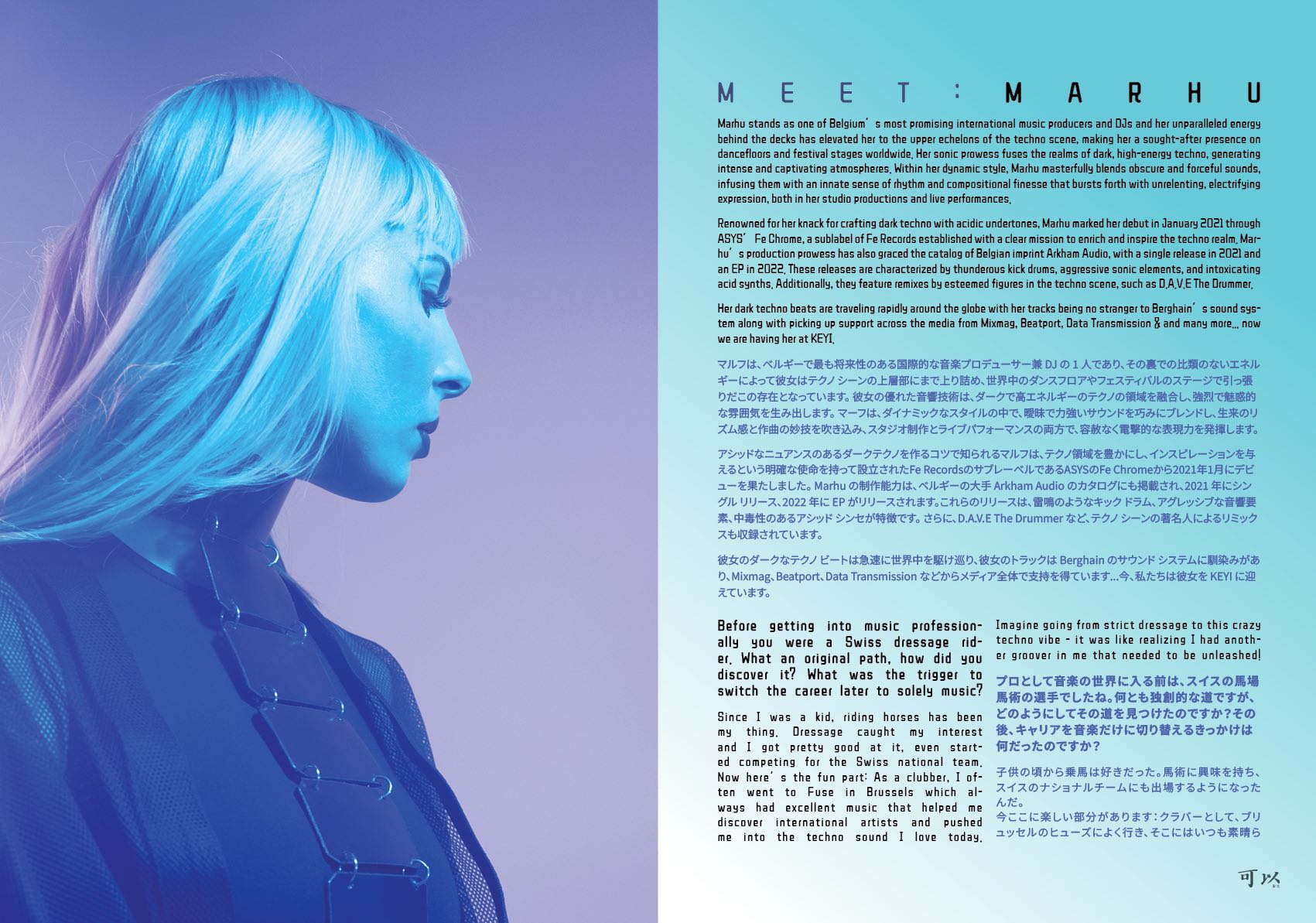 Before getting into music professionally you were a Swiss dressage rider. What an original path, how did you discover it? What was the trigger to switch the career later to solely music?
Since I was a kid, riding horses has been my thing. Dressage caught my interest and I got pretty good at it, even started competing for the Swiss national team.
Now here's the fun part: As a clubber, I often went to Fuse in Brussels which always had excellent music that helped me discover international artists and pushed me into the techno sound I love today.
Imagine going from strict dressage to this crazy techno vibe – it was like realizing I had another groover in me that needed to be unleashed!
プロとして音楽の世界に入る前は、スイスの馬場馬術の選手でしたね。何とも独創的な道ですが、どのようにしてその道を見つけたのですか?その後、キャリアを音楽だけに切り替えるきっかけは何だったのですか?
子供の頃から乗馬は好きだった。馬術に興味を持ち、スイスのナショナルチームにも出場するようになったんだ。
今ここに楽しい部分があります:クラバーとして、ブリュッセルのヒューズによく行き、そこにはいつも素晴らしい音楽があり、国際的なアーティストを発見し、今日大好きなテクノサウンドに押し込みました。
厳格な馬場馬術からこのクレイジーなテクノの雰囲気に行く想像してみてください-それは私が解き放たれる必要がある私の中に別のグルーバーを持ってい 。
You mentioned that you got the discipline from sports you also got as a music producer. How would you describe it? What's the secret?
Dressage let me tell you, it's more than a sport, it's a discipline boot camp! It taught me crazy determination and never give up. The horses didn't care if I had a bad hair day haha
So what's the secret? Well, it's all about the consistency, just like a horse's gallop! You can't stay static, you have to keep moving, keep creating, learning, and take full responsibility! The scene is tougher than ever! There is more and more competition out there, excelling on all fronts is non-negotiable. Balancing studio time, digging new records for the next shows, social media, interviews, logistics, and other responsibilities can be very overwhelming.
Contrary to the glamorous image people often associate with being a DJ, the reality is a combination of solitude and hard work. So, of course, discipline plays a crucial role and is a must if you want to preserve your health and work long-term in the nightlife industry.
But it's the love of the music that drives me to create and to focus each day on my goals.
あなたは音楽プロデューサーとしても得たスポーツから規律を得たと述べました。それをどのように説明しますか?秘密は何ですか?
馬場馬術私はあなたを教えてみましょう、それはスポーツ以上のものです、それは規律ブートキャンプです!それは私に狂った決意を教え、決してあきらめない。私は悪い髪の日ハハを持っていた場合、馬は気にしませんでした。
だから秘密は何ですか?まあ、それは馬のギャロップのように、一貫性がすべてです!あなたは静的にとどまることはできません、あなたは動き続け、創造し続け、学び続け、そして完全な責任を負わなければなりません!シーンはこれまで以上に厳しいです!そこにはますます多くの競争があり、すべての面で優れていることは交渉できません。スタジオの時間のバランスをとり、次のショー、ソーシャルメディア、インタビュー、ロジスティクス、およびその他の責任のために新しいレコードを掘り下げることは非常に圧倒的なことがあります。
人々がしばしばDJであることと関連付ける魅力的なイメージとは対照的に、現実は孤独とハードワークの組み合わせです。だから、もちろん、規律は重要な役割を果たしており、あなたの健康を維持し、ナイトライフ業界で長期的に働きたい場合は必須です。
しかし、それは私が作成し、私の目標に毎日集中するために駆動する音楽の愛です。
How do you start to discover your style in music production? What is your favorite gear?
I've always been into strong kicks and beautiful flowing bass lines. I seek to create a pure and acid-driven flow that resonates with a sense of grace. The track that best represents my style is "Wildfire". It's minimalistic, clear, efficient and it flows beautifully, everything I love 🙂
And gear wise my baby is the Roland TB 303 of course! This iconic instrument and also the plug-ins and emulations have become an essential part of my studio setup.
Your first release came out in January 2021 via A*S*Y*S' Fe Chrome, a sub-label of Fe Records, and right away two other releases on the label; 'Wildfire' and 'Hooked'. It's a lot of projects via one label, why did you stick to it?
The collaboration with A*S*Y*S just clicked and the energy of the label resonates with my vision. Quality over quantity! My consecutive releases on FeChrome came naturally. Apart from my productions, a lot of amazing tracks inspire me on this label like "Sweats & Tears" from A*S*Y*S. I've also played alongside A*S*Y*S and Kai Tracid at the very first FeChrome label night in Frankfurt which was a huge success!
どのように音楽制作のあなたのスタイルを発見するために開始しますか?あなたの好きなギアは何ですか?
私はいつも強いキックと美しい流れるベースラインにしてきました。私は恵みの感覚と共鳴する純粋で酸駆動の流れを作り出すことを目指しています。私のスタイルを最もよく表しているトラックは「野火」です。それは、ミニマルな明確な、効率的だし、それは美しく、私が愛するすべてのものを流れます:)
そして、ギア賢明な私の赤ちゃんはもちろんローランドTB303です!この象徴的な楽器ともプラグインやエミュレーションは、私のスタジオのセットアップの不可欠な部分となっています。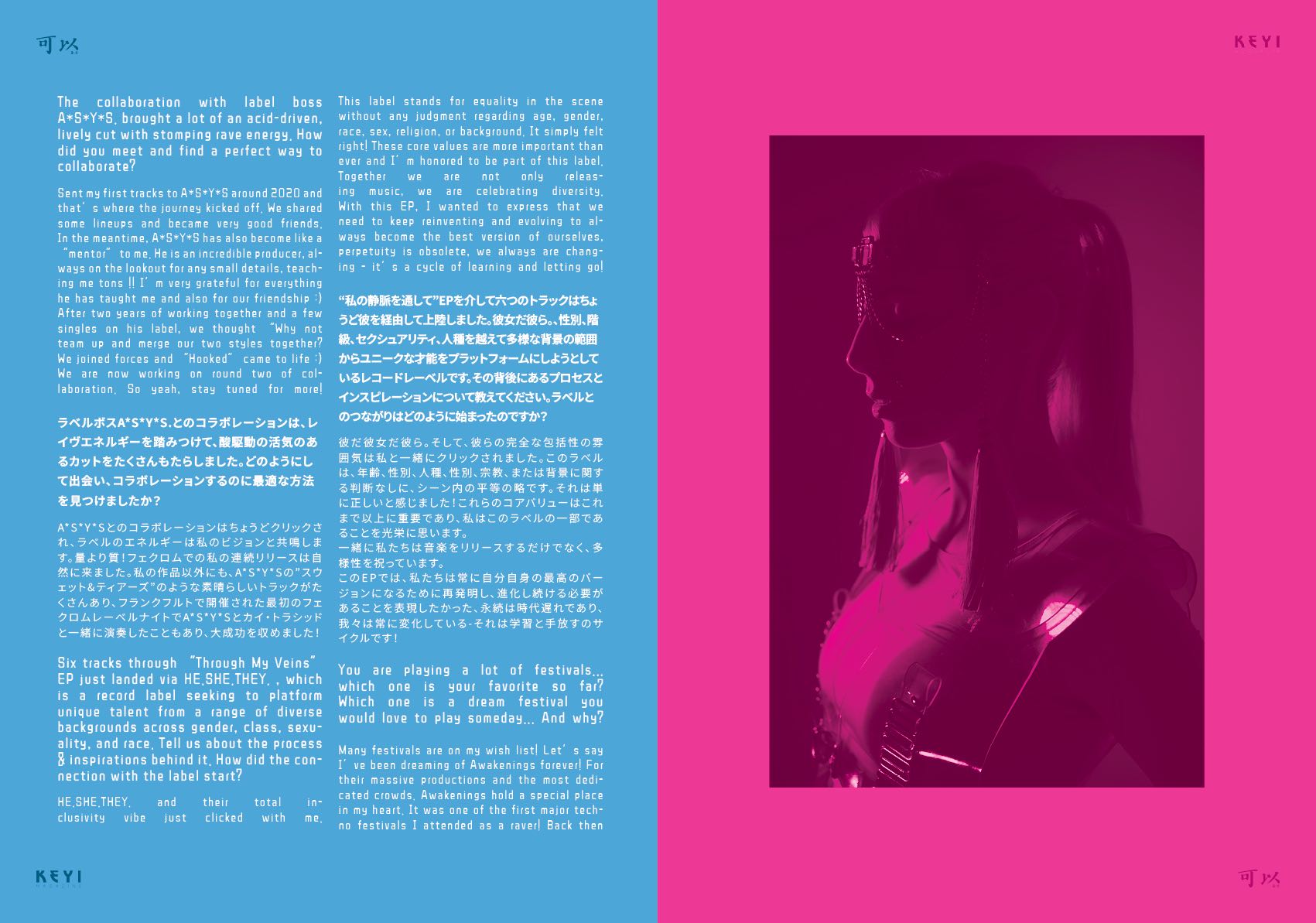 The collaboration with label boss A*S*Y*S. brought a lot of an acid-driven, lively cut with stomping rave energy. How did you meet and find a perfect way to collaborate?
Sent my first tracks to A*S*Y*S around 2020 and that's where the journey kicked off. We shared some lineups and became very good friends.
In the meantime, A*S*Y*S has also become like a "mentor" to me. He is an incredible producer, always on the lookout for any small details, teaching me tons !! I'm very grateful for everything he has taught me and also for our friendship 🙂
After two years of working together and a few singles on his label, we thought "Why not team up and merge our two styles together? We joined forces and "Hooked" came to life 🙂
We are now working on round two of collaboration. So yeah, stay tuned for more!
ラベルボスA*S*Y*S.とのコラボレーションは、レイヴエネルギーを踏みつけて、酸駆動の活気のあるカットをたくさんもたらしました。どのようにして出会い、コラボレーションするのに最適な方法を見つけましたか?
A*S*Y*Sとのコラボレーションはちょうどクリックされ、ラベルのエネルギーは私のビジョンと共鳴します。量より質!フェクロムでの私の連続リリースは自然に来ました。私の作品以外にも、A*S*Y*Sの"スウェット&ティアーズ"のような素晴らしいトラックがたくさんあり、フランクフルトで開催された最初のフェクロムレーベルナイトでA*S*Y*Sとカイ・トラシッドと一緒に演奏したこともあり、大成功を収めました!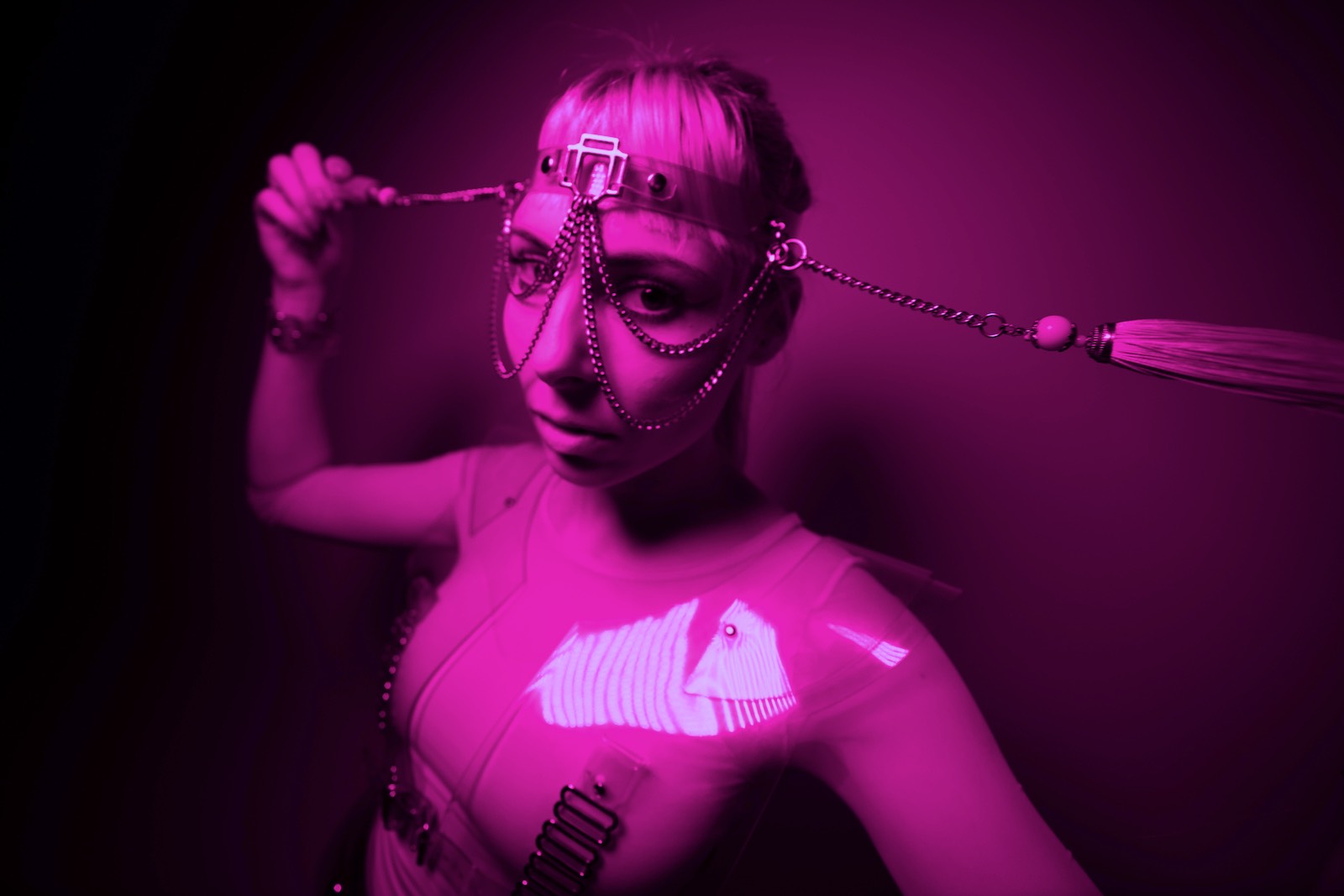 Six tracks through "Through My Veins" EP just landed via HE.SHE.THEY. , which is a record label seeking to platform unique talent from a range of diverse backgrounds across gender, class, sexuality, and race. Tell us about the process & inspirations behind it. How did the connection with the label start?
HE.SHE.THEY. and their total inclusivity vibe just clicked with me.
This label stands for equality in the scene without any judgment regarding age, gender, race, sex, religion, or background. It simply felt right! These core values are more important than ever and I'm honored to be part of this label.
Together we are not only releasing music, we are celebrating diversity.
With this EP, I wanted to express that we need to keep reinventing and evolving to always become the best version of ourselves, perpetuity is obsolete, we always are changing – it's a cycle of learning and letting go!
"私の静脈を通して"EPを介して六つのトラックはちょうど彼を経由して上陸しました。彼女だ彼ら。、性別、階級、セクシュアリティ、人種を越えて多様な背景の範囲からユニークな才能をプラットフォームにしようとしているレコードレーベルです。その背後にあるプロセスとインスピレーションについて教えてください。ラベルとのつながりはどのように始まったのですか?
彼だ彼女だ彼ら。そして、彼らの完全な包括性の雰囲気は私と一緒にクリックされました。このラベルは、年齢、性別、人種、性別、宗教、または背景に関する判断なしに、シーン内の平等の略です。それは単に正しいと感じました!これらのコアバリューはこれまで以上に重要であり、私はこのラベルの一部であることを光栄に思います。
一緒に私たちは音楽をリリースするだけでなく、多様性を祝っています。
このEPでは、私たちは常に自分自身の最高のバージョンになるために再発明し、進化し続ける必要があることを表現したかった、永続は時代遅れであり、我々は常に変化している-それは学習と手放すのサイクルです!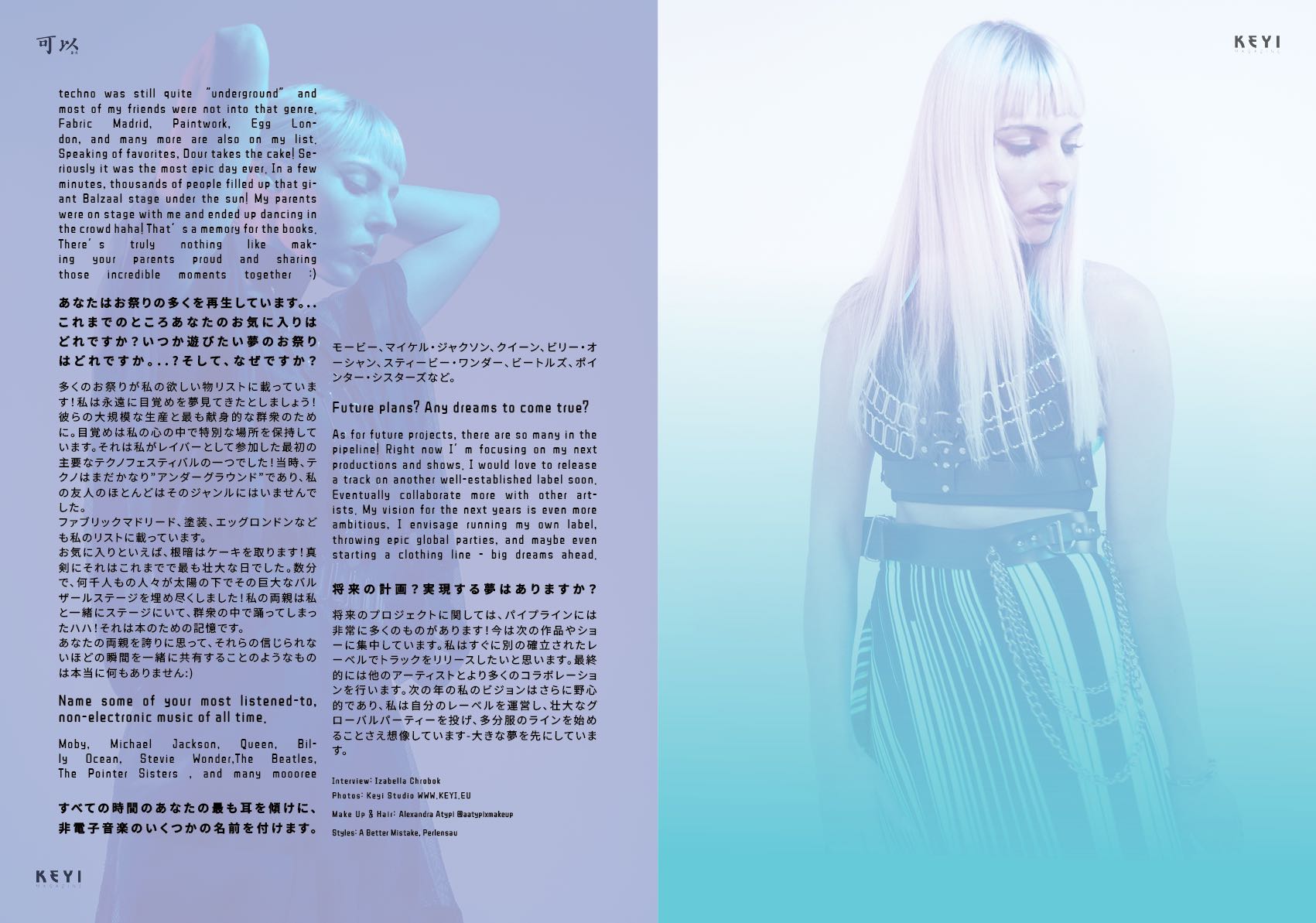 You are playing a lot of festivals… which one is your favorite so far? Which one is a dream festival you would love to play someday… And why?
Many festivals are on my wish list! Let's say I've been dreaming of Awakenings forever! For their massive productions and the most dedicated crowds. Awakenings hold a special place in my heart. It was one of the first major techno festivals I attended as a raver! Back then techno was still quite "underground" and most of my friends were not into that genre.
Fabric Madrid, Paintwork, Egg London, and many more are also on my list.
Speaking of favorites, Dour takes the cake! Seriously it was the most epic day ever. In a few minutes, thousands of people filled up that giant Balzaal stage under the sun! My parents were on stage with me and ended up dancing in the crowd haha! That's a memory for the books.
There's truly nothing like making your parents proud and sharing those incredible moments together 🙂
あなたはお祭りの多くを再生しています。..これまでのところあなたのお気に入りはどれですか?いつか遊びたい夢のお祭りはどれですか。..?そして、なぜですか?
多くのお祭りが私の欲しい物リストに載っています!私は永遠に目覚めを夢見てきたとしましょう!彼らの大規模な生産と最も献身的な群衆のために。目覚めは私の心の中で特別な場所を保持しています。それは私がレイバーとして参加した最初の主要なテクノフェスティバルの一つでした!当時、テクノはまだかなり"アンダーグラウンド"であり、私の友人のほとんどはそのジャンルにはいませんでした。
ファブリックマドリード、塗装、エッグロンドンなども私のリストに載っています。
お気に入りといえば、根暗はケーキを取ります!真剣にそれはこれまでで最も壮大な日でした。数分で、何千人もの人々が太陽の下でその巨大なバルザールステージを埋め尽くしました!私の両親は私と一緒にステージにいて、群衆の中で踊ってしまったハハ!それは本のための記憶です。
あなたの両親を誇りに思って、それらの信じられないほどの瞬間を一緒に共有することのようなものは本当に何もありません:)
Name some of your most listened-to, non-electronic music of all time.
Moby, Michael Jackson, Queen, Billy Ocean, Stevie Wonder,The Beatles, The Pointer Sisters , and many moooree
すべての時間のあなたの最も耳を傾けに、非電子音楽のいくつかの名前を付けます。
モービー、マイケル・ジャクソン、クイーン、ビリー・オーシャン、スティービー・ワンダー、ビートルズ、ポインター・シスターズなど。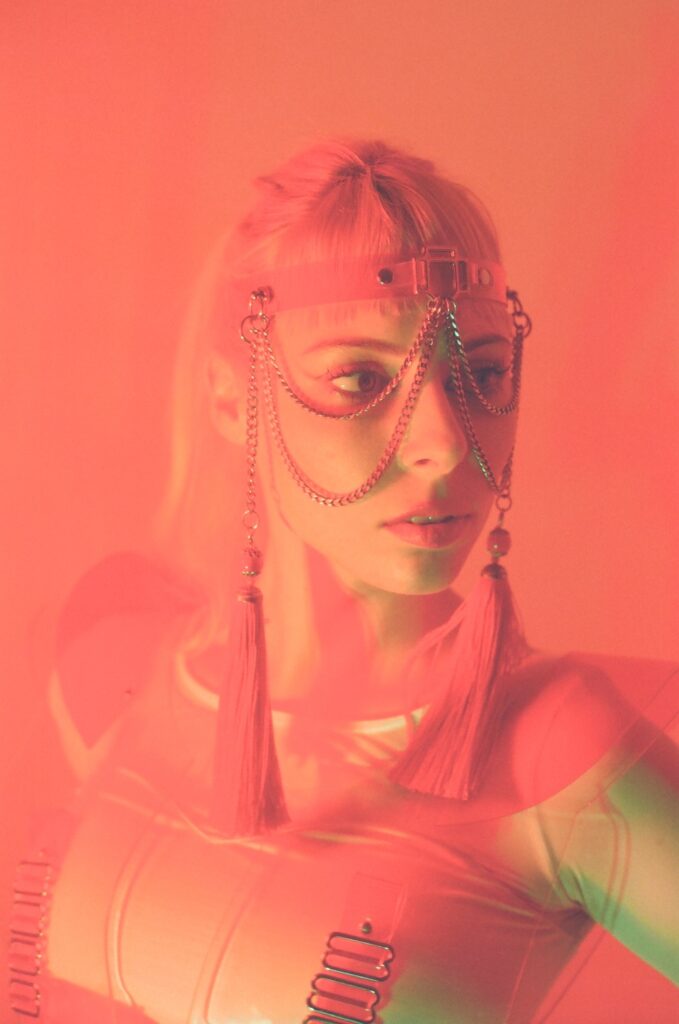 Future plans? Any dreams to come true?
As for future projects, there are so many in the pipeline! Right now I'm focusing on my next productions and shows. I would love to release a track on another well-established label soon. Eventually collaborate more with other artists. My vision for the next years is even more ambitious, I envisage running my own label, throwing epic global parties, and maybe even starting a clothing line – big dreams ahead.
将来の計画?実現する夢はありますか?
将来のプロジェクトに関しては、パイプラインには非常に多くのものがあります!今は次の作品やショーに集中しています。私はすぐに別の確立されたレーベルでトラックをリリースしたいと思います。最終的には他のアーティストとより多くのコラボレーションを行います。次の年の私のビジョンはさらに野心的であり、私は自分のレーベルを運営し、壮大なグローバルパーティーを投げ、多分服のラインを始めることさえ想像しています-大きな夢を先にしています。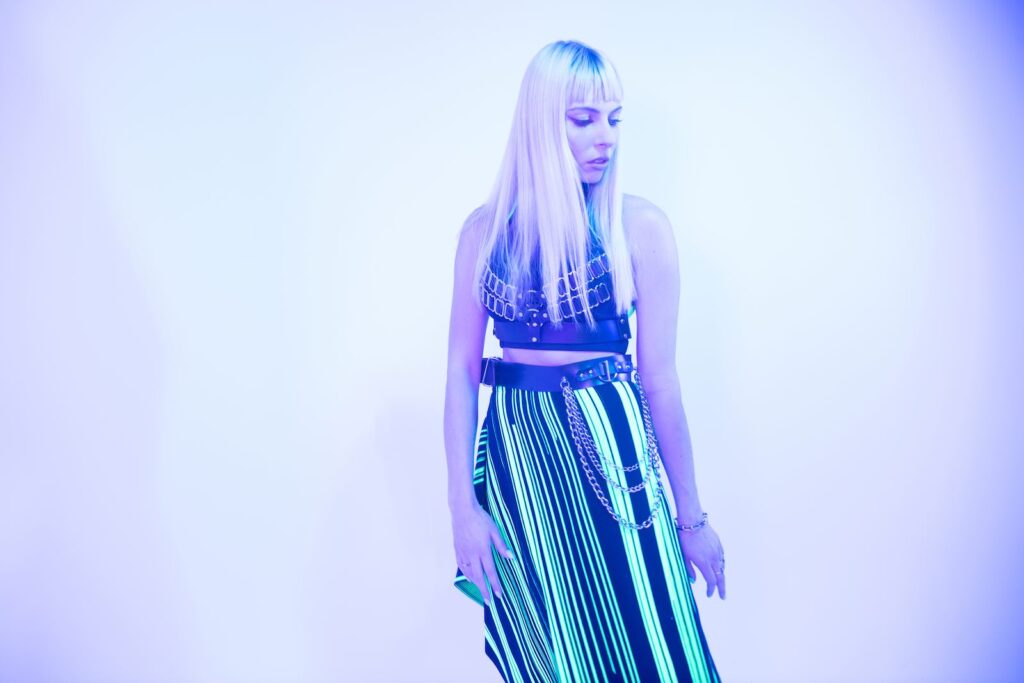 ---
Talent: Marhu
Interview: Izabella Chrobok
Photos: Keyi Studio @keyistudio
Make Up & Hair: Alexandra Atypi @aatypixmakeup
Styles: A Better Mistake, Perlensau, Dr Martens