Three decades after the fall of the Berlin Wall, the city of Berlin continues to be a place of perpetual transformation, where the historical and contemporary seamlessly merge in exceptionally inventive ways. As a thriving capital teeming with youthful vitality and imaginative concepts, Berlin is in the midst of a continual metamorphosis, reconstructing itself one block at a time. Nowhere is this renaissance more apparent than in its vibrant hotel landscape, where iconic establishments have been revitalized, and neglected structures have been salvaged and transformed into stylish boutique accommodations.
Time is precious and should be spend well. Happy to share with you the most beaufitul places to enjoy your holiday in the city besides discovering its vivid culutre you can also have a experience in one of the best hotels in Berlin.

Schlosshotel Berlin by Patrick Hellmann
Originally constructed in 1914, this splendid villa was designed in the fashion of a French palace. Throughout its illustrious history, it has served various purposes, transitioning seamlessly from a private residence to an embassy, a naval officer's club, and eventually a luxurious hotel. This distinguished establishment has had the honor of accommodating renowned individuals like Romy Schneider and Paul McCartney.
In the year 2014, Berlin's esteemed fashion designer, Patrick Hellmann, acquired this historic property and embarked on an extensive renovation project. His vision included the meticulous restoration of the villa's magnificent historical features, all while infusing a contemporary essence into the design. Notably, much of the previous design work, crafted by Karl Lagerfeld in the 1990s, was artfully brought into the 21st century.
The villa comprises 43 exquisitely appointed rooms and an additional 10 opulent suites, each boasting remarkable details. One of the standout accommodations is the dual-bedroom Kaiser Suite, complete with an antique library adorned with original frescoes. On the first floor, the Karl Lagerfeld Suite exhibits delightful Art Deco elements and offers a stone balcony with enchanting views overlooking the splendid gardens.
---
The Ritz-Carlton, Berlin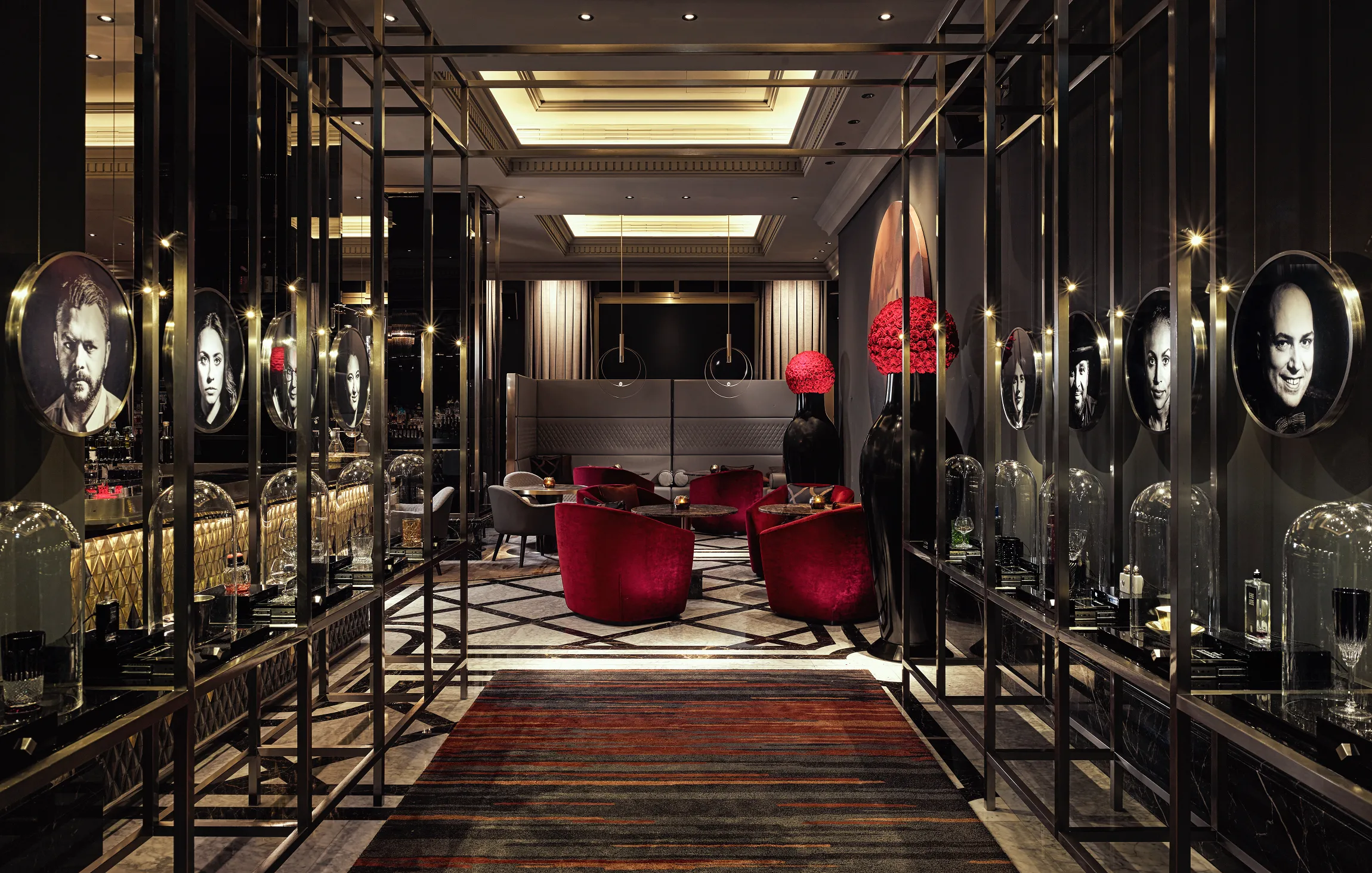 Situated just a brisk one-minute stroll away from both the Sony Center and the Potsdamer Platz U- and S-Bahn station, this contemporary luxury hotel is conveniently located within an 11-minute walk from the historic Berlin Wall.
The elegant guest rooms provide sweeping vistas of either Potsdamer Platz or the lush Tiergarten park. Each room is thoughtfully appointed with modern amenities, including flat-screen televisions, complimentary Wi-Fi, well-stocked minibars, and luxurious marble bathrooms. For added convenience, 24/7 room service is at your disposal. The suites offer an enhanced experience with separate living and sleeping areas, with select suites even featuring private libraries and convenient kitchenettes.
Guests can unwind in the welcoming lobby cocktail lounge, which serves light bites, or indulge in the flavors of upscale German cuisine at the hotel's restaurant. Additionally, the wellness area beckons with its inviting indoor pool, rejuvenating saunas, and a well-equipped fitness room. Business travelers will find a fully-equipped business center at their disposal, along with a stylish ballroom for events and gatherings.
---
Hotel Oderberger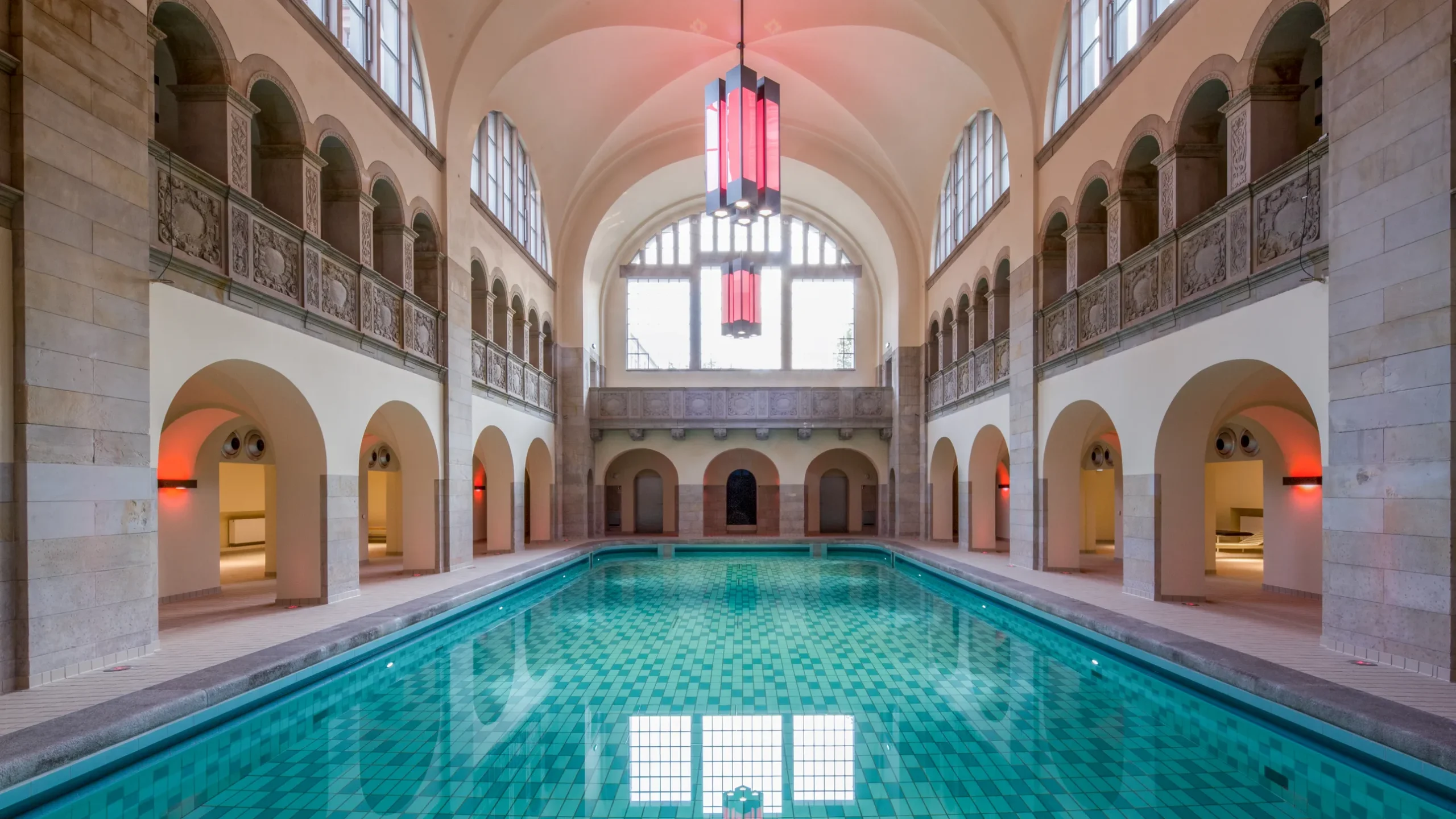 The opulent public bathhouse, originally designed by architect Ludwig Hoffmann for the Pergamon Museum in 1898, has been thoughtfully transformed into a boutique hotel that cherishes its majestic spaces and remarkable historical features. At the heart of this establishment lies the original 65-foot-long heated indoor pool, nestled beneath a soaring vaulted ceiling and encircled by expansive windows and dramatic stone archways. Equally captivating, the tri-level restaurant, occupying the former boiler room, preserves its lofty 50-foot ceilings, rustic brick walls, sturdy steel girders, and vintage pressure valves.
The hotel offers chic and understated rooms, each showcasing its unique layout. The most impressive accommodations can be found in the top-floor apartments, where floor-to-ceiling windows flood the space with natural light, fully-equipped kitchens cater to your needs, and private balconies offer enchanting vistas of the picturesque Prenzlauer Berg district.
---
Regent hotel, Berlin
Conveniently situated on Berlin's picturesque Gendarmenmarkt Square, this 5-star hotel, designed in a classical style, offers a relaxed dining experience at the Charlotte & Fritz restaurant, exclusive spa amenities, and complimentary Wi-Fi access. The Friedrichstraße shopping boulevard is a mere 656 feet away, while the renowned Brandenburg Gate stands just 0.6 miles from the property, just 27 kilometers from Berlin Brandenburg Airport.
Inside, you'll discover tastefully appointed rooms adorned with Biedermeier furnishings and adorned with marble bathrooms. These rooms offer complimentary Wi-Fi, flat-screen TVs, DVD players, antique desks, and comfortable armchairs. For an even more luxurious experience, suites feature separate living areas and well-stocked minibars. Upgraded suites go the extra mile, boasting cozy fireplaces and dining tables, while some even offer private balconies and convenient kitchenettes.
When it comes to dining, the hotel provides a variety of options to cater to your culinary desires. There's a top-notch restaurant, an elegant bar, a sophisticated lobby lounge that serves afternoon tea, and a seasonal outdoor cocktail lounge for al fresco enjoyment. Additionally, you'll find a fitness center to stay active and a spa complete with saunas for relaxation. For those in need of business amenities, the hotel offers a business center and meeting rooms to meet your professional needs.
---
Hotel Bikini Berlin
Adjacent to Berlin Zoo, this trendy hotel boasts a prime location, a mere 6-minute stroll from Zoologischer Garten metro station, and just 3 kilometers away from both Potsdamer Platz and the iconic Brandenburg Gate.
Inside, you'll find stylish rooms equipped with complimentary Wi-Fi, flat-screen TVs, and iPod docks, ensuring you stay connected and entertained. Select rooms offer extra perks like floor-to-ceiling windows, comfortable hammocks, separate sitting areas, and captivating views of the zoo's surroundings.
The hotel offers a range of enticing amenities, including a contemporary restaurant adorned with floor-to-ceiling windows that offer skyline vistas, a vibrant bar complete with a rooftop terrace where DJs spin tunes regularly, and a charming bakery featuring a wood-fired oven. For those seeking relaxation, a sauna with panoramic zoo views awaits. Additionally, guests have the option to rent bicycles to explore the city at their own pace.