ManniDee is an in-demand artist beyond the UK, his releases on Tresor Records, Perc Trax, Fabric Selects etc propelled Manni's profile internationally, in tandem with an ongoing residency at London's Rinse FM & tours spanning North & South America, Asia and Europe dominating his diary. Cu- rating his event series Silk + Steel at FOLD, the party is a platform to elevate genre-defying artists & to support a diverse resonance that is strongly needed to push dance culture forward. Working from opposite ends of the electronic spectrum adds another layer to Manni's leading-edge practice, demonstrated in his co-production work for rock outfit The Horrors & his long-term co-writer relationship with Daniel Avery with remixes for the likes of Metronomy, Max Cooper, Louisahhh and Sleaford Mods. Cultivating a sound & vision that shows no boundaries, Manni Dee is striking out from preconceived notions of who he is as an artist and leaving a definitive stamp in electronic music, art and fashion.
Manni Dee 는 영국을 넘어 전 세계가 주목하는 아티스트로, Tresor Records, Perc Trax, Possession 등에서 발매한 앨범은 런던의 Rinse FM에서 진행 중인 레지던시 및 북미와 남미, 아시아, 유럽을 아우르는 투어와 함께 Manni의 프 로필을 국제적으로 끌어올렸습니다. FOLD에서 실크 + 스틸 이벤트 시리즈를 기 획한 이 파티는 장르를 뛰어넘는 아티스트를 발굴하고 영국 댄스 문화를 발전시키 는 데 꼭 필요한 다양한 공명을 지원하는 플랫폼입니다. 일렉트로닉 스펙트럼의 반대쪽 끝에서 작업하는 것은 록 밴드 더 호러스(The Horrors)다니엘 에이버리 와 오랜 기간 공동 작곡가 관계를 유지하며 메트로노미, 맥스 쿠퍼, 루이아흐, 슬리 포드 모드 등의 리믹스를 작업했으며, 경계가 없는 사운드와 비전을 구축한 매니 디 는 아티스트로서의 선입견을 깨고 일렉트로닉 음악, 예술, 패션 분야에서 뚜렷한발자취를 남기고 있습니다.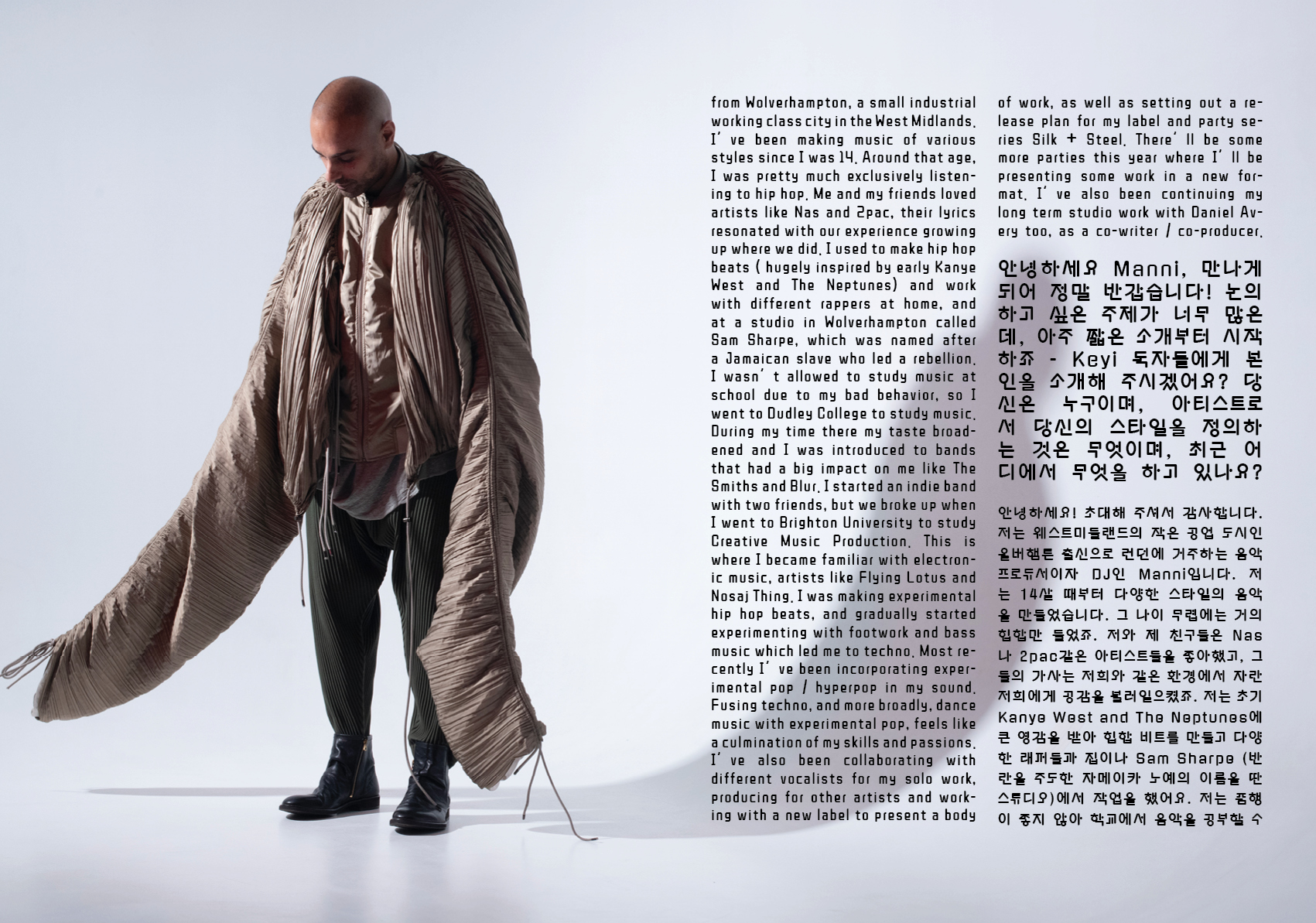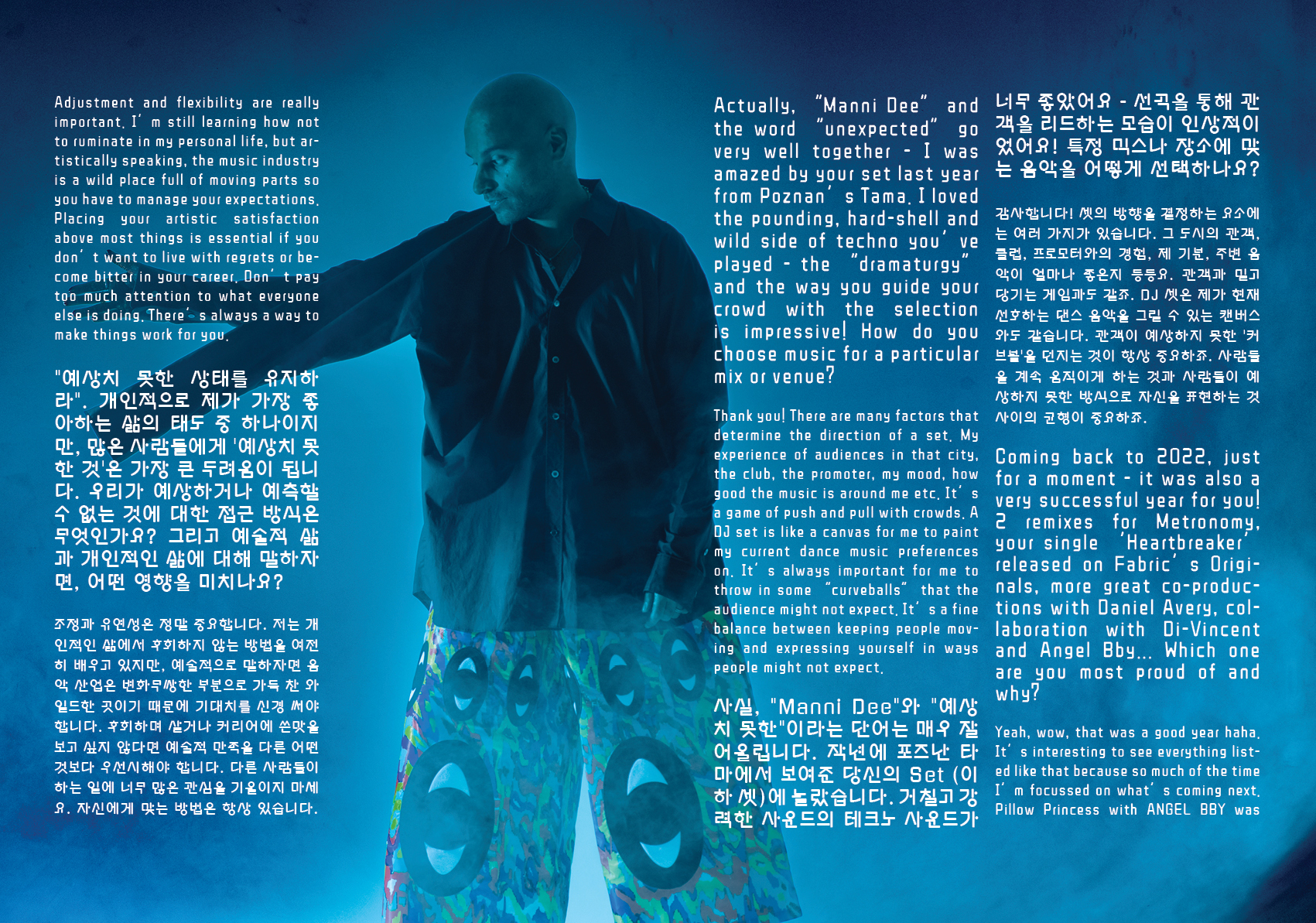 Hello Manni, so excited to have you here! As there are so many topics I'd like to discuss with you, let's start with a very short intro – could you please introduce yourself to KEYI's readers? Who are you, what defines your style as an artist and what have you recently been up to?
Hi! Very excited to be here, thanks for having me. I'm Manni, a music producer and DJ living in London, originally from Wolverhampton, a small industrial working-class city in the West Midlands.
I've been making music of various styles since I was 14. Around that age, I was pretty much exclusively listening to hip hop. Me and my friends loved artists like Nas and 2pac, their lyrics resonated with our experience growing up where we did. I used to make hip hop beats ( hugely inspired by early Kanye West and The Neptunes) and work with different rappers at home, and at a studio in Wolverhampton called Sam Sharpe, which was named after a Jamaican slave who led a rebellion.
I wasn't allowed to study music at school due to my bad behavior, so I went to Dudley College to study music. During my time there my taste broadened and I was introduced to bands that had a big impact on me like The Smiths and Blur. I started an indie band with two friends, but we broke up when I went to Brighton University to study Creative Music Production. This is where I became familiar with electronic music, artists like Flying Lotus and Nosaj Thing. I was making experimental hip hop beats, and gradually started experimenting with footwork and bass music which led me to techno. Most recently I've been incorporating experimental pop / hyperpop in my sound. Fusing techno, and more broadly, dance music with experimental pop, feels like a culmination of my skills and passions.
I've also been collaborating with different vocalists for my solo work, producing for other artists and working with a new label to present a body of work, as well as setting out a release plan for my label and party series Silk + Steel. There'll be some more parties this year where I'll be presenting some work in a new format. I've also been continuing my long term studio work with Daniel Avery too, as a co-writer / co-producer.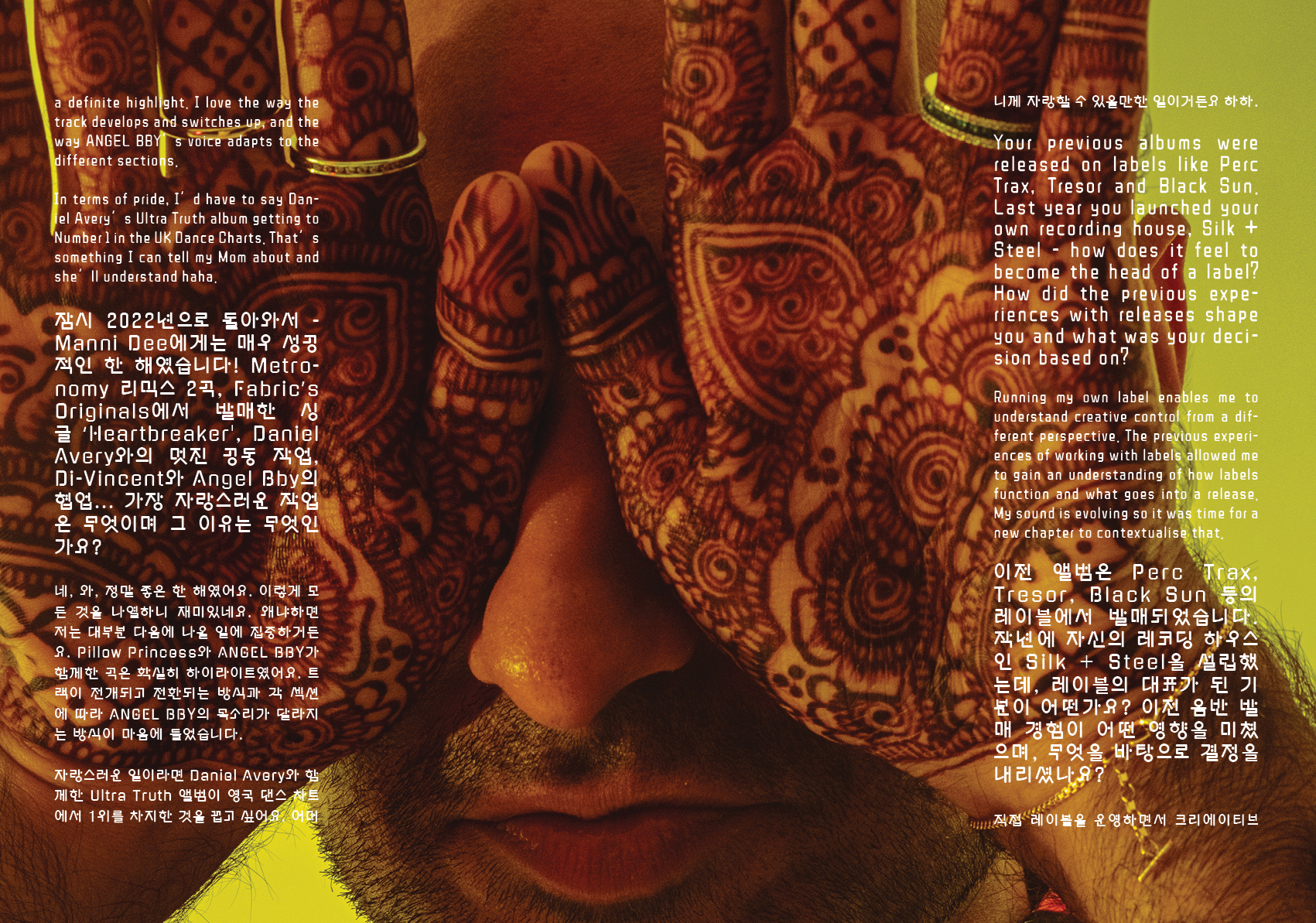 2023: "Year of Dee". May I call your upcoming 12 months this way? The way your career is developing sounds like a pretty cool film title – what the near future brings to you?
We have PT.1 and PT.2 of the Pillow Princess Remixes, PT.1 featuring TAAHLIAH and François X. I'm excited to use the platform to showcase my work and reveal some interesting collaborations. 2023: The Year of Dee. 2024: We can Dee some more.
"Stay unexpected". Personally, this is one of my favorite attitudes towards life, but for many people "the unforeseen" becomes the biggest fear to battle. What's your approach to things we can't expect or predict? And speaking about your artistic & personal life, how does it influence them?
Adjustment and flexibility are really important. I'm still learning how not to ruminate in my personal life, but artistically speaking, the music industry is a wild place full of moving parts so you have to manage your expectations. Placing your artistic satisfaction above most things is essential if you don't want to live with regrets or become bitter in your career. Don't pay too much attention to what everyone else is doing. There's always a way to make things work for you.
Actually, "Manni Dee" and the word "unexpected" go very well together – I was amazed by your set last year from Poznan's Tama. I loved the pounding, hard-shell and wild side of techno you've played – the "dramaturgy" and the way you guide your crowd with the selection is impressive! How do you choose music for a particular mix or venue?
Thank you! There are many factors that determine the direction of a set. My experience of audiences in that city, the club, the promoter, my mood, how good the music is around me etc. It's a game of push and pull with crowds. A DJ set is like a canvas for me to paint my current dance music preferences on. It's always important for me to throw in some "curveballs" that the audience might not expect. It's a fine balance between keeping people moving and expressing yourself in ways people might not expect.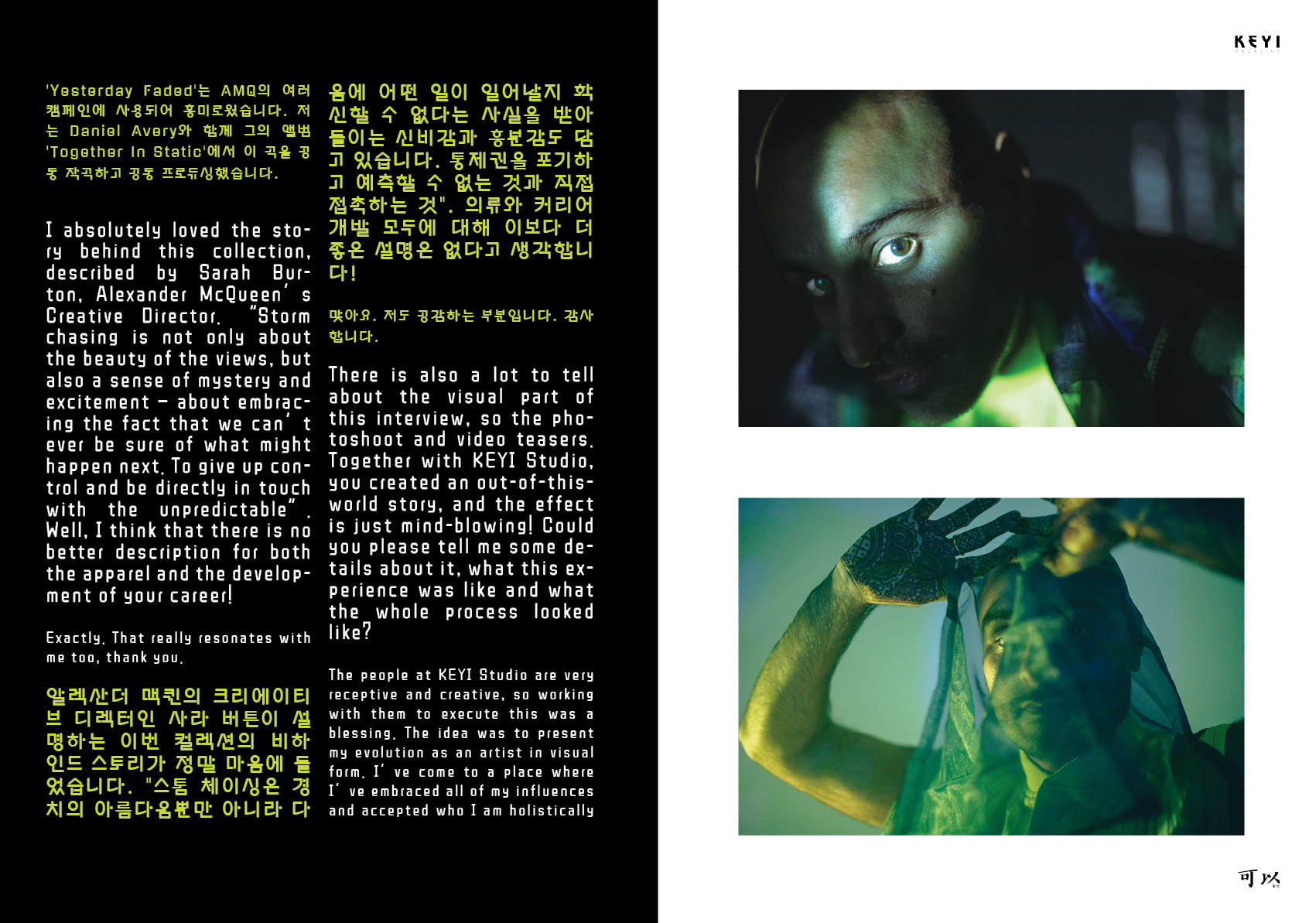 Coming back to 2022, just for a moment – it was also a very successful year for you! 2 remixes for Metronomy, your single 'Heartbreaker' released on Fabric's Originals, more great co-productions with Daniel Avery, collaboration with Di-Vincent and Angel Bby… Which one are you most proud of and why?
Yeah, wow, that was a good year haha. It's interesting to see everything listed like that because so much of the time I'm focussed on what's coming next. Pillow Princess with ANGEL BBY was a definite highlight. I love the way the track develops and switches up, and the way ANGEL BBY's voice adapts to the different sections.
In terms of pride, I'd have to say Daniel Avery's Ultra Truth album getting to Number 1 in the UK Dance Charts. That's something I can tell my Mom about and she'll understand haha.
Your previous albums were released on labels like Perc Trax, Tresor and Black Sun. Last year you launched your own recording house, Silk + Steel – how does it feel to become the head of a label? How did the previous experiences with releases shape you and what was your decision based on?
Running my own label enables me to understand creative control from a different perspective. The previous experiences of working with labels allowed me to gain an understanding of how labels function and what goes into a release. My sound is evolving so it was time for a new chapter to contextualise that.
Self-releases equal self-made success – is that true? How to deal with rejection from labels, especially if you're a young producer and not give all your work up? Do you think there is a correlation between being rejected from a particular label or collective and starting something on your own?
I don't think that's necessarily true. It works for some but not for others. You need thick skin to be an artist, so the benefit of rejection is that it helps you develop that. There are so many factors that come into play when showing people your work. It's often the most vulnerable you can be, so I can see why some artists recoil from the process entirely. If you believe in your work I encourage you to be persistent, but don't compromise.
I think there are multiple reasons why someone might start their own label. Rejection can definitely be one of them, wanting creative control without a mediator is another. So much of consumption is about immediacy now, so I think a lot of artists aren't willing to wait around for labels to slot them into their release schedule unless it's really worth it. I do think this leads to a lot of labels lacking originality though, as there isn't as much time and attention committed to the overall curation of things. There are thousands of labels out there now, so it's important if you're starting your own you have a universe that surrounds the music that invites the listener in.
Thinking about non-music related projects like film and fashion – which one was Manni Dee's very first calling or did they emerge together? How do these three arts influence each other, and have you ever thought about showing them all together on stage?
I think fashion has always been tied to music in such an integral way. Even anti-fashion movements like punk become defined by their style to a certain extent. When I was younger making hip hop, I coveted certain items of clothing that I would only see in music videos. It wasn't until years later that that style reached the UK from the US. I'm hoping to present some work this year and next that cross pollinates between different disciplines.
I'm looking at the way your career is constantly moving forward, and it makes me really happy to see how it's blooming. Speaking about fashion, Alexander McQueen's SS2022 Womenswear show in London was probably one of the most discussed and "hottest" topics thanks to the soundtrack you've written together with Daniel Avery. Please tell us something more about this collaboration.
'Yesterday Faded' was used for multiple campaigns by AMQ which was exciting to see. I co-wrote and co-produced the track alongside Daniel Avery for his album 'Together In Static'.
I absolutely loved the story behind this collection, described by Sarah Burton, Alexander McQueen's Creative Director. "Storm chasing is not only about the beauty of the views, but also a sense of mystery and excitement – about embracing the fact that we can't ever be sure of what might happen next. To give up control and be directly in touch with the unpredictable". Well, I think that there is no better description for both the apparel and the development of your career!
Exactly. That really resonates with me too, thank you.
There is also a lot to tell about the visual part of this interview, so the photoshoot and video teasers. Together with KEYI Studio, you created an out-of-this-world story, and the effect is just mind-blowing! Could you please tell me some details about it, what this experience was like and what the whole process looked like?
The people at KEYI Studio are very receptive and creative, so working with them to execute this was a blessing. The idea was to present my evolution as an artist in visual form. I've come to a place where I've embraced all of my influences and accepted who I am holistically and I wanted the shoot to represent that.
The only constant thing is change – and in your case, it's made of courage (to do things differently) and transformation (in effects of your work, such as music, style or aesthetics). But what about challenges that come hand in hand with the new approach? What is the most difficult part of becoming somebody new or choosing another path in terms of career?
There's the anxiety around losing what you've established over the years if you present a change in direction. It's about potentially putting security and comfort in jeopardy in exchange for creative fulfillment. The most difficult thing is trying to anticipate others' perception of you. It's something you should never really concern yourself with but it's a thought that inevitably creeps in, particularly being an artist in the 21st Century. I think this is why it's important to have a team of people you work with who can help support and strategize on your behalf while you focus on creating art. For me it's essential to have the option of distance from whichever scene I'm part of if I want it. This allows me to get to the roots of what I want and the core of an idea without any outside influence. The distance gives me clarity. On some level making art has to be a selfish act. It's about you and what you want to do.
By "changing", I mean also re-works or coming back to the roots. With your latest EP, "The World Goes On Without You", we can see a small part of them – it's where hip hop meets serrated techno, and raw rave energy interacts with the sound of urban & dance music. What did your first music inspirations mean to you? And how have you managed to combine these two powerful worlds: techno and hip-hop?
My early inspirations represented a method of escape from my surroundings through artistic expression. The music was a tool to articulate. Wolverhampton is far from an environment that nurtures creativity, especially for second generation British Asians like me. The city is racially segregated and poor, and most of the population are just getting by. I was surrounded by a lot of aggression and uncertainty growing up, and music helped me escape that.
Post George Floyd and BLM, techno became more open, and after so many years, people of colour were able to shape and influence the music again. The synthesis of techno and hip-hop had to happen in order for me to maintain my love for dance music. I listen to hip-hop every day so it made sense for me to fuse that into the techno I make. There's a certain energy some rap songs have that resonate with the energy certain techno tracks have. This is some part of what Silk + Steel is about as a label and party series. The fusion of sounds and genres that seem obvious to me, but might not occur to others. What excites me the most is hearing something you haven't or couldn't imagine.
It may sound like an obvious question (but let me take this risk): there must have been a change in you as a person, as your music and the projects you're doing have changed. What was the biggest life lesson you've received recently and how did it influence or shape you?
Don't let the music industry influence what you create. We're constantly exposed to algorithms that keep us within a particular frequency. It leads to people being victims to trends and depletes the ability for artists to find their own voice. I've gotten to the point where I'm able to find inspiration if I lack it and I'm able to protect my output from outsider influence.
Your creativity is spread across many projects so you keep your mind busy almost all the time. On the other hand, how do you spend your time off work? What makes you feel relaxed, brings you inspiration and broadens your mind?
It's important to have other hobbies and occupy your mind with different activities. I'm more productive if I adhere to a routine. The creative process is an unpredictable one so a routine surrounding it provides some stability. I go to the gym most mornings after taking a cold shower and eating a healthy breakfast. In the evenings I like to listen to podcasts or watch whatever series I'm into. Stepping away from creating every now and again can refresh your perspective when you return. Sometimes I just take time to listen. If I ever have a day off I justify my laziness as an anti-capitalist act!
Nowadays, what is the biggest distraction and energy-consumer? Not only in the creative process, but also in everyday life? How do you get your focus back?
I feel like you already know the answer to this! Social media. Some artists don't want to present a visual version of themselves which is understandable. It takes time to discover your niche online which detracts from time spent creating.
I often think about all the amazing artists we're not exposed to because they don't want to concede to self-promotion on visual platforms. Music used to be the sport of the recluse as well as the outlandish. It's funny because we often talk about music being open to everyone, but we forget about how people who don't have outrageous confidence are shunned to the margins because of the way these algorithms work.
Get the focus back by limiting your time on your phone. Maybe delete certain apps or leave your phone at home from time to time. Definitely don't start your day by staring at a screen. Recently I've been considering getting an old Nokia phone that I can take to the studio.
Artists' authenticity and sincerity in social media – does it match? Is it possible to be a DJ and not really care about Instagram, fame and followers hunting? There is so much criticism in the business, but maybe there are some positive aspects of social media in the techno music industry.
It can match but it's rare. In philosophy you have the observer effect, which states that people's behavior changes when they know they're being watched. I think that's the case for social media. It is possible to be a DJ and not care about those things, but unfortunately it means your options for making a career out of it can be very limited.
The positive aspect is that people who could never imagine themselves being a DJ because they're from a minority community or working class background like me, can probably find an example of someone who looks like them DJing on social media.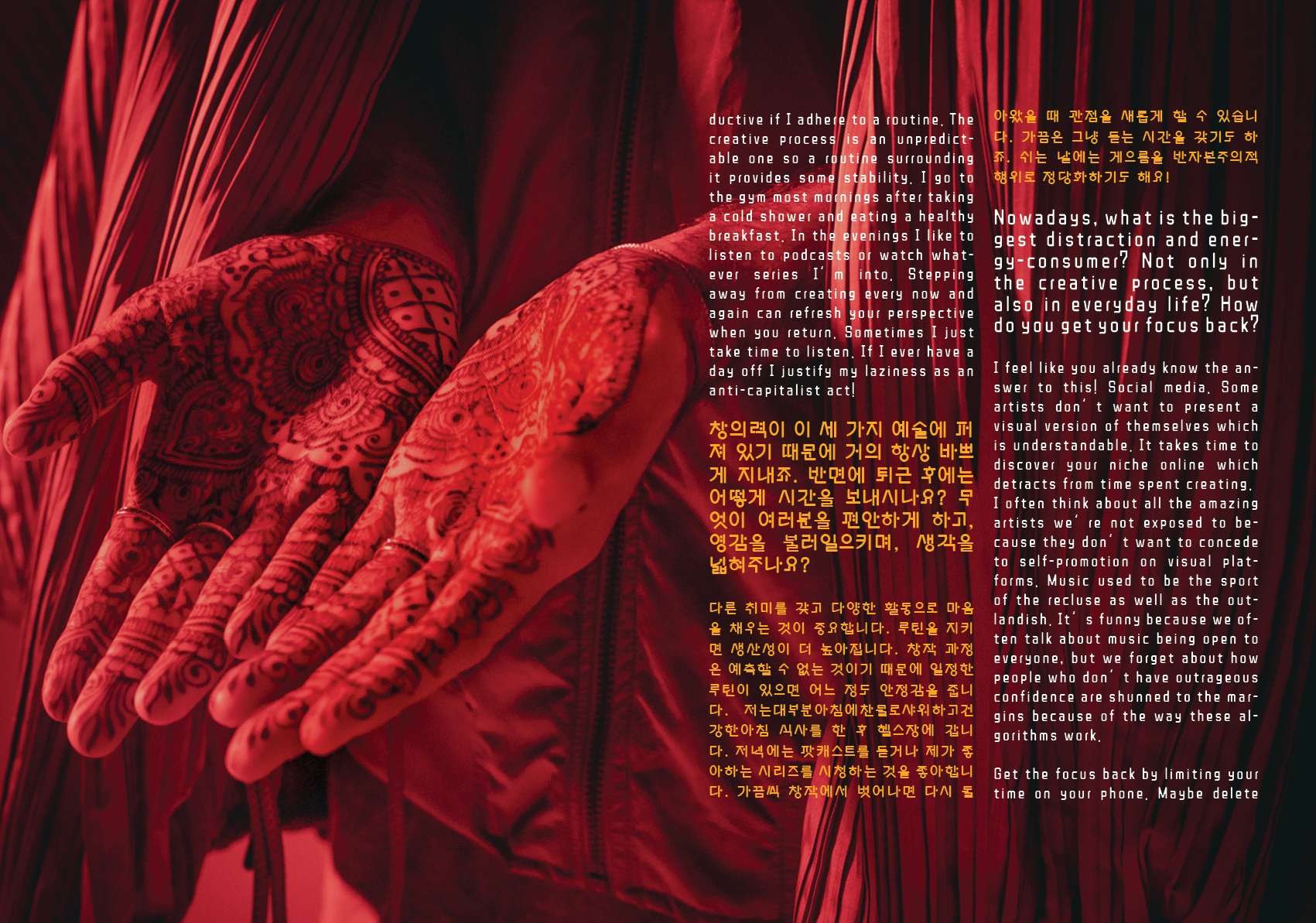 Last but not least! Manni, what do you wish for the future, and what do you most need in 2023?
I'm always hoping for growth and to develop as an artist, so I'm hoping for more of that this year. What I need in 2023 is to get my CDJs repaired!
I keep my fingers crossed for you and hope that "the unexpected" brings you all the best! Thank you so much for the interview!
Interview 檣攪箔: Agata Omelańska
Fashion: Zl_by_Zlism, Y/Project, Issey Miyake – Homme Plisse, Yoshio Kubo, JuunJ
special thanks to Alexander Danner! <3
Translation 廓羲: Shakti
Photos & styling餌霞 塽 蝶顫橾葭:
Keyi Studio WWW.KEYI.EU
Izabella Chrobok & Grzegorz Bacinski
GET YOUR PRINT COPY HERE :
https://www.keyimagazine.online/product/9703134/31th-issue-of-keyi-magazine