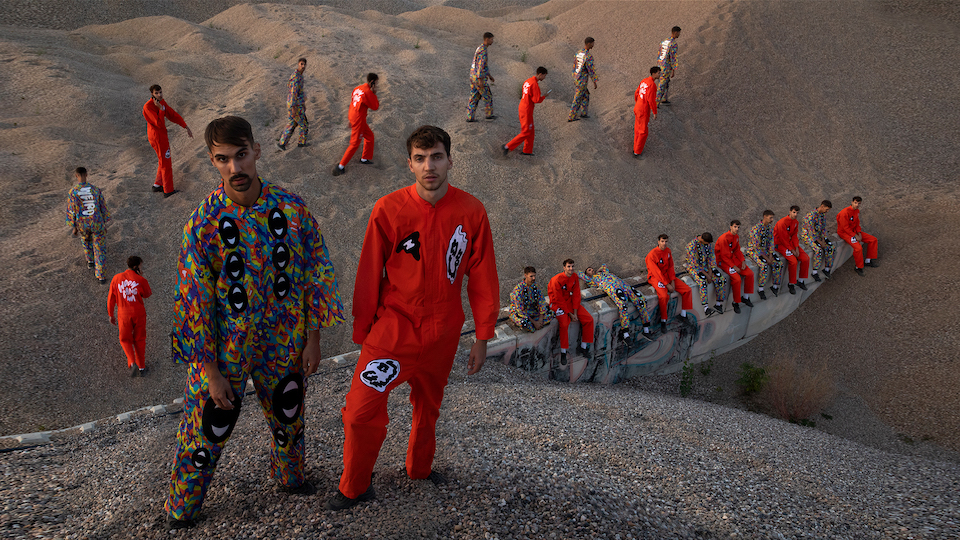 From a Spandau-Basement experiment to a now well established force in contemporary techno: The rise of the smoked out musicians that go by the name of FJAAK has been nothing short of spectacular so far.      
从Spandau-Basement实验到如今在现代技术中已确立的力量:如今,以FJAAK为名的熏制音乐家的崛起无比壮观。
Hey guys, thanks for taking the time to talk with us! We know you have extremely busy days.. Thank you for such a fun session. How are you doing ? What's happening with you two?  
Yessss it was more than fun 🙂 !
And we are doing more than great! that summer was awesome so far – full of fjaaking unforgettable moments and good times with the best peoples – what else is to say 😀 !
Can't wait for the winter to waste all of it's time in the studio haha!
是的,这很有趣:-)!
我们所做的不只是伟大的!那个夏天到目前为止太棒了-充满着令人难忘的时刻和与最好的人在一起的美好时光-还有什么要说的:D!
等不及冬天要在工作室里浪费所有时间了哈哈!
Recently you did first time closing in Berghain, How do you feel after such an entertainment ? Do you remember what you felt before last track you played there ? Any life changing thoughts ?  
Playing the closing Slot at Berghain for the first time was very special and of course unforgettable for us. Not mainly as musicians, mainly as friends. As we were Born and grown up in Berlin a lot of good friends and also family were coming and we got kind of a real familiar feeling inside It – especially when you so much time together. From time to time you start to be more and more connected with everybody in This moment… we played at aquasella the same day early in the morning and had a blast!!…so it was the 6th show in a row that weekend and we played for 11h until almost midday – one of our craziest and most awesome nights ever!!! It was real magic to just see again how much energy music can release if when it's in it's right place
第一次在伯格海恩(Berghain)玩封闭式老虎机非常特别,对我们来说当然是难忘的。不主要是作为音乐家,主要是作为朋友。当我们在柏林出生并长大时,很多好朋友和家人来了,我们在里面有了一种真正的熟悉的感觉-尤其是当你们在一起的时间很多时。在这一刻,您会不时地与每个人建立越来越多的联系……我们在清晨的同一天在Aquasella演出,并受到轰动!!……这是连续第六场演出周末,我们玩了11个小时,直到中午为止-这是我们有史以来最疯狂,最酷的夜晚之一!再来一次,看看在正确的位置放出多少音乐,这真是魔术
What's your creative process when you make music? How do you know it's finished ? And it will move and keep energy at the dance floor ?
It's always different and there are no rules for our creative process at all. Sometimes you create nice stuff just with jamming with stuff like drummachines, synthesizer, effect – racks or just a new plugin. And the most important for us is recording all the time so you don't miss your nice ideas. Changing your ways or machines, adding new programs… talking to people – listening to music in clubs, vinyl stores or just at home always give you a lot of impressions!
总是不同的,我们的创作过程完全没有规则。有时,您只是通过与鼓机,合成器,效果-机架或只是一个新插件的干扰来创建好东西。对于我们来说,最重要的是始终记录下来,这样您就不会错过任何好主意。改变您的方式或机器,添加新程序…与人们交谈-在俱乐部,黑胶唱片商店或仅在家中听音乐总是会给您留下很多印象!。
Have you been always into techno music ? What was your main influence in your music journey?
We like a lot of different kind of music. Also we do still different kind of music also house music, hip hop and jazz. As we are children's of the 90s HipHop and Techno were our biggest influences. But not only music influences your music. All our friends were doing all different kinds of art that always inspired
我们喜欢很多不同种类的音乐。此外,我们还会做不同类型的音乐,例如室内音乐,嘻哈音乐和爵士音乐。由于我们是90年代的孩子,HipHop和Techno是我们最大的影响力。但不仅音乐会影响您的音乐。我们所有的朋友都在做各种不同的艺术,这些艺术总是启发人
Can you give us one of your favourite memories from a show and after 😉 ?  
One of the most special rave we were ever was in an old Preusen forbidden underground station. It was an illegal rave on nye in the middle of Berlin with 7 floors and around 5k people. Cause it was so dusty all our records were fucked afterwards.
我们曾经有过的最特别的狂欢是在一个古老的Preusen禁止地下地铁站。这是柏林中部7层,约5千人的非法狂欢活动。因为那是如此尘土飞扬,之后我们所有的记录都被搞砸了。
Could you tell us more about Spandau20 project ? What are your upcoming plans with it ? 
Spandau20 is our new berlin based label. All artist on this label are really good friends from us how started doing music with us like 15years ago. Our favourite DJ's and producers we know!
Spandau20是我们在柏林的新标签。这个唱片公司中的所有歌手都是我们的好朋友,就像15年前一样,我们是如何开始与我们一起做音乐的。我们认识的最喜欢的DJ和制作人!
Imagine this : it's 2020, ecosystem of the planet is dead, there is evacuation spaceship for the other planet. If you could take just one suitcase with you, what would be inside?
A laptop and as much weed as would fit inside haha! And some dank genetics … y'all never know …not sure they got weed on the other planet hahaha DJ's and producers we know!
一台笔记本电脑足够了!还有一些阴暗的遗传学……你们都永远不知道……不确定他们是否在另一个星球上除草了哈哈哈.
Did everything always went well?? Do you remember your worst gig?  
Yes, we will never forget it haha! We were booked for a live show and had a DJ gig next days, so we even brought records… when we arrived they had a light-Mixer and nothing else…. we ended up playing with usb sticks we packed full of music from our laptops… back then we only played vinyl and even didn't really know how the cdj proper works so…. hahahahaha… at the end the usb sticks fjaaked around hard and we got some emergency loops n shit … ahahahaha
是的,我们将永远不会忘记它哈哈!我们被预订了一场现场表演,并在第二天进行了DJ演唱会,所以我们甚至带来了记录……当我们到达时,他们有一个混音器,没有其他任何东西……。我们最终使用了装满了从笔记本电脑上播放的音乐…那时我们只播放了黑胶唱片,甚至根本不知道cdj的工作原理。…哈哈哈哈哈…最后,usb棒猛烈晃动,出现了一些紧急循环狗屎…啊哈哈哈哈.
What do you absolutely love about your audience ?  
We love that they don't like plastic, smoke a lot of weed, share the passion for fat kicks, cosy grooves and big blunts. But seriously mostly it's that nerdy thing… we Love analog gear and this passion behind it and thats what we Love to share….often it's the stage technicians.. just talk about those compressors seems to make us happy for ever LOL
Lets nerd this shit onnnnnnn!
我们喜欢他们不喜欢塑料,抽很多杂草,热爱脂肪踢,舒适的沟纹和大钝角。但是最重​​要的是,那是一件令人讨厌的事情……我们喜欢模拟设备,并怀着对它的热情,那就是我们喜欢分享的东西。。。通常是舞台技术人员。
让书呆子这个狗屎
Credits:
Models : FJAAK
Photos by KEYI STUDIO / EYESDICE & BERLIN BUNNY