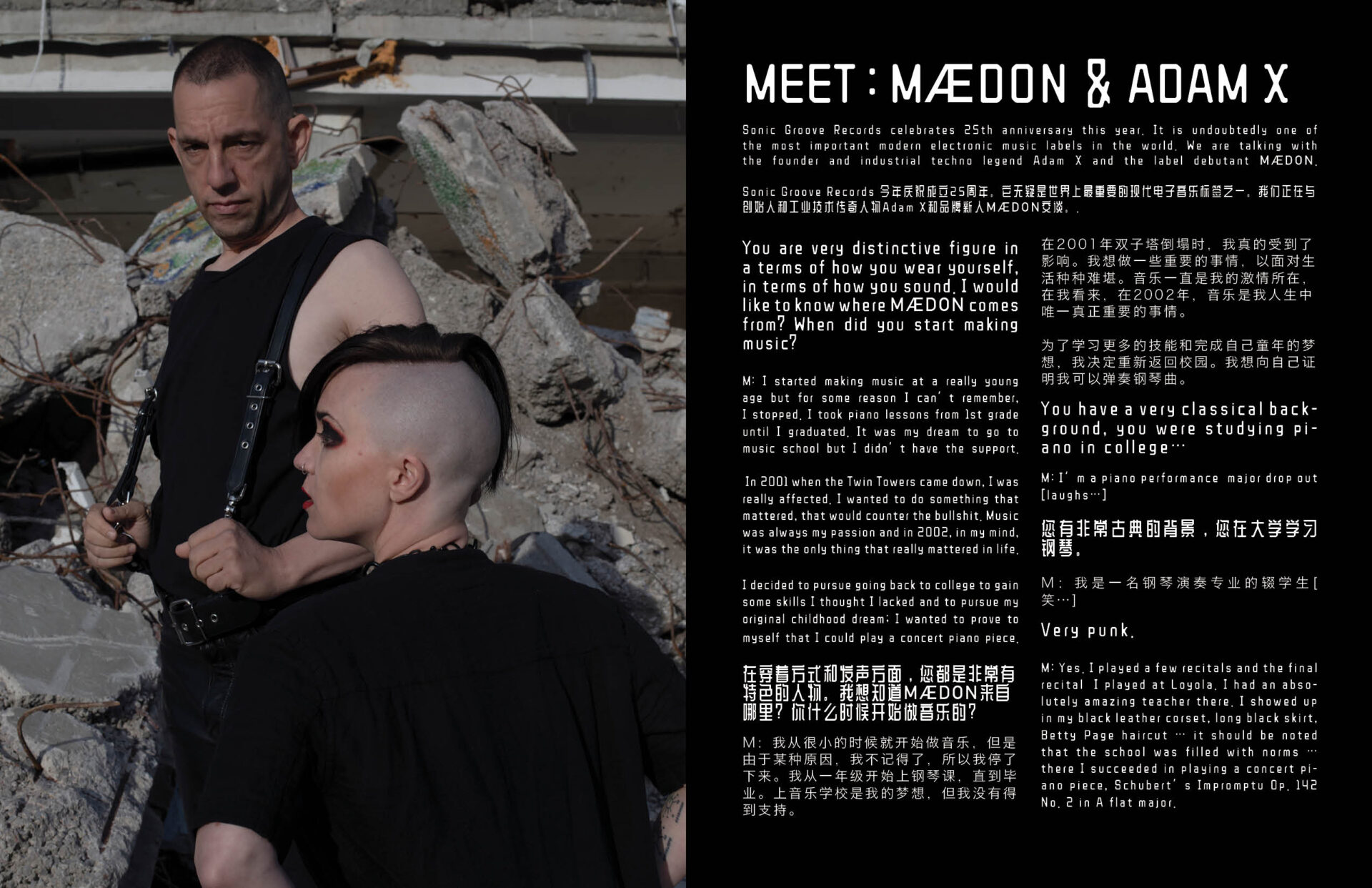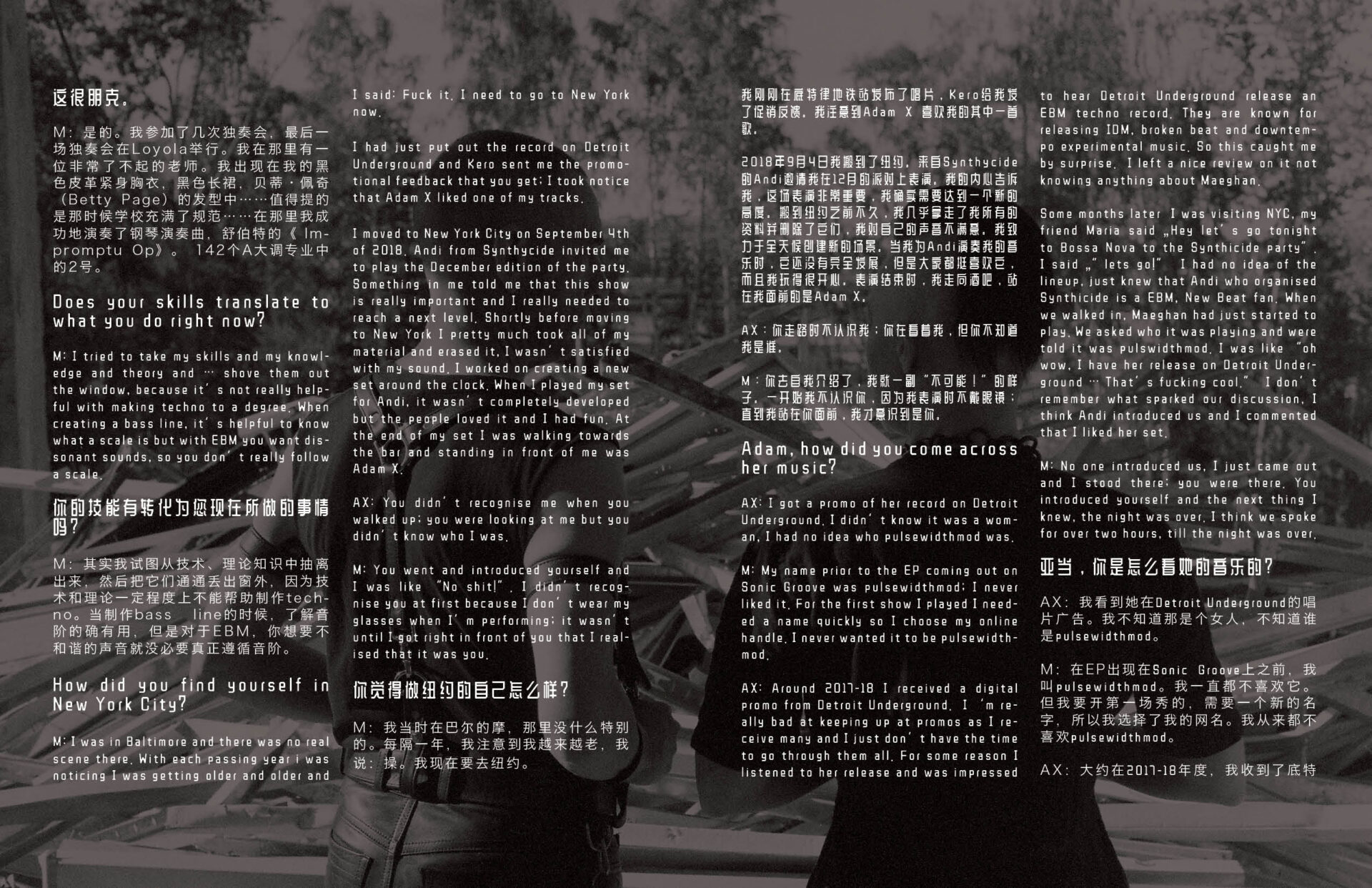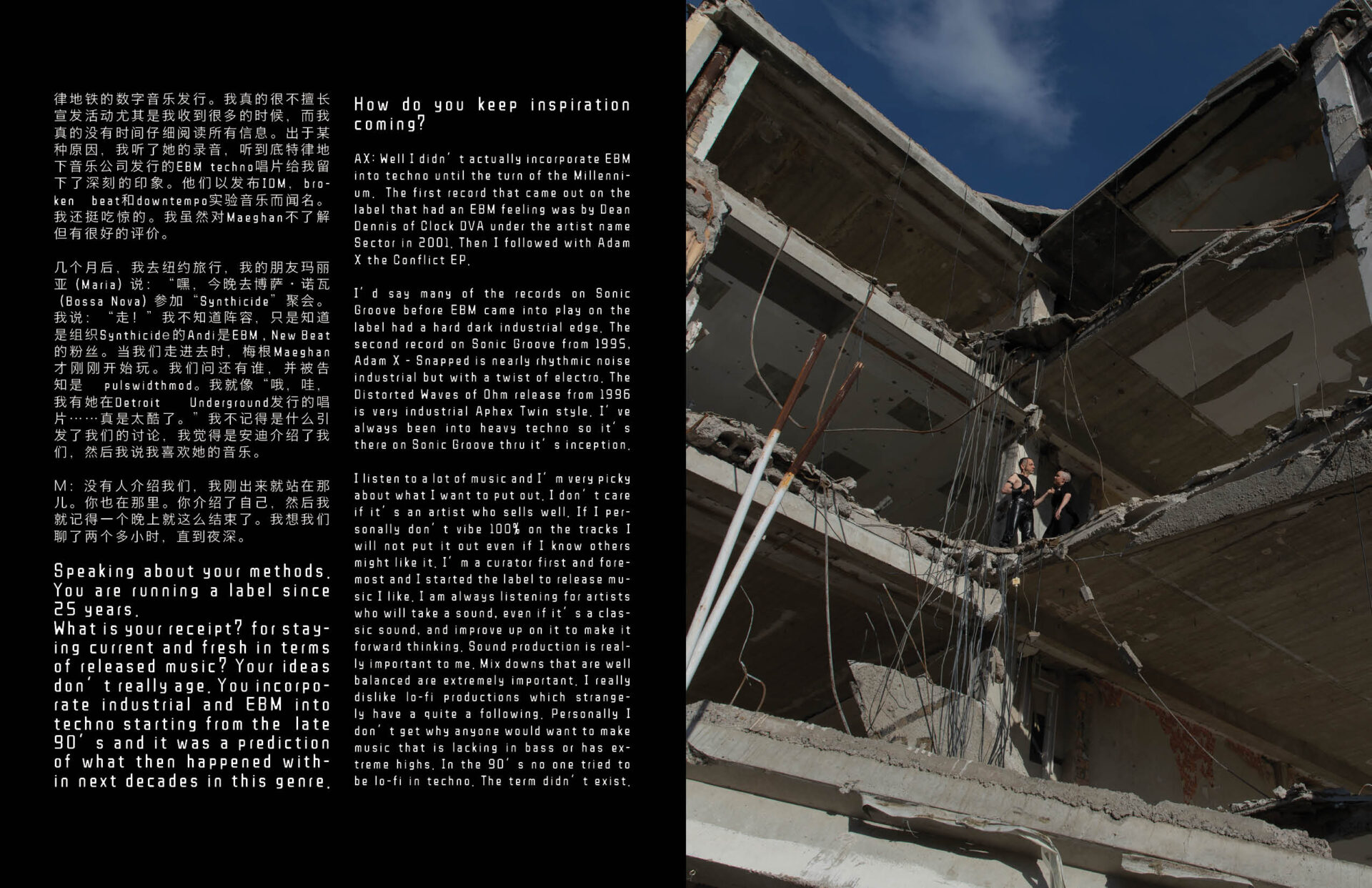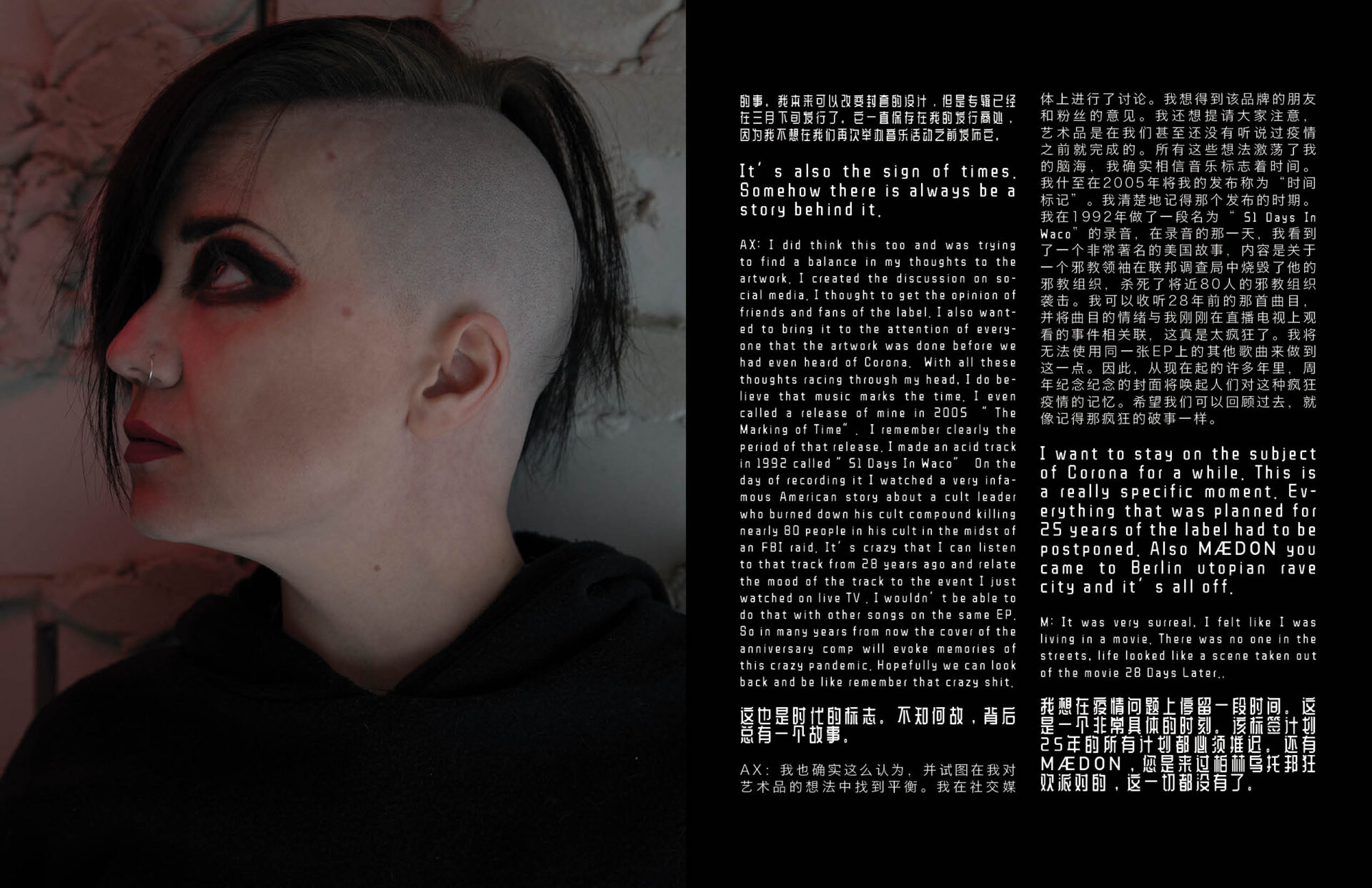 Sonic Groove Records celebrates 25th anniversary this year. It is undoubtedly one of the most important modern electronic music labels in the world. We are talking with the founder and industrial techno legend Adam X and the label debutant MÆDON.
Sonic Groove Records 今年庆祝成立25周年。它无疑是世界上最重要的现代电子音乐标签之一。我们正在与创始人和工业技术传奇人物Adam X和品牌新人MÆDON交谈。.
We would like to announce special July issue of @keyimagazine. Sonic Groove celebrates 25th anniversary this year.
We are talking with the founder and industrial techno legend @adamx_sonicgroove and the label debutant @m_a_e_d_o_n She's a wizard with the hardware driven by some fierce passion for the music.
You are very distinctive figure in a terms of how you wear yourself, in terms of how you sound. I would like to know where MÆDON comes from? When did you start making music?
M: I started making music at a really young age but for some reason I can't remember,
I stopped. I took piano lessons from 1st grade until I graduated. It was my dream to go to music school but I didn't have the support.
In 2001 when the Twin Towers came down, I was really affected. I wanted to do something that mattered, that would counter the bullshit. Music was always my passion and in 2002, in my mind, it was the only thing that really mattered in life.
I decided to pursue going back to college to gain some skills I thought I lacked and to pursue my original childhood dream; I wanted to prove to myself that I could play a concert piano piece.
在穿着方式和发声方面,您都是非常有特色的人物。我想知道MÆDON来自哪里?你什么时候开始做音乐的?
M:我从很小的时候就开始做音乐,但是由于某种原因,我不记得了,所以我停了下来。我从一年级开始上钢琴课,直到毕业。上音乐学校是我的梦想,但我没有得到支持。
在2001年双子塔倒塌时,我真的受到了影响。我想做一些重要的事情,以面对生活种种难堪。音乐一直是我的激情所在,在我看来,在2002年,音乐是我人生中唯一真正重要的事情。
为了学习更多的技能和完成自己童年的梦想,我决定重新返回校园。我想向自己证明我可以弹奏钢琴曲。
You have a very classical background, you were studying piano in college…
M: I'm a piano performance major drop out [laughs…]
您有非常古典的背景,您在大学学习钢琴。
M:我是一名钢琴演奏专业的辍学生[笑…]
Very punk.
M: Yes. I played a few recitals and the final recital I played at Loyola. I had an absolutely amazing teacher there. I showed up in my black leather corset, long black skirt, Betty Page haircut … it should be noted that the school was filled with norms … there I succeeded in playing a concert piano piece, Schubert's Impromptu Op. 142 No. 2 in A flat major.
这很朋克。
M:是的。我参加了几次独奏会,最后一场独奏会在Loyola举行。我在那里有一位非常了不起的老师。我出现在我的黑色皮革紧身胸衣,黑色长裙,贝蒂·佩奇(Betty Page)的发型中……值得提的是那时候学校充满了规范……在那里我成功地演奏了钢琴演奏曲,舒伯特的《 Impromptu Op》。 142个A大调专业中的2号。
Does your skills translate to what you do right now?
M: I tried to take my skills and my knowledge and theory and … shove them out the window, because it's not really helpful with making techno to a degree. When creating a bass line, it's helpful to know what a scale is but with EBM you want dissonant sounds, so you don't really follow a scale.
你的技能有转化为您现在所做的事情吗?
M:其实我试图从技术、理论知识中抽离出来,然后把它们通通丢出窗外,因为技术和理论一定程度上不能帮助制作techno。当制作bass line的时候,了解音阶的确有用,但是对于EBM,你想要不和谐的声音就没必要真正遵循音阶。
How did you find yourself in New York City?
M: I was in Baltimore and there was no real scene there. With each passing year i was noticing I was getting older and older and I said: Fuck it. I need to go to New York now.
I had just put out the record on Detroit Underground and Kero sent me the promotional feedback that you get; I took notice that Adam X liked one of my tracks.
I moved to New York City on September 4th of 2018. Andi from Synthycide invited me to play the December edition of the party. Something in me told me that this show is really important and I really needed to reach a next level. Shortly before moving to New York I pretty much took all of my material and erased it, I wasn't satisfied with my sound. I worked on creating a new set around the clock. When I played my set for Andi, it wasn't completely developed but the people loved it and I had fun. At the end of my set I was walking towards the bar and standing in front of me was Adam X.
AX: You didn't recognise me when you walked up; you were looking at me but you didn't know who I was.
M: You went and introduced yourself and I was like "No shit!". I didn't recognise you at first because I don't wear my glasses when I'm performing; it wasn't until I got right in front of you that I realised that it was you.
你觉得做纽约的自己怎么样?
M:我当时在巴尔的摩,那里没什么特别的。每隔一年,我注意到我越来越老,我说:操。我现在要去纽约。
我刚刚在底特律地铁站发布了唱片,Kero给我发了促销反馈。我注意到Adam X 喜欢我的其中一首歌。
2018年9月4日我搬到了纽约。来自Synthycide的Andi邀请我在12月的派对上表演。我的内心告诉我,这场表演非常重要,我确实需要达到一个新的高度。搬到纽约之前不久,我几乎拿走了我所有的资料并删除了它们,我对自己的声音不满意。我致力于全天候创建新的场景。当我为Andi演奏我的音乐时,它还没有完全发展,但是大家都挺喜欢它,而且我玩得很开心。表演结束时,我走向酒吧,站在我面前的是Adam X。
AX:你走路时不认识我;你在看着我,但你不知道我是谁。
M:你去自我介绍了,我就一副"不可能!"的样子。一开始我不认识你,因为我表演时不戴眼镜;直到我站在你面前,我才意识到是你。
Adam, how did you come across her music?
AX: I got a promo of her record on Detroit Underground. I didn't know it was a woman, I had no idea who pulsewidthmod was.
M: My name prior to the EP coming out on Sonic Groove was pulsewidthmod; I never liked it. For the first show I played I needed a name quickly so I choose my online handle. I never wanted it to be pulsewidthmod.
AX: Around 2017-18 I received a digital promo from Detroit Underground. I 'm really bad at keeping up at promos as I receive many and I just don't have the time to go through them all. For some reason I listened to her release and was impressed to hear Detroit Underground release an EBM techno record. They are known for releasing IDM, broken beat and downtempo experimental music. So this caught me by surprise. I left a nice review on it not knowing anything about Maeghan.
Some months later I was visiting NYC, my friend Maria said "Hey let's go tonight to Bossa Nova to the Synthicide party". I said ""lets go!" I had no idea of the lineup, just knew that Andi who organised Synthicide is a EBM, New Beat fan. When we walked in, Maeghan had just started to play. We asked who it was playing and were told it was pulswidthmod. I was like "oh wow, I have her release on Detroit Underground … That's fucking cool." I don't remember what sparked our discussion, I think Andi introduced us and I commented that I liked her set.
M: No one introduced us, I just came out and I stood there; you were there. You introduced yourself and the next thing I knew, the night was over. I think we spoke for over two hours, till the night was over.
亚当,你是怎么看她的音乐的?
AX:我看到她在Detroit Underground的唱片广告。我不知道那是个女人,不知道谁是pulsewidthmod。
M:在EP出现在Sonic Groove上之前,我叫pulsewidthmod。我一直都不喜欢它。但我要开第一场秀的,需要一个新的名字,所以我选择了我的网名。我从来都不喜欢pulsewidthmod。
AX:大约在2017-18年度,我收到了底特律地铁的数字音乐发行。我真的很不擅长宣发活动尤其是我收到很多的时候,而我真的没有时间仔细阅读所有信息。出于某种原因,我听了她的录音,听到底特律地下音乐公司发行的EBM techno唱片给我留下了深刻的印象。他们以发布IDM,broken beat和downtempo实验音乐而闻名。我还挺吃惊的。我虽然对Maeghan不了解但有很好的评价。
几个月后,我去纽约旅行,我的朋友玛丽亚(Maria)说:"嘿,今晚去博萨·诺瓦(Bossa Nova)参加"Synthicide"聚会。我说:"走!"我不知道阵容,只是知道是组织Synthicide的Andi是EBM,New Beat的粉丝。当我们走进去时,梅根Maeghan才刚刚开始玩。我们问还有谁,并被告知是 pulswidthmod。我就像"哦,哇,我有她在Detroit Underground发行的唱片……真是太酷了。"我不记得是什么引发了我们的讨论,我觉得是安迪介绍了我们,然后我说我喜欢她的音乐。
M:没有人介绍我们,我刚出来就站在那儿。你也在那里。你介绍了自己,然后我就记得一个晚上就这么结束了。我想我们聊了两个多小时,直到夜深。
Speaking about your methods. You are running a label since 25 years.
What is your receipt?for staying current and fresh in terms of released music?Your ideas don't really age. You incorporate industrial and EBM into techno starting from the late 90's and it was a prediction of what then happened within next decades in this genre. How do you keep inspiration coming?
AX: Well I didn't actually incorporate EBM into techno until the turn of the Millennium. The first record that came out on the label that had an EBM feeling was by Dean Dennis of Clock DVA under the artist name Sector in 2001. Then I followed with Adam X the Conflict EP.
I'd say many of the records on Sonic Groove before EBM came into play on the label had a hard dark industrial edge. The second record on Sonic Groove from 1995, Adam X – Snapped is nearly rhythmic noise industrial but with a twist of electro. The Distorted Waves of Ohm release from 1996 is very industrial Aphex Twin style. I've always been into heavy techno so it's there on Sonic Groove thru it's inception.
I listen to a lot of music and I'm very picky about what I want to put out. I don't care if it's an artist who sells well. If I personally don't vibe 100% on the tracks I will not put it out even if I know others might like it. I'm a curator first and foremost and I started the label to release music I like. I am always listening for artists who will take a sound, even if it's a classic sound, and improve up on it to make it forward thinking. Sound production is really important to me. Mix downs that are well balanced are extremely important. I really dislike lo-fi productions which strangely have a quite a following. Personally I don't get why anyone would want to make music that is lacking in bass or has extreme highs. In the 90's no one tried to be lo-fi in techno. The term didn't exist. I don't get why someone would want to mix a song down that sounds inferior on a large sound system.
M: I think it's nostalgia.
AX: I'm not sure what is so nostalgic about lo-fi recordings though. Most of the great records in the early 90's were most definitely not lo-fi. Of course they were not as tight and compressed as they are in techno now but the mixes themselves were well done. Listen for example to early 90's R&S records from Belgium, one of the hottest labels of that decade and you will clearly hear many great sound productions. Music styles in techno in the past decades haven't changed all that much since then but the sound production has gotten a lot better. If you listen to my music from the turn of the millennium and listen to my music now, you'll hear a ton of a difference in the mix downs. Some of it can be equated to more experience but a lot has to do with the sound tools at hand that have just gotten better and better over time.
M: Technology for recording has gotten much better over the years. I put a lot of love into the sound design, production, and the writing process. I slave over every note for bass lines, how they interact with one another is what gives a track its groove.
AX: Usually when you're deep into the sound design and production aspect it takes a few days to write a song. I'm quite sure the people who are doing the retro lo-fi sound are working much faster. I've been there and done that in the early 90's where I could record three tracks in a day. Looking back in retrospect I'd now have much prefer to work longer on each one, I could have made them sound better. A lot of artists don't want to sit and work a couple of days on one song, they prefer to make 2 tracks or more a day. I've heard artists who are like: "Oh, I just did an album in two days!". Personally I don't really care to hear those productions as the chances are it is going to sound amateurish.
When I am working the A&R side of the label?I am looking for something innovative, stylistically it can be techno, industrial , EBM , Acid. I want to diversify the label more now. I also want to push more downtempo and ambient? on the sub label, Sonic Groove Experiments. I've also pushed the label to do more album releases then 12"s. I enjoy promoting and pushing an artist with album releases much more the 12" singles.
聊聊您的经营方式。您经营这个厂牌已有25年了。你怎么样在发布音乐上保持着推陈出新和新鲜呢?你的想法也从不显过时。你从九十年代就致力于融合了工业和EBM到techno当中,而且在当时来说只能说是对这种音乐类型在未来几十年的一种预测。所以你是如何一直源源不断收到启发?
AX:直到千禧年之交,我才真正将EBM纳入techno。在厂牌发行的第一张具有EBM感觉的唱片是ClockDVA的Dean Dennis在2001年以艺术家Sector的名义出现的。然后我跟随Adam X发行theConflict EP。
我想说的是,在EBM厂牌上演之前,SonicGroove上的许多唱片都具有坚硬的黑暗工业音乐优势.自1995年以来在SonicGroove上的第二张唱片.AdamX-Snapped几乎是有节奏的工业噪音.但带有electro。从1996年发行的《The Distorted Waves of Ohm》是非常工业化的AphexTwin风格。我一直都很喜欢heavy techno,所以它从一开始就在Sonic Groove上。
我听很多音乐,对自己想放的东西也很挑剔。我不在乎是不是卖得好的艺术家。如果我个人没有百分百的喜欢,即使我知道其他人可能会喜欢,也不会放出。我首先是策展人,并开始发行自己喜欢的音乐。我一直在聆听那些会制作音效(即使是经典音效)并对其进行改进以使其具有前瞻性思考的艺术家。声音的制作对我来说真的很重要。平衡良好的混音非常重要。我真的不喜欢Lo-Fi作品,这些作品奇怪地吸引了很多人。就我个人而言,我不明白为什么有人会制作低音或极高的音乐。在90年代,没有人尝试过使用Techno技术做低保真音响。这个词不存在。我不明白为什么有人会想把一首在大型音响系统上听起来很逊的歌曲混音。
M:我觉得是怀旧。
AX:我不确定Lo-Fi录音到底有什么怀旧之感。90年代初期的大多数伟大唱片绝非Lo-fi。当然,它们不像现在的techno那样紧绷和压缩,但是混音本身做得很好。例如,听听比利时90年代早期的R&S唱片,这是该十年来最热门的厂牌,您显然会听到许多出色的音乐作品。从那时起,过去几十年来,techno的音乐风格并没有发生太大变化,但是声音的制作却有了很大改善。如果您是从千禧年之交开始聆听我的音乐,而现在就聆听我的音乐,你会听到各种混音效果。其中的一些可以等同于更多的经验,但是与手头的声音工具有很大关系,随着时间的流逝,声音工具越来越好。
M:这些年来,录音技术日趋完善。我很热爱声音的设计,制作和写作过程。我将所有的音符都放在低音上,它们如何相互影响,这才使音轨更加流畅。
AX:通常,当您深​​入了解声音设计和制作方面时就知道写一首歌需要几天的时间。我很确定正在做复古lo-fi声音的人工作速度要快得多。我去过那里,并在90年代初做到了,每天可以录制三首曲目。回顾过去,我现在更愿意在每样音乐上花更长的时间,因为我可以把它们做好。许多艺术家不想在一首歌上坐下来工作几天,他们更喜欢每天创作两首或更多曲目。我听说过类似的歌手:"哦,我两天就拍了一张专辑!"。就我个人而言,我不太在乎听到这些作品,因为听起来很业余。
当我在A&R的副厂牌工作时,我正在寻找一些创新的东西.从风格上讲.它可以是techno.工业.EBM和Acid.我想要厂牌更多元化.我还想在子厂牌SonicGrooveExperiments上增加更多的downtempo和环境。我还推动了唱片公司发行12张专辑以上的专辑.我喜欢通过专辑发行来促进和推动歌手,更喜欢12英寸的单曲。
You have been working with the greatest ones but I also know that you are keeping your eye out on the new talents and you also give notes to some young producers how to improve their music and style.
AX: I do that a lot. I like working with new artists and will often guide them on sound production tips and in the business itself. I've also started to put out digital only releases this year which has given me more possibility to work with new artists. With vinyl it's very risky to release a brand new artist who has little or no social media base. Vinyl is already a difficult sell. The more known artists are often just breaking even on costs for the vinyl production. With new artists coming on the scene it becomes very difficult and can cause a release to land hundreds of Euro's in the negative on sales. So doing digital only releases is a very good way to push new artists as the production costs are minimal. It's nearly impossible to lose money and with most dj's playing digital these days eases the pressure to work with brand new artists.
您一直在与最优秀的音乐人合作,但我也知道您一直在关注新血,并且还给年轻制作人建议,教他们如何改善音乐和风格。
AX:我经常这样做。我喜欢与新艺术家合作,并经常在声音制作技巧和业务本身方面为他们提供指导。我还开始在今年推出仅数字版本,这给了我更多与新歌手合作的可能性。使用黑胶唱片发行一个几乎没有或没有社交媒体基础的崭新歌手非常冒险。黑胶本身已经很难销售了。较有知名度的艺术家更多的是平均花费在黑胶制作上。但随着新艺术家的到来,这变得非常困难,并可能导致浪费很多的金钱。
I can imagine it's priceless to get this kind of feedback from you when you are trying to make your way in the music industry.
我可以想象,当您尝试进入音乐行业时,获得您的这种反馈是无价的。
You have a lot of sense what's coming next in the music and culture and there has been a situation within the lockdown when you have published the cover of the 25 Years: Sonic Groove anniversary compilation showing a man all covered in protection gear, soaping his hands. But the cover was designed before we heard about the new threat.
AX: Back in December.
您很有想法,音乐和文化接下来会发生什么,当您出版《 25年:Sonic Groove周年纪念》的封面时,锁定范围内就会出现一种情况,其中一名男子身穿防护装备,用手抚摸。但是封面是在我们听说 new threat 之前设计的。
AX:早在十二月。
How did you feel about it? There was a big discussion on social media…
AX: It's weird. My designer Jon Turi is an original part of Sonic Groove. He ran the mail order department in the old Sonic Groove record shop for several years. He also did the label design for Sonic Groove from 1998-2012 and then join backed on last year after Janina Schuetz who did the label artwork from 2012-2018 departed from working with the label.
I had no clear idea what to suggest to him for the artwork of the compilation. I gave him free range to play around with it. He came back after a week or two of thought and said "I got this idea I think you will like". On the outdoor sign of our old record shop, It said "Sonic Groove" and below it said "Future Underground Experiments". We used the "Future Underground Experiments" quote on our business cards as well as our original online website. It was the Sonic Groove motto. Jon came back to me with the lab technician art which is perfectly inline with the old motto and I thought wow that's cool, let's do it.
Then this Corona crap happens and I'm thinking it looks like I'm playing off the pandemic which to me would be a cheesy thing to do.? I would have changed the sleeve design but the album was already pressed in late March. It's been kept in storage at my distributor as I don't want it released until we have music events again.
您对此感觉如何?社交媒体上进行了大讨论……
AX:很奇怪.我的设计师JonTuri是Sonic Groove的原始成员。他在旧的SonicGroove厂牌的邮购部门工作已有数年之久。他还在1998年至2012年间为SonicGroove进行标签设计,然后在去年重新回来了一起共事。2012年至2018年间从事标签艺术工作的JaninaSchuetz脱离了厂牌工作.)
我不知道对汇编的作品有什么建议。我给了他自由放任的机会,一两周后他回来了,他说:"我有这个想法,我觉得你会喜欢."在我们旧唱片店的室外标牌上,写着"SonicGroove".下面是"Future Underground Experiments"。我们在名片以及原始的在线网站上使用了"未来的地下实验音乐"的标签。这是Sonic Groove的座右铭。乔恩(Jon)带着实验室科技音乐的艺术回到我身边,这与古老的座右铭完全吻合,我认为哇,这很酷,那就去做吧。
然后发生了新冠病毒,对我来说在这是一件很俗气的事。我本来可以改变封套的设计,但是专辑已经在三月下旬发行了。它一直保存在我的发行商处,因为我不想在我们再次举办音乐活动之前发布它。
It's also the sign of times. Somehow there is always be a story behind it.
AX: I did think this too and was trying to find a balance in my thoughts to the artwork. I created the discussion on social media. I thought to get the opinion of friends and fans of the label. I also wanted to bring it to the attention of everyone that the artwork was done before we had even heard of Corona. With all these thoughts racing through my head, I do believe that music marks the time. I even called a release of mine in 2005 " The Marking of Time". I remember clearly the period of that release. I made an acid track in 1992 called "51 Days In Waco" On the day of recording it I watched a very infamous American story about a cult leader who burned down his cult compound killing nearly 80 people in his cult in the midst of an FBI raid. It's crazy that I can listen to that track from 28 years ago and relate the mood of the track to the event I just watched on live TV . I wouldn't be able to do that with other songs on the same EP. So in many years from now the cover of the anniversary comp will evoke memories of this crazy pandemic. Hopefully we can look back and be like remember that crazy shit.
这也是时代的标志。不知何故,背后总有一个故事。
AX:我也确实这么认为,并试图在我对艺术品的想法中找到平衡。我在社交媒体上进行了讨论。我想得到该品牌的朋友和粉丝的意见。我还想提请大家注意,艺术品是在我们甚至还没有听说过疫情之前就完成的。所有这些想法激荡了我的脑海,我确实相信音乐标志着时间。我什至在2005年将我的发布称为"时间标记"。我清楚地记得那个发布的时期。我在1992年做了一段名为" 51 Days In Waco"的录音,在录音的那一天,我看到了一个非常著名的美国故事,内容是关于一个邪教领袖在联邦调查局中烧毁了他的邪教组织,杀死了将近80人的邪教组织袭击。我可以收听28年前的那首曲目,并将曲目的情绪与我刚刚在直播电视上观看的事件相关联,这真是太疯狂了。我将无法使用同一张EP上的其他歌曲来做到这一点。因此,从现在起的许多年里,周年纪念纪念的封面将唤起人们对这种疯狂疫情的记忆。希望我们可以回顾过去,就像记得那疯狂的破事一样。
I want to stay on the subject of Corona for a while. This is a really specific moment. Everything that was planned for 25 years of the label had to be postponed. Also MÆDON you came to Berlin utopian rave city and it's all off.
M: It was very surreal, I felt like I was living in a movie. There was no one in the streets, life looked like a scene taken out of the movie 28 Days Later.、
我想在疫情问题上停留一段时间。这是一个非常具体的时刻。该标签计划25年的所有计划都必须推迟。还有MÆDON,您是来过柏林乌托邦狂欢派对的,这一切都没有了。
M:那是非常超现实的,我觉得我住在电影里。大街上没有人,生活就像电影《 28天后》中拍摄的一幕。
How are you holding up through this period? What are your thoughts about how it would influence the scene and our everyday?
M: I'm holding up by keeping busy in the my makeshift studio here. As far as corona is concerned, it's caused my profession to be called the least essential work and also the most dangerous activity.
您在这段期间过得如何?您对它如何影响场景和我们的日常生活有何想法?
M:我忙于在这里的临时工作室忙个不停。就疫情而言,这使我的职业被称为最不重要的工作,也是最危险的活动。
How do you like Berlin so far?
M: Oh, I love it.
AX: We were finally able to go out for the first time, so things seem to be bit more normal for the last few weeks minus the clubbing.
M: I was here just before the lockdown happened for two weeks to play in Tresor. Adam took me to Berghain and that was fun. I kind of feel like I've finally made it home, I feel at home here and I'm surrounded by amazing people who are on a resonating wavelength as myself. Back in the states, I always felt like an outsider; that I didn't really fit in anywhere. The small techno scene in Baltimore didn't really accept me in their circle which was fine. I moved to Brooklyn which was far more accepting, but New Yorkers have their sound. Hardcore, gabber, and just generally faster bpms was taking over the dance floors.
到目前为止,您如何看待柏林?
M:哦,我喜欢。
AX:我们终于终于可以第一次出门了,所以过去几周越来越趋向普通,俱乐部的情况似乎有些正常。
M:我在锁定发生前两个星期在Tresor玩。Adam 带我去了伯格海恩,那很有趣。我觉得自己终于回到家了,在这里有家的感觉,周围有许多令人振奋的人,他们和我一样共鸣。
回到美国,我总是觉得自己像个局外人。我真的不适合任何地方。巴尔的摩的小型Techno现场在他们的圈子中并没有真正接受我,这很好。我搬到了布鲁克林,这更让人接受,但纽约人有他们的声音。硬派,混血儿和通常更快的bpm都占据了舞池。
You didn't feel it was your realm anymore?
M: Not really, I got to play some fun shows there but my vibe and my sound seems to fit better here.
您不觉得这是您的境界了吗?
M:真的,我必须在那里表演一些有趣的表演,但是我的氛围和声音似乎在这里更合适。
How do you feel you will celebrate this moment that was taken away?
AX: This situation is awful. It sucks. April 20th was supposed to be the release of the anniversary compilation. For me it's a monumental date as it's when our first record store "Groove Records" opened 30 years ago. The plan was to tie in the 30 year celebration of the birth of what would later become Sonic Groove in January 1995. It was also celebration of my 30th anniversary of djing out at events. I had all these cool anniversary events planned. We had a really big after party event planned for the Movement Festival in Detroit. We had a big one planned in New York at Basement Club and at Tresor we were supposed to take over two floors of the club, on July 3rd. There were other plans that were coming into fruition for it as well. I was excited for the release of the compilation in April, the events planned, then all this hard work and positive energy just got sucked right out of me. I guess we can do 25+1 next year, but quite honestly it won't feel the same.
I will release the compilation this Autumn. I'm really hoping that clubs are back open by then though I'm not holding my breath on it. I made all the artists give me the best they could do. Usually artists keep their best songs for their own albums or singles and will give their lesser quality tracks for various artist compilations. I said to all the artists on the label, that this a very special personal project and I want the best music for it. I was clear that I would pass on tracks I don't like.
I have to say all my artists gave me great tracks. So because of this I don't think it's fair for me to put this record out when there are no clubs opened where these tracks can be heard at.
Some people suggested to me that I should just release it as there are plenty of dj' s doing live streams, who would play it. To be honest I don't really care about live streams. I have no interested in doing them or watching them, I don't like the bedroom dj feel of it. The music on the compilation are all dance floor bangers. I want this music to be played loud at clubs. So I'm doing my best to wait for clubs to re-open before releasing it.
M: It goes two ways when you are playing – you are behind the decks or behind your gear and then you have the crowd. It's a give and take thing. On a stream the energy is missing.
AX: It's being in a room full of people, and if we break it down to physics – it's all about physical energy. I feed off the energy of the audience and if I play to an empty room I feel no energy. I don't have a dj setup at home since 15 years. Djing at home bores the shit out of me. I much prefer to listen to songs in their entirety.
M: That's why my set at Tresor was pretty much the best gig I ever played, because I had an absolutely amazing crowd.
您感觉如何庆祝这一被带走的时间?
AX:这种情况太糟糕了。糟透了。原定于4月20日发行周年纪念汇编。对我来说,这是一个具有里程碑意义的日子,就像30年前我们的第一家唱片商店" Groove Records"开业一样。这项计划是为了庆祝30周年纪念此后成为1995年1月的Sonic Groove。这也是为了纪念我在活动中脱颖而出30周年。我计划了所有这些很酷的周年纪念活动。我们为底特律运动节计划了一个非常盛大的afterparty。我们计划在纽约的地下室俱乐部举办一个大型活动,而在Tresor,我们应该在7月3日接管俱乐部的两层楼。为此,还有其他计划正在实现。我为4月份的音乐汇编发布,计划的活动感到兴奋,然后所有这些辛苦的工作和积极的精力就这样离我而去。我想明年我们可以做25 + 1,但是老实说,感觉会不一样。
我将在今年秋天发布汇编。我确实希望届时俱乐部重开。我让所有艺术家竭尽所能去演出。通常,艺术家会为自己的专辑或单曲保留最佳歌曲,并会为各种艺术家合集提供质量较低的曲目。我对唱片公司上的所有艺术家说,这是一个非常特殊的项目,我想要最好的音乐。很明显,我会否决所有自己不喜欢的曲目。
我不得不说我所有的艺术家都给我留下了深刻的印象。因此,在没有可以听到这些曲目的俱乐部开张的情况下,我把这张唱片发布出去是不公平的。
有人向我建议我应该发布它,因为有很多dj正在直播。老实说,我不太在意直播。我对做或观看都没有兴趣,我不喜欢卧室dj的感觉。汇编中的音乐都是舞池里的砰砰声。我希望这些音乐在俱乐部大声播放。因此,我正在竭尽全力等待俱乐部重新开放,然后再演出
M:演出时有两种方式-在设备后面,或者在一群观众中,这是不一样的,直播缺少了一些能量
AX:如果在一个挤满了人的房间里,我们用物理学的角度来理解,那全都是关于物理能量的,关于我的音乐与观众的观众的能量。如果我在空荡荡的房间里玩,我会感觉没有能量。我已经15年没有家里的dj装置了。家里的Djing使我厌烦。我更喜欢听和大家一起听歌。
M:这就是为什么我在Tresor的演出几乎是我玩过的最好的演出的原因,因为我的观众是最好的观众.
How did the lockdown influence your creative process? For many it was a really hard time to focus on working.
AX: I just need to get back in a flow. Corona kind of sucked the energy out of me for making music. I haven't worked much on music since the pandemic began. Back in January I started working on a new ADMX-71 album which is my downtempo experimental side project. I sketched several songs before the pandemic hit and I was making pretty good progress on them but then the pandemic hit and with all the lost gigs , all my year travel plans flushed down the toilet it sucked my energy for it. So instead I've immersed myself into my graffiti art & photography projects. The album though is around 70% done now and I'm slowly working on it again. I'll try to finish it up in the next months.
I haven't had any inspiration to make dance floor music, because when I make dance floor tracks I like to test them at different stages when djing out. If something is not working right: the sound production or if the crowd response is underwhelming then its back to the drawing board.
Forthcoming in September is the Adam X-Acid Archive 92-94 album on L.I.E.S. It's a compilation of my early 90's acid techno works that was also to come out when the Sonic Groove compilation was supposed to be released back in April. It will be out in September now. I am also working on a new single for BITE. I already have one song done for it. I will finish the second track at some point.
At the moment I'm listening to a lot of music and catching up on some recent music that I missed.
锁定编排对您的创作过程有何影响?对于许多人来说,专注于工作真的是非常困难的时期。
AX:我只需要回到流程中即可。 电晕使我从制作音乐中汲取了精力。 自疫情开始以来,我在音乐方面工作不多。 在一月份时,我开始制作一张新的ADMX-71专辑,这是我的低速实验性音乐的副作品。 在流行病爆发之前,我草绘了几首歌曲,并且在它们上取得了不错的进步,但是后来流行病流行,并丢掉了演出,我全年的旅行计划都付诸东流,这让我很吃力。 因此,我将自己投入到涂鸦艺术和摄影项目中。 这张专辑现在已经完成了大约70%,我正在慢慢地重新制作。 我将在接下来的几个月中尝试完成。
我没有灵感来制作舞池音乐,因为当我制作舞池曲目时,我喜欢在跳出时在不同阶段对其进行测试。 如果某些方法运行不正常:声音产生或人群反应不佳,则将其重制。
即将在9月发行的L.I.E.S.专辑Adam X-Acid Archive 92-94 这是我90年代初期制酸技术作品的汇编,也是在Sonic Groove汇编本应于4月发行的时候发行的。 现在将在九月发布.我还在为BITE制作新单曲。 我已经为它做了一首歌.我将在某个时候完成第二首曲目.目前,我正在听很多音乐,并赶上一些我错过的最新音乐。
What are your inspirations lately? Who are you listening to?
AX: I listen to all kinds of electronic music. Techno , acid, New Beat, EBM, Industrial, Downtempo, old and new. At the moment I'm not following any one artist. I like an assortment of different tracks from many different artists.
您最近的灵感是什么? 你在听谁
AX:我听各种电子音乐.Techno.迷幻.NewBeat,EBM,工业.Downtempo,新老。 目前.我还没有关注任何一位艺术家.我喜欢来自许多不同艺术家的各种曲目.
Are there any artists you would like to give a shout out here?
AX: All my Sonic Groove people: MÆDON, Rhys Fulber, Orphx, Realmz, Diagentic Origin, Crystal Geometry, Dasha Rush, Max Durante, Panacea, Henning Baer, Rawkorder, Monolith, Ireen Amnes… and of course my close Berlin scene peeps Phase Fatale, Zanias, Unhuman, Sarin, David Foster, Philipp Strobel, Tommy 47, Mliton Bradley.
The artists were interviewed by @ankapitu and shot by @keyistudio @eyes_dice & @berlin_bunny_
Sonic Groove http://www.sonicgroove.com
Bandcamp https://sonicgroove.bandcamp.com
Read also soon the interview by The Brvtalist with Crystal Geometry link will follow soon
Photos : Keyi Studio www.keyi.eu