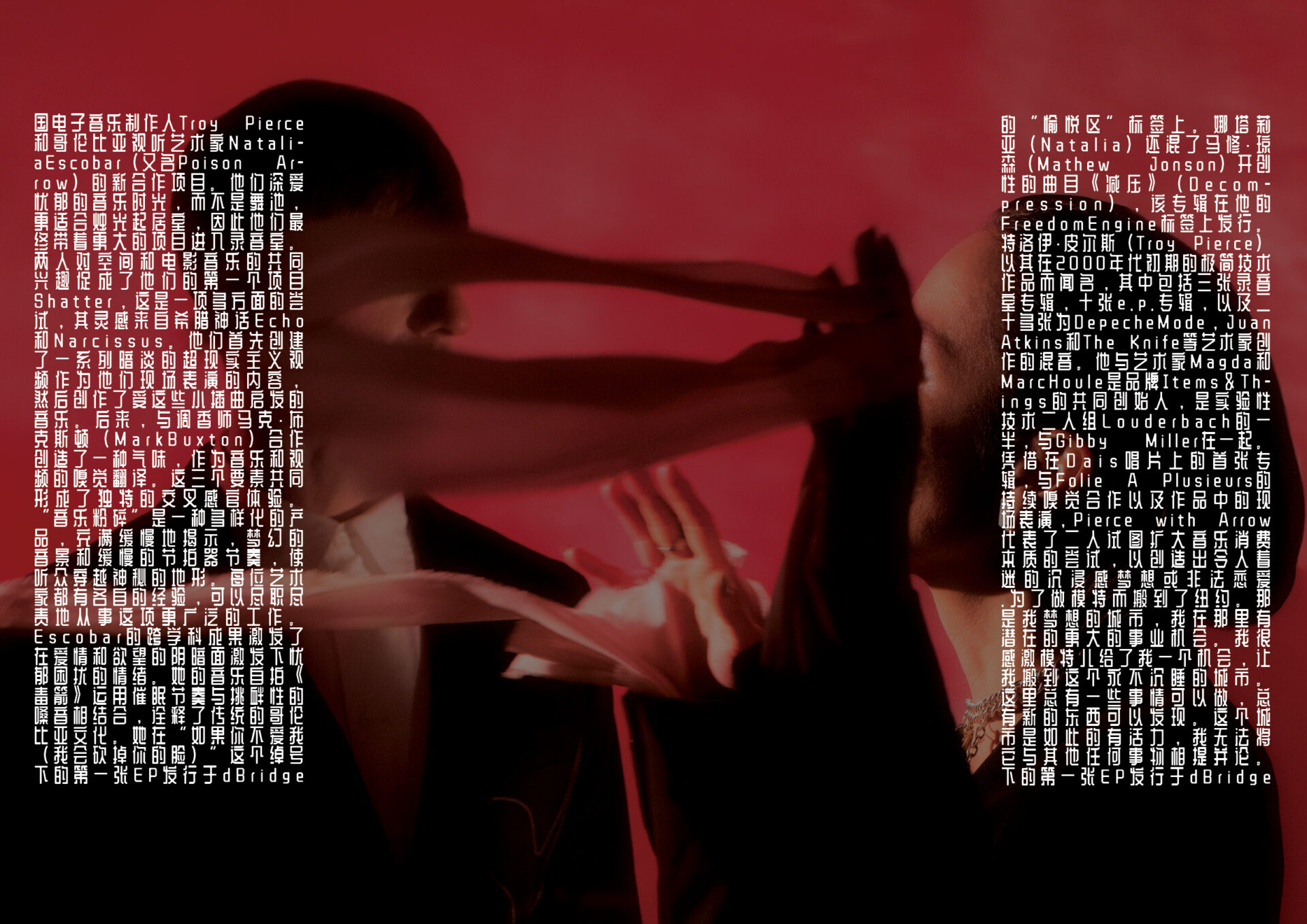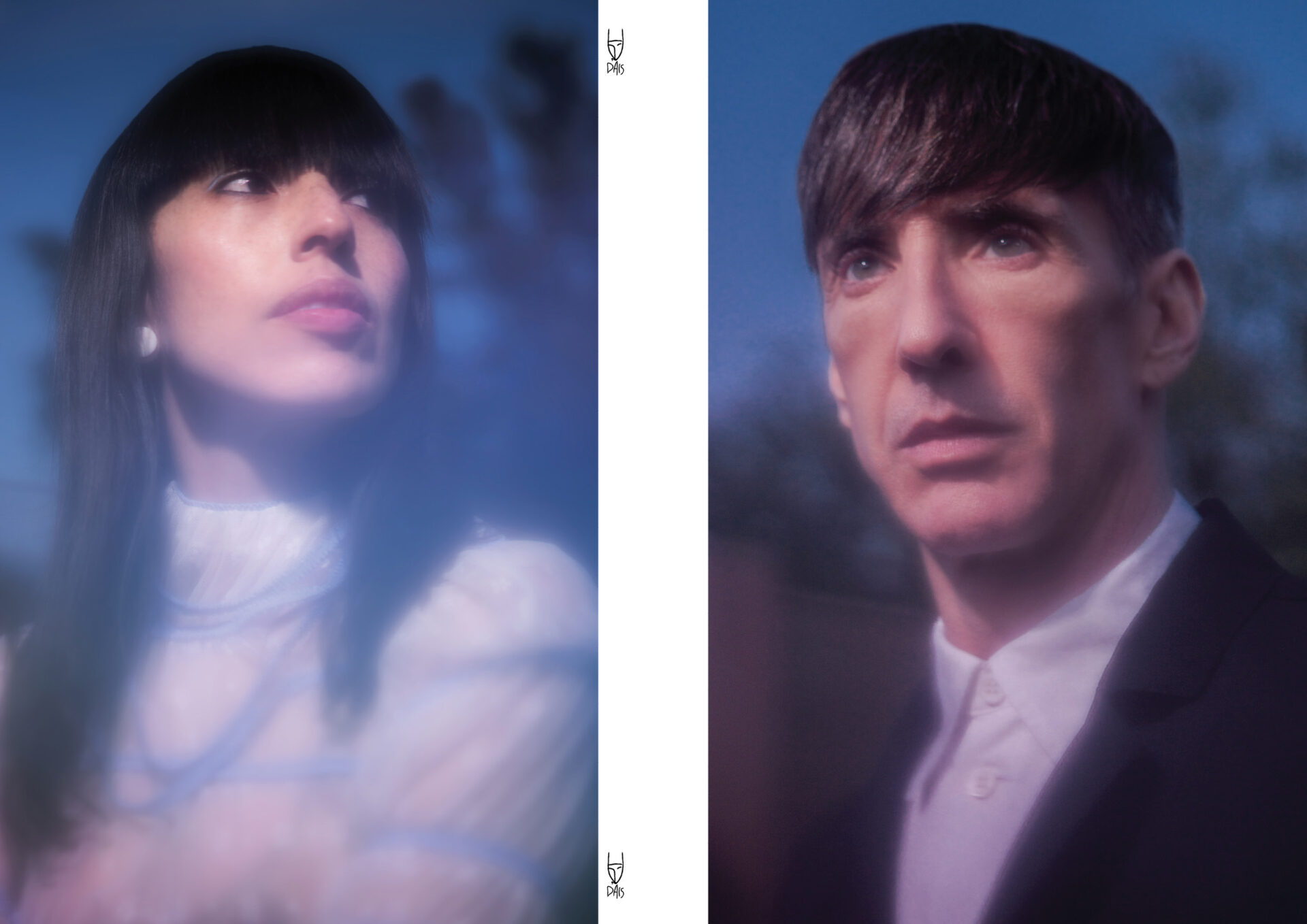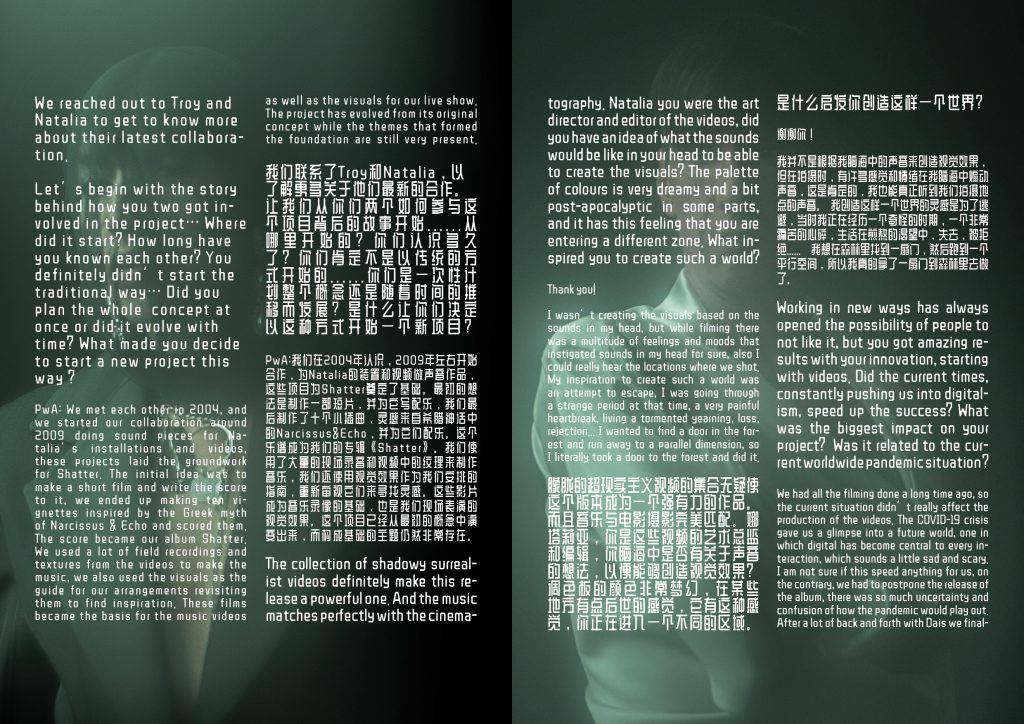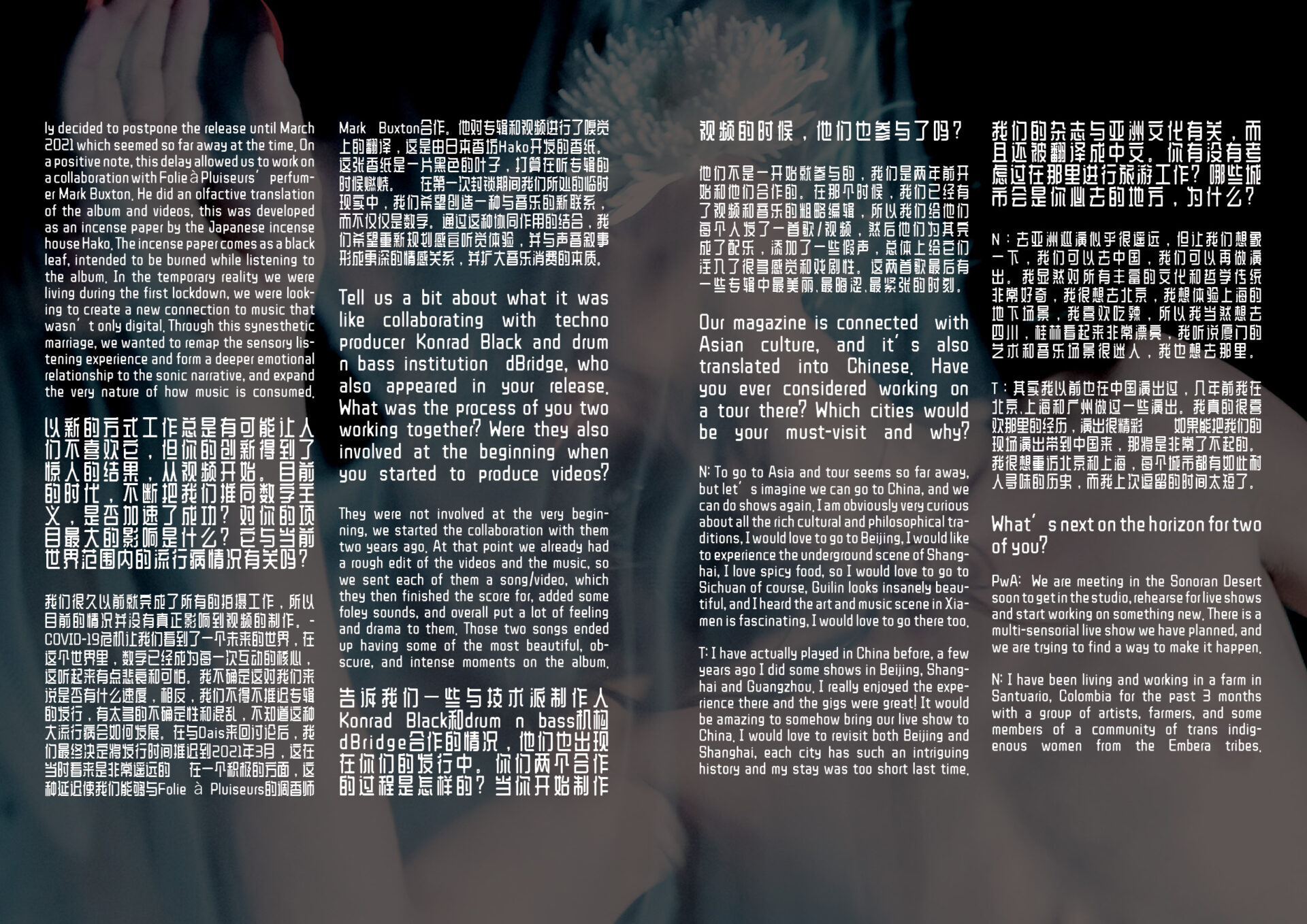 Pierce with Arrow is the new collaborative project of U.S. electronic music producer Troy Pierce and Colombian audiovisual artist Natalia Escobar, aka Poison Arrow. Born of a shared love for deeply melancholic musical moments more suited to a candle lit living room than a dance floor, they eventually went into the studio with a larger project in mind.
The duo's shared interest in a spatial and cinematic approach to music informed their first project, Shatter, a multi-faceted endeavor inspired by the Greek myth of Echo and Narcissus. They first created a collection of shadowy surrealist videos as content for their live performances, and then wrote music inspired by these vignettes. Later, a scent was created in collaboration with the perfumer Mark Buxton as an olfactive translation of the music and videos. These three elements come together to form a unique cross-sensoryexperience.
Musically Shatter is a diverse offering, full of slowly revealing, dreamy soundscapes and sluggish off kilter beats that lead the listener through mysterious terrain. Individually, each artist has a range of experiences that dutifully lend themselves to this more expansive work.
Escobar's interdisciplinary output invokes moods of haunting melancholy, inspired by the dark side of love and desire. Her musical alter ego Poison Arrow uses hypnotic rhythms paired with provocative vocals in an interpretation of traditional Colombian cultural tropes. Her first EP under this moniker 'If You Don't Love me (I'll Cut Your Face)' was released on dBridge's Pleasure District Label. Natalia also remixed Mathew Jonson's seminal track Decompression, released on his Freedom Engine label.
Troy Pierce is best known for his minimal techno productions in the early 2000's, which include three studio albums, ten e.p.'s, and more than twenty remixes for artists including Depeche Mode, Juan Atkins, and The Knife. He was a co-founder of the label Items & Things, along with fellow artists Magda and Marc Houle, and is one half of the experimental techno duo Louderbach, alongside Gibby Miller.
With their debut album on Dais records, an ongoing olfactory collaboration with Folie A Plusieurs, and a live show in the works, Pierce with Arrow represents the duo's attempt to expand the very nature of how music is consumed to create something as immersive as a harrowing dream or an illicit love affair.
《 Pierce with Arrow》是美国电子音乐制作人Troy Pierce和哥伦比亚视听艺术家NataliaEscobar(又名Poison Arrow)的新合作项目。他们深爱忧郁的音乐时光,而不是舞池,更适合烛光起居室,因此他们最终带着更大的项目进入录音室。
两人对空间和电影音乐的共同兴趣促成了他们的第一个项目Shatter,这是一项多方面的尝试,其灵感来自希腊神话Echo和Narcissus。他们首先创建了一系列暗淡的超现实主义视频作为他们现场表演的内容,然后创作了受这些小插曲启发的音乐。后来,与调香师马克·布克斯顿(MarkBuxton)合作创造了一种气味,作为音乐和视频的嗅觉翻译。这三个要素共同形成了独特的交叉感官体验。
"音乐粉碎"是一种多样化的产品,充满缓慢地揭示,梦幻的音景和缓慢的节拍器节奏,使听众穿越神秘的地形。每位艺术家都有各自的经验,可以尽职尽责地从事这项更广泛的工作。
Escobar的跨学科成果激发了在爱情和欲望的阴暗面激发下忧郁困扰的情绪。她的音乐自拍《毒箭》运用催眠节奏与挑衅性的嗓音相结合,诠释了传统的哥伦比亚文化。她在"如果你不爱我(我会砍掉你的脸)"这个绰号下的第一张EP发行于dBridge的"愉悦区"标签上。娜塔莉亚(Natalia)还混了马修·琼森(Mathew Jonson)开创性的曲目《减压》(Decompression),该专辑在他的FreedomEngine标签上发行。
特洛伊·皮尔斯(Troy Pierce)以其在2000年代初期的极简技术作品而闻名,其中包括三张录音室专辑,十张e.p.专辑,以及二十多张为DepecheMode,Juan Atkins和The Knife等艺术家创作的混音。他与艺术家Magda和MarcHoule是品牌Items&Things的共同创始人,是实验性技术二人组Louderbach的一半,与Gibby Miller在一起。
凭借在Dais唱片上的首张专辑,与Folie A Plusieurs的持续嗅觉合作以及作品中的现场表演,Pierce with Arrow代表了二人试图扩大音乐消费本质的尝试,以创造出令人着迷的沉浸感梦想或非法恋爱
.为了做模特而搬到了纽约。那是我梦想的城市,我在那里有潜在的更大的事业机会。我很感激模特儿给了我一个机会,让我搬到这个永不沉睡的城市。这里总有一些事情可以做,总有新的东西可以发现。这个城市是如此的有活力,我无法将它与其他任何事物相提并论。
下的第一张EP发行于dBridge
We reached out to Troy and Natalia to get to know more about their latest collaboration. 
Let's begin with the story behind how you two got involved in the project… Where did it start? How long have you known each other? You definitely didn't start the traditional way… Did you plan the whole  concept at once or did it evolve with time? What made you decide to start a new project this way ?
PwA: We met each other in 2004, and we started our collaboration around 2009 doing sound pieces for Natalia's installations and videos, these projects laid the groundwork for Shatter. The initial idea was to make a short film and write the score to it, we ended up making ten vignettes inspired by the Greek myth of Narcissus & Echo and scored them.
The score became our album Shatter. We used a lot of field recordings and textures from the videos to make the music, we also used the visuals as the guide for our arrangements revisiting them to find inspiration. These films became the basis for the music videos as well as the visuals for our live show. The project has evolved from its original concept while the themes that formed the foundation are still very present.
我们联系了Troy和Natalia,以了解更多关于他们最新的合作。
让我们从你们两个如何参与这个项目背后的故事开始……从哪里开始的?你们认识多久了?你们肯定不是以传统的方式开始的……你们是一次性计划整个概念还是随着时间的推移而发展?是什么让你们决定以这种方式开始一个新项目?
PwA:我们在2004年认识,2009年左右开始合作,为Natalia的装置和视频做声音作品,这些项目为Shatter奠定了基础。最初的想法是制作一部短片,并为它写配乐,我们最后制作了十个小插曲,灵感来自希腊神话中的Narcissus&Echo,并为它们配乐。这个乐谱成为我们的专辑《Shatter》。我们使用了大量的现场录音和视频中的纹理来制作音乐,我们还使用视觉效果作为我们安排的指南,重新审视它们来寻找灵感。这些影片成为音乐录像的基础,也是我们现场表演的视觉效果。这个项目已经从最初的概念中演变出来,而构成基础的主题仍然非常存在。
The collection of shadowy surrealist videos definitely make this release a powerful one. And the music matches perfectly with the cinematography. Natalia you were the art director and editor of the videos, did you have an idea of what the sounds would be like in your head to be able to create the visuals? The palette of colours is very dreamy and a bit post-apocalyptic in some parts, and it has this feeling that you are entering a different zone. What inspired you to create such a world?
Thank you!
I wasn't creating the visuals based on the sounds in my head, but while filming there was a multitude of feelings and moods that instigated sounds in my head for sure, also I could really hear the locations where we shot. My inspiration to create such a world was an attempt to escape, I was going through a strange period at that time, a very painful heartbreak, living a tormented yearning, loss, rejection… I wanted to find a door in the forest and run away to a parallel dimension, so I literally took a door to the forest and did it.
朦胧的超现实主义视频的集合无疑使这个版本成为一个强有力的作品。而且音乐与电影摄影完美匹配。娜塔莉亚,你是这些视频的艺术总监和编辑,你脑海中是否有关于声音的想法,以便能够创造视觉效果?调色板的颜色非常梦幻,在某些地方有点后世的感觉,它有这种感觉,你正在进入一个不同的区域。是什么启发你创造这样一个世界?
谢谢你!
我并不是根据我脑海中的声音来创造视觉效果,但在拍摄时,有许多感觉和情绪在我脑海中煽动声音,这是肯定的,我也能真正听到我们拍摄地点的声音。 我创造这样一个世界的灵感是为了逃避,当时我正在经历一个奇怪的时期,一个非常痛苦的心碎,生活在煎熬的渴望中,失去,被拒绝…… 我想在森林里找到一扇门,然后跑到一个平行空间,所以我真的拿了一扇门到森林里去做了。
Working in new ways has always opened the possibility of people to not like it, but you got amazing results with your innovation, starting with videos. Did the current times, constantly pushing us into digitalism, speed up the success? What was the biggest impact on your project?  Was it related to the current worldwide pandemic situation ?
We had all the filming done a long time ago, so the current situation didn't really affect the production of the videos. The COVID-19 crisis gave us a glimpse into a future world, one in which digital has become central to every interaction, which sounds a little sad and scary. I am not sure if this speed anything for us, on the contrary, we had to postpone the release of the album, there was so much uncertainty and confusion of how the pandemic would play out. After a lot of back and forth with Dais we finally decided to postpone the release until March 2021 which seemed so far away at the time. On a positive note, this delay allowed us to work on a collaboration with Folie à Pluiseurs' perfumer Mark Buxton. He did an olfactive translation of the album and videos, this was developed as an incense paper by the Japanese incense house Hako. The incense paper comes as a black leaf, intended to be burned while listening to the album. In the temporary reality we were living during the first lockdown, we were looking to create a new connection to music that wasn't only digital. Through this synesthetic marriage, we wanted to remap the sensory listening experience and form a deeper emotional relationship to the sonic narrative, and expand the very nature of how music is consumed.
以新的方式工作总是有可能让人们不喜欢它,但你的创新得到了惊人的结果,从视频开始。目前的时代,不断把我们推向数字主义,是否加速了成功?对你的项目最大的影响是什么?它与当前世界范围内的流行病情况有关吗?
我们很久以前就完成了所有的拍摄工作,所以目前的情况并没有真正影响到视频的制作。COVID-19危机让我们看到了一个未来的世界,在这个世界里,数字已经成为每一次互动的核心,这听起来有点悲哀和可怕。我不确定这对我们来说是否有什么速度,相反,我们不得不推迟专辑的发行,有太多的不确定性和混乱,不知道这种大流行病会如何发展。在与Dais来回讨论后,我们最终决定将发行时间推迟到2021年3月,这在当时看来是非常遥远的 在一个积极的方面,这种延迟使我们能够与Folie à Pluiseurs的调香师Mark Buxton合作。他对专辑和视频进行了嗅觉上的翻译,这是由日本香坊Hako开发的香纸。这张香纸是一片黑色的叶子,打算在听专辑的时候燃烧。 在第一次封锁期间我们所处的临时现实中,我们希望创造一种与音乐的新联系,而不仅仅是数字。通过这种协同作用的结合,我们希望重新规划感官听觉体验,并与声音叙事形成更深的情感关系,并扩大音乐消费的本质。
Tell us a bit about what it was like collaborating with techno producer Konrad Black and drum n bass institution  dBridge, who also appeared in your release. What was the process of you two working together? Were they also involved at the beginning when you started to produce videos?
They were not involved at the very beginning, we started the collaboration with them two years ago. At that point we already had a rough edit of the videos and the music, so we sent each of them a song/video, which they then finished the score for, added some foley sounds, and overall put a lot of feeling and drama to them. Those two songs ended up having some of the most beautiful, obscure, and intense moments on the album.
告诉我们一些与技术派制作人Konrad Black和drum n bass机构dBridge合作的情况,他们也出现在你们的发行中。你们两个合作的过程是怎样的?当你开始制作视频的时候,他们也参与了吗?
他们不是一开始就参与的,我们是两年前开始和他们合作的。在那个时候,我们已经有了视频和音乐的粗略编辑,所以我们给他们每个人发了一首歌/视频,然后他们为其完成了配乐,添加了一些假声,总体上给它们注入了很多感觉和戏剧性。这两首歌最后有一些专辑中最美丽、最晦涩、最紧张的时刻。
Our magazine is connected  with Asian culture, and it's also translated into Chinese. Have you ever considered working on a tour there? Which cities would be your must-visit and why?
N: To go to Asia and tour seems so far away, but let's imagine we can go to China, and we can do shows again. I am obviously very curious about all the rich cultural and philosophical traditions, I would love to go to Beijing, I would like to experience the underground scene of Shanghai, I love spicy food, so I would love to go to Sichuan of course, Guilin looks insanely beautiful, and I heard the art and music scene in Xiamen is fascinating, I would love to go there too.
T: I have actually played in China before, a few years ago I did some shows in Beijing, Shanghai and Guangzhou. I really enjoyed the experience there and the gigs were great! It would be amazing to somehow bring our live show to China. I would love to revisit both Beijing and Shanghai, each city has such an intriguing history and my stay was too short last time.
我们的杂志与亚洲文化有关,而且还被翻译成中文。你有没有考虑过在那里进行旅游工作?哪些城市会是你必去的地方,为什么?
N:去亚洲巡演似乎很遥远,但让我们想象一下,我们可以去中国,我们可以再做演出。我显然对所有丰富的文化和哲学传统非常好奇,我很想去北京,我想体验上海的地下场景,我喜欢吃辣,所以我当然想去四川,桂林看起来非常漂亮,我听说厦门的艺术和音乐场景很迷人,我也想去那里。
T:其实我以前也在中国演出过,几年前我在北京、上海和广州做过一些演出。我真的很喜欢那里的经历,演出很精彩 如果能把我们的现场演出带到中国来,那将是非常了不起的。我很想重访北京和上海,每个城市都有如此耐人寻味的历史,而我上次逗留的时间太短了。
What's next on the horizon for two of you?
PwA: We are meeting in the Sonoran Desert soon to get in the studio, rehearse for live shows and start working on something new. There is a multi-sensorial live show we have planned, and we are trying to find a way to make it happen.
N: I have been living and working in a farm in Santuario, Colombia for the past 3 months with a group of artists, farmers, and some members of a community of trans indigenous women from the Embera tribes.
We just finished an intense and emotional month filming with them. It was such a beautiful and surreal experience, I had to unlearn everything I thought I knew and surrender to a new language of life.
I am now working on the post-production of the film and the music for it, the idea is to create an album and an immersive audiovisual installation, shifting the focus from white, western and urban designs of gender identity to post-colonial, non-western, and rural concepts of queerness.
T: I am wrapping up a few remixes now, and I am also starting to work on a new A/V project with my wife Cornelia Thonhauser inspired by sacred American Indian sites in Arizona and New Mexico.
你们两个人的下一步是什么?
PwA:我们很快就会在索诺兰沙漠开会,进入录音室,为现场演出排练,并开始研究新的东西。我们有一个多感官的现场表演计划,我们正试图找到一种方法来实现它。
N:在过去的3个月里,我和一群艺术家、农民以及来自恩贝拉部落的变性土著妇女社区的一些成员一起,在哥伦比亚圣图阿里奥的一个农场生活和工作。
我们刚刚完成了与他们一起拍摄的紧张而感性的一个月。这是一个如此美丽和超现实的经历,我不得不解除我认为自己知道的一切,并向一种新的生活语言投降。 我现在正在进行电影和音乐的后期制作,想法是创造一张专辑和一个沉浸式视听装置,将重点从白人、西方和城市的性别身份设计转移到后殖民、非西方和农村的同性恋概念。
T:我现在正在完成一些混音作品,我也开始与我的妻子Cornelia Thonhauser合作一个新的A/V项目,灵感来自于亚利桑那州和新墨西哥州的美国印第安圣地.
Artist : Troy Pierce & Poison Arrow
Interview 作者: Grzegorz Bacinski
Translation 翻译: Emi
Photos照片: Cornelia Thonhauser
Label : Dais Records