Twice a year, Berlin becomes an international stage for fashion and lifestyle.
At the Berlin Fashion Week, fashion-lovers, buyers, trade visitors and media representatives meet for shows and awards. Find out about latest collections and trends at the trade fairs, visit exhibitions and off-site events.
The Berlin Fashion Week will increasingly continue to focus as before on sustainability and fashion tech – in a digital & hybrid way. Visitors can expect fashion shows, presentations, conferences, expert talks, new formats, strong players, national & international designers.
柏林每年兩次成為時尚和生活方式的國際舞台。
在柏林時裝週上,時尚愛好者、買手、貿易觀眾和媒體代表齊聚一堂,共同參加秀場和頒獎典禮。在展會上了解最新的系列和趨勢,參觀展覽和場外活動。
柏林時裝週將一如既往地以數字和混合方式繼續關注可持續性和時尚技術。參觀者可以期待時裝秀、演講、會議、專家講座、新形式、強大的參與者、國內和國際設計師。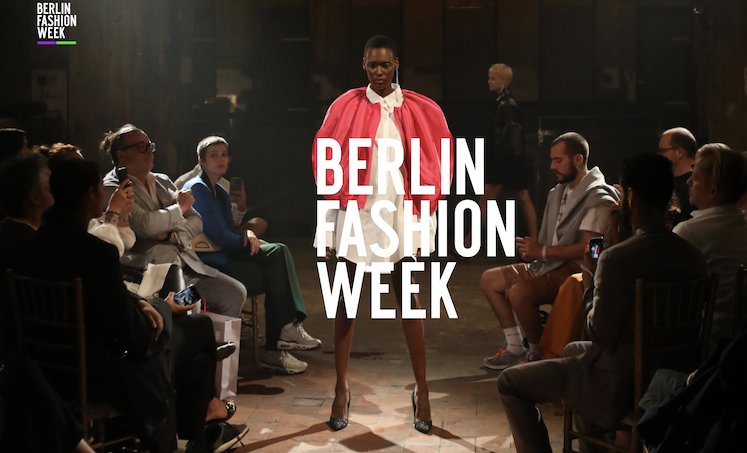 The Senate department for Economics, Energy and Public Enterprises/projekt Zukunft has been supporting the fashion industry since 2007 with subsidies and loans of more than 10 million euros and a portfolio of comprehensive steps. Each year, several fashion shows of labels from Berlin are financed. Since 2013, labels from Berlin show their collections at Berlin Showroom – a plattform initated by the Senate Department of Economics, Energy and Public Enterprises to help designers distributing their collections in foreign countries such as France (Paris) and USA (New York). More information: https://projektzukunft.berlin.de/en/
Berlin Partner für Wirtschaft und Technologie GmbH has been responsible for location marketing around Berlin Fashion Week since 2007. Berlin Partner is developing the Key Visual, which is used for outdoor advertising in the city, for advertisements in national and international magazines and newspapers, as well as all relevant social media channels, on behalf of the Senate Administration for Economy, Energy and Business.
The website https://fashion-week-berlin.com/, with the only calendar overview of all events during the Berlin Fashion Week, is being further developed with the aim of further consolidating the positioning of Berlin as an international fashion metropolis.
More information: https://www.berlin-partner.de/en/
參議院經濟、能源和公共企業部 / projekt Zukunft 自 2007 年以來一直以超過 1000 萬歐元的補貼和貸款以及一系列綜合措施支持時尚產業。每年都會資助幾場柏林品牌的時裝秀。自 2013 年以來,柏林的品牌在柏林陳列室展示他們的系列——這是一個由參議院經濟、能源和公共企業部發起的平台,旨在幫助設計師在法國(巴黎)和美國(紐約)等國外分銷他們的系列。更多信息:https://projektzukunft.berlin.de/en/
Berlin Partner für Wirtschaft und Technologie GmbH 自 2007 年以來一直負責柏林時裝週的定位營銷。 Berlin Partner 正在開發 Key Visual,用於城市戶外廣告、國內和國際雜誌和報紙的廣告以及作為所有相關的社交媒體渠道,代表參議院經濟、能源和商業管理局。網站 https://fashion-week-berlin.com/ 是柏林時裝週所有活動的唯一日曆概覽,正在進一步開發中,旨在進一步鞏固柏林作為國際時尚大都市的定位。更多信息:https://www.berlin-partner.de/en/