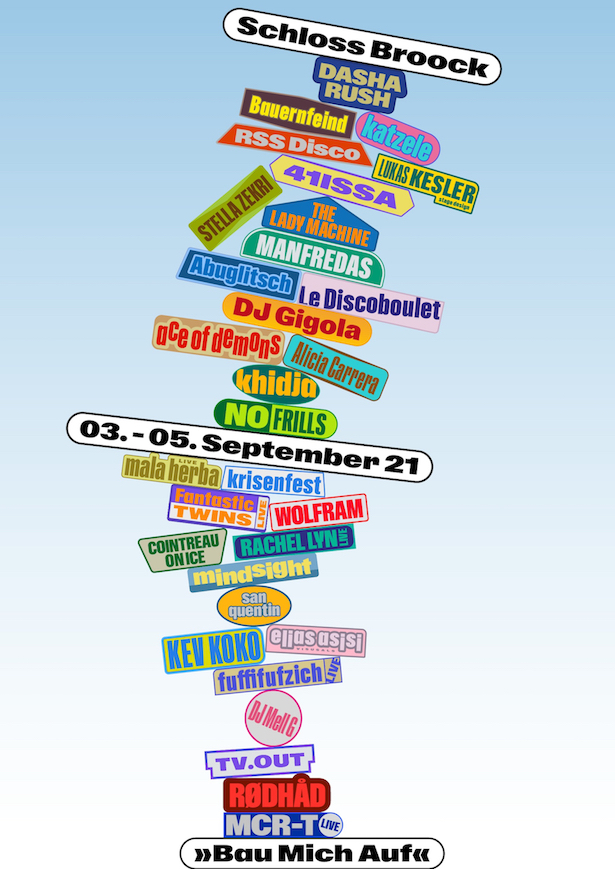 BAU MICH AUF is a brand new electronic music festival, taking place in the grounds of Schloss Broock in the state of Mecklenburg-Vorpommern, Germany – 2 hours drive from Berlin. The first edition takes place from 3rd – 5th September 2021, with a capacity limited to 500 people.
For its first edition, BAU MICH AUF – which translates as Build Me Up – takes over the grounds of Schloss Broock, a 14th century castle in the countryside of North-Eastern Germany.

Schloss Broock has a storied past. A royal castle that was passed down the ages through a nonlinear succession of royals, it went through a number of architectural transformations, each owner adapting it to their needs and fancies. After the German land reform that followed the end of the second world war, the castle was host to World War II refugees, a "Kindergarten", a school, a cooperative store and the local municipality.

It was forgotten in the seventies. Locals from the neighboring countryside stripped it for its worth until it was not much more than an empty structure. But in the past few years, life has begun to return to the castle. Planned renovations will be completed in 2024 at which point the castle will become one of the main focal points of the cultural landscape of the state of Mecklenburg-Vorpommern. BAU MICH AUF is part of this process of renewal. It aims to deliberately create a world of sound that reflects the ambiguity of its presence in such grounds, rather than build a parallel universe of escapism.

BAU MICH AUF is curated by Live From Earth – the irreverent label and collective from Berlin, as well known for its German cloud rap superstars as it is respected for its collaborations with Public Possession and PAN or its Live From Earth Klub label and residency in Berghain's Säule – and Eric Schönemeier – former booker of the acclaimed and impeccably curated Monticule Festival in southern France.
The lineup reflects the unruly yet thoroughly relevant spirit of its founders. Set across three stages dotted across the castle grounds, BAU MICH AUF brings together contrasting and complementary strands of the electronic music world. The heads down techno contingency comes well represented by Berlin favorite Rødhåd. Tel-Aviv's prime purveyors of dancefloor psychedelia Malka Tuti close the festival on the sunday with a showcase featuring Manfredas, Katzele, Khidja, Alicia Carrera and Fantastic Twins (live). Live From Earth will showcase the very best of their club imprint with scene darlings DJ Gigola, DJ Mell G, Marie Montexier and MCR-T (live). Trendsetting livestream platform HÖR will be present for its second ever off-location livestream with Dasha Rush, Kev Koko, The Lady Machine, TV.OUT, Wolfram and Mala Herba (live). Local Berlin, Hamburg and Munich talent also comes very well represented by Stella Zekri, 41ISSA, RSS Disco, San Quentin and more.
While BAU MICH AUF is very strictly music focused, the visual component has been well considered. Theater stage designer Lukas Kesler takes control of the main stage with an Akira based theme while visual artist Elias Asisi creates a special light concept for all three stages. The castle garden comes designed by the newly founded collective Krisenfest led by theatre stage designer Stephanie Zurstegge and fine artist Jesaja Rüschenschmidt. Queer musical theatre group and Fusion theatre festival at.tension favorites Cointreau on Ice will also bring their unique touch to the festival across multiple performances.
3 day tickets for BAU MICH AUF are on sale for 70€ + booking fee. Please note that the capacity is limited to 500 guests. A strict hygiene protocol will be respected, for more information please read the FAQ.
LINKS & FURTHER INFO
www.baumichauf.com
www.schlossgut-broock.de
Resident Advisor Event
Tickets