Part of our roster members Adriana López, Alessandro Adriani, Alienata, Anthony Rother, Ben Sims, Bloody Mary, Cardopusher, CONCEPTUAL, Kessell, Kwartz, Lewis Fautzi, Nørbak, Oscar Mulero, P.E.A.R.L. , Psyk, Tripeo, Umwelt and Zadig provide a unique track for the Unique Exercises compilation, which was released on the Source Artists Bandcamp page on April 7 – 2022 :  
sourceartists.bandcamp.com/album/unique-exercises-compilation

Multidisciplinary graphic artist Patti Hazel(@acid_hazel) has been in charge of the art design of the complete Unique Exercises collection and has created 18 unique pieces for each song. Visual artist Efren Mur (@efrenmur) has adapted and animated digitally the audio and art pieces creating 18 unique audiovisual NFT's. 

The NFT collection can already be viewed at the Source Artists Open Sea page https://opensea.io/collection/unique-exercises .

It will be made available for sale starting April 7, selling 3 NFT's weekly.

If you complete the 18 NFT's collection you'll get a printed edition collage with all individual artworks on a high-quality printed poster.

On top of that an exclusive mix by Alienata celebrate the release.
Join us on this next step in our artistic output and collect your own piece of art that will last forever.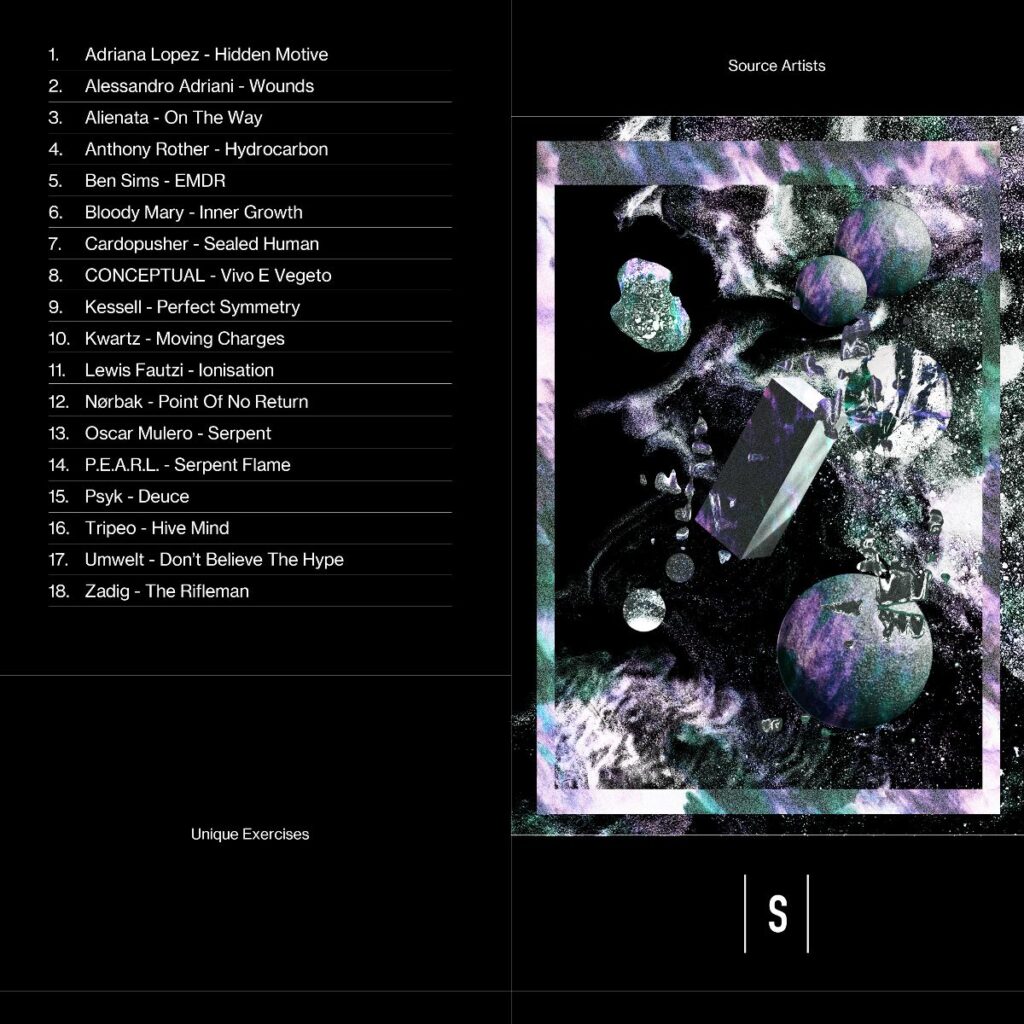 我们名册的一部分成员 Adriana López、Alessandro Adriani、Alienata、Anthony Rother、Ben Sims、Bloody Mary、Cardopusher、CONCEPTUAL、Kessell、Kwartz、Lewis Fautzi、Nørbak、Oscar Mulero、P.E.A.R.L. 、Psyk、Tripeo、Umwelt 和 Zadig 为 Unique Exercises 合辑提供了独特的曲目,该合辑于 2022 年 4 月 7 日至 2022 年在 Source Artists Bandcamp 页面上发布:
sourceartists.bandcamp.com/album/unique-exercises-compilation
多学科图形艺术家 Patti Hazel(@acid_hazel) 一直负责整个独特练习系列的艺术设计,并为每首歌曲创作了 18 首独特的作品。视觉艺术家 Efren Mur (@efrenmur) 对音频和艺术作品进行了数字化改编和动画处理,创造了 18 个独特的视听 NFT。
NFT 系列已经可以在 Source Artists Open Sea 页面 https://opensea.io/collection/unique-exercises 上查看。
它将于 4 月 7 日开始发售,每周发售 3 个 NFT。
如果您完成了 18 NFT 的收藏,您将获得一张印刷版拼贴画,其中包含高质量印刷海报上的所有个人艺术品。
最重要的是,Alienata 的独家混音庆祝发布。
LISTEN TRACK FROM ALIENATA: