Wax Wings returns to home imprint HE.SHE.THEY. to deliver his powerful new single 'Don't Be Afraid!' featuring FAP!.
An artist at the heart of HE.SHE.THEY. and an individual who embodies and represents the label and collective's ethos and outlook in full, London-based DJ and producer Wax Wings has undoubtedly made an impact since making his first appearance on The Weird and Wonderful back in 2016. Since then, the creative and diverse talent has gone on to release a wealth of material via the likes of Skint, Mobilee, Kneaded Pains and Polymath, while steadily crafting and curating a darker, more menacing sound and aesthetic with a string of solo releases, collaborations and remixes on HE.SHE.THEY. Returning in style for his first material of 2022 on the imprint, the core label resident now partners with FAP! (Fritz & Poko) to showcase the warping sonics of his new single 'Don't Be Afraid'.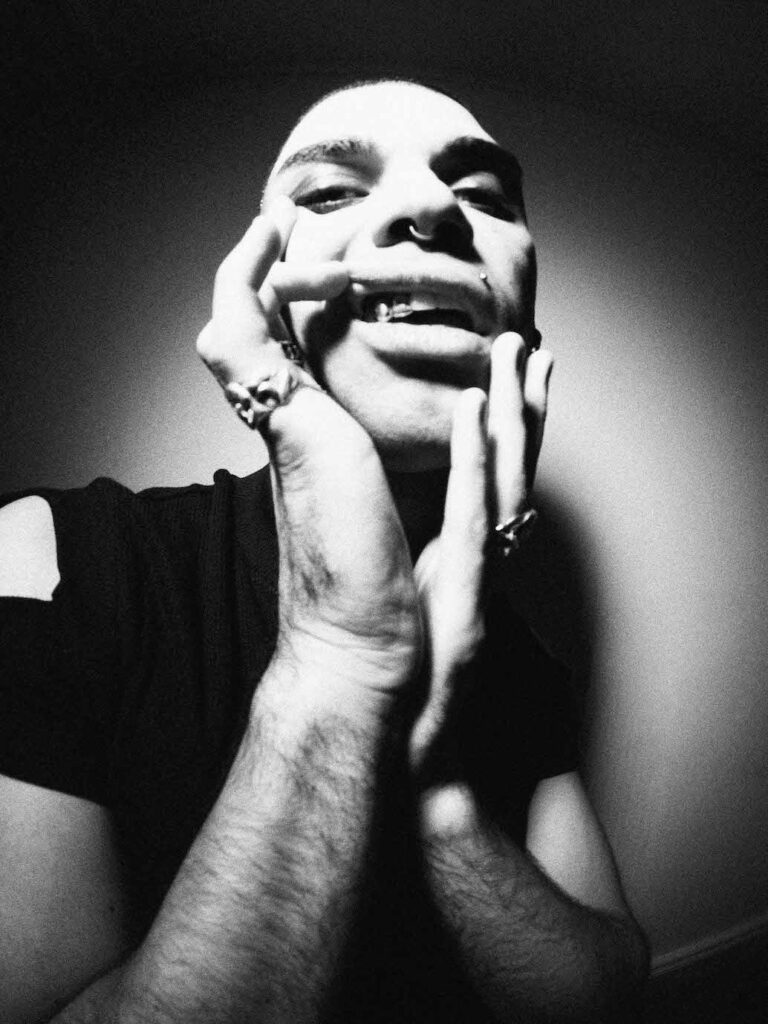 "'Don't Be Afraid' is my newest demonic EBM inspired collaboration with Berlin based duo FAP! (Fritz Helder & Poko Cox). In the brooding world of my debut album 'Umbilical' I've turned introspection on its head and dialled in some of my favourite dark dance elements to beckon all into darkness and debauchery." – Wax Wings
"Trapped in a never ending fight with self corruption trying to lure you into a sweet and sticky darkness. Masterful manipulations of your momentary desires & fears, feeding you the illusion of eternal satisfaction. Success and wealth in exchange for your loyalty, principles, instincts and ethics. Total control over your body and soul." – FAP!
A dark and twisted production fusing harsh percussion and menacing low-ends with brazen synths and eerie vocals, 'Don't Be Afraid' fuses a melting pot of influences from techno and darker electronic spheres through to metal and punk – unveiling a production showcasing his wide reaching sound palette and offering a no-nonense, impactful cut for early morning hours.
Wax Wings 'Don't Be Afraid' feat. FAP! drops via HE.SHE.THEY. on 1st July 2022, with a selection of remixes set to follow later this year.
About HE.SHE.THEY.:
Operating as an event series, record label and fashion brand, HE.SHE.THEY. is at the forefront of the contemporary inclusive movement. Acting as a brave space for individuals regardless of "age, race, sex, gender, ableness, religious background or sexual preference", the brand's ethos is to "create a planet without prejudice for people to be people".
A noble ambition, the label offshoot provides a new avenue for the brand to accomplish this, providing a platform for any talent, with a focus on LGBT+ and other marginalised people to showcase their artistry. Releases and remixes from the label so far include artists such as; Cakes da Killa, Maya Jane Coles, Louisahhh, Alanis Morissette, Eris Drew, Spencer Parker, Wax Wings, DJ Minx, Rebekah, Anja Schneider and more with artists such as Nina Kraviz, Honey Dijon, Shanti Celeste, Cinthie, SYREETA and Freddy K (to name a few) having played their events and live streams so far.
Catch HE.SHE.THEY. bringing their diverse line ups to Amnesia, Ibiza: Fridays – 29th July, 26th August, 9th September 2022:
https://www.festicket.com/festivals/he-she-they-amnesia/
Wax Wings回到了自己的厂牌HE.SHE.THEY.,带来了他强有力的新单曲《Don't Be Afraid!》,由FAP演唱。

作为HE.SHE.THEY.的核心艺术家,以及充分体现和代表该品牌和集体的精神和前景的个人,来自伦敦的DJ和制作人Wax Wings自从2016年首次在The Weird and Wonderful上亮相以来,无疑已经产生了影响。从那时起,这位富有创造力和多样性的人才通过Skint、Mobilee、Kneaded Pains和Polymath等公司发布了大量的材料,同时通过一系列的个人发布、合作和HE.SHE.THEY的混音,稳步地制作和策划一个更黑暗、更危险的声音和审美。在2022年,这位核心唱片公司的居民以他的风格回到了唱片公司的第一个材料,现在与FAP! (Fritz & Poko)合作,展示了他的新单曲《Don't Be Afraid》的扭曲音质。

"'Don't Be Afraid'是我最新的恶魔般的EBM灵感合作,与柏林的二人组FAP! (Fritz Helder & Poko Cox)合作。在我的首张专辑《Umbilical》的忧郁世界里,我把内省翻了个底朝天,调入了我最喜欢的一些黑暗舞蹈元素,召唤所有人进入黑暗和放荡。" – 蜡翼

"陷入与自我堕落的无休止的斗争中,试图引诱你进入一个甜蜜而粘稠的黑暗。巧妙地操纵你一时的欲望和恐惧,给你带来永恒满足的幻觉。用成功和财富来换取你的忠诚、原则、本能和道德。对你的身体和灵魂的完全控制。" – FAP!
Don't Be Afraid》是一首黑暗和扭曲的作品,融合了刺耳的打击乐和汹涌的低频,以及厚颜无耻的合成器和阴森恐怖的人声,融合了从Techno和更黑暗的电子领域到金属和朋克的影响–揭开了他广泛的声音调色板的制作,为清晨的时间提供了一个没有废话、具有影响力的剪辑。

Wax Wings'Don't Be Afraid' feat. 将于2022年7月1日通过HE.SHE.THEY.发行,今年晚些时候还将推出精选的混音作品。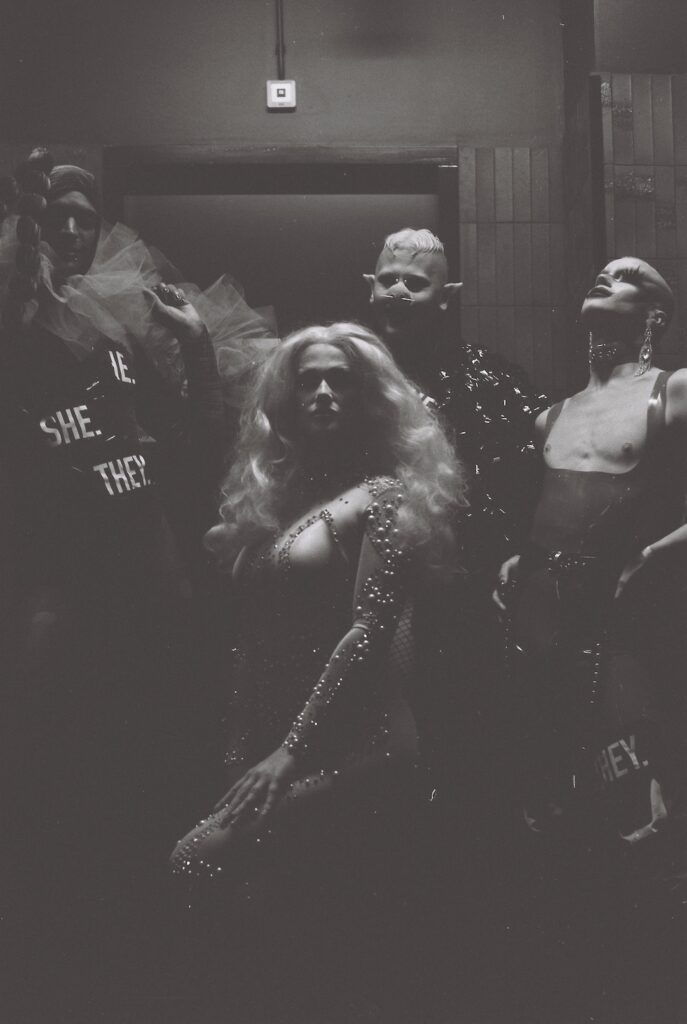 关于HE.SHE.THEY.。作为一个系列活动、唱片公司和时尚品牌,HE.SHE.THEY.处于当代包容性运动的最前沿。作为一个勇敢的个人空间,无论 "年龄、种族、性别、能力、宗教背景或性取向",该品牌的精神是 "创造一个没有偏见的星球,让人们成为人"。
一个崇高的野心,这个品牌的分支为该品牌提供了一个新的途径来实现这一目标,为任何人才提供一个平台,重点是LGBT+和其他边缘人,以展示他们的艺术。迄今为止,该品牌的发行和混音作品包括:Cakes da Killa、Maya Jane Coles、Louisahhh、Alanis Morissette、Eris Drew、Spencer Parker、Wax Wings、DJ Minx、Rebekah、Anja Schneider等艺术家,其中Nina Kraviz、Honey Dijon、Shanti Celeste、Cinthie、SYREETA和Freddy K(仅举几例)迄今已在他们的活动和现场流中播放。
请关注HE.SHE.THEY.为Ibiza的Amnesia带来的不同阵容。周五 – 7月29日,8月26日,9月9日 2022年。