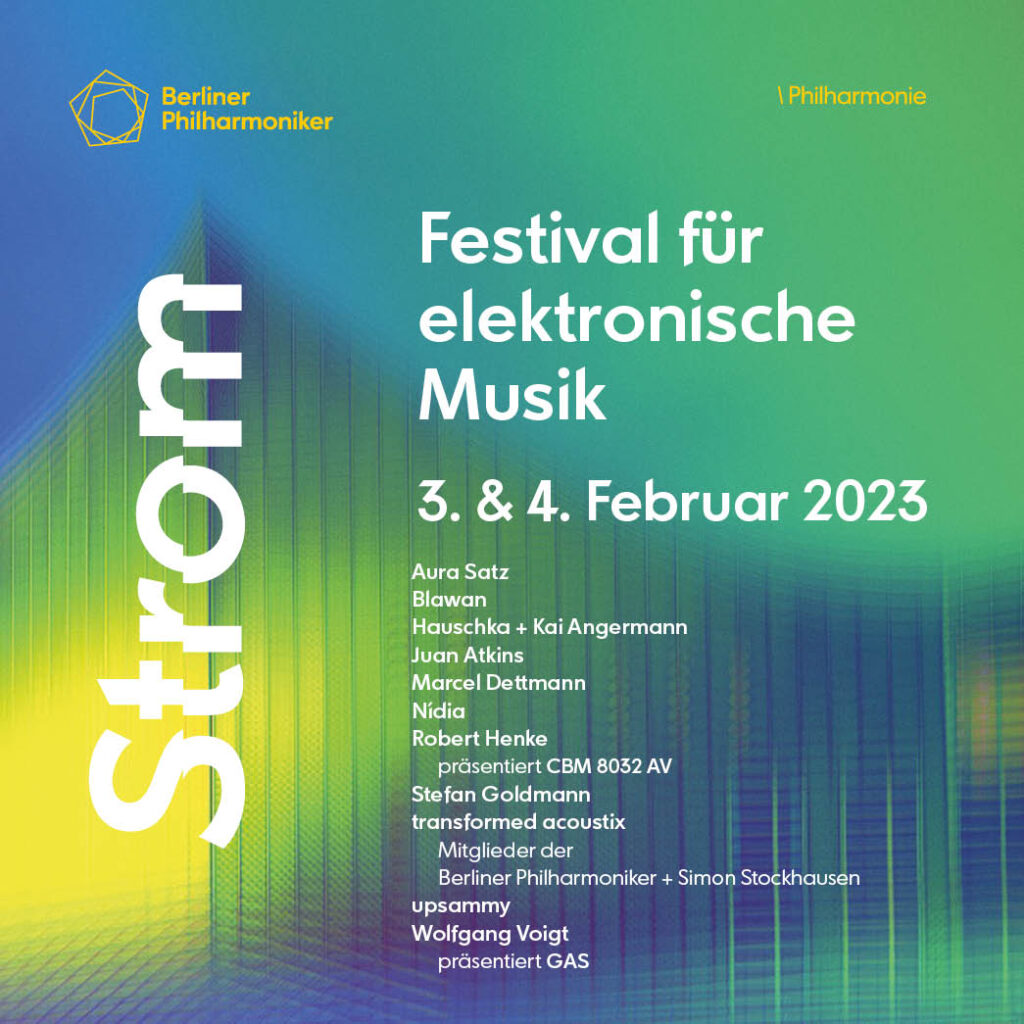 Strom brings together visionary artists whose work is grounded in electronic music but with regular practices beyond club music frameworks to reside for a night in the singular spatial setting of the Philharmonie Berlin. The invited artists are drawn from a wide range of electronic sounds and have reached beyond their core constituencies into different art forms and layers of technology or culture, widened the scope of their respective genres or created new ones altogether.
The Philharmonie Berlin is one of Germany's leading cultural institutions,
an architectural landmark of the German capital and home to the Berliner Philharmoniker, one of the top orchestras of the world. The great hall, designed by architect Hans Scharoun with the stage in its centre and surrounded by seating on all sides, offers a unique acoustic setting and has served as a model for modern concert hall layouts around the world.
Strom spans three distinct settings. The Main Auditorium for seated listening and audiovisual performances by Wolfgang Voigt/GAS, one of the most important and productive techno-concept artists since the early 1990s, Hauschka + Kai Angermann, and Robert Henke with his media-archaeological work 'CBM 8032 AV'. Together with composer and sound designer Simon Stockhausen, members of the Berliner Philharmoniker are also part of the festival this time: the newly formed ensemble transformed acoustix is working on a world premiere for Strom.
The foyer of the Philharmonie Berlin will be the space for the dance element of the program. In addition to Juan Atkins, Detroit techno founder and originator of the now globally celebrated music genre, and Marcel DeYmann, resident DJ of Berghain club since the beginning, this stage will feature an AV-set by Blawan and the DJ sets by Nídia, upsammy and Stefan Goldmann.
ADVANCE BOOKING HERE:
https://www.berliner-philharmoniker.de/strom/
For the duration of the festival, the Hermann-Wolff-Saal will show the installation 'The Trembling Line' by Aura Satz, which amplifies the movements of acoustic instruments as caused by the physics of sound.
Advance booking begins online at 11:00 on 30 November 2022. Tickets are available for Friday and Saturday (from €18 up to €49) or as a weekend pass costing from €26.00 up to €89.00. For under 30s, tickets are €13 (with ClassicCard) and €15 per night.
Further information on the individual artists can be found on the website.