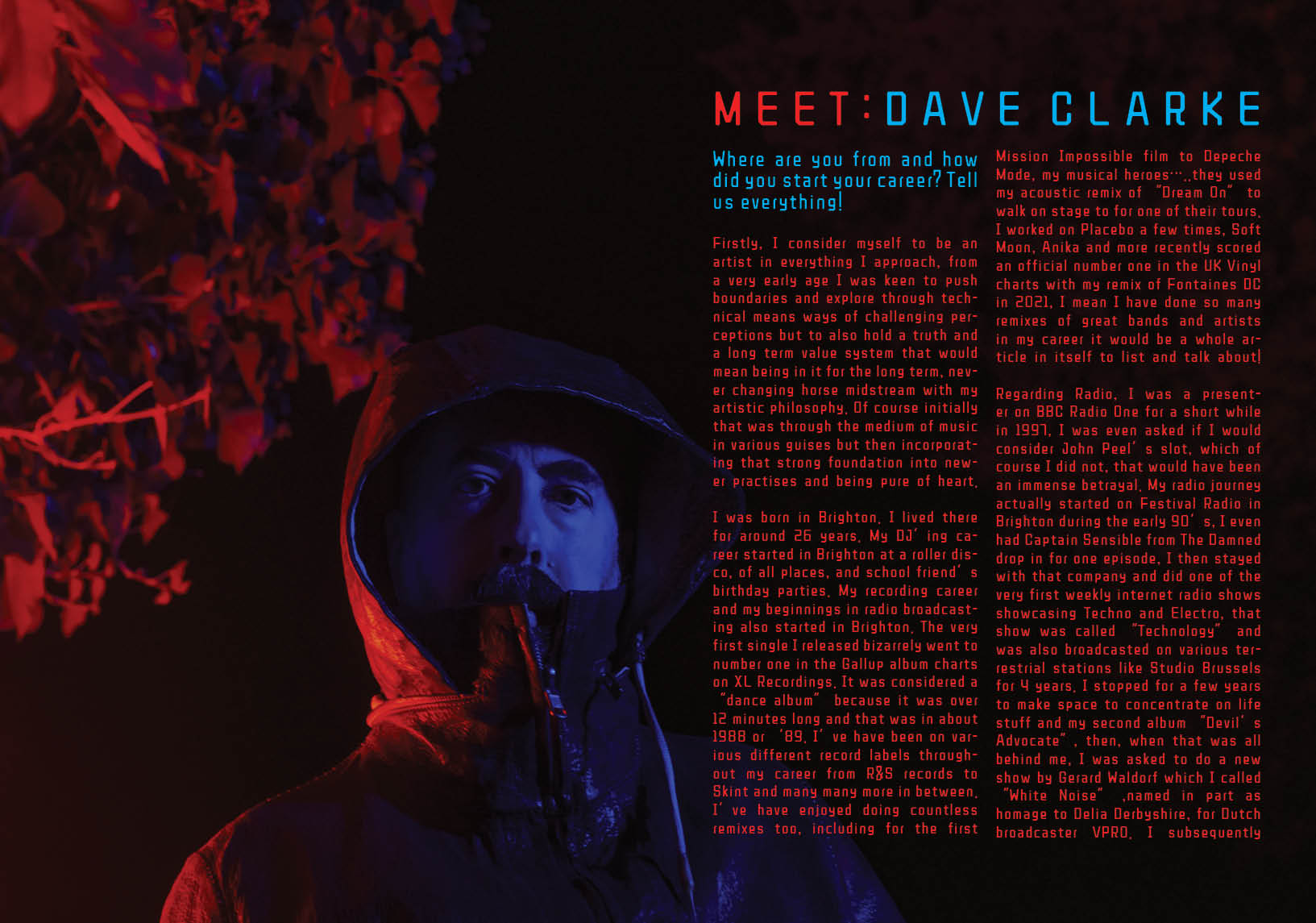 Where are you from and how did you start your career? Tell us everything!
Firstly, I consider myself to be an artist in everything I approach, from a very early age I was keen to push boundaries and explore through technical means ways of challenging perceptions but to also hold a truth and a long term value system that would mean being in it for the long term, never changing horse midstream with my artistic philosophy. Of course initially that was through the medium of music in various guises but then incorporating that strong foundation into newer practises and being pure of heart.
I was born in Brighton. I lived there for around 26 years. My DJ'ing career started in Brighton at a roller disco, of all places, and school friend's birthday parties. My recording career and my beginnings in radio broadcasting also started in Brighton. The very first single I released bizarrely went to number one in the Gallup album charts on XL Recordings. It was considered a "dance album" because it was over 12 minutes long and that was in about 1988 or '89. I've have been on various different record labels throughout my career from R&S records to Skint and many many more in between. I've have enjoyed doing countless remixes too, including for the first Mission Impossible film to Depeche Mode, my musical heroes…..they used my acoustic remix of "Dream On" to walk on stage to for one of their tours. I worked on Placebo a few times, Soft Moon, Anika and more recently scored an official number one in the UK Vinyl charts with my remix of Fontaines DC in 2021, I mean I have done so many remixes of great bands and artists in my career it would be a whole article in itself to list and talk about!
Regarding Radio, I was a presenter on BBC Radio One for a short while in 1997, I was even asked if I would consider John Peel's slot, which of course I did not, that would have been an immense betrayal. My radio journey actually started on Festival Radio in Brighton during the early 90's, I even had Captain Sensible from The Damned drop in for one episode, I then stayed with that company and did one of the very first weekly internet radio shows showcasing Techno and Electro, that show was called "Technology" and was also broadcasted on various terrestrial stations like Studio Brussels for 4 years. I stopped for a few years to make space to concentrate on life stuff and my second album "Devil's Advocate", then, when that was all behind me, I was asked to do a new show by Gerard Waldorf which I called "White Noise" ,named in part as homage to Delia Derbyshire, for Dutch broadcaster VPRO. I subsequently
found out they were also broadcasting John Peel for a little while years back which made me feel at home musically. "White Noise" has been weekly now for 17 years across different FM stations but the "home" station now is RTÉ 2FM which is the National station of Ireland. Every single one of my radio shows is saved in the National Archive apparently, so that's quite interesting. I also do a twice a month show exclusively for 2fm called "The Saga Show" which features all the music I love that is not Techno or Electro, this is a passion project and can feature Brian Jonestown Massacre, Fews, True Widow, Julian Cope, Held by Trees, Catherine Graindorge, just the music I listen to a lot and the music I would soundtrack my driving trips around Iceland to, hence being called "Saga".
I've also done some consultancy work. Worked with ADE for over 10 years and technical consultancy work for brands like Denon, which meant that I was going to Japan, helping them to design equipment.
I now do a little bit of writing for a UK studio magazine called "Sound on Sound". I've written for some newspapers from time to time, including a newspaper over here called NRC, I used to write for ID and Mixmag every edition for a few years, that was 30 years ago though, however during the Corona times it seemed to be a good thing to revisit lightly to get my brain to do different things. I now teach music / politics at Haarlem Conservatorium.
你来自哪里,你是如何开始你的职业生涯的?请告诉我们一切!
首先,我认为自己是一个艺术家,从很小的时候开始,我就热衷于突破界限,通过技术手段探索挑战认知的方法,但也要坚持真理和长期的价值体系,这意味着要长期坚持下去,永远不要中途改变我的艺术理念。当然,最初是通过各种形式的音乐媒介,但后来将这一坚实的基础融入到更新的实践中,并保持纯洁的心灵。
我出生在布莱顿。我在那里生活了大约26年。我的DJ生涯开始于布莱顿的一个滚轴迪斯科,在所有的地方,以及学校朋友的生日聚会。我的录音生涯和我在电台广播的开始也是在布莱顿开始的。我发行的第一张单曲很奇怪地在XL唱片公司的盖洛普专辑排行榜上排名第一。它被认为是一张"舞蹈专辑",因为它的长度超过12分钟,那是在1988年或89年。在我的职业生涯中,我一直在各种不同的唱片公司工作,从R&S唱片到Skint,还有许多在两者之间的唱片公司。我也很喜欢做无数的混音,包括为第一部《碟中谍》电影和Depeche Mode,我的音乐英雄…..,他们用我的原声混音的 "Dream On "在他们的一次巡演中走上舞台。我曾为Placebo、Soft Moon、Anika工作过几次,最近,我在2021年为FontainesDC混音,获得了英国黑胶排行榜的第一名,我的意思是,在我的职业生涯中,我为许多伟大的乐队和艺术家做过混音,这本身就是一篇完整的文章。
关于电台,我在1997年曾在BBC第一电台担任过一段时间的主持人,甚至有人问我是否会考虑约翰-皮尔的时段,当然我没有,那将是一种巨大的背叛。我的广播之旅实际上是从90年代初在布莱顿的节日电台开始的,我甚至邀请了来自The Damned的Captain Sensible来听一集,然后我留在了那家公司,做了最早的每周网络广播节目之一,展示技术和电子,那个节目被称为 "技术",也在各种地面电台如布鲁塞尔工作室播放了4年。我停了几年,以腾出空间专注于生活和我的第二张专辑 "Devil's Advocate",然后,当这一切都过去后,我被Gerard Waldorf邀请做一个新的节目,我称之为"White Noise",部分是为了向DeliaDerbyshire致敬,为荷兰广播公司VPRO而命名。后来我发现他们也曾在几年前播放过约翰-皮尔的节目,这让我在音乐上有了家的感觉。"白噪声 "每周在不同的调频电台播出已经17年了,但现在的 "家 "电台是爱尔兰国家电台RTÉ 2FM。我的每一个广播节目显然都保存在国家档案馆,所以这很有趣。我还专门为2FM做了一个每月两次的节目,叫做 "Saga Show",内容是我喜欢的所有音乐,但不是技术或电子音乐,这是一个激情项目,可以介绍Brian Jonestown Massacre、Fews、True Widow、Julian Cope、Held by Trees、CatherineGraindorge,就是我经常听的音乐和我在冰岛开车旅行时配乐的音乐,因此被称为"Saga"。
我也做过一些咨询工作。在ADE工作了10多年,还为Denon等品牌做技术咨询工作,这意味着我去了日本,帮助他们设计设备。
我现在为英国一家名为"Soundon Sound"的录音室杂志做一些写作工作。我不时为一些报纸写文章,包括这边的一份报纸叫NRC,我曾经为ID和Mixmag每期写过几年的文章,虽然那是30年前的事情了,然而在科罗纳时代,让我的大脑做不同的事情,似乎是一件很好的事情,可以轻轻地重新审视。我现在在哈勒姆音乐学院教音乐/政治。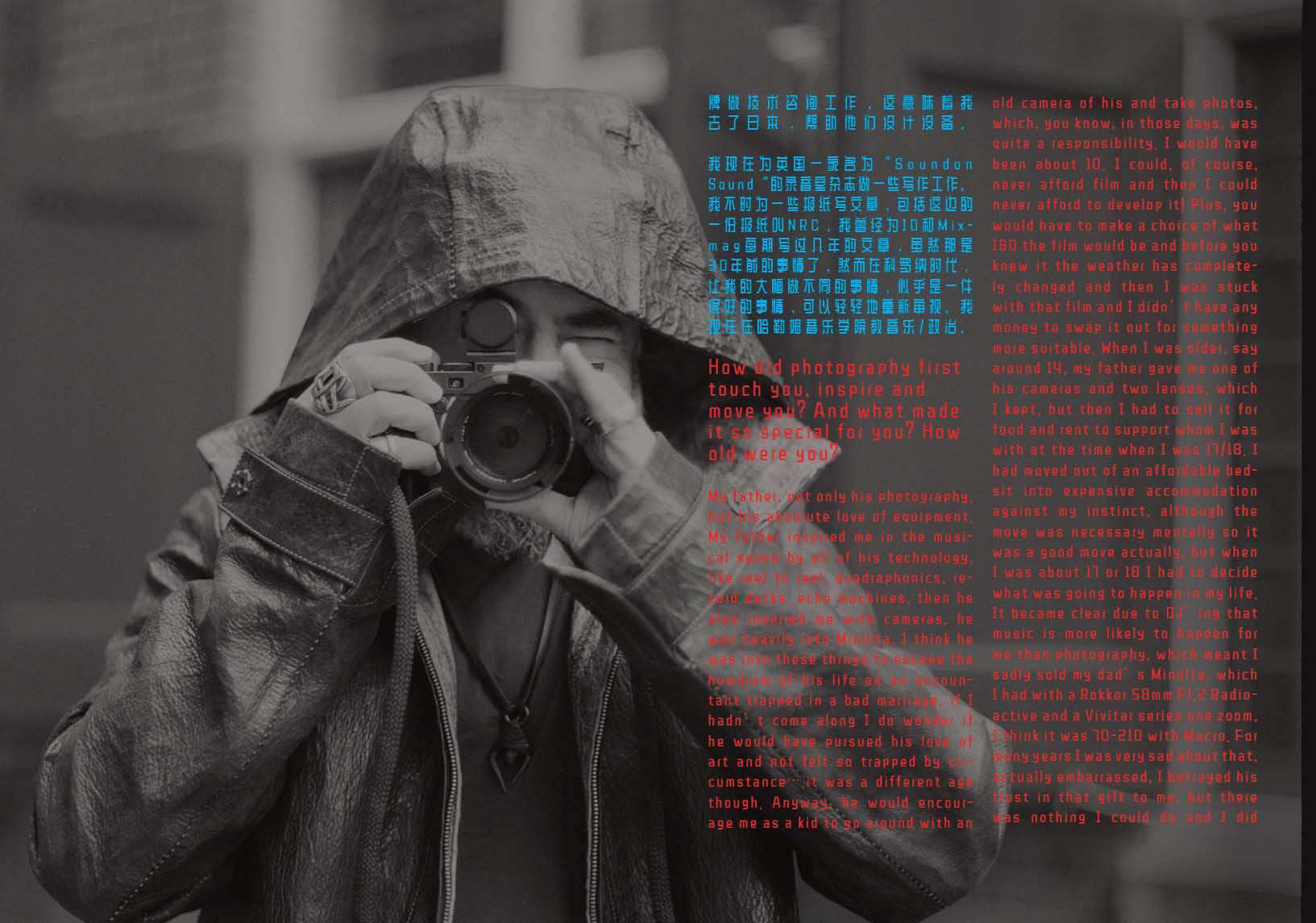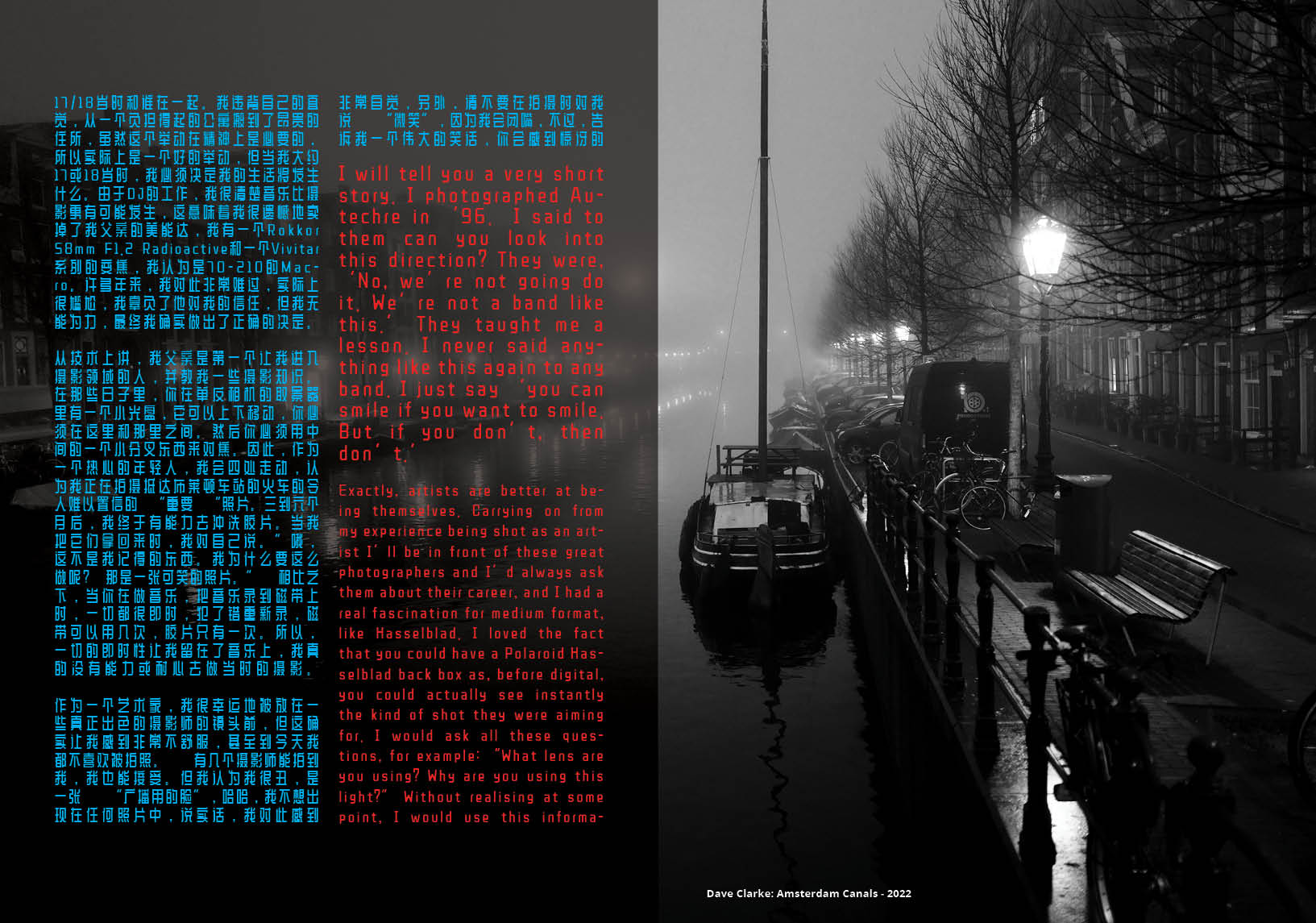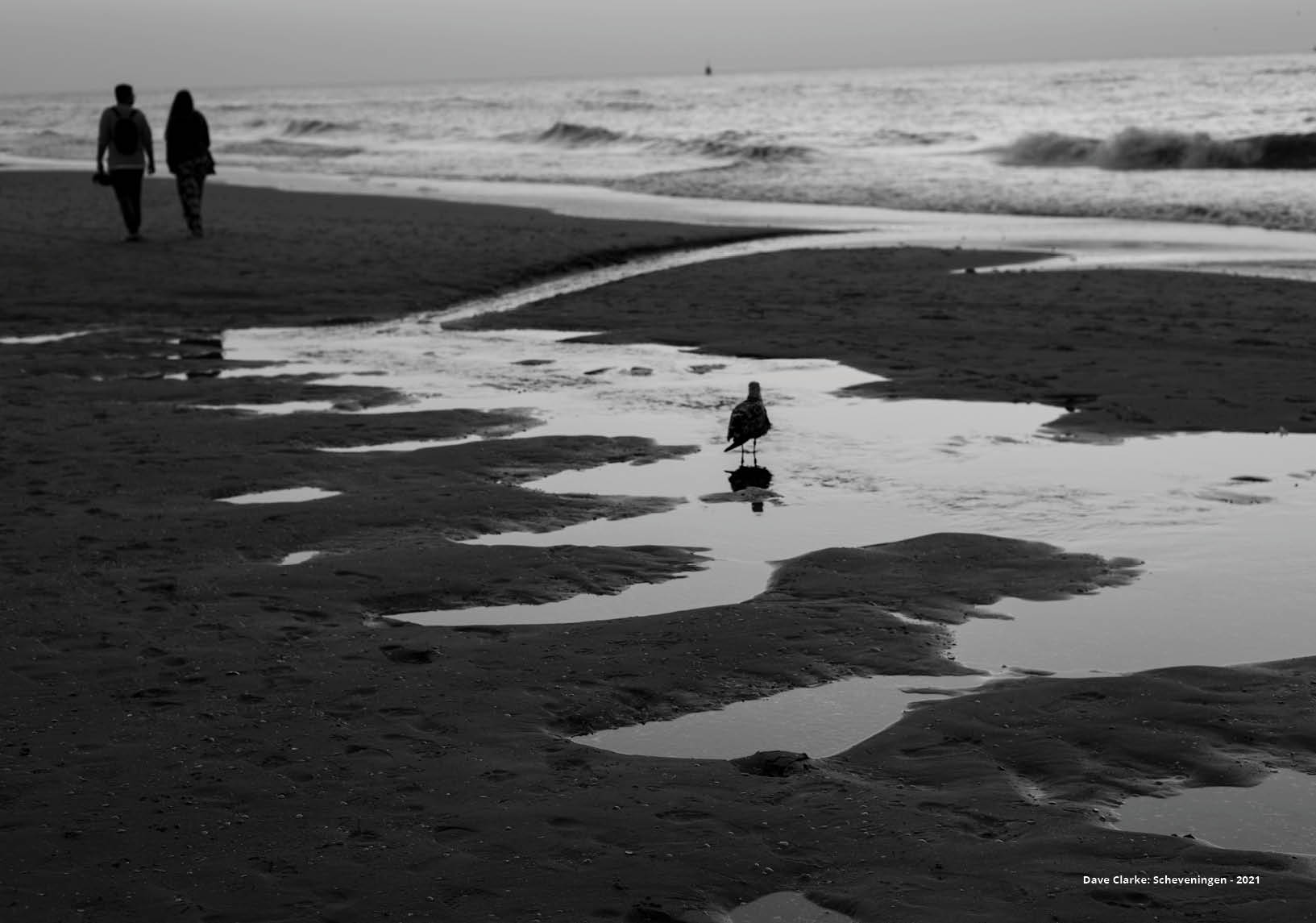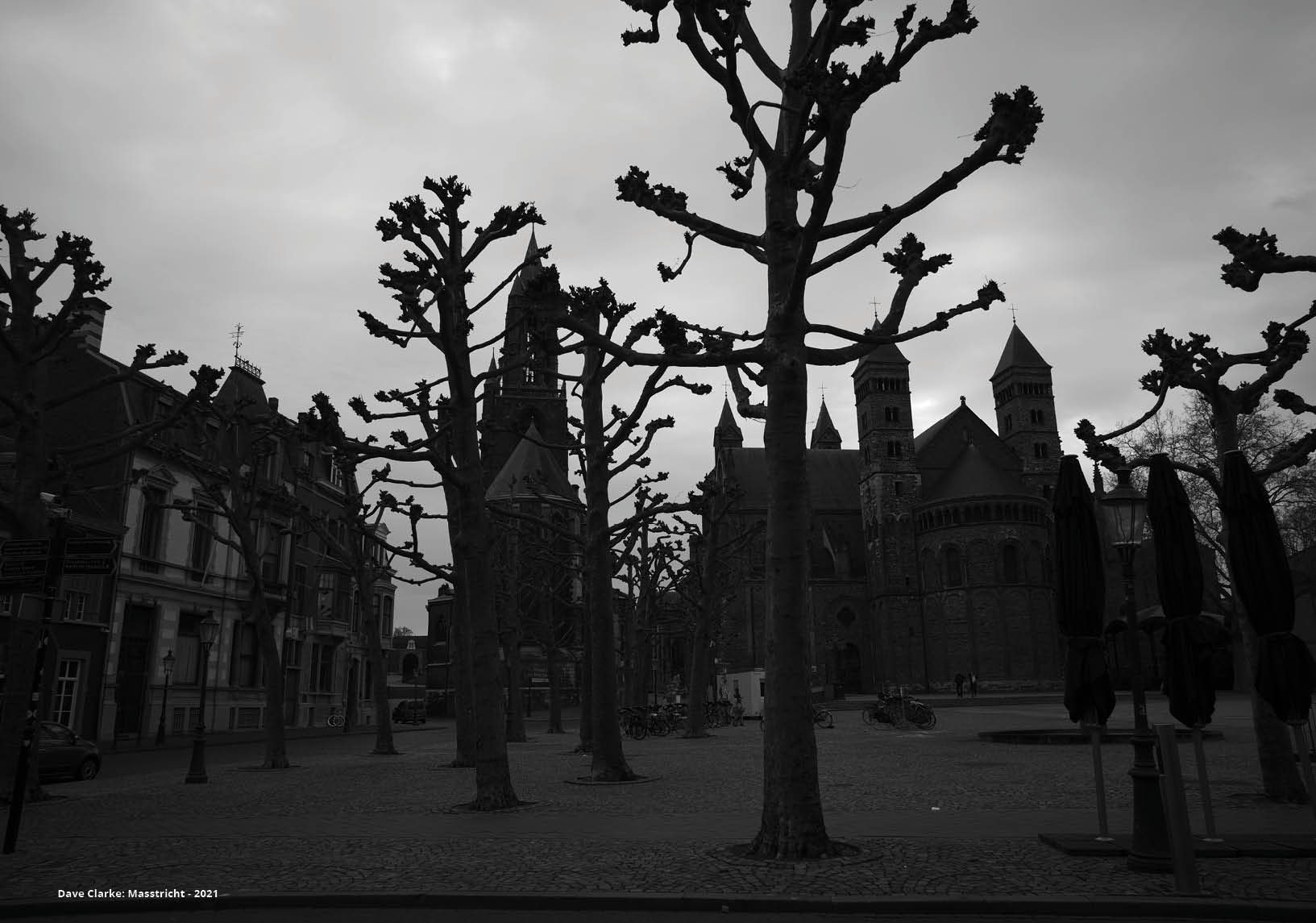 How did photography first touch you, inspire and move you? And what made it so special for you? How old were you?
My father, not only his photography, but his absolute love of equipment. My father inspired me in the musical sense by all of his technology, like reel to reel, quadraphonics, record decks, echo machines, then he also inspired me with cameras, he was heavily into Minolta, I think he was into these things to escape the humdrum of his life as an accountant trapped in a bad marriage, if I hadn't come along I do wonder if he would have pursued his love of art and not felt so trapped by circumstance….it was a different age though. Anyway, he would encourage me as a kid to go around with an old camera of his and take photos, which, you know, in those days, was quite a responsibility. I would have been about 10. I could, of course, never afford film and then I could never afford to develop it! Plus, you would have to make a choice of what ISO the film would be and before you knew it the weather has completely changed and then I was stuck with that film and I didn't have any money to swap it out for something more suitable. When I was older, say around 14, my father gave me one of his cameras and two lenses, which I kept, but then I had to sell it for food and rent to support whom I was with at the time when I was 17/18. I had moved out of an affordable bedsit into expensive accommodation against my instinct, although the move was necessary mentally so it was a good move actually, but when I was about 17 or 18 I had to decide what was going to happen in my life. It became clear due to DJ'ing that music is more likely to happen for me than photography, which meant I sadly sold my dad's Minolta, which I had with a Rokkor 58mm F1.2 Radioactive and a Vivitar series one zoom, I think it was 70-210 with Macro. For many years I was very sad about that, actually embarrassed, I betrayed his trust in that gift to me, but there was nothing I could do and I did make the right decision ultimately.
Technically my father was the first person who broke me into it and taught me a little bit about photography. In those days, you had like a little light dial in the viewfinder on the SLR, which would go up/down and you have to get in between here and there. Then you have to get it focused with a little split thing in the middle. Learnt all about that avidly, So as an enthusiastic youngster I would go around thinking I'm taking incredibly "important" photos of trains arriving at Brighton station. Three to six months later I could finally afford to develop the film. When I got them back I thought to myself: "Oh, that's not what I remember. Why did I even bother doing that? That's a ridiculous photo." In contrast when you're making music and recording music to tape everything is instant, make a mistake re-record, tape could be used a few times, film only once. So, the immediacy of everything made me stay with music, I couldn't really afford or have the patience to go with photography as it stood back then.
As an artist I was lucky enough to be put in front of the lens of some truly brilliant photographers, but it does make me feel incredibly uncomfortable even to this day I mostly dislike having my photo taken. There are a few photographers that get me and I'm okay with it. But I think I'm ugly, a "face for radio" haha and I don't want to be in any photo, I honestly feel incredibly self-conscious about it, also please never say "smile" to me when taking a shot as I clam up, tell me a great joke though and you will be surprised!
摄影是如何第一次触动你、启发你和感动你的?是什么让它对你如此特别?你当时多大了?
我父亲,不仅是他的摄影,还有他对设备的绝对热爱。我父亲在音乐方面启发了我,他的所有技术,如卷轴,四声道,录音机,回声机,然后他也用相机启发了我,他非常喜欢美能达,我想他喜欢这些东西是为了逃避他作为一个被困在糟糕婚姻中的会计师的生活,如果我没有出现,我确实怀疑他是否会追求他对艺术的热爱,而不是感到被环境所困….,虽然这是一个不同的时代。总之,他鼓励我作为一个孩子,带着他的一台旧相机到处去拍照,你知道,在那些日子里,这是很重要的责任。我当时大概是10岁。当然,我永远买不起胶卷,然后我也永远买不起冲洗胶卷的费用!另外,你还必须制作一个新的胶卷。另外,你必须选择胶片的ISO,在你知道之前,天气已经完全改变了,然后我就只能用那个胶片,我没有任何钱去换更合适的东西。当我长大后,比如说14岁左右,我父亲给了我一台他的相机和两个镜头,我保留了下来,但后来我不得不卖掉它来换取食物和租金,以支持我当时
17/18岁时和谁在一起。我违背自己的直觉,从一个负担得起的公寓搬到了昂贵的住所,虽然这个举动在精神上是必要的,所以实际上是一个好的举动,但当我大约17或18岁时,我必须决定我的生活将发生什么。由于DJ的工作,我很清楚音乐比摄影更有可能发生,这意味着我很遗憾地卖掉了我父亲的美能达,我有一个Rokkor 58mm F1.2 Radioactive和一个Vivitar系列的变焦,我认为是70-210的Macro。许多年来,我对此非常难过,实际上很尴尬,我辜负了他对我的信任,但我无能为力,最终我确实做出了正确的决定。
从技术上讲,我父亲是第一个让我进入摄影领域的人,并教我一些摄影知识。在那些日子里,你在单反相机的取景器里有一个小光盘,它可以上下移动,你必须在这里和那里之间。然后你必须用中间的一个小分叉东西来对焦。因此,作为一个热心的年轻人,我会四处走动,认为我正在拍摄抵达布莱顿车站的火车的令人难以置信的 "重要 "照片。三到六个月后,我终于有能力去冲洗胶片。当我把它们拿回来时,我对自己说。"哦,这不是我记得的东西。我为什么要这么做呢? 那是一张可笑的照片。" 相比之下,当你在做音乐,把音乐录到磁带上时,一切都很即时,犯了错重新录,磁带可以用几次,胶片只有一次。所以,一切的即时性让我留在了音乐上,我真的没有能力或耐心去做当时的摄影。
作为一个艺术家,我很幸运地被放在一些真正出色的摄影师的镜头前,但这确实让我感到非常不舒服,甚至到今天我都不喜欢被拍照。 有几个摄影师能拍到我,我也能接受。但我认为我很丑,是一张 "广播用的脸",哈哈,我不想出现在任何照片中,说实话,我对此感到非常自觉,另外,请不要在拍摄时对我说 "微笑",因为我会闭嘴,不过,告诉我一个伟大的笑话,你会感到惊讶的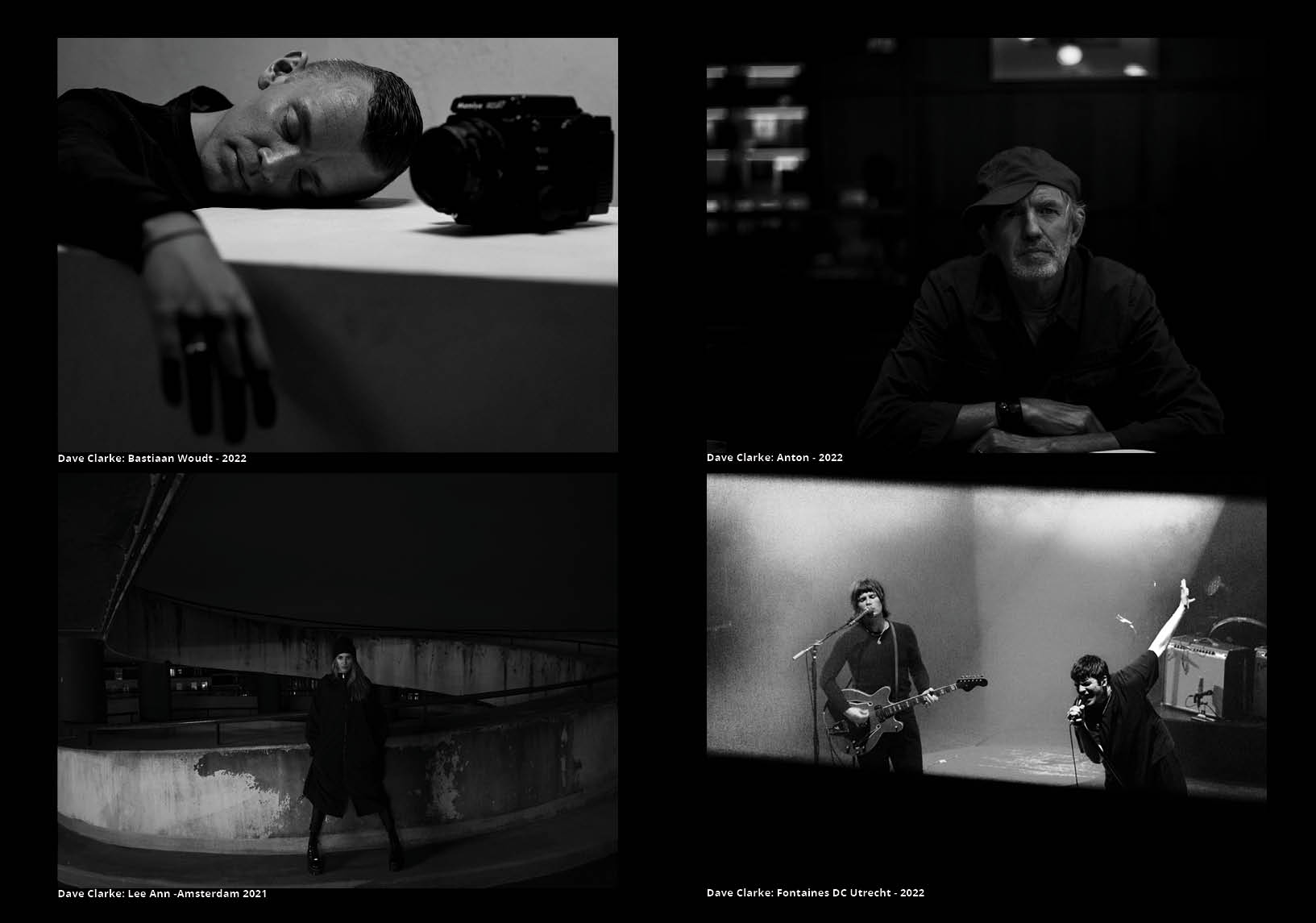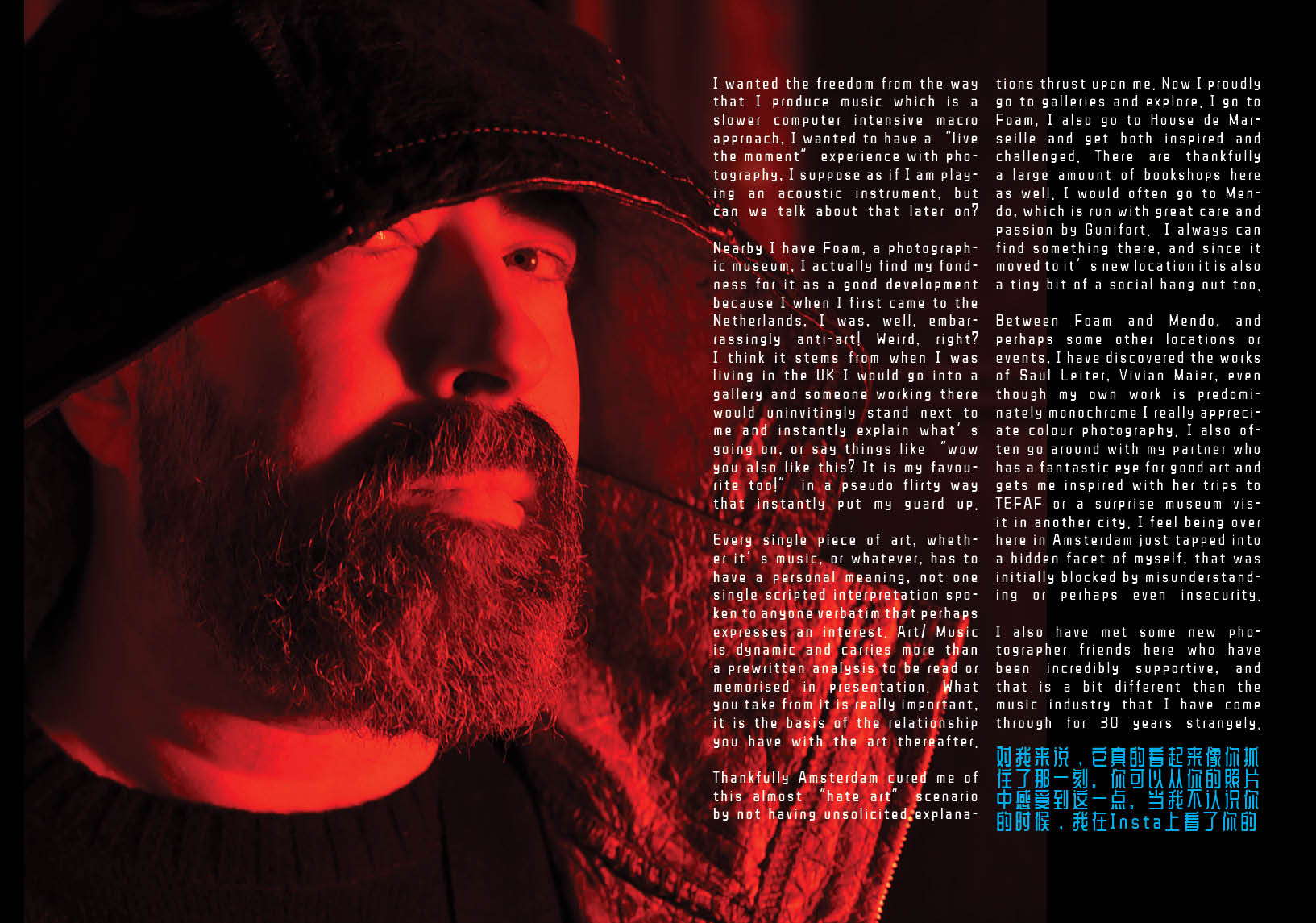 这就是我学习拍照的方式,吸收和观察。你会花时间阅读它们吗?
不,因为我知道我想看什么,这让我听起来非常狭隘,但我知道什么对我有用。我知道我想从那里带来什么。这是关于本能的解释,发现Francesca Woodman只是一个幸运的机会。我在纽约的古根海姆参观时有一天休息。我去那里主要是为了看建筑,因为我喜欢建筑,在偶然发现她的作品后,我哭了出来。我感受到了她的灵魂。我感觉到了一切,这是令人震惊和非常出乎意料的,事后我有一个小时说不出话来,这也是潜移默化的宣泄,我的天线接受了一个新的频率。弗朗西斯卡显然是一个悲伤的人,有一个可怕或困难的生活,但艺术家,如果忠实于他们的灵魂,用他们的艺术转换情感,在不同的时代进行无言的交流,艺术家在这方面的努力越深,越真实,艺术在观众中保持共鸣的时间越长。我从她空灵的表现中获得了一些东西。它真的附着在我的灵魂上,就像比尔-勃兰特的一些图像一样。
我也喜欢安妮-莱博维茨这样的摄影师,但都是早期的作品。我的摄影精神形成了一种工作惯例,即大部分工作由相机和摄影师完成,因为他们是我所崇拜的照片。当然,你可以有许可证来做处理,但对于我的个人品味来说不能太多,否则我觉得它从摄影变成了一种艺术,这当然是可以的,但这并不是我真正想要的,因为我觉得它脱离了现实或瞬间的本质。这些时候,似乎很多图像都被改变了,或者被做成了一个 "完美 "的版本来取悦自我,现实主义对我来说是至关重要的。
For me it really looks like you catch the moment. You can feel that in your pictures. When I didn't know you I looked at your pictures on Insta and I was like, 'ah, you know, he has this "instant thing" going on which attracted me.
Thank you, I do think about the framing & how the lines are to present them, but I shoot really fast, I wanted the freedom from the way that I produce music which is a slower computer intensive macro approach, I wanted to have a "live the moment" experience with photography, I suppose as if I am playing an acoustic instrument, but can we talk about that later on?
Nearby I have Foam, a photographic museum, I actually find my fondness for it as a good development because I when I first came to the Netherlands, I was, well, embarrassingly anti-art! Weird, right? I think it stems from when I was living in the UK I would go into a gallery and someone working there would uninvitingly stand next to me and instantly explain what's going on, or say things like "wow you also like this? It is my favourite too!" in a pseudo flirty way that instantly put my guard up.
Every single piece of art, whether it's music, or whatever, has to have a personal meaning, not one single scripted interpretation spoken to anyone verbatim that perhaps expresses an interest. Art/ Music is dynamic and carries more than a prewritten analysis to be read or memorised in presentation. What you take from it is really important, it is the basis of the relationship you have with the art thereafter.
Thankfully Amsterdam cured me of this almost "hate art" scenario by not having unsolicited explanations thrust upon me. Now I proudly go to galleries and explore. I go to Foam, I also go to House de Marseille and get both inspired and challenged. There are thankfully a large amount of bookshops here as well. I would often go to Mendo, which is run with great care and passion by Gunifort. I always can find something there, and since it moved to it's new location it is also a tiny bit of a social hang out too.
Between Foam and Mendo, and perhaps some other locations or events, I have discovered the works of Saul Leiter, Vivian Maier, even though my own work is predominately monochrome I really appreciate colour photography. I also often go around with my partner who has a fantastic eye for good art and gets me inspired with her trips to TEFAF or a surprise museum visit in another city. I feel being over here in Amsterdam just tapped into a hidden facet of myself, that was initially blocked by misunderstanding or perhaps even insecurity.
I also have met some new photographer friends here who have been incredibly supportive, and that is a bit different than the music industry that I have come through for 30 years strangely.
对我来说,它真的看起来像你抓住了那一刻。你可以从你的照片中感受到这一点。当我不认识你的时候,我在Insta上看了你的照片,我想,'啊,你知道,他有这种 "即时的东西",这吸引了我。
谢谢你,我确实考虑过构图和线条的呈现方式,但我的拍摄速度非常快,我想从我制作音乐的方式中获得自由,那是一种较慢的计算机密集型宏观方法,我想通过摄影获得一种 "活在当下 "的体验,我想就像我在演奏一种原声乐器一样,但我们可以稍后讨论这个问题吗?
在我的附近有"泡沫",一个摄影博物馆,实际上我发现我对它的喜爱是一个很好的发展,因为当我第一次来到荷兰的时候,我是,嗯,令人尴尬的反艺术的!我想这是一个很好的例子。很奇怪,对吗?我想这源于我在英国生活的时候,我进入一个画廊,在那里工作的人就会不请自来地站在我旁边,立即解释这是怎么回事,或者说 "哇,你也喜欢这个?这也是我的最爱!"以一种伪调情的方式,立刻让我提高警惕。
每一件艺术作品,无论是音乐,还是其他什么,都要有个人的意义,而不是逐字逐句地对任何人说的一个剧本式的解释,也许表达的是一种兴趣。艺术/音乐是动态的,所承载的东西比预先写好的分析报告要读或背的多。你从中得到的东西真的很重要,它是你此后与艺术的关系的基础。
值得庆幸的是,阿姆斯特丹没有把不请自来的解释强加给我,从而治愈了我这种几乎 "讨厌艺术 "的情况。现在我很自豪地去画廊探索。我去了Foam,也去了House de Marseille,并得到了启发和挑战。值得庆幸的是,这里也有大量的书店。我经常会去门多,它是由古尼福特以极大的关怀和热情经营的。 我总是能在那里找到一些东西,而且自从它搬到新址后,它也是一个小小的社交场所。
在 "泡沫 "和 "门道 "之间,也许还有其他一些地点或活动,我发现了索尔-莱特和维维安-迈尔的作品,尽管我自己的作品主要是单色的,但我真的很欣赏彩色摄影。我也经常和我的伙伴一起去,她对好的艺术有一双神奇的眼睛,并通过她的TEFAF之旅或在另一个城市参观博物馆的惊喜,给我带来灵感。我觉得在阿姆斯特丹这里只是挖掘了我自己的一个隐藏面,而这个隐藏面最初被误解或甚至不安全感所阻挡。
我还在这里遇到了一些新的摄影师朋友,他们给了我极大的支持,这与我经历了30年的音乐行业有点不同,很奇怪。
When I saw the track "Stay out the Light," I was like immediately do you think of photos or is this attached to a photo in your head?
Not generally, "Stay out the light" was actually inspired by a vocal sample (Harrison Ford from Indiana Jones) in a Nile Rogers track from 1985, for me I prefer to stay out the light, I was known as the "Man in Black" in magazines 25 years ago for a reason, I come from the age of DJ'ing where the art was more important than being a performer, when you would DJ in almost deep darkness and music was the important factor, but sometimes I do name a track with photography in mind "Charcoal Eyes, Glass Tears" is partly named in homage to Man Ray, because of the glass tears that he put on the model.
当我看到"Stay out the light "这首曲子的时候,我就觉得你马上就想到了照片,或者这是附在你脑子里的照片吗?
不是一般的,"Stay out the light "实际上是受1985年Nile Rogers的一首歌曲中的人声样本(印第安纳琼斯的哈里森-福特)的启发,对我来说,我更喜欢呆在外面,25年前我在杂志上被称为 "黑衣人 "是有原因的。我来自DJ时代,艺术比表演者更重要,那时你会在几乎深沉的黑暗中做DJ,音乐是重要的因素,但有时我确实用摄影来命名一首歌曲,"Charcoal Eyes, Glass Tears "部分是为了向Man Ray致敬,因为他在模特身上放了玻璃泪。
Ok, you said you started taking pictures four years ago, properly? Do you shoot analogue? Or do you shoot digital? Do you do both? What do you prefer?
I have absolutely no desire to put film in my camera and go analogue, I'm still traumatised by when I was a kid with film and the cost , haha. So I have no desire at all, ecologically it also feels a bit wrong in today's world. My technical approach can be seen in this regard as very similar to how I print off my music and how I track. I do a lot of music "in the box". But then it comes out the box through various different compressors analogue hardware and EQ, and then it goes back "in the box" (Computer). So it has its own sonic character. People have said to me, Oh, your synth sound is really amazing. What synths have you got? I reply, "None", but they all come out the computer and get printed through analogue equipment and feel authentic to those that care and understand. With photography it is a digital backend so therefore "in the box" (the capture and cpu of the digi camera) , but the manual lens is analogue in it's purity. I love the approach of the backend working digitally with all that inherent flexibility, then of course I can print analogue if I want, just like doing half speed mastering in audio or recording to reel to reel from a digital master by exploiting all that digital depth with good bit rates. I really adore this flexibility.
好吧,你说你四年前开始拍照,正确吗?你是拍模拟的吗?还是拍数码?两者都做吗?你喜欢什么?
我完全不想把胶片放进我的相机里,去拍模拟照片,我还在为我小时候使用胶片和成本的问题而感到创伤,哈哈。所以我完全没有欲望,从生态学的角度来说,在今天的世界上,这也感觉有点不对。在这方面,我的技术方法可以被视为与我打印音乐的方式和我的跟踪方式非常相似。我做了很多 "在盒子里 "的音乐。但是,它从盒子里出来,经过各种不同的压缩器模拟硬件和均衡器,然后再回到 "盒子"(电脑)里。所以它有自己的声音特征。人们对我说,哦,你的合成器声音真的很惊人。你有什么合成器?我回答说,"没有",但它们都是从电脑里出来的,通过模拟设备打印出来的,对那些关心和理解的人来说感觉很真实。对于摄影来说,它是一个数字后端,因此 "在盒子里"(数码相机的捕获和CPU),但手动镜头是模拟的,它是纯粹的。我喜欢后端以数字方式工作的方法,所有这些固有的灵活性,然后当然我可以打印模拟,如果我想的话,就像在音频中做半速母带或从数字母带中录制成卷轴,利用所有的数字深度和良好的比特率。我真的很喜欢这种灵活性。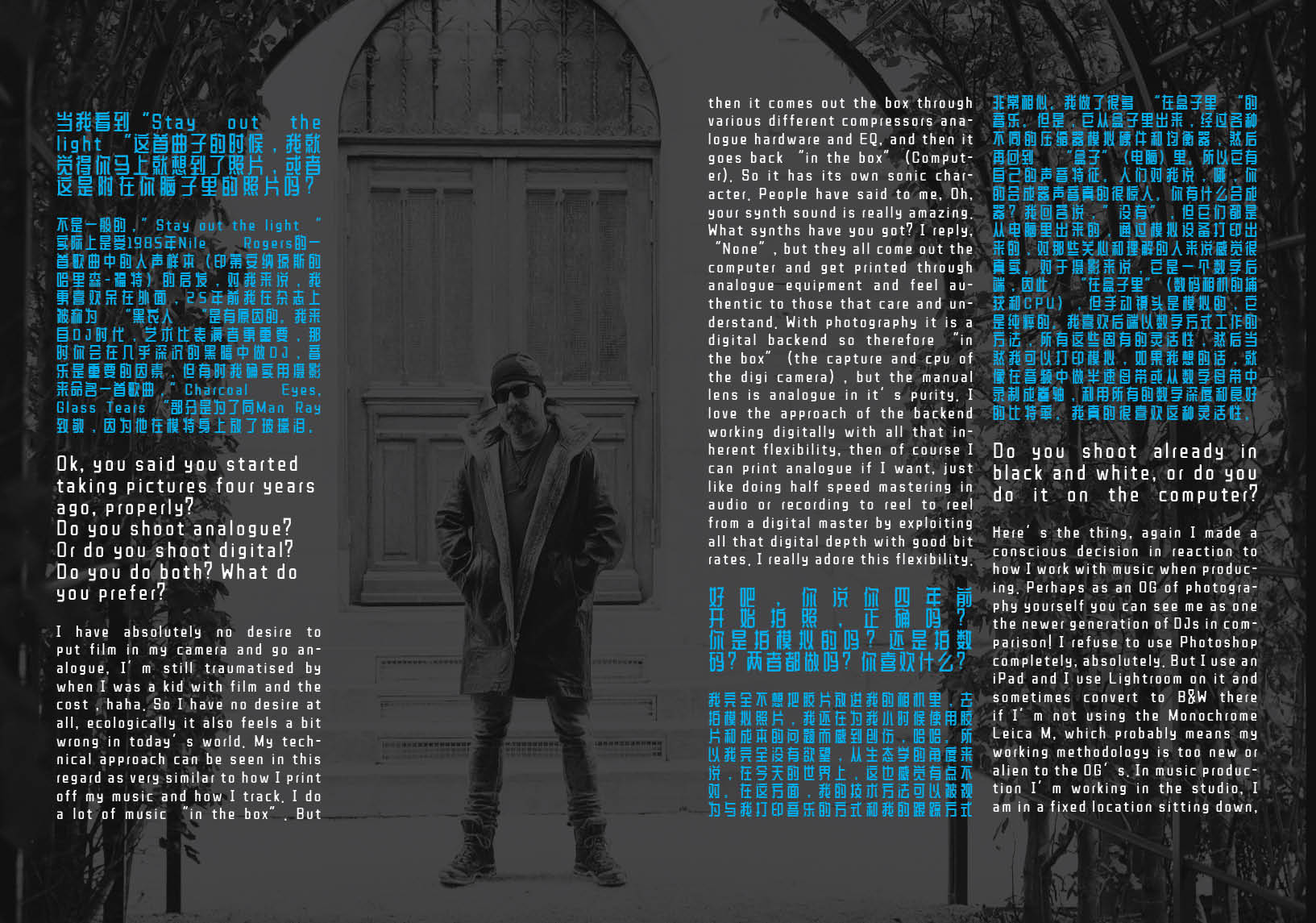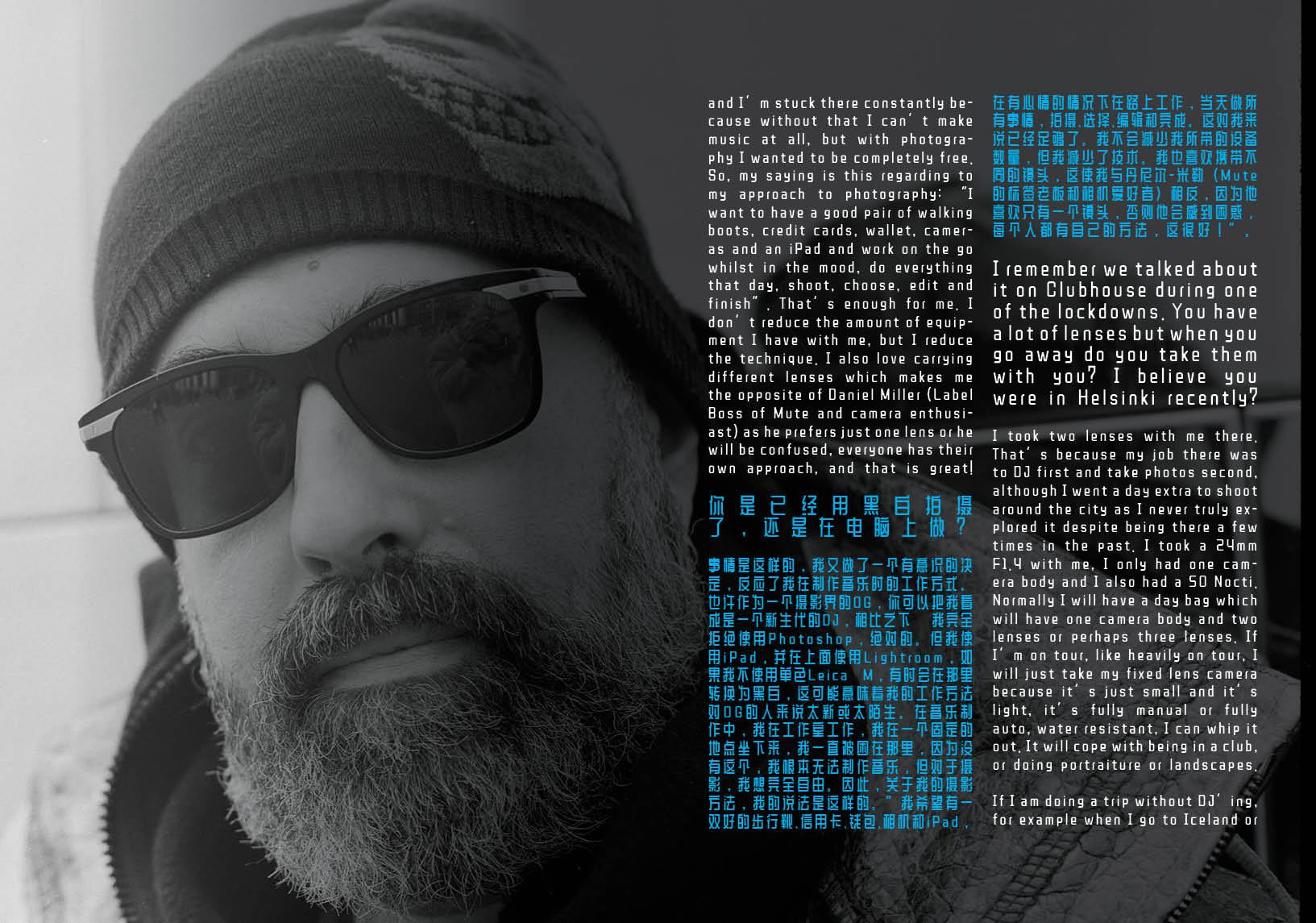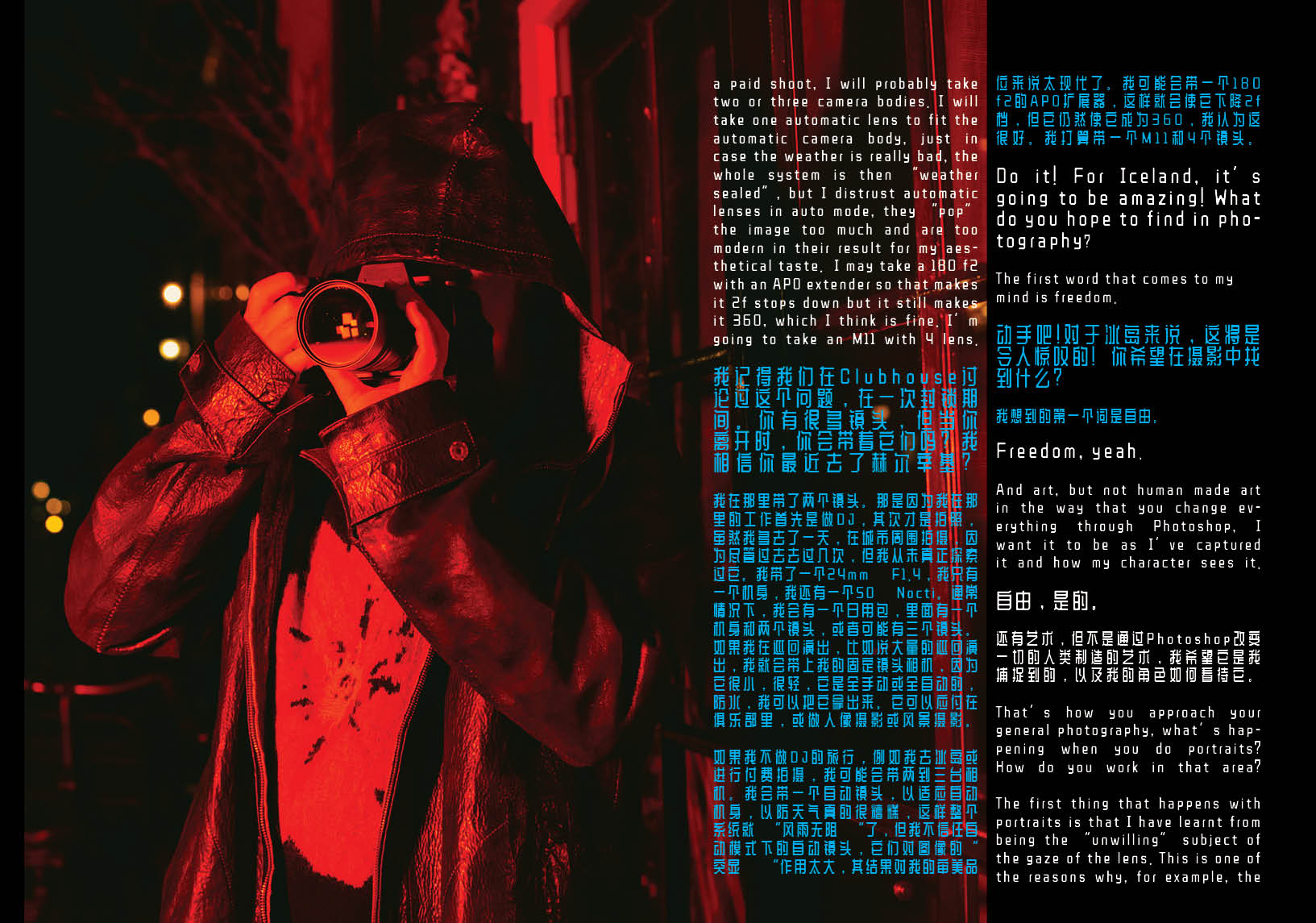 Do you shoot already in black and white, or do you do it on the computer?
Here's the thing, again I made a conscious decision in reaction to how I work with music when producing. Perhaps as an OG of photography yourself you can see me as one the newer generation of DJs in comparison! I refuse to use Photoshop completely, absolutely. But I use an iPad and I use Lightroom on it and sometimes convert to B&W there if I'm not using the Monochrome Leica M, which probably means my working methodology is too new or alien to the OG's. In music production I'm working in the studio, I am in a fixed location sitting down, and I'm stuck there constantly because without that I can't make music at all, but with photography I wanted to be completely free. So, my saying is this regarding to my approach to photography: "I want to have a good pair of walking boots, credit cards, wallet, cameras and an iPad and work on the go whilst in the mood, do everything that day, shoot, choose, edit and finish". That's enough for me. I don't reduce the amount of equipment I have with me, but I reduce the technique. I also love carrying different lenses which makes me the opposite of Daniel Miller (Label Boss of Mute and camera enthusiast) as he prefers just one lens or he will be confused, everyone has their own approach, and that is great!
你是已经用黑白拍摄了,还是在电脑上做?
事情是这样的,我又做了一个有意识的决定,反应了我在制作音乐时的工作方式。也许作为一个摄影界的OG,你可以把我看成是一个新生代的DJ,相比之下 我完全拒绝使用Photoshop,绝对的。但我使用iPad,并在上面使用Lightroom,如果我不使用单色Leica M,有时会在那里转换为黑白,这可能意味着我的工作方法对OG的人来说太新或太陌生。在音乐制作中,我在工作室工作,我在一个固定的地点坐下来,我一直被困在那里,因为没有这个,我根本无法制作音乐,但对于摄影,我想完全自由。因此,关于我的摄影方法,我的说法是这样的。"我希望有一双好的步行靴、信用卡、钱包、相机和iPad,在有心情的情况下在路上工作,当天做所有事情,拍摄、选择、编辑和完成。这对我来说已经足够了。我不会减少我所带的设备数量,但我减少了技术。我也喜欢携带不同的镜头,这使我与丹尼尔-米勒(Mute的标签老板和相机爱好者)相反,因为他喜欢只有一个镜头,否则他会感到困惑,每个人都有自己的方法,这很好!"。
I remember we talked about it on Clubhouse during one of the lockdowns. You have a lot of lenses but when you go away do you take them with you? I believe you were in Helsinki recently?
I took two lenses with me there. That's because my job there was to DJ first and take photos second, although I went a day extra to shoot around the city as I never truly explored it despite being there a few times in the past. I took a 24mm F1.4 with me, I only had one camera body and I also had a 50 Nocti. Normally I will have a day bag which will have one camera body and two lenses or perhaps three lenses. If I'm on tour, like heavily on tour, I will just take my fixed lens camera because it's just small and it's light, it's fully manual or fully auto, water resistant, I can whip it out. It will cope with being in a club, or doing portraiture or landscapes.
If I am doing a trip without DJ'ing, for example when I go to Iceland or a paid shoot, I will probably take two or three camera bodies. I will take one automatic lens to fit the automatic camera body, just in case the weather is really bad, the whole system is then "weather sealed", but I distrust automatic lenses in auto mode, they "pop" the image too much and are too modern in their result for my aesthetical taste. I may take a 180 f2 with an APO extender so that makes it 2f stops down but it still makes it 360, which I think is fine. I'm going to take an M11 with 4 lens.
我记得我们在Clubhouse讨论过这个问题,在一次封锁期间。你有很多镜头,但当你离开时,你会带着它们吗?我相信你最近去了赫尔辛基?
我在那里带了两个镜头。那是因为我在那里的工作首先是做DJ,其次才是拍照,虽然我多去了一天,在城市周围拍摄,因为尽管过去去过几次,但我从未真正探索过它。我带了一个24mm F1.4,我只有一个机身,我还有一个50 Nocti。通常情况下,我会有一个日用包,里面有一个机身和两个镜头,或者可能有三个镜头。如果我在巡回演出,比如说大量的巡回演出,我就会带上我的固定镜头相机,因为它很小,很轻,它是全手动或全自动的,防水,我可以把它拿出来。它可以应付在俱乐部里,或做人像摄影或风景摄影。
如果我不做DJ的旅行,例如我去冰岛或进行付费拍摄,我可能会带两到三台相机。我会带一个自动镜头,以适应自动机身,以防天气真的很糟糕,这样整个系统就 "风雨无阻 "了,但我不信任自动模式下的自动镜头,它们对图像的"突显 "作用太大,其结果对我的审美品位来说太现代了。我可能会带一个180 f2的APO扩展器,这样就会使它下降2f档,但它仍然使它成为360,我认为这很好。我打算带一个M11和4个镜头。
Do it! For Iceland, it's going to be amazing! What do you hope to find in photography?
The first word that comes to my mind is freedom.
动手吧!对于冰岛来说,这将是令人惊叹的! 你希望在摄影中找到什么?
我想到的第一个词是自由。
Freedom, yeah.
And art, but not human made art in the way that you change everything through Photoshop, I want it to be as I've captured it and how my character sees it.
自由,是的。
还有艺术,但不是通过Photoshop改变一切的人类制造的艺术,我希望它是我捕捉到的,以及我的角色如何看待它。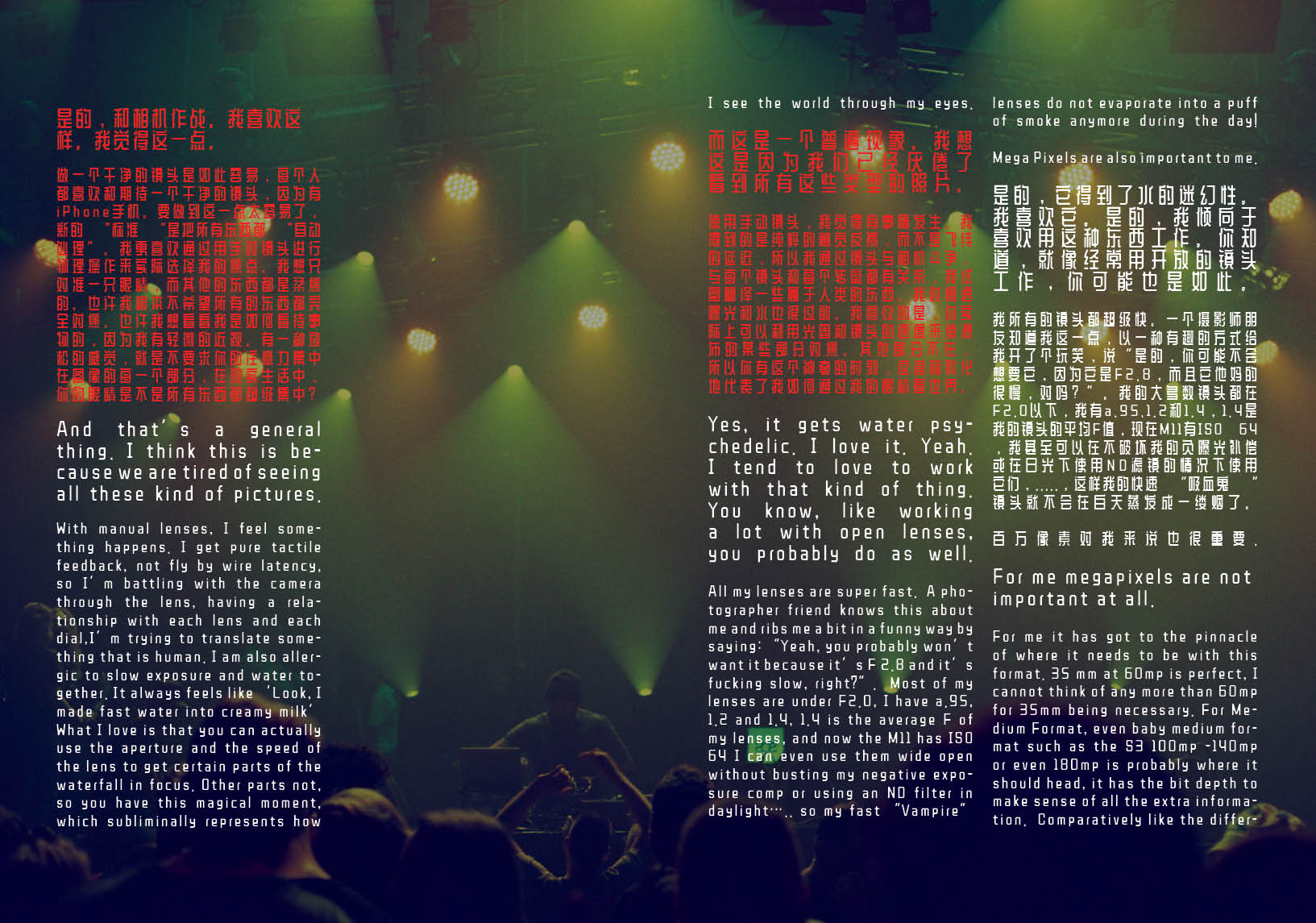 That's how you approach your general photography, what's happening when you do portraits? How do you work in that area?
The first thing that happens with portraits is that I have learnt from being the "unwilling" subject of the gaze of the lens. This is one of the reasons why, for example, the poster of Southside, a record that came out and charted in '95, is actually the back of my head (I'm so glad that James Barton my then A&R understood what I wanted), that is how uncomfortable I was about having my photograph taken then.
So, what I learnt from having my photo taken was my face would set into "cold custard" after 10 or 20 shots and then I became bored or a feeling of uncomfortable self-consciousness would rise up. So learning from my experience as a subject I realised an artificial mood does not represent the soul of the person, however you're there to take a personal picture of them, as they are in life, it is my objective to present who they are in humanity, to capture their essence. I often find that I just like to talk to them, then say, "oh, yeah, hang on a minute" in an informal way and bring out the camera, take the photo, or maybe two photos, put the camera back down again and resume chatting, then that scenario is done. It is lovely when all of a sudden the light does something naturally and unexpected too and you grab it.
这就是你如何对待你的一般摄影,当你做人像摄影时,发生了什么?你是如何在这个领域工作的?
拍摄人像的第一件事是,我从成为镜头注视的 "不情愿 "的对象中学到了东西。这是其中一个原因,例如,《Southside》的海报,这张在95年发行并上榜的唱片,实际上是我的后脑勺(我很高兴James Barton我当时的A&R明白我想要什么),这就是我当时对拍摄照片的不舒服。
所以,我从拍照中学到的是,我的脸在拍了10或20张后就会变成 "冷奶油冻",然后我就会感到厌烦,或者一种不舒服的自我意识会升起来。 因此,从我作为拍摄对象的经验中,我意识到人为的情绪并不能代表这个人的灵魂,然而你在那里为他们拍一张个人照片,就像他们在生活中一样,我的目标是呈现他们在人性中的样子,捕捉他们的本质。我经常发现,我只是喜欢和他们交谈,然后以一种非正式的方式说,"哦,是的,等一下",然后拿出相机,拍下照片,或者也许是两张照片,再次放下相机,继续聊天,然后这个场景就完成了。当光线突然做一些自然和出乎意料的事情时,你就会抓住它,这很可爱。
It's a lot also about the light, right? I'm searching for the light on a face to make it a beautiful picture and get closer to the soul of the subject.
Yes exactly, and you want their eyes to look as if it's their eyes with depth of life, not dead eye, and when it is the 37th photo of me in the same position, I can only give dead eye. So, through my experience as a subject I try to be really fast taking them and keep everything as natural as possible, I also don't go "ohhh, great" or "yessss brilliant" I know it works with some people, indeed with me as an unwilling subject it could even get me to crack a smile, ha ha.
With the photo I took of Anton Corbijn, who really is an idol of mine, we were close to having a shoot around 2003, his photography is inseparable from the music I love, his captures meld together two sides of artistic vision, the photographer and the artist. So with that photo he's sitting at this desk (actually Mendo) and I just took two photos. And that was it, I felt being fast was important.
这也有很多是关于光线的,对吗?我在寻找脸上的光线,使之成为一张美丽的照片,并接近主体的灵魂。
是的,没错,你希望他们的眼睛看起来好像是有生命深度的眼睛,而不是死气沉沉的眼睛,当这是我在同一位置的第37张照片时,我只能给出死气沉沉的眼睛。因此,根据我作为拍摄对象的经验,我尽量快速拍摄,并尽可能保持一切自然,我也不会说 "哦哦,太棒了 "或 "是的,太棒了",我知道这对一些人是有效的,确实对我这个不情愿的拍摄对象来说,这甚至可以让我笑出声,哈哈。
我为安东-科比恩拍摄的照片,他真的是我的偶像,我们在2003年左右接近拍摄,他的摄影与我喜欢的音乐密不可分,他的拍摄将艺术视野的两个方面融合在一起,摄影师和艺术家。所以那张照片,他坐在这张桌子前(实际上是门多),我只是拍了两张照片。就这样,我觉得快速是很重要的。
How do you combine photography and your music now?
Deeply and with passion and long term commitment, I have almost finished a project that is over two years in the making, combining both of these art forms, finally melding them in a symbiotic way that the imagery and musical values seamlessly overlap with each other ….
你现在如何将摄影和你的音乐结合起来?
带着激情和长期的承诺,我几乎已经完成了一个项目,这个项目历时两年多,结合了这两种艺术形式,最终以一种共生的方式将它们融合在一起,图像和音乐的价值无缝地相互重叠.
How do you choose your pictures?
Very, very quickly, with absolute instinct.
你如何选择你的照片?
非常,非常快,绝对的本能。
You do everything very quickly. Okay. It's gonna be my line. "The quick one".
Yes, I want to be fast although I want to battle with my camera, with the manual lens. That is the chemistry I search for. With an auto lens I could be much faster but I lose the connection between me and the world I am viewing.
你做什么都很迅速。好的,这将是我的台词。"快速的人"。
是的,我想快速,尽管我想与我的相机,与手动镜头战斗。这是我寻找的化学反应。用自动镜头,我可以快得多,但我失去了我和我正在观看的世界之间的联系。
Yeah, and battle with the camera. I like that. I feel this.
It's so easy to do a clean shot and everyone loves and expects a clean shot because of iPhones. It's so easy to do that, the new "standard" of "Auto the shit" out of everything. I prefer to actually choose where I'm focusing on by doing things physically with the lens with my hand. I want to focus on just one eye perhaps and everything else is in soft focus. Maybe I don't want everything to be completely in focus at all. Maybe I want to see how I look at things because I'm slightly short sighted. There is a relaxation with that, of not having your attention demanded at every part of the image, is everything super focused with your eyes in real life?
是的,和相机作战。我喜欢这样。我觉得这一点。
做一个干净的镜头是如此容易,每个人都喜欢和期待一个干净的镜头,因为有iPhone手机。要做到这一点太容易了,新的 "标准 "是把所有东西都 "自动处理"。我更喜欢通过用手对镜头进行物理操作来实际选择我的焦点。我想只对准一只眼睛,而其他的东西都是柔焦的。也许我根本不希望所有的东西都完全对焦。也许我想看看我是如何看待事物的,因为我有轻微的近视。有一种放松的感觉,就是不要求你的注意力集中在图像的每一个部分,在现实生活中,你的眼睛是不是所有东西都超级集中?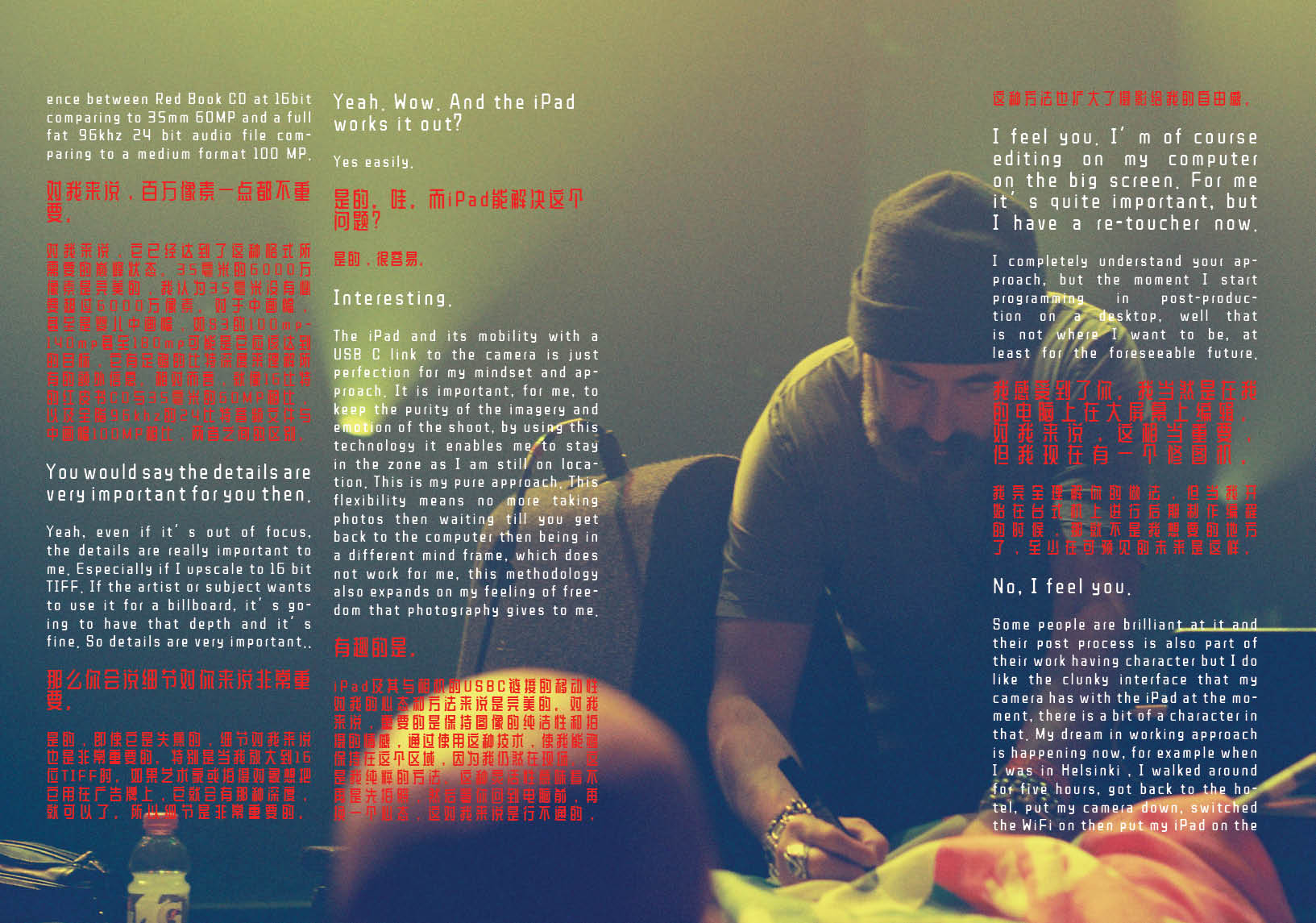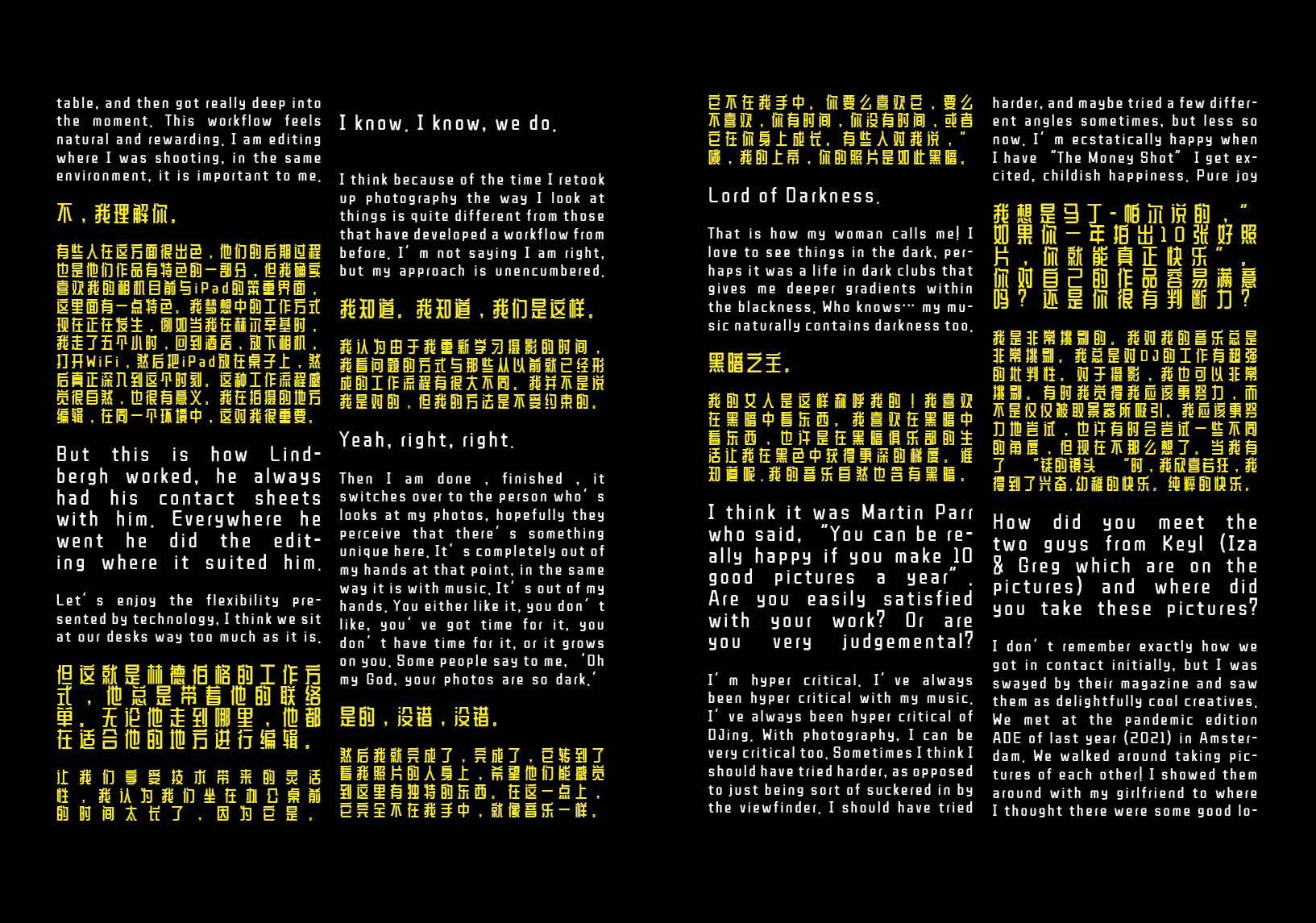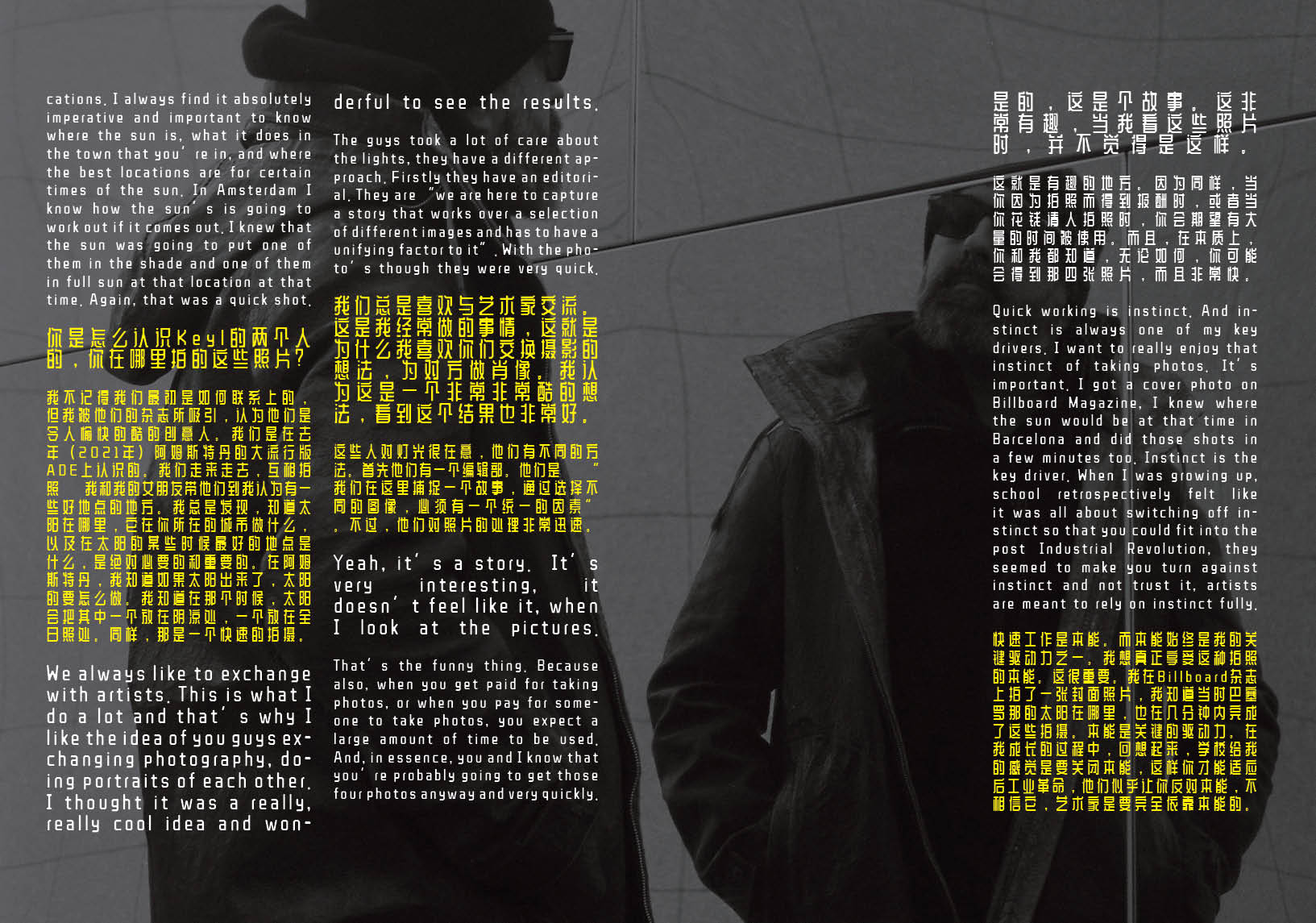 And that's a general thing. I think this is because we are tired of seeing all these kind of pictures.
With manual lenses, I feel something happens. I get pure tactile feedback, not fly by wire latency, so I'm battling with the camera through the lens, having a relationship with each lens and each dial,I'm trying to translate something that is human. I am also allergic to slow exposure and water together. It always feels like 'Look, I made fast water into creamy milk' What I love is that you can actually use the aperture and the speed of the lens to get certain parts of the waterfall in focus. Other parts not, so you have this magical moment, which subliminally represents how I see the world through my eyes.
而这是一个普遍现象。我想这是因为我们已经厌倦了看到所有这些类型的照片。
使用手动镜头,我觉得有事情发生。我得到的是纯粹的触觉反馈,而不是飞线的延迟,所以我通过镜头与相机斗争,与每个镜头和每个转盘都有关系,我试图翻译一些属于人类的东西。我对慢速曝光和水也很过敏。我喜欢的是,你实际上可以利用光圈和镜头的速度来使瀑布的某些部分对焦。其他部分不在,所以你有这个神奇的时刻,这潜移默化地代表了我如何通过我的眼睛看世界。
Yes, it gets water psychedelic. I love it. Yeah. I tend to love to work with that kind of thing. You know, like working a lot with open lenses, you probably do as well.
All my lenses are super fast. A photographer friend knows this about me and ribs me a bit in a funny way by saying: "Yeah, you probably won't want it because it's F 2.8 and it's fucking slow, right?". Most of my lenses are under F2.0, I have a.95, 1.2 and 1.4, 1.4 is the average F of my lenses, and now the M11 has ISO 64 I can even use them wide open without busting my negative exposure comp or using an ND filter in daylight….. so my fast "Vampire" lenses do not evaporate into a puff of smoke anymore during the day!
Mega Pixels are also important to me.
是的,它得到了水的迷幻性。我喜欢它。是的,我倾向于喜欢用这种东西工作。你知道,就像经常用开放的镜头工作,你可能也是如此。
我所有的镜头都超级快。一个摄影师朋友知道我这一点,以一种有趣的方式给我开了个玩笑,说"是的,你可能不会想要它,因为它是F2.8,而且它他妈的很慢,对吗?"。我的大多数镜头都在F2.0以下,我有a.95、1.2和1.4,1.4是我的镜头的平均F值,现在M11有ISO 64,我甚至可以在不破坏我的负曝光补偿或在日光下使用ND滤镜的情况下使用它们,…..,这样我的快速 "吸血鬼 "镜头就不会在白天蒸发成一缕烟了。
百万像素对我来说也很重要.
For me megapixels are not important at all.
For me it has got to the pinnacle of where it needs to be with this format. 35 mm at 60mp is perfect, I cannot think of any more than 60mp for 35mm being necessary. For Medium Format, even baby medium format such as the S3 100mp -140mp or even 180mp is probably where it should head, it has the bit depth to make sense of all the extra information. Comparatively like the difference between Red Book CD at 16bit comparing to 35mm 60MP and a full fat 96khz 24 bit audio file comparing to a medium format 100 MP.
对我来说,百万像素一点都不重要。
对我来说,它已经达到了这种格式所需要的巅峰状态。35毫米的6000万像素是完美的,我认为35毫米没有必要超过6000万像素。对于中画幅,甚至是婴儿中画幅,如S3的100mp-140mp甚至180mp可能是它应该达到的目标,它有足够的比特深度来理解所有的额外信息。相对而言,就像16比特的红皮书CD与35毫米的60MP相比,以及全脂96khz的24比特音频文件与中画幅100MP相比,两者之间的区别。
You would say the details are very important for you then.
Yeah, even if it's out of focus, the details are really important to me. Especially if I upscale to 16 bit TIFF. If the artist or subject wants to use it for a billboard, it's going to have that depth and it's fine. So details are very important..
那么你会说细节对你来说非常重要。
是的,即使它是失焦的,细节对我来说也是非常重要的。特别是当我放大到16位TIFF时。如果艺术家或拍摄对象想把它用在广告牌上,它就会有那种深度,就可以了。所以细节是非常重要的。
Yeah. Wow. And the iPad works it out?
Yes easily.
是的。哇。而iPad能解决这个问题?
是的,很容易。
Interesting.
The iPad and its mobility with a USB C link to the camera is just perfection for my mindset and approach. It is important, for me, to keep the purity of the imagery and emotion of the shoot, by using this technology it enables me to stay in the zone as I am still on location. This is my pure approach. This flexibility means no more taking photos then waiting till you get back to the computer then being in a different mind frame, which does not work for me, this methodology also expands on my feeling of freedom that photography gives to me.
有趣的是。
iPad及其与相机的USBC链接的移动性对我的心态和方法来说是完美的。对我来说,重要的是保持图像的纯洁性和拍摄的情感,通过使用这种技术,使我能够保持在这个区域,因为我仍然在现场。这是我纯粹的方法。这种灵活性意味着不再是先拍照,然后等你回到电脑前,再换一个心态,这对我来说是行不通的,这种方法也扩大了摄影给我的自由感。
I feel you. I'm of course editing on my computer on the big screen. For me it's quite important, but I have a re-toucher now.
I completely understand your approach, but the moment I start programming in post-production on a desktop, well that is not where I want to be, at least for the foreseeable future.
我感受到了你。我当然是在我的电脑上在大屏幕上编辑。对我来说,这相当重要,但我现在有一个修图机。
我完全理解你的做法,但当我开始在台式机上进行后期制作编程的时候,那就不是我想要的地方了,至少在可预见的未来是这样。
No, I feel you.
Some people are brilliant at it and their post process is also part of their work having character but I do like the clunky interface that my camera has with the iPad at the moment, there is a bit of a character in that. My dream in working approach is happening now, for example when I was in Helsinki , I walked around for five hours, got back to the hotel, put my camera down, switched the WiFi on then put my iPad on the table, and then got really deep into the moment. This workflow feels natural and rewarding. I am editing where I was shooting, in the same environment, it is important to me.
不,我理解你。
有些人在这方面很出色,他们的后期过程也是他们作品有特色的一部分,但我确实喜欢我的相机目前与iPad的笨重界面,这里面有一点特色。我梦想中的工作方式现在正在发生,例如当我在赫尔辛基时,我走了五个小时,回到酒店,放下相机,打开WiFi,然后把iPad放在桌子上,然后真正深入到这个时刻。这种工作流程感觉很自然,也很有意义。我在拍摄的地方编辑,在同一个环境中,这对我很重要。
But this is how Lindbergh worked, he always had his contact sheets with him. Everywhere he went he did the editing where it suited him.
Let's enjoy the flexibility presented by technology, I think we sit at our desks way too much as it is.
但这就是林德伯格的工作方式,他总是带着他的联络单。无论他走到哪里,他都在适合他的地方进行编辑。
让我们享受技术带来的灵活性,我认为我们坐在办公桌前的时间太长了,因为它是。
I know. I know, we do.
I think because of the time I retook up photography the way I look at things is quite different from those that have developed a workflow from before. I'm not saying I am right, but my approach is unencumbered.
我知道。我知道,我们是这样。
我认为由于我重新学习摄影的时间,我看问题的方式与那些从以前就已经形成的工作流程有很大不同。我并不是说我是对的,但我的方法是不受约束的。
Yeah, right, right.
Then I am done , finished , it switches over to the person who's looks at my photos, hopefully they perceive that there's something unique here. It's completely out of my hands at that point, in the same way it is with music. It's out of my hands. You either like it, you don't like, you've got time for it, you don't have time for it, or it grows on you. Some people say to me, 'Oh my God, your photos are so dark.'
是的,没错,没错。
然后我就完成了,完成了,它转到了看我照片的人身上,希望他们能感觉到这里有独特的东西。在这一点上,它完全不在我手中,就像音乐一样。它不在我手中。你要么喜欢它,要么不喜欢,你有时间,你没有时间,或者它在你身上成长。有些人对我说,"哦,我的上帝,你的照片是如此黑暗。
Lord of Darkness.
That is how my woman calls me! I love to see things in the dark, perhaps it was a life in dark clubs that gives me deeper gradients within the blackness. Who knows… my music naturally contains darkness too.
黑暗之主。
我的女人是这样称呼我的!我喜欢在黑暗中看东西。我喜欢在黑暗中看东西,也许是在黑暗俱乐部的生活让我在黑色中获得更深的梯度。谁知道呢.我的音乐自然也含有黑暗。
I think it was Martin Parr who said, "You can be really happy if you make 10 good pictures a year". Are you easily satisfied with your work? Or are you very judgemental?
I'm hyper critical. I've always been hyper critical with my music. I've always been hyper critical of DJing. With photography, I can be very critical too. Sometimes I think I should have tried harder, as opposed to just being sort of suckered in by the viewfinder. I should have tried harder, and maybe tried a few different angles sometimes, but less so now. I'm ecstatically happy when I have "The Money Shot" I get excited, childish happiness. Pure joy
我想是马丁-帕尔说的,"如果你一年拍出10张好照片,你就能真正快乐"。你对自己的作品容易满意吗?还是你很有判断力?
我是非常挑剔的。我对我的音乐总是非常挑剔。我总是对DJ的工作有超强的批判性。对于摄影,我也可以非常挑剔。有时我觉得我应该更努力,而不是仅仅被取景器所吸引。我应该更努力地尝试,也许有时会尝试一些不同的角度,但现在不那么想了。当我有了 "钱的镜头 "时,我欣喜若狂,我得到了兴奋、幼稚的快乐。纯粹的快乐。
How did you meet the two guys from Keyl (Iza & Greg which are on the pictures) and where did you take these pictures?
I don't remember exactly how we got in contact initially, but I was swayed by their magazine and saw them as delightfully cool creatives.We met at the pandemic edition ADE of last year (2021) in Amsterdam. We walked around taking pictures of each other! I showed them around with my girlfriend to where I thought there were some good locations. I always find it absolutely imperative and important to know where the sun is, what it does in the town that you're in, and where the best locations are for certain times of the sun. In Amsterdam I know how the sun's is going to work out if it comes out. I knew that the sun was going to put one of them in the shade and one of them in full sun at that location at that time. Again, that was a quick shot.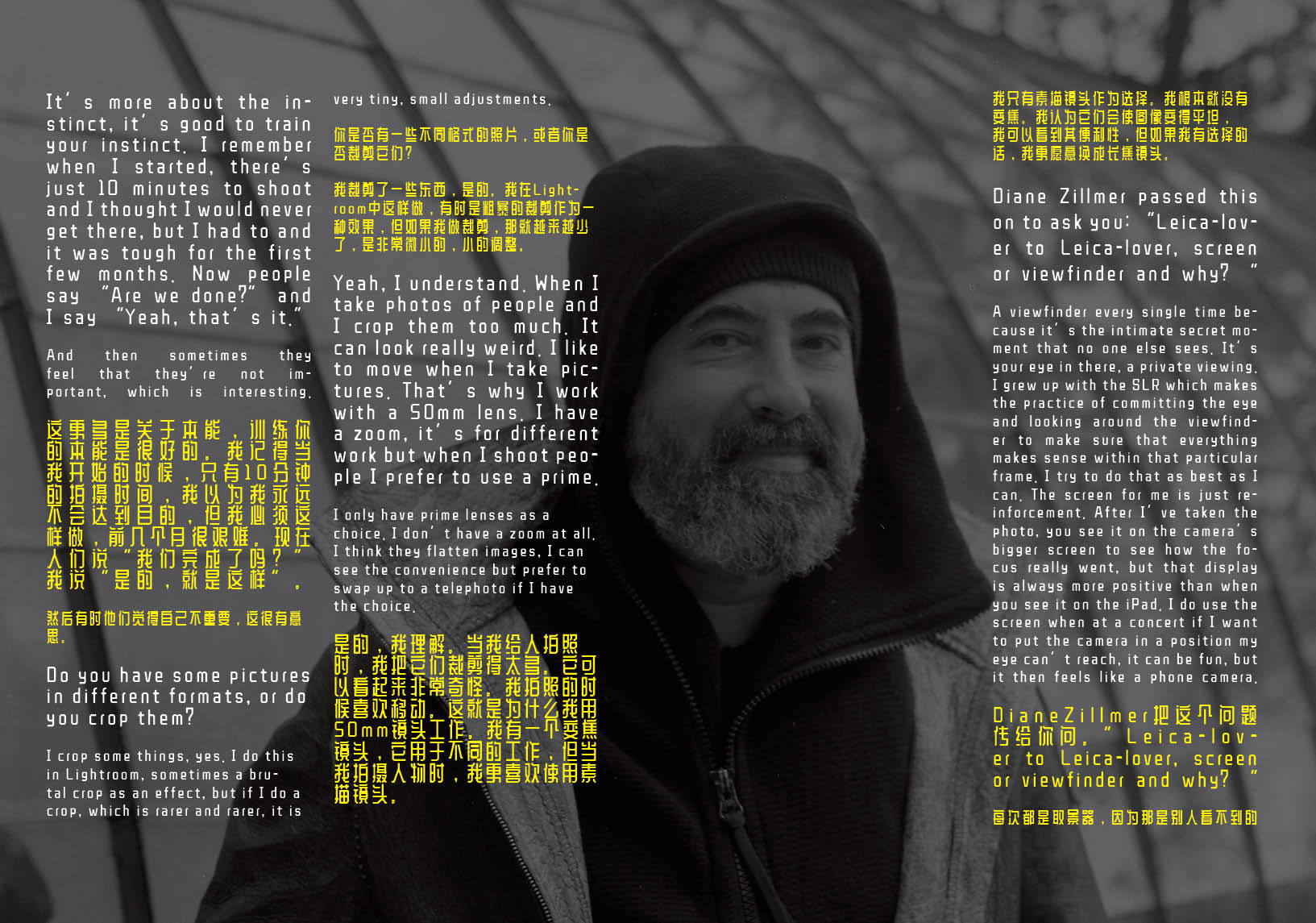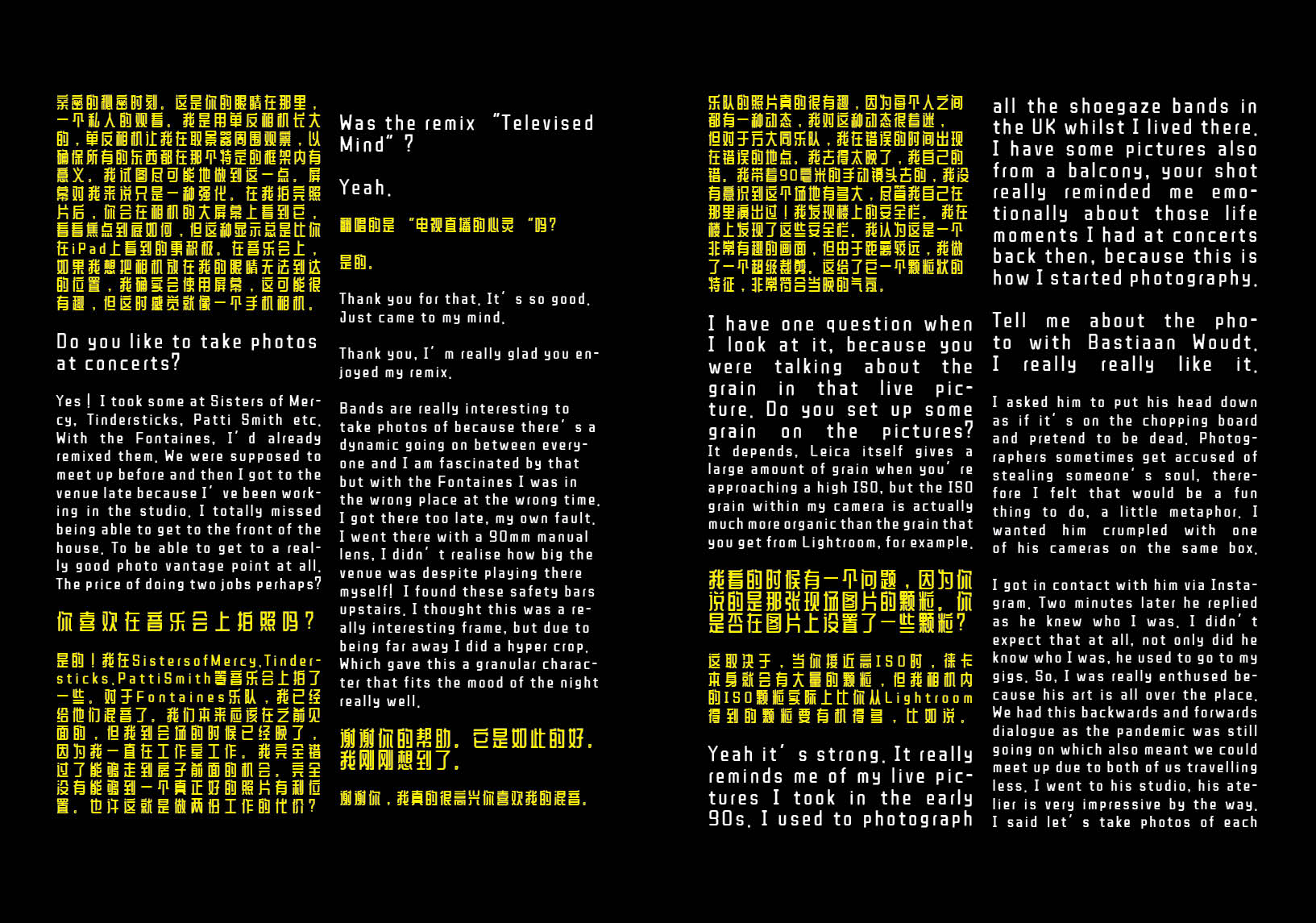 你是怎么认识Keyl的两个人的,你在哪里拍的这些照片?
我不记得我们最初是如何联系上的,但我被他们的杂志所吸引,认为他们是令人愉快的酷的创意人。我们是在去年(2021年)阿姆斯特丹的大流行版ADE上认识的。我们走来走去,互相拍照 我和我的女朋友带他们到我认为有一些好地点的地方。我总是发现,知道太阳在哪里,它在你所在的城市做什么,以及在太阳的某些时候最好的地点是什么,是绝对必要的和重要的。在阿姆斯特丹,我知道如果太阳出来了,太阳的要怎么做。我知道在那个时候,太阳会把其中一个放在阴凉处,一个放在全日照处。同样,那是一个快速的拍摄。
We always like to exchange with artists. This is what I do a lot and that's why I like the idea of you guys exchanging photography, doing portraits of each other. I thought it was a really, really cool idea and wonderful to see the results.
The guys took a lot of care about the lights, they have a different approach. Firstly they have an editorial. They are "we are here to capture a story that works over a selection of different images and has to have a unifying factor to it". With the photo's though they were very quick.
我们总是喜欢与艺术家交流。这是我经常做的事情,这就是为什么我喜欢你们交换摄影的想法,为对方做肖像。我认为这是一个非常非常酷的想法,看到这个结果也非常好。
这些人对灯光很在意,他们有不同的方法。首先他们有一个编辑部。他们是 "我们在这里捕捉一个故事,通过选择不同的图像,必须有一个统一的因素"。不过,他们对照片的处理非常迅速。
Yeah, it's a story. It's very interesting, it doesn't feel like it, when I look at the pictures.
That's the funny thing. Because also, when you get paid for taking photos, or when you pay for someone to take photos, you expect a large amount of time to be used. And, in essence, you and I know that you're probably going to get those four photos anyway and very quickly.
是的,这是个故事。这非常有趣,当我看这些照片时,并不觉得是这样。
这就是有趣的地方。因为同样,当你因为拍照而得到报酬时,或者当你花钱请人拍照时,你会期望有大量的时间被使用。而且,在本质上,你和我都知道,无论如何,你可能会得到那四张照片,而且非常快。
Quick working is instinct. And instinct is always one of my key drivers. I want to really enjoy that instinct of taking photos. It's important. I got a cover photo on Billboard Magazine, I knew where the sun would be at that time in Barcelona and did those shots in a few minutes too. Instinct is the key driver. When I was growing up, school retrospectively felt like it was all about switching off instinct so that you could fit into the post Industrial Revolution, they seemed to make you turn against instinct and not trust it, artists are meant to rely on instinct fully.
快速工作是本能。而本能始终是我的关键驱动力之一。我想真正享受这种拍照的本能。这很重要。我在Billboard杂志上拍了一张封面照片,我知道当时巴塞罗那的太阳在哪里,也在几分钟内完成了这些拍摄。本能是关键的驱动力。在我成长的过程中,回想起来,学校给我的感觉是要关闭本能,这样你才能适应后工业革命,他们似乎让你反对本能,不相信它,艺术家是要完全依靠本能的。
It's more about the instinct, it's good to train your instinct. I remember when I started, there's just 10 minutes to shoot and I thought I would never get there, but I had to and it was tough for the first few months. Now people say "Are we done?" and I say "Yeah, that's it."
And then sometimes they feel that they're not important, which is interesting.
这更多是关于本能,训练你的本能是很好的。我记得当我开始的时候,只有10分钟的拍摄时间,我以为我永远不会达到目的,但我必须这样做,前几个月很艰难。现在人们说"我们完成了吗?"我说"是的,就是这样"。
然后有时他们觉得自己不重要,这很有意思。
Do you have some pictures in different formats, or do you crop them?
I crop some things, yes. I do this in Lightroom, sometimes a brutal crop as an effect, but if I do a crop, which is rarer and rarer, it is very tiny, small adjustments.
你是否有一些不同格式的照片,或者你是否裁剪它们?
我裁剪了一些东西,是的。我在Lightroom中这样做,有时是粗暴的裁剪作为一种效果,但如果我做裁剪,那就越来越少了,是非常微小的,小的调整。
Yeah, I understand. When I take photos of people and I crop them too much. It can look really weird. I like to move when I take pictures. That's why I work with a 50mm lens. I have a zoom, it's for different work but when I shoot people I prefer to use a prime.
I only have prime lenses as a choice. I don't have a zoom at all. I think they flatten images, I can see the convenience but prefer to swap up to a telephoto if I have the choice.
是的,我理解。当我给人拍照时,我把它们裁剪得太多。它可以看起来非常奇怪。我拍照的时候喜欢移动。这就是为什么我用50mm镜头工作。我有一个变焦镜头,它用于不同的工作,但当我拍摄人物时,我更喜欢使用素描镜头。
我只有素描镜头作为选择。我根本就没有变焦。我认为它们会使图像变得平坦,我可以看到其便利性,但如果我有选择的话,我更愿意换成长焦镜头。
Diane Zillmer passed this on to ask you: "Leica-lover to Leica-lover, screen or viewfinder and why? "
A viewfinder every single time because it's the intimate secret moment that no one else sees. It's your eye in there, a private viewing. I grew up with the SLR which makes the practice of committing the eye and looking around the viewfinder to make sure that everything makes sense within that particular frame. I try to do that as best as I can. The screen for me is just reinforcement. After I've taken the photo, you see it on the camera's bigger screen to see how the focus really went, but that display is always more positive than when you see it on the iPad. I do use the screen when at a concert if I want to put the camera in a position my eye can't reach, it can be fun, but it then feels like a phone camera.
DianeZillmer把这个问题传给你问。"Leica-lover to Leica-lover, screen or viewfinder and why? "
每次都是取景器,因为那是别人看不到的亲密的秘密时刻。这是你的眼睛在那里,一个私人的观看。我是用单反相机长大的,单反相机让我在取景器周围观察,以确保所有的东西都在那个特定的框架内有意义。我试图尽可能地做到这一点。屏幕对我来说只是一种强化。在我拍完照片后,你会在相机的大屏幕上看到它,看看焦点到底如何,但这种显示总是比你在iPad上看到的更积极。在音乐会上,如果我想把相机放在我的眼睛无法到达的位置,我确实会使用屏幕,这可能很有趣,但这时感觉就像一个手机相机。
Do you like to take photos at concerts?
Yes ! I took some at Sisters of Mercy, Tindersticks, Patti Smith etc. With the Fontaines, I'd already remixed them. We were supposed to meet up before and then I got to the venue late because I've been working in the studio. I totally missed being able to get to the front of the house. To be able to get to a really good photo vantage point at all. The price of doing two jobs perhaps?
你喜欢在音乐会上拍照吗?
是的!我在SistersofMercy、Tindersticks、PattiSmith等音乐会上拍了一些。对于Fontaines乐队,我已经给他们混音了。我们本来应该在之前见面的,但我到会场的时候已经晚了,因为我一直在工作室工作。我完全错过了能够走到房子前面的机会。完全没有能够到一个真正好的照片有利位置。也许这就是做两份工作的代价?
Was the remix "Televised Mind"?
Yeah.
翻唱的是 "电视直播的心灵 "吗?
是的。
Thank you for that. It's so good. Just came to my mind.
Thank you, I'm really glad you enjoyed my remix.
Bands are really interesting to take photos of because there's a dynamic going on between everyone and I am fascinated by that but with the Fontaines I was in the wrong place at the wrong time. I got there too late, my own fault. I went there with a 90mm manual lens, I didn't realise how big the venue was despite playing there myself! I found these safety bars upstairs. I thought this was a really interesting frame, but due to being far away I did a hyper crop. Which gave this a granular character that fits the mood of the night really well.
谢谢你的帮助。它是如此的好。我刚刚想到了。
谢谢你,我真的很高兴你喜欢我的混音。
乐队的照片真的很有趣,因为每个人之间都有一种动态,我对这种动态很着迷,但对于方大同乐队,我在错误的时间出现在错误的地点。我去得太晚了,我自己的错。我带着90毫米的手动镜头去的,我没有意识到这个场地有多大,尽管我自己在那里演出过!我发现楼上的安全栏。 我在楼上发现了这些安全栏。我认为这是一个非常有趣的画面,但由于距离较远,我做了一个超级裁剪。这给了它一个颗粒状的特征,非常符合当晚的气氛。
I have one question when I look at it, because you were talking about the grain in that live picture. Do you set up some grain on the pictures?
It depends, Leica itself gives a large amount of grain when you're approaching a high ISO, but the ISO grain within my camera is actually much more organic than the grain that you get from Lightroom, for example.
我看的时候有一个问题,因为你说的是那张现场图片的颗粒。你是否在图片上设置了一些颗粒?
这取决于,当你接近高ISO时,徕卡本身就会有大量的颗粒,但我相机内的ISO颗粒实际上比你从Lightroom得到的颗粒要有机得多,比如说。
Yeah it's strong. It really reminds me of my live pictures I took in the early 90s. I used to photograph all the shoegaze bands in the UK whilst I lived there. I have some pictures also from a balcony, your shot really reminded me emotionally about those life moments I had at concerts back then, because this is how I started photography.
Tell me about the photo with Bastiaan Woudt. I really really like it.
I asked him to put his head down as if it's on the chopping board and pretend to be dead. Photographers sometimes get accused of stealing someone's soul, therefore I felt that would be a fun thing to do, a little metaphor. I wanted him crumpled with one of his cameras on the same box.
I got in contact with him via Instagram. Two minutes later he replied as he knew who I was. I didn't expect that at all, not only did he know who I was, he used to go to my gigs. So, I was really enthused because his art is all over the place.
We had this backwards and forwards dialogue as the pandemic was still going on which also meant we could meet up due to both of us travelling less. I went to his studio, his atelier is very impressive by the way. I said let's take photos of each other. I love the photos he took of me too, he has a really distinctive style, I do love that in a photographer and he is very deserving of being displayed in practically every place I go to, whether it is the airport lounge or my gym. He has a solid vision and is selftaught.
是的,它很强大。这真的让我想起了我在90年代初拍摄的现场照片。当我住在英国的时候,我曾经拍摄过所有的shoegaze乐队。我也有一些从阳台上拍的照片,你的镜头真的让我想起了我当时在音乐会上的那些生活片段,因为这就是我开始摄影的原因。
告诉我关于与巴斯蒂安-沃特的照片。我真的非常喜欢它。
我让他把头低下,就像放在砧板上一样,假装死亡。摄影师有时会被指责为偷窃别人的灵魂,因此我觉得这将是一件有趣的事情,一个小小的隐喻。我想让他和他的一台相机皱巴巴地放在同一个盒子里。
我通过Instagram与他取得了联系。两分钟后,他回复了,因为他知道我是谁。我完全没有想到,他不仅知道我是谁,他还曾经去看我的演出。所以,我真的很兴奋,因为他的艺术是无处不在的。
我们有这种前后的对话,因为大流行病仍在继续,这也意味着我们可以见面,因为我们两个人的旅行都减少了。我去了他的工作室,顺便说一下,他的工作室非常令人印象深刻。我说让我们给对方拍照。 我也喜欢他给我拍的照片,他的风格非常独特,我确实喜欢这样的摄影师,他非常值得被展示在我去的每一个地方,无论是机场的休息室还是我的健身房。他有一个坚实的愿景,而且是自学成才。
The shot in Amsterdam, I love the moodiness of it. It's at night?
No, it's 6:30 in the morning.
在阿姆斯特丹的拍摄,我喜欢它的情绪化。这是在晚上?
不,是早上6点半。
Oh, it's early in the morning, because of the fog.
It's in the centre of Amsterdam, on the way to the gym, actually. I get to see all these beautiful things here. The only thing that upsets me when I take photos in Amsterdam are the cars. I don't want to see cars in any of my photos, the detritus of modern society, but aside from that this photo encapsulates the beauty of early morning Amsterdam. It really is a joy to be here.
哦,现在是清晨,因为有雾。
这是在阿姆斯特丹的中心,实际上是在去健身房的路上。我在这里可以看到所有这些美丽的东西。当我在阿姆斯特丹拍照时,唯一让我不高兴的是那些汽车。我不希望在我的任何照片中看到汽车,这些现代社会的垃圾,但除此之外,这张照片概括了阿姆斯特丹清晨的美丽。来到这里真的是一种快乐。
Excellent, then we have Maastricht.
This one is during the pandemic, that is why it's completely dead in the square. It feels medieval because of that, the trees and the old churches and the old buildings, could be centuries ago. Such a spooky shot too as the trees reflected the mood of the times.
很好,然后我们有马斯特里赫特。
这个是在大流行期间,这就是为什么在广场上完全死气沉沉的。正因为如此,它给人以中世纪的感觉,这些树木和古老的教堂以及古老的建筑,可能是几个世纪以前的。这样的镜头也很诡异,因为这些树反映了当时的气氛。
Do want to do an exhibition? Is that something you would like to do one day, or is this already being planned and you don't want to talk about it?
An exhibition is absolutely part of the plan, moreover a series of exhibitions, but for the moment the main focus is on completing the musical part of the project, the photography is a vital visual accompaniment to that.
This project opens a new chapter for me as I explored deeper into my musical heritage and pushed my boundaries in the studio to a new way of working, possibly one of the most rewarding creative times of my thirty year career. Of course you are all invited!
想做一个展览吗?这是你想在某一天做的事情,还是已经在计划中而你不想谈论它?
展览绝对是计划的一部分,更多的是一系列的展览,但目前主要的重点是完成项目的音乐部分,摄影是一个重要的视觉伴奏。
这个项目为我开启了一个新的篇章,我更深入地探索了我的音乐遗产,并在工作室里把我的界限推向了一个新的工作方式,这可能是我30年职业生涯中最有价值的创作时期之一。当然,你们都被邀请了!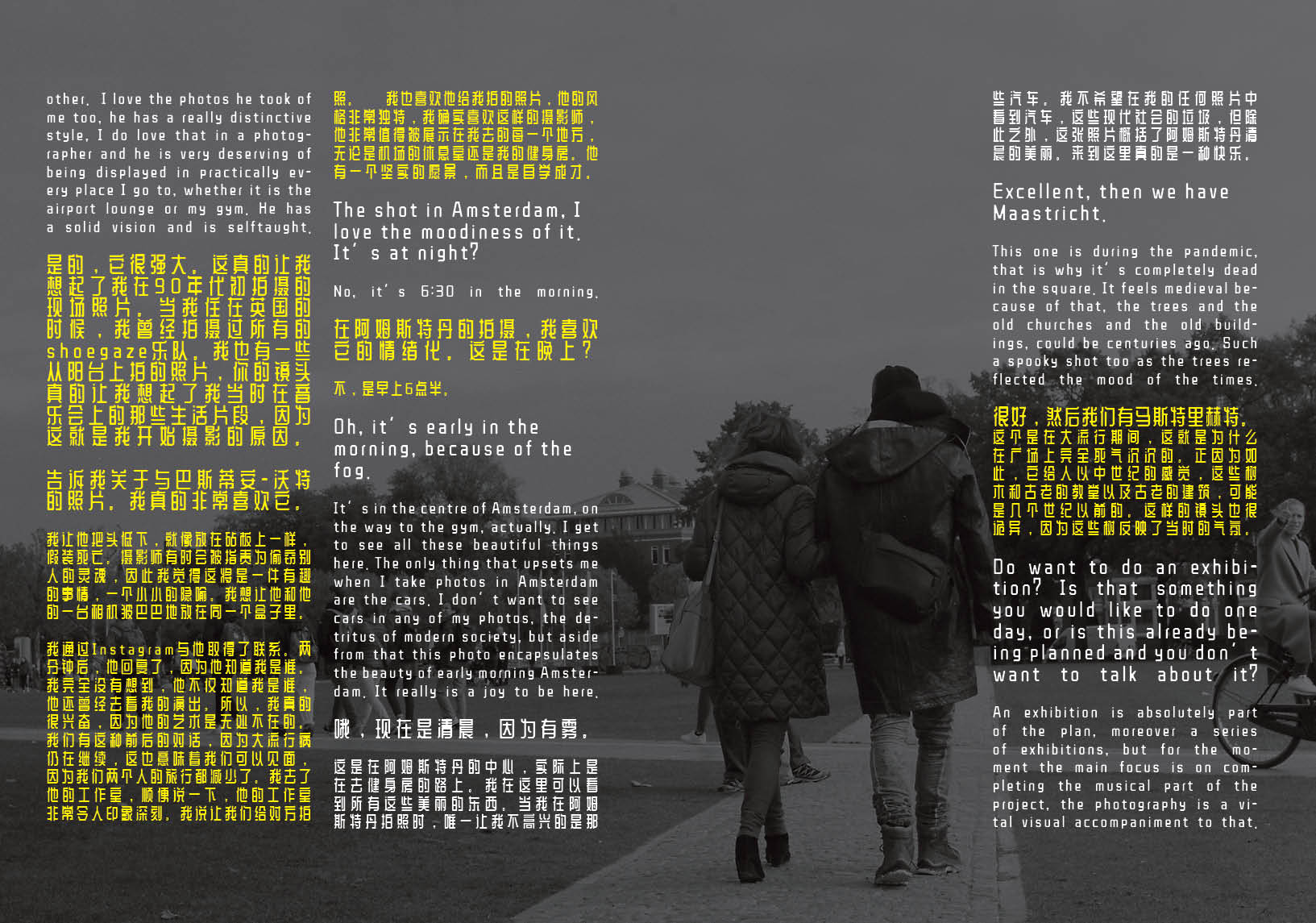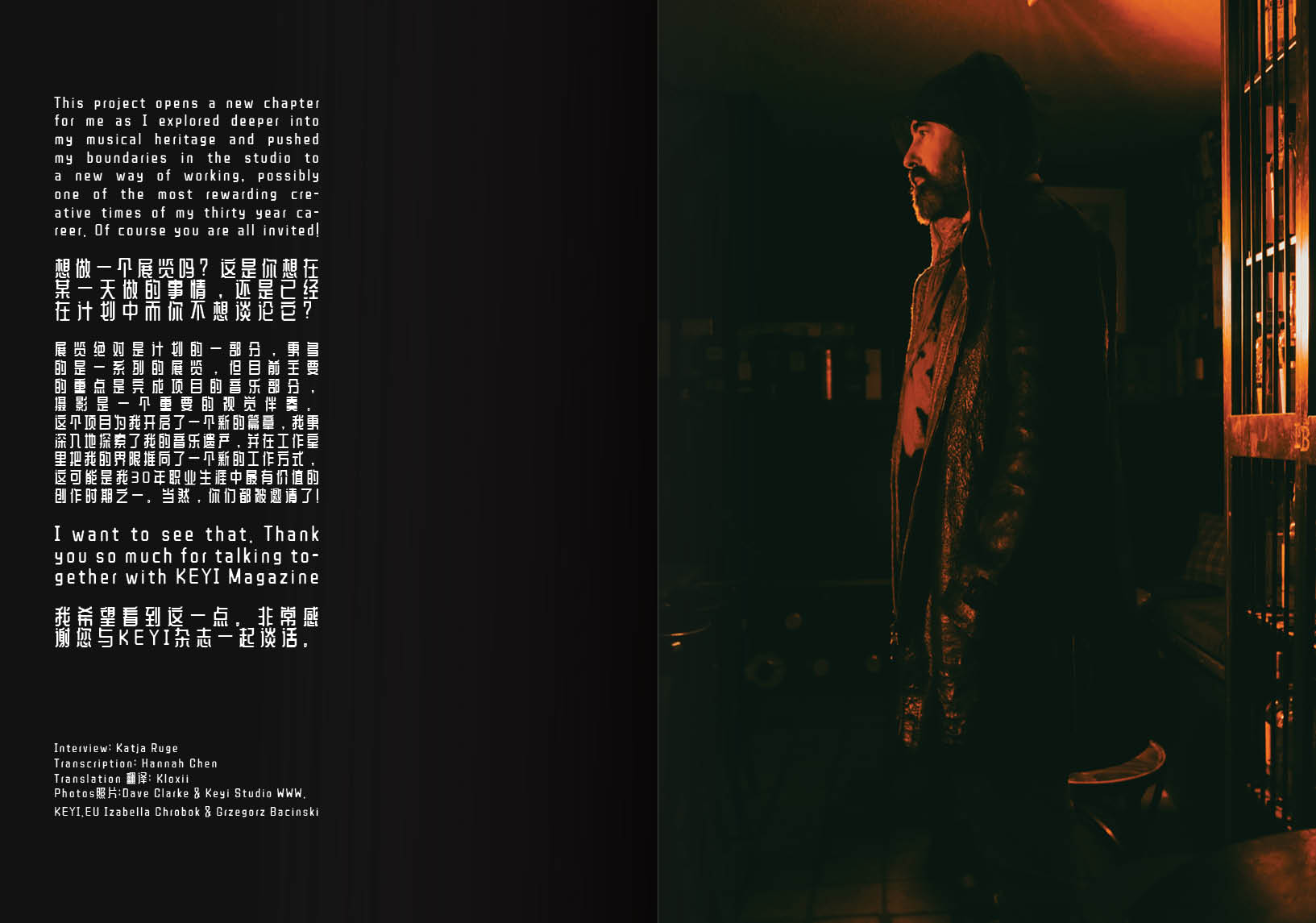 I want to see that. Thank you so much for talking together with KEYI Magazine
我希望看到这一点。非常感谢您与KEYI杂志一起谈话。
Interview: Katja Ruge
Transcription: Hannah Chen
Translation 翻译: Kloxii
Photos照片: Dave Clarke & Keyi Studio WWW.KEYI.EU Izabella Chrobok & Grzegorz Bacinski