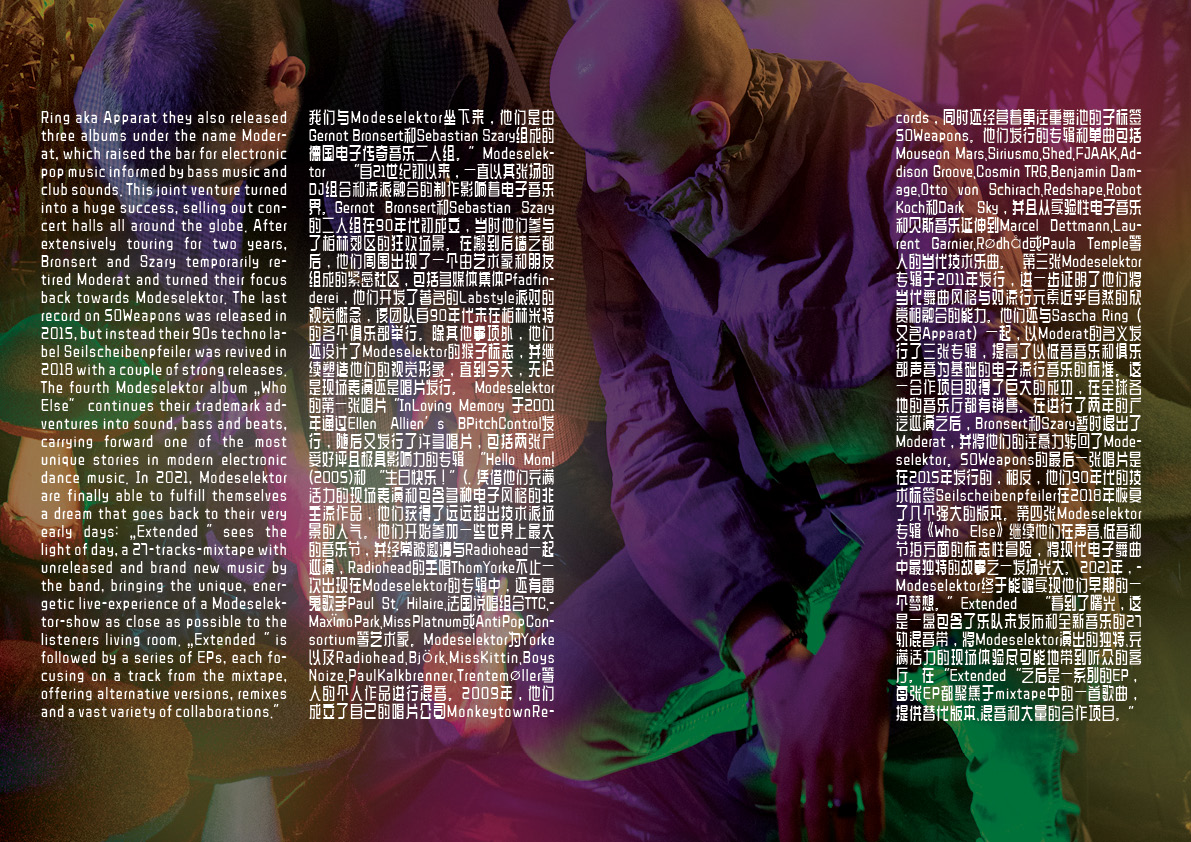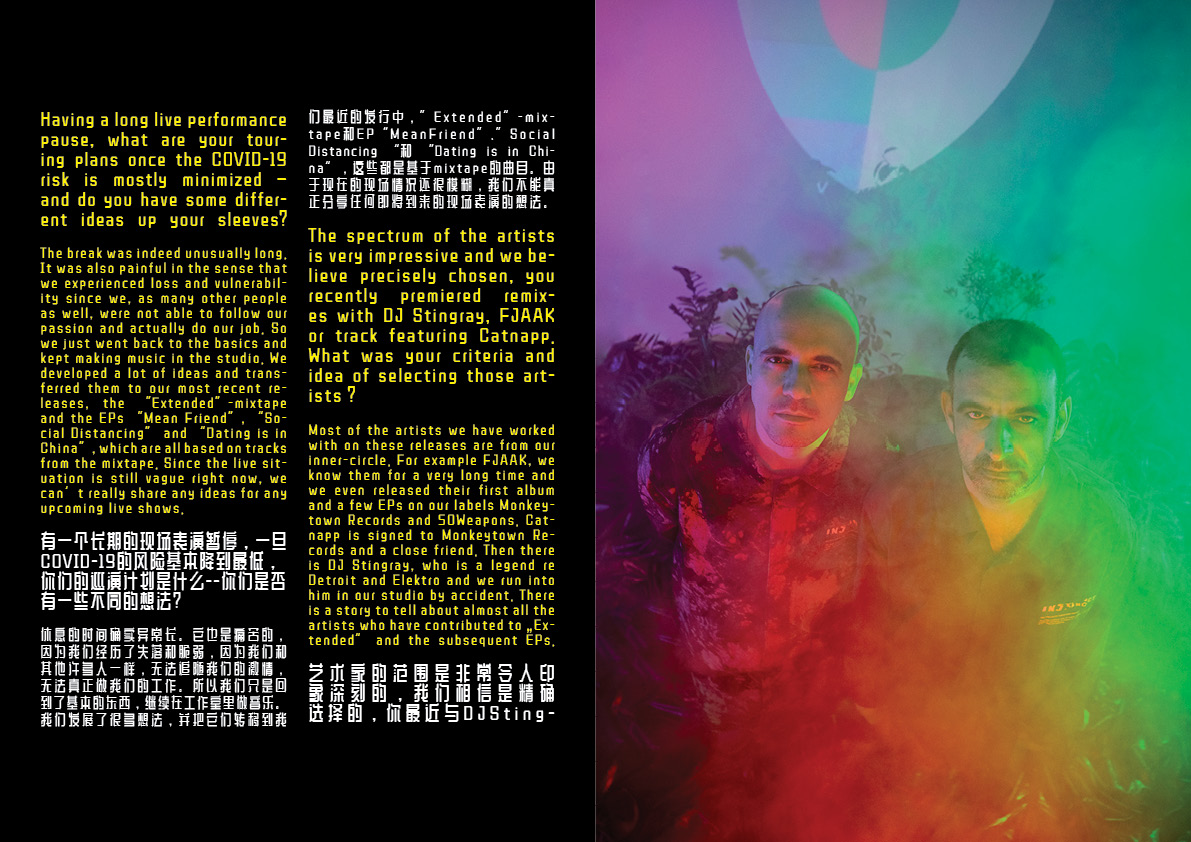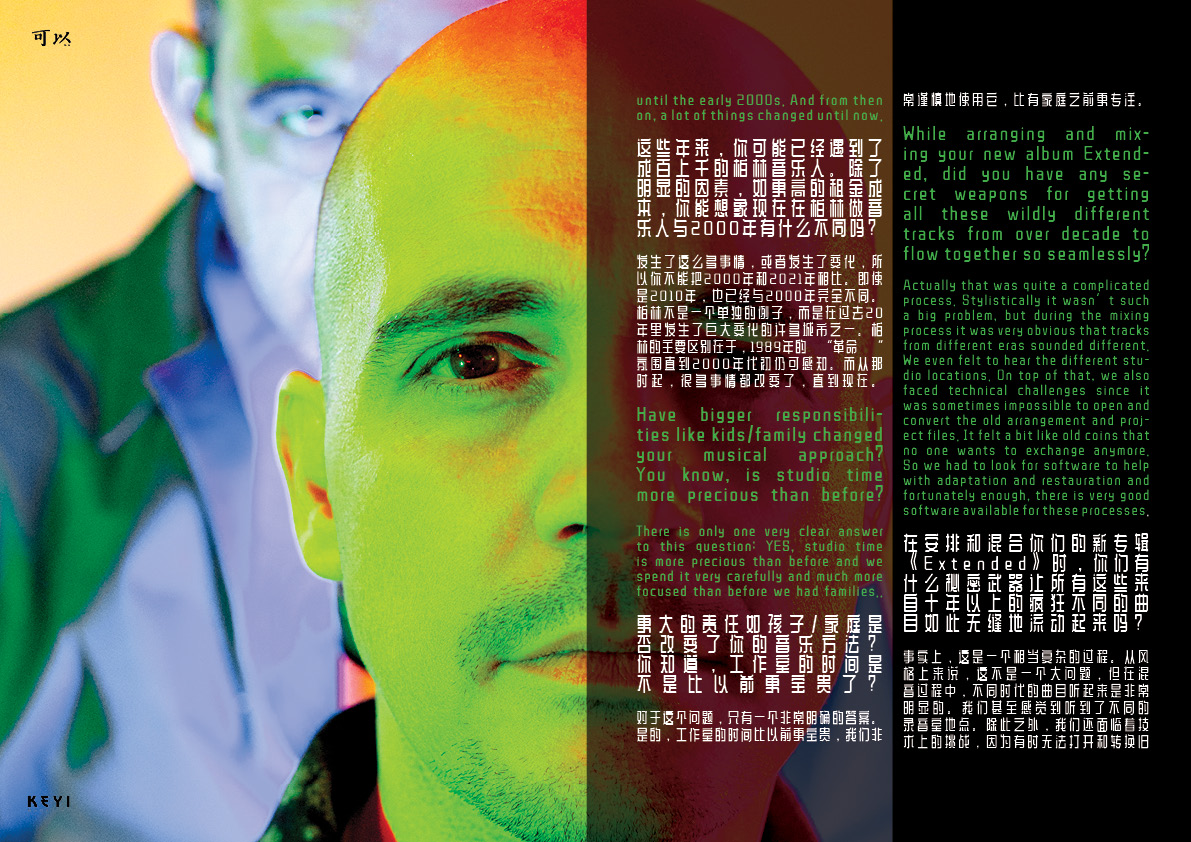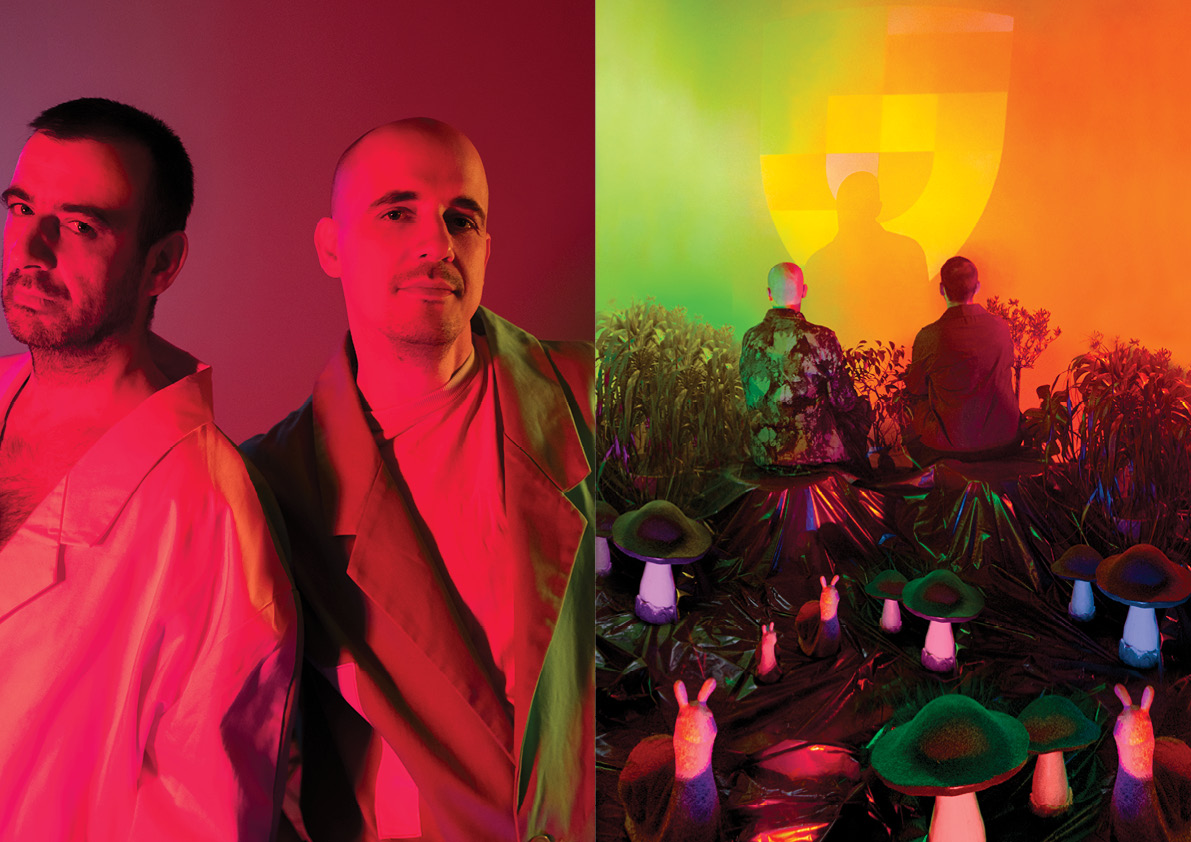 We sat down with Modeselektor a German electronic legendary music duo consisting of Gernot Bronsert and Sebastian Szary. "Modeselektor have been shaping the electronic music scene since the early 2000s with their flamboyant DJ sets and genre-melding productions. The duo of Gernot Bronsert and Sebastian Szary formed in the early 90s while they were involved in the rave scene on the outskirts of Berlin. After moving to the post-wall capital, a close-knit community of artists and friends emerged around them, including multimedia collective Pfadfinderei, who developed the visual concept of the famed Labstyle parties the crew held in various Berlin-Mitte clubs since the late 90s. Amongst other things, they designed Modeselektor's famous monkey logo and continue to shape their visual identity to this day, be it live shows or record sleeves Modeselektor's first record "In Loving Memory" was released through Ellen Allien's BPitch Control in 2001 and many more followed, including the two critically acclaimed and highly influential albums "Hello Mom!" (2005) and "Happy Birthday!" (2007). With their energetic live shows and offbeat productions encom-passing multiple electronic styles, they gained popularity far beyond the techno scene. They started playing some of the biggest festivals in the world and were frequently invited to tour with Radiohead, whose singer Thom Yorke more than once appeared on Modeselektor's albums, as did artists like reggae singer Paul St. Hilaire, French rap crew TTC, Maxïmo Park, Miss Platnum or Anti Pop Consortium. Modeselektor remixed solo work by Yorke as well as by Radiohead, Björk, Miss Kittin, Boys Noize, Paul Kalkbrenner, Trentemøller and many more.. In 2009, they founded their own imprint Monkeytown Records while also running the more dancefloor focused sublabel 50Weapons. Releases include albums and singles by Mouse on Mars, Siriusmo, Shed, FJAAK, Addison Groove, Cosmin TRG, Benjamin Damage, Otto von Schirach, Redshape, Robot Koch and Dark Sky, and stretch from experimental electronica and bass music to contemporary techno tracks by the likes of Marcel Dettmann, Laurent Garnier, Rødhåd or Paula Temple. The third Modeselektor album was released in 2011, offering further proof of their ability to infuse con-temporary dance music styles with an almost natural appreciation of pop elements. Together with Sascha Ring aka Apparat they also released three albums under the name Moderat, which raised the bar for electronic pop music informed by bass music and club sounds. This joint venture turned into a huge success, selling out concert halls all around the globe. After extensively touring for two years, Bronsert and Szary temporarily retired Moderat and turned their focus back towards Modeselektor. The last record on 50Weapons was released in 2015, but instead their 90s techno label Seilscheibenpfeiler was revived in 2018 with a couple of strong releases. The fourth Modeselektor album "Who Else" continues their trademark adventures into sound, bass and beats, carrying forward one of the most unique stories in modern electronic dance music. In 2021, Modeselektor are finally able to fulfill themselves a dream that goes back to their very early days: "Extended" sees the light of day, a 27-tracks-mixtape with unreleased and brand new music by the band, bringing the unique, energetic live-experience of a Modeselektor-show as close as possible to the listeners living room. "Extended" is followed by a series of EPs, each focusing on a track from the mixtape, offering alternative versions, remixes and a vast variety of collaborations."
我们与Modeselektor坐下来,他们是由Gernot Bronsert和Sebastian Szary组成的德国电子传奇音乐二人组。"Modeselektor "自21世纪初以来,一直以其张扬的DJ组合和流派融合的制作影响着电子音乐界。Gernot Bronsert和Sebastian Szary的二人组在90年代初成立,当时他们参与了柏林郊区的狂欢场景。在搬到后墙之都后,他们周围出现了一个由艺术家和朋友组成的紧密社区,包括多媒体集体Pfadfinderei,他们开发了著名的Labstyle派对的视觉概念,该团队自90年代末在柏林米特的各个俱乐部举行。除其他事项外,他们还设计了Modeselektor的猴子标志,并继续塑造他们的视觉形象,直到今天,无论是现场表演还是唱片发行。 Modeselektor的第一张唱片"InLoving Memory 于2001年通过Ellen Allien's BPitchControl发行,随后又发行了许多唱片,包括两张广受好评且极具影响力的专辑 "Hello Mom! (2005)和 "生日快乐!"(. 凭借他们充满活力的现场表演和包含多种电子风格的非主流作品,他们获得了远远超出技术派场景的人气。他们开始参加一些世界上最大的音乐节,并经常被邀请与Radiohead一起巡演,Radiohead的主唱ThomYorke不止一次出现在Modeselektor的专辑中,还有雷鬼歌手Paul St. Hilaire、法国说唱组合TTC、Maxïmo Park、Miss Platnum或Anti Pop Consortium等艺术家。Modeselektor为Yorke以及Radiohead、Björk、MissKittin、Boys Noize、PaulKalkbrenner、Trentemøller等人的个人作品进行混音。2009年,他们成立了自己的唱片公司MonkeytownRecords,同时还经营着更注重舞池的子标签50Weapons。他们发行的专辑和单曲包括Mouseon Mars、Siriusmo、Shed、FJAAK、Addison Groove、Cosmin TRG、Benjamin Damage、Otto von Schirach、Redshape、Robot Koch和Dark Sky,并且从实验性电子音乐和贝斯音乐延伸到Marcel Dettmann、Laurent Garnier、Rødhåd或Paula Temple等人的当代技术乐曲。 第三张Modeselektor专辑于2011年发行,进一步证明了他们将当代舞曲风格与对流行元素近乎自然的欣赏相融合的能力。他们还与Sascha Ring(又名Apparat)一起,以Moderat的名义发行了三张专辑,提高了以低音音乐和俱乐部声音为基础的电子流行音乐的标准。这一合作项目取得了巨大的成功,在全球各地的音乐厅都有销售。在进行了两年的广泛巡演之后,Bronsert和Szary暂时退出了Moderat,并将他们的注意力转回了Modeselektor。50Weapons的最后一张唱片是在2015年发行的,相反,他们90年代的技术标签Seilscheibenpfeiler在2018年恢复了几个强大的版本。第四张Modeselektor专辑《Who Else》继续他们在声音、低音和节拍方面的标志性冒险,将现代电子舞曲中最独特的故事之一发扬光大。 2021年,Modeselektor终于能够实现他们早期的一个梦想。"Extended "看到了曙光,这是一盘包含了乐队未发布和全新音乐的27轨混音带,将Modeselektor演出的独特、充满活力的现场体验尽可能地带到听众的客厅。在 "Extended "之后是一系列的EP,每张EP都聚焦于mixtape中的一首歌曲,提供替代版本、混音和大量的合作项目。"
Having a long live performance pause, what are your touring plans once the COVID-19 risk is mostly minimized – and do you have some different ideas up your sleeves?
The break was indeed unusually long. It was also painful in the sense that we experienced loss and vulnerability since we, as many other people as well, were not able to follow our passion and actually do our job. So we just went back to the basics and kept making music in the studio. We developed a lot of ideas and transferred them to our most recent releases, the "Extended"-mixtape and the EPs "Mean Friend", "Social Distancing" and "Dating is in China", which are all based on tracks from the mixtape. Since the live situation is still vague right now, we can't really share any ideas for any upcoming live shows.
有一个长期的现场表演暂停,一旦COVID-19的风险基本降到最低,你们的巡演计划是什么–你们是否有一些不同的想法?
休息的时间确实异常长。它也是痛苦的,因为我们经历了失落和脆弱,因为我们和其他许多人一样,无法追随我们的激情,无法真正做我们的工作。所以我们只是回到了基本的东西,继续在工作室里做音乐。我们发展了很多想法,并把它们转移到我们最近的发行中,"Extended"-mixtape和EP"MeanFriend"、"Social Distancing "和 "Dating is in China",这些都是基于mixtape的曲目。由于现在的现场情况还很模糊,我们不能真正分享任何即将到来的现场表演的想法。
The spectrum of the artists is very impressive and we believe precisely chosen, you recently premiered remixes with DJ Stingray, FJAAK or track featuring Catnapp. What was your criteria and idea of selecting those artists ?
Most of the artists we have worked with on these releases are from our inner-circle. For example FJAAK, we know them for a very long time and we even released their first album and a few EPs on our labels Monkeytown Records and 50Weapons. Catnapp is signed to Monkeytown Records and a close friend. Then there is DJ Stingray, who is a legend re Detroit and Elektro and we run into him in our studio by accident. There is a story to tell about almost all the artists who have contributed to "Extended" and the subsequent EPs.
艺术家的范围是非常令人印象深刻的,我们相信是精确选择的,你最近与DJStingray、FJAAK或与Catnapp合作的曲目首发了混音。你选择这些艺术家的标准和想法是什么?
与我们合作发行这些唱片的大多数艺术家都来自我们的内部圈子。例如FJAAK,我们认识他们很长时间了,我们甚至在我们的厂牌Monkeytown Records和50Weapons上发行了他们的第一张专辑和几张EP。Catnapp是Monkeytown Records的签约者,也是我们的亲密朋友。然后是DJ Stingray,他是底特律和Elektro的传奇人物,我们在我们的工作室偶然碰到他。几乎所有为 "Extended "和随后的EP做出贡献的艺术家都有一个故事要讲。
Performing live with synths, samplers and sequencers is often a delicate balance between improvisation and automation. Where are you today on this spectrum? Does it change from tour to tour?
That's completely right. The set-up gets constantly changed and optimized. Looking back more than 20 years now, the computer as a generator, sample player, administrator, interface was and still is in the center of the set-up. Lots of different hardware got assembled around the computer, sometimes more, sometimes less. We stepped away from playing the music from a software on stage, since the music got more and more complex over the years. So instead we deconstruct the music in its essential components in order to generate more options to edit the tracks live on stage.
用合成器、采样器和音序器进行现场表演,往往是在即兴创作和自动化之间取得微妙的平衡。你今天在这个波谱上处于什么位置?它在不同的巡回演出中会有变化吗?
这是完全正确的。设置被不断改变和优化。回顾20多年来,计算机作为发生器、采样器、管理员、接口,过去和现在都处于设置的中心。很多不同的硬件被组装在电脑周围,有时多,有时少。我们不再在舞台上用软件演奏音乐,因为这些年来音乐变得越来越复杂。因此,相反,我们在其基本组成部分中解构音乐,以便产生更多的选择,在舞台上现场编辑曲目。
As touring artists, do you consciously think about the ways in which you'd like to connect with your audiences? Which flavours of Modeslektor could you imagine resonating with Asian dancefloors?
To play shows in Asia was and is always big fun for us. There is a difference how people celebrate music in Europe and Asia. But there are also big differences within Asia as well. The audiences in Japan, China, Korea, Singapore or India are very different to each other, each of them have their own style to celebrate music. But there is one thing everyone can agree to: Bass!
作为巡回演出的艺术家,你是否有意识地思考过你想与观众联系的方式?你能想象哪种口味的Modeslektor能在亚洲舞池中产生共鸣?
在亚洲演出对我们来说一直都很有趣。在欧洲和亚洲,人们庆祝音乐的方式是有区别的。但亚洲内部也有很大的不同。日本、中国、韩国、新加坡或印度的观众是非常不同的,他们都有自己的风格来庆祝音乐。但有一件事大家都能达成共识。贝斯!
Definitely Bass connects everyone, especially with Chinese audience, they love it! if you could come back with touring and consider playing in China. What would be your dream tour there besides standard cites. Would you consider playing on the Great Wall or other heritage cultural places ? or how would you like to make it remarkable ?
We would definitely bring the true spirit of Modeselektor and Berlin. It is important to us to not just perform in the obvious business techno environment. Although most of the time we have very little influence on the surrounding conditions for a good rave, it's in our hands to create a vibe that is different from the usual standard. Therefore it's exciting for us to play in China, doesn't really matter in what city.
绝对是巴斯连接了每个人,尤其是中国观众,他们喜欢!如果你能回来巡演,考虑在中国演出。除了标准的城市,你的梦想巡演是什么?你会考虑在长城或其他文化遗产的地方演出吗?或者你想如何让它变得与众不同?
我们肯定会带来Modeselektor和柏林的真正精神。对我们来说,重要的是不只是在明显的商业Techno环境中表演。虽然大多数时候我们对一个好的狂欢的周围条件影响不大,但创造一个不同于通常标准的氛围是在我们手中的。因此,对我们来说,在中国演出是令人兴奋的,在哪个城市并不重要。
Do you remember any funny moments during your tour which you didn't expect?
There are enough of these moments to fill books! Just off the top of my head, we once forgot our VJ at a motorway restaurant in the middle of the Mojave desert. We were just on the way to Coachella Festival on our tour bus and left the restaurant after a short break without even noticing that he was gone. He was very lucky that another band who was also on the way to Coachella picked him up and gave him a lift to the festival. They even borrowed him a phone so he was able to reach out to us since we left him without any belongings. Thankfully enough in the end, it was a Happy End.
你是否记得在你的旅游过程中,有什么你意想不到的有趣时刻?
这样的时刻足够写满一本书了!在我的脑海中,有一次我们把VJ忘在了莫哈韦沙漠中的一家高速公路餐厅。我只想说,有一次我们把VJ忘在了莫哈韦沙漠中间的一家高速公路餐厅。我们当时正乘坐旅游巴士前往科切拉音乐节,在短暂的休息后离开了餐厅,甚至没有注意到他已经离开了。他非常幸运,另一个也在去科切拉音乐节路上的乐队接上了他,让他搭车去音乐节。他们甚至向他借了一部电话,所以他能够联系到我们,因为我们没有给他留下任何物品。值得庆幸的是,最后,这是一个快乐的结局。
With all the downtime, have you been tempted to make any big changes to your studio setup in the last year and a half?
To be honest no big differences have been made, we just optimized bits and pieces, such as software, system performance and storage capacities. We added some smaller gadgets, but generally speaking we already had everything we needed. We are also careful to not spend too much money for new tools or hardware unless we feel it can really add to the set-up and our approach to create music. Although we bought some new headphones, a sofa and a chair for the studio. But we mainly spent the unexpected free time to work on music.
有了所有的停工时间,在过去的一年半里,你有没有受到诱惑,对你的工作室设置做任何大的改变?
说实话,我们没有做大的改动,只是优化了一些零碎的东西,如软件、系统性能和存储容量。我们增加了一些小工具,但一般来说,我们已经有了所需的一切。我们也很小心,不花太多钱买新的工具或硬件,除非我们觉得它真的可以增加设置和我们创作音乐的方法。虽然我们为工作室买了一些新的耳机、一张沙发和一把椅子。但我们主要是利用意外的空闲时间来进行音乐创作。
You've probably met hundreds, even thousands of Berliner musicians over the years. Other than the obvious factors like higher rent costs, can you imagine any ways that being a musician in Berlin now is different from say 2000?
So many things happened or changed so you can't compare the year 2000 with 2021. Even the year 2010 was already totally different from 2000. And Berlin is not an individual case, but one of many cities that has changed substantially in the last 20 years. The main difference in Berlin is, that the "revolutionary" vibe of the year 1989 was still perceptible until the early 2000s. And from then on, a lot of things changed until now.
这些年来,你可能已经遇到了成百上千的柏林音乐人。除了明显的因素,如更高的租金成本,你能想象现在在柏林做音乐人与2000年有什么不同吗?
发生了这么多事情,或者发生了变化,所以你不能把2000年和2021年相比。即使是2010年,也已经与2000年完全不同。柏林不是一个单独的例子,而是在过去20年里发生了巨大变化的许多城市之一。柏林的主要区别在于,1989年的 "革命 "氛围直到2000年代初仍可感知。而从那时起,很多事情都改变了,直到现在。
Have bigger responsibilities like kids/family changed your musical approach? You know, is studio time more precious than before?
There is only one very clear answer to this question: YES, studio time is more precious than before and we spend it very carefully and much more focused than before we had families..
更大的责任如孩子/家庭是否改变了你的音乐方法?你知道,工作室的时间是不是比以前更宝贵了?
对于这个问题,只有一个非常明确的答案。是的,工作室的时间比以前更宝贵,我们非常谨慎地使用它,比有家庭之前更专注。
While arranging and mixing your new album Extended, did you have any secret weapons for getting all these wildly different tracks from over decade to flow together so seamlessly?
Actually that was quite a complicated process. Stylistically it wasn't such a big problem, but during the mixing process it was very obvious that tracks from different eras sounded different. We even felt to hear the different studio locations. On top of that, we also faced technical challenges since it was sometimes impossible to open and convert the old arrangement and project files. It felt a bit like old coins that no one wants to exchange anymore. So we had to look for software to help with adaptation and restauration and fortunately enough, there is very good software available for these processes.
在安排和混合你们的新专辑《Extended》时,你们有什么秘密武器让所有这些来自十年以上的疯狂不同的曲目如此无缝地流动起来吗?
事实上,这是一个相当复杂的过程。从风格上来说,这不是一个大问题,但在混音过程中,不同时代的曲目听起来是非常明显的。我们甚至感觉到听到了不同的录音室地点。除此之外,我们还面临着技术上的挑战,因为有时无法打开和转换旧的编曲和项目文件。这感觉有点像旧硬币,没有人愿意再去交换。所以我们不得不寻找软件来帮助改编和恢复,幸运的是,有非常好的软件可以用于这些过程。
In WORK, Corey Scott-Gilbert uses your latest album Extended as psychedelic rocket fuel on a visceral trip that evokes feelings of BLM, I can't breathe, oil dependence/consumption, oil wars, modern slavery, radical self-expression, bodily freedom… even mummenschanz! There are so many thoughts, feelings and ideas to decipher and unpack. For us this juxtaposition gives your music quite an avant-garde soundtrack vibe. Did it transform your own perception of your album, especially compared to what you had in mind when making all those tracks over the years?
Both the "Extended"-mix as well as the performance piece "Work" do actually work on different layers. Both take you on a journey, which can be very comfortable, but also very stressful. It's probably more obvious when you watch "Work" while listening to the music. The physical exertion that drives Corey Scott-Gilberts performance takes you to a new starting point or maybe back to the origin. In-between there are a lot of things happening, changes, defeats and victories. We are extremely happy with the result, with the choreography, dramaturgy and the cinematic conversion by Corey, Krsn Brasko and Tobias Staab.
在《工作》中,科里-斯科特-吉尔伯特把你的最新专辑《扩展》作为迷幻的火箭燃料,在一次内脏的旅行中,唤起了BLM、我无法呼吸、石油依赖/消费、石油战争、现代奴隶制、激进的自我表达、身体自由.甚至mummenschanz的感觉!有这么多的思想、感觉和想法需要破译和解读。对我们来说,这种并置给了你的音乐相当前卫的配乐氛围。它是否改变了你自己对你的专辑的看法,特别是与你多年来制作所有这些曲目时的想法相比?
扩展"混音和表演作品"工作"实际上都是在不同层次上工作。两者都把你带到一个旅程中,这可能是非常舒适的,但也是非常紧张的。当你边听音乐边看工作"时,这可能更明显。推动Corey Scott-Gilberts表演的体力消耗将你带到一个新的起点,或者也许回到原点。在这之间,有很多事情发生,变化,失败和胜利。我们对这个结果非常满意,对科里、Krsn Brasko和Tobias Staab的舞蹈编排、戏剧性和电影化的转换都非常满意。
Did you always secretly wish to create avant-garde soundtracks?
I guess the question is, what is avantgarde? It's always our intention to fathom and experience the unknown, to explore new territories. That's what drives us forward. I even think it is part of our DNA, probably not only as a musician, but as a human being in general. We were always fascinated by the impossible and to try things out and find a way to make it possible.
你是否一直暗自希望创作前卫的原声带?
我想问题是,什么是先锋派?摸索和体验未知的事物,探索新的领域,一直是我们的目的。这就是推动我们前进的动力。我甚至认为这是我们DNA的一部分,可能不仅仅是作为一个音乐家,而是作为一个普通人。我们总是对不可能的事情着迷,要尝试一些事情,并找到一种方法来使之成为可能。
If you would organise the last event on planet Earth before the final apocalypse where would it be and who would you invite to share on the stage/dance floor with?
That's actually a very interesting question. I think we would ask Jeff Mills and Aphex Twin to play a b2b set with Drake and Popcaan.
如果你要在地球上组织最后一次世界末日前的活动,会在哪里举行,你会邀请谁来分享舞台/舞池?
这其实是一个非常有趣的问题。我想我们会请JeffMills和AphexTwin与Drake和Popcaan一起表演b2b节目。
Interview 作者: Involucija
Introduction Bio Source
Fashion: Tobias Birk Nielsen, ZL_BY_ZLISM, Studio183 Berlin, Achat
Translation 翻译: Emi
Photos照片: Keyi Studio www.keyi.eu
Grzegorz Bacinski & Izabella Chrobok
Get a print copy here !