READ IT ON PAPER: Bloody Mary interview … also available with mini Vinyl
ABOUT THE ARTIST
Bloody Mary is an internationally renowned Producer, Live Act, DJ and Label Owner of Dame-Music, and resident of Tresor Berlin. A staple in the worldwide techno scene for more than a decade; the French artist's name is easily recognizable to fans the world over, having produced a string of highly-acclaimed releases on well-known labels over the years, such as Ovum, Missile and U-TRAX to name a few. Her distinct production style is heavily influenced by the raw, hardware-based sounds of the 90s, citing acid legends like Josh Wink, DJ Pierre, Freddy Fresh, Tim Taylor, Hardfloor & Thomas P. Heckmann as some of her biggest influences during her formative years. Fast forward to today, and it's these exact producers she can be found regularly featuring alongside on the same vinyl releases. It's therefore no surprise that she's often called upon to share her knowledge and expertise around the world. Whether it's being invited by the Goethe Institute to give production workshops in Mongolia, or being hand-picked by Roland to talk about their illustrious 303 at ADE in Amsterdam, her unique approach to music-making and years of experience spent honing her craft has allowed her to constantly travel the globe for over a decade. Accomplishments aside, it's Bloody Mary's unique vision, unrivalled passion, and dedication to her art that has kept the fire burning for her over all these years, and will no doubt continue to do so for many years to come.
How has playing out been for you so far this year? Has anything felt different/noticeable compared to previous years?
This year I've been very fortunate to be able to continue travelling every weekend and to be given the opportunity to visit many countries and continents. I renewed my US visa last year, so it's been a pleasure to go
back over to the States more often again. I'm also looking forward to going back to Australia later this year for the first time since early 2020.
During the pandemic and those long months without travelling, I kept myself really busy in the studio, producing a lot of new music and consequently working on two new live sets. I had the chance to take part in some online features and interviews which enabled me to keep close to my online community. One example was my Against The Clock for Fact Mag, this helped expose my work to people who previously may not have been familiar with what I do.
I have the feeling that things are back on track now like they were in early 2020. The main lesson that we all can take from this experience is that we should never take anything for granted.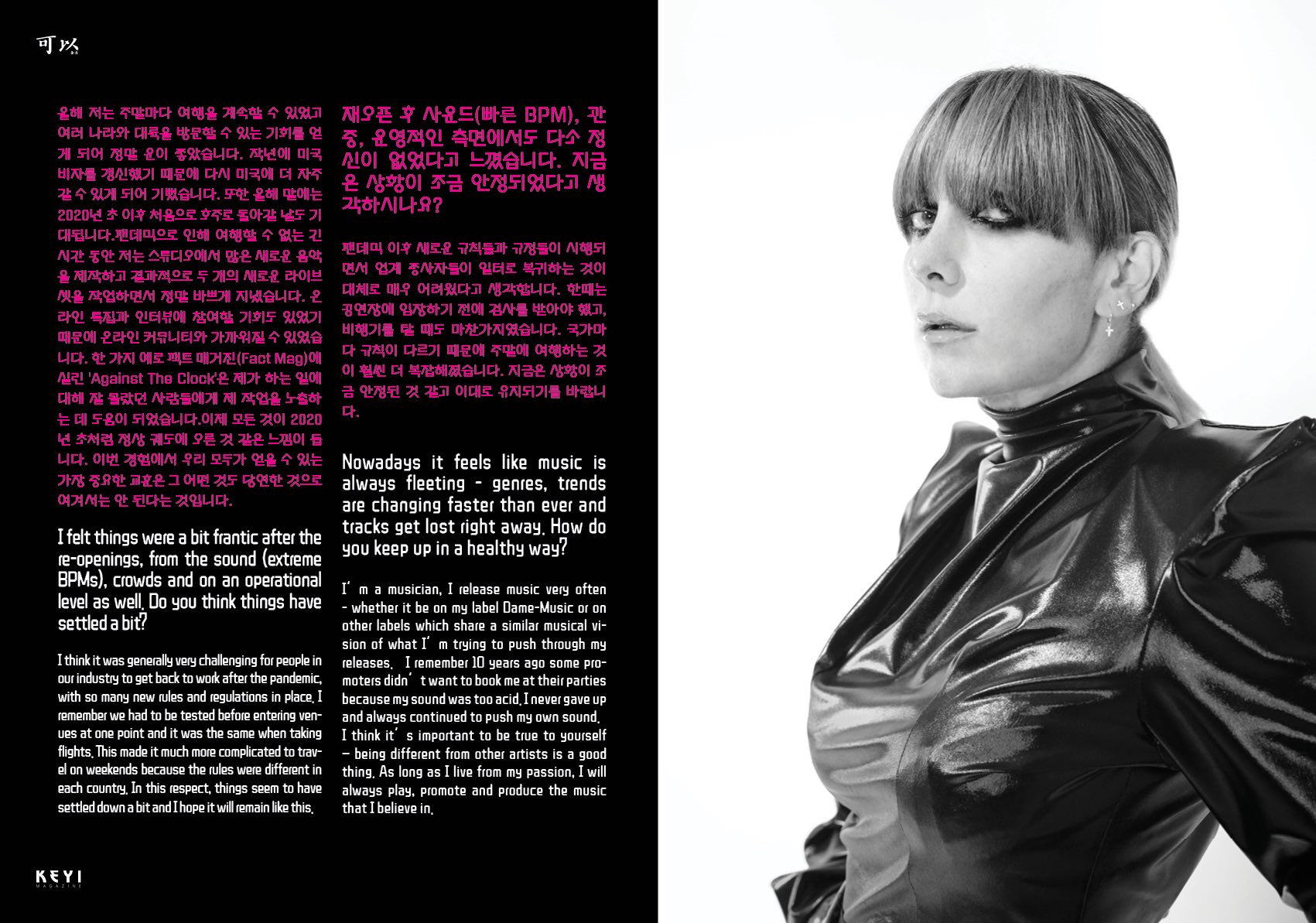 I felt things were a bit frantic after the re-openings, from the sound (extreme BPMs), crowds and on an operational level as well. Do you think things have settled a bit?
I think it was generally very challenging for people in our industry to get back to work after the pandemic, with so many new rules and regulations in place. I remember we had to be tested before entering venues at one point and it was the same when taking flights. This made it much more complicated to travel on weekends because the rules were different in each country. In this respect, things seem to have settled down a bit and I hope it will remain like this.
Nowadays it feels like music is always fleeting – genres, trends are changing faster than ever and tracks get lost right away. How do you keep up in a healthy way?
I'm a musician, I release music very often – whether it be on my label Dame-Music or on other labels which share a similar musical vision of what I'm trying to push through my releases. I remember 10 years ago some promoters didn't want to book me at their parties because my sound was too acid. I never gave up and always continued to push my own sound.
I think it's important to be true to yourself – being different from other artists is a good thing. As long as I live from my passion, I will always play, promote and produce the music that I believe in.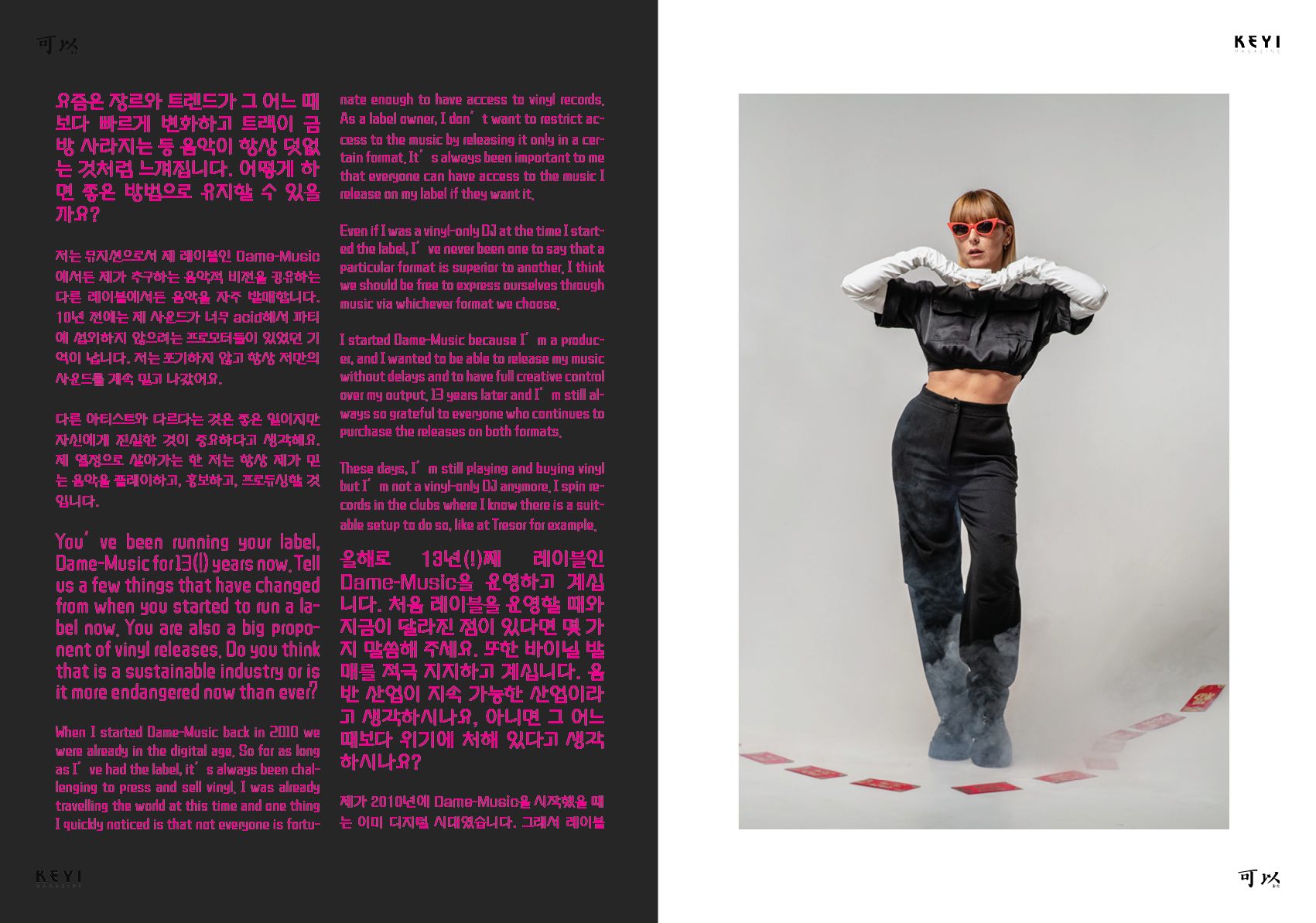 You've been running your label, Dame-Music for 13(!) years now. Tell us a few things that have changed from when you started to run a label now. You are also a big proponent of vinyl releases. Do you think that is a sustainable industry or is it more endangered now than ever?
When I started Dame-Music back in 2010 we were already in the digital age. So for as long as I've had the label, it's always been challenging to press and sell vinyl. I was already travelling the world at this time and one thing I quickly noticed is that not everyone is fortunate enough to have access to vinyl records. As a label owner, I don't want to restrict access to the music by releasing it only in a certain format. It's always been important to me that everyone can have access to the music I release on my label if they want it.
Even if I was a vinyl-only DJ at the time I started the label, I've never been one to say that a particular format is superior to another. I think we should be free to express ourselves through music via whichever format we choose.
I started Dame-Music because I'm a producer, and I wanted to be able to release my music without delays and to have full creative control over my output. 13 years later and I'm still always so grateful to everyone who continues to purchase the releases on both formats.
These days, I'm still playing and buying vinyl but I'm not a vinyl-only DJ anymore. I spin records in the clubs where I know there is a suitable setup to do so, like at Tresor for example.
Acid is also a passion of yours. Even with the big 90's rave revival that's been happening, I feel Acid has sort of remained a niche/cult genre. Why do you think that is and what do you love about Acid?
Acid is timeless – there's so much history in this sound which has been part of my life for decades now. All of this influence made me the producer I am today. I'll never be thankful enough to have had the chance to collaborate with many of my favourite acid producers and to sign my music on their labels like Ovum or Missile for example.
One of my biggest achievements is that I had the opportunity to remix the legendary Acid Tracks. Thanks to DJ Pierre for believing in me and inviting me to take part in this project.
Writing patterns on my 303 in the studio is fun, I can spend hours doing only this because I enjoy it so much. I love acid bass lines in any genre. I also love how the acid sound is portrayed visually through the smiley 🙂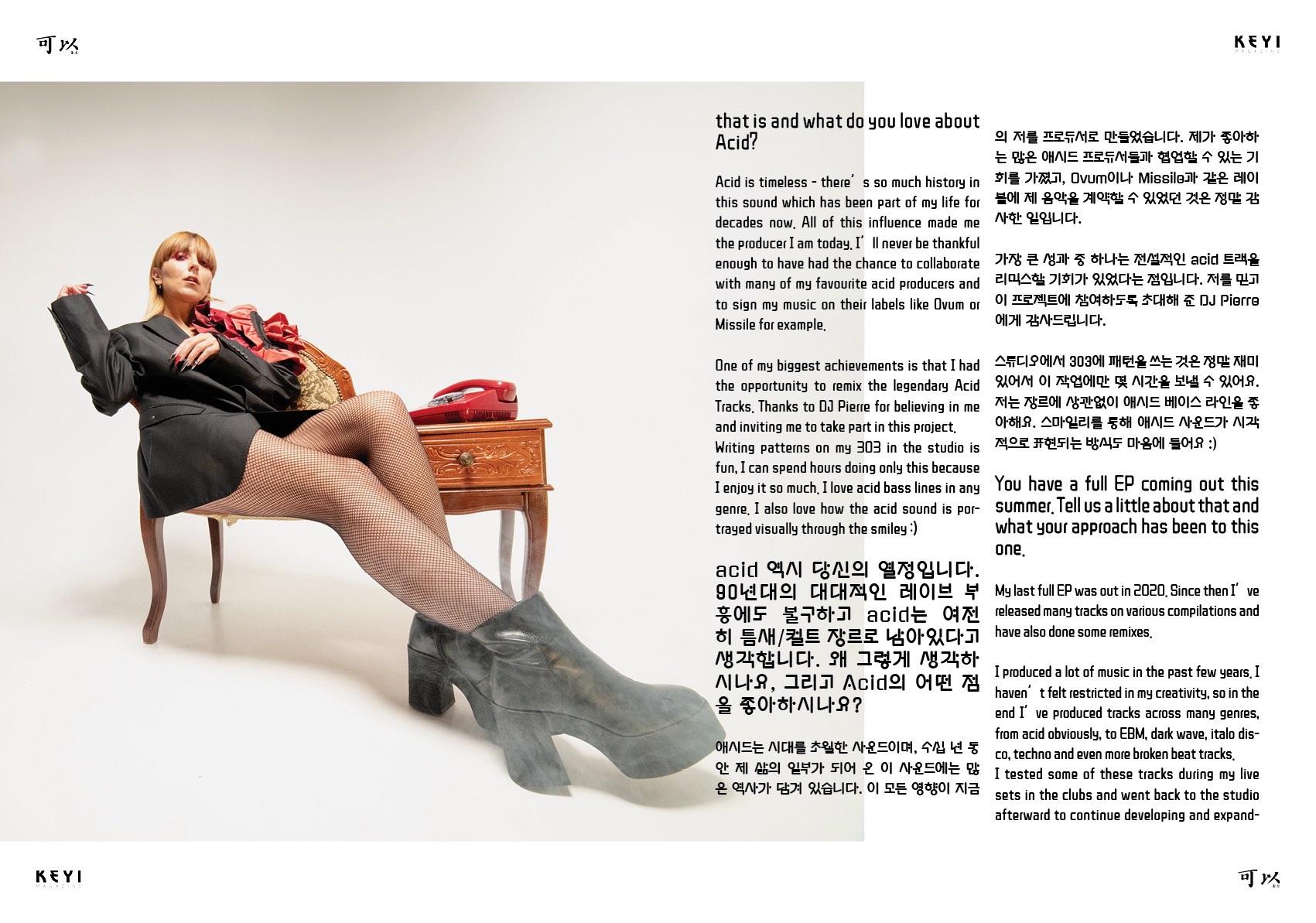 You have a full EP coming out this summer. Tell us a little about that and what your approach has been to this one.
My last full EP was out in 2020. Since then I've released many tracks on various compilations and have also done some remixes.
I produced a lot of music in the past few years. I haven't felt restricted in my creativity, so in the end I've produced tracks across many genres, from acid obviously, to EBM, dark wave, italo disco, techno and even more broken beat tracks.
I tested some of these tracks during my live sets in the clubs and went back to the studio afterward to continue developing and expanding on the ideas which were most effective on the dance floor.it's a game with infinite levels and possibilities. Space and the universe are topics that helped me explore a new vision of the world.
One of the most long-awaited re-openings was Tresor Berlin. I think it was literally the last club to open in Berlin. To me, it sort of remains the most classic, even iconic of Berlin venues. You are a resident there and have been playing for years. Do you think it still has that special feeling inside and status in techno in general?
Tresor Berlin is a techno institution and in my opinion, there's no other club in the world that can be compared to it – as its history is so unique. Besides the club itself, the Tresor label is still running strong after 30 years with a constant output of quality music. This alone is a huge achievement.
I've been playing between those walls for years and I've also danced to many great sets there by outstanding artists from all around the world.
If you had told me when I started my career that one day I'd be resident there, I wouldn't have believed you!
You're also known for your live sets which I think are one of the most misunderstood things in electronic music – a lot of people still don't get what they are, some artists claim to play live when they don't and in general it's something that's harder to get booked too. What do you love about live sets – both as an artist and as an audience member? Do you think we will see more?
You're completely right, I also think that live sets are one of the most misunderstood things in electronic music, along with producers / music production and the work that actually goes into creating music.
Working on a live set takes time, and weeks of work. Some people don't understand this and are sometimes quick to compare it to a DJ set. It also requires more effort for travelling with all the live equipment.
You need to allow time to do a sound check, and most of the live sets are only 1 hour. For all these reasons, promoters generally prefer to book DJs.
Years ago, I was playing my live set with hardware only. These days, my setup is more compact and I use a laptop with some gear. I don't need a 12 channel mixer anymore, I've adjusted my setup and can play using an Xone mixer now instead. I think if us producers want to play live more often, we also need to help the promoters to make things easier for them.
Social media can also be a useful tool these days, because nothing can stop you from making online videos to share your work. It's all about the way you choose to communicate your work online to the outside world.
Music production has become more accessible nowadays so I'm keeping positive about the future. I'm sure we will see more and more artists playing live on stage in the coming years.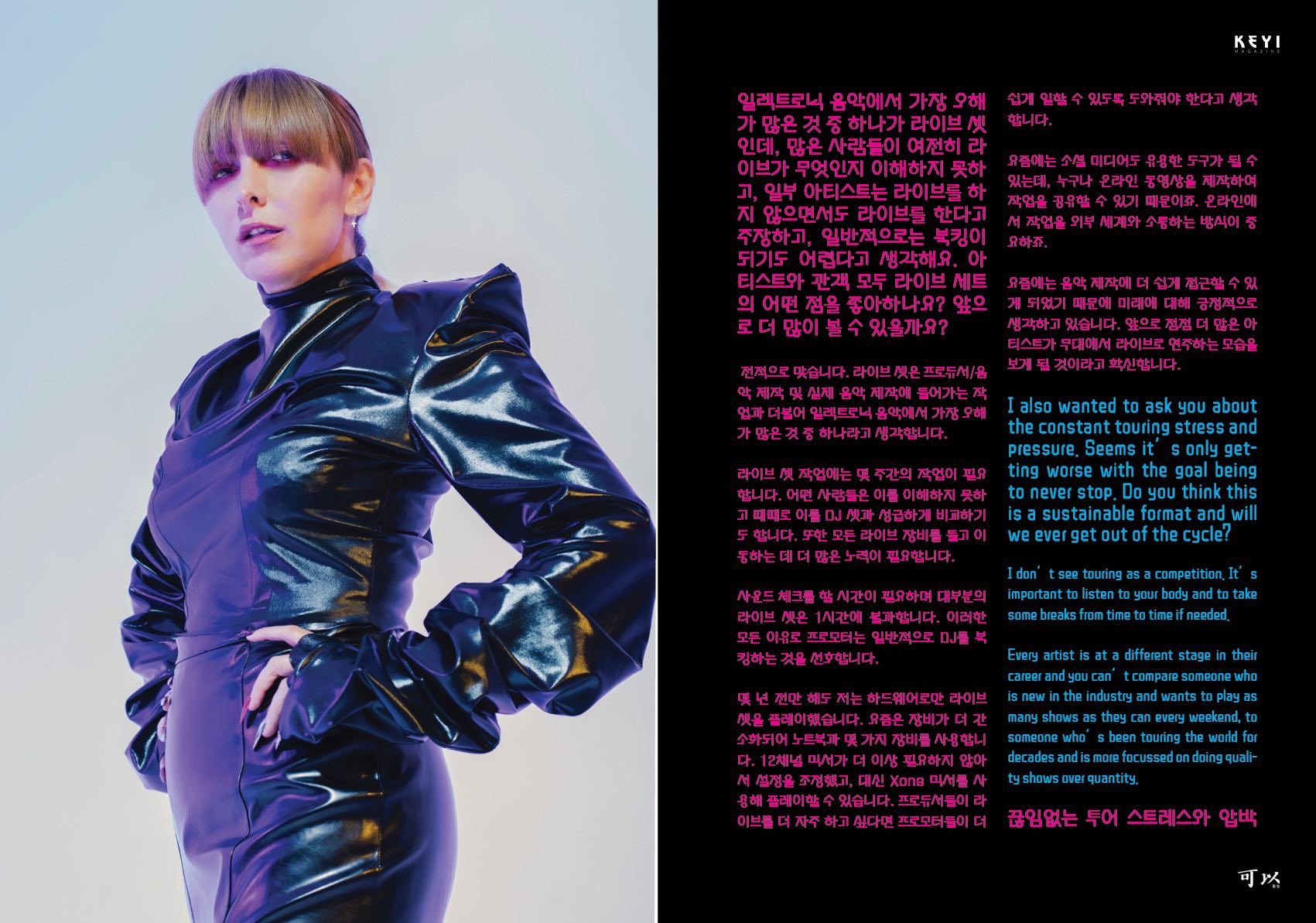 I also wanted to ask you about the constant touring stress and pressure. Seems it's only getting worse with the goal being to never stop. Do you think this is a sustainable format and will we ever get out of the cycle?
I don't see touring as a competition. It's important to listen to your body and to take some breaks from time to time if needed.
Every artist is at a different stage in their career and you can't compare someone who is new in the industry and wants to play as many shows as they can every weekend, to someone who's been touring the world for decades and is more focussed on doing quality shows over quantity.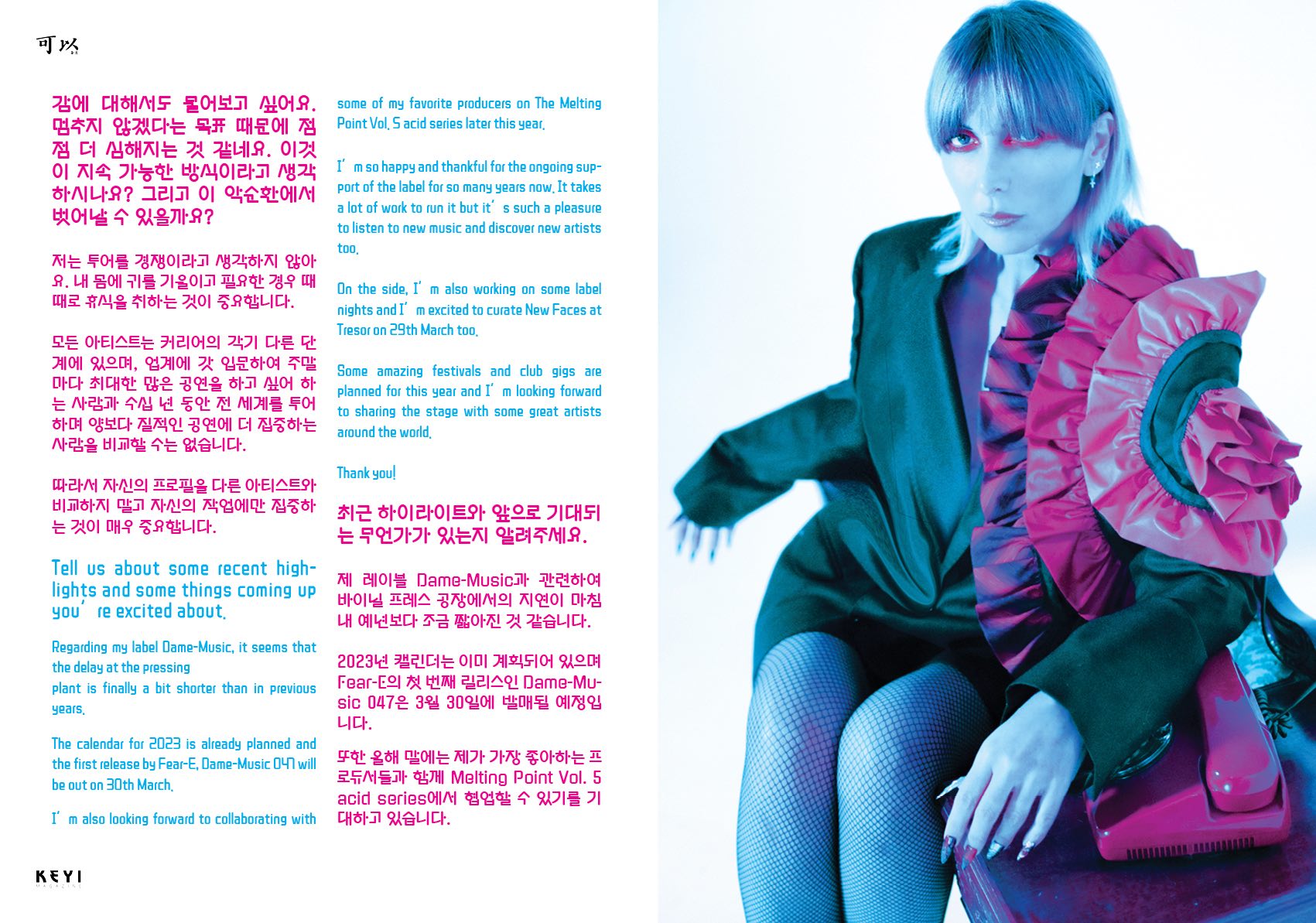 Tell us about some recent highlights and some things coming up you're excited about.
Regarding my label Dame-Music, it seems that the delay at the pressing
plant is finally a bit shorter than in previous years.
The calendar for 2023 is already planned and the first release by Fear-E, Dame-Music 047 will be out on 30th March.
I'm also looking forward to collaborating with some of my favorite producers on The Melting Point Vol. 5 acid series later this year.
I'm so happy and thankful for the ongoing support of the label for so many years now. It takes a lot of work to run it but it's such a pleasure to listen to new music and discover new artists too.
On the side, I'm also working on some label nights and I'm excited to curate New Faces at Tresor on 29th March too.
Some amazing festivals and club gigs are planned for this year and I'm looking forward to sharing the stage with some great artists around the world.
Thank you!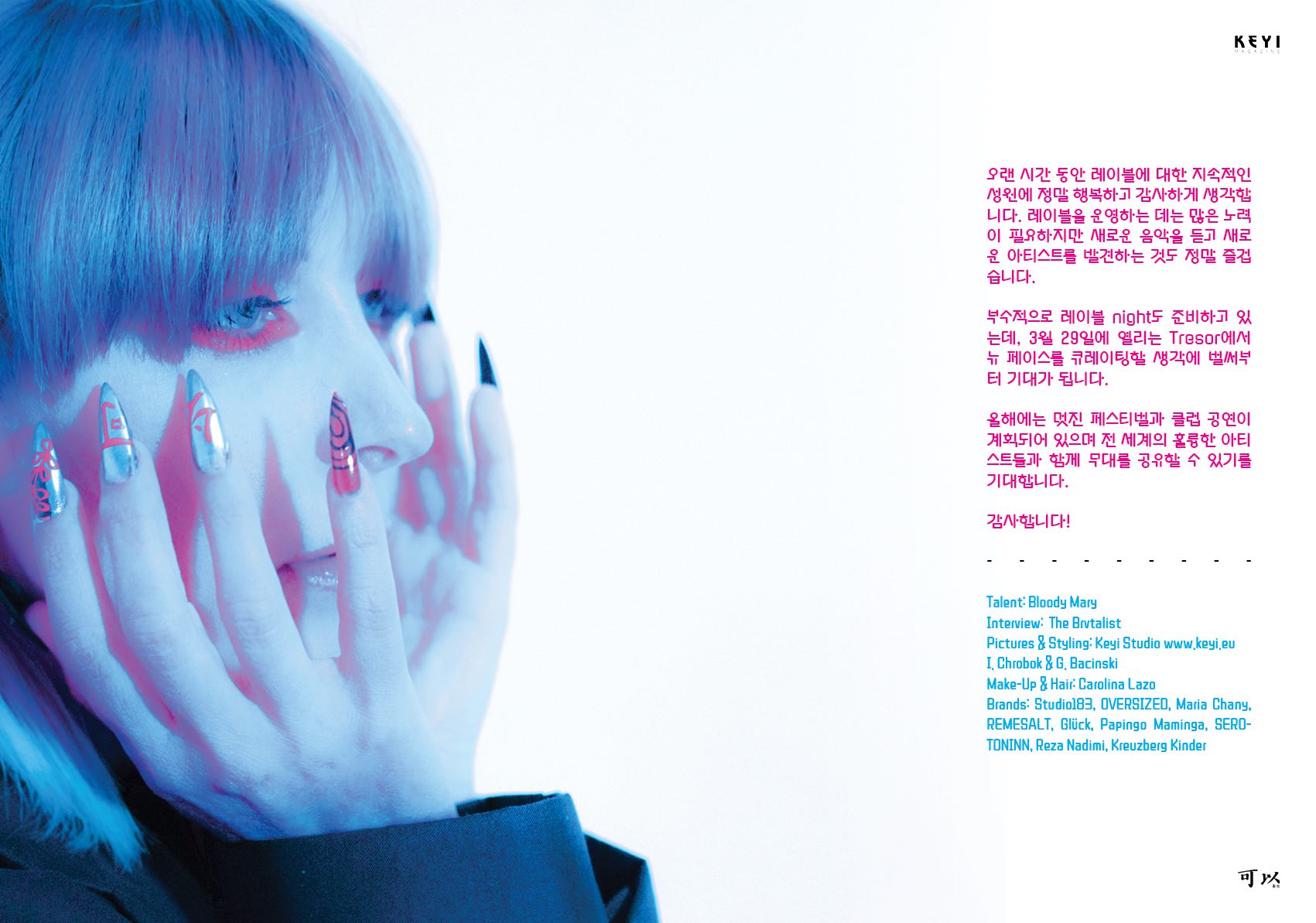 Talent: Bloody Mary
Interview:  The Brvtalist
Pictures & Styling: Keyi Studio www.keyi.eu
I. Chrobok & G. Bacinski
Make-Up & Hair: Carolina Lazo
Brands: Studio183 OVERSIZED, Maria Chany, REMESALT, Glück, Papingo Maminga, Serotoninn, Reza Nadimi, Kreuzberg Kinder
---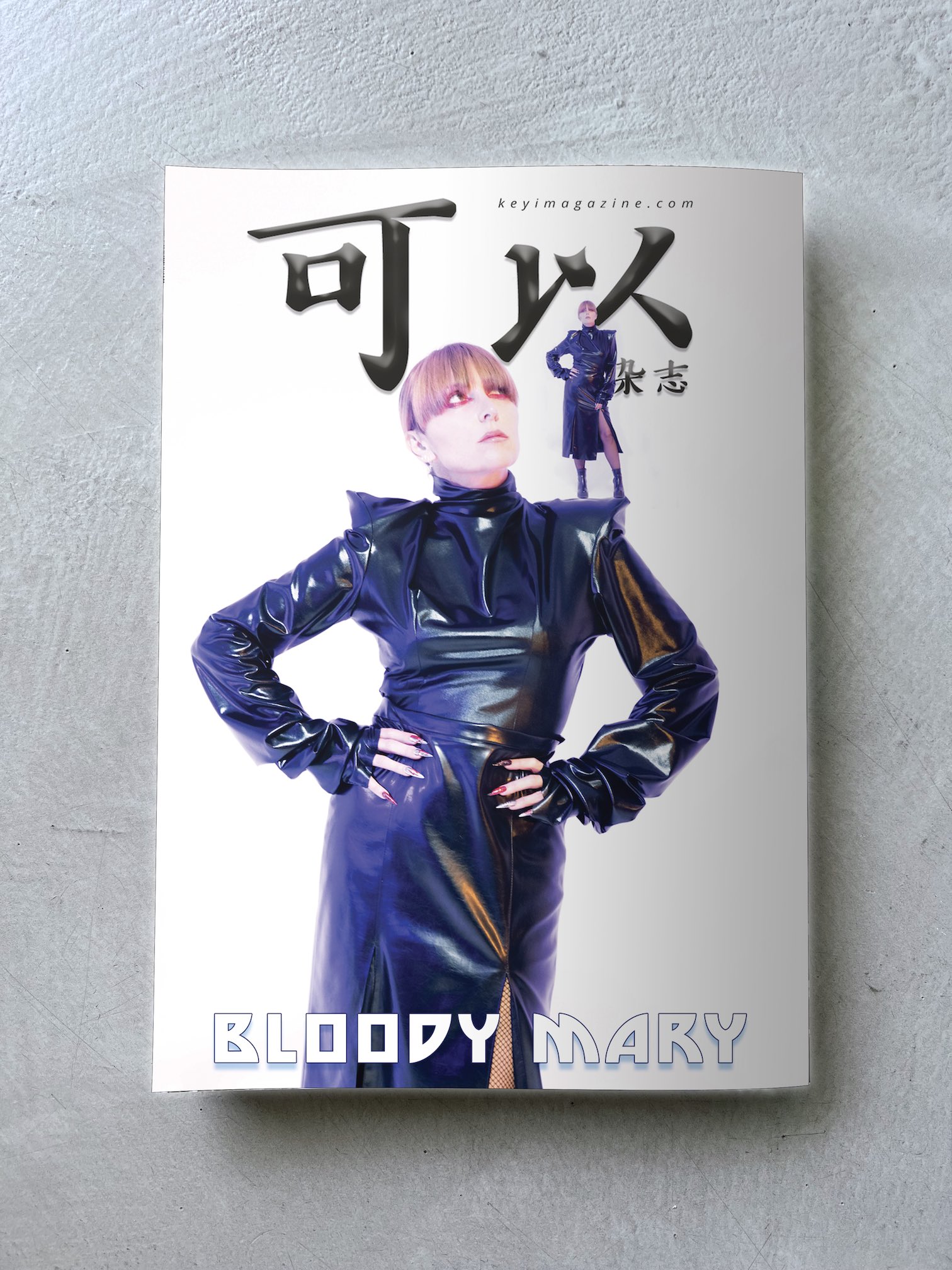 ---
More music related stories -> CLICK HERE