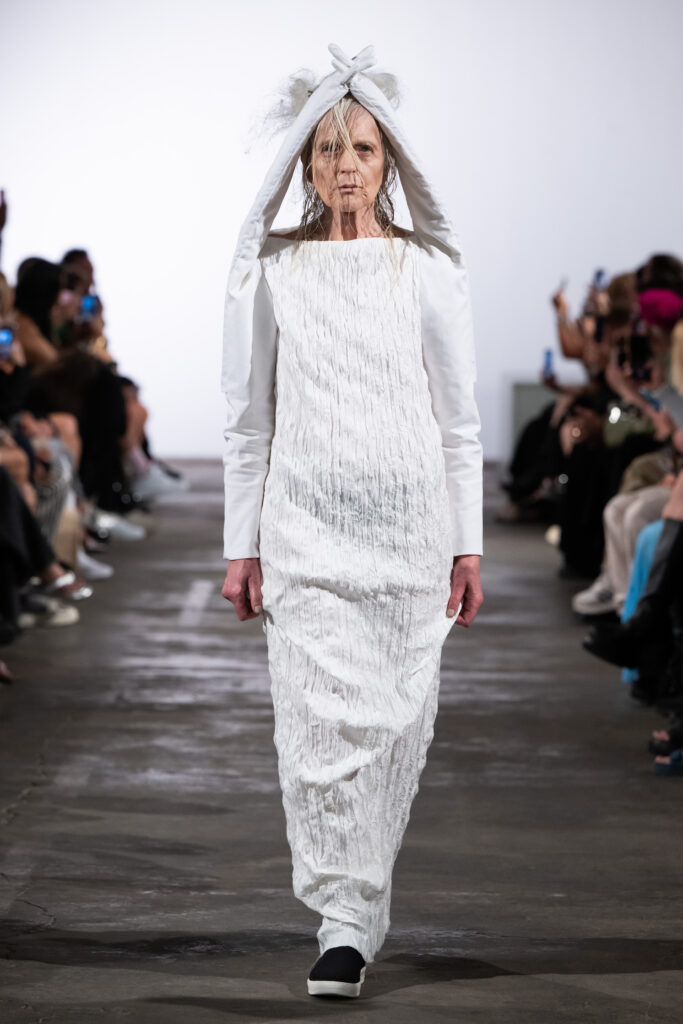 DZHUS SS24 PERFORMANCE AT BERLIN FASHION WEEK
Berlin, 12th July 2023 DZHUS SS24 line is deeply symbolic as it refers to a personality transition in an allegoric way. In the new season, Irina Dzhus has conceived her wearable architecture around cultivated attributes of both female and male social narratives. The creator questions the established values of the traditional 'norm', referring directly to the visual indicators of feminine and masculine self-representation.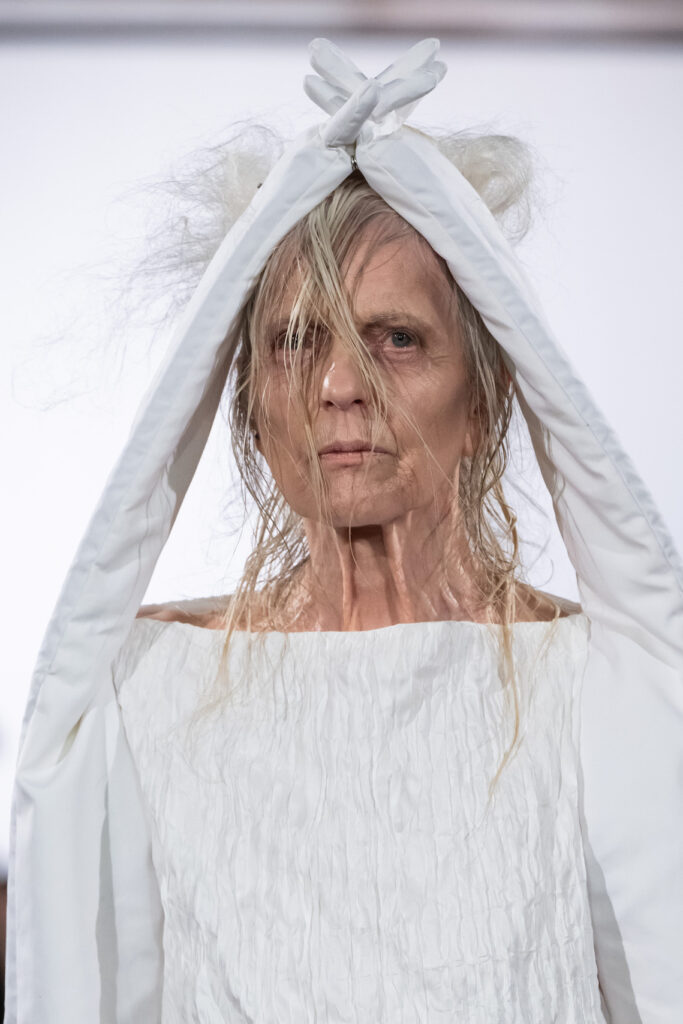 This time, DZHUS' transformer designs are speculating around archetypical kinds of jewellery and accessories, modifiable into clothing.
Classic dress code elements have also been deconstructed at the core and rearranged. Along with a shift in assortment, DZHUS' signature innovative patternmaking remains, offering changes in between wardrobe categories. Today, DZHUS is portraying a more versatile, genderfluid hero, which is, at the same time, a dialectical response to a raised demand from male audience, and a very personal allusion from the designer as a nonbinary individual.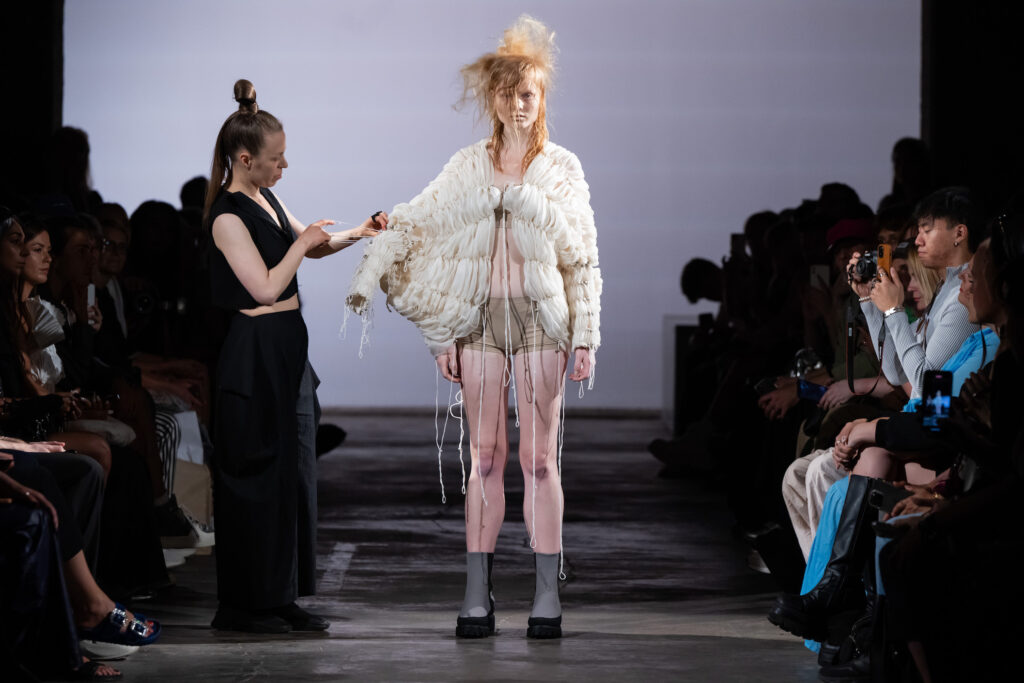 Throughout the last year and a half, Irina Dzhus has faced many awe-inspiring and life-changing insights – just as every Ukrainian. The war appeared to serve as an indicator of each individual's true values and sincere aspirations. The process of self-rediscovery, often demanding to sacrifice what previously seemed fundamental, has driven the designer in her movement towards her indeed essence, uncovering the most fragile creative forces, which have, eventually, generated a powerful humanity-oriented message.
DZHUS SS24 colour palette is merely monochrome, with an exception for warm ecru shades. From season to season, Irina Dzhus consciously opts out of colour, to leave maximum space for architectonic and technological experimentation. DZHUS Spring/Summer line is saturated with complex cut concepts and fresh ideas for garment transformation, as well as upgraded signature styles.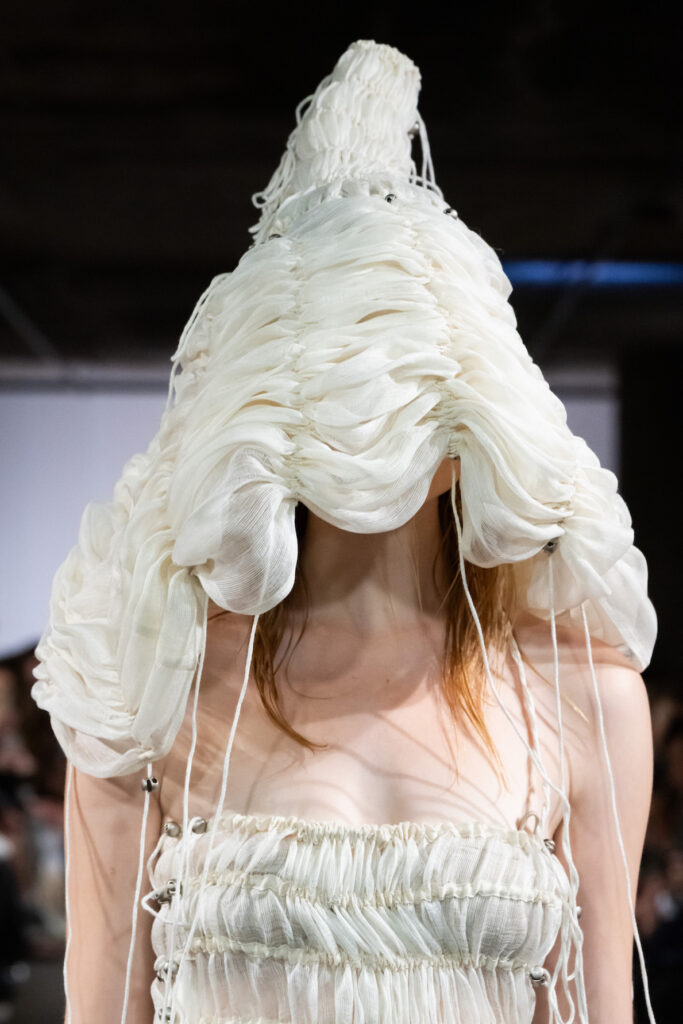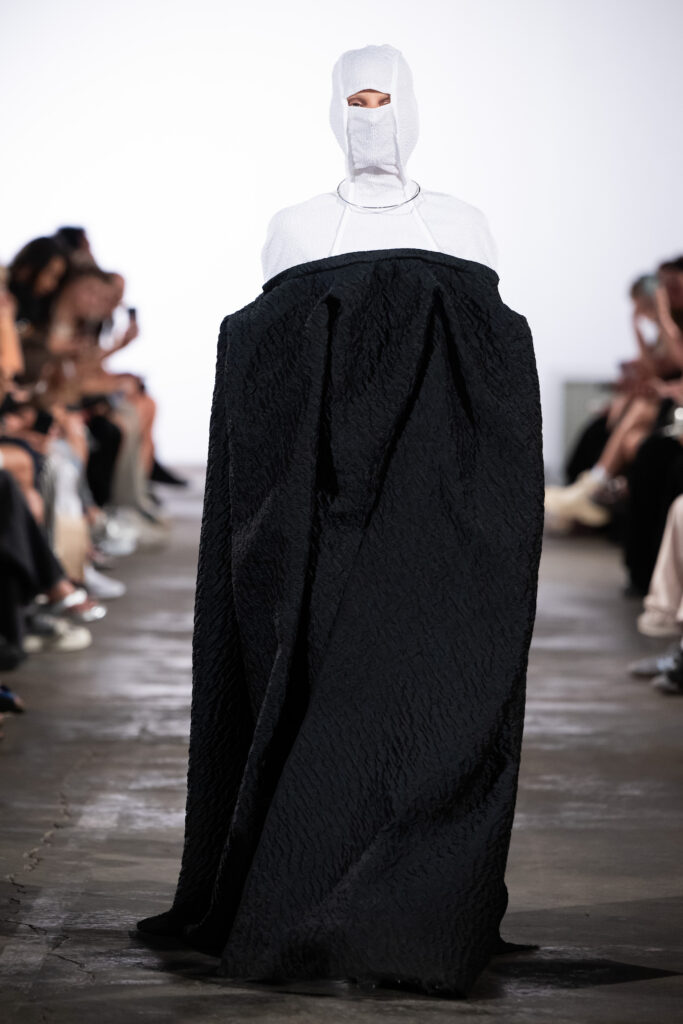 DZHUS SS24 capsule presents a variety of highly allegoric designs, rich in modification opportunities.
To name a few, the lineup includes a dress with a detachable balaclava, imitating a bust mannequin for jewellery demonstration, imposed onto a draped pedestal; a shopper bag reconstructed from blazer details; an evening gown replicating a tie; a statement bra arranged from 2 caps; and a bridal outfit with a veil sculptured from gloves, clenched on a head as a wreath.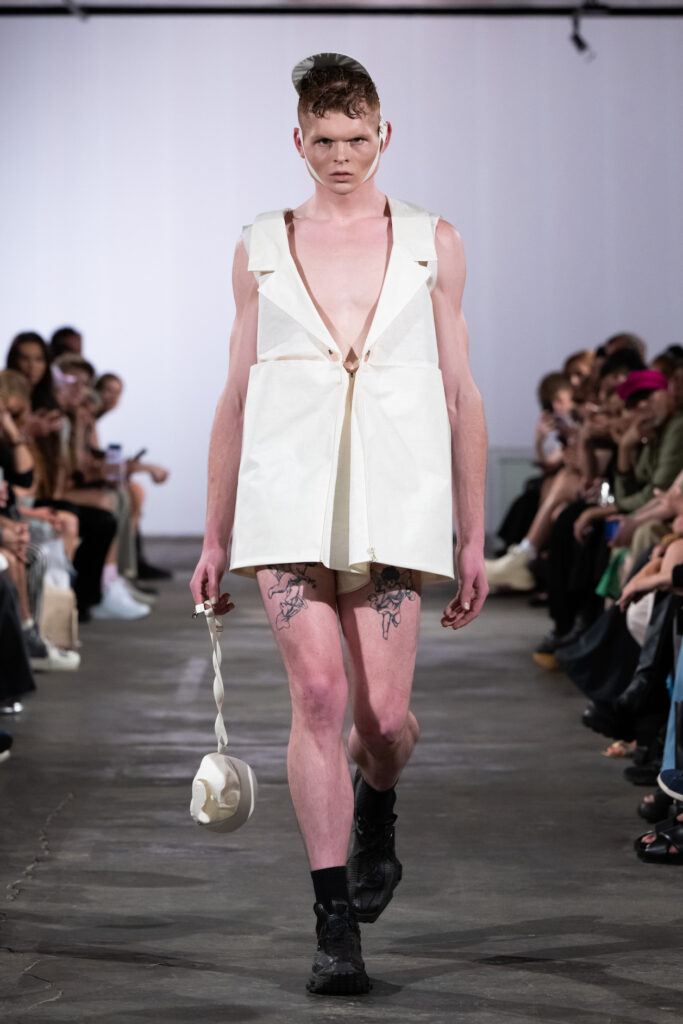 DZHUS is a Ukrainian conceptual brand internationally known for its multi-purpose outfits, made of cruelty-free materials.
Designer Irina Dzhus' pattern-making innovations help minimise physical shopping and create a versatile yet sustainable wardrobe from a few transformable garments. Since the war began, DZHUS has relocated to the EU and has been donating 30% of its profit to Ukrainian animal rights organisations and the servicemen.