Unhuman & Petra Flurr 'Mala Vida'
Unhuman & Petra Flurr is the collaborative synthpunk-technoid project of BITE label stalwart, Berlin- based Greek artist Unhuman and legendary queer wave figure Petra Flurr. 'Mala Vida' is their debut album on BITE that further evolves their sound beyond genre borders.
LISTEN PREMIERE HERE:
PRE-ORDER HERE: https://biterecords.bandcamp.com/album/mala-vida
The duo deliver an 8-track LP consisting of punk body music exhibiting the team's mastery on production, their androgynous vision and diverse influences. Petra Flurr's staggered, often effected, vocals cruise over pounding beats, bold iconic hooks and psychedelic atmospheres. His lyrics reference the seedy underbelly of Berlin's sex underground. Meanwhile, Unhuman's productions broadly range from the post-punk references of 'Labyrinth' to the new beat grooves of 'Short Life' featuring Ukrainian duo Garden Krist to the melodic orchestrations of 'Rush'. All this is reinterpreted by techno duo New Frames on a digital remix of 'Unzivilisiert'.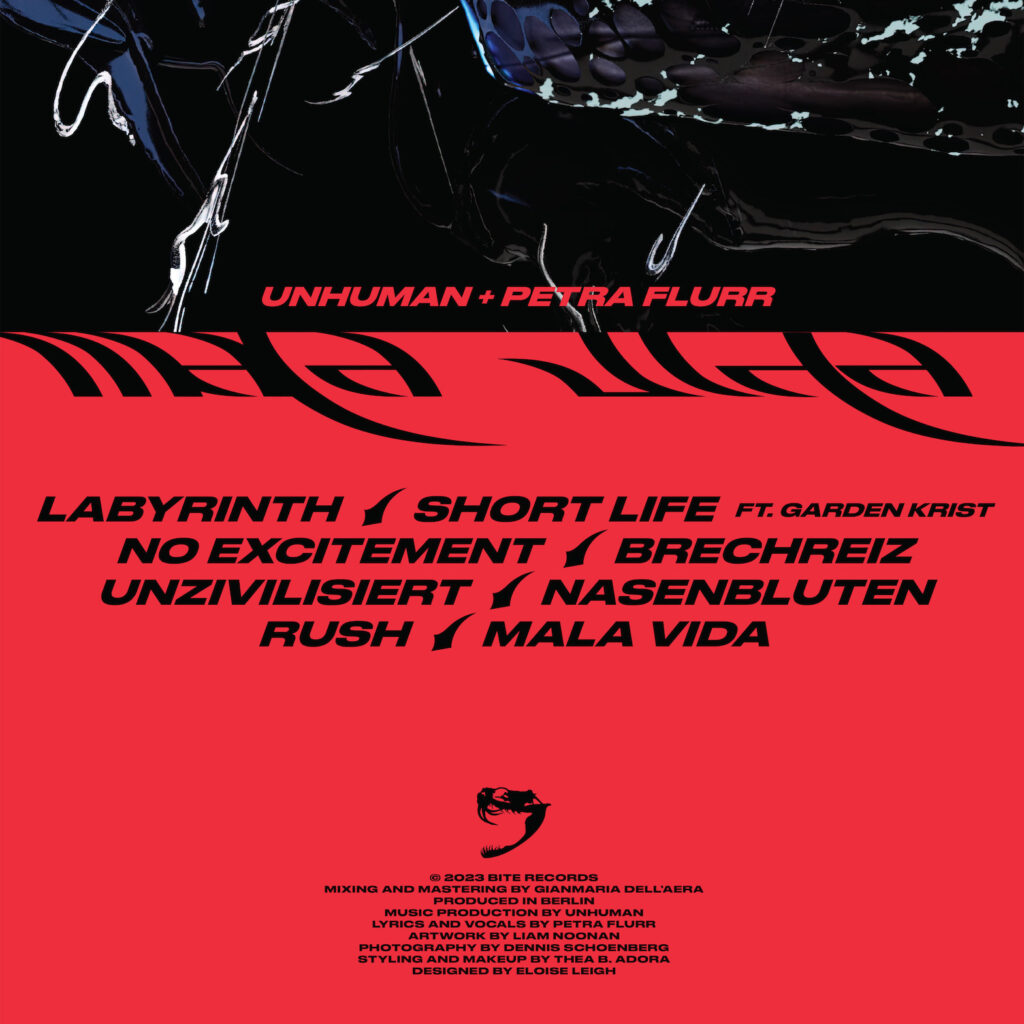 'Mala Vida' is a direct inspiration from their debut performance at Berghain for last year's BITE label night. After which, they swiftly retreated to the studio to compose, still in their platform heels. The two paint a coat of neon red over their preexisting batcave of sound. While the artwork by Liam Noonan compliments the gender fluidness of the album, distorting and digitally manipulating images of the creators themselves. Using heavy rhythmics, wavy mandates, an androgynous stare and unavoidable sexuality, Unhuman & Petra Flurr introduce us to their culled brand of queer death techno. Always with a wink.
ALBUM RELEASE PARTY: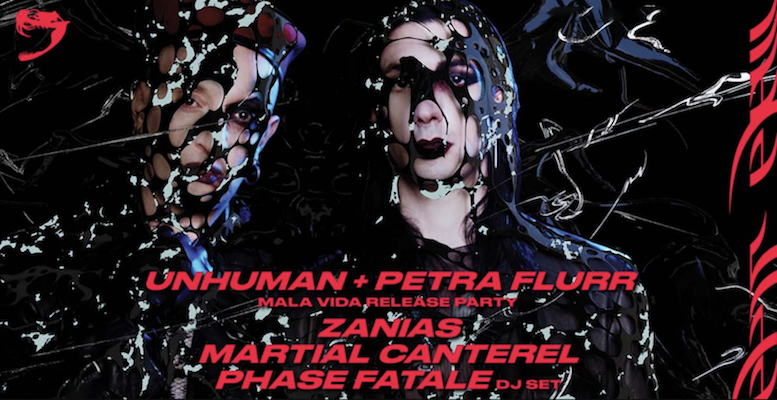 TICKETS – UNHUMAN & PETRA FLURR X BITE RECORDS
https://www.so36.com/produkte/58657-tickets-unhuman-petra-flurr-x-bite-records-so36-berlin-am-10-08-2023
Unhuman
Unhuman is the Berlin-based electronic and experimental project of Manos Simotas.
He is also the founder of Liber Null Berlin, which has played a critical role of unifying the freedom of arts in a conceptual event in the scene and also operates as a record label. Expanding beyond Berlin, Liber Null held events with performance arts and music all around the world including Athens, Paris, Tokyo, Seoul and beyond.
Started in 2012 in Athens with his first release "Emperor Black" on tape, he evolved through different genres ultimately finding his own unique voice in experimental and dark electronics. Keeping his roots in post- punk, Unhuman released on labels such as BITE, L.I.E.S. records, Instruments Of Discipline, Veleno Viola, Amok Tapes and Strange Therapy. A regular mainstay of major clubs in Berlin, Unhuman has performed all around Europe, Asia and South America and holds the artist in residency at Constant Value in Seoul, South Korea.
Currently Unhuman holds residencies at the infamous Khidi Club in Tbilisi/Georgia and Olam Collective in Bratislava.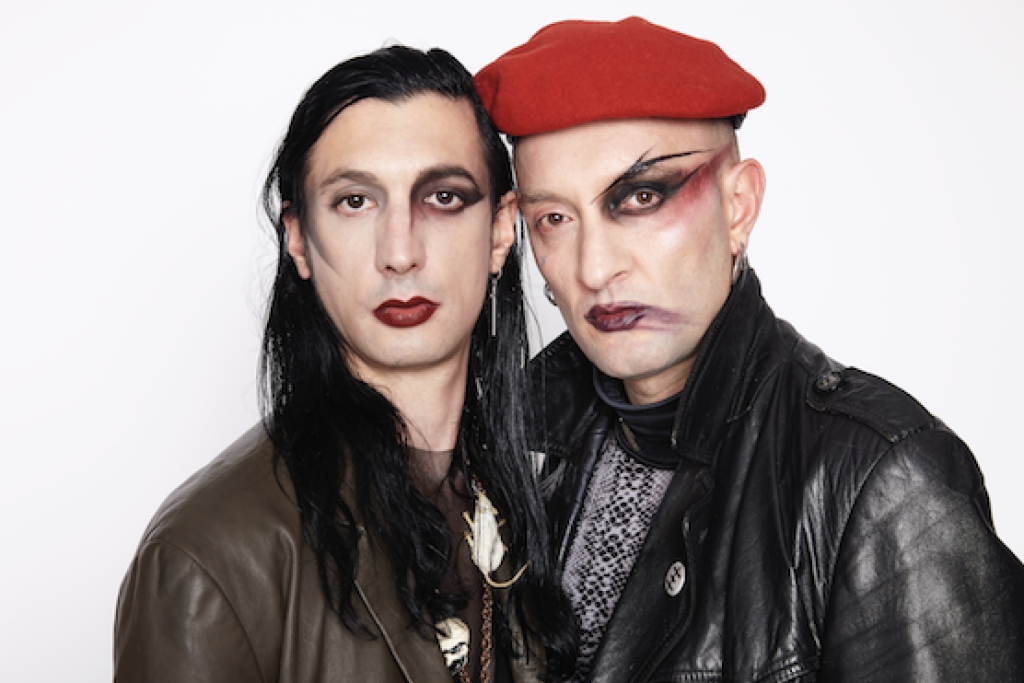 Petra Flurr
Petra Flurr explores any kind of social tensions and control: political, religious, racial, with an acid, violent and uncompromising attitude. He/ she/it is well-known in the underground scene for his driving minimalist electro-punk sound, furious ravaging vocals and the devastating live performances, in which he turns into a real stage animal.
Collaborating on various records with other artists such as Bogota's Modernista on Download Selbstmord, the former resident of Sabbat Berlin work is the one and only answer to a neverending hate of the music situation in these days, best seen on tracks like "Terror-ist", which brings him the praise and support to the bones of a solid audience.
After spending the past years touring and playing gigs around the world and a bunch of highly acclaimed releases, his basic and fine electronics from the early and wicked times now make him a reference as one of the most innovator live entity of the current underground.
SOCIALS TO FOLLOW:
BITE instagram soundcloud bandcamp
UNHUMAN instagram soundcloud
PETRA FLURR instagram soundcloud