Tomorrow Comes The Harvest is the accumulative efforts of talented musicians and their visions about what makes the art form of music so special.
A theory initiated and put into action by late Afrobeat creator and Nigerian Drummer Tony Allen and Detroit Techno's Jeff Mills. Each belonging to a long tradition of using music to reach higher levels of consciousness, along with veteran keyboardist Jean-Phi Dary, the three toured internationally until the untimely death of Tony Allen in 2020.
However, the foundation of the concept was cemented and ready for continuation. Mills reconfigures the concept to function as a trio once again and invites Tabla virtuoso Prabhu Edouard to join the concept. Tomorrow Comes The Harvest is about exploring the unknown, transcending by the way of intersecting sounds and rhythm through an array of improvisational movements.
Jeff Mills has never wallowed in his DJ status and kept on multiplying outstanding performances, at the intersection of music, contemporary art, pop culture, design and science fiction, while running his own record label, Axis Records, since 1992 onwards.
After conquering Detroit's early Techno scene as The Wizard in the 80s, as a part of the Underground Resistance, he took up his prime inspiration, Space and Science-Fiction. The 2000's marked a turning point when he started to merge his music with other art forms. He decided to create a new soundtrack for Fritz Lang's "Metropolis", which brought him to many other cine-mix performances and movie soundtracks. As a plastician, Jeff Mills has shown numerous of his performances and exhibitions in artistic institutions such as the CCCB of Barcelona, the South Bank Center, the Barbican Center, the Cinémathèque Française, Pompidou Center, the Art Fair Monte Carlo…
In 2014 he partnered with the French filmmaker Jacqueline Caux for "Man From Tomorrow", a film that is more a wandering, poetic and sensitive portrait of his music than of himself. Shortly after, he was commissioned to be the resident artist of "Duos Ephémères" for the year 2015, a program of 4 different shows mixing music, film and dance, at the Louvre Museum in Paris.
In 2015, almost ten years after "The Exhibitionist"' a real-time film, multi-angled collection of his DJ sets, capturing the motions of his art with turntables), Jeff Mills launched "Exhibitionist 2", in which he goes even deeper into the real-time mix. Started in Tokyo, in 2015, Jeff Mills created Spiral Deluxe, his first band since Underground Resistance, displaying an Electronic Jazz Fusion, bringing out three Eps. In 2017, he took residence at the Barbican Center in London, where he presented "From Here to There", a series of innovative conceptual events marrying electronic music with symphonic sounds and other art forms. Jeff Mills was the first DJ to collaborate on, perform, and capture on DVD, concerts with Classical orchestras. It all began in 2005 with "Blue Potential" a piece arranged for orchestra, followed in 2012 by a new version called "Light from the Outside World", still scheduled all over the world. A second piece of the kind was presented in 2013, "Where Light Ends", and a third, inspired by Holst"The Planets" premiered in 2015. In April 2017, Jeff Mills created "Planets", an album for the 9 planets of our Solar System, with both an electronic and philharmonic translation, using factual scientific data to create each composition.. Decorated in 2007 with the French Government award of Chevalier of the Order of Arts and Letters, he was upgraded in 2017 to Officer, in recognition of his contribution to the Arts. In 2019 Jeff Mills launched The Director's Cut project: a massive re-issue series through six EPS and one 3 CD box set.
In 2020, Jeff Mills revives his Millsart alias for the first time since 2003 with a new release each month for the Every Dog Has Its Day series.
Axis Records also announced it will expand its musical scope by including more works that encompass live musicians/soloists and players from other genres, starting with the album Ambrosia by Byron The Aquarius, followed by Counter Active by The Paradox and The Override Switch by Rafael Leafar and Jeff Mills.
Simultaneously, the Axis Online shop (called 'The Escape Velocity') offers music in a curated form to feature exclusive works of various artists who are considered masters of their craft and style of Techno Music.
In 2022 Axis Records will celebrate its 30th year anniversary!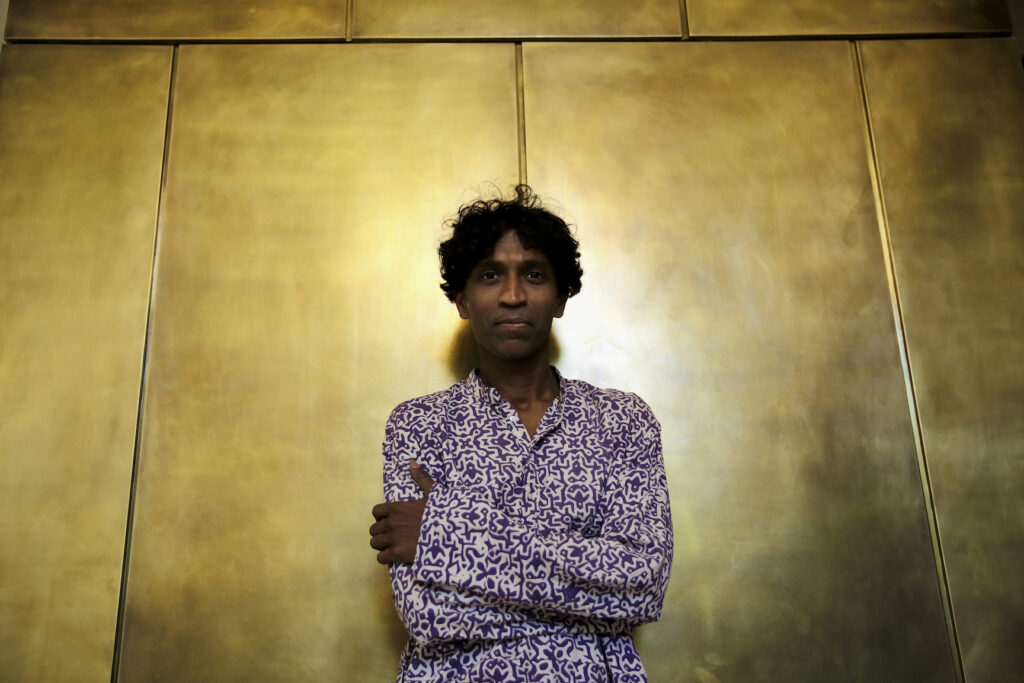 Prabhu Edouard is an Indo-French percussionist & composer. Regarded as one of the most versatile tabla players of his generation, he is a worthy disciple of renowned tabla maestro Pandit Shankar Ghosh.
Prabhu has played with Indian music and dance stalwarts like Hariprasad Chaurasia, Laxmi Shankar, V.G.Jog, Ashish Khan, Debashish Bhattacharya, T.V.Gopalakrishnan, T.Vishwanathan, Shashank, Rohini Bhate, Rajendra Gangani,
Astad Debu…
His cosmopolitan nature and love for experiments have led him to collaborate across the globe with artists like Jordi Savall, Joachim Kühn, Jeff Mills, Nguyen Lê,
Magic Malik, Moriba Koïta, Saïd Shraïbi, Kudsi Erguner, Jamchid Chemirani,J.P.Drouet…
His first album as a leader «KÔLAM» highlights his innovative and contemporary vision of indian music as a composer. Not only a sought after performer, Prabhu is also an experienced pedagogue sharing his musical vision on various percussion masterclasses and international music seminars.
Jean Philippe DARY is a keyboard player, singer, producer, arranger and songwriter. Born in France with Guyana's roots, he worked with African singers like Papa WEMBA (opening the Peter GABRIEL's tour « US »), TOURE KUNDA, Omar PENE and Alpha BLONDIE.
He also worked on other projects and musical styles such as jazz (Paco SERY, Greg OSBY, Brice WASSY, HOPEN COLLECTIVE, Pino DANIELE), reggae (Sly And Robbie), pop and electronic music (PHOENIX, TROUBLEMAKERS).
During these last 20 years, he spent most of his time working with Tony ALLEN, his friend. They recorded together about eight albums with artists like Jeff Mills, Damon ALBARN, TY and Ernest RANGLING.
He was the third member of the Tony ALLEN and Jeff MILLS's project, as he worked on the album "Tomorrow Comes the Harvest" and performed with them on stage.
Jean Philippe is actually working with Jeff MILLS on « The PARADOX », a duo project and « TOMORROW COMES THE HARVEST », a trio project.
He is also developing two projects for 2021 under his own name. The first one is a trio afro jazz whose first album has already been recorded by Al SCHMITT and Steve GENEWICK at Studio LA FABRIQUE. The second is a solo project named « African Avant Garde », in which Jean Philippe mixes African and traditional instruments with electronic modular synthesizers, in addition with a lot of keyboards.
more music features here