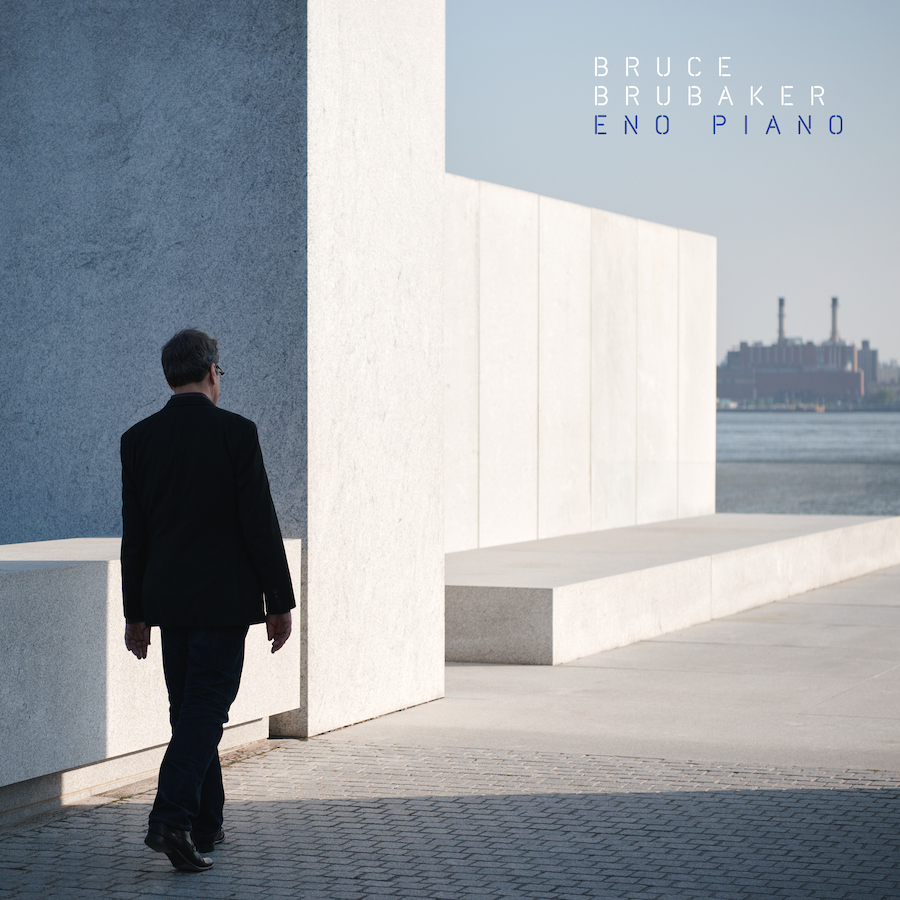 As Brian Eno famously said, "The studio is a musical instrument," Bruce Brubaker now says, "A musical instrument can be a studio."
LISTEN TRACK PREMIERE HERE:
Can a single instrument convey ambient music originally made through studio techniques and tape loops? On November 10, 2023, InFiné will release American musician Bruce Brubaker's 12th studio album Eno Piano, including a selection of Brian Eno's iconic ambient music, including Music for Airports. 
Eno Piano is a companion to Bruce Brubaker's acclaimed album Glass Piano (2015) — even the two album covers are companions.
Named by Pitchfork "One of the most exciting pianists in the contemporary American classical scene," Brubaker, in Eno Piano, shows that just as the studio can be a musical instrument, a single musical instrument can be a studio.
Brian Eno's music is a significant part of the repetition-based musical minimalism practiced by Philip Glass, Terry Riley, and others in the 20th century. In 1971, Philip Glass performed at the Royal College of Art in London. In the audience were two 23-year-olds: David Bowie and Brian Eno.
Glass's music was a formative influence on Eno. Then later, Philip Glass wrote three symphonies based on the three albums of Eno and Bowie's Berlin Trilogy. Eno Piano acknowledges a deep artistic bond.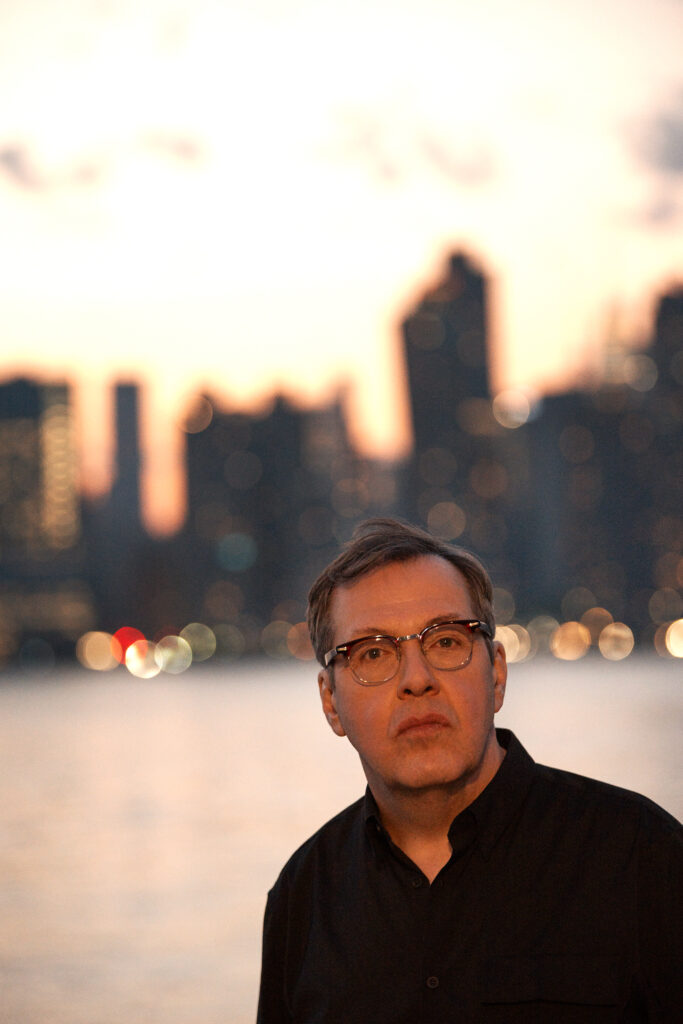 Brian Eno defined the new genre of "ambient music." While waiting for a flight at the Cologne-Bonn Airport, Eno became frustrated with the airport's uninspiring atmosphere. At that moment, Eno conceived an album of music "designed for airports" In his original 1978 liner notes, he explained: "Whereas conventional background music is produced by stripping away all sense of doubt and uncertainty (and thus all genuine interest) from the music, Ambient Music retains these qualities. And whereas they intend to 'brighten' the environment by adding stimulus to it (thus supposedly alleviating the tedium of routine tasks and leveling out the natural ups and downs of the body rhythms) Ambient Music is intended to induce calm and a space to think. Ambient Music must be able to accommodate many levels of listening attention without enforcing one in particular; it must be as ignorable as it is interesting."
The intertwining of music and technology, and personal collaboration that were vital to the making of Eno Piano mirror Brian Eno's lifetime of collaboration and musical community-making.
These tracks are the music of Eno, with the significant contributions of Rhett Davies, Robert Wyatt, Dieter Moebius, Hans-Joachim Rodelius, Harold Budd, Jon Hopkins, and Leo Abrahams. In Pitchfork's 50 Best Ambient Albums of All Time, Music for Airports is rated number one. Eno Piano is a revisiting, a "re-sounding" of this iconic musical art.
Eno Piano started, in 2017, with the question: "With all those sustained notes in the music — can Brian Eno's Music for Airports be played on a piano?" Brubaker heard jazz pianist Evan Allen experiment with an EBow inside a piano (An EBow is an electromagnetic device used to make long notes by vibrating a string on an electric guitar.) Then, Bruce met Florent Colautti, the French inventor who was developing electromagnetic devices suspended over the strings inside a piano to make long musical tones.
The initial piano transcriptions of Eno's Music for Airports were made in 2019, but (due to the global pandemic) recording was postponed until 2022, giving the artist time to expand the repertoire to include several of Eno's shorter pieces (including The Chill Air and By This River), and giving Colautti time to refine the piano bows. InFiné founder Alexandre Cazac and producer/engineer Martin Antiphon each made important contributions to the production and post-production of Eno Piano, utilizing the newest IRCAM technologies of spatialization. In Eno Piano the archetypal piano is no longer constrained by space or time.
The album represents a leap, into a new genre of post-ambient, post-piano piano music. Here, sound technology heightens artistic sensitivity, and the listener's presence in the moment. An instrument is reimagined, and refashioned. The usual boundaries of time and sound loosen allowing the formation of a new 21st-century beauty.
Eno Piano isn't just the title of an album. Brubaker says: "I played a Steinway piano in the recording sessions. But, through using electromagnetic bows and additional ways of making the piano vibrate, I wanted to make a new instrument, an 'Eno piano.'" 
Sonically, the record is a combination of Bruce's piano playing, and piano sounds made using new electromagnetic "bows" that vibrate strings inside the piano creating drone notes. Suspended over the piano strings, sometimes the bows are turned on directly, but sometimes the bows respond to a piano track played back through the bows — that is, delicate audio signals are used to turn the bows on and off… The bows can make a piano string produce its fundamental pitch, or overtones, or more complex and colorful vibrations.
Eno Piano becomes part of a long, fascinating tradition of artists copying, repurposing, and reinbahiting older art — Sherrie Levine photographing photographs by Walker Evans, the band Mostly Other People Do The Killing making the sounds of Miles Davis' Kind of Blue, Lou Reed's Metal Machine Music played live by Zeitkratzer.
"It might be something like when you go to a fancy bakery, and see a detailed version of the Empire State Building — but, it's made out of cake," says Brubaker. "With this album, we made Brian's music, but it isn't — but it is. The music is very detailed, it seems like the original, yet it's entirely made out of piano sounds, out of cake! I love that — the back and forth between what's 'real' or what's 'studio,' and I don't know which is which now. Am I imitating something that was an imitation to begin with? I spent time learning to play some of the rhythms so they won't sound human — so there are not regular beats, so there's a sense of something unpredictable."
During the recording of Eno Piano, a deck of cards printed with Brian Eno and Peter Schmidt's "Oblique Strategies" was in the studio. Sometimes, these answers to artistic questions guided the creative process. Most significantly: "Repetition is a form of change."
Describing Eno Piano, Alexandre Cazac says: "It's like the desert, everything seems completely still, but in reality, the dunes are in motion moved by the wind. It's the same with Eno's magic, everything seems simple and easy but it's not at all. I think that by using new recording and production tools, we have taken a first step towards the post-ambient era in Bruce's personal way."
In his explorations of minimalism, Bruce Brubaker makes connections to music old and new. In his album Codex, there was a dialogue between open-form music by Terry Riley and very early keyboard pieces written down by anonymous scribes in the 15th century. Brubaker's performances of music by Philip Glass, caused critic Roland Duclos to write: "Brubaker is to Glass what Glenn Gould is to Bach." Brubaker's music-making reveals this repertoire to be an intense expression of humanity.
In Eno Piano, the piano, one of the first "synthesizers," becomes a new kind of fantastic resonating box — a supernatural synthesizer. The album is a compelling discovery, a rereading, reinterpretation, "re-production" of Brian Eno's music, from the hands of a visionary virtuoso.
About Bruce Brubaker:
With more than 150 million streams on Spotify, Bruce Brubaker reaches a large, diverse audience. Pitchfork says, "Bruce Brubaker is one of the most exciting pianists in the contemporary American classical scene."
Brubaker was one of the first solo pianists to play the music of Philip Glass. The New York Times wrote: "Few pianists approach Philip Glass's music with the level of devotion and insight that Bruce Brubaker brings to it, precisely the reason he gets so much expressivity out of it."
Brubaker is featured on Meredith Monk's album Piano Songs and Nico Muhly's album Drones. Brubaker has performed with Meredith Monk, John Cage, and Nico Muhly. Dance music and electronic music artists, including Plaid, Donato Dozy, Max Cooper, Laurel Halo, Francesco Tristano, Akufen, and Arandel have remixed Brubaker tracks.
In his continuing performances, from the Hollywood Bowl and New York's David Geffen Hall, to London's Barbican and the Philharmonie de Paris — Bruce Brubaker is a visionary artist.
About Brian Eno:
Musician, producer, visual artist, and activist, Brian Eno first came to prominence in the 1970s as a founding member of the band Roxy Music, followed by a series of solo albums and collaborations.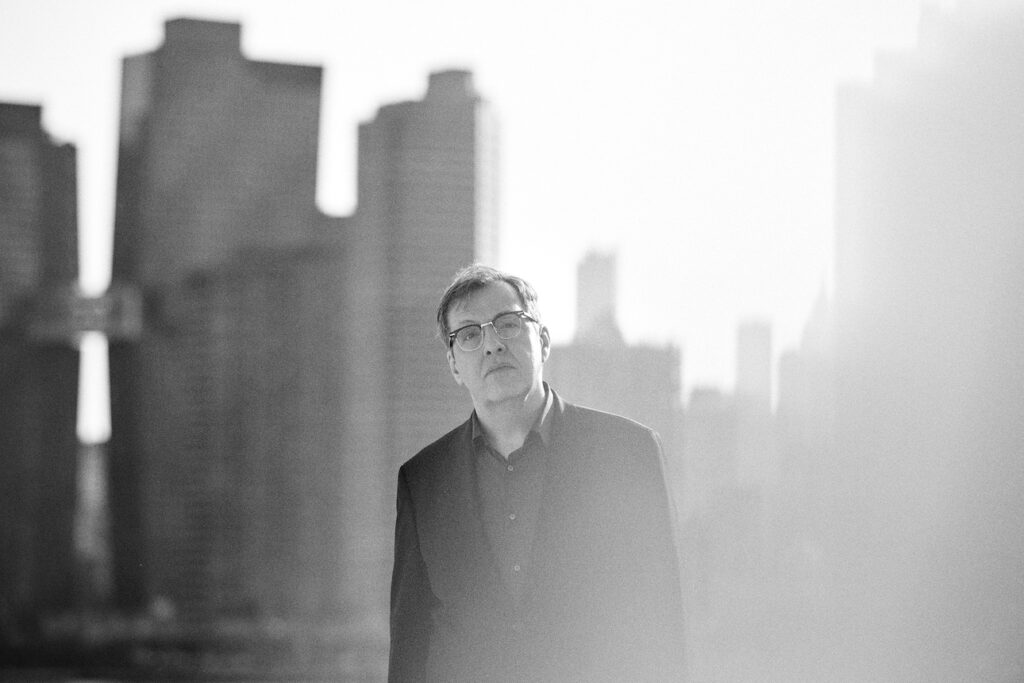 His work as a producer includes albums with Talking Heads, Devo, U2, Laurie Anderson, and Coldplay, while his long list of collaborations includes recordings with David Bowie, Jon Hassell, Harold Budd, John Cale, David Byrne, Grace Jones, Fred again, James Blake, and recently with his brother, Roger Eno.
To date, Brian Eno has released over 40 albums of his music. Released in 1978, his album Ambient 1: Music for Airports is widely considered the first "ambient" music. Rolling Stone credits the album with defining the ambient genre. In Pitchfork's 50 Best Ambient Albums of All Time, Music for Airports is rated number one. In 2019, Eno was inducted into the Rock and Roll Hall of Fame.
SOCIALS TO FOLLOW:
More music features here