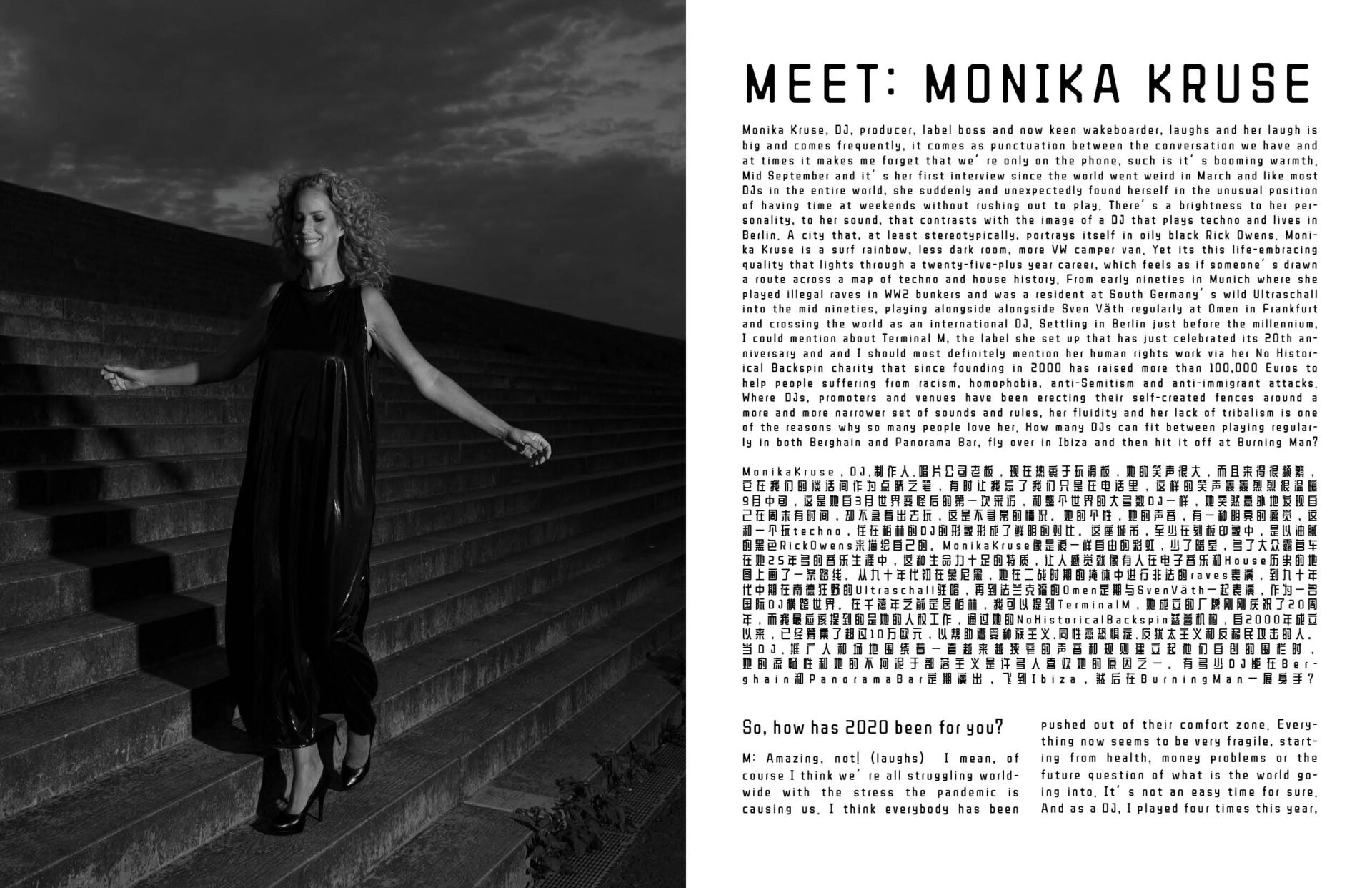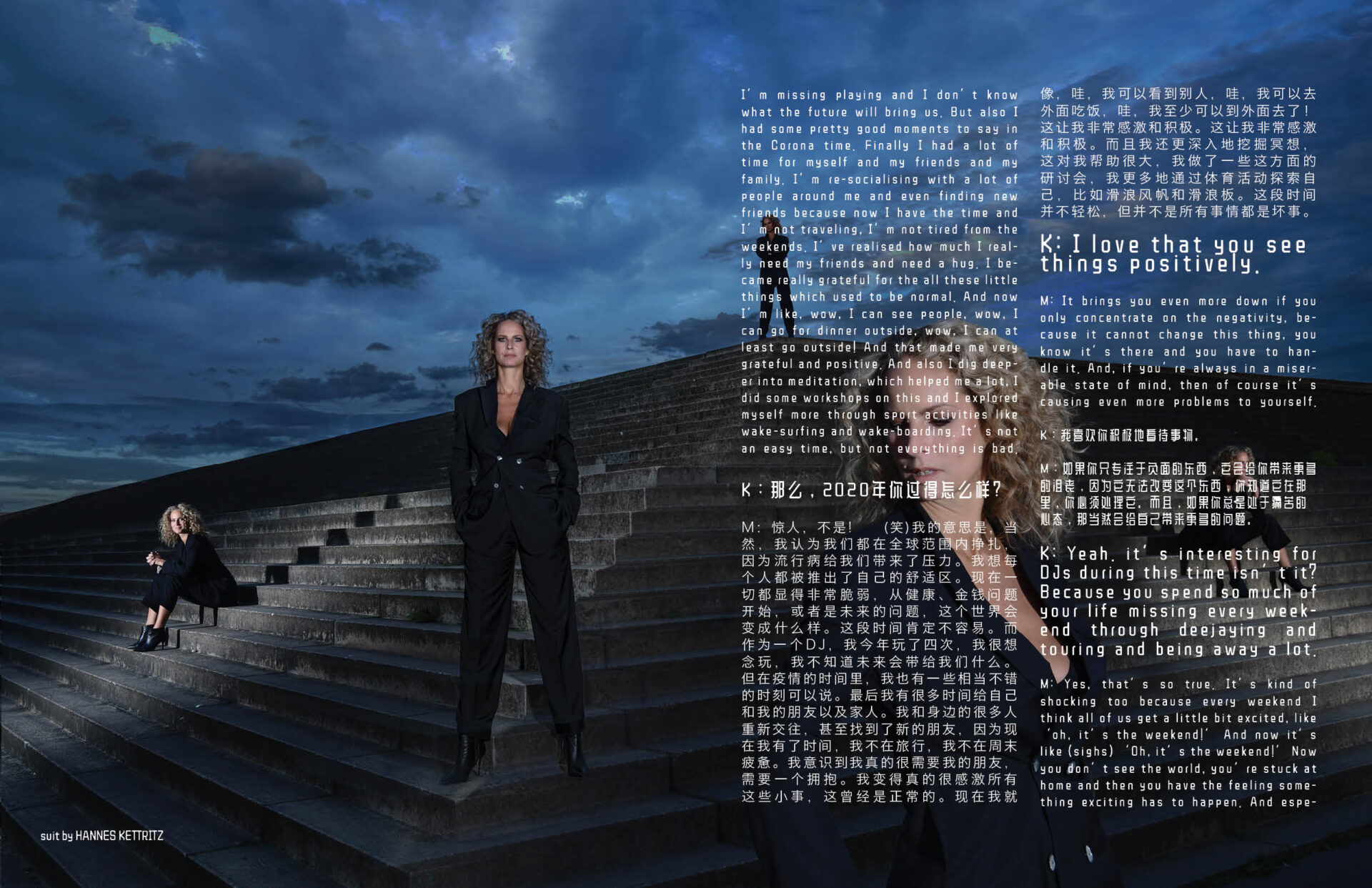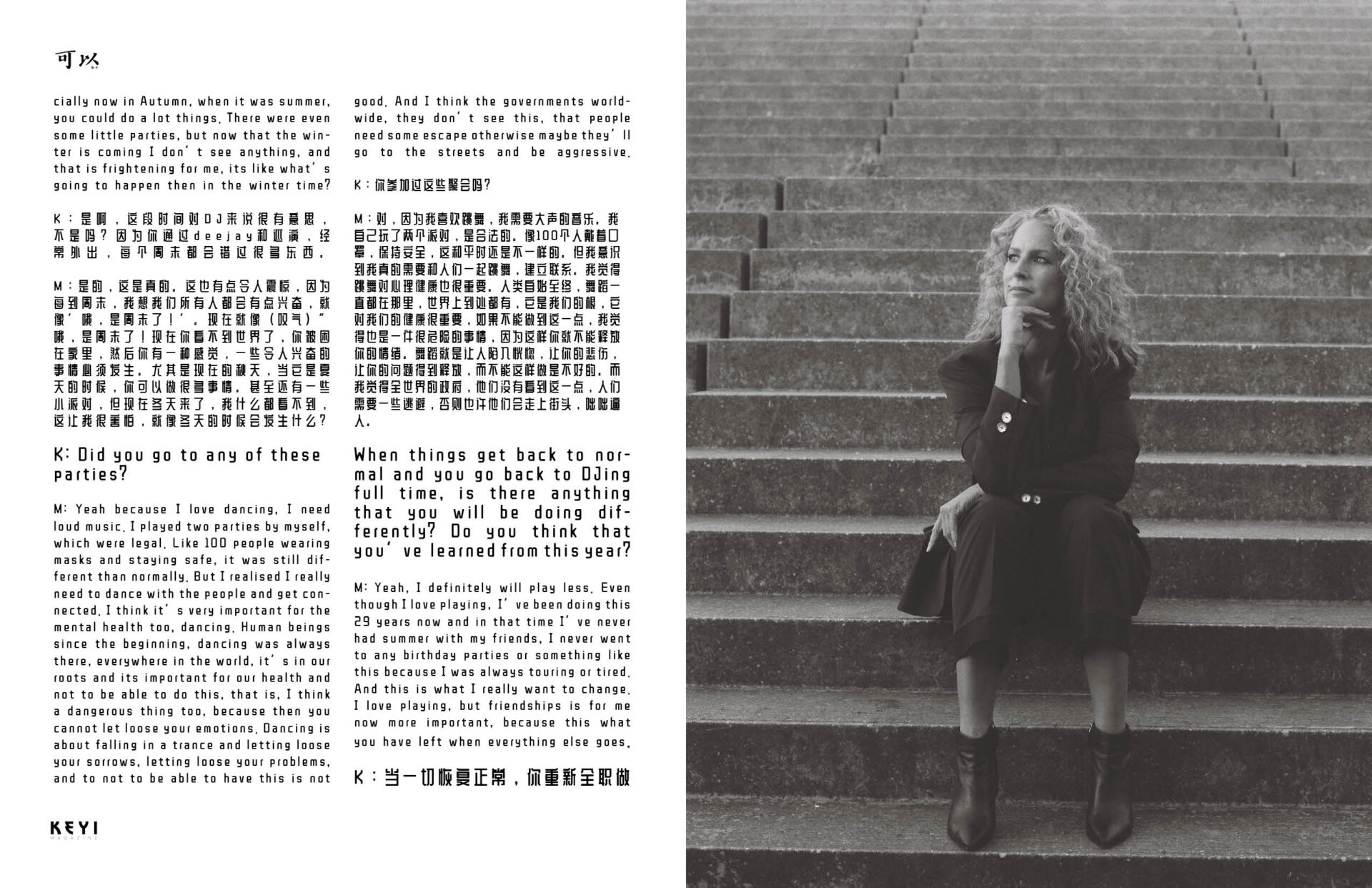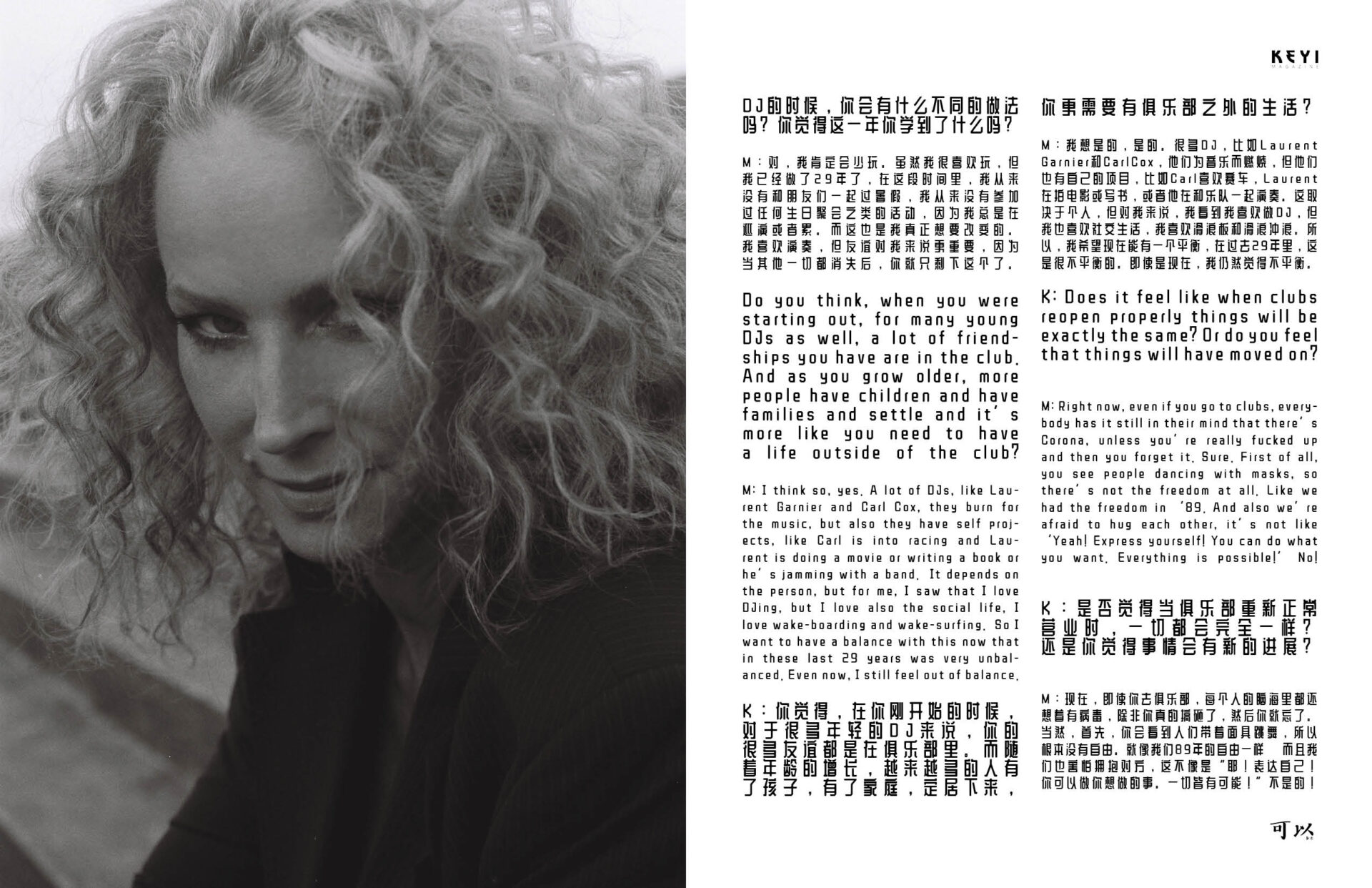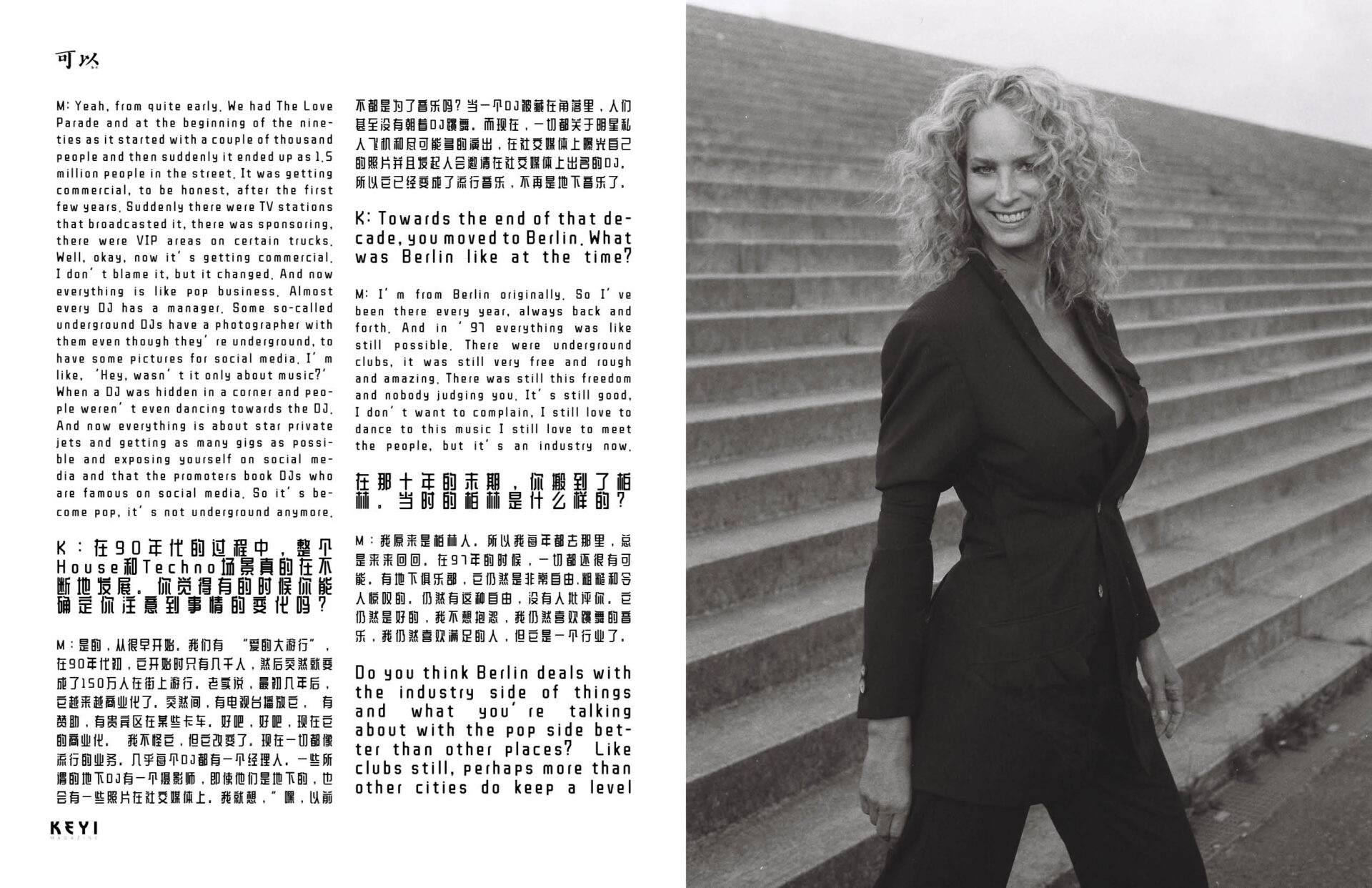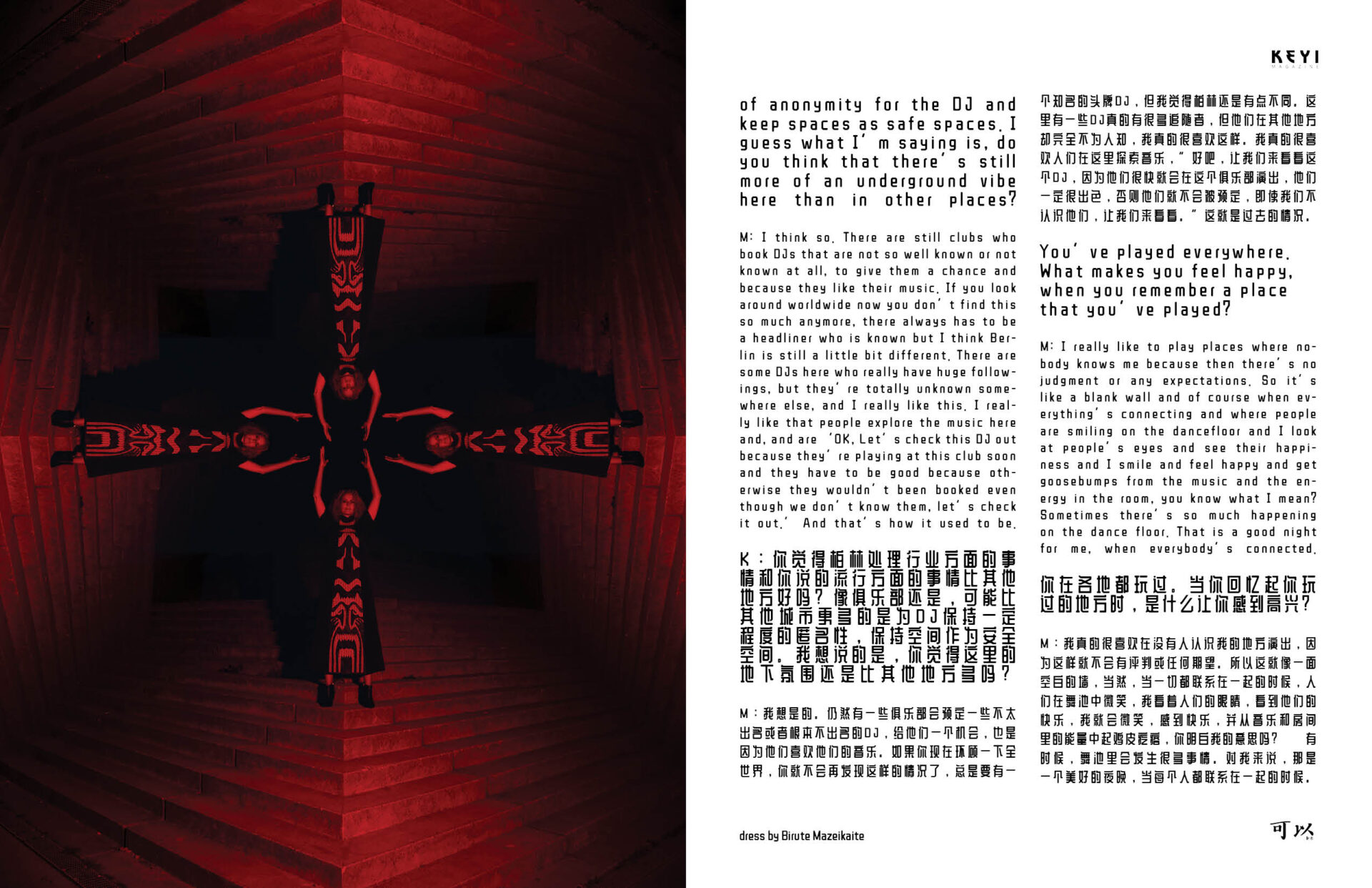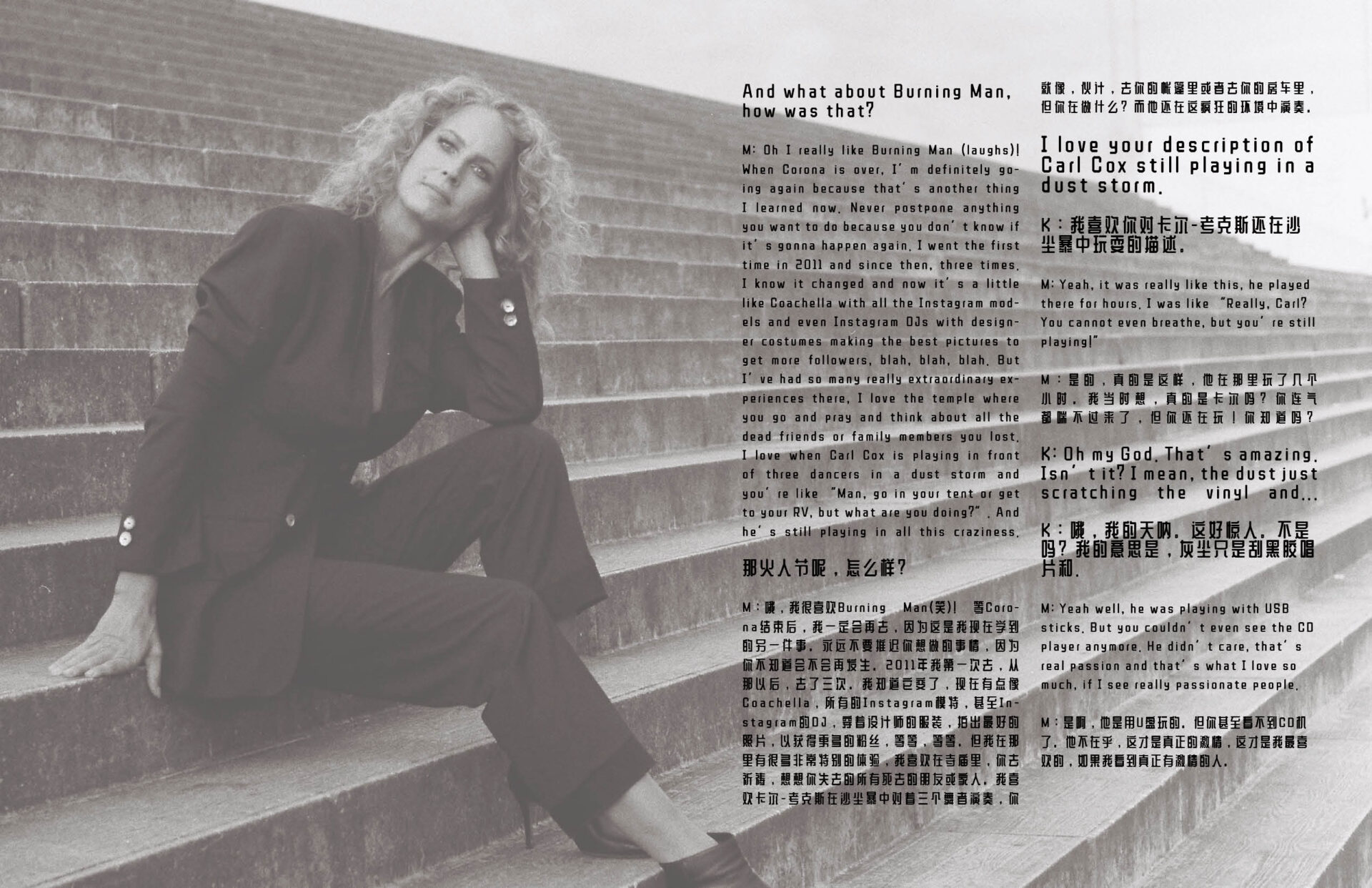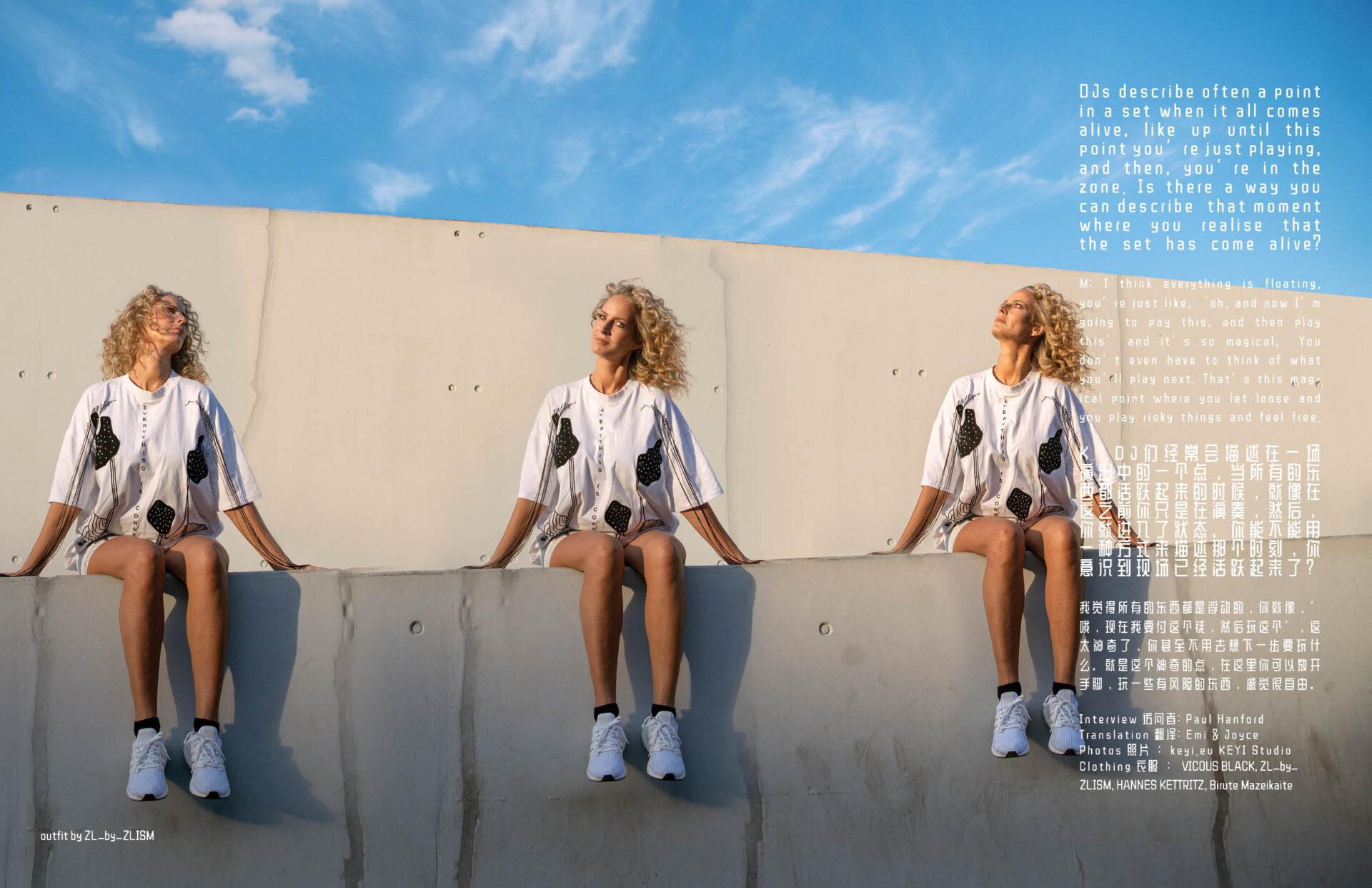 g and comes frequently, it comes as punctuation between the conversation we have and at times it makes me forget that we're only on the phone, such is it's booming warmth.
Mid September and it's her first interview since the world went weird in March and like most DJs in the entire world, she suddenly and unexpectedly found herself in the unusual position of having time at weekends without rushing out to play. There's a brightness to her personality, to her sound, that contrasts with the image of a DJ that plays techno and lives in Berlin. A city that, at least stereotypically, portrays itself in oily black Rick Owens. Monika Kruse is a surf rainbow, less dark room, more VW camper van. Yet its this life-embracing quality that lights through a twenty-five-plus year career, which feels as if someone's drawn a route across a map of techno and house history. From early nineties in Munich where she played illegal raves in WW2 bunkers and was a resident at South Germany's wild Ultraschall into the mid nineties, playing alongside alongside Sven Väth regularly at Omen in Frankfurt and crossing the world as an international DJ. Settling in Berlin just before the millennium, I could mention about Terminal M, the label she set up that has just celebrated its 20th anniversary and and I should most definitely mention her human rights work via her No Historical Backspin charity that since founding in 2000 has raised more than 100,000 Euros to help people suffering from racism, homophobia, anti-Semitism and anti-immigrant attacks.
Where DJs, promoters and venues have been erecting their self-created fences around a more and more narrower set of sounds and rules, her fluidity and her lack of tribalism is one of the reasons why so many people love her. How many DJs can fit between playing regularly in both Berghain and Panorama Bar, fly over in Ibiza and then hit it off at Burning Man?
MonikaKruse,DJ、制作人、唱片公司老板,现在热衷于玩滑板,她的笑声很大,而且来得很频繁,它在我们的谈话间作为点睛之笔,有时让我忘了我们只是在电话里,这样的笑声轰轰烈烈很温暖
9月中旬,这是她自3月世界变怪后的第一次采访,和整个世界的大多数DJ一样,她突然意外地发现自己在周末有时间,却不急着出去玩,这是不寻常的情况。她的个性,她的声音,有一种明亮的感觉,这和一个玩techno,住在柏林的DJ的形象形成了鲜明的对比。这座城市,至少在刻板印象中,是以油腻的黑色RickOwens来描绘自己的。MonikaKruse像是浪一样自由的彩虹,少了暗室,多了大众露营车
在她25年多的音乐生涯中,这种生命力十足的特质,让人感觉就像有人在电子音乐和House历史的地图上画了一条路线。从九十年代初在慕尼黑,她在二战时期的掩体中进行非法的raves表演,到九十年代中期在南德狂野的Ultraschall驻唱,再到法兰克福的Omen定期与SvenVäth一起表演,作为一名国际DJ横跨世界。在千禧年之前定居柏林,我可以提到TerminalM,她成立的厂牌刚刚庆祝了20周年,而我最应该提到的是她的人权工作,通过她的NoHistoricalBackspin慈善机构,自2000年成立以来,已经筹集了超过10万欧元,以帮助遭受种族主义、同性恋恐惧症、反犹太主义和反移民攻击的人。
当DJ、推广人和场地围绕着一套越来越狭窄的声音和规则建立起他们自创的围栏时,她的流畅性和她的不拘泥于部落主义是许多人喜欢她的原因之一。有多少DJ能在Berghain和PanoramaBar定期演出,飞到Ibiza,然后在BurningMan一展身手?
So, how has 2020 been for you? 
M: Amazing, not! (laughs) I mean, of course I think we're all struggling worldwide with the stress the pandemic is causing us. I think everybody has been pushed out of their comfort zone. Everything now seems to be very fragile, starting from health, money problems or the future question of what is the world going into. It's not an easy time for sure. And as a DJ, I played four times this year,
I'm missing playing and I don't know what the future will bring us. But also I had some pretty good moments to say in the Corona time. Finally I had a lot of time for myself and my friends and my family. I'm re-socialising with a lot of people around me and even finding new friends because now I have the time and I'm not traveling, I'm not tired from the weekends. I've realised how much I really need my friends and need a hug. I became really grateful for the all these little things which used to be normal. And now I'm like, wow, I can see people, wow, I can go for dinner outside, wow, I can at least go outside! And that made me very grateful and positive. And also I dig deeper into meditation, which helped me a lot, I did some workshops on this and I explored myself more through sport activities like wake-surfing and wake-boarding. It's not an easy time, but not everything is bad.
K:那么,2020年你过得怎么样?
M:惊人,不是! (笑)我的意思是,当然,我认为我们都在全球范围内挣扎,因为流行病给我们带来了压力。我想每个人都被推出了自己的舒适区。现在一切都显得非常脆弱,从健康、金钱问题开始,或者是未来的问题,这个世界会变成什么样。这段时间肯定不容易。而作为一个DJ,我今年玩了四次,我很想念玩,我不知道未来会带给我们什么。
但在疫情的时间里,我也有一些相当不错的时刻可以说。最后我有很多时间给自己和我的朋友以及家人。我和身边的很多人重新交往,甚至找到了新的朋友,因为现在我有了时间,我不在旅行,我不在周末疲惫。我意识到我真的很需要我的朋友,需要一个拥抱。我变得真的很感激所有这些小事,这曾经是正常的。现在我就像,哇,我可以看到别人,哇,我可以去外面吃饭,哇,我至少可以到外面去了!这让我非常感激和积极。这让我非常感激和积极。而且我还更深入地挖掘冥想,这对我帮助很大,我做了一些这方面的研讨会,我更多地通过体育活动探索自己,比如滑浪风帆和滑浪板。这段时间并不轻松,但并不是所有事情都是坏事。
K: I love that you see things positively.
M: It brings you even more down if you only concentrate on the negativity, because it cannot change this thing, you know it's there and you have to handle it. And, if you're always in a miserable state of mind, then of course it's causing even more problems to yourself.
K:我喜欢你积极地看待事物。
M:如果你只专注于负面的东西,它会给你带来更多的沮丧,因为它无法改变这个东西,你知道它在那里,你必须处理它。而且,如果你总是处于痛苦的心态,那当然会给自己带来更多的问题。
K: Yeah. it's interesting for DJs during this time isn't it? Because you spend so much of your life missing every weekend through deejaying and touring and being away a lot.
M: Yes, that's so true. It's kind of shocking too because every weekend I think all of us get a little bit excited, like 'oh, it's the weekend!' And now it's like (sighs) 'Oh, it's the weekend!' Now you don't see the world, you're stuck at home and then you have the feeling something exciting has to happen. And especially now in Autumn, when it was summer, you could do a lot things. There were even some little parties, but now that the winter is coming I don't see anything, and that is frightening for me, its like what's going to happen then in the winter time?
K:是啊,这段时间对DJ来说很有意思,不是吗?因为你通过deejay和巡演,经常外出,每个周末都会错过很多东西。
M:是的,这是真的。这也有点令人震惊,因为每到周末,我想我们所有人都会有点兴奋,就像'哦,是周末了!'。现在就像(叹气)"哦,是周末了!现在你看不到世界了,你被困在家里,然后你有一种感觉,一些令人兴奋的事情必须发生。尤其是现在的秋天,当它是夏天的时候,你可以做很多事情。甚至还有一些小派对,但现在冬天来了,我什么都看不到,这让我很害怕,就像冬天的时候会发生什么?
K: Did you go to any of these parties?
M: Yeah because I love dancing, I need loud music. I played two parties by myself, which were legal. Like 100 people wearing masks and staying safe, it was still different than normally. But I realised I really need to dance with the people and get connected. I think it's very important for the mental health too, dancing. Human beings since the beginning, dancing was always there, everywhere in the world, it's in our roots and its important for our health and not to be able to do this, that is, I think a dangerous thing too, because then you cannot let loose your emotions. Dancing is about falling in a trance and letting loose your sorrows, letting loose your problems, and to not to be able to have this is not good. And I think the governments worldwide, they don't see this, that people need some escape otherwise maybe they'll go to the streets and be aggressive.
K:你参加过这些聚会吗?
M:对,因为我喜欢跳舞,我需要大声的音乐。我自己玩了两个派对,是合法的。像100个人戴着口罩,保持安全,这和平时还是不一样的。但我意识到我真的需要和人们一起跳舞,建立联系。我觉得跳舞对心理健康也很重要。人类自始至终,舞蹈一直都在那里,世界上到处都有,它是我们的根,它对我们的健康很重要,如果不能做到这一点,我觉得也是一件很危险的事情,因为这样你就不能释放你的情绪。舞蹈就是让人陷入恍惚,让你的悲伤,让你的问题得到释放,而不能这样做是不好的。而我觉得全世界的政府,他们没有看到这一点,人们需要一些逃避,否则也许他们会走上街头,咄咄逼人。
When things get back to normal and you go back to DJing full time, is there anything that you will be doing differently? Do you think that you've  learned from this year?
M: Yeah, I definitely will play less. Even though I love playing, I've been doing this 29 years now and in that time I've never had summer with my friends, I never went to any birthday parties or something like this because I was always touring or tired. And this is what I really want to change. I love playing, but friendships is for me now more important, because this what you have left when everything else goes.
K:当一切恢复正常,你重新全职做DJ的时候,你会有什么不同的做法吗?你觉得这一年你学到了什么吗?
M:对,我肯定会少玩。虽然我很喜欢玩,但我已经做了29年了,在这段时间里,我从来没有和朋友们一起过暑假,我从来没有参加过任何生日聚会之类的活动,因为我总是在巡演或者累。而这也是我真正想要改变的。我喜欢演奏,但友谊对我来说更重要,因为当其他一切都消失后,你就只剩下这个了。
Do you think, when you were starting out, for many young DJs as well, a lot of friendships you have are in the club. And as you grow older, more people have children and have families and settle and it's more like you need to have a life outside of the club?
M: I think so, yes. A lot of DJs, like Laurent Garnier and Carl Cox, they burn for the music, but also they have self projects, like Carl is into racing and Laurent is doing a movie or writing a book or he's jamming with a band. It depends on the person, but for me, I saw that I love DJing, but I love also the social life, I love wake-boarding and wake-surfing. So I want to have a balance with this now that in these last 29 years was very unbalanced. Even now, I still feel out of balance.
K:你觉得,在你刚开始的时候,对于很多年轻的DJ来说,你的很多友谊都是在俱乐部里。而随着年龄的增长,越来越多的人有了孩子,有了家庭,定居下来,你更需要有俱乐部之外的生活?
M:我想是的,是的。很多DJ,比如Laurent Garnier和CarlCox,他们为音乐而燃烧,但他们也有自己的项目,比如Carl喜欢赛车,Laurent在拍电影或写书,或者他在和乐队一起演奏。这取决于个人,但对我来说,我看到我喜欢做DJ,但我也喜欢社交生活,我喜欢滑浪板和滑浪冲浪。所以,我希望现在能有一个平衡,在过去29年里,这是很不平衡的。即使是现在,我仍然觉得不平衡。
K: Does it feel like when clubs reopen properly things will be exactly the same? Or do you feel that things will have moved on?
M: Right now, even if you go to clubs, everybody has it still in their mind that there's Corona, unless you're really fucked up and then you forget it. Sure. First of all, you see people dancing with masks, so there's not the freedom at all. Like we had the freedom in '89. And also we're afraid to hug each other, it's not like 'Yeah! Express yourself! You can do what you want. Everything is possible!' No!
K:是否觉得当俱乐部重新正常营业时,一切都会完全一样?还是你觉得事情会有新的进展?
M:现在,即使你去俱乐部,每个人的脑海里都还想着有病毒,除非你真的搞砸了,然后你就忘了。当然,首先,你会看到人们带着面具跳舞,所以根本没有自由。就像我们89年的自由一样 而且我们也害怕拥抱对方,这不像是"耶!表达自己!你可以做你想做的事。一切皆有可能!"不是的!
K: OK going, going right back, do you have like a moment where you can remember music really vividly coming into your life for the first time?
M: Not really because even as a child I was always a music lover, but it was never like, 'wow, this track!' My parents were listening to music and I was always there and I loved music. And then then somehow I was just sitting in front of the Hi-Fi and I was taping from the radio some music and my parents thought: 'Okay, we lost her into music now!' I was a music nerd since I had my first pocket money, I went to the record store and bought a record, you know? So there was never a wow moment. I had a moment when I went to a concert, when I saw Prince, that was my wow moment.
K:好的,回过头来谈谈,你有没有像一个时刻,你能记得音乐很生动地第一次进入你的生活?
M:并不是,因为即使是小时候,我也一直是个音乐爱好者,但从来都不是说"哇,这首曲子!"我的父母一直在听音乐,我也一直在听,我喜欢音乐。然后不知怎么的,我就坐在Hi-Fi前,从收音机里录了一些音乐,我父母就想:'好吧,我们现在把她丢到音乐里去了!'。我是一个音乐书呆子,因为我有我的第一个零花钱,我去唱片店买了一张唱片,你知道吗?所以从来没有一个惊艳的时刻。我有一个时刻,当我去音乐会,当我看到王子,这是我的哇的时刻。
Prince! What a person to have a wow moment with!
K:王子! 多么让人惊艳的一个人啊!
Yeah, 1986, and that really changed my world.
M:是的,1986年,那真的改变了我的世界。
K: Before you were a DJ you were working in the music industry, right?
M: It was not before, it was at the same time, but as a DJ, I'd get maybe twenty Euros paid in the night so you couldn't make a living. So I had to work besides DJing and I worked for one year for a record label, first on EMI in Munich and on Chrysalis and then later when I went to Berlin, I worked for K7 for a couple of years. I did a lot of jobs in my life and I studied too, But after seven years I said, okay, now I go full on and just try and DJ.
K:在你做DJ之前,你是在音乐行业工作吧?
M:不是以前,是在同一时间,但作为一个DJ,我晚上大概能拿到20欧元的工资,所以你无法谋生。所以我除了做DJ之外还得工作,我在唱片公司工作了一年,先是在慕尼黑的EMI和Chrysalis工作,后来去柏林的时候,我在K7工作了几年。我这辈子做了很多工作,我也学过,但七年后我说,好吧,现在我全身心投入,只想做DJ。
K: Where did you start DJing?
M: I started in a bar, playing hip hop, funk, some deep house, some vocal house stuff, you know, Larry Heard, Frankie Knuckles, and then I did my own parties, some illegal parties and there I was already playing house and techno sometimes and I played everything mixed, it was the freedom we had in the nineties. People were not so nerdy. They were not like 'we only like this genre,' they were open and we were free. Even when sometimes I played drum and bass in a set and some trip-hop, everything worked because people were cool with the change.
K:你从哪开始做DJ的?
M:我开始在酒吧里玩嘻哈,放克,一些深房浩室,一些人声浩室的东西,你知道的,拉里-赫德,弗兰基-克努克斯,然后我做了我自己的派对,一些非法的派对,在那里我已经玩了house和Techno,有时,我把所有类型的东西融合,这是我们在90年代的自由。那时的人们并不那么呆板。他们并不像 "我们只喜欢这个流派",他们是开放的,我们是自由的。即使有时我在一个场景中演奏鼓和贝斯,还有一些trip-hop,一切都很正常,因为人们对这种变化很满意。
I love that kind of eclecticism.
我喜欢这种折中主义。
M: Yeah, me too. And I love DJs who still are doing this. Like I mentioned Laurent Garnier and Carl Cox both have quite a wide spectrum.
M:是啊,我也是。而且我喜欢那些还在做这件事的DJ。就像我提到的Laurent Garnier和Carl Cox都有相当广泛的光谱。
Over the course of the nineties, the whole house and techno scene really evolved. Do you feel that there were times that you can pinpoint where you noticed things changing?
M: Yeah, from quite early. We had The Love Parade and at the beginning of the nineties as it started with a couple of thousand people and then suddenly it ended up as 1.5 million people in the street. It was getting commercial, to be honest, after the first few years. Suddenly there were TV stations that broadcasted it, there was sponsoring, there were VIP areas on certain trucks. Well, okay, now it's getting commercial. I don't blame it, but it changed. And now everything is like pop business. Almost every DJ has a manager. Some so-called underground DJs have a photographer with them even though they're underground, to have some pictures for social media. I'm like, 'Hey, wasn't it only about music?' When a DJ was hidden in a corner and people weren't even dancing towards the DJ. And now everything is about star private jets and getting as many gigs as possible and exposing yourself on social media and that the promoters book DJs who are famous on social media. So it's become pop, it's not underground anymore.
K:在90年代的过程中,整个House和Techno场景真的在不断地发展。你觉得有的时候你能确定你注意到事情的变化吗?
M:是的,从很早开始。我们有 "爱的大游行",在90年代初,它开始时只有几千人,然后突然就变成了150万人在街上游行。老实说,最初几年后,它越来越商业化了。突然间,有电视台播放它, 有赞助,有贵宾区在某些卡车。好吧,好吧,现在它的商业化。 我不怪它,但它改变了。现在一切都像流行的业务。几乎每个DJ都有一个经理人。一些所谓的地下DJ有一个摄影师,即使他们是地下的,也会有一些照片在社交媒体上。我就想,"嘿,以前不都是为了音乐吗?当一个DJ被藏在角落里,人们甚至没有朝着DJ跳舞。而现在,一切都关于明星私人飞机和尽可能多的演出,在社交媒体上曝光自己的照片并且发起人会邀请在社交媒体上出名的DJ。所以它已经变成了流行音乐,不再是地下音乐了。
K: Towards the end of that decade, you moved to Berlin. What was Berlin like at the time?
M: I'm from Berlin originally. So I've been there every year, always back and forth. And in '97 everything was like still possible. There were underground clubs, it was still very free and rough and amazing. There was still this freedom and nobody judging you. It's still good, I don't want to complain, I still love to dance to this music I still love to meet the people, but it's an industry now.
在那十年的末期,你搬到了柏林。当时的柏林是什么样的?
M:我原来是柏林人。所以我每年都去那里,总是来来回回。在97年的时候,一切都还很有可能。有地下俱乐部,它仍然是非常自由、粗糙和令人惊叹的。仍然有这种自由,没有人批评你。它仍然是好的,我不想抱怨,我仍然喜欢跳舞的音乐,我仍然喜欢满足的人,但它是一个行业了。
Do you think Berlin deals with the industry side of things and what you're talking about with the pop side better than other places?  Like clubs still, perhaps more than other cities do keep a level of anonymity for the DJ and keep spaces as safe spaces. I guess what I'm saying is, do you think that there's still more of an underground vibe here than in other places?
M: I think so. There are still clubs who book DJs that are not so well known or not known at all, to give them a chance and because they like their music. If you look around worldwide now you don't find this so much anymore, there always has to be a headliner who is known but I think Berlin is still a little bit different. There are some DJs here who really have huge followings, but they're totally unknown somewhere else, and I really like this. I really like that people explore the music here and, and are 'OK, Let's check this DJ out because they're playing at this club soon and they have to be good because otherwise they wouldn't been booked even though we don't know them, let's check it out.' And that's how it used to be.
K:你觉得柏林处理行业方面的事情和你说的流行方面的事情比其他地方好吗?像俱乐部还是,可能比其他城市更多的是为DJ保持一定程度的匿名性,保持空间作为安全空间。我想说的是,你觉得这里的地下氛围还是比其他地方多吗?
M:我想是的。仍然有一些俱乐部会预定一些不太出名或者根本不出名的DJ,给他们一个机会,也是因为他们喜欢他们的音乐。如果你现在环顾一下全世界,你就不会再发现这样的情况了,总是要有一个知名的头牌DJ,但我觉得柏林还是有点不同。这里有一些DJ真的有很多追随者,但他们在其他地方却完全不为人知,我真的很喜欢这样。我真的很喜欢人们在这里探索音乐,"好吧,让我们来看看这个DJ,因为他们很快就会在这个俱乐部演出,他们一定很出色,否则他们就不会被预定,即使我们不认识他们,让我们来看看。"这就是过去的情况。
You've played everywhere. What makes you feel happy, when you remember a place that you've played?
M: I really like to play places where nobody knows me because then there's no judgment or any expectations. So it's like a blank wall and of course when everything's connecting and where people are smiling on the dancefloor and I look at people's eyes and see their happiness and I smile and feel happy and get goosebumps from the music and the energy in the room, you know what I mean? Sometimes there's so much happening on the dance floor. That is a good night for me, when everybody's connected.
你在各地都玩过。当你回忆起你玩过的地方时,是什么让你感到高兴?
M:我真的很喜欢在没有人认识我的地方演出,因为这样就不会有评判或任何期望。所以这就像一面空白的墙,当然,当一切都联系在一起的时候,人们在舞池中微笑,我看着人们的眼睛,看到他们的快乐,我就会微笑,感到快乐,并从音乐和房间里的能量中起鸡皮疙瘩,你明白我的意思吗? 有时候,舞池里会发生很多事情。对我来说,那是一个美好的夜晚,当每个人都联系在一起的时候。
And what about Burning Man, how was that?
M: Oh I really like Burning Man (laughs)! When Corona is over, I'm definitely going again because that's another thing I learned now. Never postpone anything you want to do because you don't know if it's gonna happen again. I went the first time in 2011 and since then, three times. I know it changed and now it's a little like Coachella with all the Instagram models and even Instagram DJs with designer costumes making the best pictures to get more followers, blah, blah, blah. But I've had so many really extraordinary experiences there, I love the temple where you go and pray and think about all the dead friends or family members you lost. I love when Carl Cox is playing in front of three dancers in a dust storm and you're like "Man, go in your tent or get to your RV, but what are you doing?". And he's still playing in all this craziness.
那火人节呢,怎么样?
M:哦,我很喜欢Burning Man(笑)! 等Corona结束后,我一定会再去,因为这是我现在学到的另一件事。永远不要推迟你想做的事情,因为你不知道会不会再发生。2011年我第一次去,从那以后,去了三次。我知道它变了,现在有点像Coachella,所有的Instagram模特,甚至Instagram的DJ,穿着设计师的服装,拍出最好的照片,以获得更多的粉丝,等等,等等。但我在那里有很多非常特别的体验,我喜欢在寺庙里,你去祈祷,想想你失去的所有死去的朋友或家人。我喜欢卡尔-考克斯在沙尘暴中对着三个舞者演奏,你就像,伙计,去你的帐篷里或者去你的房车里,但你在做什么?而他还在这疯狂的环境中演奏。
I love your description of Carl Cox still playing in a  dust storm.
K:我喜欢你对卡尔-考克斯还在沙尘暴中玩耍的描述。
M: Yeah, it was really like this, he played there for hours. I was like "Really, Carl? You cannot even breathe, but you're still playing!"
M:是的,真的是这样,他在那里玩了几个小时。我当时想,真的是卡尔吗?你连气都喘不过来了,但你还在玩!你知道吗?
K: Oh my God. That's amazing. Isn't it? I mean, the dust just scratching the vinyl and…
K:哦,我的天呐。这好惊人。不是吗?我的意思是,灰尘只是刮黑胶唱片和.
M: Yeah well, he was playing with USB sticks. But you couldn't even see the CD player anymore. He didn't care, that's real passion and that's what I love so much, if I see really passionate people.
M:是啊,他是用U盘玩的。但你甚至看不到CD机了。他不在乎,这才是真正的激情,这才是我最喜欢的,如果我看到真正有激情的人。
DJs describe often a point in a set when it all comes alive, like up until this point you're just playing, and then, you're in the zone. Is there a way you can describe  that moment where you realise that the set has come alive?
M: I think everything is floating, you're just like, 'oh, and now I'm going to pay this, and then play this' and it's so magical, You don't even have to think of what you'll play next. That's this magical point where you let loose and you play risky things and feel free.
K:DJ们经常会描述在一场演出中的一个点,当所有的东西都活跃起来的时候,就像在这之前你只是在演奏,然后,你就进入了状态。你能不能用一种方式来描述那个时刻,你意识到现场已经活跃起来了?
我觉得所有的东西都是浮动的,你就像,'哦,现在我要付这个钱,然后玩这个',这太神奇了,你甚至不用去想下一步要玩什么。就是这个神奇的点,在这里你可以放开手脚,玩一些有风险的东西,感觉很自由。
IG : Monika Kruse
written @paulhanford
photos / styling www.keyi.eu @keyistudio / @eyes_dice & @berlin_bunny_
make up @chrisbaer.makeup