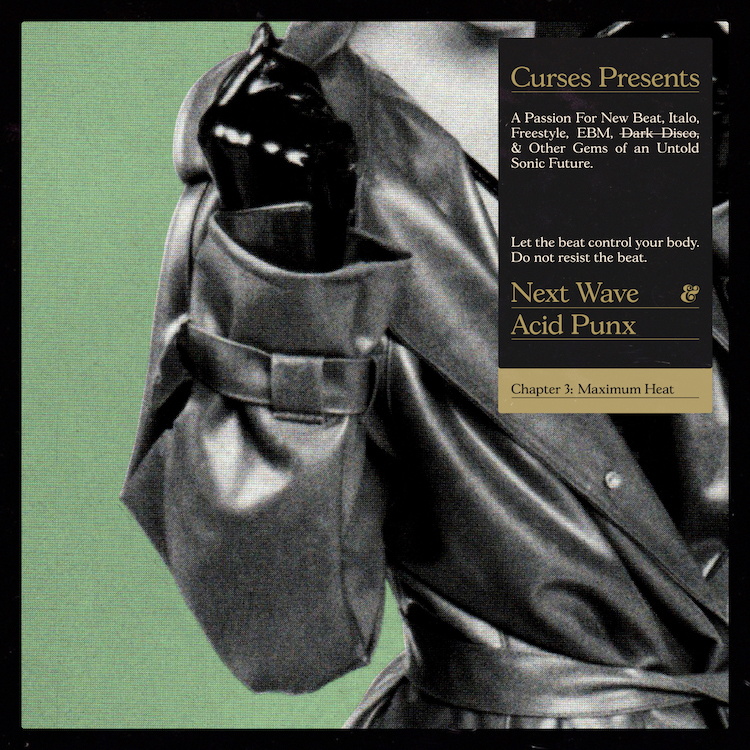 Inviting friends with a like-minded affection for an 80s rooted sound, and diving deep into his record collection, Curses has put together a three CD/double vinyl set that takes us from music by Colourbox and Suicide to EBM pioneers, Front 242 through to recent club hits from Zombies in Miami, and 12 brand new, totally exclusive tracks from the likes of Shubostar, Chinaski, and Curses himself.
Exploring the darker side of club music, 'Next Wave Acid Punx' traces decades of a musical passion and joins the dots between the EBM, New Beat, Italo and Acid House tracks of the 1980s to present music of today.
Curses aka Luca Venezia, Berlin in February 2021:
"Putting together a compilation like this is a strange experience. I've never been one to stay still too long. Whether as a musician, DJ, or producer I'd never wanted to tie myself down to one scene or one sound, always looking to move on before I'd maybe run a project completely dry.
With an album you create a snapshot of who you are during that time in life, with a DJ set maybe just that night, but this felt more like trying to sum up a lifetime of musical experiences. A bit daunting! But in putting this comp together I did find a path that led from listening to FRONT 242 and Ministry cassettes in my bedroom when I was just 11, through to the music I make and play today.
What links these tracks together, is an attitude. It's one I've been drawn to since I was a teenager, playing in punk bands, skateboarding in NYC, hanging out at CBGBs, and following Sonic Youth around, to eventually raving every weekend at underground drum & bass and electro nights.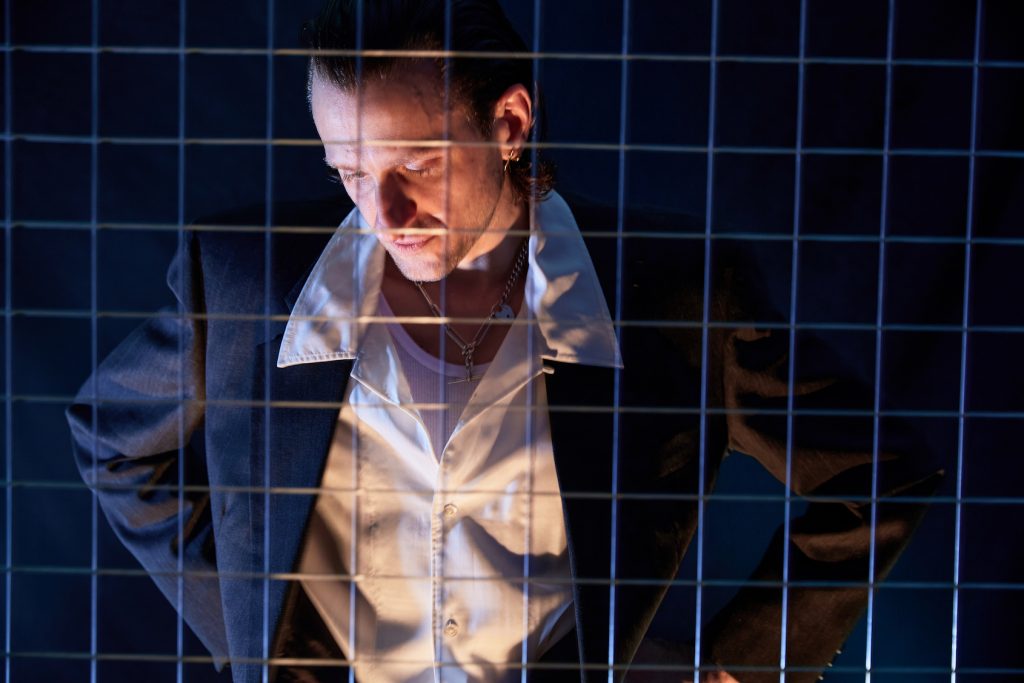 Curses is a New York born and raised and now Berlin based dj and producer, he has released on labels such as Correspondant, Permanent Vacation, Hoga Nord to name a few, is the Ombra International label head honcho and resident of the infamous Pornceptual parties. He is the one who put together the compilation Next Wave Acid Punxon Eskimo Recordings. Comprising three chapters, the compilation is being released in digital, CD and vinyl formats on June 4th. The release features early electronic music, new wave, new beat, electro and EBM, which directly influenced Curses and his peers, like Suicide, Front 242 and Yello as well as contemporary music inspired by these pioneers, like Moscoman, Zombies in Miami & Juan Maclean, including twelve exclusive tracks created specially for the compilation.
The exclusive tracks come by the likes of Curses himself, Chinaski, Shubostar, Kendal & David Carretta, Mufti, Amarcord, Franz Scala, Pablo Bozzi, Tronik Youth, Cardopusher, Local Suicide & Skelesys & Cornelius Doctor!
Curses 是在纽约出生长大的 dj 和制作人,他曾在 Correspondant、Permanent Vacation、Hoga Nord 等唱片公司发行,他是 Ombra International 唱片公司的负责人,也是臭名昭著的 Pornceptual 派对的常驻。他是汇编 Next Wave Acid Punxon Eskimo Recordings 的人。该合辑由三章组成,将于 6 月 4 日以数字、CD 和黑胶唱片格式发行。此次发行以早期电子音乐、新浪潮、新节拍、电子和 EBM 为特色,直接影响了 Curses 和他的同龄人,如 Suicide、Front 242 和 Yello,以及受这些先驱启发的当代音乐,如 Moscoman、Zombies in Miami 和 Juan麦克林,包括十二首专为合辑创作的独家曲目。
独家曲目来自 Curses 本人、Chinaski、Shubostar、Kendal 和 David Carretta、Mufti、Amarcord、Franz Scala、Pablo Bozzi、Tronik Youth、Cardopusher、Local Suicide 和 Skelesys 以及 Cornelius Doctor!
Let's start with a simple introduction, you are half Italian half American. Tell us how is it to grow up in New York in an artistic family ? We miss this city a lot…
NYC is always with me, growing up there had such an impact on me musically and creatively. The diversity, the energy. My family and I are super close, and their musical taste had a major influence on me, creating a super soup of music in the house, playing things like like Laurie Anderson, Philip Glass, Sonic Youth, Patti Smith. The city has changed so so so so much, but I am beginning to notice a very strong underground bubbling again since the pandemic. I miss the food, thats something that will never change!
让我们从一个简单的介绍开始,你是一半意大利人一半美国人。告诉我们,在纽约的艺术家庭中成长是怎样的?我们非常想念这个城市…
纽约市一直伴随着我,在那里长大对我的音乐和创作有很大的影响。那里的多样性,那里的能量。我的家人和我关系超级好,他们的音乐品味对我有很大影响,在家里创造了一个超级的音乐汤,播放像劳里-安德森、菲利普-格拉斯、音速青年、帕蒂-史密斯这样的东西。这个城市已经改变了很多很多,但我开始注意到,自从大流行病以来,一个非常强大的地下空间又开始冒泡了。我怀念食物,这是永远不会改变的事情。
Our magazine is focused a lot on photography. You said your mother is a photographer. Do you think it influenced your artistic career ?
Absolutely. The visual arts play a crucial role in the music I make. I believe imagery helps clarify and define the language you're creating with music and emotion expressing. When I was around 9 years old, I started creating fake record labels and bands I was in and I made these 1/1 releases on TDK cassette tapes. Artwork, catalog #'s..and of course press pics too. My mom would take the pics, with proper lighting and props. she would even make it into some of the self timer ones. In case you were curious 😉
我们的杂志对摄影有很大的关注。你说你的母亲是一名摄影师。你认为这影响了你的艺术生涯吗?
绝对的。视觉艺术在我制作的音乐中起着至关重要的作用。我相信图像有助于澄清和定义你用音乐和情感表达所创造的语言。当我大约9岁的时候,我开始制作假的唱片标签和我所在的乐队,我在TDK磁带上做了这些1/1的发行。艺术作品、目录号……当然还有媒体照片。我妈妈会用适当的灯光和道具拍摄这些照片,她甚至会把照片拍成一些自拍的照片。如果你感到好奇的话;)
Ok let's start with your huge compilation.. massive work congrats! You combined such a spectrum of artists.. Could you tell us about the process ?
Thank you! It was a lengthy one that's for sure, and the list was so big at first we had to chop a lot down. It began strictly as a compilation of the music that's had an impact on me, the different genres that I am passionate about and learned to DJ with. Then it evolved into asking artists who I admire and consider close friends in music to make some new and exclusive work.
好吧,让我们从你的巨大的汇编开始吧!祝贺你!你结合了如此广泛的艺术家。你结合了这么多的艺术家… 你能告诉我们这个过程吗?
谢谢你!"。这是一个漫长的过程,这是肯定的,一开始的名单太大,我们不得不砍掉很多。严格来说,它开始是对我有影响的音乐的汇编,是我热衷的不同类型的音乐,并学会了用它做DJ。然后,它演变成邀请我欣赏的、被认为是音乐界亲密朋友的艺术家们制作一些新的、独家的作品。
We are curious how you picked artists for such complementary work? What was your criteria?
All the artists share a similar love for the dark 80's synth driven club music, but each have their own unique take. Most of the artists share a rock and band background like me too, and I think its why we relate to a more song-based verse/chorus/verse structure to producing club music different to techno. Things kind of fell into place naturally with the selection. Some artists I wanted involved also didn't make the cut either because they were too busy, or we had to chop things down. it wasn't easy.. I should mention there are some honorary artists I wanted to include that are making amazing work in the EBM and New Beat inspired sounds today – June, credit00, Djedjotronic, Kris Baha, Randolph & Mortimer.. to name a few… but maybe that means another volume is coming haha
我们很好奇你是如何为这样的互补性工作挑选艺术家的?你的标准是什么?
所有的艺术家都对80年代黑暗的合成器驱动的俱乐部音乐有着相似的热爱,但每个人都有自己独特的想法。大多数艺术家和我一样都有摇滚和乐队的背景,我想这就是为什么我们在制作俱乐部音乐时,会采用更多基于歌曲的诗句/副歌/句子结构,而不是Techno。在选择时,事情自然而然地落到了实处。我希望参与的一些艺术家也没有被选中,因为他们太忙了,或者我们不得不把事情减少。我应该提到一些我想加入的荣誉艺术家,他们在今天的EBM和New Beat的启发下做出了惊人的工作–June、Credit00、Djedjotronic、Kris Baha、Randolph & Mortimer……仅举几例……但也许这意味着另一卷即将到来哈。
Do you plan to organize a showcase with artists from the compilation ? That would be something spectacular..
Yes! I mean… if this was 2019, damn.. what a party. But as you can imagine, it's tricky with the current situation with limitations all varying in each country. But me and the label are in talks with each other and some of the artists about doing some Berlin and Belgium based events at the end of summer. Crossing fingers this goes to plan!
你们是否打算组织一个有艺术家参加的展示会?这将是很壮观的事情。
是的! 我的意思是……如果这是2019年,该死的……多么好的聚会。 但是你可以想象,在目前的情况下,每个国家的限制都不一样,这很棘手。但我和唱片公司正在与对方和一些艺术家商谈,在夏末做一些基于柏林和比利时的活动。希望这一切能按计划进行。
The compilation has three parts, could you tell us about each of them ? Did you do it on purpose ? Is there any message behind each part ?
Chapter 1 is a snapshot into the music that got me into Djing and Electronic music. I was a teenager going to Coney Island High and CBGBs and Wetlands and then all of a sudden discovered Limelight and Raves and these 2 worlds collided. I could only afford to buy records in the 99c bins at spots like Vinyl Mania and Bleecker Bobs, and the majority of those records happened to be Latin Freestyle, New Beat and Italo. The drums echoed my love for a gated snare in bands like Sisters of Mercy and Front242, which also coincidentally were the same drums as my dr-550 drum machine which I used to practice guitar scales to.
Chapter 2 is the music that captured a moment in time of realizing I wasn't alone. It sounds cheesy, yes. But I lost excitement in NYC, I felt like I was trying to force a sound that didn't fit into the scene I was surrounded by. It took me finally leaving my comfort zone, moving to Berlin to come full circle and find new international friends and parties that were all doing something I could relate to and not feel I had to compromise my craft.
Chapter 3 is the next and now. These are the artists I feel close to like family, and artists I admire creatively. They push me to keep pushing, and all share this similar passion for 80s dark club music.
这个汇编有三个部分,你能告诉我们每个部分的情况吗?你是故意这样做的吗?每个部分背后有什么信息吗?
第一章是让我进入DJ和电子音乐的音乐的一个缩影。我十几岁的时候去康尼岛高中、CBGBs和湿地,然后突然发现了Limelight和Raves,这两个世界发生了碰撞。我只能在像Vinyl Mania和Bleecker Bobs这样的地方买得起99c的唱片,而这些唱片大部分都是拉丁自由风格、新节拍和意大利风格。这些鼓呼应了我对 "慈悲姐妹 "和 "Front242 "等乐队的门控小鼓的喜爱,而这些鼓也恰好与我用来练习吉他音阶的dr-550鼓机的鼓相同。
第二章是记录了意识到我并不孤单的那一刻的音乐。这听起来很俗气,是的。但我在纽约失去了兴奋感,我觉得我在试图强迫一种不适合我所处的场景的声音。我终于离开了我的舒适区,搬到了柏林,并找到了新的国际朋友和聚会,他们都在做一些我可以理解的事情,而不觉得我必须妥协我的技艺。
第三章是下一个和现在。这些是我觉得像家人一样亲近的艺术家,也是我创造性地欣赏的艺术家。他们促使我继续努力,并且都对80年代的黑暗俱乐部音乐有着类似的热情。
What are your next plans after this release ?
It's been a hard year and a half. For so many of us in the music industry..emotionally and financially draining. At the same time, I have been able to finish many unfinished projects and collaborations. The next Curses LP will finally drop on Jennifer Cardini's Dischi Autunno imprint November 26, with remixes from Kim Ann Foxman, the KVB and Boysnoize to name a few. Another Venice Arms EP is coming on permanent Vacation as well, in 2022 as well as a collaboration EP with Younger Than Me… I just can't wait to perform and DJ all of this music loud with a crowd and smoke and strobes and lights. I know you know the feeling too..
发布此版本后,您的下一步计划是什么?
这是一个艰难的一年半。对于我们这么多音乐行业的人来说,在情感和经济上都很疲惫。与此同时,我已经能够完成许多未完成的项目和合作。下一张Curses LP将于11月26日在Jennifer Cardini的Dischi Autunno唱片公司发行,其中包括Kim Ann Foxman、KVB和Boysnoize等人的混音。另一张Venice Arms EP也将在2022年的永久假期中推出,还有一张与Younger Than Me合作的EP……我只是迫不及待地想在人群中、在烟雾、闪光灯和灯光下大声表演和DJ所有这些音乐。我知道你也知道这种感觉。
Tracklist 3 x CD / Digital – Compiled By Curses
CD1 Next Wave Acid Punx Chapter 1. Origins (Classics)
01. Borghesia – Z.M.R.
02. Gina X Performance – Kaddish
03. Suicide – Wild In Blue (2005 Remaster)
04. Demolition Group – You Better Stay Alive
05. A Split Second – Flesh
06. BPM AM – Come To Me (Vocal Version)
07. Ted Milton – Love Is Like A Violēnce
08. Front 242 – Funkhadafi
09. Colourbox – Fast Dump
10. Yello – Lost Again (Extended Dance Version)
11. Mystery – Mystery Girl (Club Mix Remastered) 12. In-D – Virgin In-D Sky's
13. Judy Torres – No Reason To Cry (Instrumental) 14. Hard Corps – Porte Bonheur (Lucky Charm) 2021
CD2 Next Wave Acid Punx Chapter 2. Break A Sweat (Recent)
15. Moderna & Theus Mago – Francesca (Wild At Heart)
16. Middle Sky Boom feat. Eliezer – Slow With The Run (Il Est Vilaine Remix) 17. Tiempo De Maldad – Maxico (Alvee Remix)
18. Zombies In Miami – El Wild
19. Moscoman – Fernandez
20. Juan Maclean feat. Fantastic Twins – She's Breaking Up
21. Damon Jee & Darlyn Vlys – Kronos (Wild Mix)
22. Zakmina – Viral News
23. Radial Gaze – Totem Echoes (You Man Remix)
24. Paresse – Temple
25. Rina x Benji x Megaphonim – Ani Cham
26. Modular Project – Electronic Disco (Curses Remix)
CD3 Next Wave Acid Punx Chapter 3. Maximum Heat (Exclusives)
27. Curses – Discipline
28. Chinaski – Hart Und Kalt
29. Shubostar – AYA
30. Cornelius Doctor – Life In Chains
31. Mufti – Restrained
32. Amarcord – Spleen
33. Franz Scala – Shortwave Memories
34. Tronik Youth – Spirit Dancer
35. Cardopusher – Escape From Reality
36. Kendal & David Carretta – Pastaga
37. Local Suicide & Skelesys – Faster Faster 38. Pablo Bozzi – Storm in Dallas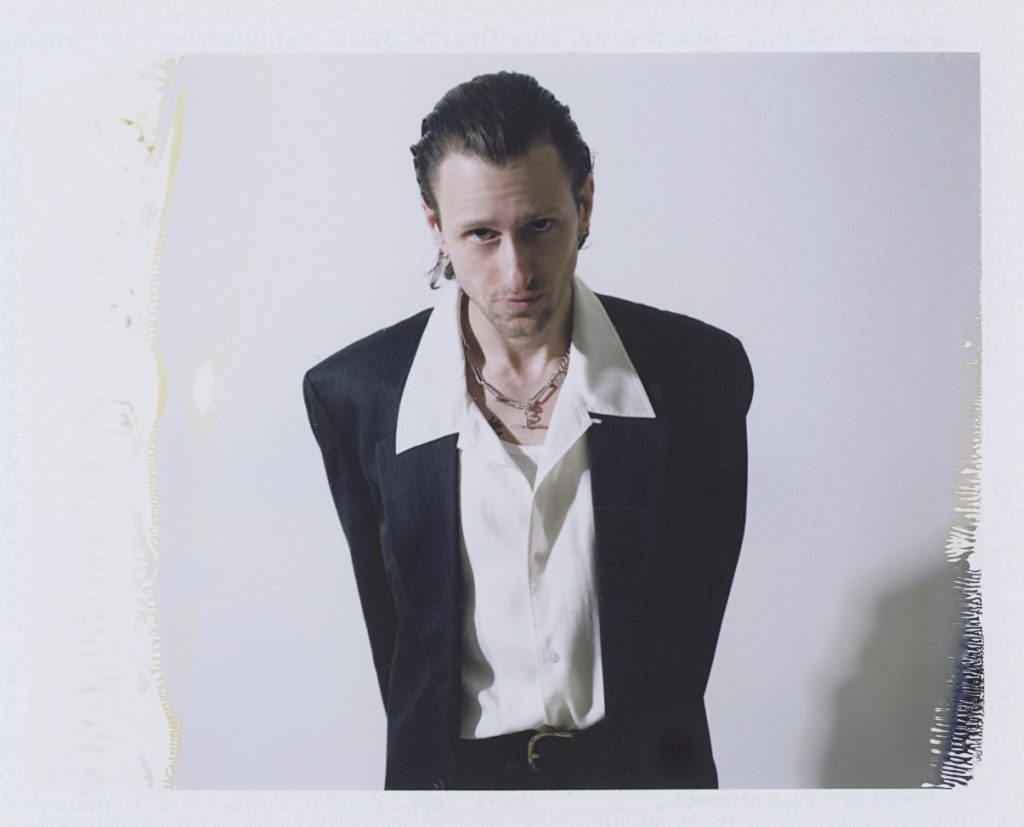 Curses
Eskimo Recordings
Website
Facebook
Soundcloud
Instagram
https://link.eskimorecordings.be/NextWaveAcidPunx
Interview Grzegorz Bacinski
Translation Emi