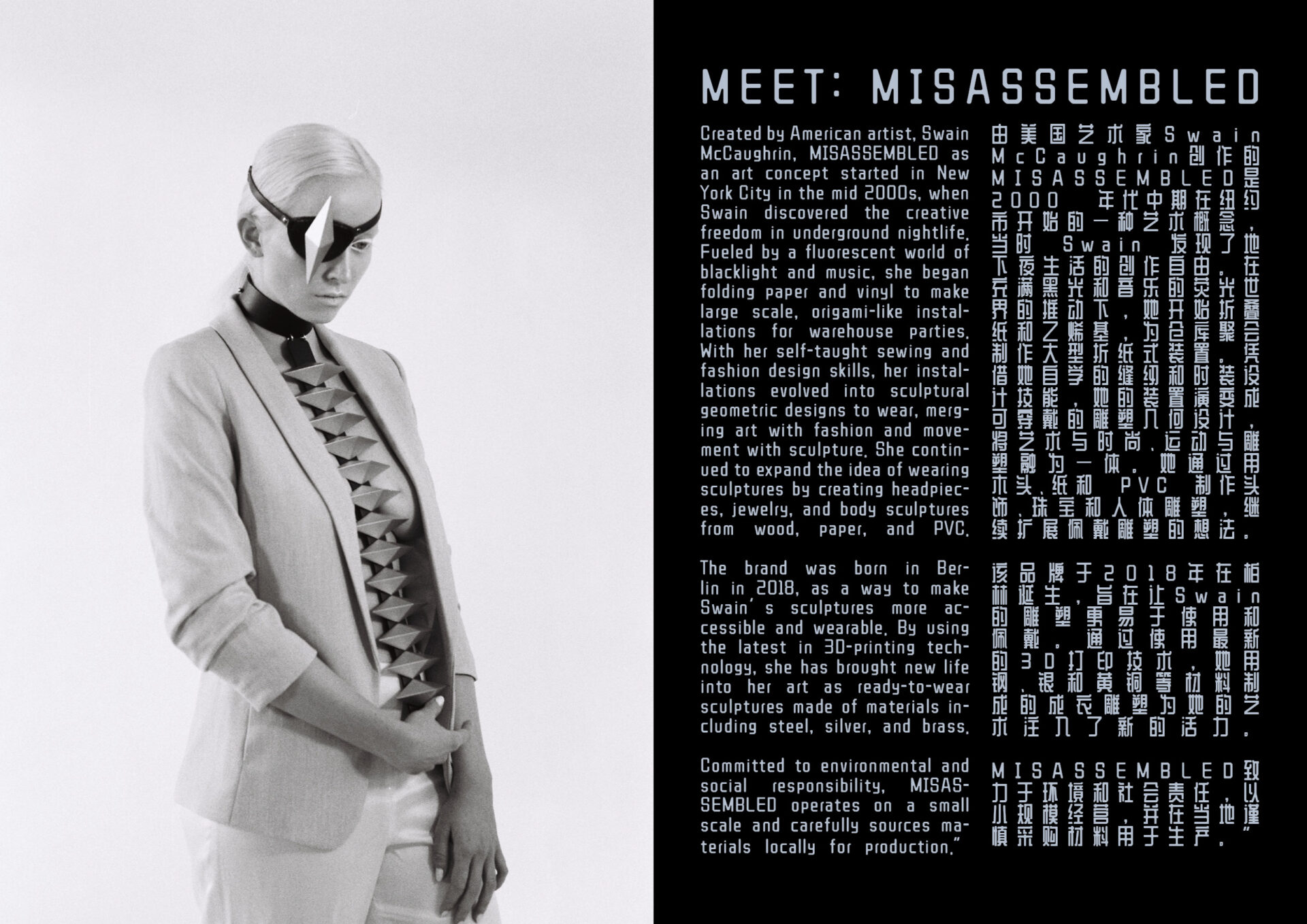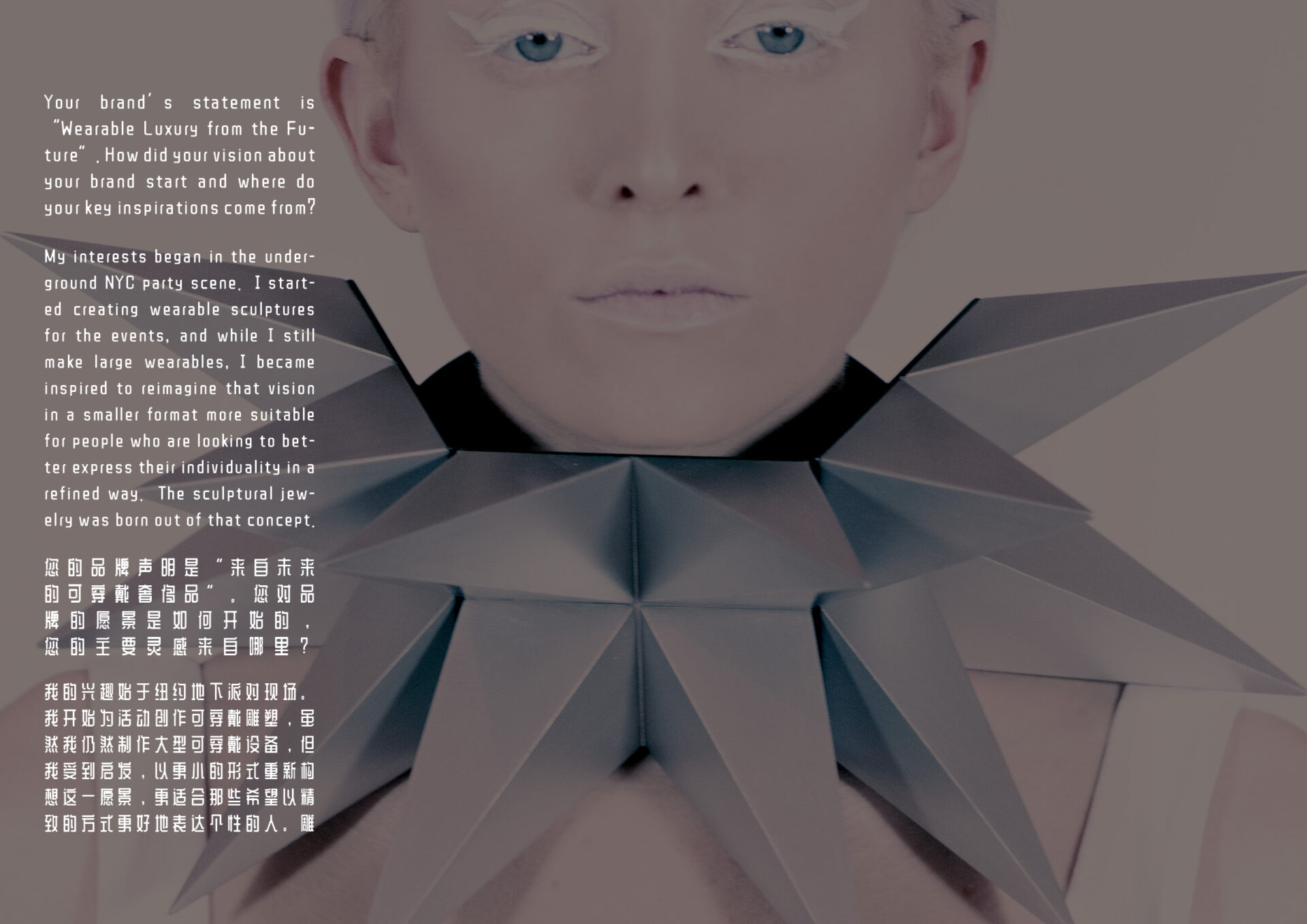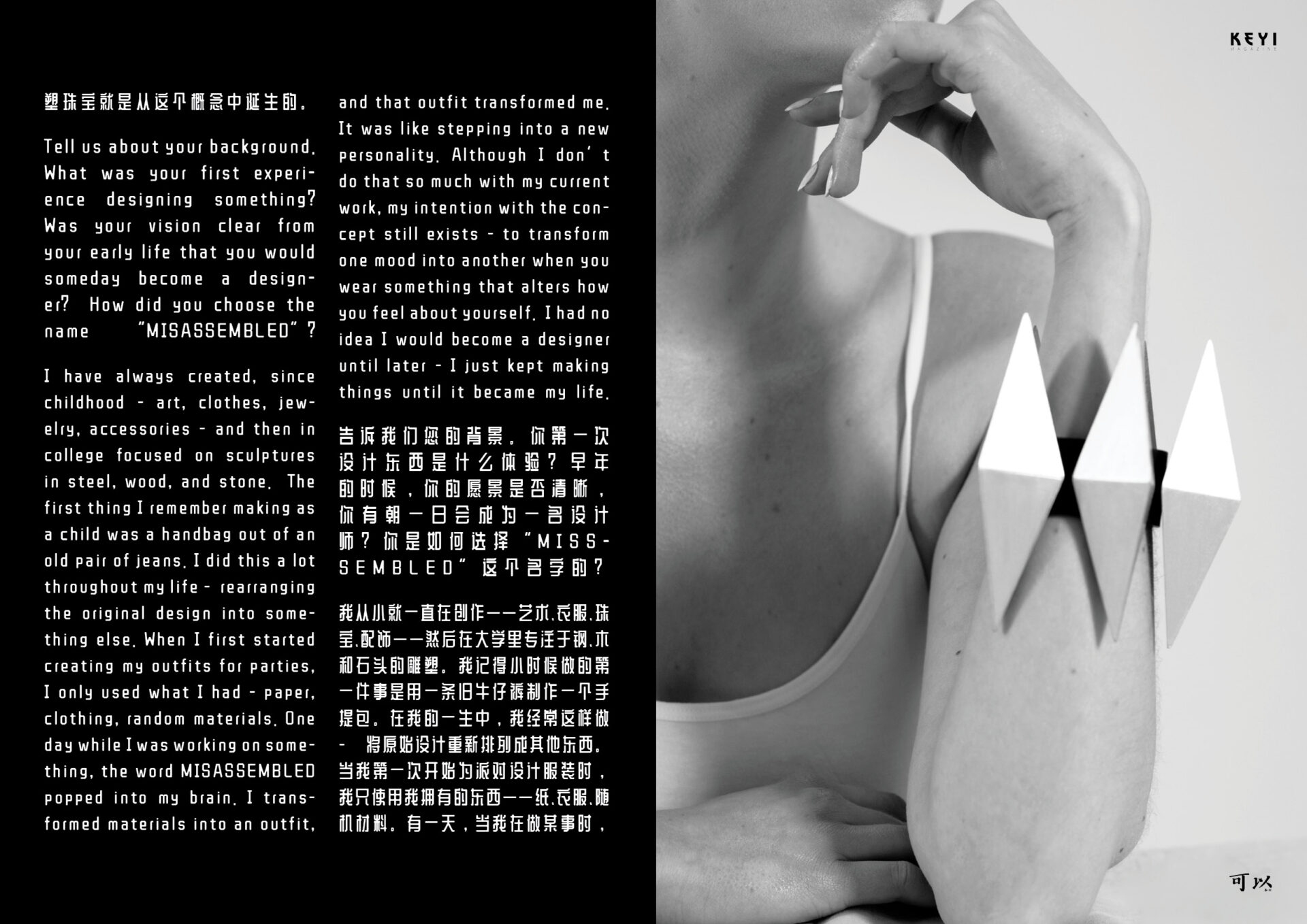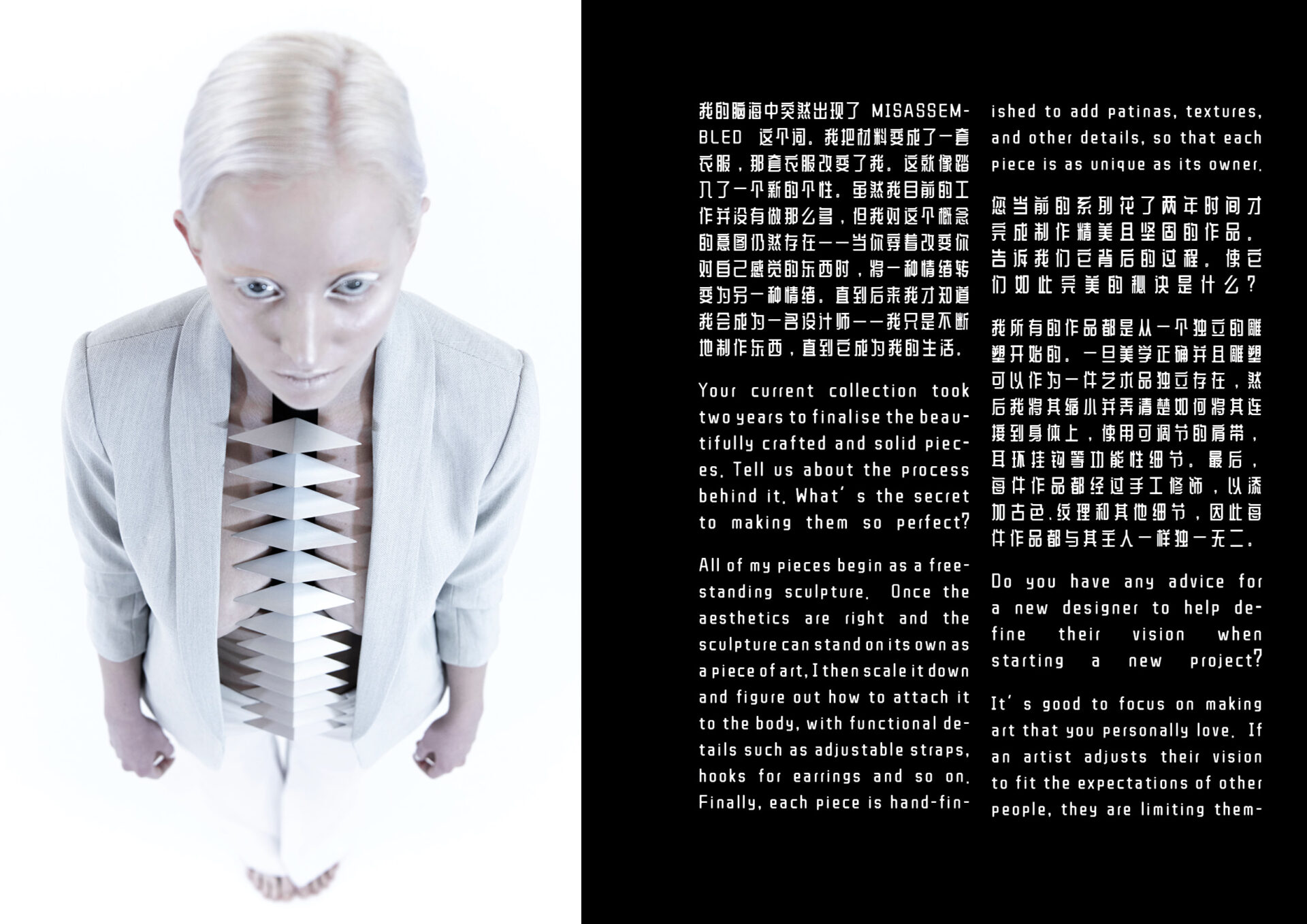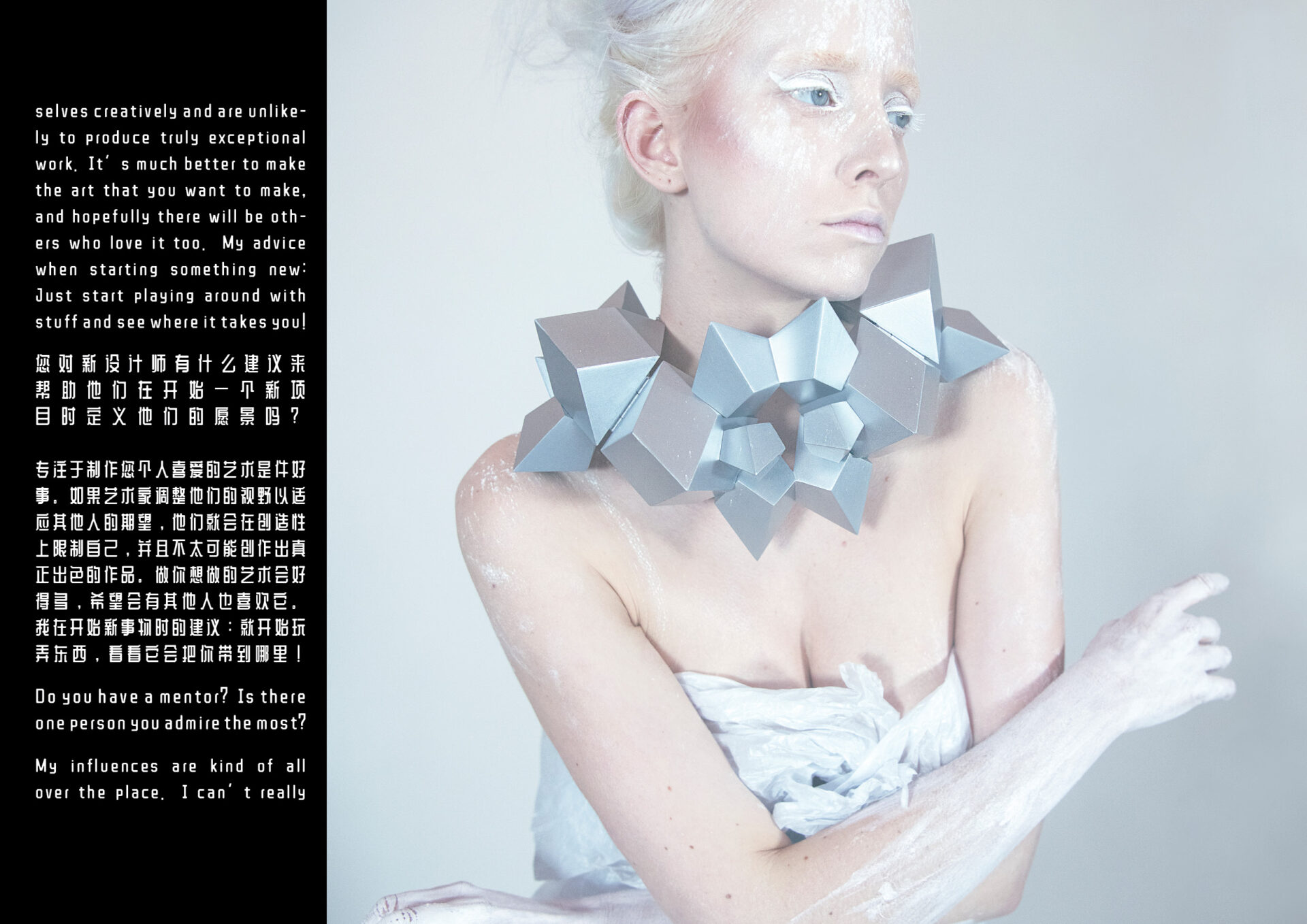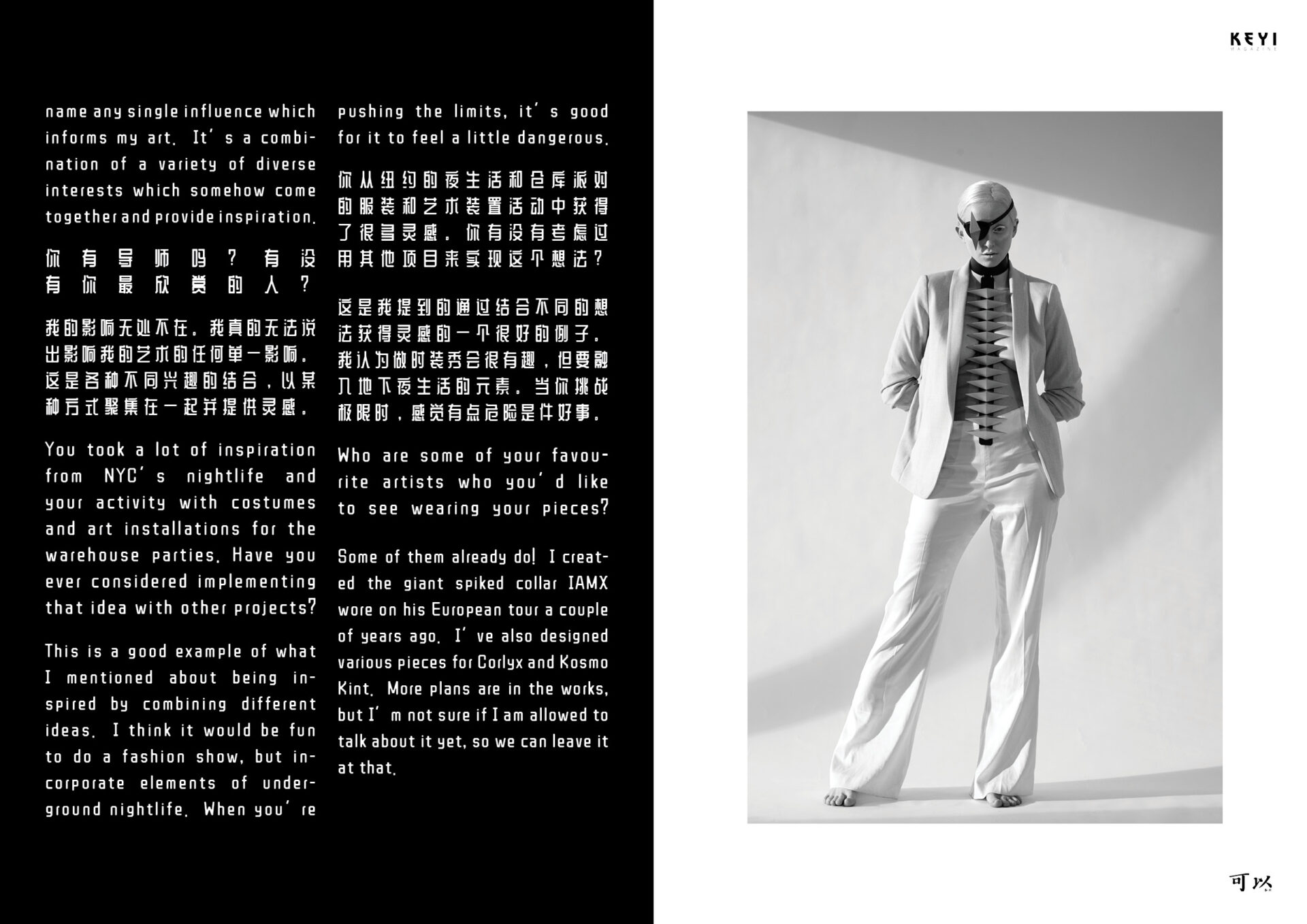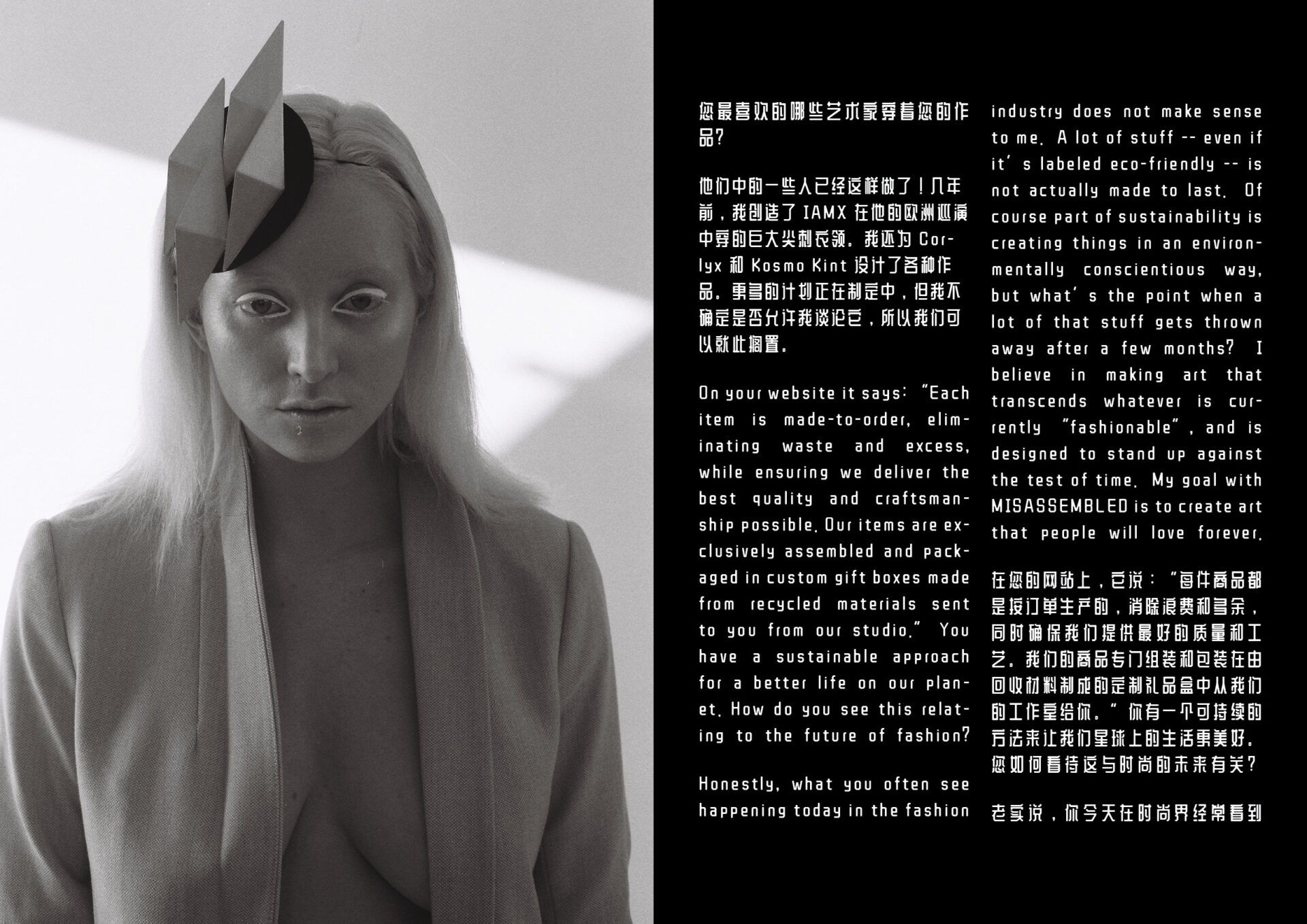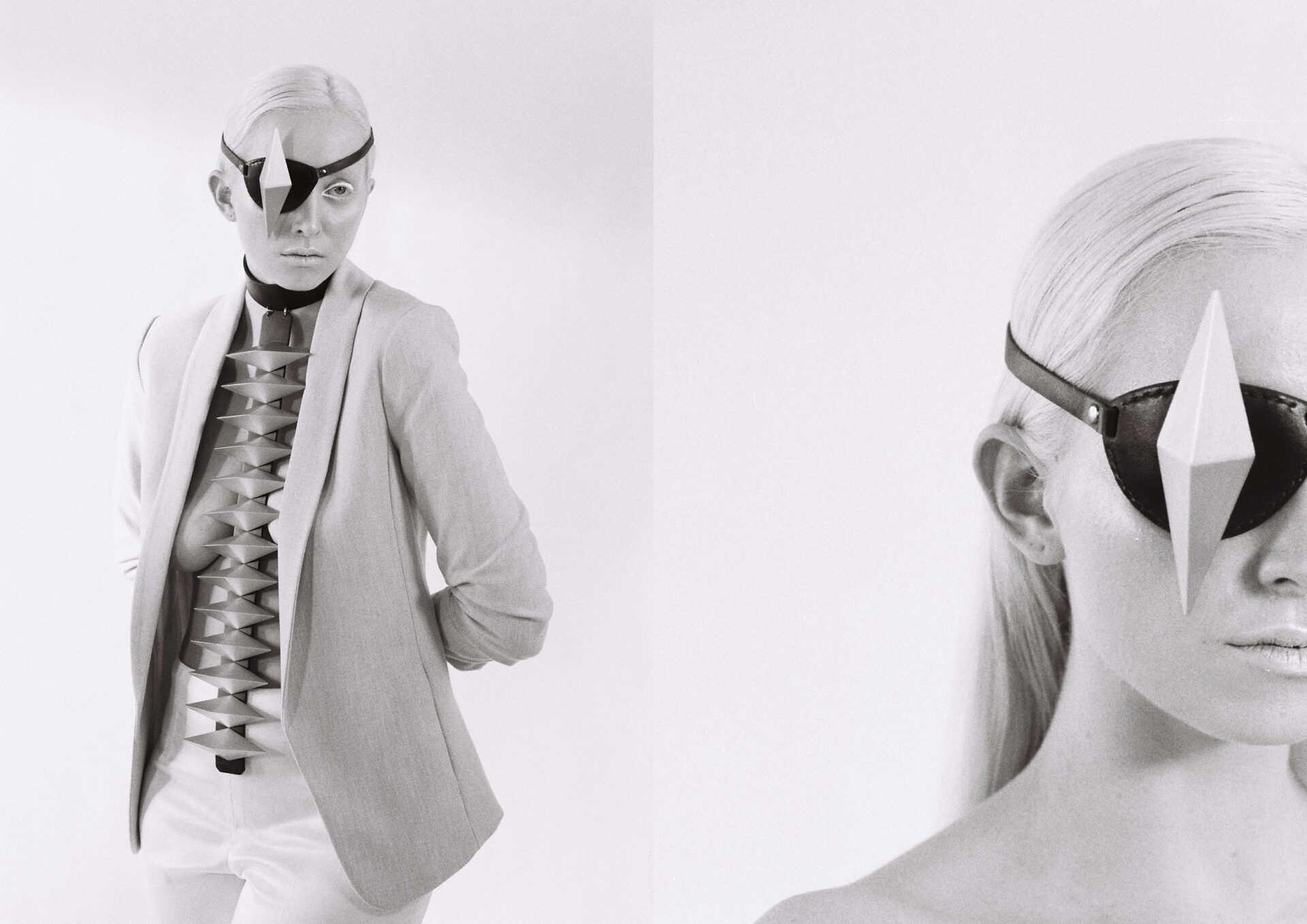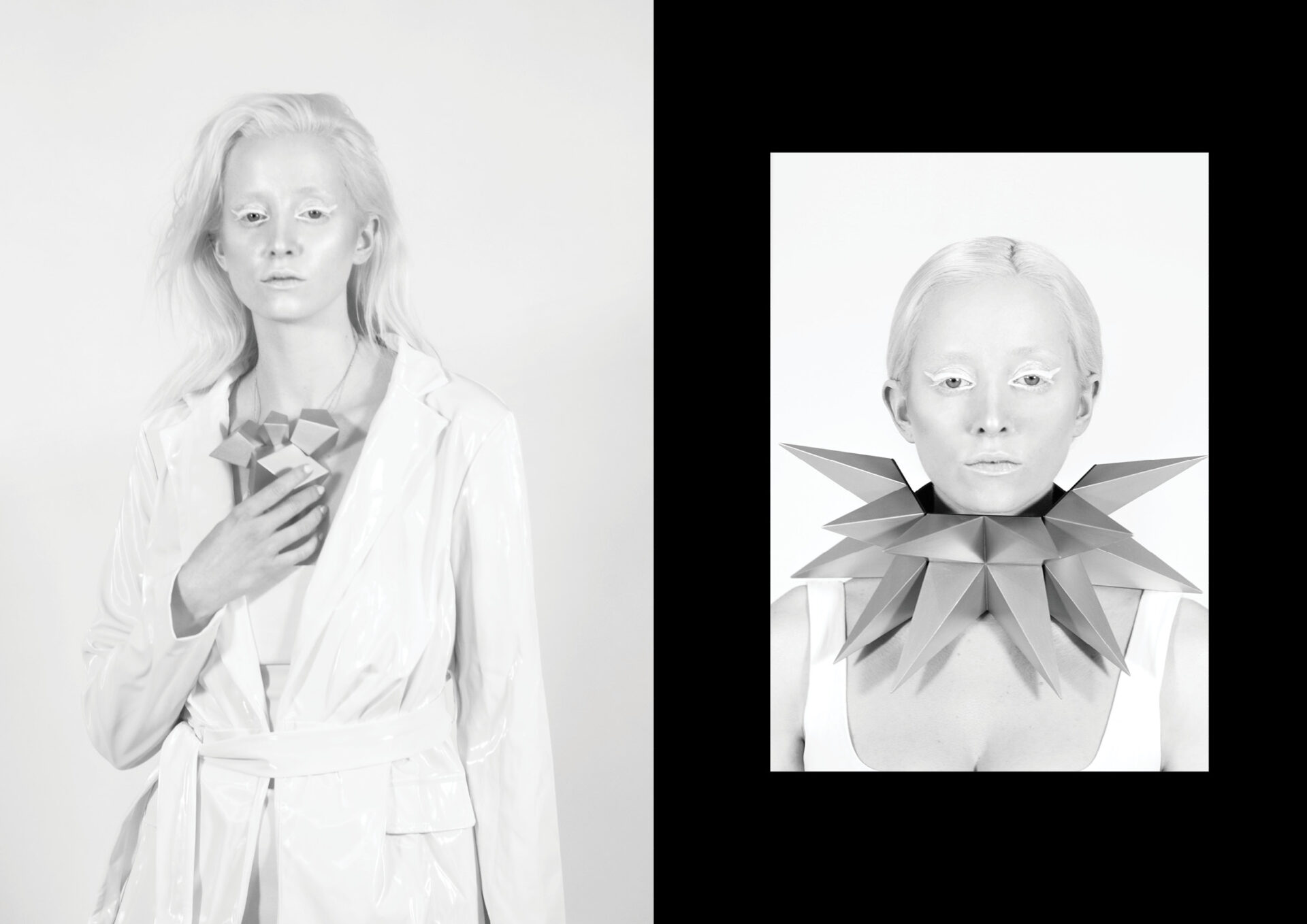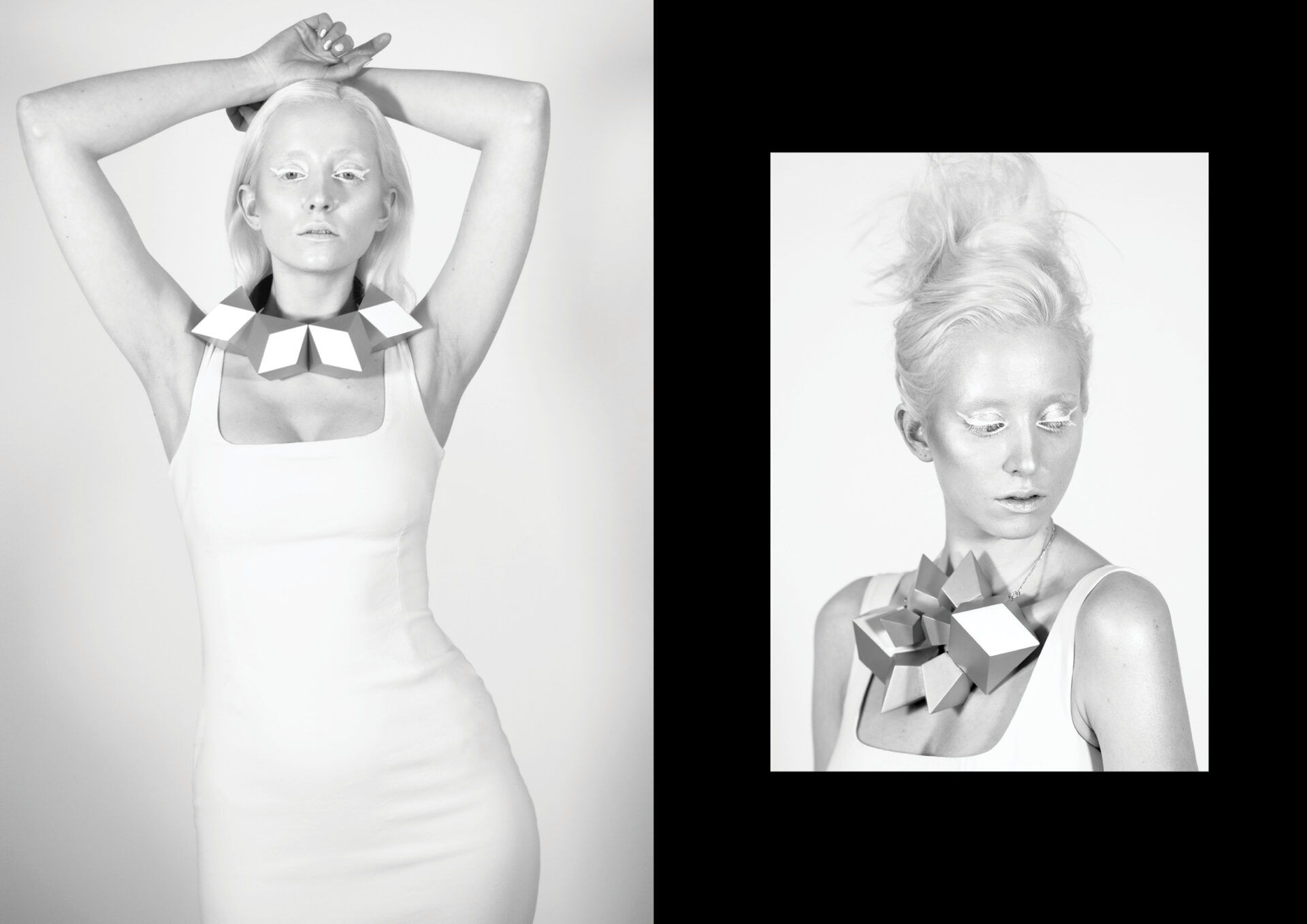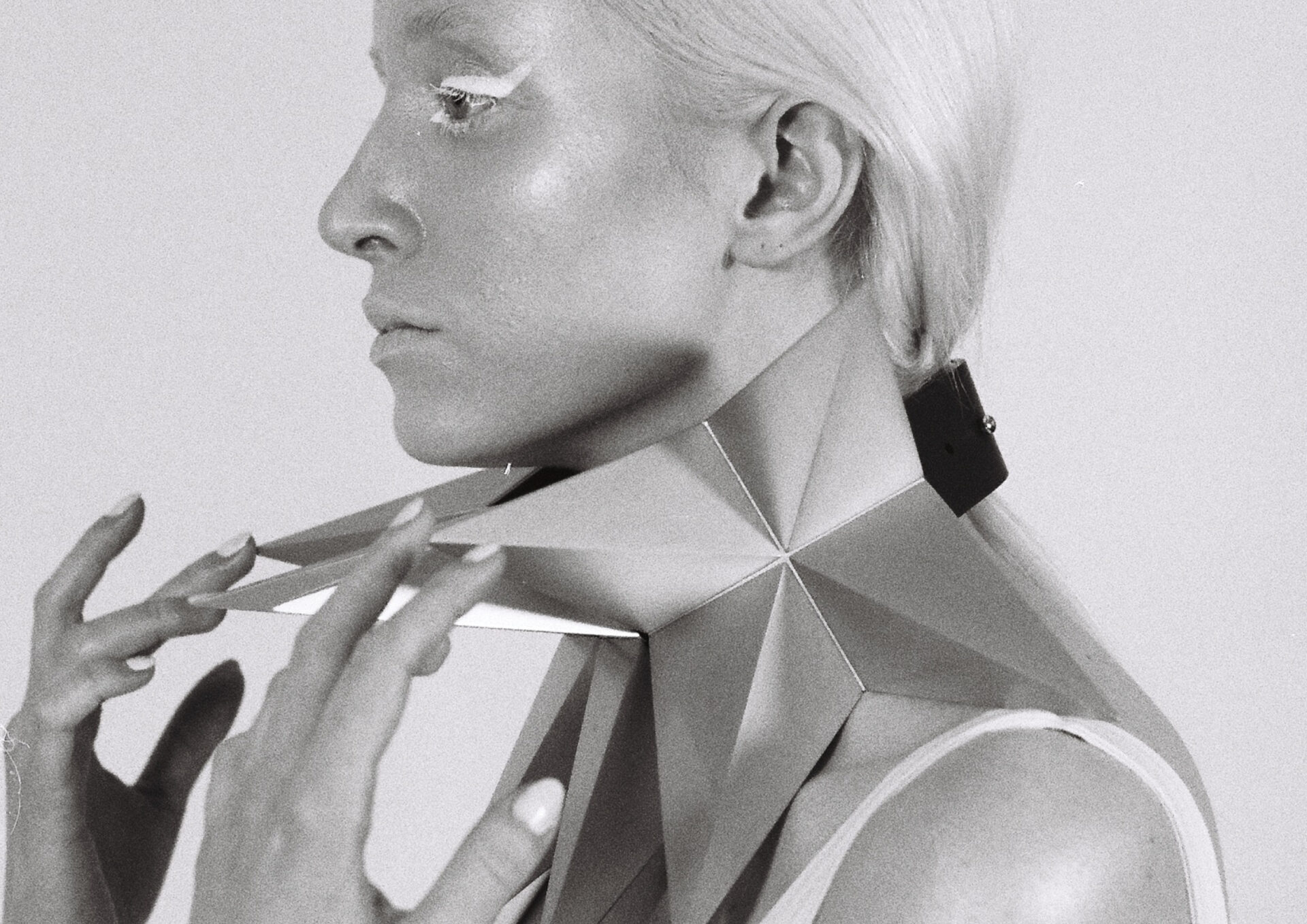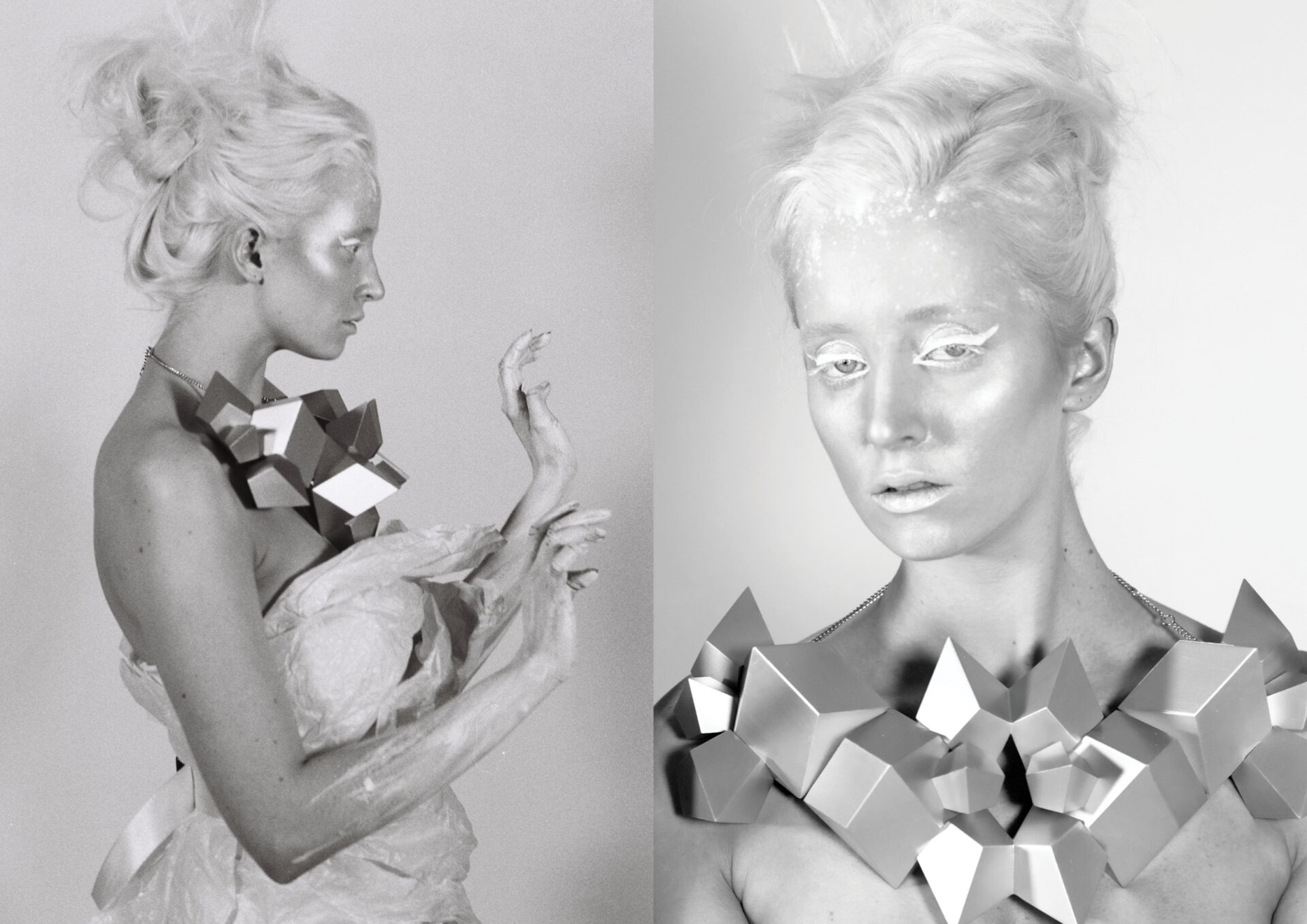 Created by American artist, Swain McCaughrin,
MISASSEMBLED as an art concept started in New York City in the mid 2000s, when Swain discovered the creative freedom in underground nightlife. Fueled by a fluorescent world of blacklight and music, she began folding paper and vinyl to make large scale, origami-like installations for warehouse parties. With her self-taught sewing and fashion design skills, her installations evolved into sculptural geometric designs to wear, merging art with fashion and movement with sculpture. She continued to expand the idea of wearing sculptures by creating headpieces, jewelry, and body sculptures from wood, paper, and PVC.
The brand was born in Berlin in 2018, as a way to make Swain's sculptures more accessible and wearable. By using the latest in 3D-printing technology, she has brought new life into her art as ready-to-wear sculptures made of materials including steel, silver, and brass.
Committed to environmental and social responsibility, MISASSEMBLED operates on a small scale and carefully sources materials locally for production."
由美国艺术家Swain McCaughrin创作的 MISASSEMBLED是 2000 年代中期在纽约市开始的一种艺术概念,当时 Swain 发现了地下​​夜生活的创作自由。在充满黑光和音乐的荧光世界的推动下,她开始折叠纸和乙烯基,为仓库聚会制作大型折纸式装置。凭借她自学的缝纫和时装设计技能,她的装置演变成可穿戴的雕塑几何设计,将艺术与时尚、运动与雕塑融为一体。她通过用木头、纸和 PVC 制作头饰、珠宝和人体雕塑,继续扩展佩戴雕塑的想法。
该品牌于2018年在柏林诞生,旨在让Swain 的雕塑更易于使用和佩戴。通过使用最新的3D打印技术,她用钢、银和黄铜等材料制成的成衣雕塑为她的艺术注入了新的活力。
MISASSEMBLED致力于环境和社会责任,以小规模经营,并在当地谨慎采购材料用于生产。"
Your brand's statement is "Wearable Luxury from the Future". How did your vision about your brand start and where do your key inspirations come from?
My interests began in the underground NYC party scene. I started creating wearable sculptures for the events, and while I still make large wearables, I became inspired to reimagine that vision in a smaller format more suitable for people who are looking to better express their individuality in a refined way. The sculptural jewelry was born out of that concept.
您的品牌声明是"来自未来的可穿戴奢侈品"。您对品牌的愿景是如何开始的,您的主要灵感来自哪里?
我的兴趣始于纽约地下派对现场。我开始为活动创作可穿戴雕塑,虽然我仍然制作大型可穿戴设备,但我受到启发,以更小的形式重新构想这一愿景,更适合那些希望以精致的方式更好地表达个性的人。雕塑珠宝就是从这个概念中诞生的。
Tell us about your background. What was your first experience designing something? Was your vision clear from your early life that you would someday become a designer? How did you choose the name "MISASSEMBLED"?
I have always created, since childhood – art, clothes, jewelry, accessories – and then in college focused on sculptures in steel, wood, and stone. The first thing I remember making as a child was a handbag out of an old pair of jeans. I did this a lot throughout my life – rearranging the original design into something else. When I first started creating my outfits for parties, I only used what I had – paper, clothing, random materials. One day while I was working on something, the word MISASSEMBLED popped into my brain. I transformed materials into an outfit, and that outfit transformed me. It was like stepping into a new personality. Although I don't do that so much with my current work, my intention with the concept still exists – to transform one mood into another when you wear something that alters how you feel about yourself. I had no idea I would become a designer until later – I just kept making things until it became my life.
告诉我们您的背景。你第一次设计东西是什么体验?早年的时候,你的愿景是否清晰,你有朝一日会成为一名设计师?你是如何选择"MISSSEMBLED"这个名字的?
我从小就一直在创作——艺术、衣服、珠宝、配饰——然后在大学里专注于钢、木和石头的雕塑。我记得小时候做的第一件事是用一条旧牛仔裤制作一个手提包。在我的一生中,我经常这样做 – 将原始设计重新排列成其他东西。当我第一次开始为派对设计服装时,我只使用我拥有的东西——纸、衣服、随机材料。有一天,当我在做某事时,我的脑海中突然出现了 MISASSEMBLED 这个词。我把材料变成了一套衣服,那套衣服改变了我。这就像踏入了一个新的个性。虽然我目前的工作并没有做那么多,但我对这个概念的意图仍然存在——当你穿着改变你对自己感觉的东西时,将一种情绪转变为另一种情绪。直到后来我才知道我会成为一名设计师——我只是不断地制作东西,直到它成为我的生活。
Your current collection took two years to finalise the beautifully crafted and solid pieces. Tell us about the process behind it. What's the secret to making them so perfect?
All of my pieces begin as a freestanding sculpture. Once the aesthetics are right and the sculpture can stand on its own as a piece of art, I then scale it down and figure out how to attach it to the body, with functional details such as adjustable straps, hooks for earrings and so on. Finally, each piece is hand-finished to add patinas, textures, and other details, so that each piece is as unique as its owner.
您当前的系列花了两年时间才完成制作精美且坚固的作品。告诉我们它背后的过程。使它们如此完美的秘诀是什么?
我所有的作品都是从一个独立的雕塑开始的。一旦美学正确并且雕塑可以作为一件艺术品独立存在,然后我将其缩小并弄清楚如何将其连接到身体上,使用可调节的肩带,耳环挂钩等功能性细节。最后,每件作品都经过手工修饰,以添加古色、纹理和其他细节,因此每件作品都与其主人一样独一无二。
Do you have any advice for a new designer to help define their vision when starting a new project?
It's good to focus on making art that you personally love. If an artist adjusts their vision to fit the expectations of other people, they are limiting themselves creatively and are unlikely to produce truly exceptional work. It's much better to make the art that you want to make, and hopefully there will be others who love it too. My advice when starting something new: Just start playing around with stuff and see where it takes you!
您对新设计师有什么建议来帮助他们在开始一个新项目时定义他们的愿景吗?
专注于制作您个人喜爱的艺术是件好事。如果艺术家调整他们的视野以适应其他人的期望,他们就会在创造性上限制自己,并且不太可能创作出真正出色的作品。做你想做的艺术会好得多,希望会有其他人也喜欢它。我在开始新事物时的建议:就开始玩弄东西,看看它会把你带到哪里!
Do you have a mentor? Is there one person you admire the most?
My influences are kind of all over the place. I can't really name any single influence which informs my art. It's a combination of a variety of diverse interests which somehow come together and provide inspiration.
你有导师吗?有没有你最欣赏的人?
我的影响无处不在。我真的无法说出影响我的艺术的任何单一影响。这是各种不同兴趣的结合,以某种方式聚集在一起并提供灵感。
You took a lot of inspiration from NYC's nightlife and your activity with costumes and art installations for the warehouse parties. Have you ever considered implementing that idea with other projects?
This is a good example of what I mentioned about being inspired by combining different ideas. I think it would be fun to do a fashion show, but incorporate elements of underground nightlife. When you're pushing the limits, it's good for it to feel a little dangerous.
你从纽约的夜生活和仓库派对的服装和艺术装置活动中获得了很多灵感。你有没有考虑过用其他项目来实现这个想法?
这是我提到的通过结合不同的想法获得灵感的一个很好的例子。我认为做时装秀会很有趣,但要融入地下夜生活的元素。当你挑战极限时,感觉有点危险是件好事。
Who are some of your favourite artists who you'd like to see wearing your pieces?
Some of them already do! I created the giant spiked collar IAMX wore on his European tour a couple of years ago. I've also designed various pieces for Corlyx and Kosmo Kint. More plans are in the works, but I'm not sure if I am allowed to talk about it yet, so we can leave it at that.
您最喜欢的哪些艺术家穿着您的作品?
他们中的一些人已经这样做了!几年前,我创造了 IAMX 在他的欧洲巡演中穿的巨大尖刺衣领。我还为 Corlyx 和 Kosmo Kint 设计了各种作品。更多的计划正在制定中,但我不确定是否允许我谈论它,所以我们可以就此搁置。
On your website it says: "Each item is made-to-order, eliminating waste and excess, while ensuring we deliver the best quality and craftsmanship possible. Our items are exclusively assembled and packaged in custom gift boxes made from recycled materials sent to you from our studio." You have a sustainable approach for a better life on our planet. How do you see this relating to the future of fashion?
Honestly, what you often see happening today in the fashion industry does not make sense to me. A lot of stuff — even if it's labeled eco-friendly — is not actually made to last. Of course part of sustainability is creating things in an environmentally conscientious way, but what's the point when a lot of that stuff gets thrown away after a few months? I believe in making art that transcends whatever is currently "fashionable", and is designed to stand up against the test of time. My goal with MISASSEMBLED is to create art that people will love forever.
在您的网站上,它说:"每件商品都是按订单生产的,消除浪费和多余,同时确保我们提供最好的质量和工艺。我们的商品专门组装和包装在由回收材料制成的定制礼品盒中从我们的工作室给你。"你有一个可持续的方法来让我们星球上的生活更美好。您如何看待这与时尚的未来有关?
老实说,你今天在时尚界经常看到的事情对我来说没有意义。很多东西——即使它被贴上环保标签——实际上并不能持久。当然,可持续性的一部分是以环保的方式创造事物,但是如果几个月后很多东西被扔掉,那又有什么意义呢?我相信创作超越当前"时尚"的艺术,并经得起时间的考验。我对 MISASSEMBLED 的目标是创造人们将永远喜爱的艺术。
Interview 作者: Izabella Chrobok & Grzegorz Bacinski
Fashion: MISASSEMBLED
Translation 翻译: Emi
Photos照片: Keyi Studio WWW.KEYI.EU
Izabella Chrobok & Grzegorz Bacinski
Make up : Prinz Basil
Model : Lara Nachtigall
Music : Luca @wht_moth