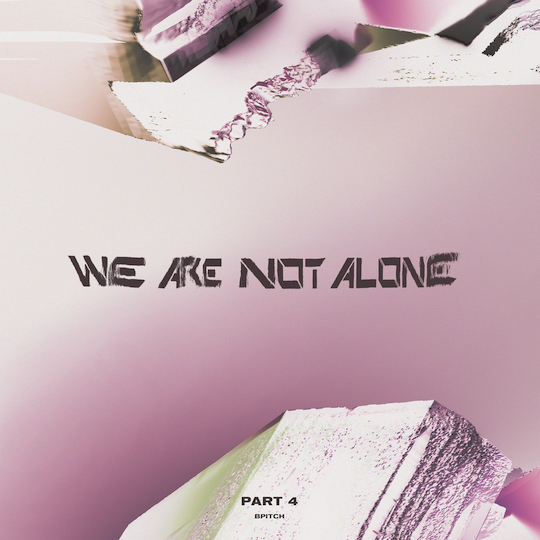 A 36-track compilation split into 3 parts, each consisting of 12 cuts, dedicated to the infamous We Are Not Alone event series and the best of Berlin's underground techno talent.
Ellen Allien's innovative party series We Are Not Alone was launched in 2016 and remains committed to inviting an exciting crew of artists to perform at the 36 hour events, now in a new home at RSO.BERLIN, where they returned with bang over 36 hours and 3 floors in May.
The We Are Not Alone compilation features artists that have played at the parties, as well as those who will join the line-up for future events. The 4th, 5th and 6th parts include music by Ellen and established names names such as Reka, Thomas P. Heckmann, Dollkraut & DJ Europarking, Francois X, Phase Fatale and Etapp Kyle. Rising stars Nene H, Nur Jaber, Stephanie Sykes, Wallis and Métaraph. BPitch signings including Rosa Anschütz, Shaleen, Matasism and Uncrat.
For this installment of the series, Ellen Allien collaborates with esteemed director and photographer Stini Roehrs for the multidisciplinary project ''AFTER DARK – Emotional States of Techno'', consisting of a virtual rave film, book and exhibition produced by AKKURAT Studios, and the We Are Not Alone VA, which is to be released physically and digitally via BPitch.
The next We Are Not Alone parties take place at RSO, Berlin in July, August and October of this year. 22nd July, CSD weekend, is set to be a single night event on two floors. 20th August a We Are Not Alone floor during the RSO Club Festival and then we'll be back for over 30 hours on 15th & 16th October. Watch this space.
这张36轨合辑分为3个部分,每个部分由12首曲子组成,专门为臭名昭著的We Are Not Alone系列活动和柏林最好的地下电子乐人才而制作。

Ellen Allien的创新派对系列We Are Not Alone于2016年推出,并继续致力于邀请令人兴奋的艺术家团队在36小时的活动中表演,现在在RSO.BERLIN的新家,他们在5月的36小时和3个楼层中轰然回归。

我们并不孤单》汇编了曾在派对上演出的艺术家,以及那些将加入未来活动阵容的艺术家。第四、第五和第六部分包括Ellen和知名人士的音乐,如Reka, Thomas P. Heckmann, Dollkraut & DJ Europarking, Francois X, Phase Fatale和Etapp Kyle。新星Nene H、Nur Jaber、Stephanie Sykes、Wallis和Métaraph。BPitch签名,包括罗莎-安舒兹(Rosa Anschütz)、沙琳(Shaleen)、马塔斯姆(Matasism)和不拉特(Uncrat)。

在该系列的这一期,Ellen Allien与受人尊敬的导演和摄影师Stini Roehrs合作进行多学科项目"AFTER DARK – Emotional States of Techno",由AKKURAT工作室制作的虚拟狂欢电影、书籍和展览组成,以及We Are Not Alone VA,将通过BPitch发行实体和数字版本。

下一个 "我们不孤独 "派对将于今年7月、8月和10月在柏林的RSO举行。7月22日,CSD周末,将是一个在两层楼的单夜活动。8月20日,在RSO俱乐部节期间,"我们不孤独 "将在一层楼举行,然后我们将在10月15日和16日回来,持续30多个小时。请注意这个空间。