The 'SUSAN FANG x UGG' collaboration floated onto the runway at SUSAN FANG's AW23 Shanghai show. The dreamy collection consists of two shoe designs, both created with Fang's customary airy quality. In the collection, Fang's platform shoes are vibrant and whimsical, a perfect accessory for the AW23 runway show. Feminine colours evoke a fresh, bold look, which strive away from her more delicate shoe designs. However, the romantic quality of her work is still found in the delicate flowers on each shoe.
SUSAN FANG's show in Shanghai was a sight to behold. It was the designer's second time showcasing her experimentation with children's attire. Several of her models were accompanied by 'mini' selves. Evidently, the AW23 collection and collaboration sought to welcome the coming of spring in a hopeful, playful manner.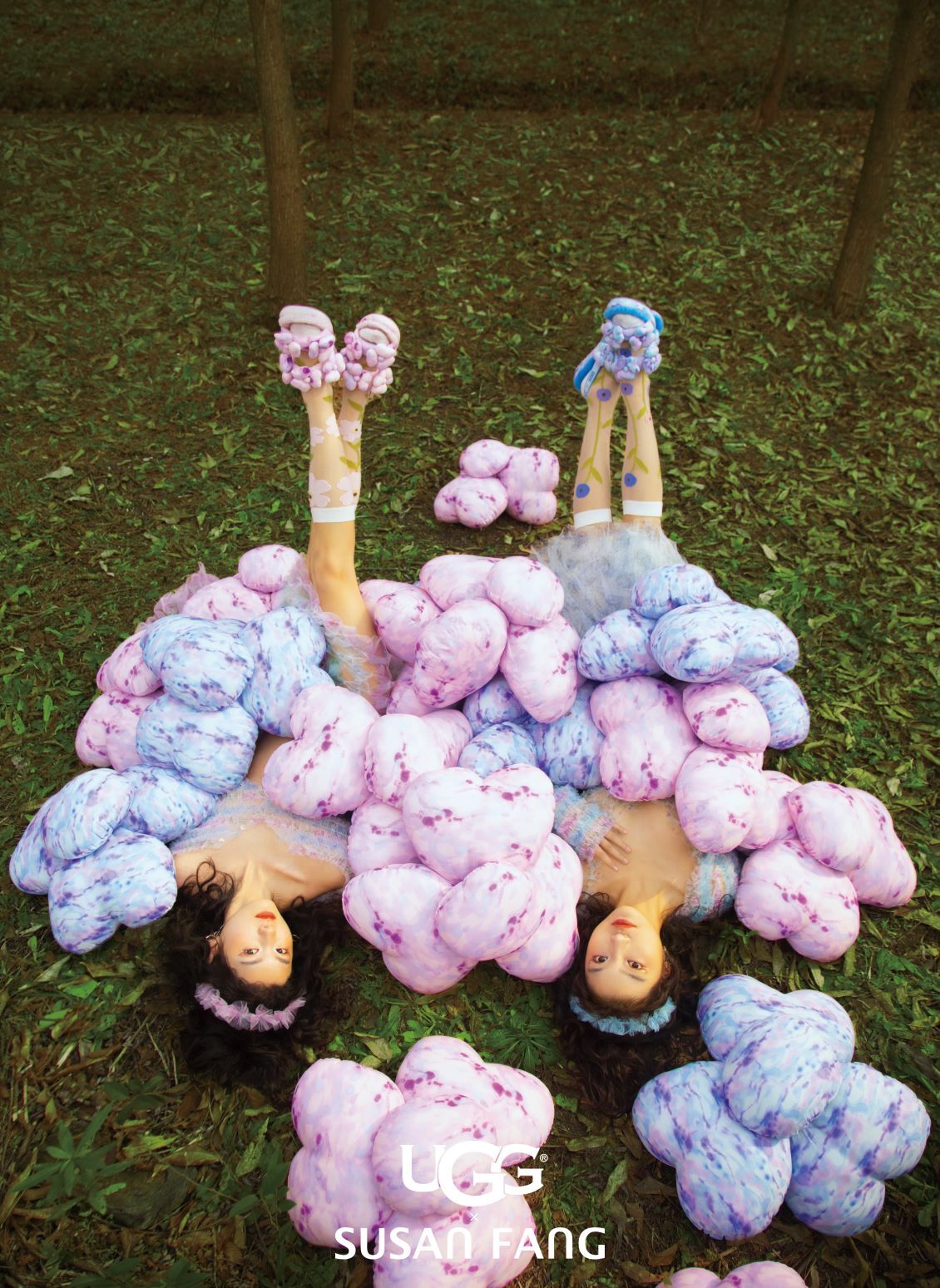 We hope every unique girl who wears this lucky slipper will have all their wishes come true
The March UGG collaboration is 'walking on air' personified, with a soft cushioned look perfect for both runway and every day. Fang uses UGG's signature 'Oh Yeah' sole, with her own delicate twist. Cushioned flowers adorn each shoe strap, elevating the shoes into works of art. A sense of childlike hope and perspective heavily inspired Fang's AW23 line at the Shanghai show. Following her previous sustainable collection, she opted for recycled materials and whimsical silhouettes. Specifically, the designer explored fabric strips, cut from her previous collection, turned them into upcycled yarn. Marking Fang as a truly sustainable innovator.
Fang used glittering, interwoven beads, and 3D flowers to create a mesmerising fantasy world of her own design. These elements echo throughout her UGG collaboration. When discussing her inspiration behind the shoes, Fang explained "We hope every unique girl who wears this lucky slipper will have all their wishes come true".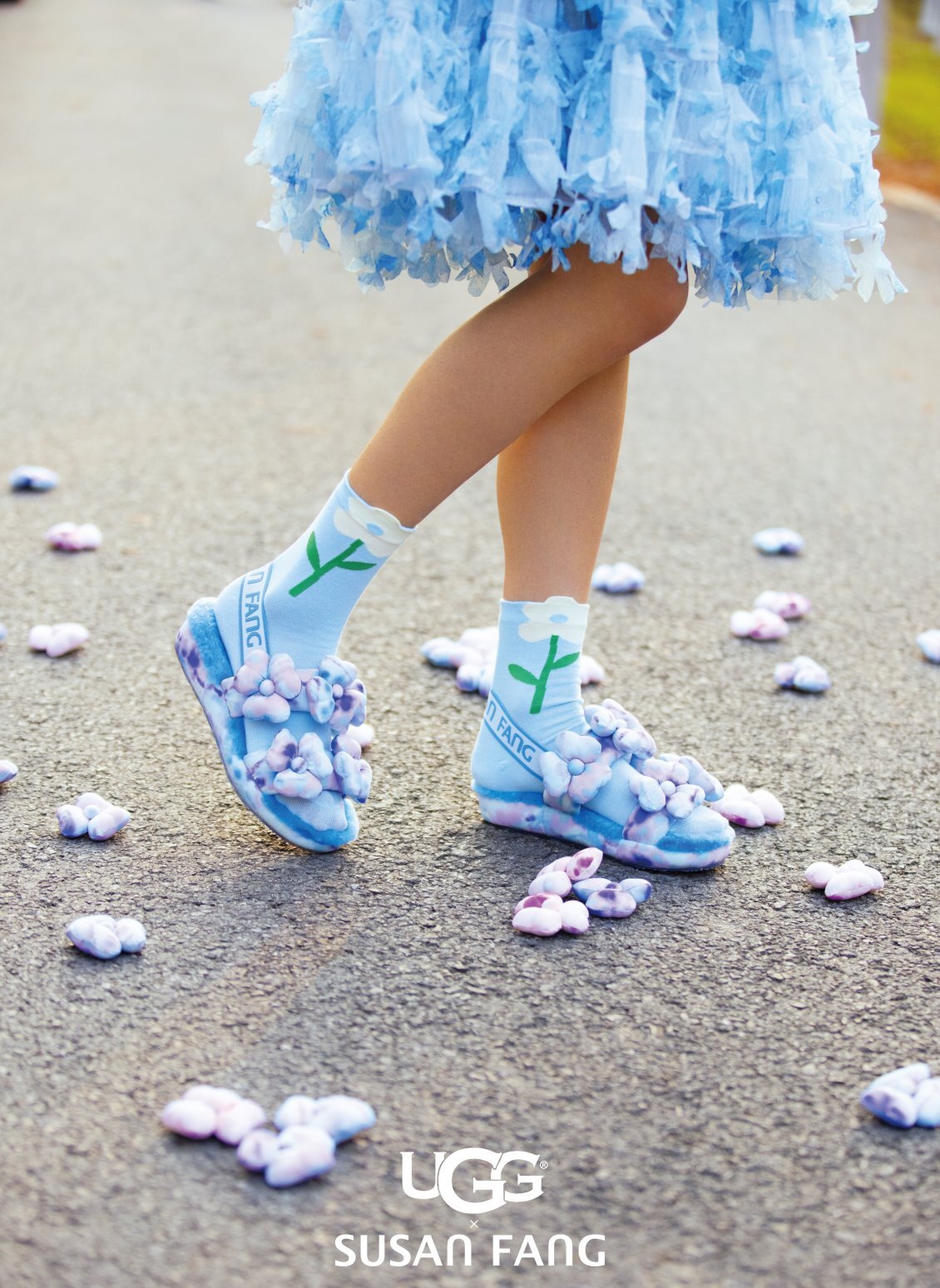 ABOUT SUSAN FANG
SUSAN FANG launched her brand in 2017 after graduating from the London fashion school Central St Martins. Vogue named Fang as one of China's most promising emerging designers. Her innovative delicate designs strive to showcase both a playful joy; but also bring attention to sustainable issues.
Elements of the natural world heavily influence SUSAN FANG and her designs. Undoubtedly, She feels an instinctive allure to nature that is showcased in her work. Thus, Her connection to the world has caused her to focus her brand on sustainable innovation in textiles using upcycled materials.
Various industry professionals and magazines have recognised Fang's designs. Forbes selected Fang for the 30 Under 30 in both 2019 and 2020. The LVMH committee recognised her talents in 2022, shortlisting her for the prize. Furthermore, Her designs have been featured in Vogue, Jing Daily, Metal Magazine and many more. SUSAN FANG is stocked internationally at prestigious stockists Browns, Farfetch, Net a Porter, Selfridges, Dover Street Market London/Singapore/US, Machine A, and IT.
---
More fashion content -> Click here