Gauthier is originally from Paris and comes from cinema. At his debuts, he met a musician who talked to him about hardware, samplers and sequencers. Soon after buying his first machine, he fell in love with music and released his first EP, "Rave on the moon".
From then on, he launched his career playing Parisian stages and festivals such as Marvelous and Dream Nation. In 2020, he released his first vinyl album, "Live in Ravolution", and continued to work on new projects. Everything accelerates for Gauthier, who multiplies dates and festivals between the Millesime festival and the Rave 4 Love in Lithuania, which opens to him the doors of international. 
LISTEN TRACK PREMIERE HERE:
His style is defined by an electro and techno base, but he tries to go further. His aim is not to make dancefloor music but to bring his creations back to something stronger and deeper, a sound with soul. He uses heavy, saturated vocals, like those found in dark wave or cold wave.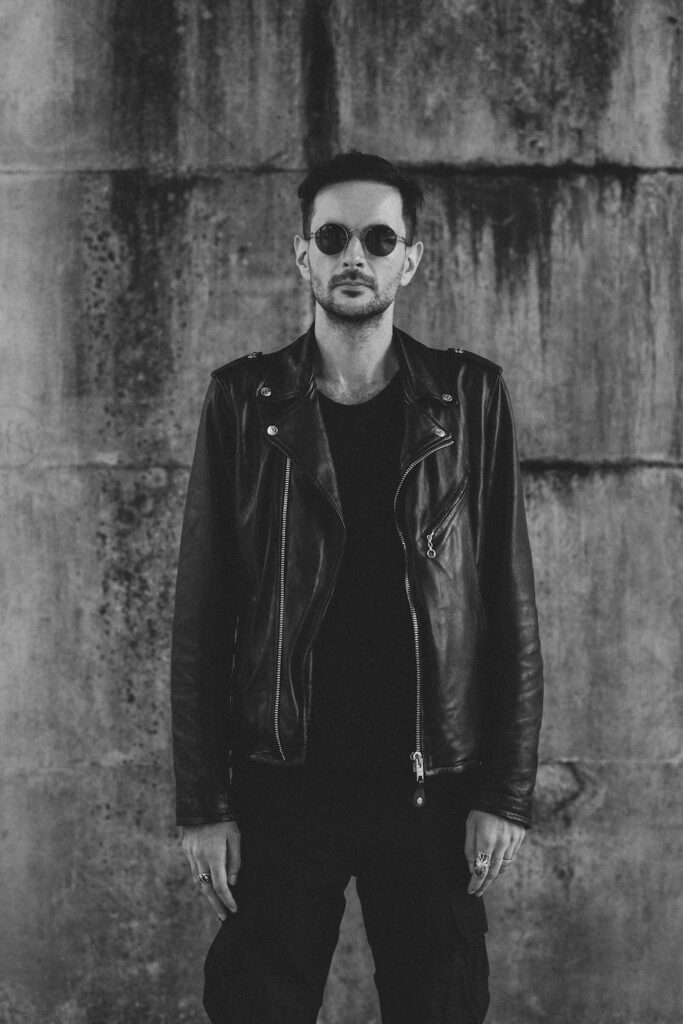 Gauthier comes back with a new EP, taking a turn through techno music more influenced by EBM, Dark Wave and Post-punk.
Dawn in Paris is about nocturnal moments that end at dawn. Of those spaces of desire and passion that last only the time of night. It's about the solitude of dancing side by side. Alone and together at the same time. And then there are those moments of heartbreak and emotion that last only an instant, only to disappear at daybreak, an unimportant space that has all its importance. A free world, where we do what we want, where we put ourselves in impossible states, because we know there's an end to it, and it feels good. There's nothing to be ashamed of, just longing until the rain comes to wake us up from this dream that wasn't a dream at all.
Hey Gauthier, how are you ? if you could introduce yourself to us, is this your real name or just the alter ego that you created for your project ?
Fine, thank you!  My name is Michaël, actually my artist name is my last name. I like to keep it simple and decline my name through different forms in my artistic activities. 
Speaking about your music path, which consists few releases, what were your influences if it comes to your first release and your last one? Could you feel the changes? 
When I started producing, I was very curious about the history of techno music, so I started with the beginning, listening to a lot of tracks from Detroit.
Jeff Mills was one of my favorite producers but I was also very curious about all the tracks from Detroit that were a bit mysterious, with noisy vocals, like Electronic Warfare by Underground Resistance, or some tracks by Juan Atkins.
At the same time, I was also very attracted to the Berlin scene, Terrence Fixmer inspired me. As I was just starting music, Rave of the Moon was produced very instinctively, without knowing so much, just wanted to share a feeling. After that, i explored different styles, trying to find what I liked the most. The hypnotic power of vocals in tracks was the thing that interested me. When I produced Dawn in Paris the idea was to find my style crossing over influences that I love. The ones from the beginning but also other ones more into the EBM and dark wave. I  love the storytelling of artists like the Horrorist, Lebanon Hanover, Boy Harsher or the Soft Moon. So yeah, with this release, I feel a change, I'm more comfortable with my voice, singing in tracks like After All, and I also improved my production skills. I'm more in control than at the beginning. 
How would you classify your label Ghost to host Records and if could introduce it to the new audience? What are your values and criteria when you look for a new artist?
It's a label that is open to different genres of techno music. I wanted to build something where you can discover different approaches, and you can find a clear artistic direction inside the same release. I love producers who could make hard techno or trance tracks, or EBM. Why should I need to choose? 
For me, the most important thing when i start to work with a new artist is the coherency of his universe and the relationship we could build together, through feedback and musical esthetic. I love to give a lot of feedback cause I truly believe that a good release is teamwork.
You are from Paris, France is well known for such great producers in your genre, what are your thoughts about the music scene there?
The scene is quite intense, with a lot of events, a lot of crews and artistic directions. I guess it's a good thing and it gives people many options. But I would like to see more live performances and more diversity in the lineups. Some so many artists deserve to play that sometimes i just wanted to see more often new names.
We are here to premiere a track from your latest EP – Until Dawn, could you tell us how you came up with the idea of it and what it means to you?
I think it's the first track I produced for this EP, the idea was to talk about my experience and memories in the Paris night.
Everything is different until dawn. I  wanted to share my feelings about desire and love during the night, but also sometimes loneliness, when everyone dances alone, even if we are together in the same place.
It could be a bit melancholic but also full of desire. I guess that to be truly full of energy and desire we have to accept being bored or sad sometimes. Intense experiences can't happen all the time. 
You already got support from festivals, platforms and a variety of artists..  how do you see the next steps in your career? and what are your plans?
This release is a turn for me. I'm working on a live machine with a first show in Brussels in January. I  want to develop this kind of performance, and I hope it gives me more opportunities to travel and share my music. Also, I'm already working on my next EP which I will continue to develop this new identity. 
Socials to follow:
Support here: