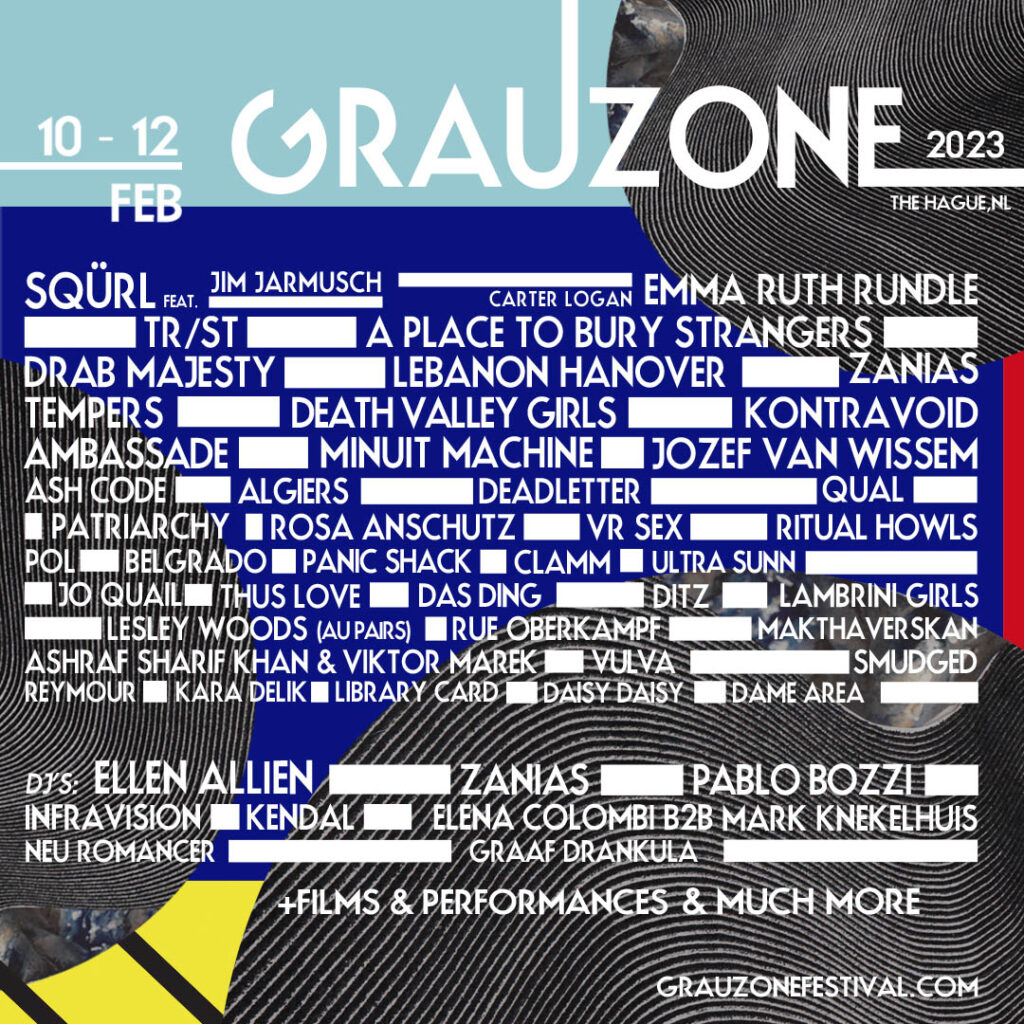 The Hague festival has been nominated for a prestigious award for best festival: 'IJzeren Podiumdier'
From Friday 10 to Sunday 12 February 2023, the tenth-anniversary edition of Grauzone will take place in The Hague.
2023年2月10日(金)から12日(日)まで、ハーグでGrauzoneの10周年記念イベントが開催されます。
With performances by DJ Ellen Allien, Drab Majesty, Death Valley Girls, POL, Lesley Woods of the Au Pairs and many more, Grauzone almost completes the musical program of the festival.
Today, the festival adds another 15 acts to the line-up. Earlier the arrival of synthpop band Drab Majesty was announced. More big news: Grauzone has also been nominated by the VNPF for an 'Ijzeren Podiumdier' price' in the Best Festival of 2022 category.
2023年2月10日(金)から12日(日)まで、Grauzoneの10周年記念イベントがハーグで開催されます。DJ Ellen Allien、Drab Majesty、Death Valley Girls、POL、Lesley Woods of the Au Pairsなどが出演し、Grauzoneはフェスティバルの音楽プログラムをほぼ完成させたと言えるでしょう。今日、フェスティバルはさらに15組のアーティストをラインナップに加えました。先にシンセポップバンドDrab Majestyの出演が発表されています。さらにビッグニュースです。Grauzoneは、VNPFの「Ijzeren Podiumdier」賞(2022年のベストフェスティバル部門)にもノミネートされています。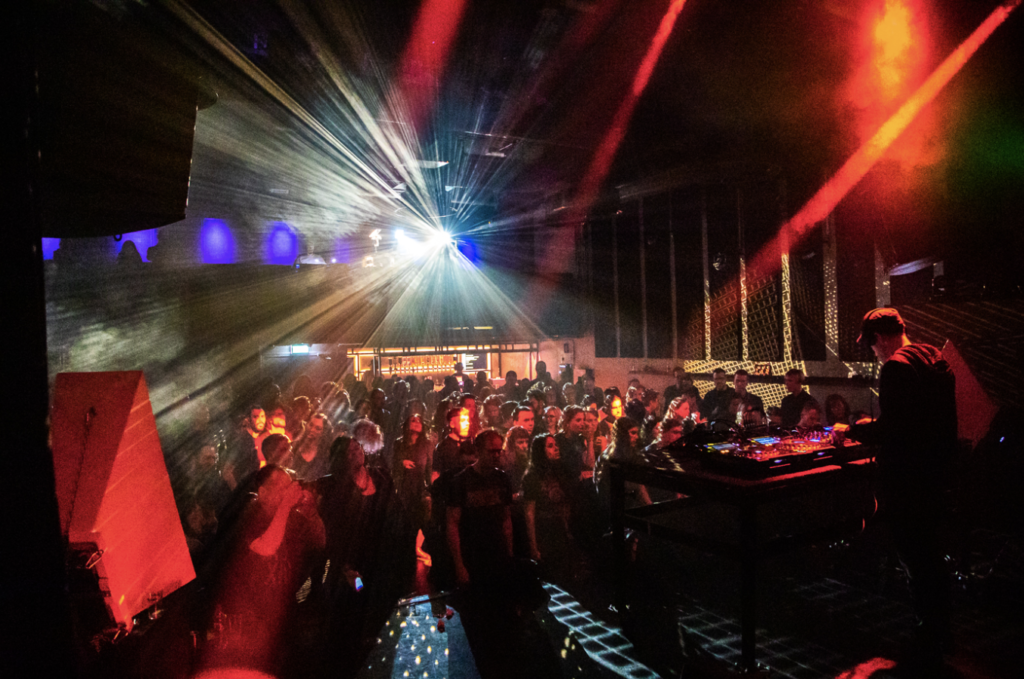 FIFTEEN NEW ACTS FROM TECHNO TO POST-PUNK
The legendary Berlin techno DJ and producer Ellen Allien will play a special DJ set during Grauzone.
The German artist made various remixes for artists who can also be seen during Grauzone, such as darkwave act Lebanon Hanover and Rosa Anschutz, both of whom are represented on her own label BPitch. With her arrival, the DJ program is considerably extended. Poppodium Paard, one of the locations, will be converted into a club setting after midnight to allow the DJ acts to come into their own.Grauzone Festival takes place in the popvenue Paard, Het Koorenhuis, The Grey Space In The Middle and the Paardcafé.
自身のレーベルBPitchからリリースしているダークウェイヴ系のLebanon HanoverやRosa Anschutzなど、Grauzoneでもおなじみのアーティストのリミックスを手掛けている。彼女の登場により、DJプログラムは大幅に拡張された。会場の一つであるPoppodium Paardは、深夜になるとクラブ仕様になり、DJアクトが本領を発揮します。Grauzone Festivalは、Popvenue Paard、Het Koorenhuis、The Grey Space In The Middle、Paardcaféで開催されます。
In addition, there will be an extensive GRAUKUNST exhibition, performances, film program and seminars that will be announced at the beginning of January.
The so-called VNPF has announced the nominations for the 24th edition of the 'IJzeren Podiumdieren'. Grauzone festival has been nominated for the award in the category 'Best Festival'. The IJzeren Podiumdier is a professional award for, among other things, the best Dutch festival and best popstage of the year. These prizes will be awarded on 21 January 2023 during Eurosonic Noorderslag in Dutch city Groningen.
いわゆるVNPFは、第24回「IJzeren Podiumdieren」のノミネートを発表しました。Grauzoneフェスティバルは、「ベスト・フェスティバル」部門にノミネートされています。IJzeren Podiumdierは、その年の最優秀オランダフェスティバルと最優秀ポップステージなどに贈られるプロフェッショナルな賞です。これらの賞は、2023年1月21日にオランダの都市フローニンゲンで開催されるEurosonic Noorderslagで授与されます。
READ FULL INTERVIEW WITH ELLEN ALLIEN HERE: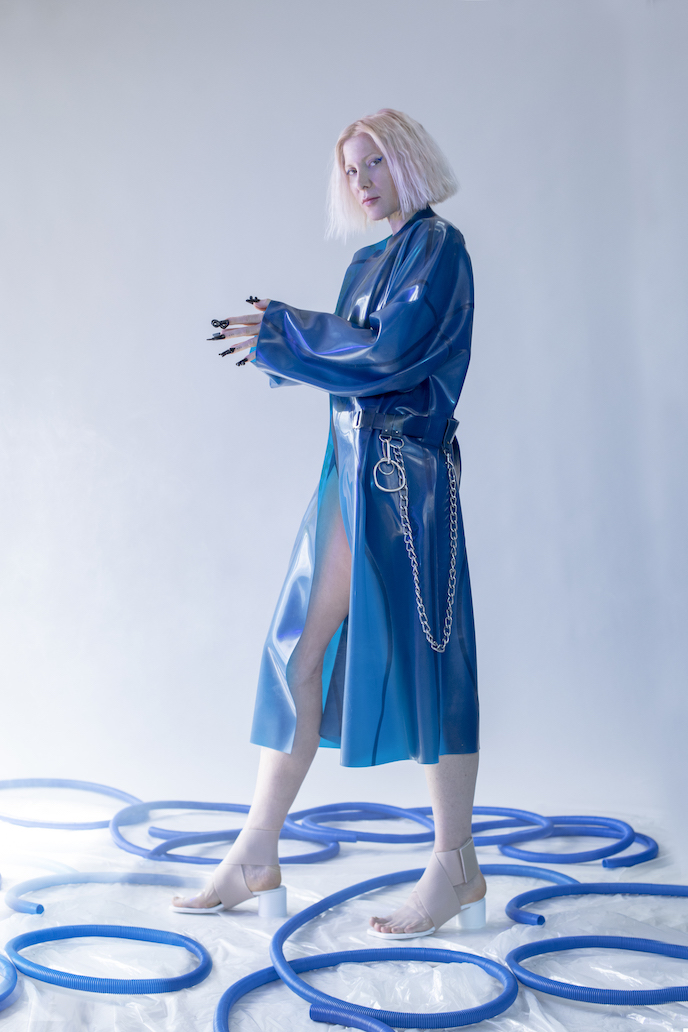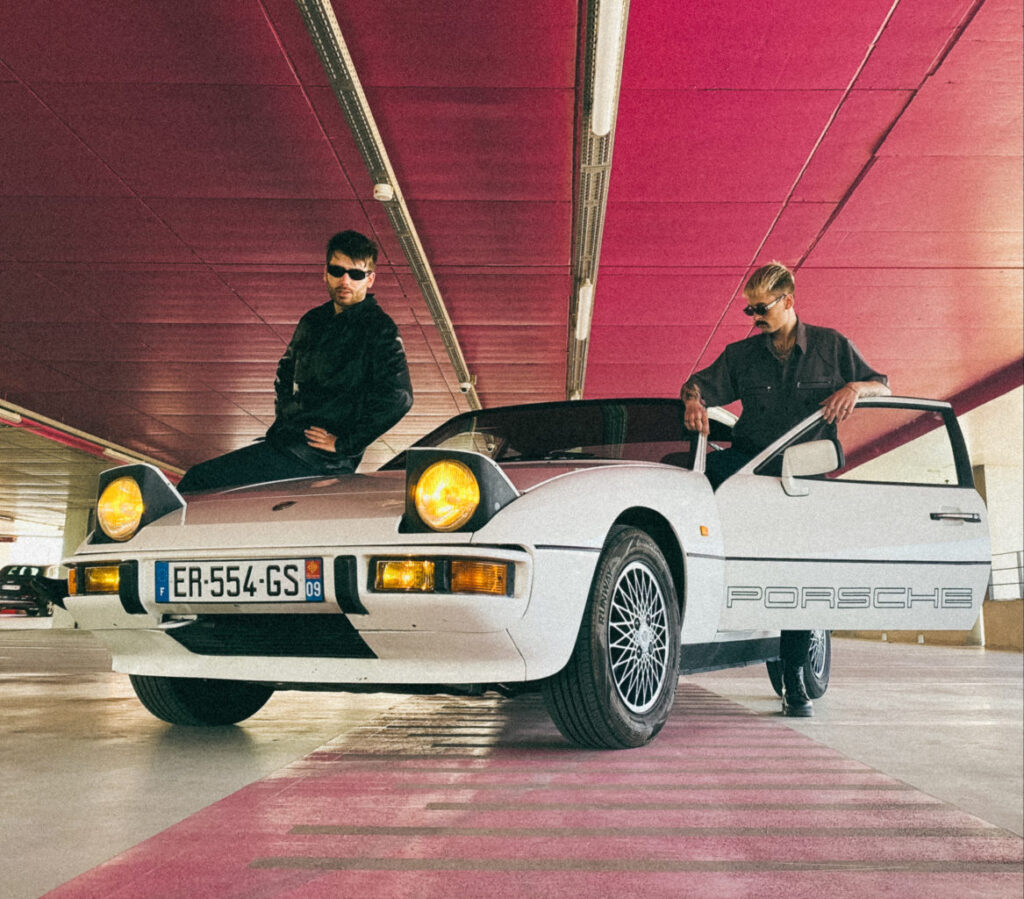 Born in Australia and raised in South East Asia. Zanias has been crafting emotional catharsis through sound since 2011 when she formed the band Linea Aspera with Ryan Ambridge in London, where she was studying archaeology and anthropology.
Now based in Berlin, she has since collaborated with a wide range of artists in the darker realms of electronic music such as Sid Lamar of Schwefelgelb (in the band Keluar), Black Rain and Dax J.
In 2014 she co-founded the 'Fleisch' collective with a group of similarly minded friends, which eventually transformed into the raw body music record label that she runs today. While still producing, singing, performing and DJing as a solo artist, she has also recently re-connected with Ryan Ambridge and has once again become the voice of Linea Aspera
オーストラリアで生まれ、東南アジアで育つ。Zaniasは、考古学と人類学を学んでいた2011年にロンドンでRyan AmbridgeとバンドLinea Asperaを結成して以来、サウンドを通じて感情のカタルシスを作り上げてきました。現在はベルリンを拠点に、SchwefelgelbのSid Lamar(バンドKeluar)、Black Rain、Dax Jなど、エレクトロニックミュージックのダークな領域で幅広いアーティストとコラボレーションしている。現在もソロアーティストとして制作、歌、パフォーマンス、DJを行う一方、最近ではライアン・アンブリッジと再会し、再びLinea Asperaの声となった。
READ INTERVIEW WITH ZANIAS HERE
Founded at the end of 2016 by three DJs, the band combines 80s extasy with the atmosphere of fog-shrouded, strobe-lit dance temples of the techno era. The combination of urban electronic music's gritty drive with Julia's French-German vocals reminds some critics of a more forceful version of Deux or Kirlian Camera: yet at the same time it creates something entirely original. Rue Oberkampf forges a bridge between cold wave, synthpunk, EBM and techno. Their live shows pull audiences into a maelstrom of sound, neon and storms of light.
2016年末に3人のDJによって設立されたこのバンドは、80年代のエクスタシーと、テクノ時代の霧に包まれストロボが光るダンス寺院の雰囲気を融合させたものだ。都市型エレクトロニック・ミュージックの硬質なドライブ感とジュリアのフランス系ドイツ人のヴォーカルの組み合わせは、DeuxやKirlian Cameraのより力強いバージョンを思い出させる批評家もいる:しかし同時に、まったくオリジナルのものを作り出している。Rue Oberkampfは、コールドウェーブ、シンセパンク、EBM、テクノの間の橋渡しをする存在だ。彼らのライブは、音、ネオン、光の嵐の渦に観客を引き込む。
Grauzone brings an engaged, diverse and broad audience into contact with disciplines rooted in underground culture. The past editions attracted thousands of visitors worldwide.
Grauzoneは、アンダーグラウンドカルチャーに根ざした学問に、熱心で多様な幅広い観客を接触させるイベントです。過去の開催では、世界中から数千人の来場者がありました。
Grauzone believes that counterculture creativity is a necessity for discourse in society.
The multidisciplinary festival aims to be a haven for free thinkers of all ages and orientations. An alternative universe for creative people that inspires and brings together. Each edition, we work to deepen the programming and the cross-fertilization of visual arts, film, literature and performance. With monitoring of substantive and artistic quality and new developments in sight. In doing so, Grauzone looks at quality, originality, experimentation, idiosyncrasy, urgency, inclusion and diversity.

この学際的なフェスティバルは、あらゆる年齢と方向性の自由な思想家のための避難所となることを目的としています。クリエイティブな人々のためのもうひとつの世界、それはインスピレーションを与え、ひとつにすることです。毎回、ビジュアルアート、映画、文学、パフォーマンスなどのプログラミングとその相互融合を深めています。実質的かつ芸術的な品質と新しい展開を視野に入れた監視を行います。その際、Grauzoneは、クオリティ、オリジナリティ、実験性、特異性、緊急性、包括性、多様性に着目しています。
Tickets:
Early Bird Weekend tickets: 85 euros excl. service costs sold out Regular Weekend tickets: 95 euros excluding service costs Group Passepartout (4 per order) 88.75 excluding service costs Tickets are available here.
早割ウィークエンドチケット:85ユーロ(サービス料別)完売 通常ウィークエンドチケット:95ユーロ(サービス料別)グループパスパートアウト(1オーダー4枚)88.75(サービス料別)チケットはこちらからお求めいただけます。
https://www.grauzonefestival.nl/
https://www.grauzonefestival.nl/tickets-1