The release kicks with 'Triple Feel', a stomping percussion based groover with hints of sci-fi aesthetic, the results are pristine and detailed textures that will keep you locked in the addictive rhythm. A2 continues this vision with 'Minor Cortex' where a thumpy kick drum takes charge mixed with polyrhythmic synth stabs and large metallic hooks, one surely meant for the large sound systems. A3 presents itself as an off kilter interlude with '333' which takes rolling drum patterns, mangled glitchy sequences, spacey vocals and poly synthesis to close-off the A-side.
这张专辑以 "Triple Feel "拉开序幕,这是一张以打击乐为基础的、带有科幻色彩的音乐,其结果是质朴而细致的纹理,会让你锁定在令人上瘾的节奏中。A2在《Minor Cortex》中延续了这一愿景,在那里,一个粗壮的踢鼓与多节奏的合成器刺痛和大型金属钩子混合在一起,这肯定是为大型音响系统准备的。A3的 "333 "是一首非主流的插曲,它采用了滚动的鼓点模式、混乱的突变序列、太空般的人声和多声部合成来结束A面。
Soundscapes immediately get larger with B1 aptly titled 'While We Burn', a journey through alien-esque low end, dubby hooks and detailed rhythms which intensify through the 6 minute track. To close the release, colour is reintroduced with B2, 'Considerably Longer Tones', a chunky heads down groove with modulated mid-range frequencies, forever evolving and snapping back into place, which we are excited to premiere!
在B1的 "While We Burn "中,声音空间立即变得更大,这是一个通过外星人般的低端、dubby hooks和详细节奏的旅程,在6分钟的曲目中不断加强。在发行的最后,颜色被重新引入B2,"相当长的音调",一个大块头的向下凹槽,带有调制的中频,永远在演化,并折回到位。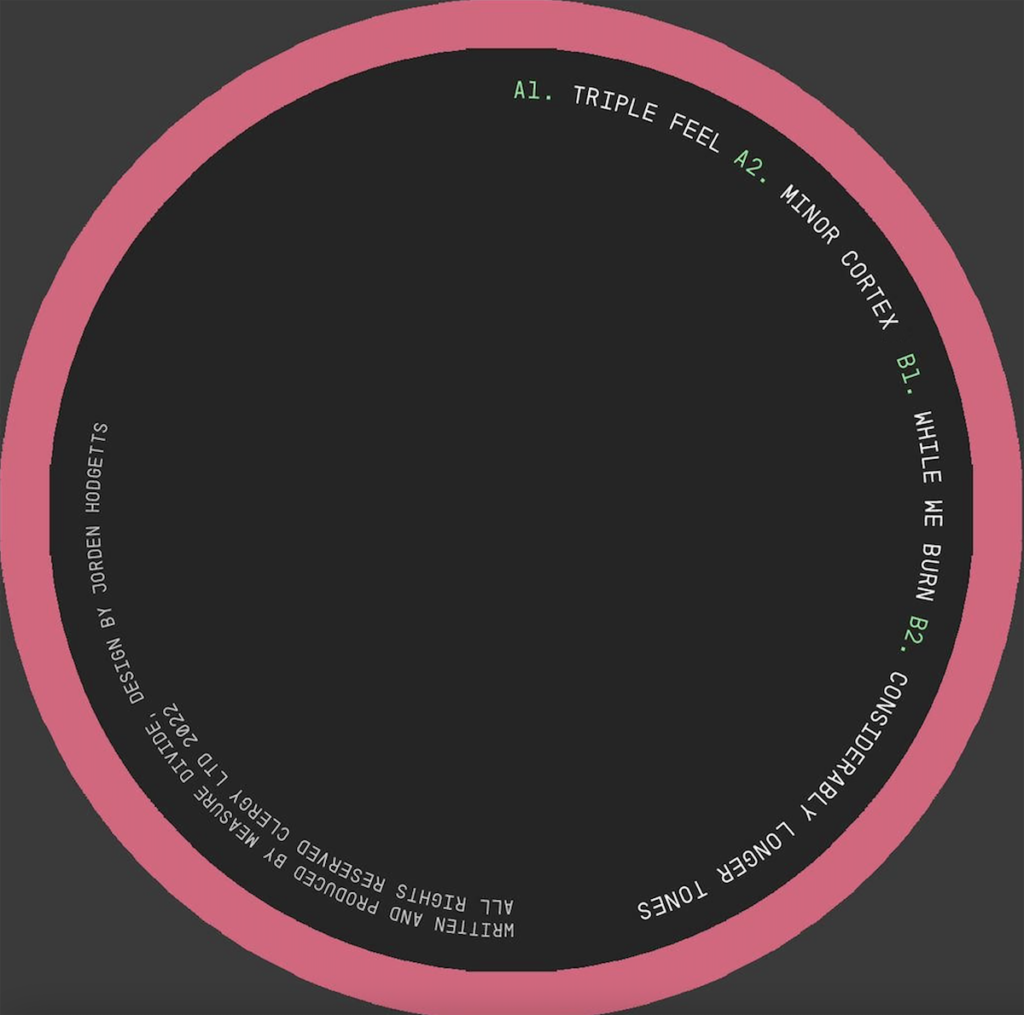 Artist: Measure Divide
EP Title: Evidence of a Rhythmic Pattern
Label: Clergy
Release date: September 30th 2022
Format: Vinyl 12″ & Digital
A1 – Triple Feel
A2 – Minor Cortex
A3 – 333
B1 – While We Burn
B2 – Considerably Longer Tones
Socials to follow:
Label : Clergyrecords