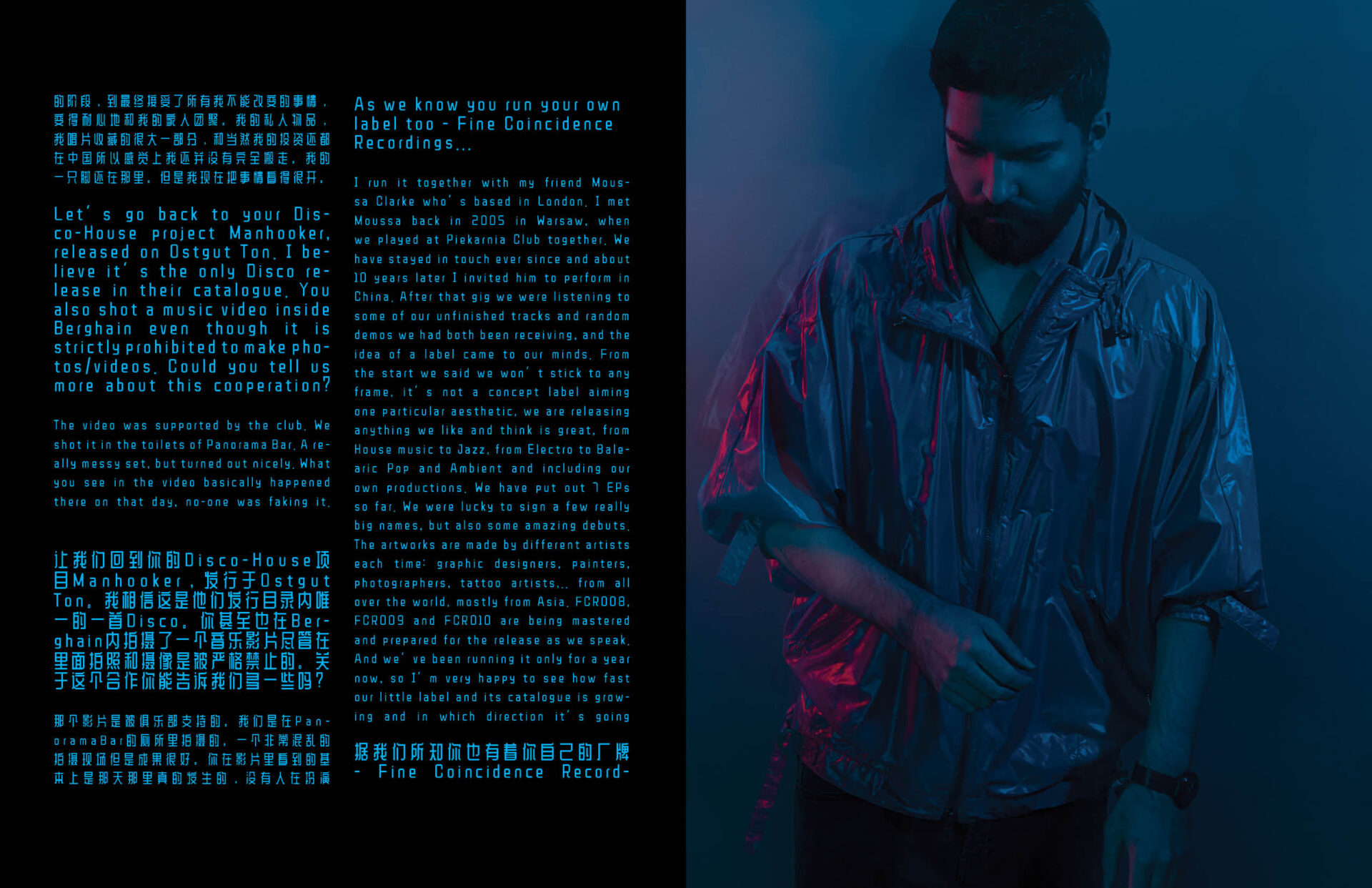 DJ, producer, sound designer, radio journalist. Born in Warsaw, lived in Berlin, based in Shenzhen/Hong Kong, currently back in Berlin. Producer of Manhooker. DJ at RadioJazzFM. Co-owner of VINYLHOUSE recordstores in Shenzhen and Xi'an. Co-founder of Fine Coincidence Recordings.
DJ, 制作人,声音设计师,电台记者。出生于华沙,在柏林居住过,在深圳/香港定居过,目前回到了柏林。Manhooker制作人。RadioJazzFM电台DJ。黑胶房子VINYLHOUSE唱片店创始人。Fine Coincidence Recordings创始人。
Tell us more about yourself, about your story, origin, background and inspiration.
II grew up in Warsaw and Berlin, moving back and forth between these two cities. My musical background lies in Jazz, Flamenco and Rock, later also Reggae. Techno came into my life with a real bang when I was 15 years old and somehow got into the old Tresor. Next day I went to Space Hall and bought my first techno record: X-101 – Sonic Destroyer. From that time on I wanted to collect vinyls and be a club DJ. But what really made me admire the DJ culture was the early Future Jazz and old Disco scene. I still consider myself rather a Disco DJ, even when I play a darker EBM or a slow Balearic Beat set,.. Genres don't matter, I play everything, it's just gotta have a certain musical quality, be "funky" and contain "love" as a message.
跟我们聊聊关于你自己,关于你的故事,来历,背景和灵感吧。
我在华沙和柏林长大,在两个城市间来来回回。我的音乐背景聚焦在爵士乐,弗拉门戈和朋克摇滚,后来也包括雷鬼。Techno带着一声巨响来到了我的生活,当我十五岁的时候不知道怎么地进去了老的Tresor。第二天我去到SpaceHall并买了我的第一张Techno唱片:X-101SonicDestroyer。从那时候开始我想要收集唱片和成为俱乐部DJ。但是让我真正崇拜DJ文化的是早期的未来爵士和Disco场景。我始终定位自己更多是一个DiscoDJ,不管当我放的是更暗黑的EBM或慢的BalearicBeat音乐…音乐类型不重要,我什么音乐都放,只要它有一种特定的音乐特质,"放克的"和包含"爱"为讯息。
As some of you might know, Tomasz had a huge impact on the music scene in South China. It is safe to say the scene wouldn't exist on the same level without his presence there. How did you come up with the idea to move to China in the first place and why did you choose Shenzhen?
I visited Shenzhen for the first time in 2013 when I took part in the ChoP sound-art festival (organised by Grzegorz Bojanek and Zen Lu). I spent one week in Shenzhen and one week in Hong Kong and this was my very first trip to Asia. I experienced it from a very different, art-inspired perspective.
I moved to Shenzhen a year later in 2014. It was still the time when you could do new things and be the first one to do it.
It was really exciting to share ideas with people who were ready to make it happen. Everyone was very friendly and optimistic about the future.
We have opened the first Jazz/Funk bar in town – Lavo. It was also the first bar with turntables installed in the DJ booth as a standard set up. From that moment on we were trying to push the "vinyl culture". We opened the first record store with vinyls, listening stations, a booth for guest DJs and a cocktail bar. The first music themed hotel above it. In Xi'an we opened the second Vinylhouse and organised the first ever Silent Disco party. All this gave me the opportunity to collaborate and invite artist, who would perform in China for the first time. It felt like we are doing something important for the culture in a city with almost no history.
Those past 6 years were really busy and very exciting. I loved the mindset of the people I was working with, who were always ready to get involved in any interesting concept. And they seemed to be much more openminded and ready to take risks.
你们中的有些人可能知道,Tomasz对南中国的音乐场景影响深远。可以说如果没有他的存在那个场景不可能存在于现在这样的层次.你一开始是怎么想到要搬去中国的,并且为什么你选择了深圳?
我在2013年参加ChoP音乐艺术节(由Grzegorz Bojanek和Zen Lu组织)的时候第一次造访了深圳。我在深圳呆了一个星期然后在香港呆了一个星期。这是我第一次来到亚洲,并从一个非常不同的,由艺术激发的角度体验了它。
一年后我在2014年搬到了深圳。那时还是你可以做新的事情并成为第一个做这些事情的人的时候。
和随时准备让想法成真的人交流是非常让人兴奋的。所有人都非常友好和对未来充满乐观。
我们在深圳创立了第一个爵士/放克酒吧 – Lavo。它也是第一个在DJ台装置着唱片机作为标准设置的酒吧。从那一刻开始我们尝试着推广"黑胶唱片文化"。我们建立了第一个有着唱片,赏听台,客座DJ台,和鸡尾酒吧台的唱片店,以及它楼上的第一间音乐主题酒店。在西安我们开设了第二家黑胶房子和组织了有史以来第一个Silent Disco派对。所有的这些给了我机会去邀请和合作艺术家第一次来中国表演。这让我感觉我们在一个几乎没有历史可言的城市做着一些对文化重要的事情。
过去的六年非常忙也非常令人兴奋。我爱和我共事的人们的思维方式,他们总是准备好了加入任何有趣的概念。并且他们感觉是更加开放的和做好承担风险的准备的。
You have booked many international artists to perform in Shenzhen: Honey Dijon, Tiga, Felix Da Housecat, Groove Armada, DJ Pierre or… Monika Kruse, who also appears in this issue of our magazine. What could you tell us about those club nights? How did your guests enjoy Shenzhen?
I was trying my best to make them feel at home, being aware of the cultural differences they may be experiencing. Most of the artists were super friendly and open, some stayed longer than just one night to explore the city and we would take them to some very special places like the artists village on top of Wutong Mountain or the Dapeng peninsula. The club nights were always fun. In a city like Shenzhen you don't have international, renowned DJs playing every night or even every weekend. Usually it's just 1 or 2 guests a month, so each time someone performs, coming from another side of the world, it's an event and the crowd really appreciates it.
你曾邀请过许多国际级艺术家来深圳演出:Honey Dijon, Tiga, Felix Da Housecat, Groove Armada, DJ Pierre 还有… Monika Kruse,她也在我们杂志的这一刊内。关于那些俱乐部的夜晚你有什么能告诉我们的呢?你的客人们在深圳感觉怎么样?
我留意他们可能体验的文化冲击,尽我最大的努力让他们有家的感觉。大多数的艺术家都超级友善和开放,有的呆了超过一晚去探索这个城市并且我们会带他们到一些特别的地方,像是梧桐山顶的艺术家村和大鹏半岛。俱乐部夜晚总是非常好玩。在像深圳这样的城市你不是每晚,或每个周末都有国际知名的DJ来演出的。基本上是每月一到两个客座DJ,所以每次有人从世界的另一端来演出,人们都非常感激。
You have recently moved back to Berlin after several years spent in China. You have lived in Berlin before. Could you tell us why you have decided to return to Germany and what is your current plan?
The decision to stay in Berlin was greatly influenced by the recent events, the lockdowns, flights and visa restrictions… But it feels very natural to be here now and I'm happy to be back. Last March, after the borders were closed just one day before my return flight, it got really complicated. For a moment I had the feeling that all the things I was working on, started falling apart and breaking to pieces, but I have managed to land back on my feet. I went through all stages of panic and depression, to finally accept everything I cannot change, be patient and reunite with my family. My personal things, a big part of my records collection and of course my investments are still in China so it doesn't feel like I have really moved out. I am still there with one foot. But I'm taking everything easy now.
你最近在中国的几年后搬回了柏林。你之前曾居住在柏林。你能告诉我为什么你决定回到德国和你现在的计划吗?
呆在柏林的决定是被最近发生的事情影响的,封城,飞行和签证受限.但是我感觉现在在这里是再自然不过了,而且我非常高兴能回来。今天三月,当国境在我返程机票的前一天关闭后,事情变得非常复杂,有一瞬间我感觉所有我在做的事情都开始分崩离析和破碎了,但是我最终成功稳定了自己。我度过了所有恐慌和抑郁的阶段,到最终接受了所有我不能改变的事情,变得耐心地和我的家人团聚。我的私人物品,我唱片收藏的很大一部分,和当然我的投资还都在中国所以感觉上我还并没有完全搬走。我的一只脚还在那里。但是我现在把事情看得很开。
Let's go back to your Disco-House project Manhooker, released on Ostgut Ton. I believe it's the only Disco release in their catalogue. You also shot a music video inside Berghain even though it is strictly prohibited to make photos/videos. Could you tell us more about this cooperation?
The video was supported by the club. We shot it in the toilets of Panorama Bar. A really messy set but turned out nicely. What you see in the video basically happened there on that day, no-one was faking it.
让我们回到你的Disco-House项目Manhooker,发行于Ostgut Ton。我相信这是他们发行目录内唯一的一首Disco。你甚至也在Berghain内拍摄了一个音乐影片尽管在里面拍照和摄像是被严格禁止的。关于这个合作你能告诉我们多一些吗?
那个影片是被俱乐部支持的。我们是在PanoramaBar的厕所里拍摄的。一个非常混乱的拍摄现场但是成果很好。你在影片里看到的基本上是那天那里真的发生的,没有人在扮演
As we know you run your own label too – Fine Coincidence Recordings. Could you tell us more about it?
I run it together with my friend Moussa Clarke who's based in London. I met Moussa back in 2005 in Warsaw when we played at Piekarnia Club together. We have stayed in touch ever since and about 10 years later I invited him to perform in China. After that gig we were listening to some of our unfinished tracks and random demos we had both been receiving, and the idea of a label came to our minds. From the start we said we won't stick to any frame, it's not a concept label aiming one particular aesthetic, we are releasing anything we like and think is great, from House music to Jazz, from Electro to Balearic Pop and Ambient and including our own productions. We have put out 7 EPs so far. We were lucky to sign a few really big names but also some amazing debuts. The artworks are made by different artists each time: graphic designers, painters, photographers, tattoo artists,.. from all over the world, mostly from Asia. FCR008, FCR009 and FCR010 are being mastered and prepared for the release as we speak. And we've been running it only for a year now, so I'm very happy to see how fast our little label and its catalogue is growing and in which direction it's going
据我们所知你也有着你自己的厂牌 – Fine Coincidence Recordings。关于这个你可以聊聊吗?
我和我在伦敦的朋友Moussa Clarke一起管理着这个厂牌。2005年我在华沙Piekarnia Club和Moussa一起演出的时候认识了他。我们从那时开始一直保持着联系,大约十年之后我邀请他来中国演出。在那个派对之后我们在听着一些我们未完成的曲目和我们收到零星的小样,然后这个厂牌的主意出现到了我们的脑海里。一开始我们就说我们不会跟随任何框架,这不是一个旨在某种特定审美的概念型厂牌,我们发行任何我们喜欢的好的音乐,从House到爵士,从Electro到Balearic流行到环境音乐和包括我们自己的创作。我们目前已发行了7张EP。我们非常幸运地签下了一些很知名的名字和一些惊人的处女作。封面艺术每次都是由不同的艺术家创作的:来自世界各地的,主要是亚洲的平面设计师,画家,纹身艺术家。就在此时,FCR008, FCR009和FCR010正在被进行母带处理并准备发行。而且我们迄今仅仅创立这个厂牌一年而已,所以我非常开心能看到我们的厂牌和它的目录在成长,以及它成长的方向。
If you could choose one decade of music from the past, which one would you like to be in ?
70's all the way. In both music and film. I love the 80s too but if it's just one decade to choose, it would have to be the 70s and the place would be New York.
如果你可以选择去到一个过去的音乐年代,你会选择哪一个?
绝对是70年代。不论是音乐还是电影。我也爱80年代但是如果只能选择一个年代,那一定是70年代并且定位纽约。
In the current situation of the pandemic, what is your opinion on it? How will it impact the music scene? Do you think we will be better prepared to avoid similar situation in the future after the experience of Covid19?
It's a very complicated and complex problem. I'm afraid a certain social trauma might stay with us for a much longer period of time and many people may have to sort of learn how to socialise and have fun again. For the club culture and DJs it surely feels like an era has come to an end, although I would encourage everyone to stay positive. The message in the music is becoming very important again.
面对目前的疫情,你的看法是什么?它会如何影响音乐场景?你认为我们在经历新冠后是否对规避未来的类似情况更有准备了?
这是一个非常复杂的问题。我担心某种社交创伤会留在我们身边更长时间,并且很多人可能几乎要重新学习如何社交和享乐。对于俱乐部文化和DJ来说这当然感觉上是一个年代的终结,但是我要鼓励所有人保持乐观。音乐里的讯息正在重新变得非常重要。
Before we present new 20th issue of @keyimagazine we would like to premiere exclusive live vinyl mix made by @tomaszguiddo from our 19th issue On the second cover you can see more fashion version of him @tomaszguiddo – DJ, composer, multi-instrumentalist, producer, sound designer, radio journalist. Born in Warsaw, based in Shenzhen/Berlin . The artist who besides making his dj & producer career in Europe moved to China & his brought huge impact on the scene in Shenzhen, which wouldn't be the same without his presence there.
Photos and interview by @keyistudio and 'artwork by @visualdon