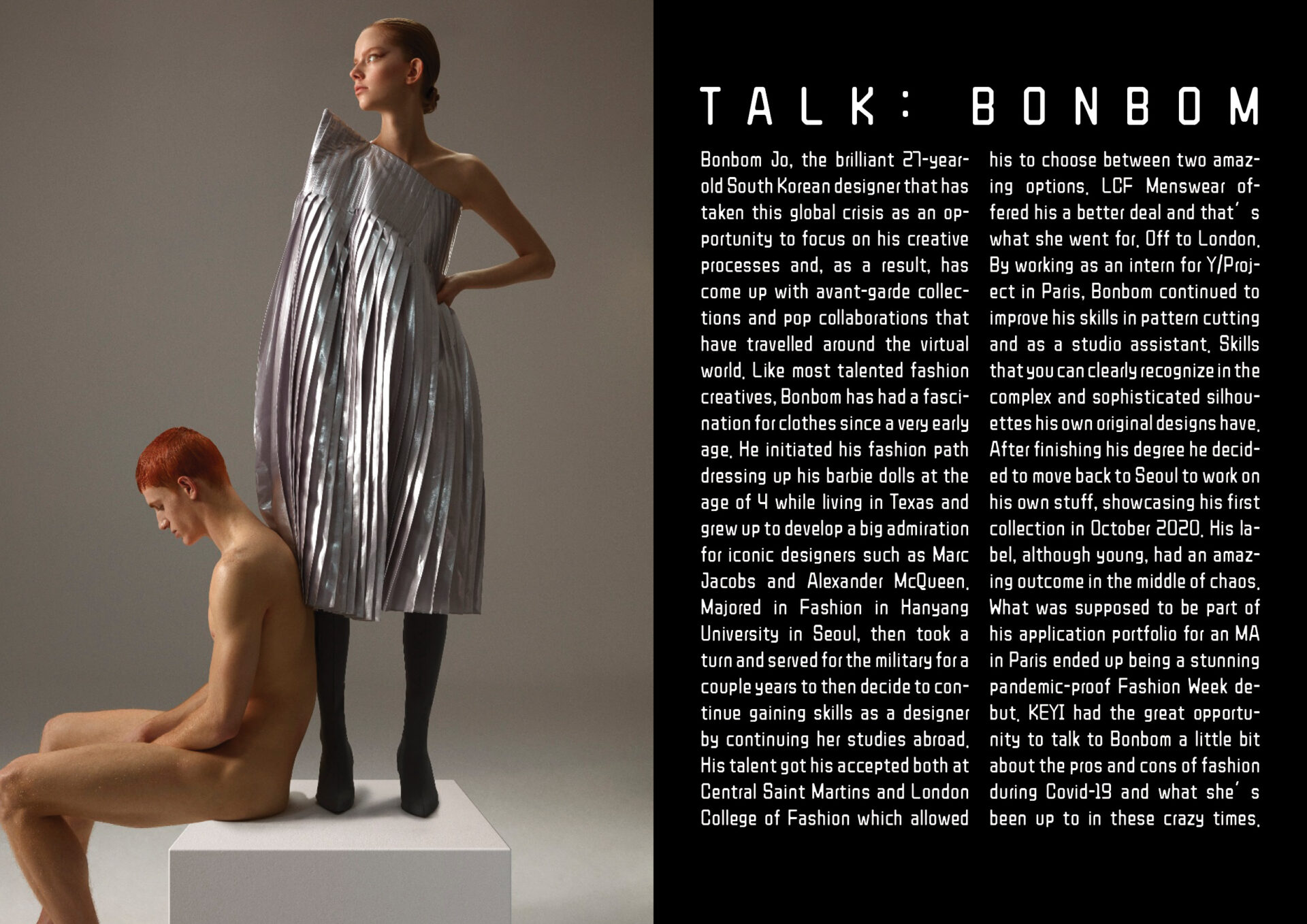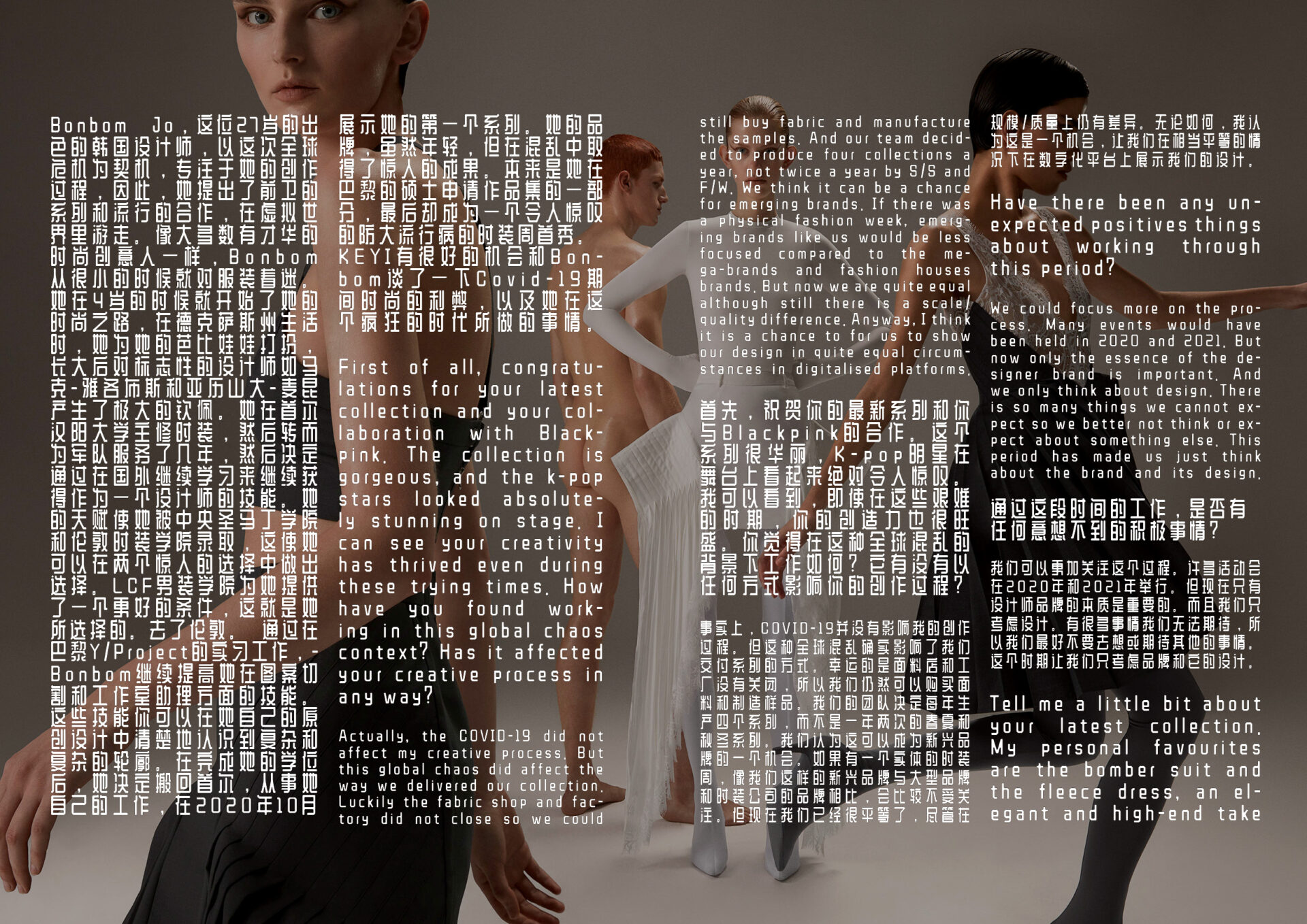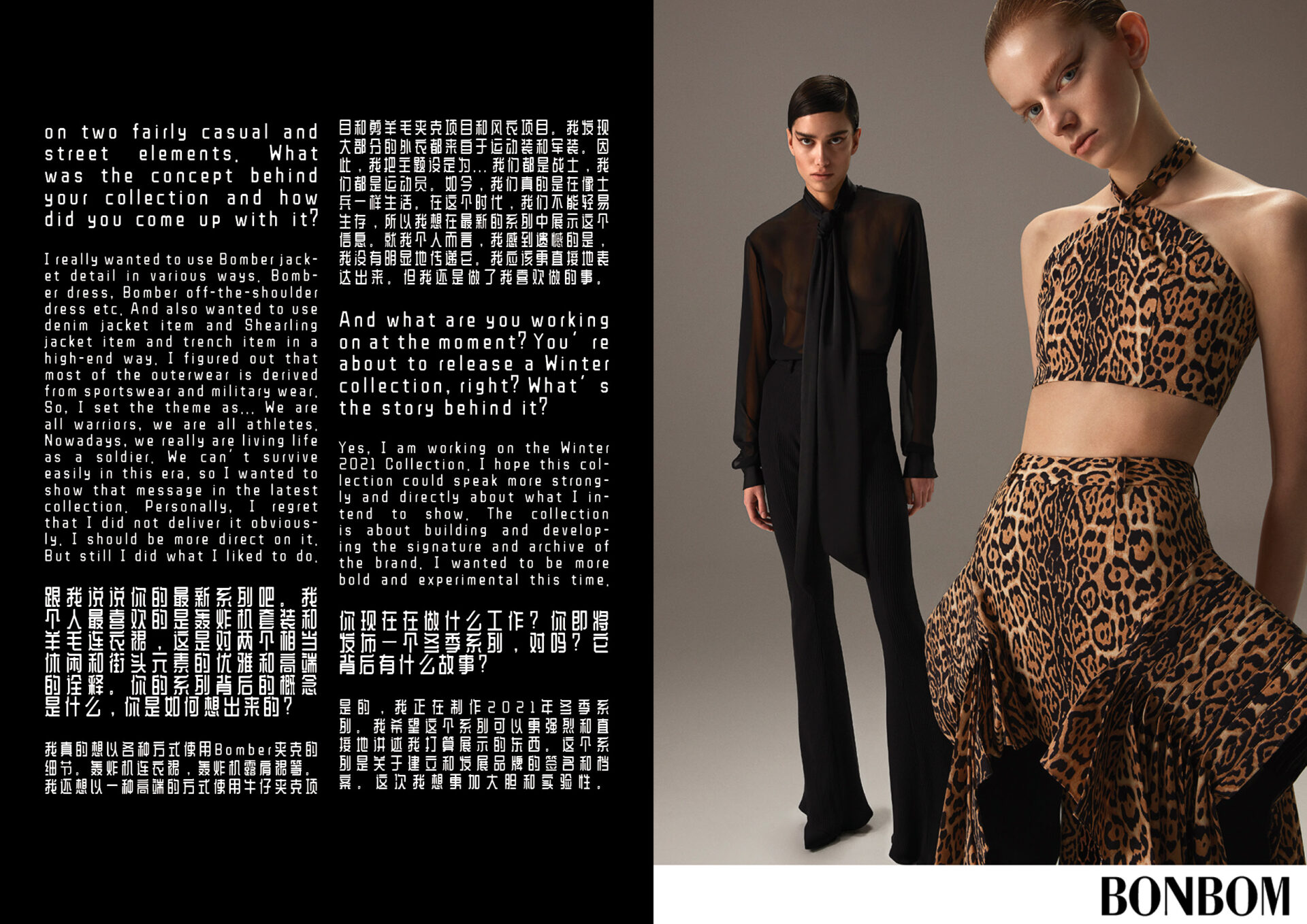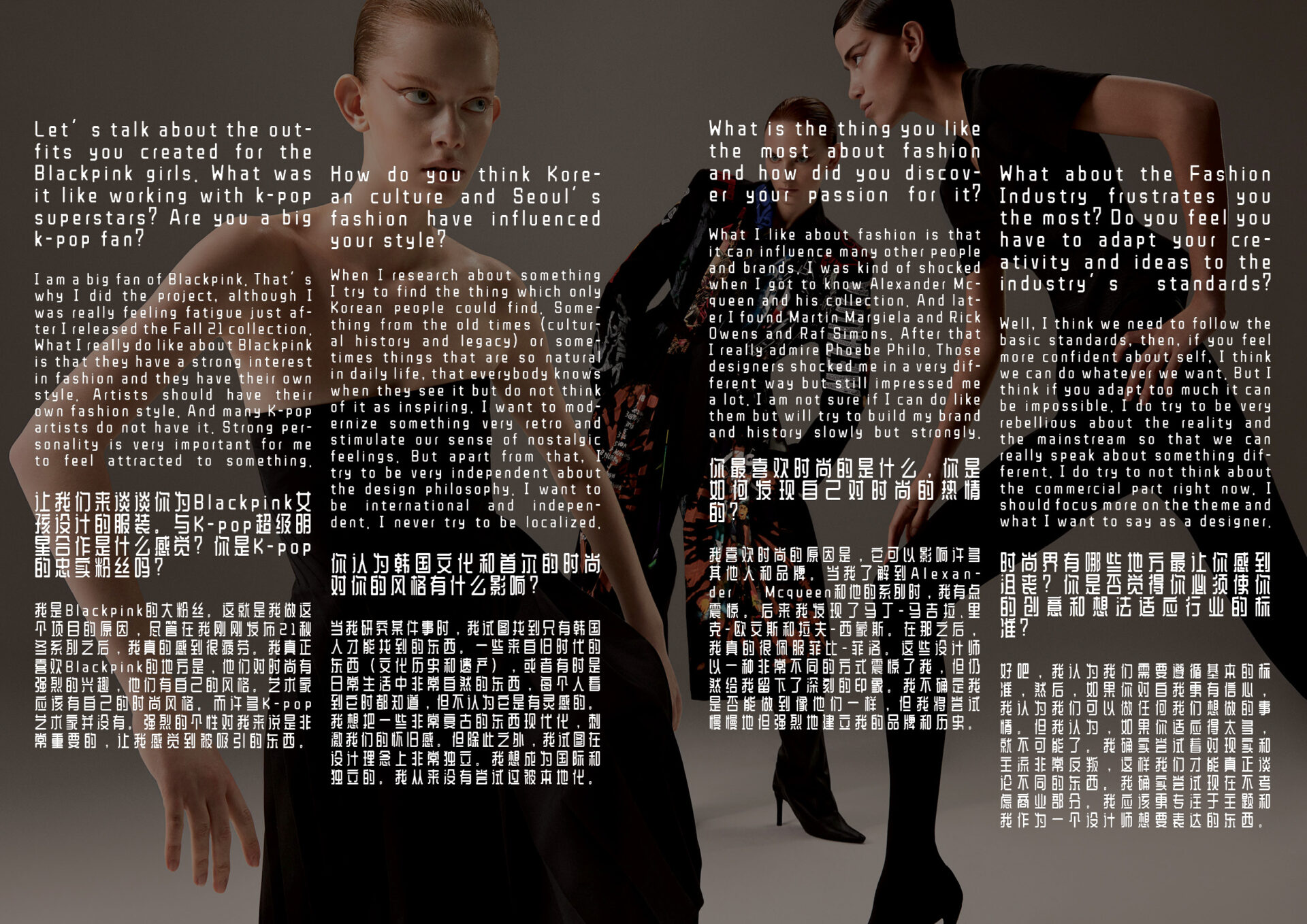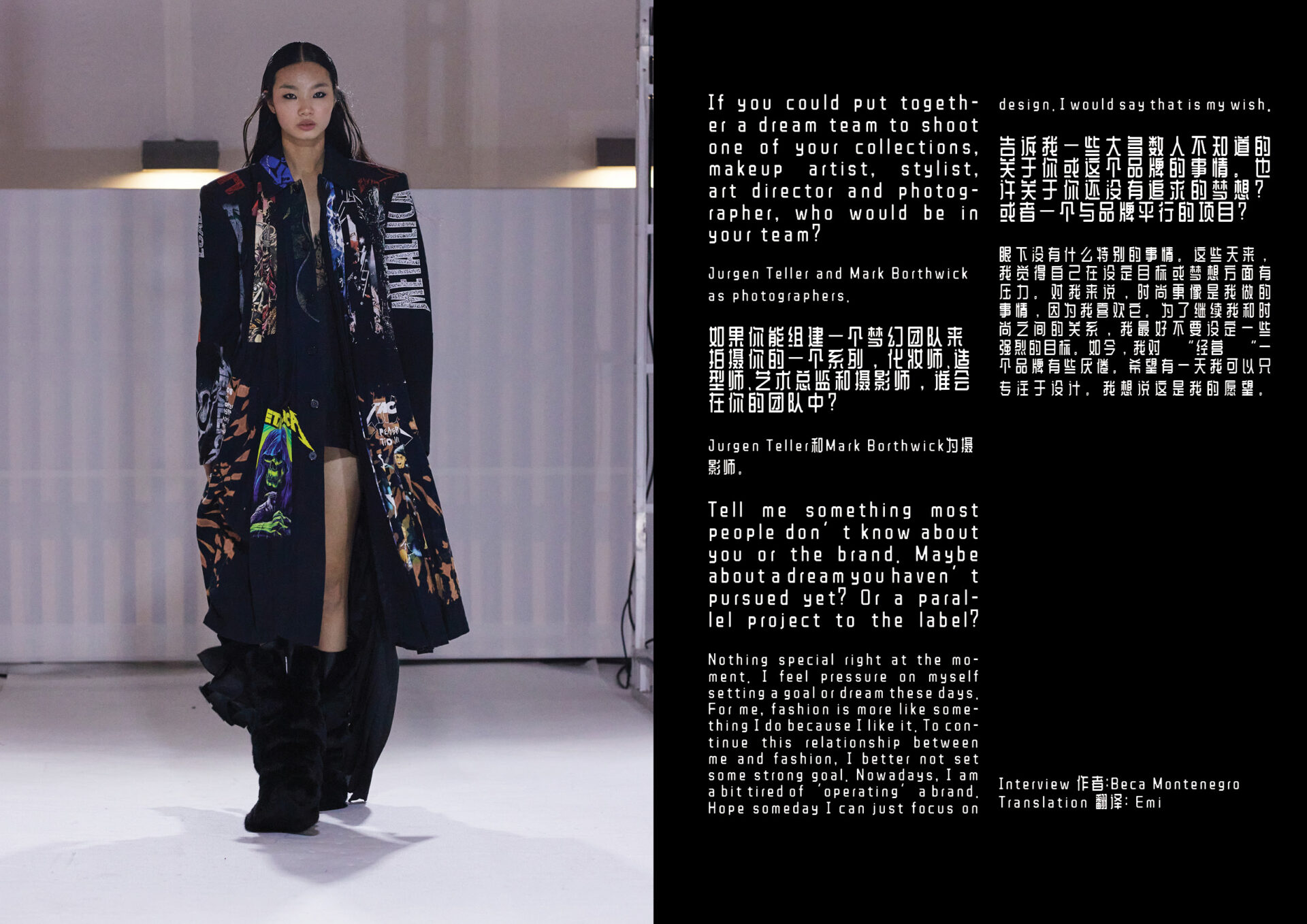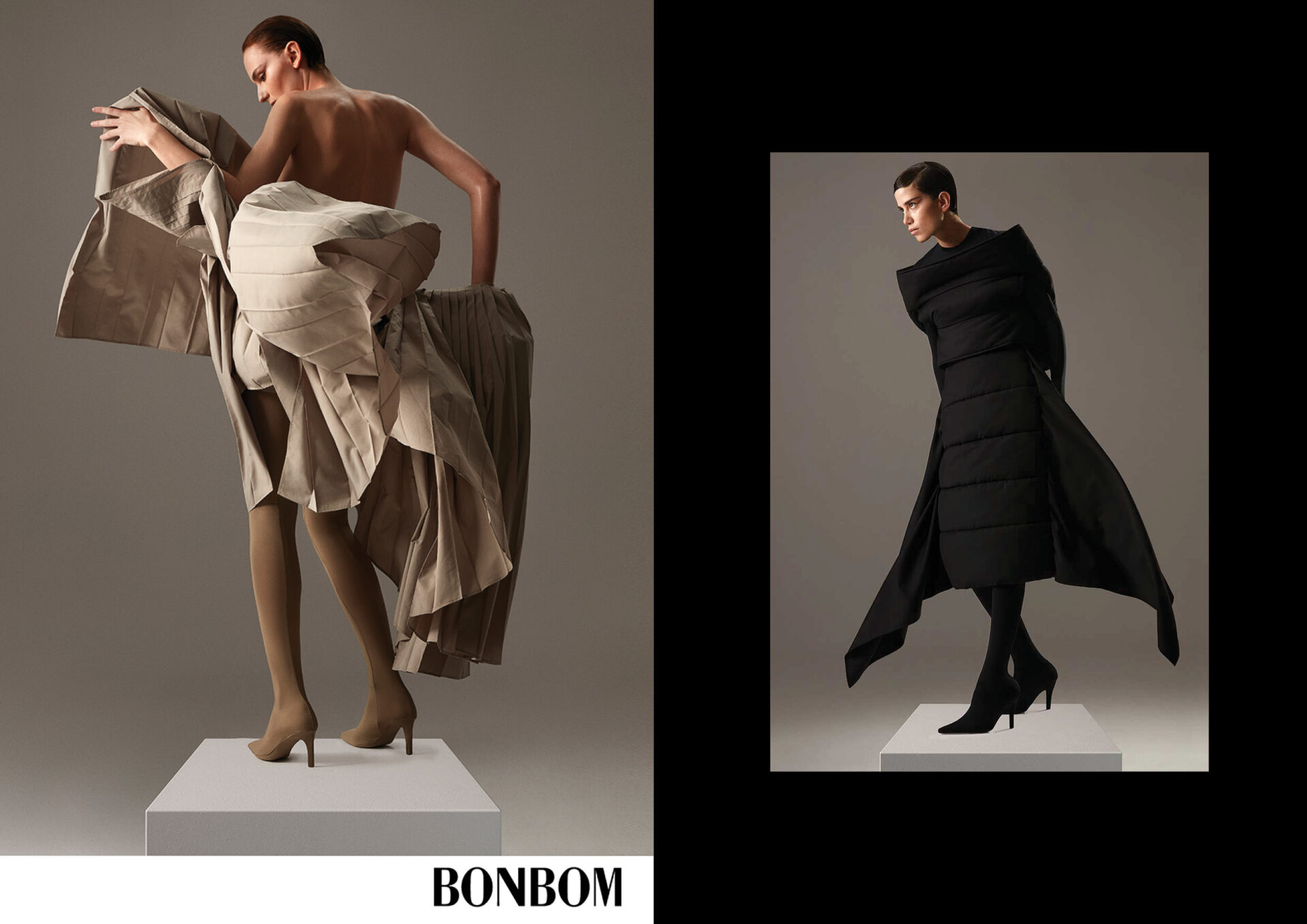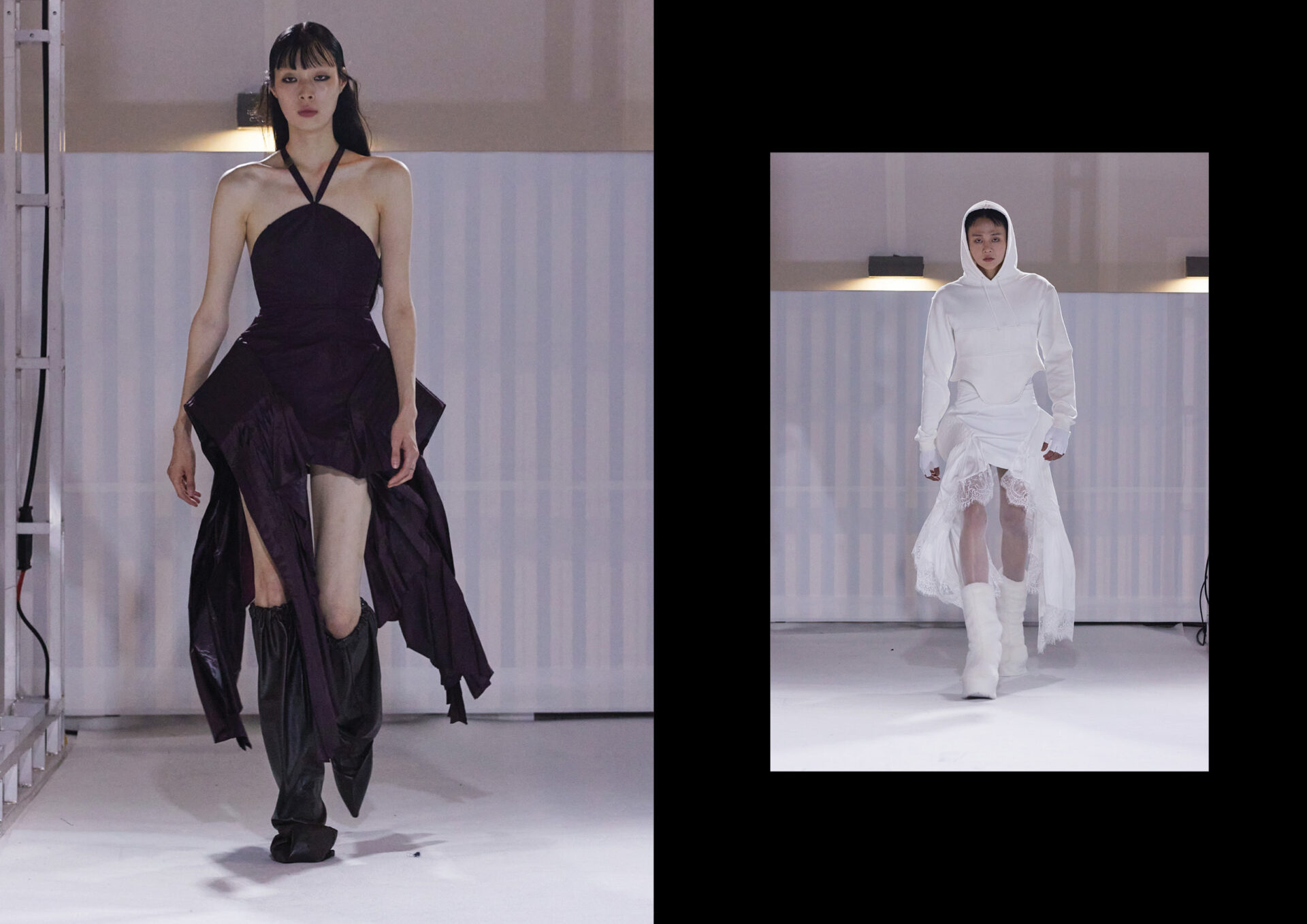 Bonbom Jo, the brilliant 27-year-old South Korean designer that has taken this global crisis as an opportunity to focus on his creative processes and, as a result, has come up with avant-garde collections and pop collaborations that have travelled around the virtual world. Like most talented fashion creatives, Bonbom has had a fascination for clothes since a very early age. He initiated his fashion path dressing up his barbie dolls at the age of 4 while living in Texas and grew up to develop a big admiration for iconic designers such as Marc Jacobs and Alexander McQueen. Majored in Fashion in Hanyang University in Seoul, then took a turn and served for the military for a couple years to then decide to continue gaining skills as a designer by continuing her studies abroad. His talent got his accepted both at Central Saint Martins and London College of Fashion which allowed his to choose between two amazing options. LCF Menswear offered his a better deal and that's what she went for. Off to London.
By working as an intern for Y/Project in Paris, Bonbom continued to improve his skills in pattern cutting and as a studio assistant. Skills that you can clearly recognize in the complex and sophisticated silhouettes his own original designs have. After finishing his degree he decided to move back to Seoul to work on his own stuff, showcasing his first collection in October 2020. His label, although young, had an amazing outcome in the middle of chaos. What was supposed to be part of his application portfolio for an MA in Paris ended up being a stunning pandemic-proof Fashion Week debut. KEYI had the great opportunity to talk to Bonbom a little bit about the pros and cons of fashion during Covid-19 and what she's been up to in these crazy times.
Bonbom Jo,这位27岁的出色的韩国设计师,以这次全球危机为契机,专注于她的创作过程,因此,她提出了前卫的系列和流行的合作,在虚拟世界里游走。像大多数有才华的时尚创意人一样,Bonbom从很小的时候就对服装着迷。她在4岁的时候就开始了她的时尚之路,在德克萨斯州生活时,她为她的芭比娃娃打扮,长大后对标志性的设计师如马克-雅各布斯和亚历山大-麦昆产生了极大的钦佩。她在首尔汉阳大学主修时装,然后转而为军队服务了几年,然后决定通过在国外继续学习来继续获得作为一个设计师的技能。她的天赋使她被中央圣马丁学院和伦敦时装学院录取,这使她可以在两个惊人的选择中做出选择。LCF男装学院为她提供了一个更好的条件,这就是她所选择的。去了伦敦。 通过在巴黎Y/Project的实习工作,Bonbom继续提高她在图案切割和工作室助理方面的技能。这些技能你可以在她自己的原创设计中清楚地认识到复杂和复杂的轮廓。在完成她的学位后,她决定搬回首尔,从事她自己的工作,在2020年10月展示她的第一个系列。她的品牌,虽然年轻,但在混乱中取得了惊人的成果。本来是她在巴黎的硕士申请作品集的一部分,最后却成为一个令人惊叹的防大流行病的时装周首秀。
KEYI有很好的机会和Bonbom谈了一下Covid-19期间时尚的利弊,以及她在这个疯狂的时代所做的事情
First of all, congratulations for your latest collection and your collaboration with Blackpink. The collection is gorgeous, and the k-pop stars looked absolutely stunning on stage. I can see your creativity has thrived even during these trying times. How have you found working in this global chaos context? Has it affected your creative process in any way?
Actually, the COVID-19 did not affect my creative process. But this global chaos did affect the way we delivered our collection. Luckily the fabric shop and factory did not close so we could still buy fabric and manufacture the samples. And our team decided to produce four collections a year, not twice a year by S/S and F/W. We think it can be a chance for emerging brands. If there was a physical fashion week, emerging brands like us would be less focused compared to the mega-brands and fashion houses brands. But now we are quite equal although still there is a scale/quality difference. Anyway, I think it is a chance to for us to show our design in quite equal circumstances in digitalised platforms.
首先,祝贺你的最新系列和你与Blackpink的合作。这个系列很华丽,K-pop明星在舞台上看起来绝对令人惊叹。我可以看到,即使在这些艰难的时期,你的创造力也很旺盛。你觉得在这种全球混乱的背景下工作如何?它有没有以任何方式影响你的创作过程?
事实上,COVID-19并没有影响我的创作过程。但这种全球混乱确实影响了我们交付系列的方式。幸运的是面料店和工厂没有关闭,所以我们仍然可以购买面料和制造样品。我们的团队决定每年生产四个系列,而不是一年两次的春夏和秋冬系列。我们认为这可以成为新兴品牌的一个机会。如果有一个实体的时装周,像我们这样的新兴品牌与大型品牌和时装公司的品牌相比,会比较不受关注。但现在我们已经很平等了,尽管在规模/质量上仍有差异。无论如何,我认为这是一个机会,让我们在相当平等的情况下在数字化平台上展示我们的设计。
Have there been any unexpected positives things about working through this period?
We could focus more on the process. Many events would have been held in 2020 and 2021. But now only the essence of the designer brand is important. And we only think about design. There is so many things we cannot expect so we better not think or expect about something else. This period has made us just think about the brand and its design.
通过这段时间的工作,是否有任何意想不到的积极事情?
我们可以更加关注这个过程。许多活动会在2020年和2021年举行。但现在只有设计师品牌的本质是重要的。而且我们只考虑设计。有很多事情我们无法期待,所以我们最好不要去想或期待其他的事情。这个时期让我们只考虑品牌和它的设计。
Tell me a little bit about your latest collection. My personal favourites are the bomber suit and the fleece dress, an elegant and high-end take on two fairly casual and street elements. What was the concept behind your collection and how did you come up with it?
I really wanted to use Bomber jacket detail in various ways. Bomber dress, Bomber off-the-shoulder dress etc. And also wanted to use denim jacket item and Shearling jacket item and trench item in a high-end way. I figured out that most of the outerwear is derived from sportswear and military wear. So, I set the theme as… We are all warriors, we are all athletes. Nowadays, we really are living life as a soldier. We can't survive easily in this era, so I wanted to show that message in the latest collection. Personally, I regret that I did not deliver it obviously. I should be more direct on it. But still I did what I liked to do.
跟我说说你的最新系列吧。我个人最喜欢的是轰炸机套装和羊毛连衣裙,这是对两个相当休闲和街头元素的优雅和高端的诠释。你的系列背后的概念是什么,你是如何想出来的?
我真的想以各种方式使用Bomber夹克的细节。轰炸机连衣裙,轰炸机露肩裙等。我还想以一种高端的方式使用牛仔夹克项目和剪羊毛夹克项目和风衣项目。我发现大部分的外衣都来自于运动装和军装。因此,我把主题设定为… 我们都是战士,我们都是运动员。如今,我们真的是在像士兵一样生活。在这个时代,我们不能轻易生存,所以我想在最新的系列中展示这个信息。就我个人而言,我感到遗憾的是,我没有明显地传递它。我应该更直接地表达出来。但我还是做了我喜欢做的事。
And what are you working on at the moment? You're about to release a Winter collection, right? What's the story behind it?
Yes, I am working on the Winter 2021 Collection. I hope this collection could speak more strongly and directly about what I intend to show. The collection is about building and developing the signature and archive of the brand. I wanted to be more bold and experimental this time.
你现在在做什么工作?你即将发布一个冬季系列,对吗?它背后有什么故事?
是的,我正在制作2021年冬季系列。我希望这个系列可以更强烈和直接地讲述我打算展示的东西。这个系列是关于建立和发展品牌的签名和档案。这次我想更加大胆和实验性。
Let's talk about the outfits you created for the Blackpink girls. What was it like working with k-pop superstars? Are you a big k-pop fan?
I am a big fan of Blackpink. That's why I did the project, although I was really feeling fatigue just after I released the Fall 21 collection. What I really do like about Blackpink is that they have a strong interest in fashion and they have their own style. Artists should have their own fashion style. And many K-pop artists do not have it. Strong personality is very important for me to feel attracted to something.
让我们来谈谈你为Blackpink女孩设计的服装。与K-pop超级明星合作是什么感觉?你是K-pop的忠实粉丝吗?
我是Blackpink的大粉丝。这就是我做这个项目的原因,尽管在我刚刚发布21秋冬系列之后,我真的感到很疲劳。我真正喜欢Blackpink的地方是,他们对时尚有强烈的兴趣,他们有自己的风格。艺术家应该有自己的时尚风格。而许多K-pop艺术家并没有。强烈的个性对我来说是非常重要的,让我感觉到被吸引的东西。
How do you think Korean culture and Seoul's fashion have influenced your style?
When I research about something I try to find the thing which only Korean people could find. Something from the old times (cultural history and legacy) or sometimes things that are so natural in daily life, that everybody knows when they see it but do not think of it as inspiring. I want to modernize something very retro and stimulate our sense of nostalgic feelings. But apart from that, I try to be very independent about the design philosophy. I want to be international and independent. I never try to be localized.
你认为韩国文化和首尔的时尚对你的风格有什么影响?
当我研究某件事时,我试图找到只有韩国人才能找到的东西。一些来自旧时代的东西(文化历史和遗产),或者有时是日常生活中非常自然的东西,每个人看到它时都知道,但不认为它是有灵感的。我想把一些非常复古的东西现代化,刺激我们的怀旧感。但除此之外,我试图在设计理念上非常独立。我想成为国际和独立的。我从来没有尝试过被本地化。
What is the thing you like the most about fashion and how did you discover your passion for it?
What I like about fashion is that it can influence many other people and brands. I was kind of shocked when I got to know Alexander Mcqueen and his collection. And later I found Martin Margiela and Rick Owens and Raf Simons. After that I really admire Phoebe Philo. Those designers shocked me in a very different way but still impressed me a lot. I am not sure if I can do like them but will try to build my brand and history slowly but strongly.
你最喜欢时尚的是什么,你是如何发现自己对时尚的热情的?
我喜欢时尚的原因是,它可以影响许多其他人和品牌。当我了解到Alexander Mcqueen和他的系列时,我有点震惊。后来我发现了马丁-马吉拉、里克-欧文斯和拉夫-西蒙斯。在那之后,我真的很佩服菲比-菲洛。这些设计师以一种非常不同的方式震惊了我,但仍然给我留下了深刻的印象。我不确定我是否能做到像他们一样,但我将尝试慢慢地但强烈地建立我的品牌和历史。
What about the Fashion Industry frustrates you the most? Do you feel you have to adapt your creativity and ideas to the industry's standards?
Well, I think we need to follow the basic standards, then, if you feel more confident about self, I think we can do whatever we want. But I think if you adapt too much it can be impossible. I do try to be very rebellious about the reality and the mainstream so that we can really speak about something different. I do try to not think about the commercial part right now. I should focus more on the theme and what I want to say as a designer.
时尚界有哪些地方最让你感到沮丧?你是否觉得你必须使你的创意和想法适应行业的标准?
好吧,我认为我们需要遵循基本的标准,然后,如果你对自我更有信心,我认为我们可以做任何我们想做的事情。但我认为,如果你适应得太多,就不可能了。我确实尝试着对现实和主流非常反叛,这样我们才能真正谈论不同的东西。我确实尝试现在不考虑商业部分。我应该更专注于主题和我作为一个设计师想要表达的东西。
If you could put together a dream team to shoot one of your collections, makeup artist, stylist, art director and photographer, who would be in your team?
Jurgen Teller and Mark Borthwick as photographers.
如果你能组建一个梦幻团队来拍摄你的一个系列,化妆师、造型师、艺术总监和摄影师,谁会在你的团队中?
Jurgen Teller和Mark Borthwick为摄影师。
Tell me something most people don't know about you or the brand. Maybe about a dream you haven't pursued yet? Or a parallel project to the label?
Nothing special right at the moment. I feel pressure on myself setting a goal or dream these days. For me, fashion is more like something I do because I like it. To continue this relationship between me and fashion, I better not set some strong goal. Nowadays, I am a bit tired of 'operating' a brand. Hope someday I can just focus on design. I would say that is my wish.
告诉我一些大多数人不知道的关于你或这个品牌的事情。也许关于你还没有追求的梦想?或者一个与品牌平行的项目?
眼下没有什么特别的事情。这些天来,我觉得自己在设定目标或梦想方面有压力。对我来说,时尚更像是我做的事情,因为我喜欢它。为了继续我和时尚之间的关系,我最好不要设定一些强烈的目标。如今,我对 "经营 "一个品牌有些厌倦。希望有一天我可以只专注于设计。我想说这是我的愿望。
Interview 作者:Beca Montenegro
Translation 翻译: Emi