Playing with perspectives in a rather unsettling time. That's what Laurin Schuler's current collection is all about. The 21-year-old presented his second collection Perspectiversial as his own fashion hotspot at the Reinbeckhallen in Berlin on April 10, 2022. Since the middle of last year, Laurin Schuler has been working on what is now his second collection, which he is putting together alongside his studies at the Berlin Weissensee School of Art.
在相当令人不安的时期玩弄观点。这就是 Laurin Schuler 当前系列的意义所在。 这位 21 岁的年轻人于 2022 年 4 月 10 日在柏林的 Reinbeckhallen 展示了他的第二个系列 Perspectivesial 作为他自己的时尚热点。自去年年中以来,Laurin Schuler 一直致力于他现在的第二个系列,他正在在柏林魏森塞艺术学院学习的同时。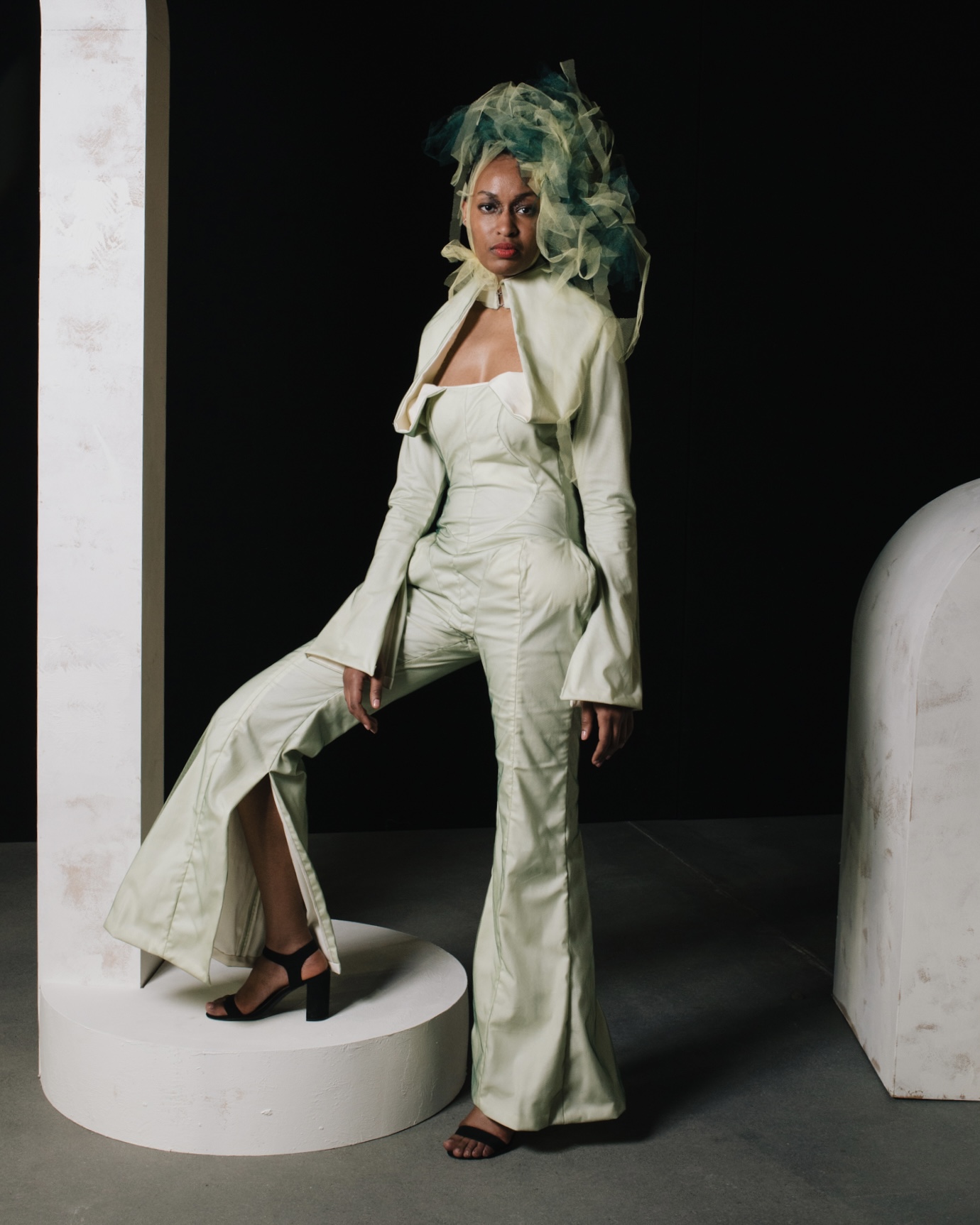 With the use of the material tulle, Laurin Schuler follows up on his debut collection Denim Soirée, which he showed in Munich in September 2020.
The shimmering fabrics – depending on the viewer's angle of vision – constantly produce new effects. Through light and glow, the multifaceted material tulle is staged in surprising ways. The oscillation of the different layers of tulle on top of each other and the resulting moiré effect seems to be the real image of a partially deceptive perception. The silhouettes of the collection, reproportioned in places, vary between tight-fitting pantsuits and bodysuits, dresses hand-woven from tulle, and dead-stock tulle finishes on shoes and headpieces, allowing the material to appear in its various guises and colors.
通过使用薄纱材料,Laurin Schuler 于 2020 年 9 月在慕尼黑展示了他的首个系列 Denim Soirée。 闪烁的织物——取决于观察者的视角——不断产生新的效果。通过光线和辉光,多面材料薄纱以令人惊讶的方式上演。薄纱的不同层在彼此之上的振荡和由此产生的莫尔效应似乎是部分欺骗性感知的真实图像。该系列的廓形在不同的地方进行了重新调整,从紧身裤装和紧身连衣裤、由薄纱手工编织的连衣裙以及鞋子和头饰上的滞销薄纱饰面之间变化,使材料以各种形式和颜色出现。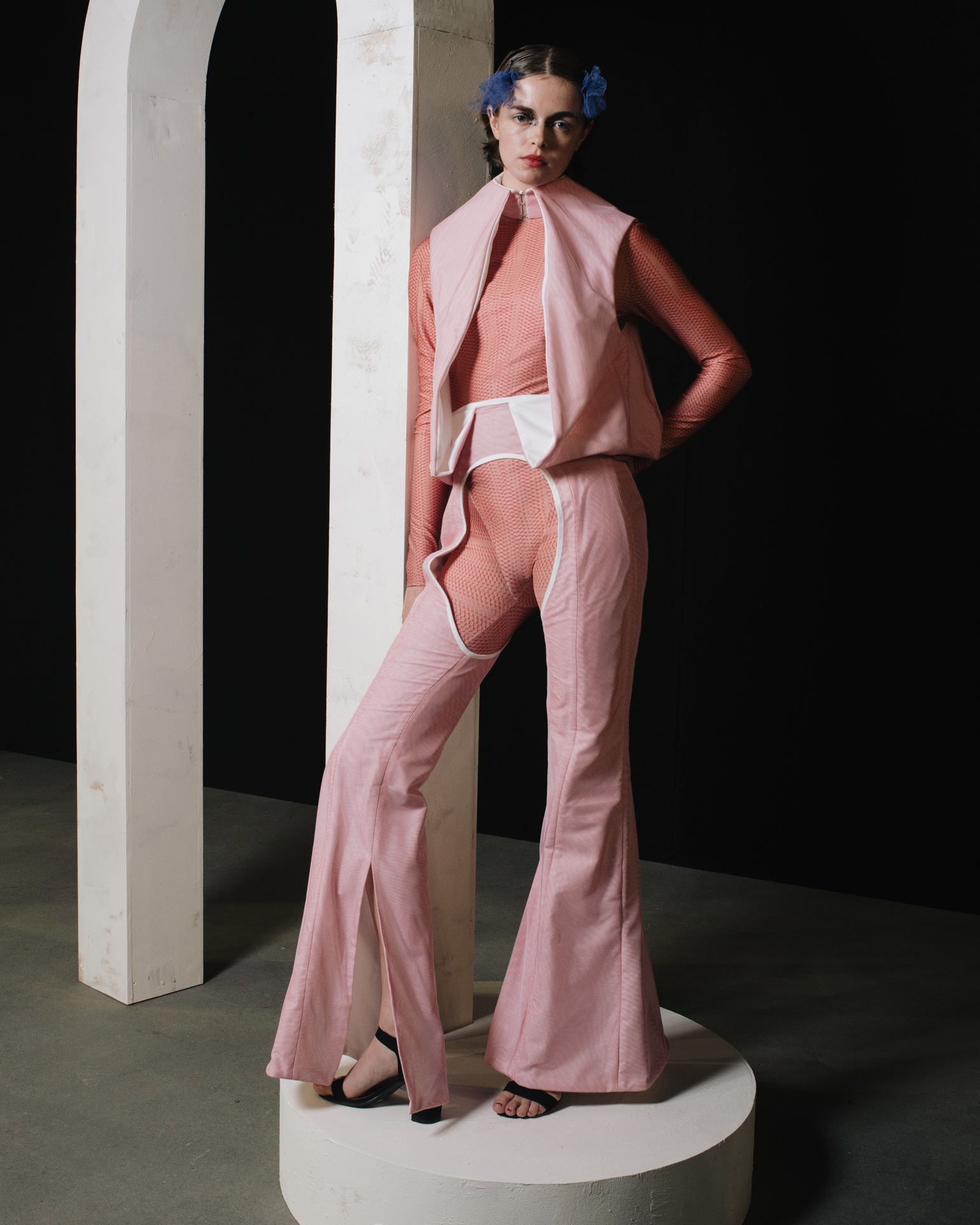 The concept of perspective and surprise in viewing also played an important role in the presentation of the collection. Together with mfe eventdirector and AMBION – the international production company for live experiences and digital productions – Schuler presented his clothes in a fashion show at the Reinbeckhallen. 200 visitors were able to watch the presentation live on site, where the models were presented during a lightning storm instead of on a catwalk. Accompanied by a comprehensive sound concept by Moritz Kniepkamp, the event hall was transformed into a show hall, where the audience was presented with the collection through light, performance, sound and lightning, while at the same time being included as background. The final open photo shoot in the hall in front of sculptural set by Lorenz Beckmann rounded off the fashion show, which lasted a good hour.
观察中的透视和惊喜的概念在该系列的呈现中也发挥了重要作用。 舒勒与 mfe eventdirector 和 AMBION(现场体验和数字制作的国际制作公司)一起在 Reinbeckhallen 的时装秀中展示了他的服装。 200 名参观者能够现场观看演示,模型是在闪电风暴期间而不是在 T 台上展示的。伴随着 Moritz Kniepkamp 全面的声音概念,活动大厅被改造成展示厅,通过灯光、表演、声音和闪电向观众展示该系列,同时作为背景。在 Lorenz Beckmann 雕塑布景前的大厅里进行最后的开放式照片拍摄,为这场持续了一个小时的时装秀画上了圆满的句号。
It makes a difference how clothes are presented, especially for young designers new to the fashion world. After all, the catwalk and the big stage are always considered. The shift to virtual space is changing the dynamics in the fashion industry.
And that's why it is even more important for Laurin Schuler to bring people and fashion together again.
的年轻设计师而言。毕竟走秀和大舞台总是要考虑的。向虚拟空间的转变正在改变时尚行业的动态。 这就是为什么对 Laurin Schuler 来说,将人们与时尚再次融合在一起变得更加重要。