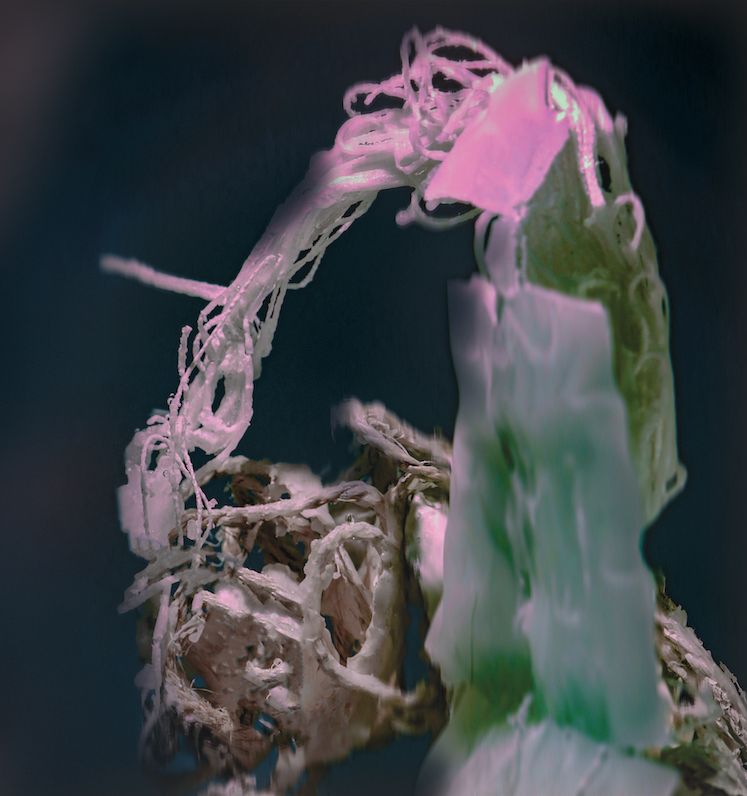 The series kicks off with no one less than IMOGEN, who was bursting out on the scene only a few years ago. Ever since, she established herself as an ambitious selector behind the decks and became a prominent figure in the world of dance music. Growing up in the UK, her mother introduced her to the early 00's rave and break music, such as Plump DJs, Colin Father and Leftfield, which ultimately set a start to a promising path into the electronic music scene. Still heavily influenced by their music, IMOGEN made a move to London at an early age to eventually study electronic music. She was quickly absorbed by the city's rich musical culture and became an active player in the club and radio circuit. By now she has become a respected artist in Europe, having played major stages in clubs as well as at festivals.
While having created her own signature sound inside the DJ booth, she has now also moved her vision on music into the studio. After two successful collaborations with Ben Pest on labels such as Earwiggle, a self released collaboration on her own label Wigs, and multiple single released tracks on different VA's, IMOGEN now lands her first solo EP »What?« on Voitax. According to her own description, this EP is her first bulk of music after having experienced a persistent writing blockage during the pandemic. While eventually being isolated for five days, each of these tracks were produced in a stream of inspiration. The EP presents a strong package of five tracks that clearly reflect the influence of her homelands prosperous electronic music heritage.
A distinguished set of breaks are fusioned with electro, IDM, and hardcore without ever loosing touch to its groovy rhythmics. While this release is certainly loaded with strong dance floor material, the quality of her production process remains remarkable. The roughness and edginess of the entire EP reveal a strong connection to her 808 and modular system, which helped to create unique textures and granular soundscapes. Instead of resampling UK sample packs over and over again, IMOGEN is ambitious to create her own signature sound through a sequence of personalized studio equipment. With this approach she manages to fuse a punky style of 90's rave culture with sophisticated futuristic sound processing. Each track meets a different atmosphere, as the ap- proach to rhythm, speed, sound and arrangement evolves from the beginning to the end – yet, they all remain part of the same story.
VOITAX is delighted to welcome IMOGEN to the family and are looking forward to seeing this journey grow.
这个系列的序幕是由IMOGEN拉开的,她在几年前就在舞台上崭露头角。从那时起,她就确立了自己作为一个雄心勃勃的选择者的地位,并成为舞曲世界中的一个突出人物。在英国长大,她的母亲向她介绍了00年代早期的狂欢和霹雳音乐,如Plump DJs、Colin Father和Leftfield,这最终为她进入电子音乐界的有前途的道路设定了一个起点。仍然深受他们音乐的影响,IMOGEN在很小的时候就去了伦敦,最终学习电子音乐。她很快就被这个城市丰富的音乐文化所吸收,并成为俱乐部和电台圈子里的一个活跃分子。到现在,她已经成为欧洲受人尊敬的艺术家,在俱乐部和音乐节的主要舞台上演出。
当她在DJ间创造了自己的标志性声音时,她现在也把她对音乐的看法搬到了工作室。在与Ben Pest在Earwiggle等唱片公司成功合作,在她自己的唱片公司Wigs自行发行合作作品,以及在不同的VA发行多首单曲之后,IMOGEN现在在Voitax发行了她的第一张个人EP《什么?根据她自己的描述,这张EP是她在大流行病期间经历了持续的写作障碍后的第一张大宗音乐作品。在最终被隔离了五天的情况下,这些曲目中的每一首都是在灵感流中产生的。这张EP呈现了一个由五首曲目组成的强有力的包装,清楚地反映了她家乡繁荣的电子音乐遗产的影响。
一组杰出的休息时间与电子、IDM和硬核融合在一起,但没有放松对其令人愉快的节奏的接触。虽然这张唱片肯定充满了强大的舞池材料,但她的制作过程的质量仍然很出色。整张EP的粗糙和前卫揭示了与她的808和模块化系统的紧密联系,这有助于创造独特的纹理和颗粒状的声音景象。IMOGEN没有对英国的样本包进行重复采样,而是雄心勃勃地通过一系列个性化的工作室设备创造出她自己的标志性声音。通过这种方法,她成功地将90年代狂欢文化的朋克风格与复杂的未来主义声音处理相融合。每首歌曲都有不同的氛围,因为节奏、速度、声音和安排的应用从开始到结束都在演变–然而,它们都是同一个故事的一部分。