Trust is a testament to resilience. The past two years have been tough for just about everyone, and while it would have been easy for Catnapp to let feelings of despair soak into her creative process, she refused to succumb to darkness. The Berlin-based Argentinian was determined to make something bright, energetic and uplifting, and nothing—not even a global catastrophe—was going to stop her from rallying people to the dancefloor.
信任是复原力的证明。过去两年对每个人来说都很艰难,虽然Catnapp很容易让绝望的感觉浸入她的创作过程,但她拒绝向黑暗屈服。这位居住在柏林的阿根廷人决心做一些明亮、有活力和令人振奋的东西,没有什么–甚至全球灾难–能阻止她把人们召集到舞池中。
It's been a while since we saw each other but I still remember your mind-blowing live set in Oil Club in Shenzhen China. What changed you personally and musically since that time ?
On a personal level it's been quite hard to get back to the rhythm I used to have before the pandemic.
I think that that 2-year break gave me a perspective of how life could be if I carried on a slower life, and I must say even though I really missed performing, touring, and doing what I do, I truly enjoyed chilling out for a while.
I was able to spend more time attending to my mental, emotional and physical health. This was very good for me. Now after everything when I finally come back to that "great previous life" I had, I realize how little I would be able to care for myself if I just went back to that exact same rhythm I had before the pandemic. 
So, going back to your question, I became more aware of things I need to tend in my life besides work, to be able to function properly. And this of course has direct consequences in my work. I used to work Monday to Monday. Twelve hours a day in front of the computer or in meetings, video clips planning, anything that I had to do to make the best out of my career. Rest? No thank you.
This really affected my mental health. And now that I see it, there is no way I can invest that same amount of hours dedicated to my career only. Resting time is now a must, as well as time to enjoy myself, and rest from that afterwards as well.
For those reasons, you might notice I am not releasing as many videos per album as I did before, or making so many photoshoots, promotions, etc. 
Musically, like you mentioned, I wanted to make something brighter and get a little bit out of the darkness. Of course after having done that, I'm craving for more distortion and darkness every time I get a chance to go to the studio hehe.
我们已经有一段时间没有见面了,但我仍然记得你在中国深圳的石油俱乐部的令人震惊的现场表演。从那时起,你在个人和音乐方面有什么变化?
就个人而言,要恢复到我在大流行病之前的节奏是相当困难的。
我认为那两年的休息让我看到了如果我继续慢下来,生活会是怎样的,我必须说,尽管我真的很想念表演、巡演和做我所做的事情,但我真的很喜欢放松一段时间。我能够花更多的时间来照顾我的心理、情感和身体健康。这对我来说是非常好的。现在,在经历了一切之后,当我终于回到我的 "以前的美好生活 "时,我意识到,如果我只是回到大流行病之前的那种节奏,我对自己的照顾是多么少。
因此,回到你的问题,我变得更清楚地意识到,除了工作之外,我的生活中还需要照顾的事情,以便能够正常运作。这当然也直接影响到我的工作。我曾经周一到周一工作。每天有12个小时在电脑前或在会议中,视频剪辑计划,任何我必须做的事情,以使我的职业生涯达到最佳状态。休息吗?不,谢谢你。
这真的影响了我的心理健康。现在我看到,我不可能只为我的事业投入那么多的时间。休息时间现在是必须的,还有享受自己的时间,事后也要休息。
由于这些原因,你可能会注意到我现在每张专辑发布的视频没有以前那么多,也没有拍那么多照片,宣传等等。
在音乐上,就像你提到的,我想做一些更明亮的东西,从黑暗中走出来一点儿。当然在做了这些之后,每次有机会去录音室的时候,我都会渴望更多的失真和黑暗,嘿嘿。
Was it your first tour in China? Do you miss touring in that part of the world?
Absolutely. It was so short. I've only stayed maybe 1 or 2 days in every city I went to. I'd love to be able to stay for longer the next time I visit, if it comes to be possible again.
这是你第一次在中国巡演吗?你怀念在世界那个地方的巡回演出吗?
绝对的。它是如此短暂。我在我去的每个城市都只呆了大概1到2天。我很希望下次去的时候能呆得更久,如果再有可能的话。
The apocalypse atmosphere returns to our minds once in a while. How are you feeling? How far do you go with your plans?  How did you devote your thoughts towards the brighter direction which you achieved?
I think covid has definitely been a traumatic experience for many if not all of us. Personally I have been marked for sure, and with war now happening (which seems unbelievable after what the world was recovering from), I get a sense of "ok this is never really going to end. Problems on Earth just keep getting worse and worse until they reach a super bad peak, implode, explode, and then maybe after a lot has happened things can slowly start getting better again.
I must say I tend to have a very apocalyptic mindset hahaha. My predictions almost never come true, so nothing to worry about!
When I was making the album I think my head just shifted into this 'I need to be positive and spread it' (no pun intended) state as a survival mechanism. It was too much darkness for too long. Everyone was, me included, making all of this dark music, dark introspective art. We all somehow collectively felt this depression which was unavoidable. And we had no option but to succumb to it. And I believe that was a healthy thing to do. Catharsis. But after a while, when all that dark was out, my brain went like 'okaay maybe that is enough?'.
As for planning, I tend to not restrict myself and plan as if everything will be okay. I guess I don't really have a choice and it's all part of the same survival mechanism.
启示录的气氛偶尔会回到我们的脑海中。你的感觉如何?你的计划进行到什么程度了? 你是如何把你的思想投入到你所实现的光明的方向上的?
我认为covid对我们许多人来说绝对是一种创伤性的经历,如果不是所有人的话。就我个人而言,我肯定被打上了烙印,而且随着战争的发生(在世界正在恢复的情况下,这似乎令人难以置信),我有一种感觉:"好吧,这永远不会真正结束。地球上的问题只会越来越糟,直到它们达到一个超级糟糕的高峰,内爆,爆炸,然后也许在发生了很多事情之后,事情可以慢慢开始好转。我必须说我倾向于有一个非常世界末日的心态,哈哈哈。我的预测几乎从未成真,所以没什么好担心的
当我在制作专辑时,我想我的头脑只是转移到这种"我需要积极和传播它"(没有双关语)的状态,作为一种生存机制。黑暗太多,时间太长了。每个人,包括我,都在做这些黑暗的音乐,黑暗的内省艺术。我们都以某种方式共同感受到这种不可避免的抑郁。我们没有选择,只能屈服于它。我相信那是一件健康的事情。宣泄。但过了一会儿,当所有的黑暗都出来后,我的大脑就像"好吧,也许这就够了?"。
至于计划,我倾向于不限制自己,计划得好像一切都会好起来一样。我想我其实没有选择,这都是同一个生存机制的一部分。
Speaking about"Trust" you picked a few collaborators, one of them is your brother. That sounds like a perfect combination fulfilling the concept of the album in the best way. Did you plan it  ahead or did it come up spontaneously? What's the story behind it? Have you tried to work with your brother before "Catnapp" was born? 
It was absolutely spontaneous. I think he uploaded a story with that beat and I was like "What is THAT, can we please make something together with it". It's actually the first track of the record that existed. I believe we did it more than 2 years ago. It was supposed to be released as a single but then we were like "What if we add 10 more tracks to it" XD. We had recorded a cover version of "see you again" from Tyler the Creator before that, but nothing that got released until br34th3. I'm hoping there's more where that came from. He's a super-talented musician. And so young too… only 22 and completely self-taught. Very proud sister.
谈到"信任",你选择了几个合作者,其中一个是你的兄弟。这听起来像是一个完美的组合,以最好的方式实现了专辑的概念。你是提前计划好了,还是自发形成的?这背后有什么故事?在 "Catnapp"诞生之前,你是否尝试过与你哥哥合作?
这绝对是自发的。我想他上传了一个关于这个节拍的故事,我就想 "那是什么,我们能不能用它来做一些事情"。这实际上是这张唱片中存在的第一首曲目。我相信我们是在两年多以前做的。它本来应该作为单曲发行,但后来我们想 "如果我们再加10首曲子怎么样 "XD。在那之前,我们录制了Tyler the Creator的 "see you again"的翻唱版本,但在br34th3之前没有任何东西被发布。我希望会有更多的东西出现。他是一个超级有才华的音乐家。而且还很年轻.只有22岁,完全是自学成才。非常自豪的妹妹。
Your music is like a time travel machine. The broken beats between your lyrics feel like being in front of portal gates and searching for the right answer.  Seems like you had plenty of rehearsals with yourself while doing this album. Could you tell us about the meaning of life for you?
I like to think I'm quite self aware.
I'm definitely an introverted person that spends a lot of time looking inside.
Thinking, probably over-thinking. Analyzing. I enjoy understanding how the mind and emotions work, and I spend a lot of time trying to understand mine. Now speaking about the meaning of life (light question ahhaah). You know how when a fly goes into your house then it finds it very hard to find its way out? Even tho the open window is right-there. As a human, whenever I see this I'm talking to the fly telling it "IT'S RIGHT THERE COME ON". I go and open a 2nd window, and still, the fly can't seem to comprehend that this opening means freedom, and everything she is trying to do for hours or maybe days, and finds so hard to accomplish.
To us, it looks obvious. Evident. To her, it's completely impossible to comprehend, until eventually sometimes she flies and gets out, by chance. She doesn't even know how she did it or what happened.I believe it's the same with us and life. We can understand up to a certain point. With our senses, our capabilities, but these are limited. 
Maybe we will never know the meaning of life. Maybe there is no meaning to life but as humans we NEED there to be a meaning to things. So we look for it, we invent it. I think it's beyond our intelligence.
你的音乐就像一台时间旅行机。你的歌词之间的破碎节拍,感觉就像在传送门前,寻找正确的答案。 看起来你在做这张专辑的时候和自己进行了大量的排练。你能告诉我们,对你来说,生命的意义是什么?
我喜欢认为我很有自我意识。我绝对是一个内向的人,花了很多时间看内心。思考,可能是过度思考。分析。我喜欢了解心灵和情感是如何运作的,我也花了很多时间试图了解我的。现在说到生命的意义(轻巧的问题啊哈哈)。你知道当一只苍蝇进入你的房子时,它发现很难找到出去的路?尽管打开的窗户就在那里。
作为一个人,每当我看到这种情况,我就会对苍蝇说:"它就在那里,来吧"。我又去开了第二扇窗,但苍蝇似乎还是不能理解,这扇窗意味着自由,意味着她几小时甚至几天来努力做的所有事情,都难以完成。对我们来说,这看起来很明显。明显的。对她来说,这完全是不可能理解的,直到最后有时她飞出去了,是偶然的。她甚至不知道自己是怎么做到的,也不知道发生了什么。我相信我们和生活也是如此。我们可以理解到一定的程度。凭借我们的感官,我们的能力,但这些都是有限的。也许我们永远不会知道生命的意义。也许生命没有意义,但作为人类,我们需要事物有一个意义。所以我们寻找它,我们发明它。我认为这超出了我们的智慧。
It's not your first collaboration with Modeselektor, if you could  name one thing which they taught  you, what would it be?
Technically I learned about track structure, a bit how to make a track work on the dancefloor.
My tracks tend to be a little experimental structure-wise which I do love, but sometimes it's also nice to give the audience something they can dance to as well.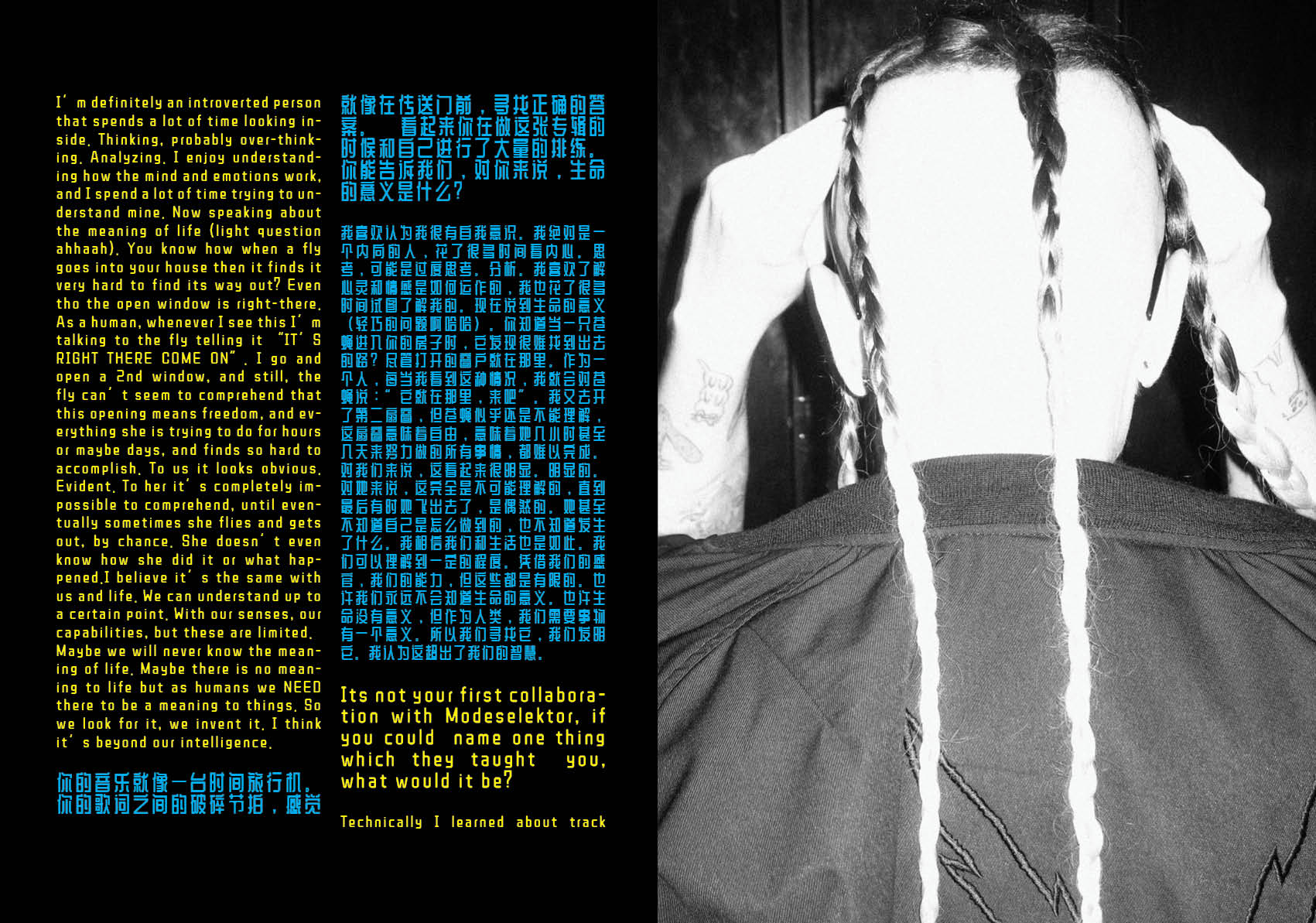 Personally, I learned (or I'm still trying to learn) that I don't need to  try and impress anyone when I go on stage, that I just have to be the weird person I am and that's enough.
这不是你与Modeselektor的第一次合作,如果你能说出他们教会你的一件事,那会是什么?
在技术上,我学到了轨道结构,以及如何使轨道在舞池中发挥作用。我的曲子在结构上倾向于有点实验性,我很喜欢,但有时给观众一些他们可以跳舞的东西也很好。就我个人而言,我学会了(或者说我还在努力学习),当我上台的时候,我不需要试图给任何人留下印象,我只需要做一个奇怪的人,这就足够了。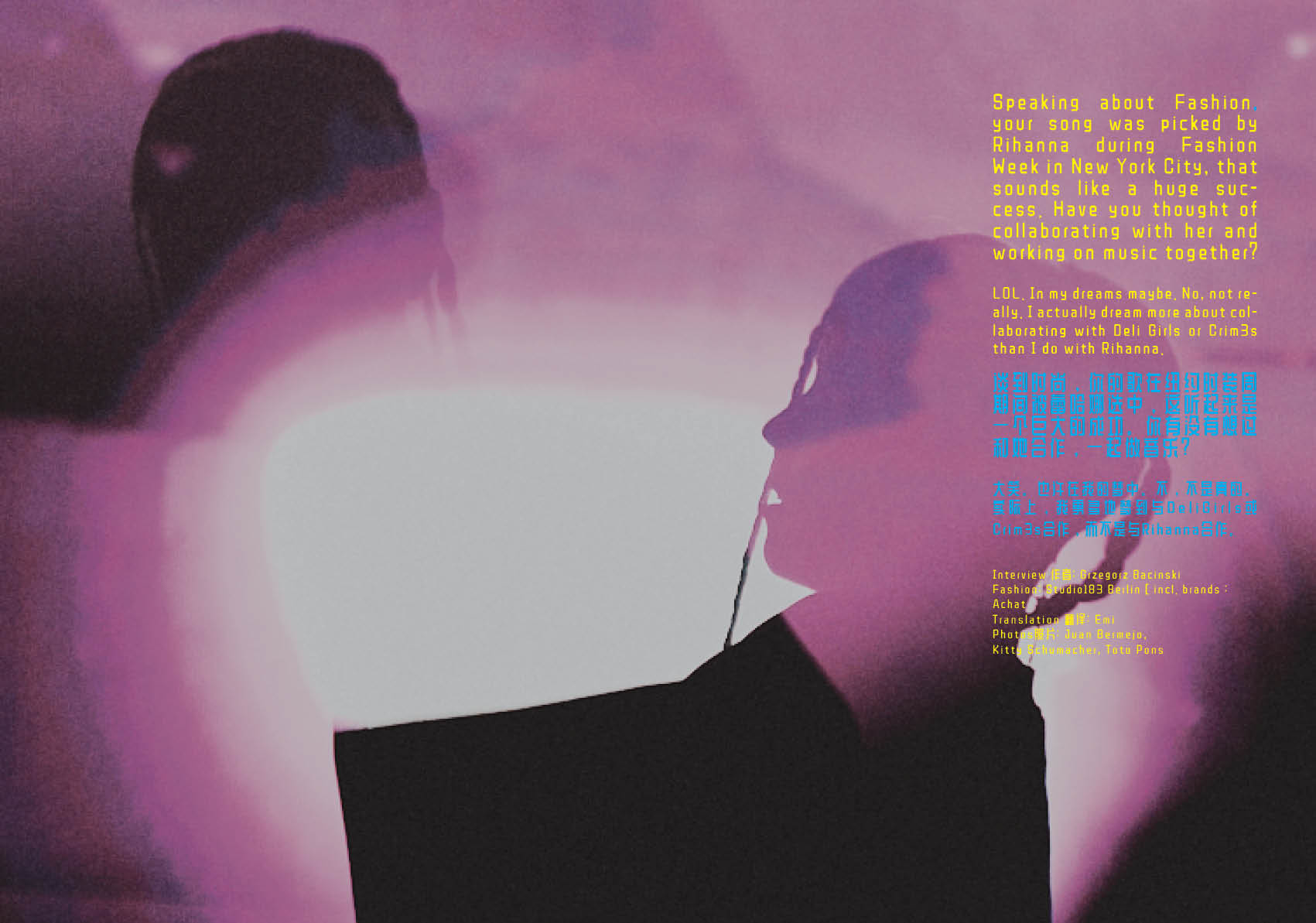 You seem also connected to fashion. I remember you wearing designs from Therapy Recycle  in China when we had a photoshoot. Recently, you also collaborated with Versace. How did that happen ? Any exciting plans in this direction ?
The Versace collab was a lot of fun. We recorded in an abandoned warehouse and I got to wear their fancy clothes for a while. I like to collaborate with fashion artists or designers.
Recently I've been working with the artists Catt and Minji, and the brand A Better Mistake from Milan, to create the outfits that I will be wearing on the TRUST show.
This was super exciting, on the one hand I got to go to Milan to try on and choose clothes from one of my favorite brands, and on top to later intervene and customize them. It was also GREAT to work with Minji. I had been wanting to work with their illustrations for a very long time.
你似乎也与时尚有关。我记得你在中国穿了治疗回收公司的设计,当时我们有一个照片拍摄。最近,你还与范思哲合作。那是怎么发生的?在这个方向有什么令人兴奋的计划吗?
范思哲的合作是非常有趣的。我们在一个废弃的仓库里录音,我还穿了一阵子他们的高级衣服。我喜欢与时尚艺术家或设计师合作。最近,我与艺术家Catt和Minji以及来自米兰的品牌A Better Mistake合作,创作我将在TRUST节目中穿的服装。这超级令人兴奋,一方面我可以去米兰试穿和选择我最喜欢的品牌之一的衣服,另一方面,我还可以介入并定制它们。与MINJI合作也是非常棒的。我一直想与他们的插图合作,已经有很长一段时间了。
Speaking about Fashion, your song was picked by Rihanna during Fashion Week in New York City, that sounds like a huge success. Have you thought of collaborating with her and working on music together?
LOL. In my dreams maybe. No, not really. I actually dream more about collaborating with Deli Girls or Crim3s than I do with Rihanna.
谈到时尚,你的歌在纽约时装周期间被蕾哈娜选中,这听起来是一个巨大的成功。你有没有想过和她合作,一起做音乐?
大笑。也许在我的梦中。不,不是真的。实际上,我更多地梦到与DeliGirls或Crim3s合作,而不是与Rihanna合作。
Interview 作者: Grzegorz Bacinski
Translation 翻译: Emi
Photos照片: Juan Bermejo, Kitty Schumacher, Toto Pons
GET THE LATEST ISSUE OF KEYI MAGAZINE – HERE
and read more music features – HERE