French pioneer of Electroclash in the early 90's, David Carretta produced hard-edged electro, analog techno and retro-futuristic synth workouts. 25 years on since his debut release Carretta is still at his creative best.
Hey David, how are you? if you could introduce yourself to our readers.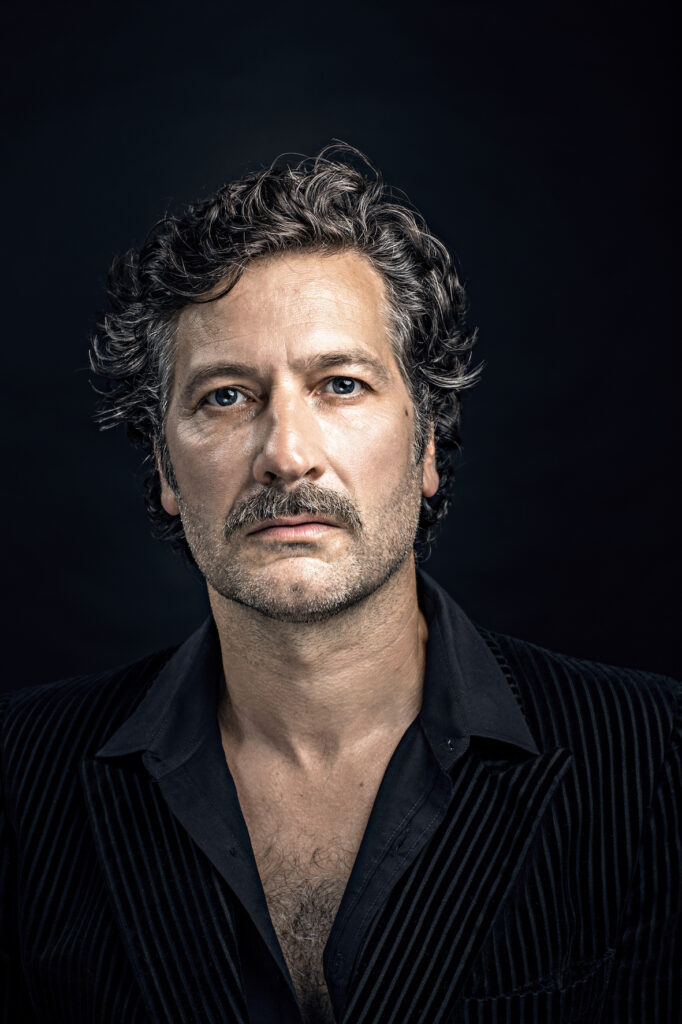 Hello everyone, my name is David Carretta, I have been making electronic music since 1988, and released my first EP in 1993 on legendary Sven Vath's Techno label "HartHouse". My second EP was the first release of DJ Hell's "International Deejay Gigolo Records" in 1996.
Thrilled to announce our last event this year in Sameheads with friends and legends on board!
23rd November Thursday! Hope to see you there!
You are the French pioneer of electroclash in the early 90s, and we are honored to have your track on our charity compilation. Could you tell us about your early influences and the current ones? What changed through those years with your workflow and creativity?
My first influences are Punk Rock, New Wave and EBM music with bands like Killing Joke, Joy Division, DAF, Liaisons Dangereuses, Front 242, Nitzer Ebb, Kraftwerk, etc…But also Italo Disco and Disco with artists like Giorgio Moroder, Patrick Crowley or Gino Soccio.
Today many good electronic producers make music that I appreciate a lot but at the same time many paths have been explored and I don't feel a new style of electronic music right now and for a few years. My creativity didn't change through those years but I changed my workflow in the way that I paid more attention to the quality of the sound production. If you want your tracks to be played by DJs in 2023 the sound production must be very good, not like in 2000 years with Electroclash where music production was more into a punk attitude. The sound quality of the production has evolved a lot in this direction.
'The Target' which we are about to premiere, comes from our compilation. What's the story behind the track and what are the production aspects of it?
I always start to sequence a bassline with my "all-time favorite synth" the Pro One , together with a BassDrum and then progress with the Hi-hats, percuss and other sounds and melodies.
The title of the track 'The Target' talks about the people who are victims of war in their country. They just want to leave in peace but unfortunately, they are just "targets" for bombs.
The amount of releases on your account is incredible, what's your secret for staying so productive?
I think it's just because I have been making music for 35 years! I don't think I am very productive but I make music with passion and try to be faithful to my music and make it with no compromise. I never follow any style, I always try to do my own.
If you could bring back one club that doesn't exist anymore, which would it be?
Ultraschall in Munich (Germany)
What does the future look like for David Carretta? Do you have any upcoming projects?
Yes, 3 remixes are in progress and a new EP. coming from a new collaboration/project that we don't have the name yet! And also a new project with Kendal … I say no more 🙂
KENDAL & DAVID CARRETTA – CREATURE
I also take care of my label Space Factory. The last release is "Back From The Wave" with remixes of Panthera and myself.
LISTEN TO THE TRACK OF DAVID:
Support compilation if you can!
https://keyirecords.bandcamp.com/album/keyi-magazine-charity-compilation-2023-2
Could you tell us your ten favorite tracks from this year? What would it be?
Back From The Wave – Corrosives Influences (Space Factory)
Panthera – Crise (Polaris)
Marinelli – El Forastero Alen Skanner Remix (Espacio Cielo)
Karassimeon – Messa Nera (Ritmo Fatale)
Zaatar – Abiad Al Layali (Ritmo Fatale)
SUPPORT HERE: https://ritmofatale.bandcamp.com/track/zaatar-abiad-al-layali
Krishna Goineau (Liaisons Dangereuses) Feat. MCL – Le Forgeron Curses Edit (Italo Moderni)
SUPPORT HERE:
https://italomoderni.bandcamp.com/track/la-forgeron-curses-edit
Donald Dust – Nausea (Bordello A Parigi)
Panthera – Vengeance (Zone)
The Hacker – The Storm (Pinkman)
Pablo Bozzi – Testify (Dischi Autunno)
more music features – here