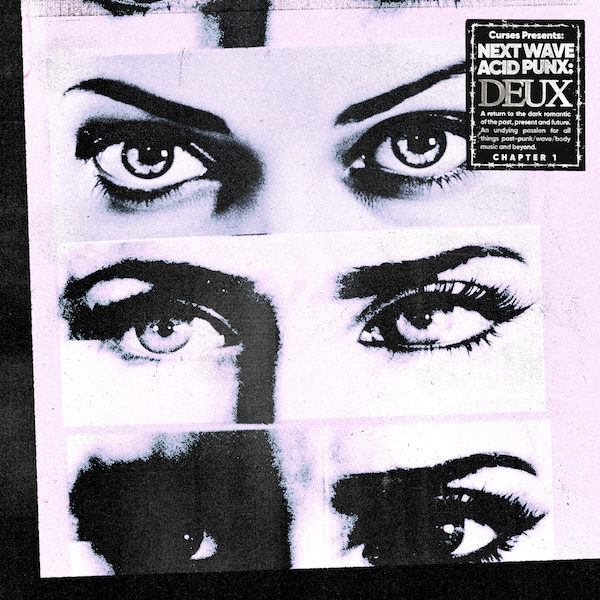 Compiled and curated by Luca Venezia, aka Curses, Next Wave Acid Punx DEUX is a celebration of the darker side of electronic club music. Featuring 49 tracks the compilation connects 5 decades of music as embodied here by a track from Berlin club mainstays Soft Crash.
A collaboration between two of today's leading industrial techno and EBM artists, Imperial Black Unit's Pablo Bozzi & Berghain resident Phase Fatale, Soft Crash sees the duo explore the increasingly blurred line between technology and humanity. On Dolce Morte, their exclusive contribution to Next Wave Acid Punx DEUX, that remit translates to an exhilarating rush of relentless kick drums, pulsating synths and chant-like vocals sure to get anyone dancing, man or machine.
LISTEN PREMIERE HERE:
Spread across 3CDs and three 2LPs Next Wave Acid Punx. DEUX features a mammoth 49 tracks that join the dots between early industrial pioneers Throbbing Gristle, EBM legends like Nitzer Ebb and the post-punk experiments of people like Malcolm McLaren and Big Audio Dynamite with some of the most exciting artists around today, such as Boy Harsher, Nuovo Testamento and Years of Denial.
Where the first Next Wave Acid Punx compilation was a personal journey for Luca, a lockdown-inspired exploration of his record collection to find the thread that ran through the music that had soundtracked much of his life. DEUX is a celebration of that music let loose on the world. The thrill of music performed live, the smoke and strobe-filled clubs you'll hear it in and the artists you'll find on those stages.
SOCIALS TO FOLLOW
Eskimo Recordings
Website Soundcloud Instagram Youtube
Soft Crash
Luca Venezia aka. Curses