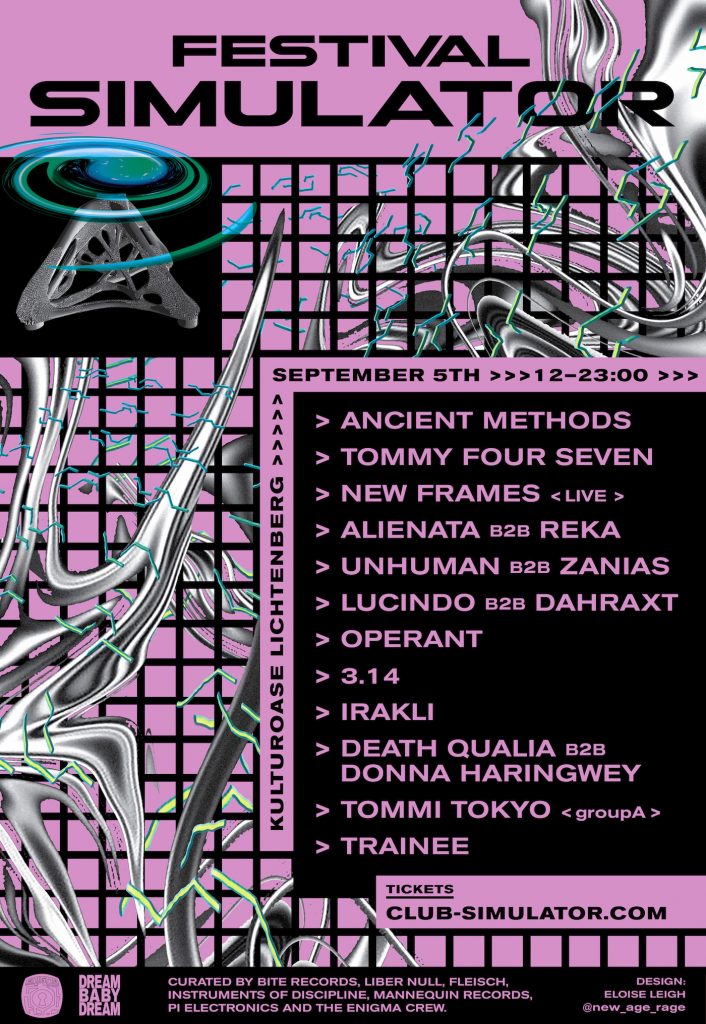 Date: September 5, 2020 Venue: Kulturoase Lichtenberg Time: 12:00 – 23:00
Tickets + registration: club-simulator.com
Festival Simulator – September 5th, 2020
Club Simulator collaborates with Enigma crew and the Berlin Club Commission to present a day-long open air festival of electronic music at the Kulturoase in Lichtenberg, with full support from the city government and hygiene rules in place to ensure the safety of all participants. The 9,000 square metre space will host a limited number of attendees with two stages of techno, electro, and experimental electronics. Berlin bar institution, Dream Baby Dream will also provide its signature cocktails and concessions for the event.
@keyistudio will do some analog portraits which will presented in www.keyimagazine.com
Lineup (main stage):
New Frames (live)
Operant
2nd stage:
Irakli
Tommi Tokyo (groupA)
Trainee
Death Qualia b2b Donna Haringwey
3.14
Ticket and registration: club-simulator.com | Flyer design by Eloise Leigh
ABOUT C L U B / S I M U L A T O R
Club Simulator is a collective formed of five labels and event organisers: Bite, Fleisch, Instruments of Discipline, Liber Null and Pi Electronics. Based in Berlin, all members of the collective have been an integral force in the electronic music scene over the last several years, providing a platform for local and international artists, with label nights and events hosted by Berghain, Berlin Atonal, Tresor, Griessmühle, OHM, Urban Spree and :// about blank and internationally across Europe and as far away as Georgia, Korea, Japan, Australia and the USA.
The concept of Club Simulator ties together these similarly-minded platforms to more efficiently share resources and create a tightly knit community that is committed to contributing diverse experiences and artistic endeavours to Berlin ́s club culture.
Club Simulator particularly focuses on creating a safe environment for events that conform with current health and safety government regulations. One of the goal is to support our scene and the artists therein though the challenging times ahead, and to grow into something greater than the sum of our parts
FESTIVAL SIMULATOR – Kulturoase Lichtenberg
Press contact: clubsimulator.berlin@gmail.com