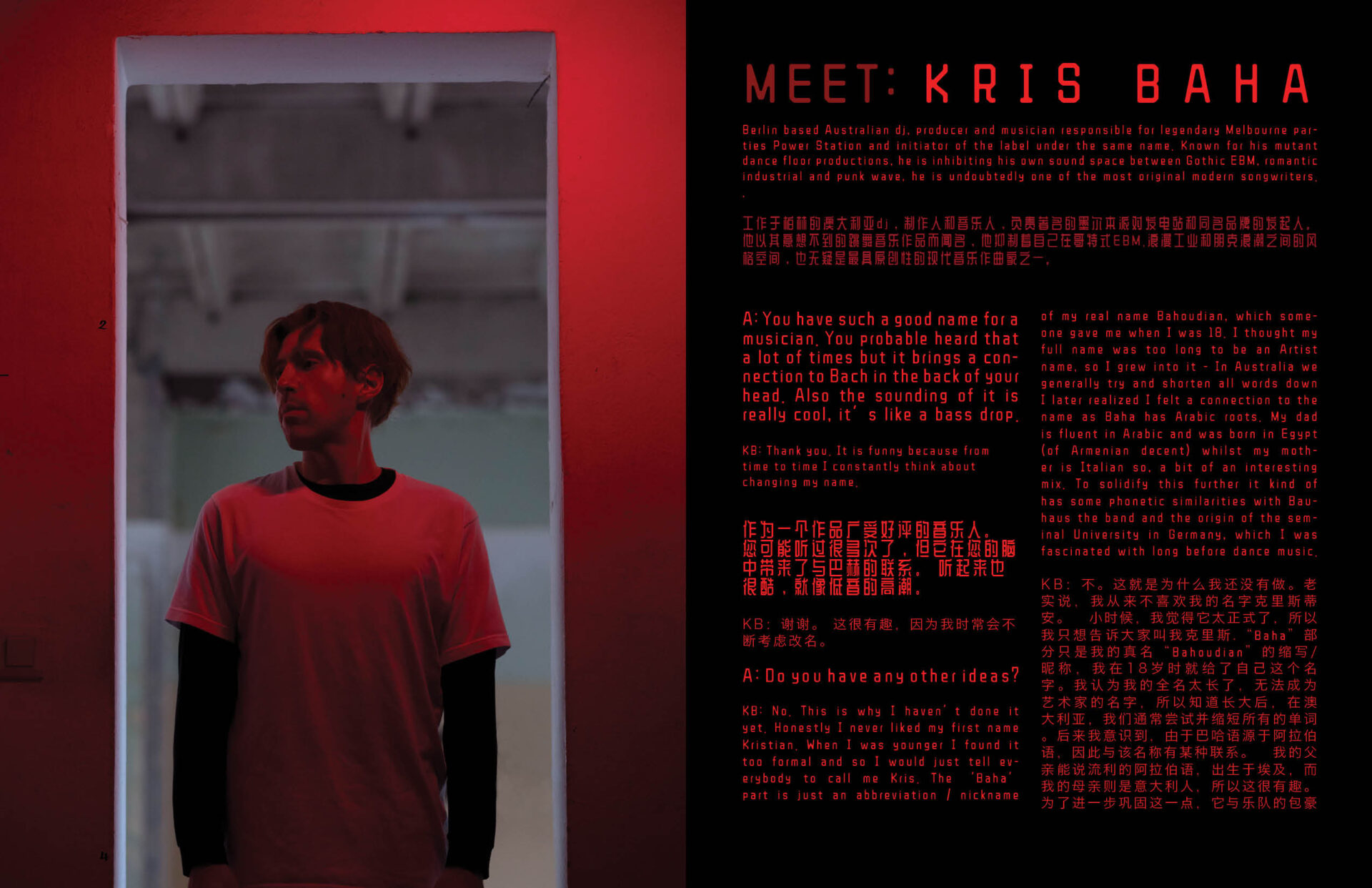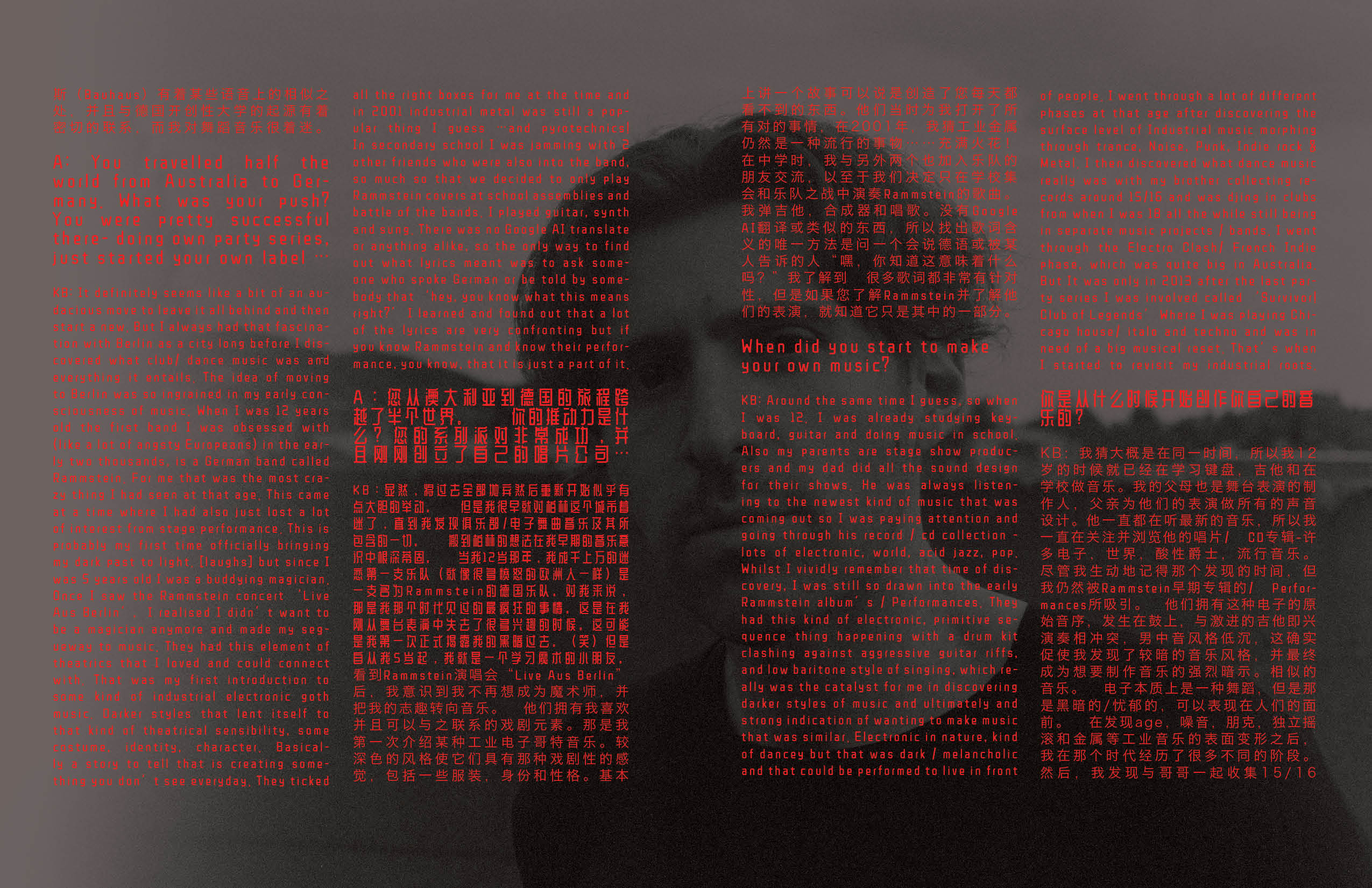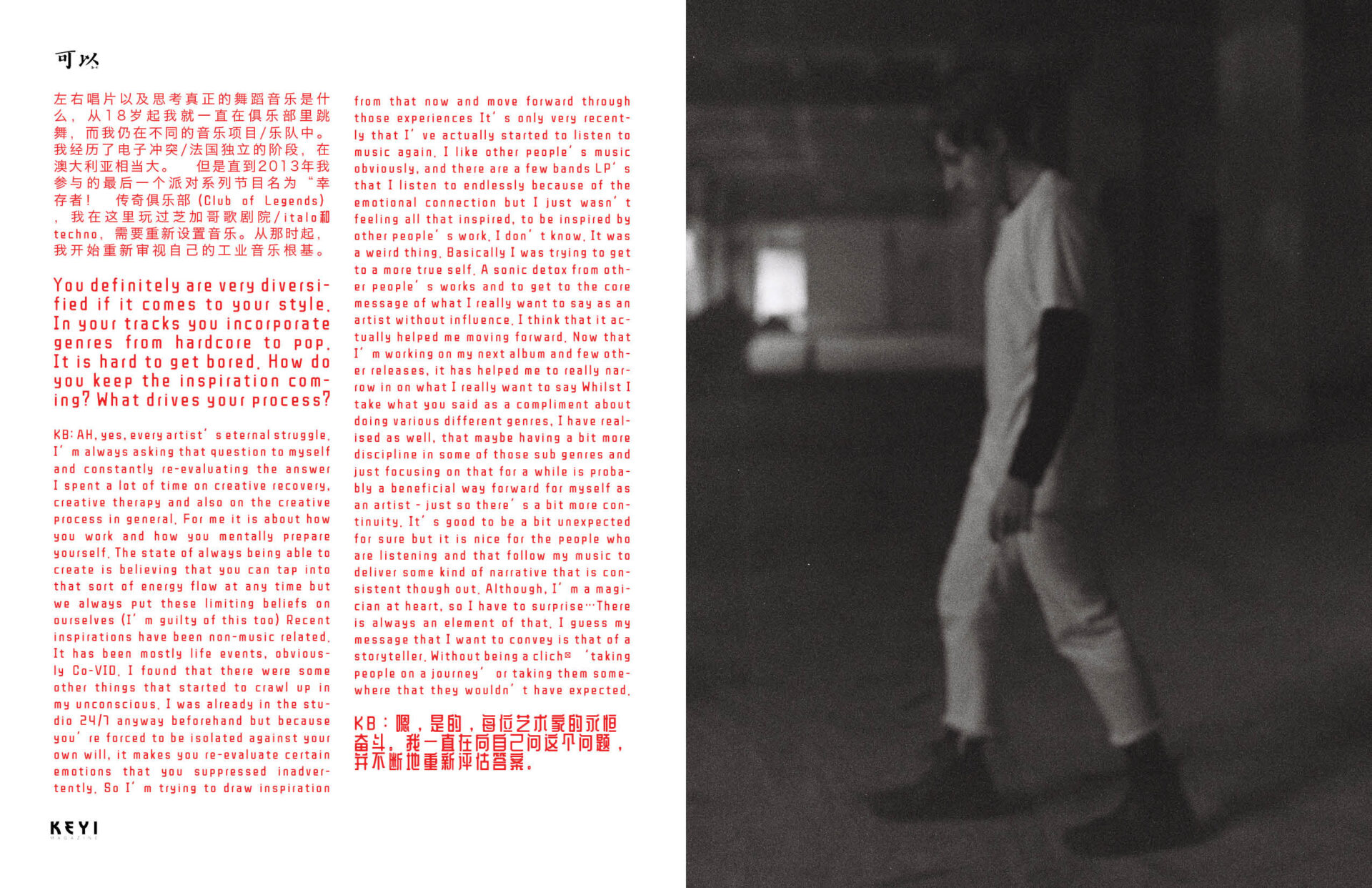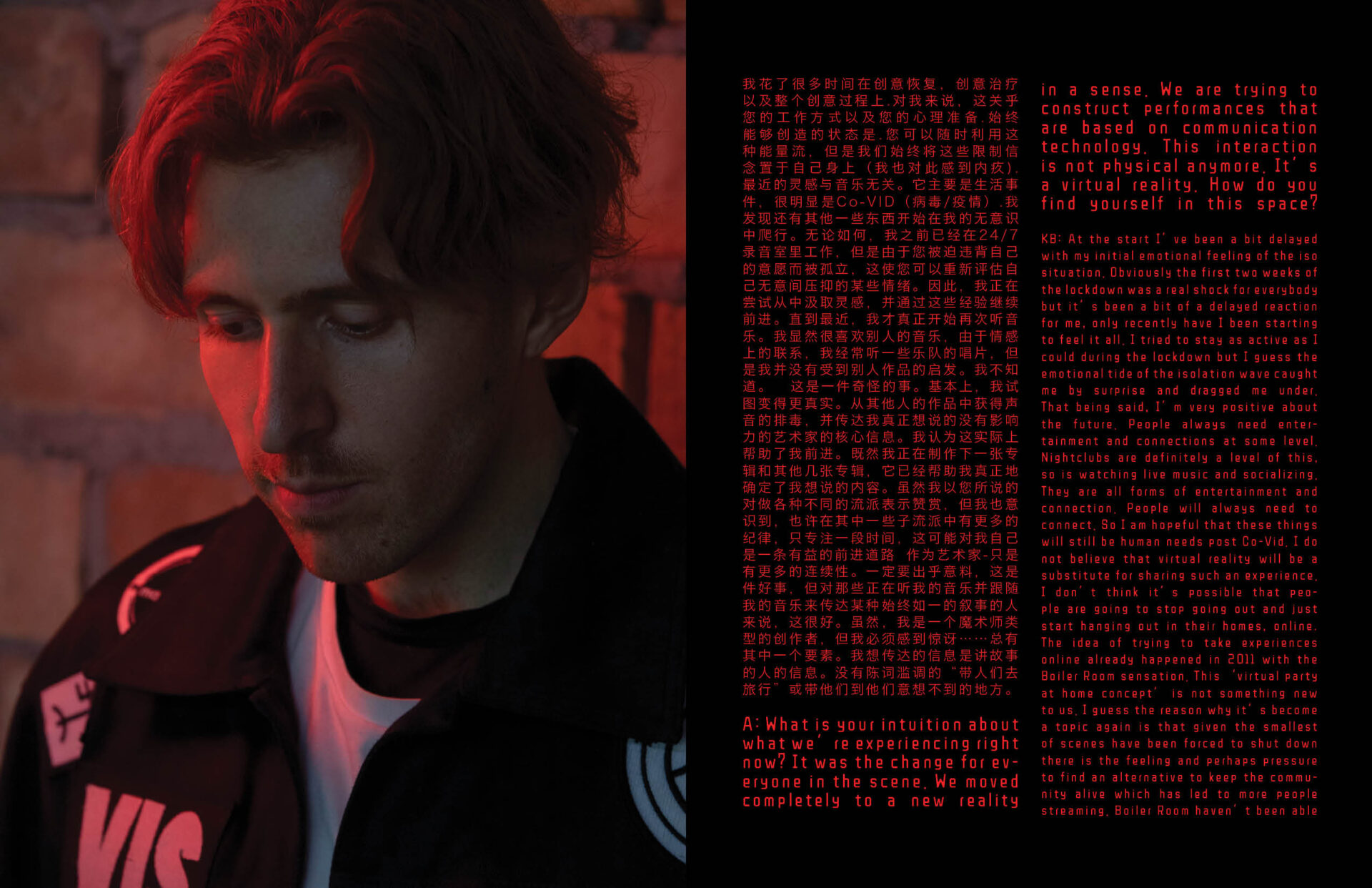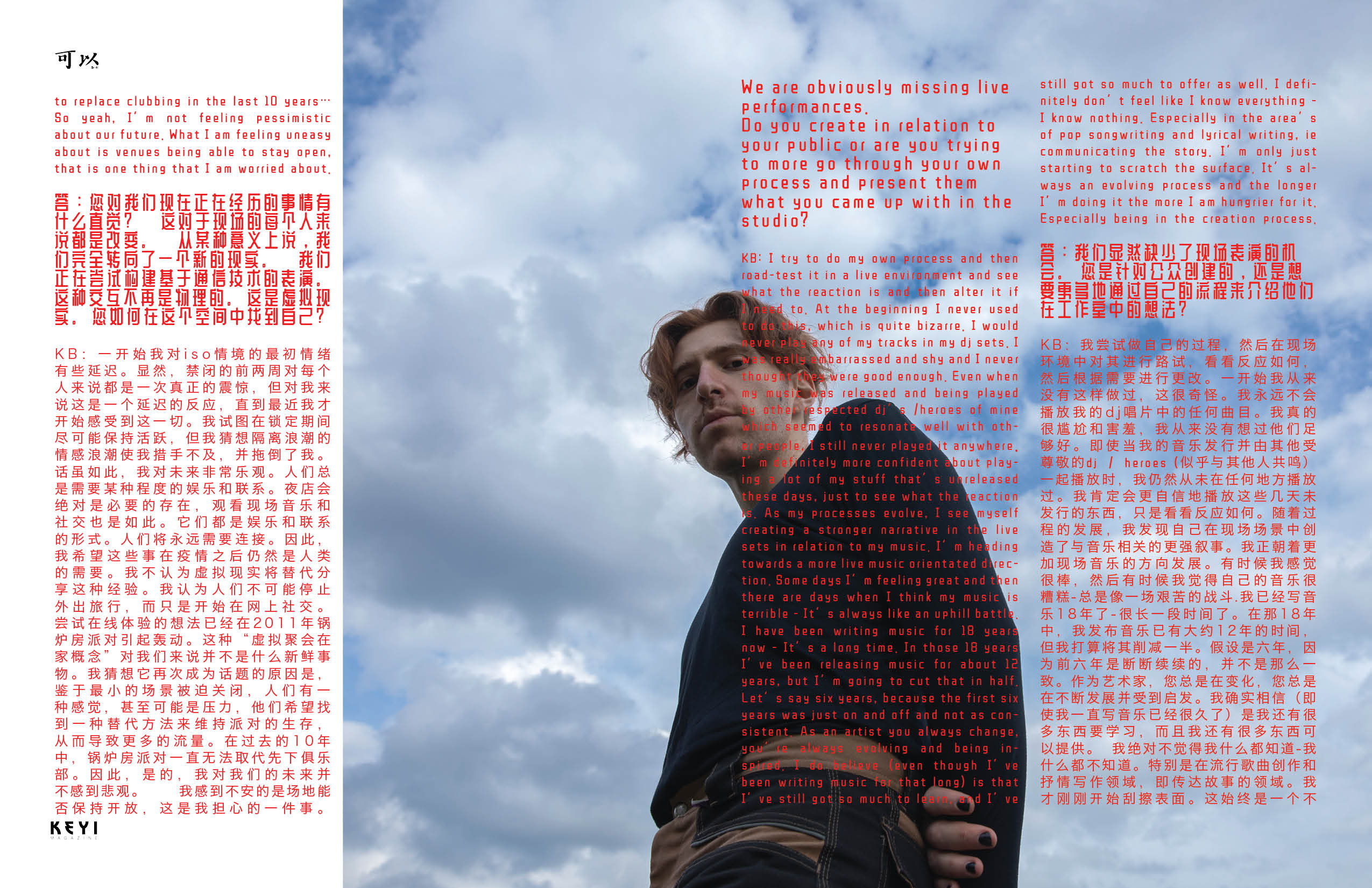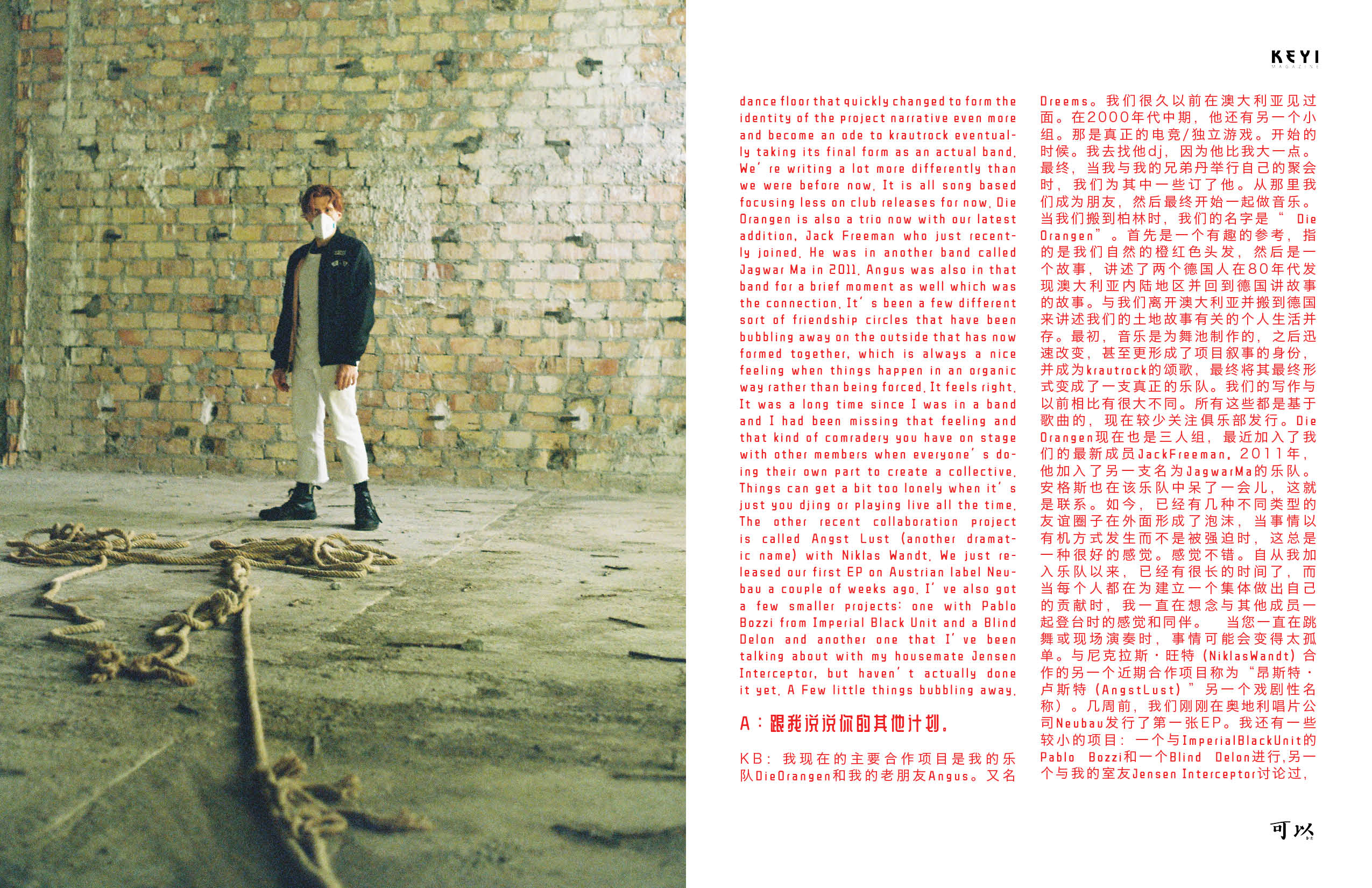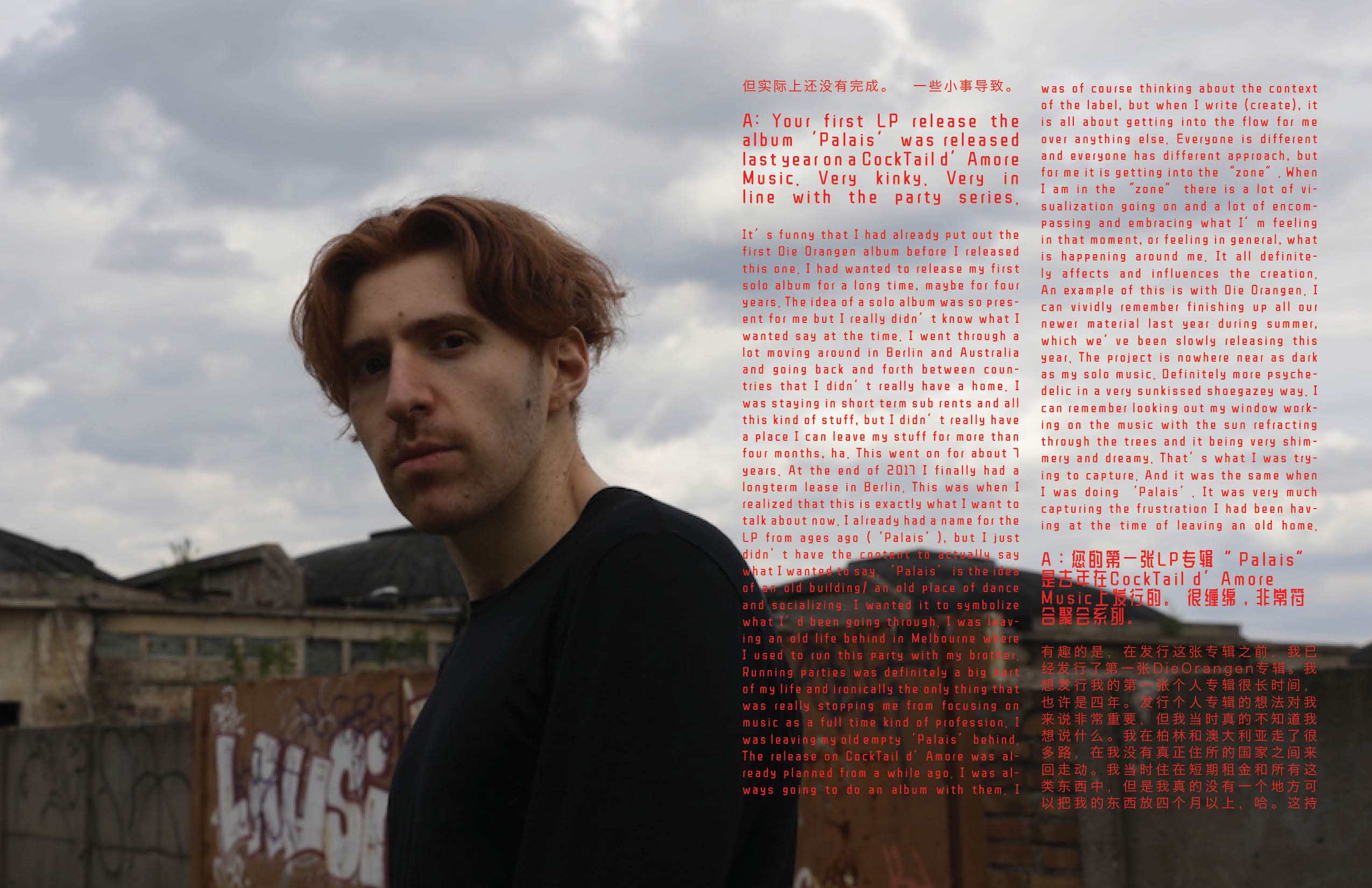 Berlin based Australian dj, producer and musician responsible for legendary Melbourne parties Power Station and initiator of the label under the same name. Known for his mutant dance floor productions, he is inhibiting his own sound space between Gothic EBM, romantic industrial and punk wave, he is undoubtedly one of the most original modern songwriters. .
工作于柏林的澳大利亚dj,制作人和音乐人,负责著名的墨尔本派对发电站和同名品牌的发起人。他以其意想不到的跳舞音乐作品而闻名,他抑制着自己在哥特式EBM、浪漫工业和朋克浪潮之间的风格空间,也无疑是最具原创性的现代音乐作曲家之一。
You have such a good name for a musician. You probable heard that a lot of times but it brings a
connection to Bach in the back of your head. Also the sounding of it is really cool, it's like a bass drop.
KB: Thank you. It is funny because from time to time I constantly think about changing my name.
作为一个作品广受好评的音乐人。 您可能听过很多次了,但它在您的脑中带来了与巴赫的联系。 听起来也很酷,就像低音的高潮。
KB:剋剋。 侶붤唐혹,凜槨乖珂끽삔꼇뙤옘쪄맣츰。
A: Do you have any other ideas?
KB: No. This is why I haven't done it yet. Honestly I never liked my first name Kristian. When I was younger I found it too formal and so I would just tell
everybody to call me Kris. The 'Baha' part is just an abbreviation / nickname of my real name Bahoudian, which someone gave me when I was 18. I thought my full name was too long to be an artist name, so I grew into it – In Australia we generally try and shorten all words down
I later realized I felt a connection to the name as Baha has Arabic roots. My dad is fluent in Arabic and was born in Egypt (of Armenian decent) whilst my
mother is Italian so, a bit of an interesting mix. To solidify this further it kind of has some phonetic similarities with Bauhaus the band and the origin of the seminal University in Germany, which I was fascinated with long before dance music.
KB:不。这就是为什么我还没有做。老实说,我从来不喜欢我的名字克里斯蒂安。 小时候,我觉得它太正式了,所以我只想告诉大家叫我克里斯."Baha"部分只是我的真名"Bahoudian"的缩写/昵称,我在18岁时就给了自己这个名字。我认为我的全名太长了,无法成为艺术家的名字,所以知道长大后,在澳大利亚,我们通常尝试并缩短所有的单词
。后来我意识到,由于巴哈语源于阿拉伯语,因此与该名称有某种联系。 我的父亲能说流利的阿拉伯语,出生于埃及,而我的母亲则是意大利人,所以这很有趣。 为了进一步巩固这一点,它与乐队的包豪斯(Bauhaus)有着某些语音上的相似之处,并且与德国开创性大学的起源有着密切的联系,而我对舞蹈音乐很着迷
A: You travelled half the world from Australia to
Germany. What was your push? You were pretty successful there – doing own party series, just started your own label …
KB: It definitely seems like a bit of an
audacious move to leave it all behind and then start a new. But I always had that fascination with Berlin as a city long before I discovered what club/ dance music was and everything it entails. The idea of moving to Berlin was so ingrained in my early consciousness of music. When I was 12 years old the first band I was obsessed with (like a lot of angsty Europeans) in the early two thousands, is a German band called Rammstein. For me that was the most crazy thing I had seen at that age. This came at a time where I had also just lost a lot of interest from stage performance. This is probably my first time officially bringing my dark past to light. [laughs] but since I was 5 years old I was a buddying magician.
Once I saw the Rammstein concert 'Live Aus Berlin', I realised I didn't want to be a magician anymore and made my segueway to music. They had this element of theatrics that I loved and could connect with. That was my first introduction to some kind of industrial electronic goth music. Darker styles that lent itself to that kind of theatrical sensibility, some costume, identity, character. Basically a story to tell that is creating something you don't see everyday. They ticked all the right boxes for me at the time and in 2001 industrial metal was still a popular thing I guess … and pyrotechnics!
In secondary school I was jamming with 2 other friends who were also into the band, so much so that we decided to only play Rammstein covers at school assemblies and battle of the bands. I played guitar, synth and sung. There was no Google AI translate or anything alike, so the only way to find out what lyrics meant was to ask someone who spoke German or be told by somebody that 'hey, you know what this means right?' I learned and found out that a lot of the lyrics are very confronting but if you know Rammstein and know their performance, you know, that it is just a part of it.
A:您从澳大利亚到德国的旅程跨越了半个世界。 你的推动力是什么?您的系列派对非常成功,并且刚刚创立了自己的唱片公司…
KB:显然,将过去全部抛弃然后重新开始似乎有点大胆的举动。 但是我很早就对柏林这个城市着迷了,直到我发现俱乐部/电子舞曲音乐及其所包含的一切。 搬到柏林的想法在我早期的音乐意识中根深蒂固。 当我12岁那年,我成千上万的迷恋第一支乐队(就像很多愤怒的欧洲人一样)是一支名为Rammstein的德国乐队。对我来说,那是我那个时代见过的最疯狂的事情。这是在我刚从舞台表演中失去了很多兴趣的时候。这可能是我第一次正式揭露我的黑暗过去。(笑)但是自从我5岁起,我就是一个学习魔术的小朋友。
看到Rammstein演唱会"Live Aus Berlin"后,我意识到我不再想成为魔术师,并把我的志趣转向音乐。 他们拥有我喜欢并且可以与之联系的戏剧元素。那是我第一次介绍某种工业电子哥特音乐。较深色的风格使它们具有那种戏剧性的感觉,包括一些服装,身份和性格。基本上讲一个故事可以说是创造了您每天都看不到的东西。他们当时为我打开了所有对的事情,在2001年,我猜工业金属仍然是一种流行的事物……充满火花!
在中学时,我与另外两个也加入乐队的朋友交流,以至于我们决定只在学校集会和乐队之战中演奏Rammstein的歌曲。 我弹吉他,合成器和唱歌。没有Google AI翻译或类似的东西,所以找出歌词含义的唯一方法是问一个会说德语或被某人告诉的人"嘿,你知道这意味着什么吗?"我了解到 很多歌词都非常有针对性,但是如果您了解Rammstein并了解他们的表演,就知道它只是其中的一部分。
When did you start to make your own music?
KB: Around the same time I guess, so when I was 12. I was already studying keyboard, guitar and doing music in school. Also my parents are stage show producers and my dad did all the sound design for their shows. He was always listening to the newest kind of music that was coming out so I was paying attention and going through his record / cd collection – lots of electronic, world, acid jazz, pop.
Whilst I vividly remember that time of discovery, I was still so drawn into the early Rammstein album's / Performances. They had this kind of electronic, primitive
sequence thing happening with a drum kit clashing against aggressive guitar riffs, and low baritone style of singing, which really was the catalyst for me in discovering darker styles of music and ultimately and strong indication of wanting to make music that was similar. Electronic in nature, kind of dancey but that was dark / melancholic and that could be performed to live in front of people. I went through a lot of different phases at that age after discovering the surface level of Industrial music morphing through trance, Noise, Punk, Indie rock & Metal. I then discovered what dance music really was with my brother collecting records around 15/16 and was djing in clubs from when I was 18 all the while still being in separate music projects / bands. I went through the Electro Clash/ French Indie phase, which was quite big in Australia. But It was only in 2013 after the last party series I was involved called 'Survivor! Club of Legends' Where I was playing Chicago house/ italo and techno and was in need of a big musical reset. That's when I started to revisit my industrial roots.
你是从什么时候开始创作你自己的音乐的?
KB:我猜大概是在同一时间,所以我12岁的时候就已经在学习键盘,吉他和在学校做音乐。我的父母也是舞台表演的制作人,父亲为他们的表演做所有的声音设计。他一直都在听最新的音乐,所以我一直在关注并浏览他的唱片/ CD专辑-许多电子,世界,酸性爵士,流行音乐。 尽管我生动地记得那个发现的时间,但我仍然被Rammstein早期专辑的/ Performances所吸引。 他们拥有这种电子的原始音序,发生在鼓上,与激进的吉他即兴演奏相冲突,男中音风格低沉,这确实促使我发现了较暗的音乐风格,并最终成为想要制作音乐的强烈暗示。相似的音乐。 电子本质上是一种舞蹈,但是那是黑暗的/忧郁的,可以表现在人们的面前。 在发现age,噪音,朋克,独立摇滚和金属等工业音乐的表面变形之后,我在那个时代经历了很多不同的阶段。然后,我发现与哥哥一起收集15/16左右唱片以及思考真正的舞蹈音乐是什么,从18岁起我就一直在俱乐部里跳舞,而我仍在不同的音乐项目/乐队中。我经历了电子冲突/法国独立的阶段,在澳大利亚相当大。 但是直到2013年我参与的最后一个派对系列节目名为"幸存者! 传奇俱乐部(Club of Legends),我在这里玩过芝加哥歌剧院/italo和techno,需要重新设置音乐。从那时起,我开始重新审视自己的工业音乐根基。
You definitely are very diversi
fied if it comes to your style. In your tracks you incorporate genres from hardcore to pop. It is hard to get bored. How do you keep the inspiration coming? What drives your process?
KB: AH, yes, every artist's eternal struggle. I'm always asking that question to myself and constantly re-evaluating the answer
I spent a lot of time on creative recovery, creative therapy and also on the creative process in general. For me it is about how you work and how you mentally prepare yourself. The state of always being able to create is believing that you can tap into that sort of energy flow at any time but we always put these limiting beliefs on ourselves (I'm guilty of this too) Recent inspirations have been non-music related. It has been mostly life events, obviously Co-VID. I found that there were some other things that started to crawl up in my unconscious. I was already in the studio 24/7 anyway beforehand but because you're forced to be isolated against your own will, it makes you re-evaluate certain emotions that you suppressed inadvertently. So I'm trying to draw inspiration from that now and move forward through those experiences It's only very recently that I've actually started to listen to music again. I like other people's music obviously, and there are a few bands LP's that I listen to endlessly because of the emotional connection but I just wasn't feeling all that inspired, to be inspired by other people's work. I don't know. It was a weird thing. Basically I was trying to get to a more true self. A sonic detox from other people's works and to get to the core message of what I really want to say as an artist without influence. I think that it actually helped me moving forward. Now that I'm working on my next album and few other releases, it has helped me to really narrow in on what I really want to say Whilst I take what you said as a compliment about doing various different genres, I have realised as well, that maybe having a bit more discipline in some of those sub genres and just focusing on that for a while is probably a beneficial way forward for myself as an artist – just so there's a bit more continuity. It's good to be a bit unexpected for sure but it is nice for the people who are listening and that follow my music to deliver some kind of narrative that is consistent though out. Although, I'm a magician at heart, so I have to surprise…There is always an element of that. I guess my message that I want to convey is that of a storyteller. Without being a cliché 'taking people on a journey' or taking them somewhere that they wouldn't have expected.
KB:嗯,是的,每位艺术家的永恒奋斗。我一直在向自己问这个问题,并不断地重新评估答案。
我花了很多时间在创意恢复,创意治疗以及整个创意过程上.对我来说,这关乎您的工作方式以及您的心理准备.始终能够创造的状态是.您可以随时利用这种能量流,但是我们始终将这些限制信念置于自己身上(我也对此感到内疚).
最近的灵感与音乐无关。它主要是生活事件,很明显是Co-VID(病毒/疫情).我发现还有其他一些东西开始在我的无意识中爬行。无论如何,我之前已经在24/7录音室里工作,但是由于您被迫违背自己的意愿而被孤立,这使您可以重新评估自己无意间压抑的某些情绪。因此,我正在尝试
从中汲取灵感,并通过这些经验继续前进。直到最近,我才真正开始再次听音乐。我显然很喜欢别人的音乐,由于情感上的联系,我经常听一些乐队的唱片,但是我并没有受到别人作品的启发。我不知道。 这是一件奇怪的事。基本上,我试图变得更真实。从其他人的作品中获得声音的排毒,并传达我真正想说的没有影响力的艺术家的核心信息。我认为这实际上帮助了我前进。既然我正在制作下一张专辑和其他几张专辑,它已经帮助我真正地确定了我想说的内容。虽然我以您所说的对做各种不同的流派表示赞赏,但我也意识到,也许在其中一些子流派中有更多的纪律,只专注一段时间,这可能对我自己是一条有益的前进道路 作为艺术家-只是有更多的连续性。一定要出乎意料,这是件好事,但对那些正在听我的音乐并跟随我的音乐来传达某种始终如一的叙事的人来说,这很好。虽然,我是一个魔术师类型的创作者,但我必须感到惊讶……总有其中一个要素。我想传达的信息是讲故事的人的信息。没有陈词滥调的"带人们去旅行"或带他们到他们意想不到的地方。
A: What is your intuition about what we're experiencing right now? It was the change for everyone in the scene. We moved completely to a new reality in a sense. We are trying to construct performances that are based on communication technology. This interaction is not physical anymore. It's a virtual reality. How do you find yourself in this space?
KB: At the start I've been a bit delayed with my initial emotional feeling of the iso situation. Obviously the first two weeks of the lockdown was a real shock for everybody but it's been a bit of a delayed reaction for me, only recently have I been starting to feel it all. I tried to stay as active as I could during the lockdown but I guess the emotional tide of the isolation wave caught me by surprise and dragged me under.
That being said, I'm very positive about the future. People always need entertainment and connections at some level. Nightclubs are definitely a level of this, so is watching live music and socializing. They are all forms of entertainment and connection. People will always need to connect. So I am hopeful that these things will still be human needs post Co-Vid. I do not believe that virtual reality will be a substitute for sharing such an experience. I don't think it's possible that people are going to stop going out and just start hanging out in their homes, online.
The idea of trying to take experiences online already happened in 2011 with the Boiler Room sensation. This 'virtual party at home concept' is not something new to us. I guess the reason why it's become a topic again is that given the smallest of scenes have been forced to shut down there is the feeling and perhaps pressure to find an alternative to keep the community alive which has led to more people streaming. Boiler Room haven't been able to replace clubbing in the last 10 years… So yeah, I'm not feeling pessimistic about our future. What I am feeling uneasy about is venues being able to stay open, that is one thing that I am worried about.
答:您对我们现在正在经历的事情有什么直觉? 这对于现场的每个人来说都是改变。 从某种意义上说,我们完全转向了一个新的现实。 我们正在尝试构建基于通信技术的表演。 这种交互不再是物理的。 这是虚拟现实。 您如何在这个空间中找到自己?
KB:一开始我对iso情境的最初情绪有些延迟。显然,禁闭的前两周对每个人来说都是一
次真正的震惊,但对我来说这是一个延迟的反应,直到最近我才开始感受到这一切。我试图在锁定期间尽可能保持活跃,但我猜想隔离浪潮的情感浪潮使我措手不及,并拖倒了我。
话虽如此,我对未来非常乐观。人们总是需要某种程度的娱乐和联系。夜店会绝对是必要的存在,观看现场音乐和社交也是如此。它们都是娱乐和联系的形式。人们将永远需要连接。因此,我希望这些事在疫情之后仍然是人类的需要。我不认为虚拟现实将替代分享这种经验。我认为人们不可能停止外出旅行,而只是开始在网上社交。
尝试在线体验的想法已经在2011年锅炉房派对引起轰动。这种"虚拟聚会在家概念"对我们来说并不是什么新鲜事物。我猜想它再次成为话题的原因是,鉴于最小的场景被迫关闭,人们有一种感觉,甚至可能是压力,他们希望找到一种替代方法来维持派对的生存,从而导致更多的流量。在过去的10年中,锅炉房派对一直无法取代先下俱乐部。因此,是的,我对我们的未来并不感到悲观。 我感到不安的是场地能否保持开放,这是我担心的一件事。
We are obviously missing live performances.
Do you create in relation to your public or are you trying to more go through your own process and present them what you came up with in the studio?
KB: I try to do my own process and then road-test it in a live environment and see what the reaction is and then alter it if I need to. At the beginning I never used to do this, which is quite bizarre. I would never play any of my tracks in my dj sets. I was really embarrassed and shy and I never thought they were good enough. Even when my music was released and being played by other respected dj's /heroes of mine which seemed to resonate well with other people, I still never played it anywhere.
I'm definitely more confident about playing a lot of my stuff that's unreleased these days, just to see what the reaction is. As my processes evolve, I see myself creating a stronger narrative in the live sets in relation to my music. I'm heading towards a more live music orientated direction. Some days I'm feeling great and then there are days when I think my music is terrible – It's always like an uphill battle.
I have been writing music for 18 years now – It's a long time. In those 18 years I've been releasing music for about 12 years, but I'm going to cut that in half. Let's say six years, because the first six years was just on and off and not as consistent. As an artist you always change, you're always evolving and being inspired. I do believe (even though I've been writing music for that long) is that I've still got so much to learn, and I've still got so much to offer as well. I definitely don't feel like I know everything – I know nothing. Especially in the area's of pop songwriting and lyrical writing, ie communicating the story. I'm only just starting to scratch the surface. It's always an evolving process and the longer I'm doing it the more I am hungrier for it. Especially being in the creation process.
答:我们显然缺少了现场表演的机会。 您是针对公众创建的,还是想要更多地通过自己的流程来介绍他们在工作室中的想法?
KB:我尝试做自己的过程,然后在现场环境中对其进行路试,看看反应如何,然后根据需要进行更改。一开始我从来没有这样做过,这很奇怪。我永远不会播放我的dj唱片中的任何曲目。我真的很尴尬和害羞,我从来没有想过他们足够好。即使当我的音乐发行并由其他受尊敬的dj / heroes(似乎与其他人共鸣)一起播放时,我仍然从未在任何地方播放过。我肯定会更自信地播放这些几天未发行的东西,只是看看反应如何。随着过程的发展,我发现自己在现场场景中创造了与音乐相关的更强叙事。我正朝着更加现场音乐的方向发展。有时候我感觉很棒,然后有时候我觉得自己的音乐很糟糕-总是像一场艰苦的战斗.我已经写音乐18年了-很长一段时间了。在那18年中,我发布音乐已有大约12年的时间,但我打算将其削减一半。假设是六年,因为前六年是断断续续的,并不是那么一致。作为艺术家,您总是在变化,您总是在不断发展并受到启发。我确实相信(即使我一直写音乐已经很久了)是我还有很多东西要学习,而且我还有很多东西可以提供。 我绝对不觉得我什么都知道-我什么都不知道。特别是在流行歌曲创作和抒情写作领域,即传达故事的领域。我才刚刚开始刮擦表面。这始终是一个不断发展的过程,我做的时间越长,对它的渴望就越大。 尤其是在创建过程中。
A: The interesting thing about you as an artist is that you actually write songs. There is not much lyrics and not much songs in traditional sense in nowadays music. It was all at some point took over in the electronics by minimalistic sound for many years. Your music is and experience taking us back to the 80's. Your lyrics are very dramatic. Where does it come from? You seem like a very laid back and cheerful person.
KB: I know it feels very weird that I make the music I make yet my personality doesn't really reflect that. Regarding the lyrics over the last couple of releases, my main goal has been to try to bring the listener in as close as possible to what I was going through at the time. I am also embel
lishing the message a bit so it's relatable and becomes their own story too. I guess even though a lot of the lyrics are dramatic and dark, it's not really a reflection of my personality. I'm a pretty positive person in general. It's the alter ego of myself that comes through with that stuff in it. It comes pretty naturally, so it's hard to fight it. It's a split personality – Kristian is during the day the Kris is at night.
A:关于您作为艺术家的有趣之处在于您实际上是在写歌。如今的音乐中,歌词和传统意义上的歌曲都不多。 多年来,所有这些东西都以简约的声音取代了电子产品。您的音乐和经验使我们回到了80年代。 您的歌词非常生动。它从何而来? 您似乎是一个非常轻松愉快的人。
KB:我知道我做自己的音乐感觉很奇怪,但我的性格并没有真正反映出来。 关于最后几个发行版中的歌词,我的主要目标是设法使收听者尽可能接近我当时所经历的。我还修饰了一下消息,使其具有相关性,并且也成为他们自己的故事。 我想,尽管很多歌词都是戏剧性的和黑暗的,但这并不能真正反映出我的个性。我总体上是一个非常积极的人。里面的东西是我自己的另一自我。 它来得很自然,因此很难抗拒它。 这是一种分裂的性格-克里斯蒂安白天在克里斯(Kris)晚上。
A: Tell me about your other projects.
KB: My main collaboration project right now is my band Die Orangen, with my longtime friend Angus. AKA Dreems. We met a long time ago in Australia. He had another group in the mid 2000s. It was when electro clash/ indie was really taking off. I would go and see him dj, cause he's a bit older than I am. Eventually once I was running parties of my own with my brother Dan, we booked him for some of them. From there we became friends and then eventually started writing music together.
When we moved to Berlin we formed the identity of 'Die Orangen'. First being a funny reference to our natural orange red hair colour but then following on as a story of 2 Germans who discovered the Australian outback in the 80's and returned back to Germany to tell their tales. A juxtaposition to our personal lives leaving Australia and moving to Germany to tell our tales of the land. It was initially music made for the dance floor that quickly changed to form the identity of the project narrative even more and become an ode to krautrock eventually taking its final form as an actual band.
We're writing a lot more differently than we were before now. It is all song based focusing less on club releases for now. Die Orangen is also a trio now with our latest addition, Jack Freeman who just recently joined. He was in another band called Jagwar Ma in 2011. Angus was also in that band for a brief moment as well which was the connection. It's been a few different sort of friendship circles that have been bubbling away on the outside that has now formed together, which is always a nice feeling when things happen in an organic way rather than being forced. It feels right.
It was a long time since I was in a band and I had been missing that feeling and that kind of comradery you have on stage with other members when everyone's doing their own part to create a collective. 
hings can get a bit too lonely when it's just you djing or playing live all the time.
The other recent collaboration project is called Angst Lust (another dramatic name) with Niklas Wandt. We just released our first EP on Austrian label Neubau a couple of weeks ago. I've also got a few smaller projects: one with Pablo Bozzi from Imperial Black Unit and a Blind Delon and another one that I've been talking about with my housemate Jensen Interceptor, but haven't actually done it yet. A Few little things bubbling away.
A:跟我说说你的其他计划。
KB:我现在的主要合作项目是我的乐队DieOrangen和我的老朋友Angus。又名Dreems。我们很久以前在澳大利亚见过面。在2000年代中期,他还有另一个小组。那是真正的电竞/独立游戏。开始的时候。我去找他dj,因为他比我大一点。最终,当我与我的兄弟丹举行自己的聚会时,我们为其中一些订了他。从那里我们成为朋友,然后最终开始一起做音乐。当我们搬到柏林时,我们的名字是" Die Orangen"。首先是一个有趣的参考,指的是我们自然的橙红色头发,然后是一个故事,讲述了两个德国人在80年代发现澳大利亚内陆地区并回到德国讲故事的故事。与我们离开澳大利亚并搬到德国来讲述我们的土地故事有关的个人生活并存。最初,音乐是为舞池制作的,之后迅速改变,甚至更形成了项目叙事的身份,并成为krautrock的颂歌,最终将其最终形式变成了一支真正的乐队。我们的写作与以前相比有很大不同。所有这些都是基于歌曲的,现在较少关注俱乐部发行。Die Orangen现在也是三人组,最近加入了我们的最新成员JackFreeman。2011年,他加入了另一支名为JagwarMa的乐队。安格斯也在该乐队中呆了一会儿,这就是联系。如今,已经有几种不同类型的友谊圈子在外面形成了泡沫,当事情以有机方式发生而不是被强迫时,这总是一种很好的感觉。感觉不错。自从我加入乐队以来,已经有很长的时间了,而当每个人都在为建立一个集体做出自己的贡献时,我一直在想念与其他成员一起登台时的感觉和同伴。 当您一直在跳舞或现场演奏时,事情可能会变得太孤单。与尼克拉斯·旺特(NiklasWandt)合作的另一个近期合作项目称为"昂斯特·卢斯特(AngstLust)"另一个戏剧性名称)。几周前,我们刚刚在奥地利唱片公司Neubau发行了第一张EP。我还有一些较小的项目:一个与ImperialBlackUnit的Pablo Bozzi和一个Blind Delon进行,另一个与我的室友Jensen Interceptor讨论过,但实际上还没有完成。 一些小事导致。
A: Your first LP release the album 'Palais' was released last year on a CockTail d'Amore Music. Very kinky. Very in line with the party series.
It's funny that I had already put out the first Die Orangen album before I released this one. I had wanted to release my first solo album for a long time, maybe for four years. The idea of a solo album was so present for me but I really didn't know what I wanted say at the time. I went through a lot moving around in Berlin and Australia and going back and forth between countries that I didn't really have a home. I was staying in short term sub rents and all this kind of stuff, but I didn't really have a place I can leave my stuff for more than four months, ha. This went on for about 7 years. At the end of 2017 I finally had a longterm lease in Berlin. This was when I realized that this is exactly what I want to talk about now. I already had a name for the LP from ages ago ('Palais'), but I just didn't have the content to actually say what I wanted to say. 'Palais' is the idea of an old building/ an old place of dance and socializing. I wanted it to symbolize 
what I'd been going through. I was leaving an old life behind in Melbourne where I used to run this party with my brother. Running parties was definitely a big part of my life and ironically the only thing that was really stopping me from focusing on music as a full time kind of profession. I was leaving my old empty 'Palais' behind.
The release on CockTail d'Amore was already planned from a while ago. I was always going to do an album with them. I was of course thinking about the context of the label, but when I write (create), it is all about getting into the flow for me over anything else. Everyone is different and everyone has different approach, but for me it is getting into the "zone". When I am in the "zone" there is a lot of visualization going on and a lot of encompassing and embracing what I'm feeling in that moment, or feeling in general, what is happening around me. It all definitely affects and influences the creation.
An example of this is with Die Orangen. I can vividly remember finishing up all our newer material last year during summer, which we've been slowly releasing this year. The project is nowhere near as dark as my solo music. Definitely more psychedelic in a very sunkissed shoegazey way. I can remember looking out my window working on the music with the sun refracting through the trees and it being very shimmery and dreamy. That's what I was trying to capture. And it was the same when I was doing 'Palais'. It was very much capturing the frustration I had been having at the time of leaving an old home.
A:您的第一张LP专辑" Palais"是去年在CockTail d'Amore Music上发行的。 很缠绵,非常符合聚会系列。
有趣的是,在发行这张专辑之前,我已经发行了第一张DieOrangen专辑。我想发行我的第一张个人专辑很长时间,也许是四年。发行个人专辑的想法对我来说非常重要,但我当时真的不知道我想说什么。我在柏林和澳大利亚走了很多路,在我没有真正住所的国家之间来回走动。我当时住在短期租金和所有这类东西中,但是我真的没有一个地方可以把我的东西放四个月以上,哈。这持续了大约7年。 2017年底,我终于在柏林有了一份长期租约。那是我意识到这正是我现在想谈论的。早在很早以前,我就已经为唱片公司(Palais)取了个名字,但是我只是没有内容来真正地说出我想说的话。 "宫殿"是一个古老的建筑/一个古老的舞蹈和社交场所。我希望它象征我正在经历的事情。我过去在墨尔本过着古老的生活,以前我和哥哥一起举办这个聚会。举办聚会绝对是我一生的重要组成部分,具有讽刺意味的是,这实际上阻止了我专注于音乐这一全职工作。我把我那空的旧"Palais"留在了后面。
CockTaild'Amore的发布已经有一段时间了。我总是和他们一起做专辑。 我当然在考虑标签的上下文,但是当我编写(创建)标签时,这一切都是为了让我进入流程。每个人都是不同的,每个人都有不同的方法,但是对我来说,它正在进入"区域"。当我在"区域"中时,会发生大量的可视化,并且包含和拥抱我当时或整体上正在发生的事情。这肯定会干扰并影响创作。
DieOrangen就是一个例子。我可以生动地记得去年夏天在夏天完成了所有新材料,今年我们一直在慢慢发布。这个项目远没有我的独奏音乐那么黑暗。绝对让人迷醉,以一种让人眼花撩乱的方式。我记得当我看着窗外的音乐时,阳光透过树丛折射出来,非常闪烁,梦幻。那就是我想要捕捉的。我在做"Palais"时也是如此。这足以捕捉到我离开老家时的挫败感
A: Was releasing it a form of a heal for you?。
KB: Yes. Unfortunately it took a while for it to come out, so by the time it did, it was something that I was already healed 
from.
A:释放它对您有帮助吗?
KB:是的。 不幸的是,它花了一段时间才出现,所以到了它出现的时候,我已经被治愈了。
A: You've mentioned that you are back to listening to music…
KB: Baby steps. I'm more listening to what friends are sending me. The most recent thing I just listened to was the new Unhuman and Petra Flurr which sounds wickedly fresh. I think it's because there are a few tracks on there that share similar sensibility to mine.
答:您已经提到您要重新好好听音乐…
KB:婴儿脚步。 我在听朋友发送给我的内容。 我最近听的是最新的《 Unhuman and Petra Flurr》,听起来很新奇。 我认为这是因为那里的一些曲目具有与我相似的敏感性。
A: What's coming up this year? Are you preparing a new album?
KB: Yes, I'm just working through my second album now, which I'm super excited about. I, like most other dance artists, have taken a step back from making club music. I'm just not really feeling it right now. Actually I've really wanted to focus on the live aspect of my performance and separating the two so now is the perfect time for me to do this. Even on 'Palais' you can notice there was few tracks on there that are just songs. I was slowly sprinkling them in there just to see what how it would be received. Now I just really want to focus on making more of that. I do have a release on my label, which was already ready to be released in March, but it's very club focused. I had written it at the end of the last year and it went into production three weeks before March, we got the vinyl in April, so we've been sitting on the record since then. I was really excited about this release because it'd been a while since I'd done something club focused but given the situation, I am not going to put this out just yet. There are no clubs to play it out. There are some small little events happening, which is cool – still community-based, but it's still not the same.
I do think that the world was heading into ultra hyper ridiculous direction with social media and the high rate of consumption. Everything was accelerated. In. Out. In. Out. We did't really have time to process if something was good or if we even liked it. I think this period has given people the time time to actually take a step back and really take in everything. To see if we really like what we hear, if we feel and think the same way and are not just being force-fed stuff.
I think that once this is all over and we get adjusted to whatever the new mechanics of the industry present itself that it will be an amazing time to be out parting. Maybe even what the 90's would have felt like. I think that starving people of something for so long is only going to bring them even closer. I'm feeling very positive about it.
答:今年会发生什么? 您正在准备一张新专辑吗?
KB:是的,我现在正在浏览第二张专辑,对此我感到非常兴奋。我和大多数其他舞蹈艺术家一样,已经从制作俱乐部音乐中退了一步。我现在不是真的感觉。实际上,我真的很想专注于表演的现场方面,并且将两者分开,所以现在是进行此操作的绝佳时间。 即使在" Palais"上,您也会注意到那里只有歌曲而已。 我慢慢地把它们撒在那儿,只是为了看看会收到什么。 现在,我只想重点关注更多内容。
我的唱片公司确实有一个发行版,该发行版已经准备在三月份发行,但它非常注重俱乐部。我是在去年年底写的,它在三月前三周投入生产,我们在四月得到了黑胶唱片,因此从那时起我们一直保持着唱片的地位。 我对这个版本感到非常兴奋,因为自从我做了一些针对俱乐部的工作以来已经有 一段时间了,但是鉴于目前的情况,我暂时不会将其发布。 没有俱乐部可以玩。 有一些小活动正在发生,这很酷-仍然是基于社交的,还是不一样。 我确实认为,随着社交媒体和高消费率,世界正朝着极其荒谬的方向发展。一切都加速了。 出现消失的循环着,如果一件好东西甚至我们喜欢它,我们真的没有时间去处理。 我认为这段时期给了人们足够的时间来真正退后一步,真正吸收一切。 看看我们是否真的喜欢我们所听到的,是否我们以同样的方式感受和思考,而不仅仅是被强迫喂养。我认为,一旦一切都结束了,我们就可以适应行业中出现的任何新机制,这将是一段绝妙的时机。 甚至90年代的人都会有这种感觉。 我认为,长期无聊的的饥饿感人们只会使人们更加接近。 我对此感到非常乐观。
Photos by @keyistudio www.keyi.eu
Interview by Anka Pitu
Clothing partly from @thepublisherberlin
https://soundcloud.com/krisbaha
https://power-station.bandcamp.com
KRIS BAHA LIVE FROM DARK ENERGY MINNEAPOLIS